I Have a Crush on Candied Chickpeas
What a wonderful way to make roasted chickpeas! Instead of using savory spices, I found that these beautiful little beans taste even better with a maple glaze. At first, you might think that this recipe might be more weird than wonderful, but trust me on this. You're going to fall in love with these simply sweet chickpeas.
Imagine a taste similar to a plate of cinnamon french toast, only portable and perkier. Almost like a box of Cracker Jack's (am I showing my age?), but with chickpeas instead of popcorn. Now, picture them super warm and terrifically toasty in your hands. Are you as tempted as I am?
Once I took my first bite of "candied" chickpeas, I was hooked. A bit crispy on the outside, slightly soft on the inside, and delicately sweet. As soon as you take a few bites, I guarantee you'll be baking another batch.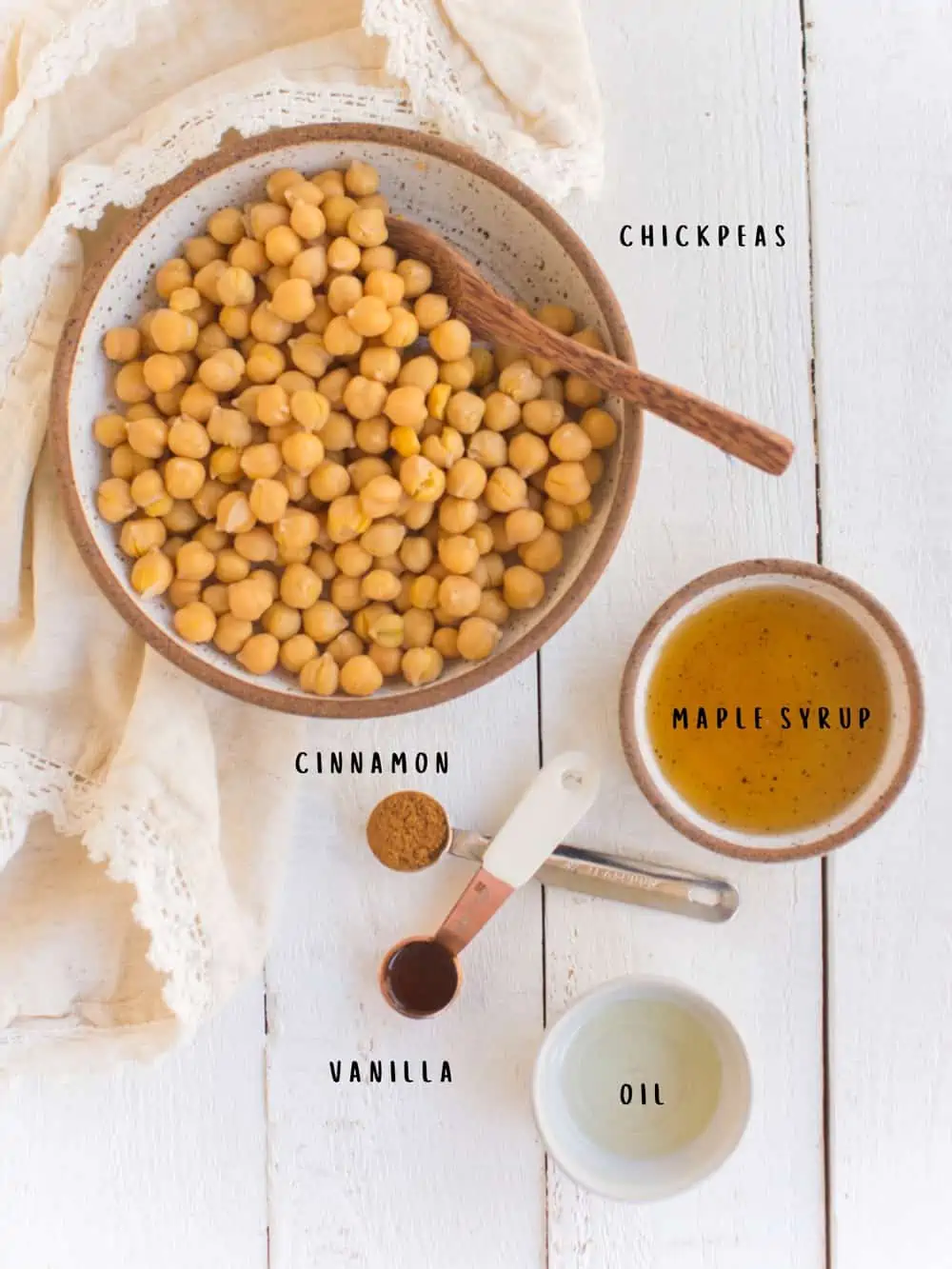 1 can garbanzo beans
½ tablespoon vegetable oil, or chickpea water
½ teaspoon cinnamon, Vietnamese is a good choice!
½ teaspoon vanilla extract or powder
2 tablespoons maple syrup
Preheat your oven to 425 F.

Drain and rinse your chickpeas, reserving some chickpea water if not using oil.

In a medium bowl, mix together the drained chickpeas and oil (or water). Stir in the cinnamon, vanilla, and maple syrup. Make sure all of the chickpeas are covered with the syrup and spices.

Cover a baking sheet with parchment paper or a silicone mat.

Pour your seasoned chickpeas onto the lined baking sheet and make sure they are spread out evenly.

Place in the oven and bake for about 15 minutes. After that time, use a spoon or spatula to turn over your chickpeas so that they can crisp up on the other side.

Bake for another 10-15 minutes or until lightly golden brown. Keep an eye on them at this point so that they don't overbake or burn.

Take out of the oven and let cool for at least 5-10 minutes before eating.
The chickpeas will crisp up even more if you let them cool for at least 5 minutes.
Make sure to turn the chickpeas halfway through cooking time so that they will bake evenly.
If you're not using oil in this recipe, the chickpeas will become crunchy, but not as crisp as they would be if you used oil. They will still taste delicious.
Spices can be added or subtracted easily. If you don't like the flavor of cinnamon, add ground orange or lemon zest instead. If you're not partial to maple syrup, substitute with some agave. This recipe is really fun to experiment with because some of the most unlikely additions can make these chickpea snacks taste terrific!
If you are salt sensitive, feel free to use 'no salt added' garbanzo beans.
If using chickpeas made from scratch, no problem! Each can holds approximately 1.5 cups of chickpeas, so you can easily substitute your own.
Calories: 92kcal | Carbohydrates: 14g | Protein: 0.1g | Fat: 4g | Saturated Fat: 1g | Polyunsaturated Fat: 2g | Monounsaturated Fat: 1g | Trans Fat: 0.04g | Sodium: 11mg | Potassium: 48mg | Fiber: 0.04g | Sugar: 12g | Vitamin A: 0.1IU | Vitamin C: 0.01mg | Calcium: 22mg | Iron: 0.1mg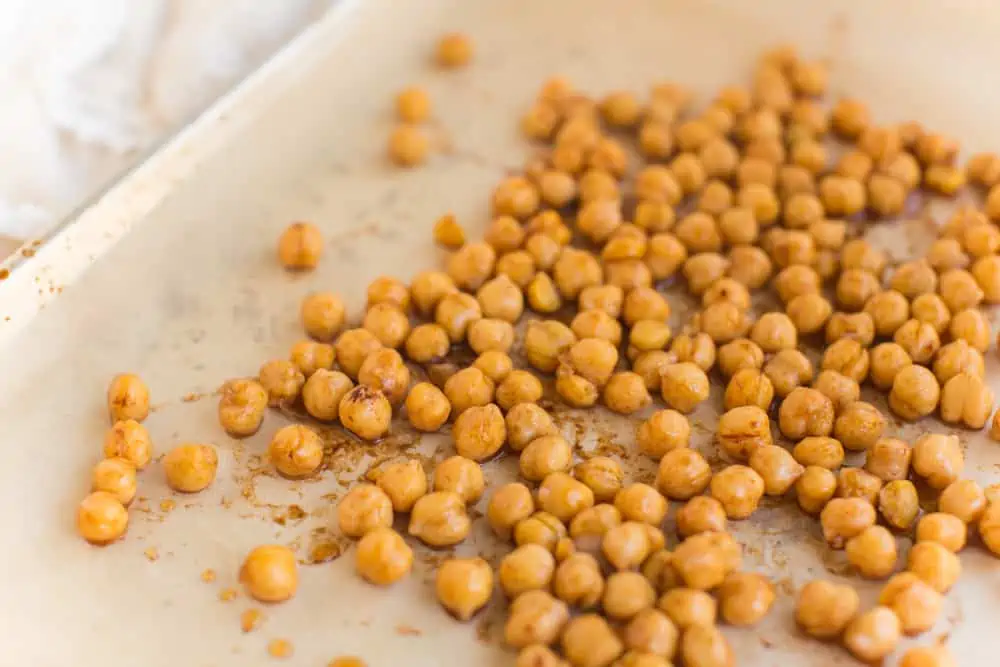 How to Serve up These Sweet Chickpeas
Besides eating them straight out of the oven (which is the way I always do it—yum!), here are several other suggestions for serving your little legumes:
Substitute for Croutons on Salads – If you're a crouton-lover but trying to cut down on the bread, these simply sweet chickpeas will be a game changer! You'll get the same crisp and crunch, but with additional healthy fiber and protein. Perfect for a salad with strawberries or orange segments.
Experiment With Spices – The best thing about this recipe is that you can use any spices you like! If you don't like cinnamon or maple syrup, use a teaspoon of dried orange or lemon zest and a little agave. Raid the spice cabinet and find whatever makes your mouth water. Start with a smaller amount the first time and add more the next time if the flavor isn't strong enough.
Pair With Popcorn – Add a little extra satisfaction to your late night snack by mixing your crunchy chickpeas to a portion of popcorn. One cup chickpeas to two cups popcorn is the perfect amount. Shake on some cinnamon sugar, add a spoonful of your favorite chopped nuts and you're good to go!
Super on Smoothie Bowls – Decorate the surface of your smoothie bowl with a sprinkling of roasted chickpeas. They'll not only give each bite a better taste, but also a boost of B-vitamins and extra iron.
Awesome Appetizer – In a pinch, these make amazing appetizers. After baking, you can serve these in a super cute way. Place cupcake liners (always good to have some fancy ones on hand) into a clean muffin baking tray and fill each liner with roasted chickpeas. Each person can just grab a liner-full (silicone would work, too!)—no muss, no fuss.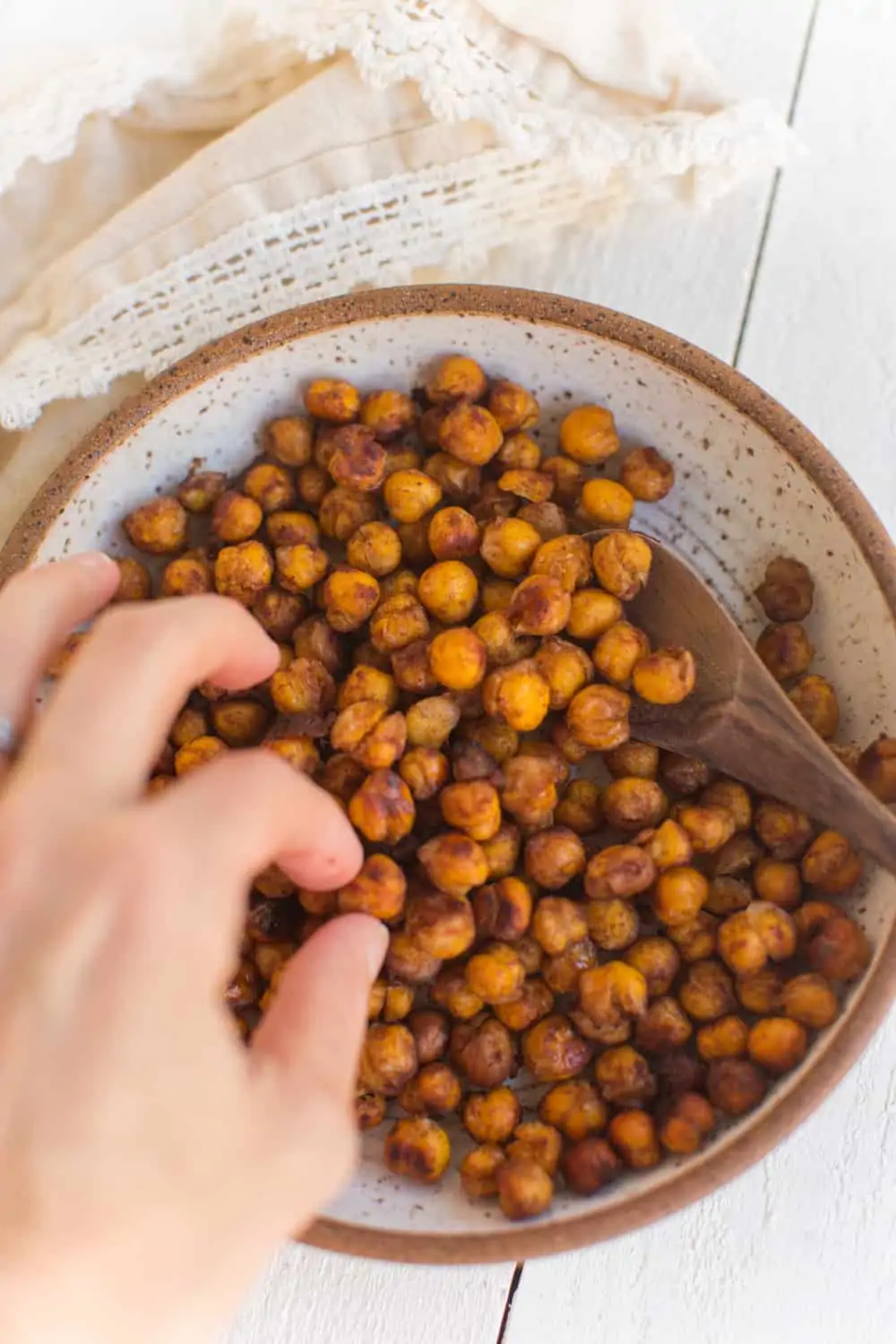 Storing Your Leftover Chickpeas
Any leftover chickpeas can be placed in a covered container in the fridge until the next day. They taste pretty good cold, but if you want to get them warm and crispy again, it's no problem.
Heat your oven (or toaster oven) to 425 degrees and place your simply sweet chickpeas onto a parchment lined baking sheet (or silicone mat). Bake for about 5 minutes or until desired re-crispiness. You may wish to add another teaspoon or two of maple syrup when reheating.
You can always bring your chickpeas back to life in the microwave, but they may become soft and maybe a little soggy. Still great on salads, though!
More Sweet Snacks to Try:
Simply Sweet Roasted Chickpea recipe and article by Gina House and photos by Michelle Cehn, copyright of World of Vegan™, all rights reserved. Edited by Amanda Meth. Please note that this article may contain affiliate links which supports our work at World of Vegan.