Ready to make the perfect vegan pineapple fried rice? This recipe is flavorful, fun to make, and checks many boxes. It's dairy-free, plant-based, vegetarian, and can easily be made gluten-free. Print off the recipe below and give this vegetarian pineapple fried rice a try this week!
Whether it's the supporting actor or the star of the show, fried rice is always welcome on my table. It's one of the most popular orders for Chinese takeout, and it's not surprising why. Packed full of vegetables, lightly crisped from the wok, it goes with everything. Fried rice goes well beyond the boundaries of Chinese cuisine, however, with different versions of the concept found across all of Asia. In the case of Thai Pineapple Fried Rice, juicy pieces of fresh pineapple sweeten the deal, in bright contrast to the spicy base. Toasted cashews add an extra crunchy, crave-worthy finishing touch.
This recipe from Vegan Asian: A Cookbook: The Best Dishes from Thailand, Japan, China and More Made Simple by Jeeca Uy proves that you can easily experience a whole world of flavors, right from the comfort of your own home. Enjoy a relaxing staycation and dig into this fresh culinary adventure!
Why You'll Love This Recipe
Ideal for using up leftovers. Cook up too much rice, or go overboard when ordering takeout? You'll never have the problem of such excess ever again! In fact, you might want to make extra rice to ensure leftovers next time.
One-pan meal. Get your complete protein and whole grains all in one bowl! Tofu is an excellent source of protein, in addition to all the essential amino acids your body needs. Toss in that high- fiber rice for a hearty and satisfying meal without dirtying a ton of dishes.
Naturally gluten-free. There's no wheat here! Just check labels to make sure the rice isn't processed in the same facilities as wheat-containing products, for those with severe allergies.
Bold flavors. A little bit sweet, a little bit sour, and a whole lot of savory, this recipe works because the primary tastes are all in perfect balance.
Infinitely adaptable. If you're the type that gets bored easily, this one is for you. You'll never need to eat the same fried rice twice with a few simple swaps. No matter what you have on hand, it's guaranteed to be delicious!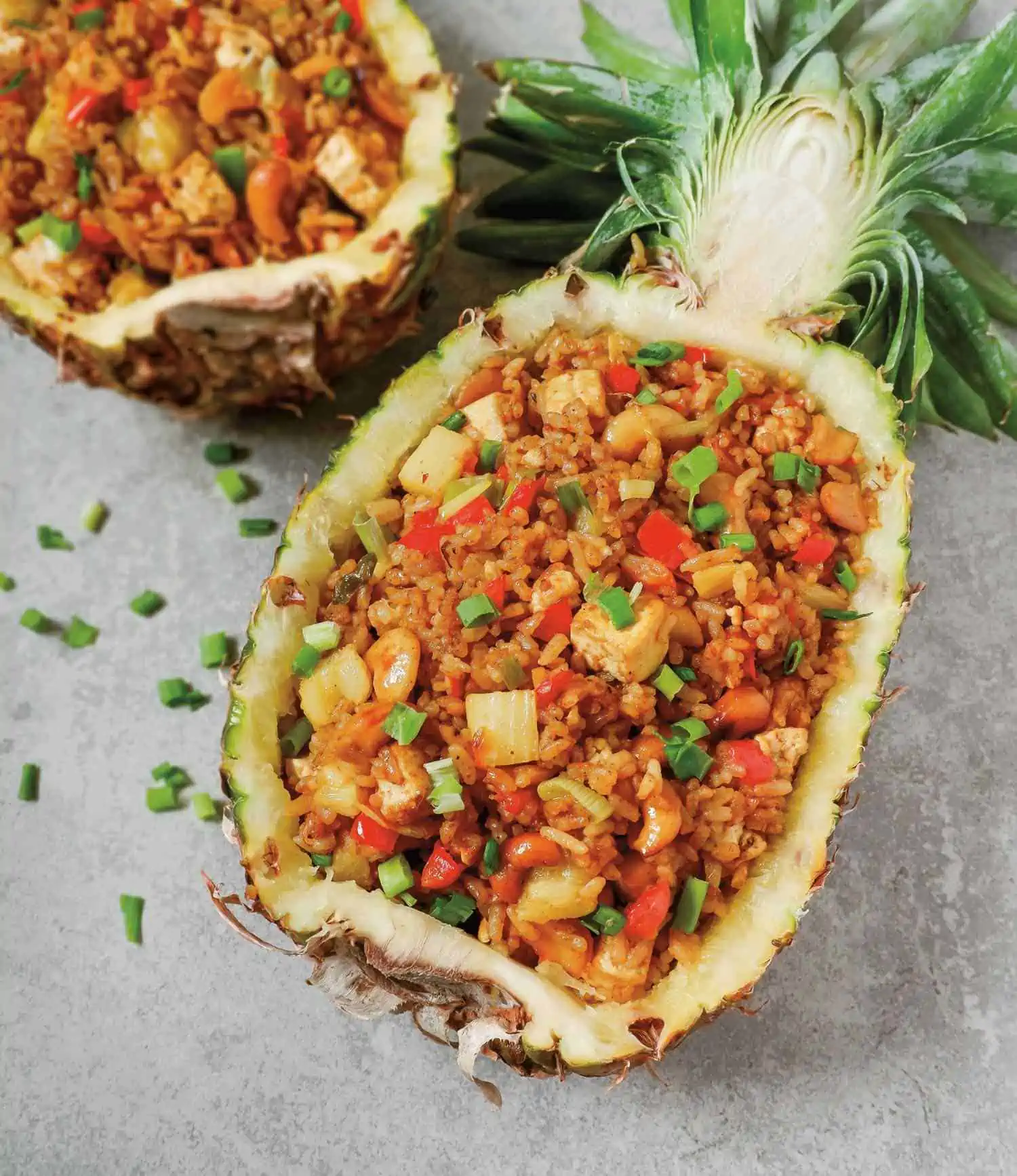 Star Ingredients
Cooked Rice
The foundation of our recipe, plan in advance to have cooked and cooled rice ready to go for when the craving strikes. Prepared, frozen rice is a great shortcut to keep handy, too.
Tofu
Extra-firm tofu will give you the best texture that won't crumble while cooking or liquefy in the wok. Press out additional liquid before stir frying for a perfect sear, every time. Curry Powder – Mild yellow curry powder, otherwise known as Madras curry powder, is used as a way of instantly adding complex layers of flavor without too much heat. No two blends are exactly alike, but it gets its sunny color from turmeric, and is flavored with some blend of coriander, cumin, mustard seeds, fenugreek, black pepper, fennel, cinnamon, cardamom, and chilies. Chili Powder or Bird's Eye Chili – Use with caution! Bird's eye chilies are especially potent, around the same level as a habanero, but concentrated into a much smaller package. This is more authentic for Thai food, but simple chili powder might be easier to find in the US.
Pineapple
Botanically speaking, pineapples are neither a pine nor an apple, but actually a cluster of many berries that have grown together. That may sound strange, but what isn't confusing is how great they taste! Fresh is always ideal when possible, but it can be a pain to break down, so there's nothing wrong with using canned or frozen instead.
Cashews
You'll go nuts for this crunchy finishing touch that pairs beautifully with the naturally nutty toasted flavor of the rice! If you want to make your version nut free, though, you can omit them or substitute 2 tablespoons of sesame seeds for the same flavor sensation.
Tips for Making the Best Vegan Fried Rice
Medium or long grain rice is best. Short grain rice is too sticky and will form large clumps where seasonings can't penetrate.
Cook your rice well in advance and make sure it's completely cool. Once chilled, the grains will become firmer and give you fried rice with a more satisfying, toothsome bite.
Use your biggest skillet or wok. Whatever you do, don't crowd the pan! The best flavors and textures come from direct contact with a hot surface to ensure a crispy, lightly charred finish.
Go easy on the salt. Many of the seasonings like soy sauce and chili powder can be high in sodium, so you may not need any additional salt at all.
How to Personalize Your Vegan Pineapple Fried Rice
The real beauty of fried rice is that there are no hard and fast rules. Use the basic formula to come up with you very own unique stir fry creations.
Use any whole grains instead of rice, or a mixture to add an irresistible variety of textures. Cooked quinoa, millet, and barley are just a few of my favorites.
Go grainless! On the other hand, you can skip the grains altogether in favor of low-carb cauliflower rice. Just be sure to cook it a bit less than you would regular rice, so it doesn't become mushy.
Eat your veggies the easy way, by doubling or tripling the quantities, and mixing up the inclusions. There's no shame in frozen mixed vegetables, too, since a ready-made blend makes the prep work effortless.
Play with fire, or at least, fiery flavors with potent spices. Switch up the type of curry and chili powder to try different levels of heat. If you're all about the burn, go ahead and add hot sauce to your heart's content.
Equipment You'll Need
More Vegan Rice Recipes You'll Love
3 cups cooked and cooled rice, leftover is best, (500 grams)
14 ounces extra-firm tofu, (400 grams)
3 tablespoons neutral oil, (45 ml)
½ teaspoon salt, divided, plus more to taste if needed
1 small onion, diced
½ cup seeded and diced red bell pepper, (75 grams)
2 tablespoons soy sauce, (30 ml)
2 teaspoons coconut sugar, or to taste, (10 grams)
2 teaspoons curry powder, (4 grams)
½ teaspoon chili powder, or 1 bird's eye chile, sliced (optional)
¼ teaspoon ground white pepper, or to taste
1 cup fresh or canned pineapple chunks, sliced into ½" (1.3-cm) cubes, (165 grams)
⅓ cup roasted cashews, (45 grams)
½ cup chopped scallions, plus more for garnishing, (30 grams)
½ cup seeded and diced tomatoes, (90 grams)
Place the rice in a large bowl and carefully break apart with a spoon to separate the grains. Set aside. If using freshly cooked rice, leave the rice to cool in front of a fan for 10 minutes for the moisture to evaporate. 

Press the tofu for at least 10 minutes to drain any excess liquid (see page 11 for more details). Afterward, slice into ½-inch (1.3-cm) cubes. 

Heat a large skillet or wok over medium-high heat, then add the oil. Once hot, add the tofu cubes. Sprinkle ¼ teaspoon of the salt over the tofu and then give it a good mix. Pan-fry the tofu cubes, flipping them about every 2 minutes, until golden brown and crisp on all sides, about 10 minutes total. Move the tofu to the side of the pan. 

Add the onion and bell pepper. Sauté for 2 minutes, or until the bell pepper is tender. Add the rice and then season with the soy sauce, coconut sugar, curry powder and chili powder or fresh chile. Mix well and then season with the remaining ¼ teaspoon of salt and the white pepper. 

Add the pineapple and increase the heat to high. Give the mixture a good stir and cook for 2 to 3 minutes, stirring occasionally to prevent the rice from sticking to the bottom of the pan.

Add the cashews, scallions and tomato. Mix well and cook for 2 more minutes. Adjust the seasoning according to desired taste, as needed.

Turn off the heat and then serve the rice in bowls or pineapple bowls. Garnish the rice with more chopped scallions, if desired. Enjoy while hot!
Calories: 281kcal | Carbohydrates: 22g | Protein: 11g | Fat: 18g | Saturated Fat: 3g | Polyunsaturated Fat: 8g | Monounsaturated Fat: 6g | Trans Fat: 0.1g | Sodium: 871mg | Potassium: 474mg | Fiber: 3g | Sugar: 14g | Vitamin A: 977IU | Vitamin C: 36mg | Calcium: 69mg | Iron: 3mg
About the Recipe Author
Jeeca (short for Jessica) Uy is the creator of the popular vegan food blog, The Foodie Takes Flight. Growing up in a Filipino-Chinese household, her recipes are inspired by heritage, as well as her worldly travels. Beyond sharing a taste of home, she strives to inspire other people to adapt a healthier and more sustainable lifestyle by making veganism more approachable and accessible to all. You can find Jeeca's cooking videos on YouTube and more mouth-watering content on Instagram.
This delicious vegan pineapple fried rice recipe was excerpted with permission from Vegan Asian: A Cookbook by Jeeca Uy. Many thanks to our recipe testers Lexia Cicone and Joan Cehn for trying this veggie fried rice recipe and giving it a thumbs-up! Article written with support from Hannah Kaminsky. Please note that this article may contain affiliate links which supports our work at World of Vegan.