Move over, colorful smoothies—there's a new blend in town! Using just three ingredients: frozen bananas, plant milk, and vanilla extract, you can make a creamy, thick, budget-friendly, decadent vegan milkshake! With endless possibilities for customization, from toppings to mix-ins, this banana milkshake is a canvas for your wildest milkshake dreams.
Plus, with the rise of non-dairy milks and healthy alternatives, there's no excuse not to indulge in this creamy, dreamy treat. So whether you're a traditionalist or a milkshake maverick, join us on a journey to milkshake paradise with the almighty banana.
Bananas are also a great source of potassium, fiber, and vitamin C, making them the perfect base for a healthy milkshake. There's no doubt about it, this banana shake is incredibly ap-peeling! So grab your blender and let's get started!
Why This Banana Milkshake is So Awesome
With just a few simple ingredients and a blender, you can create a delicious and refreshing treat that's perfect for any time of day. So go forth and blend, friends, and remember: the only thing better than a banana milkshake is sharing one with someone you love (or keeping it all to yourself—we won't judge!). Here are a few more reason's to love it:
Super Healthy
Only 2 Ingredients
Enjoy in Less Than 5 minutes
Easy On-The-Go Snack
High in Fiber
Is a Banana Milkshake Good For You?
It sure is! Bananas are packed with potassium, which is great for muscle function and can help lower blood pressure. Plus, the creamy texture of a milkshake without the dairy means you can indulge without the guilt. And don't forget, by choosing a plant-based milk, you're also being kind to mama cows and to the environment!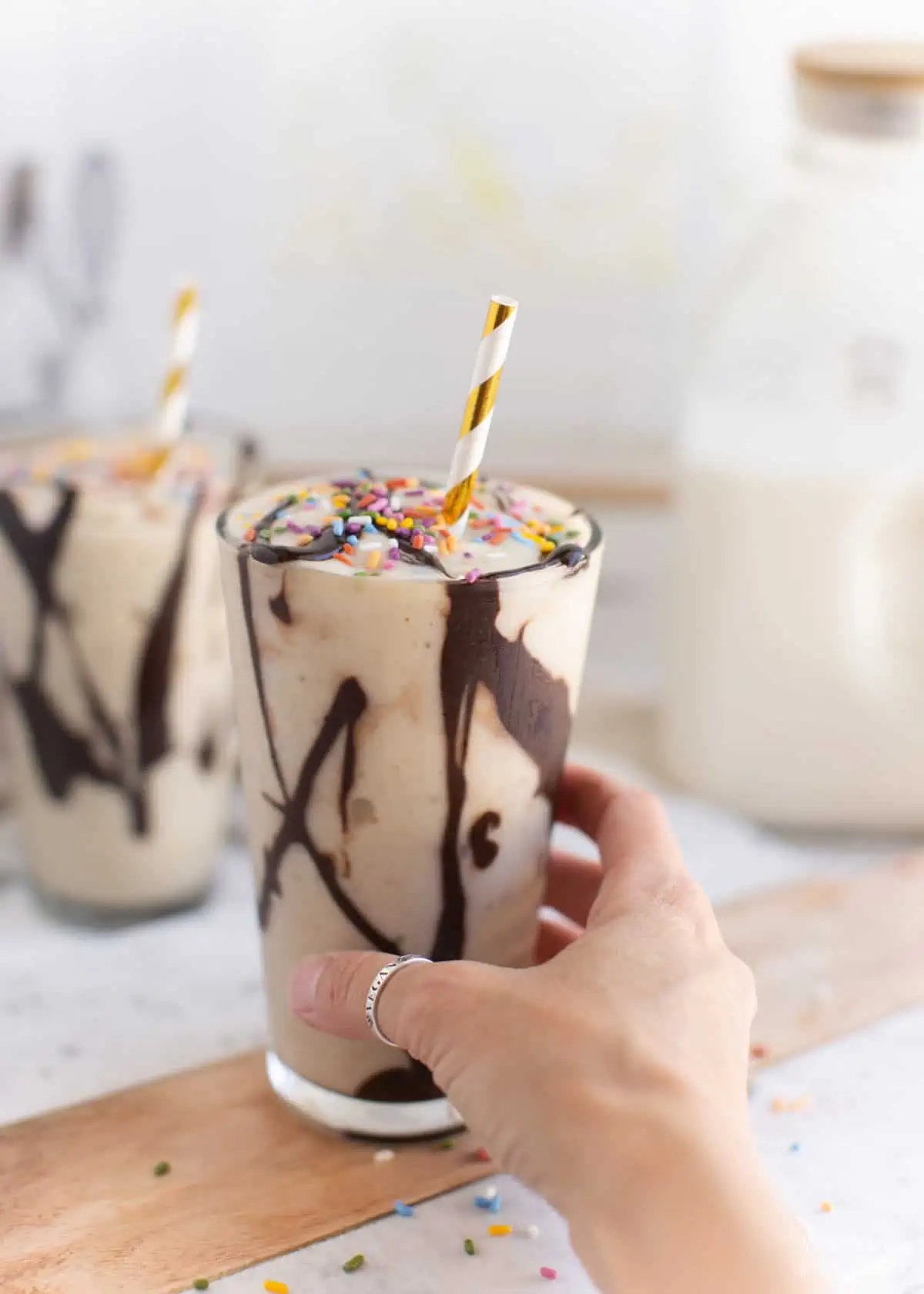 Finding the Best Non-Dairy Milk for Your Blended Treats
In our opinion, the thicker and creamier, the better. When you start sipping on your fruity frappe, you almost want to work for it. A thin and watery blend is a no-go! Any of these plant-based milks make a marvelous choice for this milkshake:
Oat milk is a rising star with its creamy consistency, no saturated fat, and high in fiber. Great for anyone with nut allergies or sensitivities.
Soy milk is always a solid option with tons of protein and rich in omega-3 fats.
Canned Coconut milk adds a tasty tropical twist and excellent texture, but some may find it to be a little too coconutty.
Cashew milk is super smooth, low in fat, and high in vitamin E.
You can even make your own plant milk using a nut milk bag or a milk machine like the Almond Cow!
How To Make a Homemade Banana Milkshake
Need a pick-me-up that's equal parts delicious and nutritious? In only two easy steps, you'll be slurping down your banana beverage in just a couple of minutes.
You will need a high-powered blender with a tamper (such as a Vitamix) in order to get the thickest, creamiest banana shake. The trick is to use as little milk as possible. This can be make using other blenders, but they will require more milk so your shake won't be quite as thick.
Are you prepared for your taste buds to go bananas?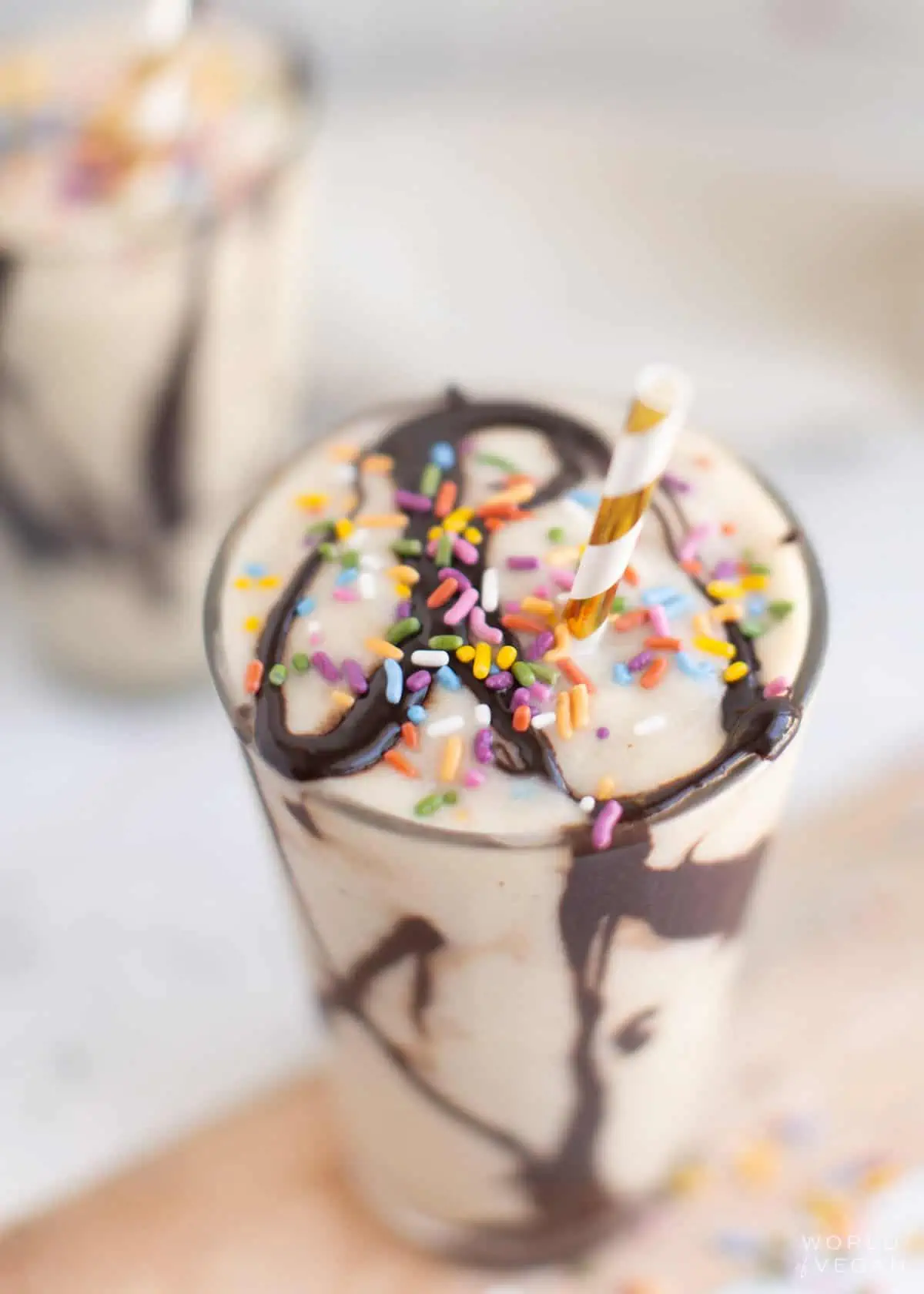 Step One
Gather up your ingredients, both fresh (plant-based milk) and frozen (bananas).
Step Two
Add the ingredients to the blender and blend for one minute, or until smooth and creamy.
Banana Milkshake Toppings
Now that you've mastered the art of making a homemade banana milkshake, the possibilities are endless. Experiment with different add-ins and wild and wacky toppings.
Add Ins:
fresh berries
frozen fruit
shot of espresso (for an extra kick)
Toppings:
The choice is yours, so let your imagination run wild and make a milkshake that's uniquely yours. Cheers to blending up some banana-y goodness!
Fun and Easy Banana Milkshake Flavors
Once you've had a bunch of banana smoothies, you may be itching for a tasty twist. These rich chocolate and cookie combinations of dairy-free milkshake flavors are sure to put a smile on your face. Get ready to shake things up and explore the wild and wacky world of bold banana milkshakes!
Chocolate Milkshake: Chocolate Lover's Dream
Add 2 tablespoons of cocoa powder to the recipe.
Nutella Banana Milkshake: Ultimate Hazelnut Happiness
Mix in 2-4 tablespoons of vegan nutella while blending.
Oreo Banana Milkshake: Can't Get Enough Cookies
Crush 4 Oreo cookies and add before blending.
Malted Milkshake: Nostalgic Ice Cream Parlor Pick
Include 2 tablespoons of malt powder to the recipe.
Healthy Milkshakes Using Dairy-Free Ice Cream
To double up on the decadence of this mouthwatering milkshake, consider adding dairy-free ice cream to the mix! Simply add 2 cups of vegan ice cream, 2 fresh (instead of frozen) ripe bananas, and approximately ¼-½ cup of plant-based milk. Blend and behold an even thicker, creamier, and fabulous flavor!
Delicious Ice Cream Combos:
Banana Smoothie Q&A
Is it possible to make this banana milkshake without a blender?
Yes, you can, though the texture might vary slightly. If you have either a food processor or hand mixer, you can make this vegan milkshake. You'll simply have to work quickly and sip on it as soon as it's done.
Can I make this milkshake ahead of time?
Any milkshakes should be blended up and enjoyed immediately. Even saving the milkshake in the fridge will cause the lovely thick texture to become melty.
How do I store any leftover banana milkshake?
If you're lucky to have leftovers, save the rest in a thermos in the fridge until ready to sip again. It will probably be thinned out, but still delicious. If you want to add more oomph, blend it up with a couple of frozen banana chunks first.
More Insanely Delicious Banana Recipes
We hope you'll love this banana milkshake—the drink that's sure to make you go bananas! With its creamy texture, sweet flavor, and refreshing taste, it's the perfect drink for any occasion. Whether you're looking to cool down on a hot summer day or indulge in a super healthy, sweet treat, the banana milkshake has got you covered. So what are you waiting for? Grab a blender, some ripe bananas, and start blending your way to milkshake heaven. Cheers to the humble yet delicious banana milkshake!
¾ cup plant-based milk
3 ripe bananas, frozen
1 teaspoon vanilla
Add the plant-based milk, bananas, and vanilla to the blender.

Blend until smooth, about 1 min. Enjoy!
If you don't have frozen bananas, use 3 ice cubes per ripe banana that you add to the blender. 
Add a dash of cinnamon, if desired. 
Calories: 176kcal | Carbohydrates: 41g | Protein: 2g | Fat: 2g | Saturated Fat: 0.2g | Polyunsaturated Fat: 1g | Monounsaturated Fat: 1g | Sodium: 124mg | Potassium: 637mg | Fiber: 5g | Sugar: 22g | Vitamin A: 113IU | Vitamin C: 15mg | Calcium: 122mg | Iron: 0.5mg