Fall is here, and with it comes delicious warming flavors like maple, cinnamon, apple, and peppermint that make the pre-holidays start to feel cozy and festive.
We've collected a round-up of our favorite vegan fall desserts here at World of Vegan that are perfect to bake up and enjoy as the leaves turn colors and weather cools.
Is there anything more fall than a crispy, sweet, gooey, cinnamon infused apple pie? Our classic World of Vegan apple pie has stood the test of time, and is a staple in many homes through the fall season. Whether you're baking it up to welcome the new season or serving it up for Thanksgiving, it's sure to be a winner!
No fall is complete until you've baked a pumpkin pie. This is one of the easiest recipes ever, especially if you use a store-bought pie crust. Be sure to pick up some dairy-free ice cream or vegan whipped cream to dollop on top. Or you can make your own coconut whipped cream from scracth!
Whether you're having a friend for dinner or bringing the entire family together for Thanksgiving, this is a wow-worthy dessert recipe to turn to. It's quick and easy to prepare and your guests will never guess the secret ingredient: tofu.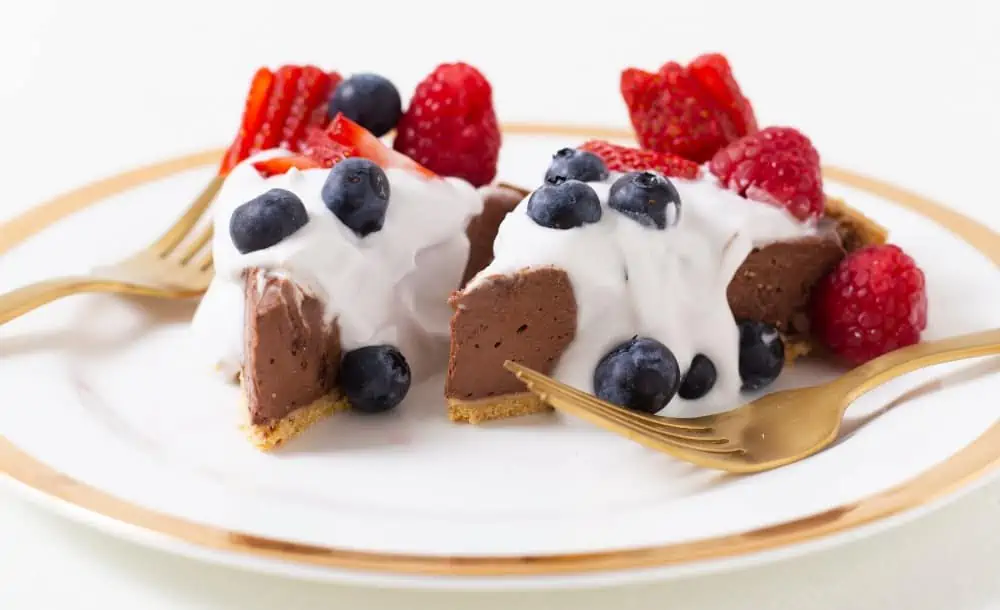 Everything pumpkin, please! These muffins are made using a whole can of pumpkin puree, and they come our absolutely perfectly.
Fresh baked muffins in the morning? They sing fall, and these vegan muffins provide a perfect opportunity to use up those super-ripe or even browning bananas. They also bring forth the flavors of maple, vanilla, and cinnamon which are such classics for fall.
A few weekends ago I went apple picking for the first time, and it was so much fun. I'll definitely be making it an annual tradition! But whether you're bringing home a basket full of fresh-picked apples or just getting them from the grocery store, apples are everywhere throughout fall. So I'm always on the lookout for delicious apple recipes! This is a fun one highlighting the perfect pair: apples and cinnamon.
Soft pillowy blondies with a delicate, sweet maple flavor. These not overly sweet, and are really easy to make. They're a fall baking essential at World of Vegan!
Does chocolate count as a fall flavor? I'm not sure, because chocolate is a staple all year 'round in my house. But desserts that scream decadence are definitely a symbol of fall, especially these which can be served up to guests in ramekins following a hearty meal. It's delicious, it's wicked-easy to make, and it's definitely something I'll be whipping up this season.
Grab some fall-themed cookie cutters (I used these) and whip up a quick batch of these simple vegan sugar cookies. I love these cookies because they're not too sweet, so they're a perfect base for icing and sprinkles. I sometimes pop a batch in the freezer and snack on them plain, Girl Scout cookie style (am I weird?).
This is a fancy spin on a lazy-girl banana hack I've been using for years. I love slicing a banana in half, topping with maple syrup and chocolate chips (and sometimes even Dandies vegan marshmallows), and popping it in the microwave for a 1-minute-to-make sweet treat. My hubby and I call it "Nana Smoosh."
So when my friend Tess Challis shared this recipe, I knew I had to give it a try. It's a classed-up version of "nana smoosh." It's more work, sure, but it's delicious and fancy enough to serve to guests. Yum!
This recipe is inspired by my dear friend Eddie Plotts. He brought a version of these homemade cookies to my going away party after college in Ohio. They were so good that everyone ate them up and begged for the recipe. With a base of oats and coconut, you can almost claim that they're healthy. *Wink wink*
Dress these vegan donuts up with some festive sprinkles and you've got a perfect bakery-style specialty dessert made right at home! They're baked, not fried—you'll just need a donut pan (I use this silicone one that I got for Christmas and love it). 
We're closing out this vegan fall desserts list with a cozy drink—because what's fall without PSLs and peppermint mochas? Call me basic, but you can't deny the feels you get when grasping a hot peppermint mocha on a nippy day. Extra points for enjoying it fireside with your companion animals and a good book!
I hope this round-up of vegan fall dessert recipe favorites is helpful to you as you celebrate the season. Many of these recipes would be perfect to serve at Thanksgiving, or even to bookmark for the later holidays like Hanukkah and Christmas. Of course, don't hesitate to make a normal weekend feel extra special by baking up a batch of vegan blondies or cozying up with a good book and some peppermint mocha. You deserve it!
More Fall Resources
Vegan fall desserts photos and recipes are by our World of Vegan contributors and cookbook author guests. All rights reserved. Thank you!