Why do the words maple brown sugar bring the most cozy images to mind? Perhaps you picture a warm, bright kitchen with red and white gingham curtains and a lazy, lounging calico cat on the windowsill. Or maybe a well-worn wooden table with cool, ceramic bowls filled to the brim with fresh fruit and maple granola?
If you're on the same page, you're going to love our classic take on this sweet and crunchy cereal. Who doesn't love the crumbly, chewy texture of a golden-baked granola? We think you'll love this simple sheet pan bake because it's effortless, versatile, and has a truly excellent flavor.
Grab your favorite wooden spoon, a big bowl, and all of your ingredients. Let's get this granola party started!
Is Maple Syrup Healthy?
There are positive and negative aspects to this type of natural sweetener. On the positive side, maple syrup is high in antioxidants and also offers many nutrients such as riboflavin, zinc, magnesium, calcium, and potassium. Can you believe it has fewer calories per tablespoon than honey, as well?
We chose maple syrup for this recipe because it's a wonderful substitute (both in sweetness and texture) for honey, which is not vegan. Maple syrup comes from sugar maple trees and, although it is a processed food, it is purely plant-based and does not exploit any living creatures.
On the negative side, it is almost identical to table sugar for the amount of sucrose that it contains and should not be consumed in large quantities. Although you can't truly call maple syrup a "healthy" food, it does have a slower rate of raising the blood sugar and a number of important minerals to boot. Keep in mind that this recipe only calls for a small amount compared to the large quantity of maple granola that it makes in the end.
How To Serve Up Your Maple Granola
Inspired by the Homemade Granola recipe in The Friendly Vegan Cookbook by Michelle Cehn and Toni Okamoto, this adaptation was created to give you simple foundation to fill up with your own delightful and delicious ingredients. Allow your creativity to run free!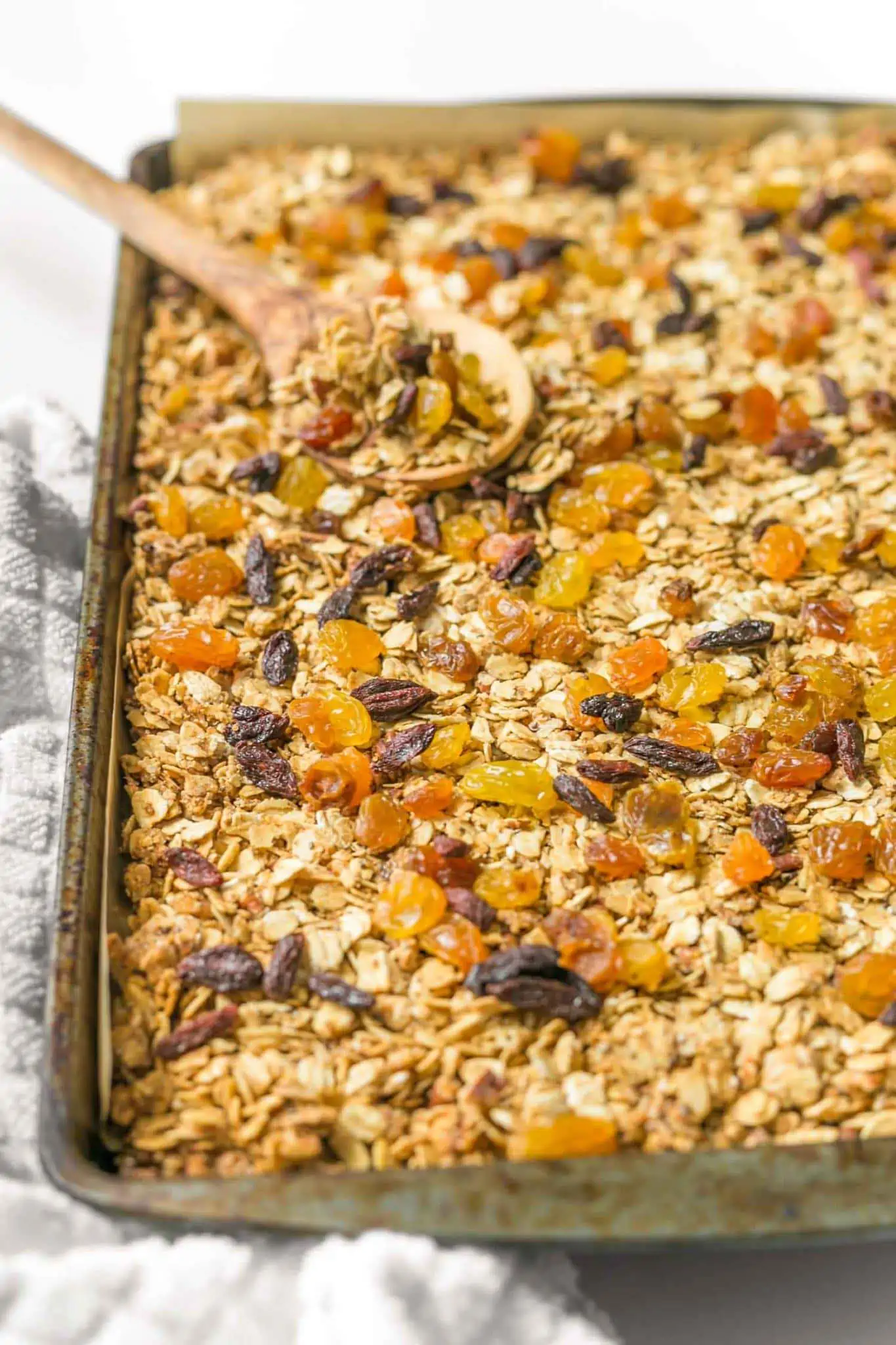 Fantastic for Food Prep
This is an example of an easy recipe that works really well for making ahead of time. It can also be a fun activity to do with your kids or even a friend. Let everyone choose one item that they want to go into the granola (besides the oats, oil, and sweeteners). There are so many options to choose from – you're bound to create a yummy and unique version of your own!
Have a few sealable containers on hand (or just some mason jars with lids) and, when the granola is completely cool, start scooping it in! You'll be so happy to have a quick, grab-and-go snack or breakfast topping on days when you're rushing around like a maniac. Already made maple granola is great because it only takes a little over an hour to bake and will stay fresh for at least a week or more.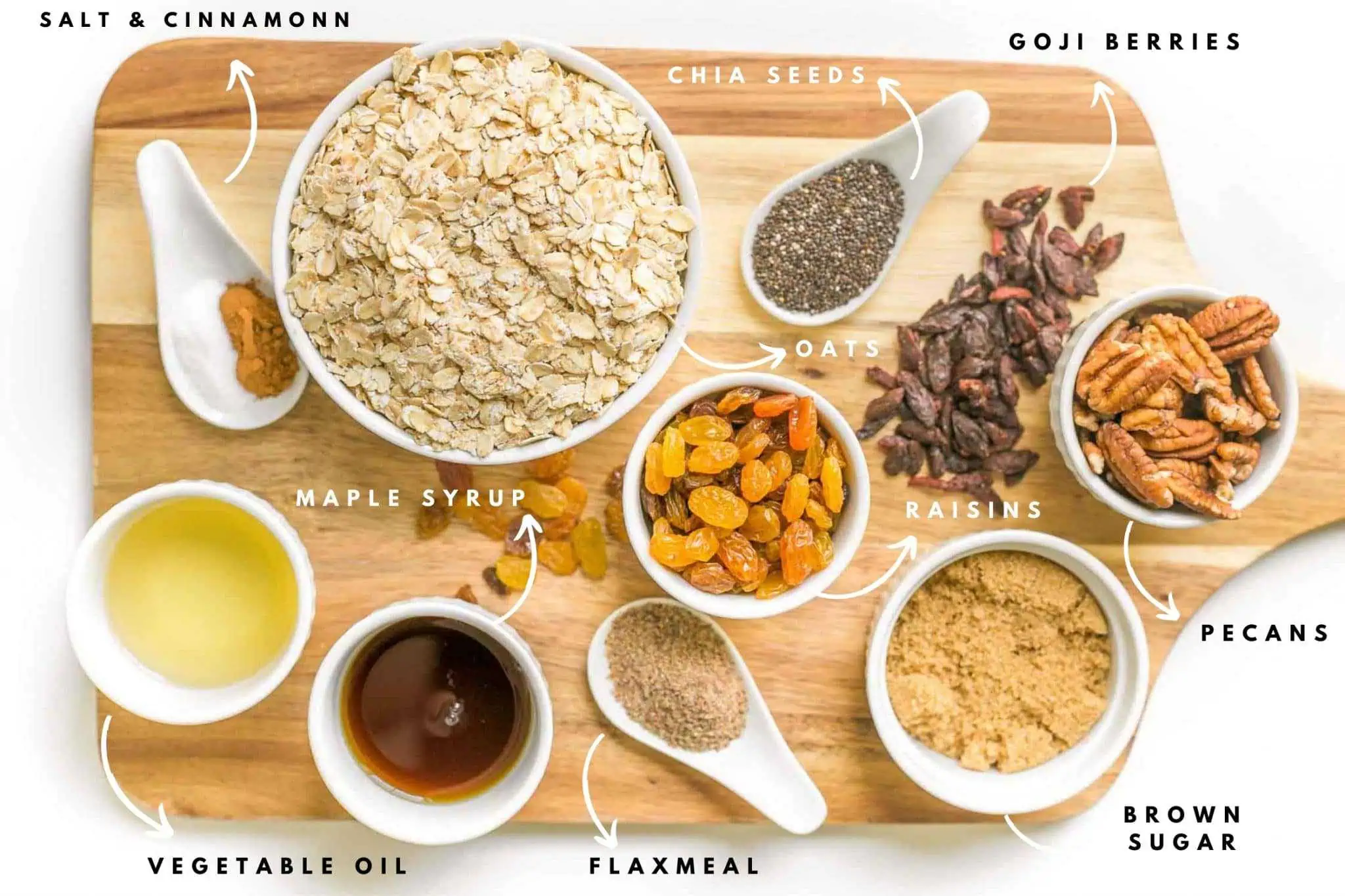 Simple Storage
Any leftover maple granola can be stored in a covered container in the pantry until you've gotten another craving for it. You can also freeze any amounts that you don't think you'll use up within a week or two. Just make sure that the sealed container (or bag) has as little air in it as possible. It will keep up to 3 months frozen and you can leave it on the counter overnight to thaw.
Equipment You'll Need
If you try this Maple Brown Sugar Granola recipe, let us know what you think by leaving a comment and rating below! Be sure to follow along on Pinterest, Instagram and Facebook for even more vegan recipe inspiration.
3½ cups rolled oats
½ cup chopped pecans, finely chopped, it's okay if bigger chunks remain
1 tablespoon ground flaxseed meal
1 tablespoon chia seeds, optional
¼ cup packed brown sugar
½ teaspoon ground cinnamon
¾ teaspoon salt
¼ cup vegetable oil, neutral flavored oil—I use canola
¼ cup maple syrup
½ cup raisins
¼ cup goji berries or mulberries or more raisins
Preheat your oven to 350° F

In a large mixing bowl, add the oats, pecan pieces, ground flaxseed meal, chia seeds, brown sugar, cinnamon, and salt. Mix until well-combined.

Drizzle on the vegetable oil and maple syrup and mix again very thoroughly until the oats are evenly coated.

Line a full-sized baking sheet with a silicone mat or parchment paper and spread the oat mixture evenly on top. Pat it down with a spatula or spoon to create an even layer.

Bake for 22 minutes, remove from the oven, sprinkle with raisins and goji berries evenly over the top (without stirring) and allow to cool for 1 hour. Note: the granola may still seem a little soft when you pull it out of the oven but it should harden and become crunchy as it cools.

Store granola in a sealed container (or two) and store in your pantry until you're ready to eat it.
Calories: 334kcal | Carbohydrates: 47g | Protein: 6g | Fat: 15g | Saturated Fat: 2g | Polyunsaturated Fat: 7g | Monounsaturated Fat: 5g | Trans Fat: 0.05g | Sodium: 226mg | Potassium: 277mg | Fiber: 6g | Sugar: 13g | Vitamin A: 5IU | Vitamin C: 1mg | Calcium: 55mg | Iron: 2mg
More Sweet Snack Recipes to Try:
Maple Brown Sugar Granola Recipe by Michelle Cehn and vegan food photography by J.J Steele, copyright of World of Vegan™, all rights reserved. Article written by Gina House and edited by Amanda Meth. Please note that this article may contain affiliate links which helps support our work at World of Vegan.