Swap your morning eggs for this equally delicious—and way healthier—tofu scramble. Protein-packed and full of flavor, this scramble definitely deserves a spot on your weekend brunch table. Serve it up over toast or alongside homestyle potatoes and veggie sausage for the ultimate vegan comfort breakfast!
Hearty, buttery, and completely comforting, it's an essential dish that everyone should have in their cooking repertoire. Thousands of variations exist to fulfill all cravings, but this perfected recipe makes the very best tofu scramble around.
Tofu scrambles gained notoriety alongside the rise of veganism, first appearing in recipes around the 1960s. Advances in food science have brought us incredibly realistic liquid plant-based eggs since then, but there will always be a place at the table for this old school approach. It has a lot to offer besides good taste, although that alone is a very compelling quality.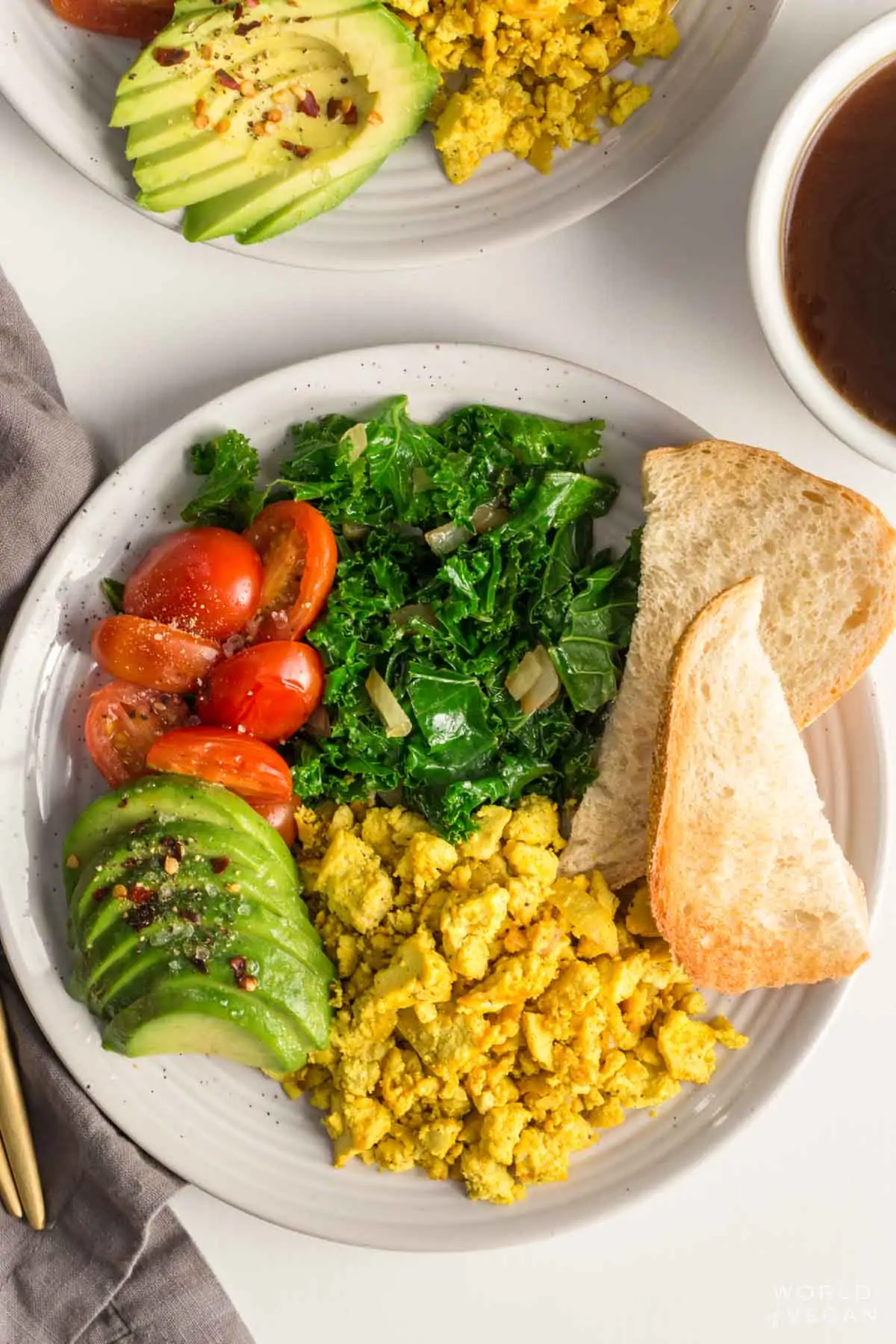 Why You'll Love This Tofu Scramble Recipe
High in protein: Extra-firm tofu has roughly 44 grams of protein per pound, which is a huge chunk of your daily recommended allowance. Talk about starting the day on the right foot!
Gluten-free, dairy-free, and always vegetarian and vegan: Allergy sufferers and compassionate consumers, unite! Everyone can enjoy this meal without any worries.
Fast and easy: You could have a hot, healthy meal on the table in about 30 minutes, no experience required. This is a great staple for new cooks of all ages to build confidence and skills with.
Affordable: Most of the ingredients here can be bought in bulk and come straight from your pantry, allowing you to feed a family for pennies on the dollar.
Ingredient Notes
Tofu
Extra-firm tofu is ideal for this preparation, since it crumbles easily into tender, toothsome curds, much like well-cooked scrambled eggs. There's still a good deal of water you'll want to remove so that your scramble doesn't become too runny. You can simply squeeze it out by hand or pop it into a tofu press for a few minutes.
Soy sauce
All you need is a splash to add subtle umami flavor and a satisfying salty finish. If you're watching your sodium, try "lite" soy sauce or coconut aminos instead.
Black Salt
Also known as kala namak, this is the secret ingredient that makes anything instantly taste undeniably eggy. This is because it's volcanic salt that has a naturally sulfuric aroma. Despite the name, it's actually pink in color, so don't be fooled while shopping. Black salt can be found in most health food stores, specialty groceries that carry Indian foods, and online.
Just a little pinch will do! This superfood makes an appearance more for color than flavor here, imparting a sunny yellow hue that closely mimics the appearance of beaten egg yolks.
For a final touch of richness and savory flavor, it's hard to beat butter. Luckily, there are many options for vegan butter now that taste exactly the same! Check labels to find one that best suits your needs, whether that's something soy-free, nut-free, or palm-oil free. There's a better butter for everyone out there.
How to Make a Great Vegan Tofu Scramble
The following step-by-step process shows how easy it is to make an incredible tofu scramble without much effort. Full times and temperatures can be found in the recipe card at the bottom of this post.
1. Start by sautéing the onion to soften and lightly brown it. It should be aromatic and ready to go after about 2 minutes.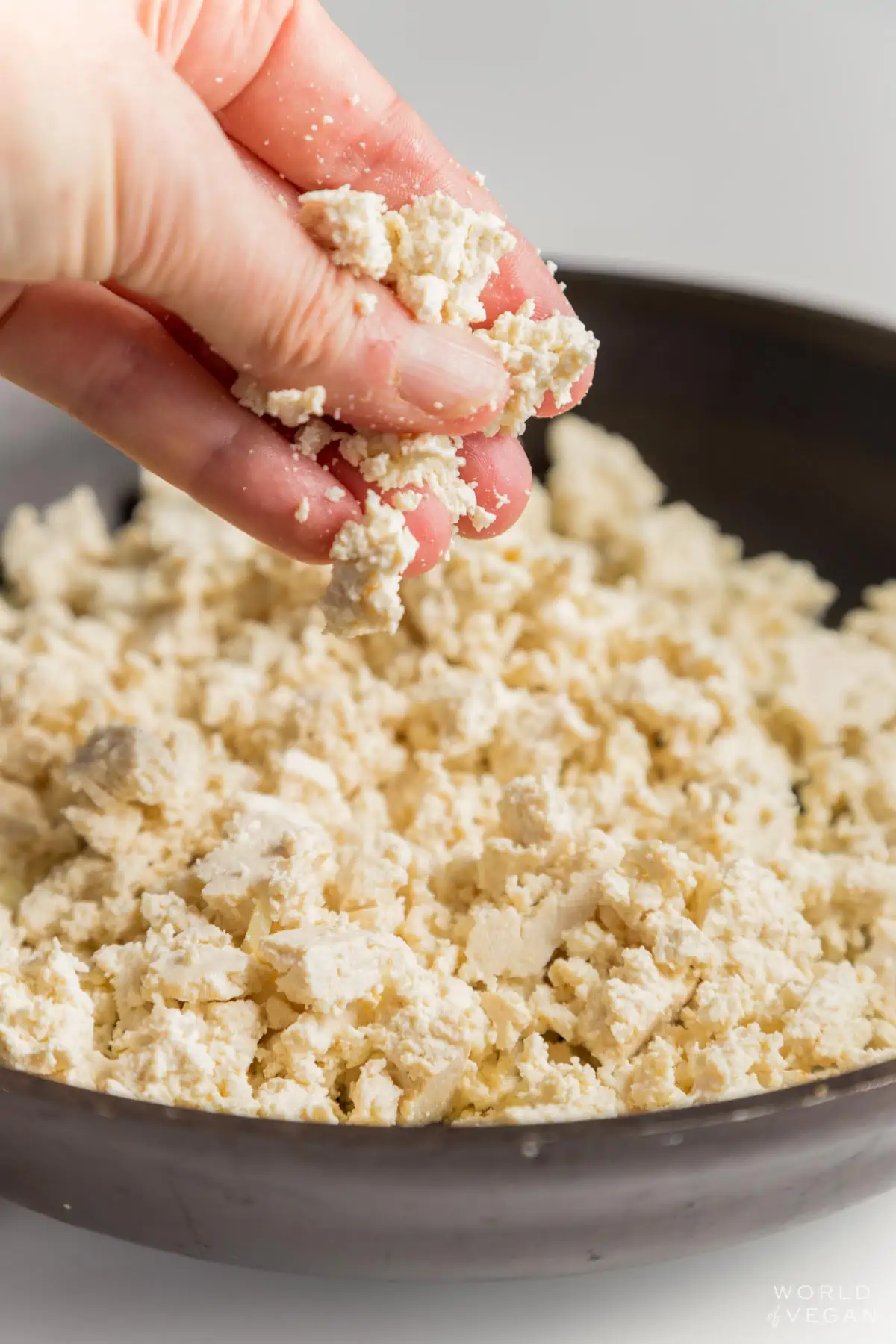 2. Use your hands to crumble the tofu directly into the skillet. There are no rules about how big or small the pieces should be, so have fun with it! You can always go back in later with a potato masher to make the chunks smaller or more consistent.
3. Sprinkle with tofu scramble seasoning, mix to combine, and continue to cook. Let the tofu sit, undisturbed, if you want more crispy edges. Toss occasionally to make sure it browns evenly.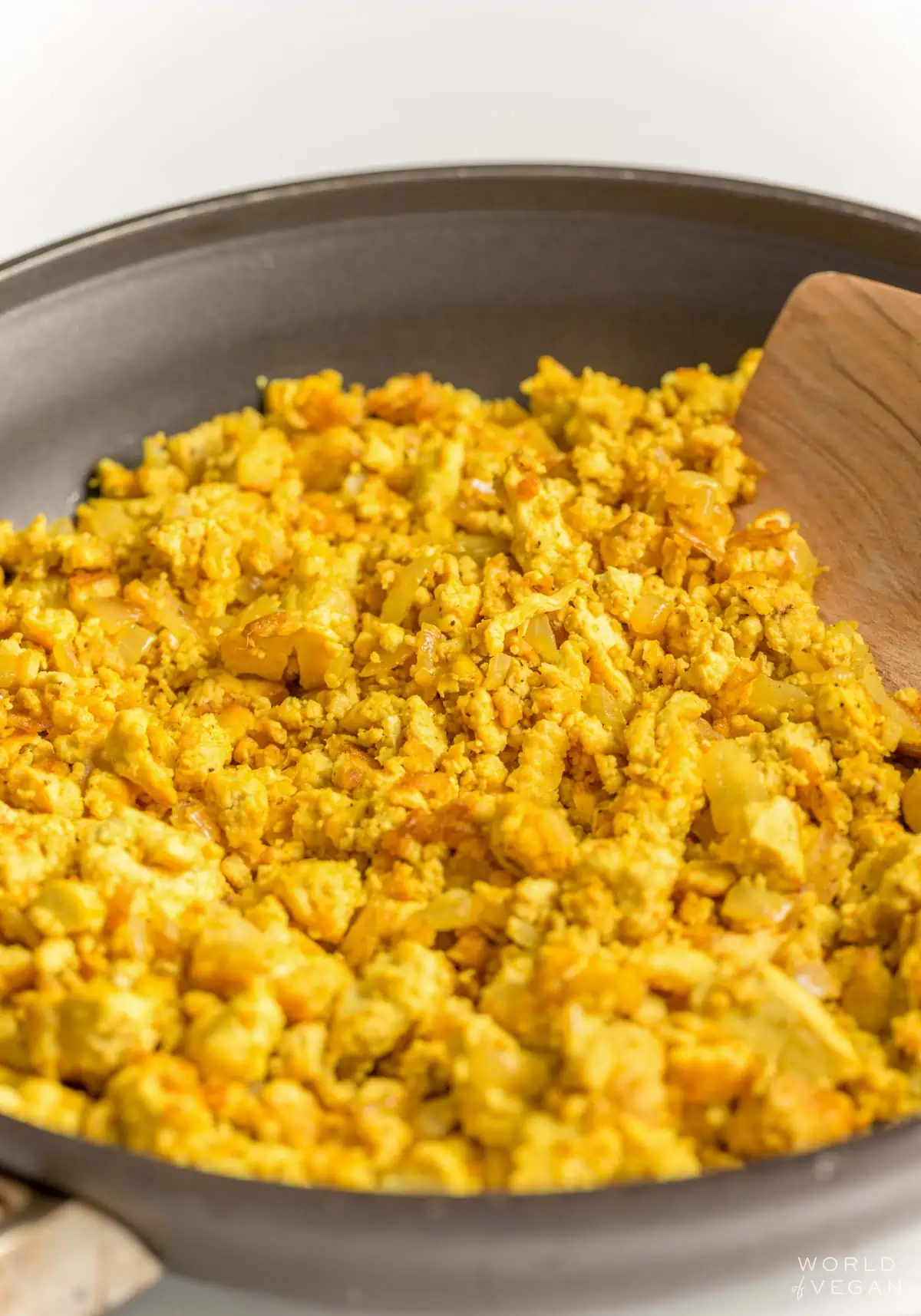 4. Finish with black salt and serve hot!
What To Serve With Tofu Scramble
It may sound strange to eat tofu for breakfast at first, but this version is truly no different from a classic scrambled egg. With that in mind, consider the same sort of pairings you'd find at your favorite diner, such as:
Toast
Biscuits and gravy
Sliced tomatoes
Diced or sliced avocado
Grits
Ideas For Tofu Scramble Mix-Ins
Personalize each fresh scramble with your own finishing touches! You'll never get bored when ever meal can be a unique flavor adventure. A few of our favorite mix-ins include:
Spinach, arugula, or kale
Sautéed mushrooms
Peppers and onions
Asparagus, green beans, broccoli, or zucchini
Fresh basil, parsley, scallions, or chives
Sriracha
Frequently Asked Questions
How long will tofu scramble keep?
Store any extra tofu scramble in an airtight container in the fridge for 3 to 5 days. This is a great option for meal prep that you can make ahead and simply reheat as needed. It also travels well for a packed lunch or brunch that tastes great at room temperature.
How do you reheat leftover tofu scramble?
Reheat individual portions of tofu scramble in the microwave for 60 to 90 seconds, until hot all the way though. Alternately, toss it into a skillet over medium heat along with an extra splash of water, and sauté for 2 to 4 minutes. This method is great if you want the edges a bit firmer or golden brown.
Is tofu healthier than eggs?
When it comes to lean protein, tofu is the reigning monarch. Naturally low in fat and completely free of cholesterol, soybeans will always beat eggs in this fight. Additionally, tofu is much higher in fiber and lower calories, which makes it a better choice for staying full and focused throughout a full morning's work.
What are other ways to serve tofu scramble?
If you don't want a plain plate of scrambled tofu eggs, there are plenty of other options for dressing them up. Stuff tofu scramble into tortillas to make a breakfast burrito or tacos, use it as a filling for sandwiches or pita pockets, or top baked potatoes, just for starters.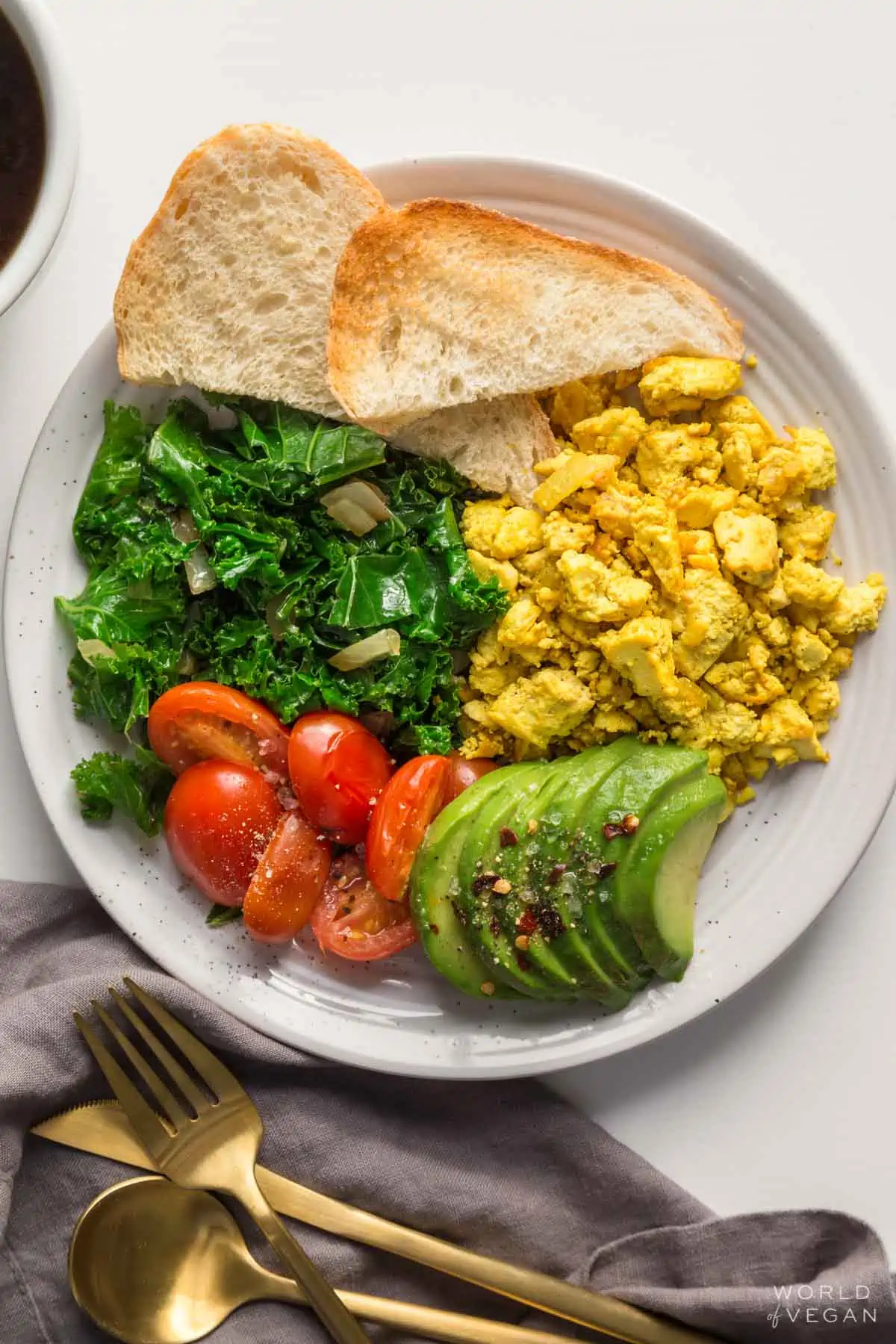 More Savory Vegan Breakfast Recipes To Try
1 tablespoon canola oil
½ small yellow onion, diced
1 block extra-firm tofu, drained and water squeezed out by hand or with a tofu-press
2 tablespoons soy sauce
¼ teaspoon ground turmeric
¼ teaspoon garlic powder
¼ teaspoon black pepper
1 tablespoon vegan butter
4 cloves garlic, minced
¼ teaspoon black salt
Salt to taste, if desired
Heat a large nonstick pan with canola oil. Add the onion and saute for 2 minutes.

Use your hands to crumble in the tofu into the pan. You can make large or small chunks depending on your preference.

Add soy sauce and stir. Add turmeric, garlic powder, black pepper, vegan butter, and minced garlic and stir once more. Allow tofu to sit one the pan without touching it for a few minutes so it has a chance to brown up slightly. The longer you leave it undisturbed, the more brown and crispy it will get. Toss with a spatula a few times, allowing a few minutes between each toss to gently brown different sides of the tofu.

Sprinkle on black salt, mix, and taste. If needed, adjust seasonings to taste.

Serve and enjoy!
Have leftovers? Tofu scramble is best fresh, so if you're serving it to friend and family, definitely make a fresh batch. But if you'd love a quick next-day breakfast or batch cooking with your scramble, you can absolutely save your leftovers and reheat them later. Allow to cool fully first and then and store in an air-tight container for up to 3-5 days. Reheat in the microwave or on the stovetop.
Calories: 250kcal | Carbohydrates: 9g | Protein: 17g | Fat: 17g | Saturated Fat: 2g | Polyunsaturated Fat: 6g | Monounsaturated Fat: 8g | Trans Fat: 1g | Sodium: 1469mg | Potassium: 408mg | Fiber: 1g | Sugar: 3g | Vitamin A: 2IU | Vitamin C: 3mg | Calcium: 82mg | Iron: 3mg
This vegan tofu scramble recipe was created by Michelle Cehn and Dan Miller. Article written with support from Hannah Kaminsky and edited by Rachel Lessenden. Photos by J.J. Steele for World of Vegan, all rights reserved.