Pasta never goes out of season. Even when it's the dead of winter, you can still whip up an amazing dish with basic pantry staples that will taste like a bright, fresh, bite of summer. How is that possible? Creamy pink sauce pasta makes it happen with canned fire-roasted tomatoes and raw cashews, blended together until silky smooth. Whether you want a quick dinner after a long day of work, a comforting dish to wind down with, or a bold pick-me up any day of the week, this is the recipe you're looking for.
All you need is one pot, one blender, and 15 minutes to spare. Turn on your stove and get the water boiling right now; you'll want to dig in right away after you get the recipe for this mouth-watering meal!
Why You'll Love This Pink Sauce Pasta Recipe
You can never have too many pasta recipes, right? This pantry staple never goes bad and never gets old. Use your noodle and get ready to fall back in love all over again with this quick fix meal!
Ready in an Instant – It takes 15 minutes from start to finish, including prep and plating. Once your pasta water is boiling, you're already halfway done!
Classic Comfort Food – Imagine taking a bowlful of slow-simmer tomato soup and a cozy spaghetti dinner, and this is basically the result. Creamy, dreamy, and deeply savory, with loads of al dente noodles for a satisfying chewy texture; it's easy to eat and always hits the spot.
Kid-friendly – Even the pickiest eaters like pasta, right? The whole family will love this meal, and you can even customize it to each person's taste, adding more or less herbs, sauce, or veggies as desired.
Great for Novice or Nervous Cooks – If you can boil water, you can make this meal. The sauce is made entirely in the blender, so you don't even need to pick up a knife.
Dairy-Free – While you might expect cream, milk, cheese, butter, or all four to factor into such a silky sauce, this formula is just plain nuts. That's right; this one gets all its luscious richness from cashews!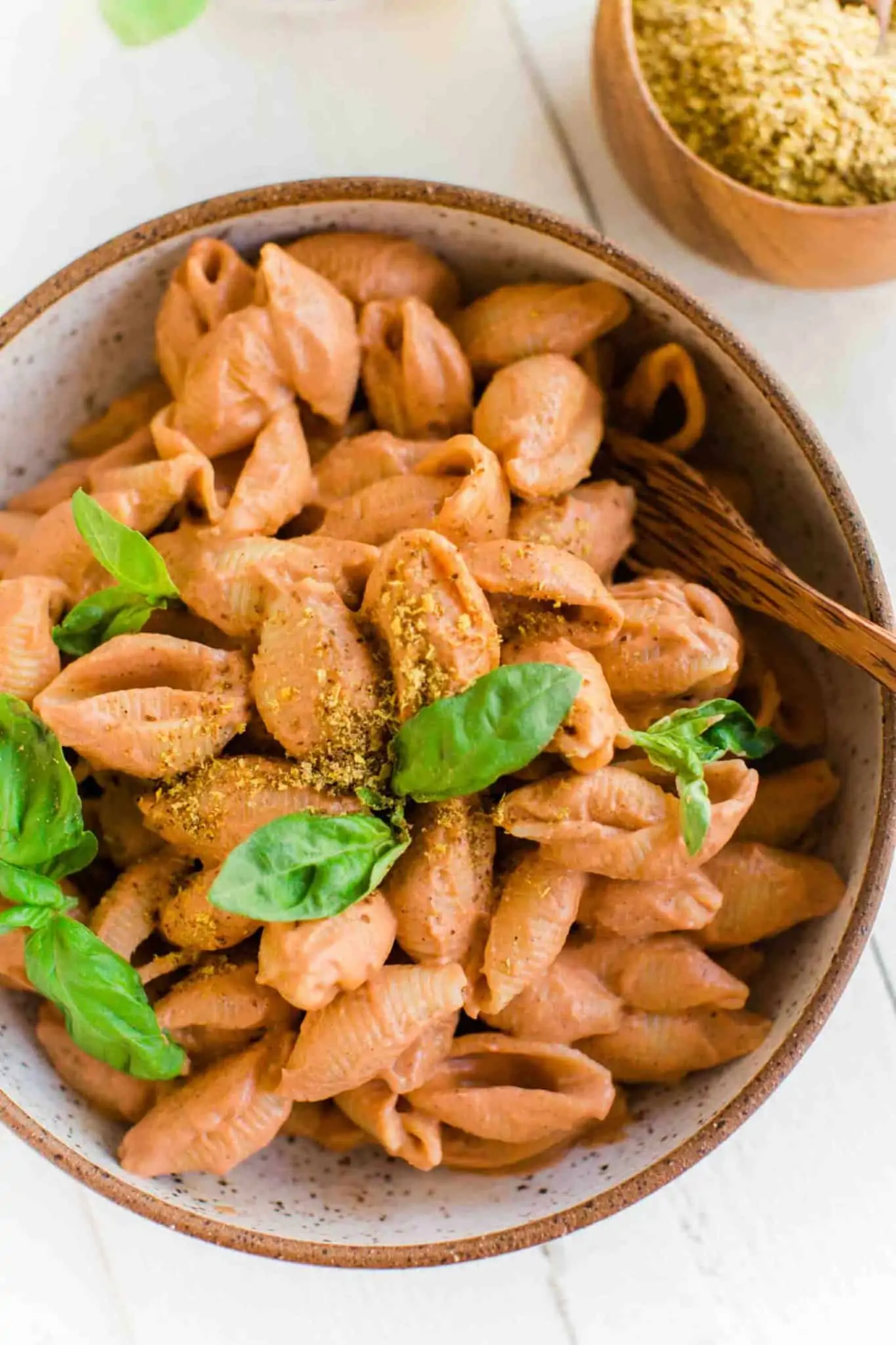 Pink Pasta Sauce Ingredients & Substitutions
With such a short list of ingredients, every single one of them counts. That said, there's still plenty of room for adaptation.
Fire Roasted Tomatoes – Take regular diced tomatoes, blast them with intense heat, and voila, you've got fire-roasted tomatoes. They can add a lightly smoky flavor and more concentrated savory flavor anywhere you'd use regular canned tomatoes.
Cashews – Raw, un-toasted, and unsalted cashews are key for success. You want a neutral taste with just the creamy goodness to shine through here. To make this recipe nut-free, you can use raw sunflower seeds instead.
Garlic – I would never dream of replacing the garlic, but if you're in a bind, you can use about ½ teaspoon powdered garlic instead of fresh here. Any garlic is always better than no garlic.
Oregano and Basil – These two herbs are the classic Italian combo that make any dish seem to sparkle with freshness. Don't let them stop you from inviting more friends to the party; they also play well with thyme, rosemary, and lemon zest, too.
Pick Your Pasta
There are oodles of noodles you could chose from, and no wrong answers! Big or small, short or long, pick your favorite and grab a fork. Here are a few of my favorite pasta shapes for this recipe:
Shells (medium)
Cavatappi
Farfalle
Rigatoni
Fusili
Elbow pasta (for a pink mac 'n' cheese vibe)
Prefer a gluten-free option? Use a gluten-free pasta made from chickpeas, lentils, quinoa, or other wheat-less ingredients if celiac disease is concern.
If you really want to lean in hard to the pink theme, you can find pink pasta colored with beets. 
How To Make Pink Pasta Sauce Creamy
There are number of ways you can make a creamy vegan pasta sauce. We have several recipes here on the blog! You can use ingredients like nuts, almond milk, coconut milk, vegan butter, silken tofu, boiled potatoes, steamed cauliflower, cornstarch, and beyond.
In this recipe we use raw cashews to create a simple cashew cream sauce. We simply blend the cashews with the other cream sauce ingredients in a high-powered blender until it's perfectly silky smooth and enjoy!
If you're working with a lower-powered blender you can soak the cashews for a few hours before blending so you can easily blend up your vegan cream sauce.
How to Cook Pasta
This is a basic skill that will get you far in life. If you're not sure about the best way to go about it, here's the low-down.
In a large stock pot, bring about 4 quarts of water to a boil over medium heat. Add a generous pinch of salt and stir until dissolved.
Add 1 pound of pasta, stirring briefly to prevent the noodles from sticking together.
Cook according to package directions, stirring occasionally, until "al dente," which means "to the tooth." It should be tender but still have a satisfying bite.
Drain thoroughly but do not rinse. The starch left on the surface of the noodles helps the sauce to stick.
Health Benefits of Tomatoes
Everyone knows tomatoes are good for you, but do you know why? Canned tomatoes may even have the edge on fresh in some ways, too! Yes, it's true; the canning process concentrates some of the vitamins and minerals, while making them more bio-available (easily absorbed by the body) so you can take full advantage of the nutritional benefits they have to offer.
Vitamin C – Everyone's favorite immunity booster, Vitamin C is one of the most abundant nutrients found in these round red fruits. A single tomato can contain up to 40% of your recommended daily allowance!
Lycopene – This is what give tomatoes their ruby red color. It's a powerful antioxidant that is particularly good for your eyes, working to prevent cataracts, macular degeneration, and other vision problems. Studies have also linked lycopene with a lower rate of all types of cancer.
Vitamin A – Working in concert with Vitamin C, this duo doubles down to support your immune system, as well as vision and skin health.
Vitamin K – Though less celebrated than Vitamins found earlier in the alphabet, Vitamin K is another critical component for building strong bones.
Potassium – Bananas may win all the praise for being high in potassium, but tomatoes have a lot to offer in this department, too! This essential nutrient helps maintain a healthy blood pressure and regulating overall heart function.
Fiber – Feel fuller longer, even if you use white pasta to pair with it! That's my idea of a perfect balance.
Frequently Asked Questions
Do I need a blender to make this pink pasta sauce?
Although it will definitely make the job easier and ensure the smoothest, silkiest results, you can also make the sauce in a food processor or use an immersion blender.
How long will leftovers keep?
Stored in an airtight container in the fridge, leftovers will keep for up to 5 days, but bear in mind that the pasta will get progressively softer over time.
Can I make this pink sauce pasta with fresh tomatoes?
Sure! It will take a bit more effort, but you can start with 2 pounds of fresh tomatoes, diced, and roasted at 450 degrees for 30-40 minutes, until lightly charred. Let cool completely before using.
This recipe makes a lot of sauce, what should I do with all the leftover pink pasta sauce?
Not to worry! Embrace the power of batch cooking and meal prep. Simply pour any remaining unused pink sauce in a sealed container (like a mason jar) to use with another fresh batch of pasta later in the week. Trust me, you will want more!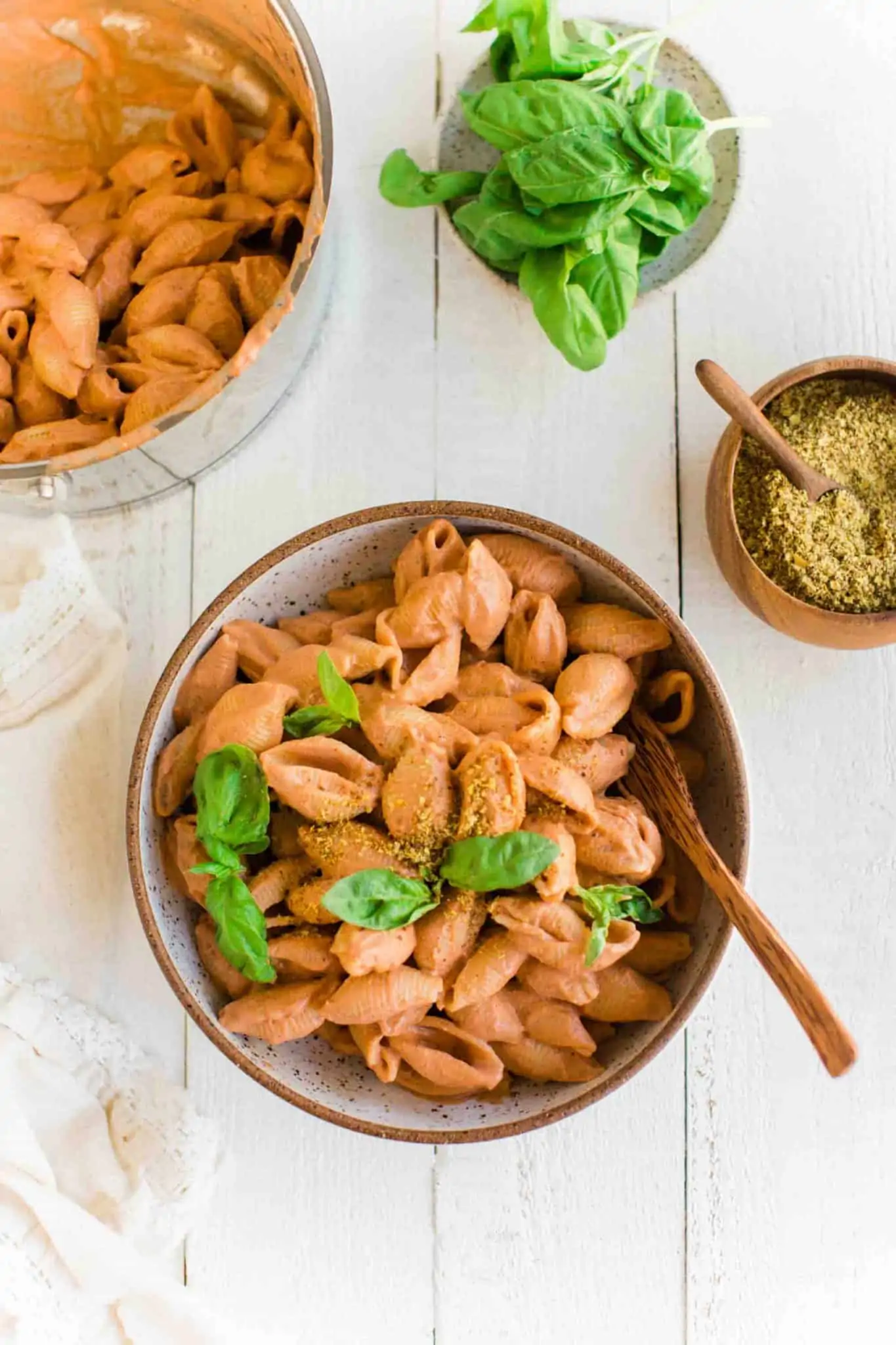 More Vegan Pasta Recipes
1 pound pasta, any type
1 28-ounce can fire roasted tomatoes
1 cup raw cashews
3 small garlic cloves
1 teaspoon oregano
1 teaspoon basil
1 teaspoon salt
¼ cup fresh basil, thinly sliced, for garnish (optional)
Cook pasta according to package instructions.  

In a high-powered blender, add the fire roasted tomatoes and their juices, cashews, garlic cloves, oregano, basil, and salt.

Blend on high for about two minutes or until creamy and silky smooth. The color should be uniform and there should be no chunks remaining.   

Drain your pasta, return it to the pot it was cooking in, and pour half of the sauce over the pasta. Mix well, and add more sauce as desired. Store the remaining sauce in a mason jar in the fridge for up to one week, and use for another batch of pasta. 

Serve topped with fresh basil, if desired, and enjoy! 
This recipe makes enough sauce for two batches of pasta. Store any unused pink sauce in a sealed container in the fridge for another batch of pasta later in the week! If you don't have a high-powered blender, soak your cashews for a couple hours before blending.
Calories: 325kcal | Carbohydrates: 52g | Protein: 11g | Fat: 8g | Saturated Fat: 1g | Polyunsaturated Fat: 2g | Monounsaturated Fat: 4g | Sodium: 449mg | Potassium: 243mg | Fiber: 3g | Sugar: 5g | Vitamin A: 441IU | Vitamin C: 2mg | Calcium: 55mg | Iron: 2mg
This vegan pink sauce pasta recipe was created and photographed by Michelle Cehn. We'd love to hear what you think in the comments below! Please note that this article may contain affiliate links which supports our work at World of Vegan.