Thanksgiving is kind-of a big deal. Ok, it's a really big deal. In this busy go-go-go world, for many people, Thanksgiving is the one time of year when family (or friends) sit down at a table together and share a meal. But this special time of year is not always easy on vegans. So we're delighted to share our Vegan Thanksgiving Guide to help guide you through an enjoyable holiday season.
The heart of the Thanksgiving tradition is about family, friends, and gratitude—not the turkey so often found at the center of the table. In fact, when you really think about it, eating animals on Thanksgiving is about as far from the meaning of the holiday as you can get!
If you're eager to remove animal products from your holiday celebration but you're not sure where to start, you've come to the right place. You don't have to change much to enjoy a considerate, compassionate vegan Thanksgiving—and we've laid it all out for you here!
Craft Your Vegan Thanksgiving Menu
Whether you want to spend a day creating amazing smells in the kitchen or prefer to opt for store-bought everything, there are lots of vegan options for you.
I tend to fall somewhere in-between—I buy store bought vegan stuffing mix, a vegan turkey roast, pie crusts, whipped cream, and ice cream, but I make much of the rest from scratch. Here are the recipes I'm considering using this year:
Vegan Thanksgiving Appetizers
Turkey-Free Thanksgiving Roasts
Vegan Thanksgiving Dishes
Vegan Thanksgiving Desserts
Thanksgiving-Inspired Drinks
Hot Spiced Apple Cider
Chilled Pomegranate Mimosas
Next-Day Thanksgiving Leftovers Recipe:
Choose Your Vegan Thanksgiving Meal "Centerpiece"
This could be a vegan turkey roast, or something more creative like a hollowed out pumpkin filled with a rice pilaf. If you go with the roast (they are quite delicious), you have many choices. You can make your own seitan roast (there are countless recipes online), or buy a vegan roast. Here are some of the most popular options:
Field Roast Celebration Roast (my favorite!)
Trader Joe's Turkey-Less Stuffed Roast (they've carried their own branded version of both Field Roast and Gardein over the years)
If you're unsure which to choose, watch our vegan turkey roast taste test video below!
Vegan Thanksgiving Cooking Class
Cooking up an entirely new lineup of dishes for Thanksgiving when you decide to eat vegan can feel a bit overwhelming. That's why we put together a virtual cooking class hosted by World of Vegan's Michelle Cehn and Toni Okamoto from Plant-Based on a Budget. Together they teach you how to make two of their favorite dishes: vegan scalloped potatoes and stuffed acorn squash boats with a tahini drizzle dressing. The class is recorded so you can take it any time from the comfort of your home—and it's just $10! You can register here.
5 Tips for Surviving Thanksgiving as a Vegan
Many people find that the most difficult time to be vegan is the holidays, so we tackled this very topic in our podcast, the Plant-Powered People Podcast. In this episode we share our top 5 tips for making your Thanksgiving experience delightful. Listen below!
We go into these in depth in the podcast episode, but in summary, here are our top 5 tips:
Bring your own delicious dish to share (or better yet, host the gathering if you can!)
Let your host know you're vegan ahead of time (for their sake as much as yours)
Don't arrive hungry
Find your favorite vegan roast (more on that below)
Don't be a downer at the dinner table (leave the advocacy at home!)
Remember, the holidays are not about the turkey (or ham). They're about spending time with the ones you love—which you can do just as well when you're vegan.
Vegan Thanksgiving Feast Video
If you're lucky enough to live in a vegan-friendly city, you may have a vegan bakery nearby that offers freshly baked Thanksgiving pies. Or perhaps you even live near a vegan restaurant like Veggie Grill that offers entire vegan Thanksgiving dinners (be sure to sign up in advance)!
Super-Easy Vegan Thanksgiving Feast (With Mostly Store Bought Items)
If you want to make life as simple as possible, watch this:
If you're grocery shopping for vegan Thanksgiving products that make hosting the holiday super easy, I'm a huge fan of Sprouts and Whole Foods. They have the best selection of vegan turkey and specialty food options, aside from Natural Foods stores. Watch our vegan Thanksgiving haul from Sprouts to see some of our favorite finds there that may be helpful to you if you have one nearby!
If this is your first time hosting a vegan Thanksgiving dinner, start here, where you'll find some very helpful tips for hosting a holiday party from seasoned vegans.
Establish a Gratitude Practice
Take this opportunity to reflect, express gratitude, and show kindness to others. If you have kids, this can be a great opportunity to teach kindness and foster goodwill. Here are 5 family gratitude practices and here are 5 ways to teach kindness to children.
Symbolically 'Adopt a Turkey'
As I'm sure you know, life is no picnic for turkeys on factory farms. Quite the contrary, life is hell on earth for these sensitive creatures, which you can see in our turkey 'Draw My Life' video.
After years of celebrating Thanksgiving with a deceased turkey on the table, it's incredibly cathartic to flip the tradition to a life-saving one. Now to celebrate the holiday every year I symbolically adopt a turkey and put the adoption certificate on the table.
Farm Sanctuary offers an 'Adopt a Turkey' sponsorship program where you can donate to support a rescued turkey at the sanctuary. They will send you an adoption certificate in the mail, picturing the rescued turkey that you've symbolically adopted. This is a great new tradition to start as a family.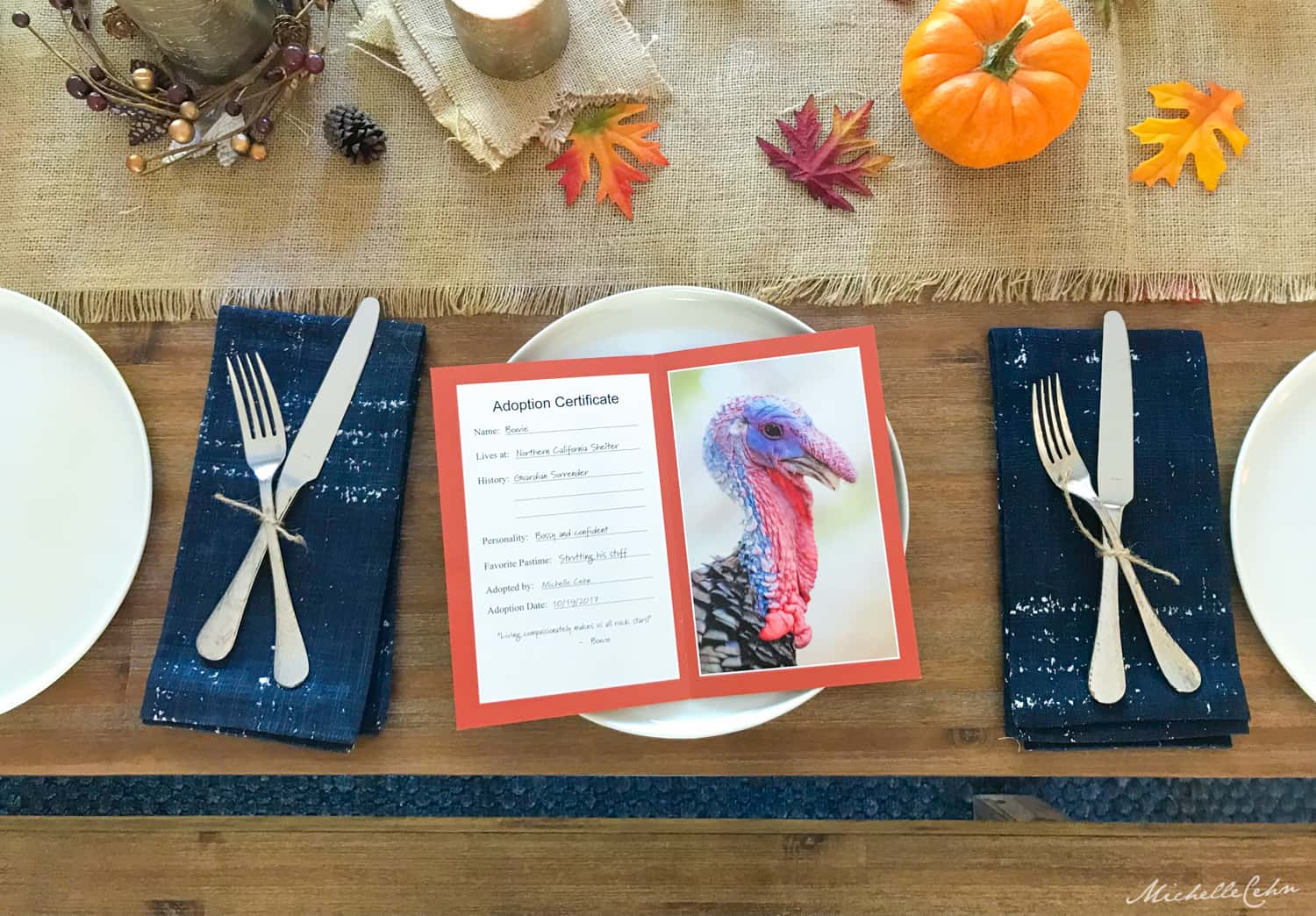 'Feed The Turkeys' At Your Local Farm Animal Sanctuary
Many farm animal sanctuaries hold events around Thanksgiving where you can feed the rescued turkeys (instead of eating them). These events often include a vegan Thanksgiving meal, barnyard time with the animals, and sometimes speakers and other activities as well. They are typically family friendly and a great opportunity to introduce the kiddos to some new animal friends. Check with your local sanctuary to see if they have an event! Note that many of these events fall on the weekends prior to Thanksgiving.
https://www.youtube.com/watch?v=hYXBQ1KES_s
Participate in a Tofurky Trot
Running a 5K (3.1 miles) race the morning after Thanksgiving is a popular tradition—so why not make your run do some extra good for animals? Tofurky Trots are 5K run (or walk) events initiated by Tofurky to help raise money for causes and spread the veggie love. You can gather a group of friends to trot for a cause you care about or run one by yourself.
This vegan Thanksgiving guide was written by Michelle Cehn for World of Vegan. Please note that this article may contain affiliate links which supports our work at World of Vegan.