What's Thanksgiving without the Turkey? Take it from someone who has been celebrating a meat-free Thanksgiving for more than 25 years—you can have all the best parts of Thanksgiving without the turkey. Trust me. But you don't have to give up that savory centerpiece in order to celebrate a compassionate holiday. There is another option.
You can choose kindness and turkey by swapping the bird for a Tofurky! Or a Field Roast, or a Gardein roast, or a homemade seitan roast, or any of the many vegan turkey roasts out there today.
Today we're going to show you how to prepare a Tofurky roast—but note that this method also works beautifully with Field Roast (my personal favorite vegan Thanksgiving roast).
Before we jump in, some good news. Preparing a vegan turkey roast is a whole lot easier than prepping a bird. There will be no moments where you're arm deep in a carcass, for one. Most vegan Thanksgiving roasts come pre-stuffed with delicious plant-based stuffing, so all you need to do is smother your roast with a baste, surround it with veggies, wrap it all up in tin foil in a casserole dish, and bake it to perfection.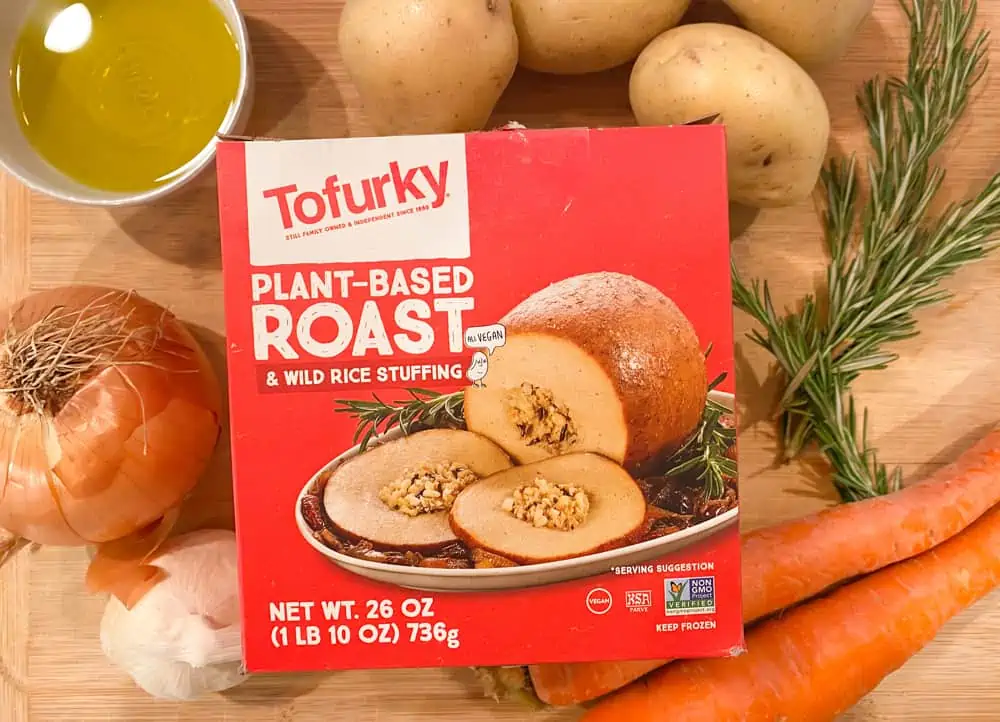 The Best Tofurky Baste
If you look on the back of the Tofurky box, you'll see a recipe for a simple base made with 3 tablespoons of olive oil, 1 tablespoon of soy sauce, and herbs. You can certainly use that vegan turkey baste recipe, but you'll see the garlic rosemary baste I use in the recipe below.
Here's what you need for the best Tofurky baste:
Olive oil
Minced garlic
Fresh rosemary
Salt
That's it! This makes enough to coat the vegetables and the vegan turkey roast to create a really beautiful rosemary and garlic infused meal.
Pick Your Veggies
Baking your Tofurky surrounded by roughly chopped vegetables is a great way to create an instant healthy side-dish to enjoy with your turkey. Even outside of Thanksgiving, my husband and I made this meal regularly for dinner to enjoy with some gravy. The veggies I always include are the classics:
Potatoes (I use 3-4 Yukon Gold potatoes but any potato will work)
Carrots (I use at least 2 large carrots)
Yellow onion (I use one small yellow onion, and I like it sliced into strips but you can also chop it into big chunks.
You can use any vegetables you'd like, keeping in mind that they'll be roasting for about an hour and half at 350 degrees F. Sweet potatoes are delicious, as are any root vegetable (like beets or parsnips), and halved Brussels sprouts work great as well. Use what you have!
Should I Peel the Potatoes and Carrots?
Great question! It's up to you. You certainly can, but I choose not to peel mine for a few reasons:
Convenience (saves time and effort)
Extra nutrition (vegetables like potatoes often have even more nutrients in the skin)
Preventing food waste (no need to discard edible parts)
I like the rustic feel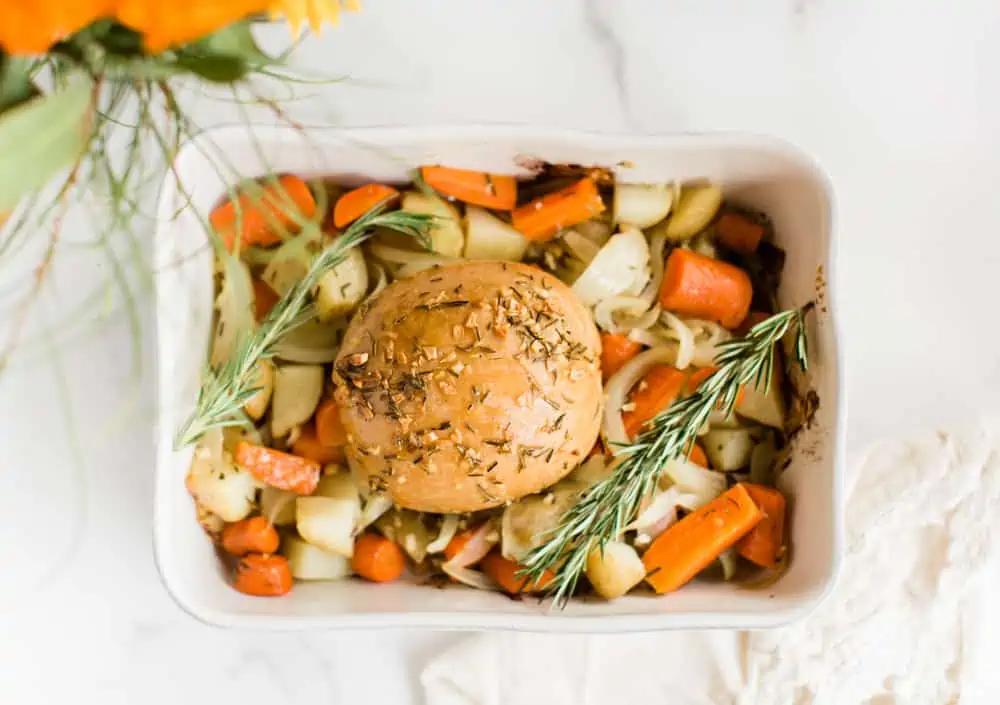 How to Slice Tofurky
There is a great divide among vegans regarding how they like their Tofurky sliced. Some like it thick—a big hunk of vegan turkey taking up nice real estate on the plate that requires a knife to saw into. Others like it thinly sliced—almost shaved—which is actually the method Tofurky (the brand) recommends.
Over my 13+ years of celebrating vegan Thanksgivings, I've always seen roasts cut into thick slices because they're easier to serve to a crowd that way (the stuffing won't fall out), but I'm eager to try the thin slice with my next roast. Do you have a preference? Let us know in the comments!
Either way you cut it, you'll want to use a very sharp knife (choosing a serrated knife helps). Some people even use an electric knife which is especially helpful if you want thinly shaved slices.
Tip: time your cooking so that you pull the Tofurky out of the oven right before you sit down to eat! It's a million times better hot out of the oven. Also keep in mind sliced Tofurky dries out quickly so don't cut it until you're ready to eat, and keep your roast covered until then as well.
What To Serve With Tofurky Roast
A delicious vegan gravy is key to making a winning roast. We have a simple mushroom-free vegan gravy recipe that goes perfectly atop your roast, your mashed potatoes, and all the other delightful Thanksgiving sides you serve up on your plate. We also have an insanely good mushroom gravy recipe in The Friendly Vegan Cookbook.
Here are some more amazing vegan Thanksgiving sides that would go great with your Tofurky roast: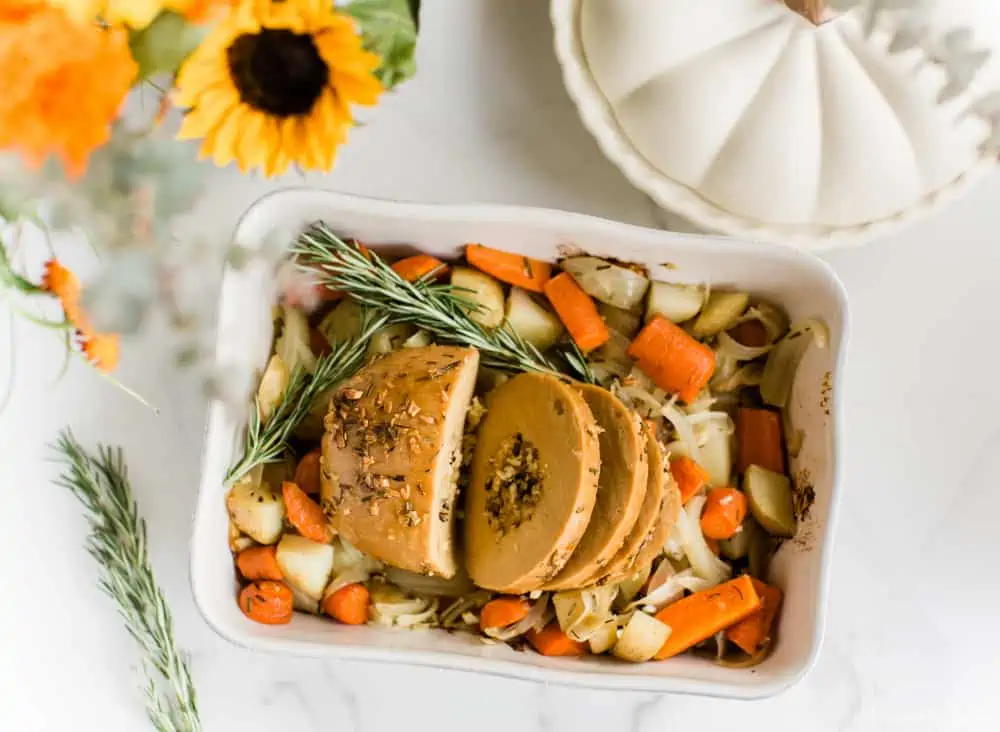 Where Can I Buy Tofurky or Field Roast?
One of the hardest parts of bringing this meal to life is finding your vegan holiday. Tofurky and Field Roast are seasonal items, meaning many stores don't start selling them until November, and stores commonly sell out before Thanksgiving.
My suggestion is: buy your roast as soon as you see it! They freeze beautifully, so if you know you'll be making a vegetarian roast for Thanksgiving and you spot one while you're out shopping, toss it in your cart. Don't wait, because there's no guarantee you'll find it again. Or you may have to drive around to a number of grocery stores to track it down, which is never a welcome scavenger hunt when life is already busy.
I got this Tofurky at Sprouts, but in years past I've gotten them at Whole Foods, my local natural foods store, and Safeway. If you need to find one fast, call the stores you'll be visiting first to make sure they have them.
If you're on the hunt for a Tofurky Roast, here are some nationwide grocery chains that typically stock it:
Walmart
Target
Kroger
Safeway
Whole Foods Market
Sprouts Farmers Market
Natural Grocers
Which Vegan Roast Should I Choose?
This is a point of contention for many vegetarians, since the vegan roast options on the market today are all vastly different. So we got the four most popular roasts available in the United States and put them to the test in our Vegan Turkey Face-Off video.
Three of us tried the roasts and the winner was…
There was no winner! We all had different favorite picks. Some people hate Tofurky but love Field Roast. Some love Gardein but can't stand the others. My personal favorite is Field Roast, but that doesn't mean it will be yours. It may take you a few years of exploring a different roast each year to find your personal favorite (and the one that will win over your family and friends).
Make It For Any Holiday
While a Tofurky or Field Roast is the obvious choice for Thanksgiving, don't forget about the other holidays! You can get extra roasts and keep them in your freezer so you have a festive "special" roast for holidays like: 
More Vegan Thanksgiving Recipes
1 Tofurky Roast
3-4 Yukon Gold potatoes, chopped into large bite-sized chunks
2 large carrots, chopped into large bite-sized chunks
1 small yellow onion, sliced or chopped
5 large garlic cloves, roughly minced
¼ cup olive oil 
2 tablespoons fresh chopped rosemary, plus three sprigs for garnish
¼ teaspoon  salt
Thaw your frozen Tofurky roast in the refrigerator for 24 hours.

Preheat your oven to 350 degrees F.

Line a casserole dish with large pieces of tin foil, leaving enough foil to reach up the sides and connect with the top piece of foil that will be added on later.

Remove plastic wrap from Tofurky and place the roast inside the foil lined dish.

In a small bowl, add the olive oil, minced garlic, chopped rosemary, and salt and mix well.

In a large mixing bowl, add the chopped carrots, sliced onion, and chopped potatoes, and two tablespoons of the oil mixture. Mix until evenly coated and then place the veggies into the foil-lined casserole dish surrounding the Tofurky.

Using a spoon or a basting brush, spread 1 heaping tablespoon of the oil mixture atop the Tofurky roast.

Cover with tin foil and seal the top and bottom foil together so the Tofurky and veggies are completely enclosed. Bake in the oven for 1 hour and 20 minutes.

Remove from oven, uncover, add remaining oil mixture on top of the roast, and bake for an additional 10 minutes.

Remove from the oven, remove the foil wrap, garnish with sprigs of rosemary, and enjoy!
Sliced Tofurky can dry out quickly, so only slice what you're planning to eat right away, and tightly wrap the rest. To store, wrap in foil and store in a sealed container in the refrigerator. To reheat in a microwave, cover with gravy or moisten with water and cover with a moist paper towel. 
Calories: 123kcal | Carbohydrates: 14g | Protein: 2g | Fat: 7g | Saturated Fat: 1g | Polyunsaturated Fat: 1g | Monounsaturated Fat: 5g | Sodium: 90mg | Potassium: 350mg | Fiber: 2g | Sugar: 2g | Vitamin A: 3023IU | Vitamin C: 15mg | Calcium: 21mg | Iron: 1mg
This vegan Tofurky roast recipe comes from the kitchen of Michelle Cehn for World of Vegan. Vegan turkey photos copyright of World of Vegan. Article edited by Rachel Lessenden. Happy cooking!