Craving corn on the cob, but just can't seem to get up the steam to get them cooked? Then this vegan corn ribs recipe is just right for you! No need to wait for water to boil or bear the fingertip burn as you fish out the cobs.
With a few skillful cuts and a lot of creamy vegan butter, you'll be enjoying your corn ribs in no time. All you need is your air fryer, a fresh cob, and a sharp knife. No need to be forlorn, we know you'll totally love this way of making corn!
Why You Need to Make These Vegan Corn Ribs
Do you really need a good reason to carve up some corn on the cob? If you need more motivation, consider the fact that they've got a fabulous flavor and keep reading!
Quick and easy to make (once you get the corn spears cut)
No need to turn on the oven (so helpful on super hot days)
Colorful, creamy, and sweet
Learn a new technique to impress your family
Gluten-free, soy-free (if using soy-free vegan butter), nut-free, and dairy-free
How to Serve Up Your Spicy Corn Ribs
A simple and spicy side can only enhance a midweek meal. If you're not sure how to serve up these mouthwatering ribs, here are a few suggestions:
Call Up The Chili Train – Corn and chili really go well together and the combined festive flavors would be divine. Make our two-bean chili recipe with these crispy corn ribs on the side for maximum mealtime happiness.
Burgers, Buns, and Barbecue – I don't know about you, but a barbecue isn't complete without some sort of delightful corn dish. Pair our black bean burger with these rich and savory riblets for the most amazing indoor barbecue adventure.
Team Up With Tacos – Crunch and munch go hand in hand when it comes to corn and tacos. Choose from chipotle mushroom tacos, or our amazing meat lover's beefy tacos! Both would really be delicious by either double-blending the chipotle or adding extra spice to the Taco Tuesday turnout.
Star Ingredients
Although there are so few ingredients in this recipe, they all add up to a healthy and happy digestion. What more could you ask for?
Corn – Rich in vitamin C and fiber, good source of lutein and zeaxanthin, plus small amounts of vitamins B, E, K, and minerals such as magnesium and potassium.
Chipotle – adds a moderate amount of spiciness and some fruity notes to the food.
Garlic – Brings a pungent element into the recipe, along with vitamin C, B6, manganese, and fiber. Garlic also has antibiotic, anti-inflammatory, and antiseptic properties.
Vegan Butter – You can use any plant-based butter in this recipe. We used Flora Plant Butter, which we love because it's sustainably packaged in paper instead of plastic!
Salt – These corn ribs are very flavorful, due in part to the salt. If you'd like more mild corn ribs, use less salt. And if you double or triple the recipe, the flavor may become overpowering, so scale back on the salt and garlic powder. You can always add more once they're done cooking!
Corn Rib Cutting Technique
Our advice: slow and steady wins the race. Or, in this case, the corn! When making your cuts, just take your time and don't strive for perfection. Even if the ribs are a little bit off, they'll still be scrumptious.
First, cut the cob in half lengthwise to make two shorter cob sections. Not too bad, right?
Second, you're going to stand the cob on its end so that it like a tall-ish cylinder. Keep in mind that the next steps are very similar to cutting a circular pizza.
Third, (now this is important) use slow, sawing motions with a sharp knife (you can try both a chef's knife or bread knife to see which one works better for you) to cut through the center of the cob from top to bottom to make two semi-circular pieces. Do this for both cob sections. You should have 4 pieces total.
Finally, do the same thing for each of the semi-circular pieces so that they form spears (like pickles, only with corn). You should have 4 spears (or ribs) from each short cob section, making 8 total.
How to Make Corn Ribs
Please don't feel intimidated by this simple rib recipe. Once you cut your first slice of corn, you'll know what you're doing and the rest will be a breeze.
Pull the husks and silks off of the corn cob.
Cut the corn into 8 rib spears.
In a bowl, mix the butter and spices together.
Coat each of the ribs on both sides with the butter mixture.
Air fry the corn at 375 degrees for 8 minutes, flip, and then cook for another 4 minutes.
Equipment You'll Need
There's not a lot of equipment needed to make these super yummy ribs, but it may take extra time and patience to cut into the cobs. You can do it––just focus on going slow and steady.
Small Bowl
Basting Brush
Air Fryer (or baking sheet and oven)
Strong muscles 🙂
1 corn on the cob, uncooked
1 tablespoon vegan butter, melted
¼ teaspoon garlic powder
¼ teaspoon chipotle powder
⅛ teaspoon salt
Note: the hardest part about this recipe is cutting the corn cob. Please be safe about this! It requires a very sharp large knife and a lot of muscle strength. 

Shuck the corn by removing the husk and all the stringy fibers (which can be discarded or added to your compost).

Cut the corn cob in half and then into quarters creating 8 spears that will be your "corn ribs." Here's how: Using a sharp knife, lots of muscle, and steady hands, slice the corn in half crosswise creating two much shorter cob (this is the easiest cut). Then, take one half, steady it on the cutting board, and cut it in half lengthwise. This is tough to do, and will require a see-saw motion with your knife as you slowly work your way through the core of the rind. Once cut, place each piece with thee flat side down, and cut in half lengthwise again, so you have four spears ("corn ribs"). Take your remaining half-cob and do the same, so you have a total of 8 corn rib spears.

In a small bowl, mix together the melted vegan butter, garlic powder, chipotle powder, and salt until well combined.

Using a basting brush, brush the buttery mixture evenly over all the corn ribs until they are fully coated.

Place the seasoned corn ribs into an air fryer, forming a single layer. Air fry at 375ºF for 8 minutes, flip, and cook for another 4 minutes.
Calories: 23kcal | Carbohydrates: 2g | Protein: 0.4g | Fat: 2g | Saturated Fat: 0.3g | Polyunsaturated Fat: 0.5g | Monounsaturated Fat: 1g | Trans Fat: 0.3g | Sodium: 51mg | Potassium: 33mg | Fiber: 0.3g | Sugar: 1g | Vitamin A: 40IU | Vitamin C: 1mg | Calcium: 1mg | Iron: 0.1mg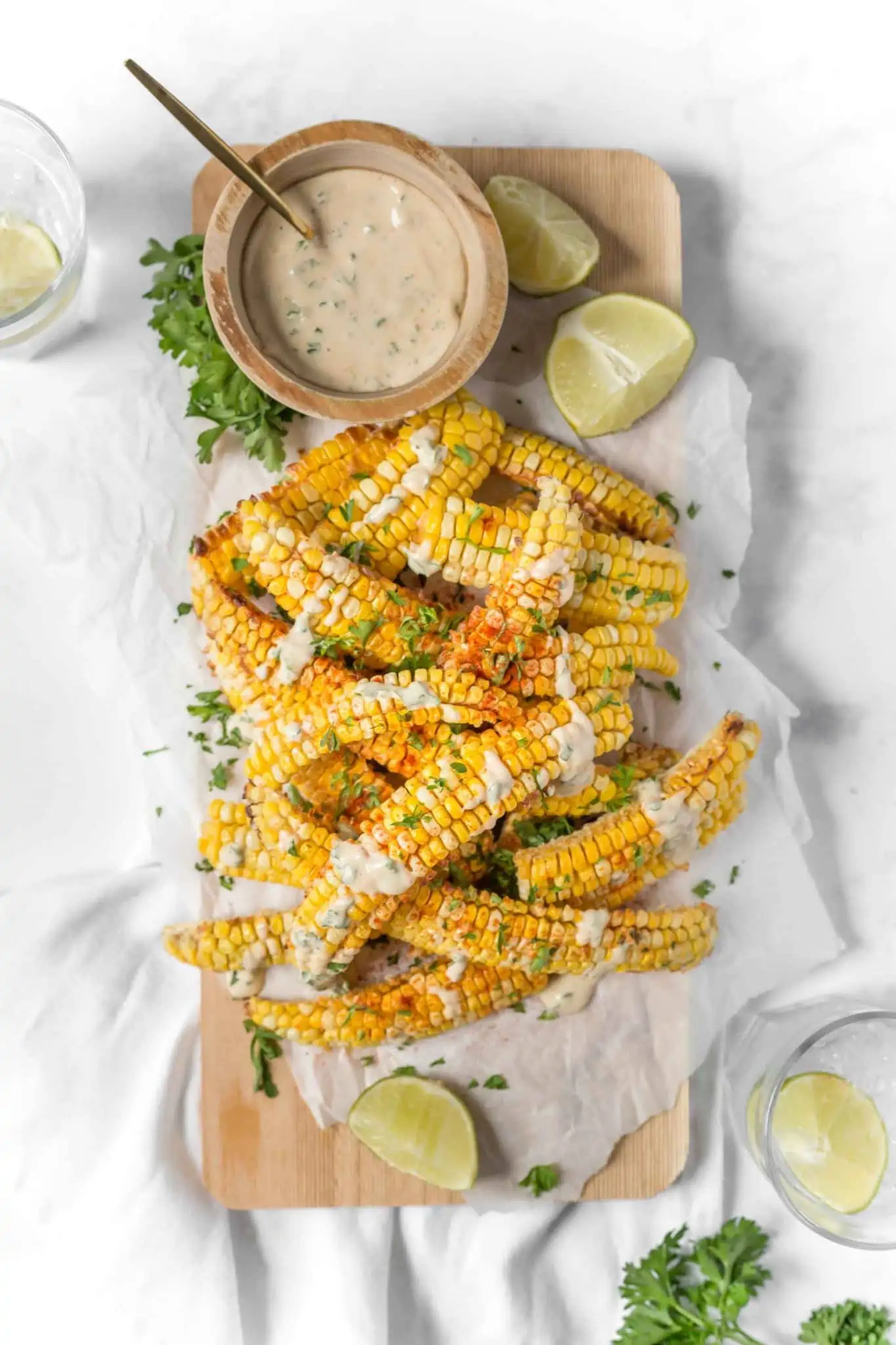 If you try this chipotle corn ribs recipe, let us know what you think by leaving a comment and rating below! Be sure to follow along on Pinterest, Instagram and Facebook for even more vegan recipe inspiration.
Vegan Corn Ribs FAQs
Here are some more frequently asked questions when it comes to cooking and storing the chipotle corn ribs. If you came up with any tips or tricks for this recipe, please add them to the comments below. It would be a great resource for other World of Vegan readers!
Can you freeze the corn ribs?
You can freeze any leftover corn ribs in a sealed plastic container or freezer-safe bag for up to a year. Though once they're seasoned, cooked and frozen, they will slowly degrade in both flavor and texture.
How long do corn ribs keep?
In the fridge, any remaining corn will be good for about 3-4 days.
Can you make this recipe soy-free?
That's an easy one––yes! Just choose a plant-based butter that does not contain soy. Some brands will use coconut oil, olive oil, or avocado oil instead.
What if I don't have an air fryer?
Though your ribs will be crispier and a little bit crunchier in the air fryer, you can certainly use your oven to make these. If you have a convection option, even better. Preheat the oven to 400 degrees and place your ribs on a parchment-lined baking sheet. Cook for about 10 minutes on one side, flip, and then 8-10 minutes on the other side.
How do I reheat corn ribs?
Either use a skillet on medium heat, the microwave, or add back to the air fryer for a few minutes. All methods will warm up your ribs, though the air fryer will get them back almost to their original texture.
More Vegan Air-Fryer Recipes to Try:
Vegan Corn Ribs recipe by Michelle Cehn. Vegan food photography by J.J. Steele. Article written by Gina House and edited by Amanda Meth. Please note that this article may contain affiliate links which supports our work at World of Vegan.