For all of you fellow potato lovers out there, this is the perfect recipe to add to your weekly meal plan! These vegan Hasselback potatoes are super crispy on the outside and pillowy soft on the inside—could there be anything better? This is one of our favorite ways to eat potatoes. We love how such a simple ingredient—the potato—can be transformed into something so sophisticated and delicious.
The best part is that you can adjust the spices to satisfy everyone in your family and make it your own. Does someone love a spicy kick? Add a dash (or two!) of cayenne pepper. Not so keen on garlic? You can easily substitute dried herbs (like dill or chives) to the dish and even some smoked paprika with its savory, warm flavor. The seasonings truly add the finishing touch for this side dish. We know you'll love it!

8 medium potatoes, any variety will work, try selecting egg-sized potatoes
2 tablespoons canola oil, or your favorite vegetable oil
1 teaspoon salt
½ teaspoon black pepper
½ teaspoon garlic powder
½ teaspoon onion powder
1 teaspoon dried oregano
4 tablespoons fresh parsley leaves, chopped
4 tablespoons vegan butter, plus more, to taste
Preheat the oven to 375° Fahrenheit.

Place one potato between two stirrers (as shown in the photo), so when you cut them you don't cut all the way through them (the stirrers will stop your knife just before separating them entirely). Cut as many evenly spaced slices as you can in each potato.

In a small bowl, mix the canola oil, salt, black pepper, garlic powder, onion powder and dried oregano until combined.

Place potatoes on a baking tray and using a brush, season the potatoes evenly with the oil-and-spice mixture. Bake in the oven for about 1 hour and 20 minutes, until potatoes are cooked through to perfection.

Garnish with fresh parsley and vegan butter and enjoy hot.
Calories: 496kcal | Carbohydrates: 76g | Protein: 9g | Fat: 19g | Saturated Fat: 3g | Polyunsaturated Fat: 6g | Monounsaturated Fat: 10g | Trans Fat: 2g | Sodium: 701mg | Potassium: 1835mg | Fiber: 10g | Sugar: 3g | Vitamin A: 355IU | Vitamin C: 89mg | Calcium: 68mg | Iron: 4mg
The Humble Potato
Did you know that the potato is composed of approximately 80 percent water? The other 20 percent is dry matter (mostly carbohydrate rich starch). The humble, but versatile potato is also rich in vitamin C, fiber, potassium and vitamin B6, which makes it an excellent food for heart health.
This tasty tuber has many interesting varieties that will please your palate and can be cooked up in so many ways—baked, broiled, boiled, steamed, fried, and even toasted! The most popular potatoes sold commercially are the Russet, Yukon Gold, Kennebec, Desiree and Fingerling. From smooth to starchy and from fluffy to firm, there is sure to be the perfect potato out there for you to try!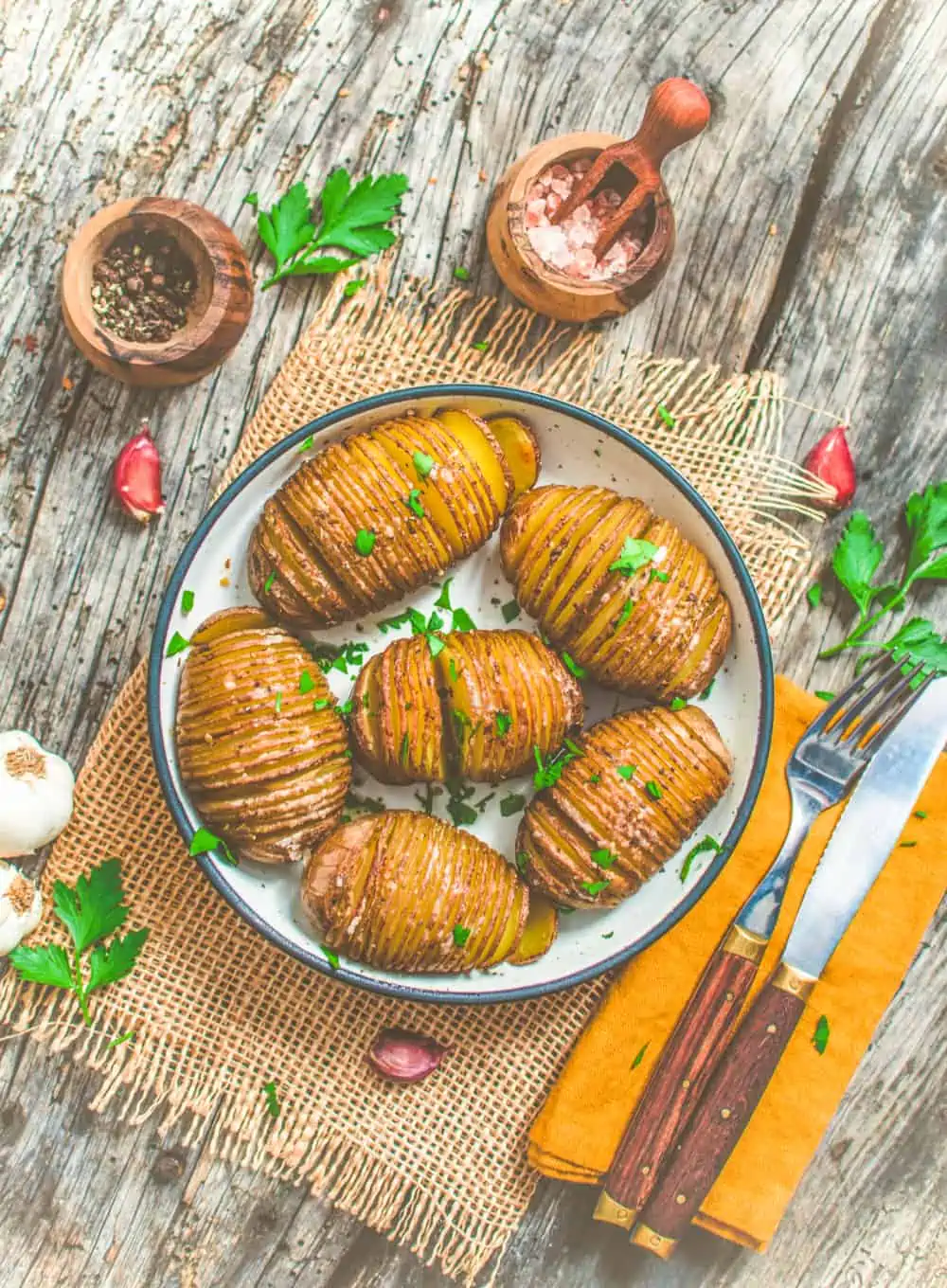 Star Ingredients
Small (egg-shaped) potatoes – the smaller size helps the potatoes to cook up more quickly and evenly. Mix it up with different tuber varieties such as the purple Peruvian, new rose red, starchy round whites or buttery Yukon gold.
Canola oil – or any vegetable oil that you have in your pantry. A light, unflavored oil will allow your spices to truly "pop," while using an infused oil can bring in a greater depth of flavor and richness
Salt – any salt will do, though a coarse, pink Himalayan salt would really sparkle!
Spices & Herbs – we recommend trying it our way first, but this is the part where you can bring your own culinary creativity to the recipe!
Vegan butter – luckily, this is an easy item to find at your local grocery store. Choose your favorite brand and/or base (coconut, vegetable oil, etc.) Some of our favorite brands of vegan butter include: Earth Balance, Melt, Miyoko's, Forager, and Milkadamia. You can find more in our vegan butter guide. You can even make your own homemade vegan butter!
These 5 kitchen-friendly ingredients combine in no time and will transport you (and your family!) to the most scrumptious potato paradise!
How to Serve It Up
These lovely little potatoes are perfect by themselves, but you can bulk up these beauties with a couple of simple sides or extra ingredients.
Adding a side salad of brilliant spring greens, crunchy carrots, and smooth, creamy avocado will transform this dish into a full-sized dinner!
Create a savory breakfast meal by serving with a warm tofu scramble and fresh garden tomatoes.
Pair this warm, crispy dish with cool crudites, homemade hummus, and slices of thickly sliced oven-baked focaccia.
Sprinkle the potatoes with fresh thyme or rosemary instead of parsley.
For an extra rich treat, cover with our cheese dip and serve each one separately as party appetizers.
For a picnic, these taste super yummy cold chopped up a little of our sriracha mayo and served along with a simple sandwich.
This recipe is for 2 servings, but you can easily double (or triple!) the recipe to share with your family and friends.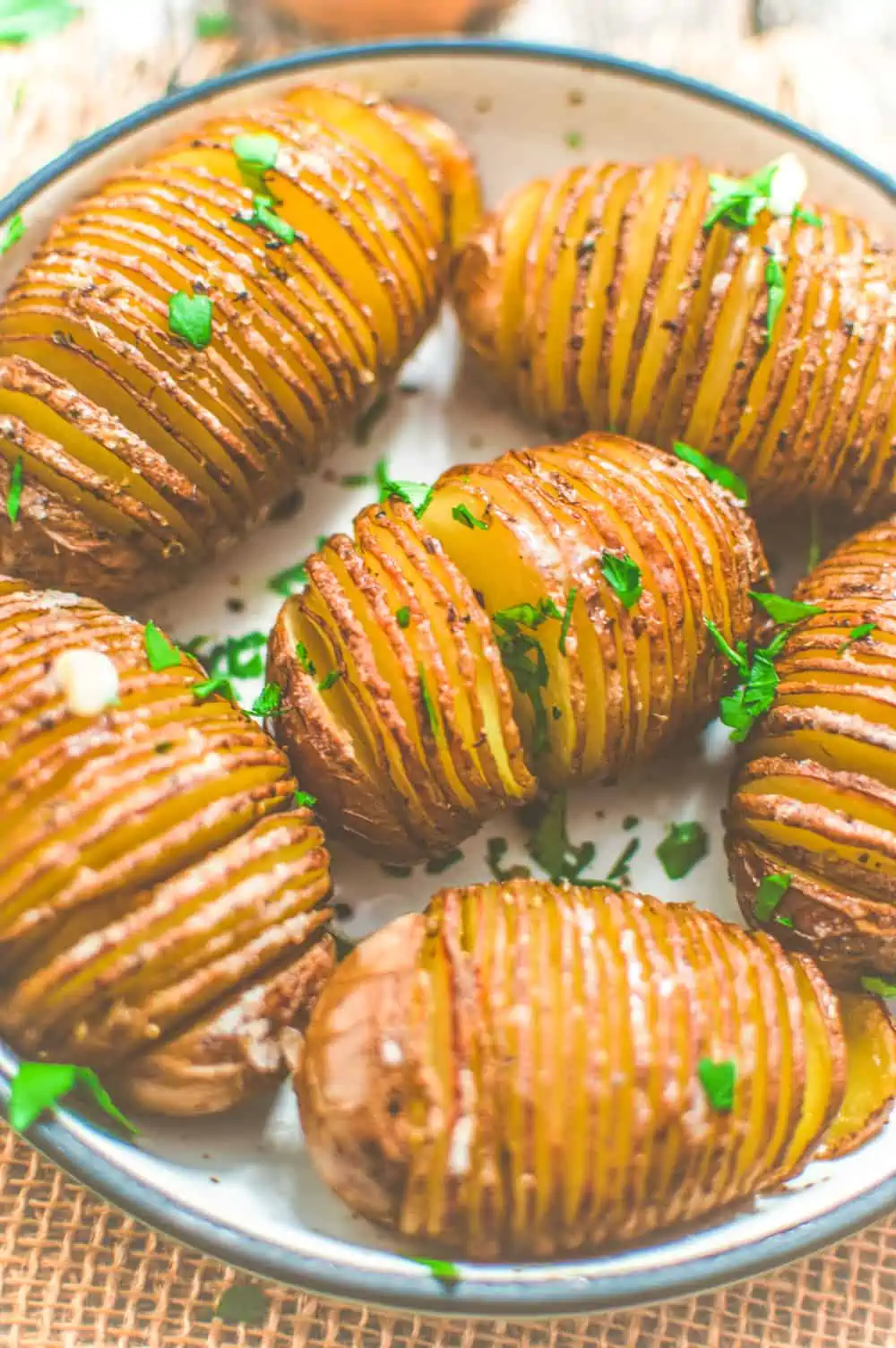 Simple Storing Tips
These Hasselback potatoes keep well in the fridge for a few days and can be reheated in the oven at 375 degrees for 10 minutes. Even a toaster oven would work well!
A Great Budget-Friendly Vegan Side Dish
Potatoes are incredibly inexpensive and easy to find, which makes this recipe super accessible to everyone. Large bags of potatoes are only a few dollars and when bought in bulk, will stretch your dinners even further during the week. If you grow your own potatoes or can purchase homegrown potatoes at your local farmer's market, even better!
History of Hasselback Potatoes
Hasselback potatoes were invented by Leif Ellison in 1953 when he was training to be a chef at the Hasselbacken Restaurant in Djurgarden, Stockholm. It was Ellison who first used the technique of thinly slicing the potatoes not-quite-all-the-way through in slim, even layers and adding seasonings to the oiled outsides before baking. The accordion appearance of the potatoes is not only appealing but also allows for the potatoes to have a potato chip exterior texture with the interior softness of a baked potato.
More Sensational Side Recipes to Try Out:
Vegan Hasselback Potatoes recipe by Zhoro Apostolov for World of Vegan. Copyright of World of Vegan™, all rights reserved. Please note that this article contains affiliate links. We want to thank our amazing recipe testers Taylor Gillespie and Nicole Benson for helping us perfect this recipe!