Blondies are so underrated! If you're new to them, they're basically brownies…but without the brown color and chocolate flavor. Here I bring you my favorite ooey-gooey vegan maple walnut blondies! They're a really easy treat to make with simple ingredients. Head to the kitchen to start baking and they'll be ready in just 35 minutes.
I love the way the maple, walnuts, and cinnamon compliment each other. It's the perfect fall or winter treat, or really the perfect treat for any time of the year.
If you love brownies and you haven't had blondies before, then you're in for a serious treat. You definitely need to try out these vegan maple walnut blondies. There's nothing complicated about this recipe and all you need is basic pantry staple ingredients that you most likely already have. If you don't have coconut sugar, you can switch out the coconut sugar for brown sugar. I like to use organic brown sugar when I bake.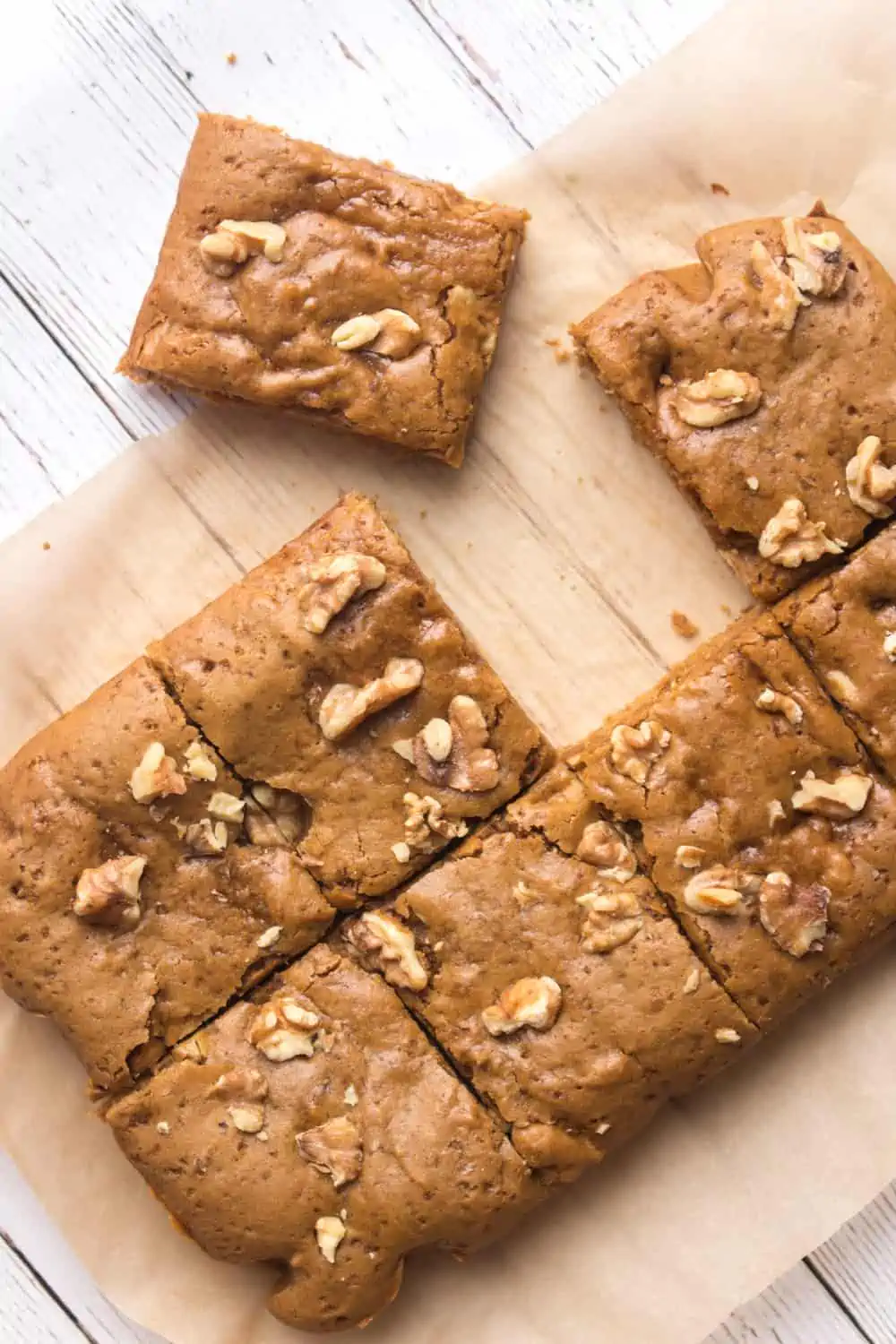 1¾ cups all-purpose flour
¾ teaspoon baking powder
½ teaspoon baking soda
1 teaspoon cinnamon
1 cup coconut sugar, or brown sugar
½ cup non-dairy milk, unsweetened and room temperature
¼ cup pure maple syrup
¼ cup coconut oil, melted
¾ teaspoon vanilla extract
½ cup walnuts, roughly chopped into small pieces, plus more for topping
Preheat the oven to 350 degrees F. Grease or line a 9x13 pan with parchment paper.

In a large bowl, sift together the flour, baking powder, baking soda, and cinnamon.

In a medium bowl, add the coconut sugar, milk, maple syrup, coconut oil, and vanilla extract. Whisk until combined.

Pour the wet ingredients into the bowl with the dry ingredients and mix until just combined.

Add the walnut pieces and fold them into the batter.

Pour the batter into the pan and sprinkle additional walnut pieces on top.

Bake in the oven for 25 minutes, or until a toothpick inserted comes out clean. Cool before slicing and serving.
Serving: 8g | Calories: 337kcal | Carbohydrates: 54g | Protein: 4g | Fat: 12g | Saturated Fat: 6g | Polyunsaturated Fat: 4g | Monounsaturated Fat: 1g | Trans Fat: 0.01g | Sodium: 135mg | Potassium: 92mg | Fiber: 1g | Sugar: 31g | Vitamin A: 2IU | Vitamin C: 0.1mg | Calcium: 66mg | Iron: 2mg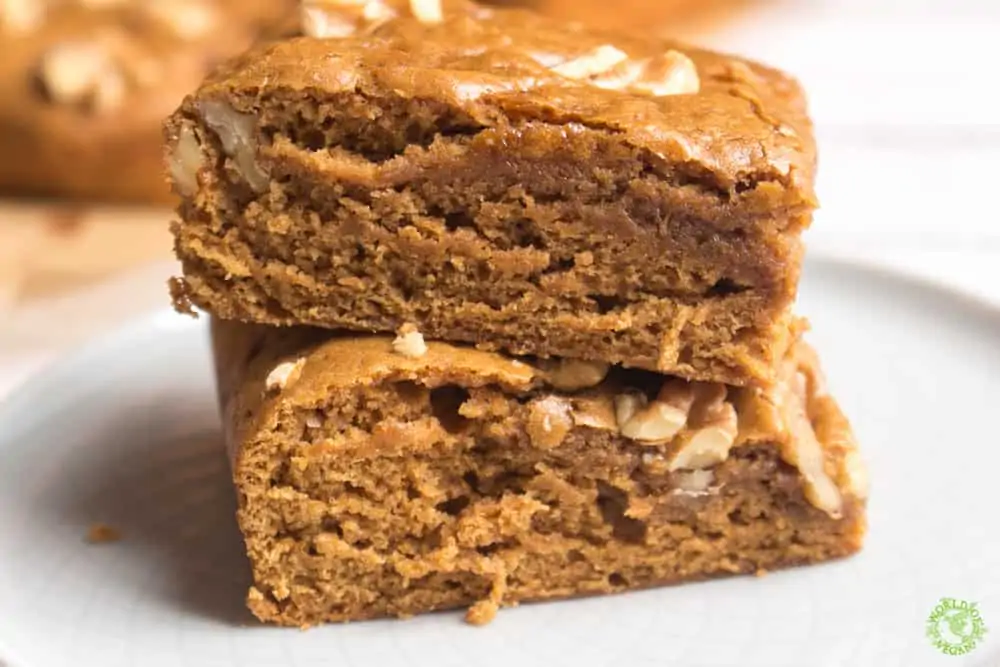 If you want, you can mix fun add-ins into the batter to make different varieties of vegan blondies—like chocolate chip blondies, peanut butter blondies, pumpkin blondies, and much more!
Another fun idea? Take half of the batter and whisk in cocoa powder and then swirl them together into the pan to make a brownie/blondie creation for the best of both worlds!
I love easy baking recipes like this that are versatile and can be switched around and customized easily to make your own creations. In fact, I learned most of my vegan baking skills by taking my mom and grandma's traditional baking recipes and switching some ingredients around to veganize them. Baking is so fun when you start to experiment!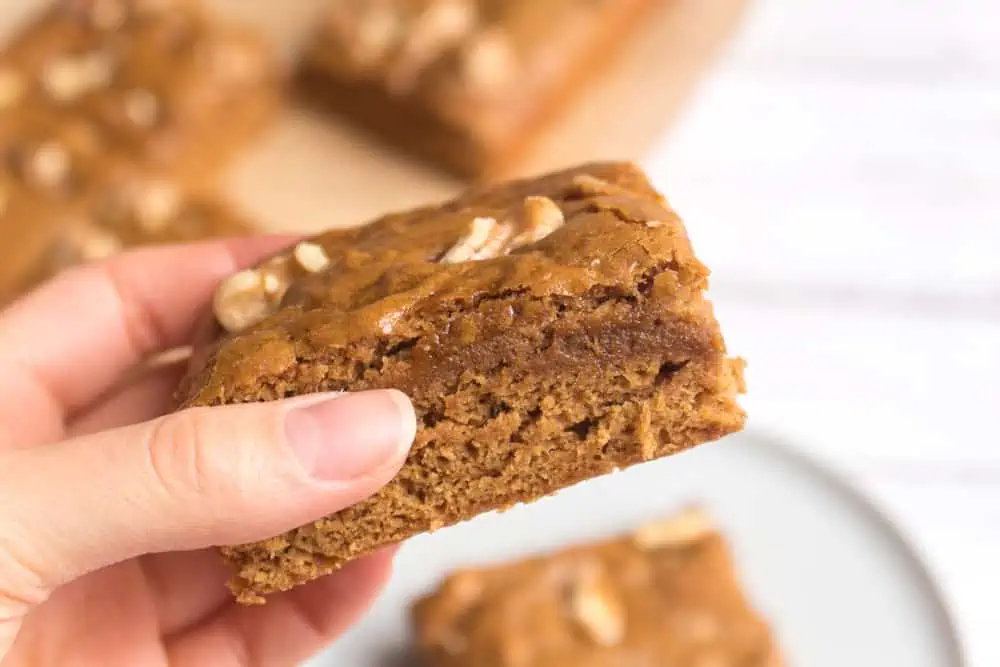 I hope you give these vegan blondies a try—if you do, we'd love to see photos! You can find World of Vegan on Instagram and Twitter.
More Delicious Vegan Treat Recipes:
Vegan Maple Walnut Blondies recipe by Kathy Chrzaszcz for WorldofVegan.com. Photos by Michelle Cehn. All content copyright of World of Vegan™, all rights reserved. Article edited by Amanda Meth. Please note that this article contains affiliate links which means shopping through them supports World of Vegan.