When you want to do more than just paint the town red, there's a whole rainbow of colors to add vibrance to your dinner plate! Since we eat with our eyes first, just one glance at these gorgeous rainbow sheet pan roasted Vegetables will satisfy with an aesthetically pleasing array of fresh produce. Tender, flavorful, and brilliantly simple, you can't help but smile when you can taste the rainbow in such a healthy way!
Everyone knows it's important to eat your greens, but what about your reds, oranges, yellows, and beyond? There's a whole spectrum of foods you'll miss out on if your meals are a bland beige. It's not difficult to add a splash of color when you know where to start.
Why You'll Love This Recipe
One pan meal – If you can't stand washing a mountain of dishes at the end of the day, this one pan recipe is for you. All it takes is a single large sheet pan to make it all happen. In fact, for even easier cleanup, you can line the pan with parchment paper and just toss out the mess when you're done!
Speedy prep – This recipe pretty much cooks itself. After chopping up the vegetables and laying them out for roasting, the oven does the rest of the work. Sit back, relax, and get excited for your colorful meal.
Super healthy – Even if you're feeding a picky eater or not wild about vegetables yourself, it's impossible to resist such a dazzling array of delicious whole foods. Pack in a serious dose of fiber and essential nutrients without resorting to supplements. This is MUCH more palatable than a handful of pills!
Allergen-free – That's right, there are ZERO common allergens in this dish! That means it's nut- free, soy-free, gluten-free, dairy-free, and of course, completely vegan. Everyone can enjoy without any worries.
Highly Instagrammable – There's no shame in making photo meant for the camera. You might as well be able to enjoy the end results, too!
Star Ingredients
This dish is more than just eye candy; it has style AND substance in every alluring bite. That's no accident, of course. Here are the flavorful components that make it truly shine.
Tomatoes – Plump, juicy cherry tomatoes burst with flavor when roasted, concentrating all their rich savory tastes. You can even have a rainbow of tomatoes, using a variety of red, yellow, green, and even purple cherry or grape tomatoes here.
Carrots – Another vegetable of many hues, heirloom carrots can be yellow, white, or purple, but simple orange carrots are still quite lovely, too. Earthy and subtly sweet, they go with pretty much everything.
Bell pepper – Red bell peppers get all the love, but did you know that yellow bell peppers actually have three times more Vitamin C than their ruby red brethren! That's 306% of the daily recommendation of vitamin C per 100 grams.
Asparagus – These young shoots are best known as a spring vegetable, but they're hard to resist whenever they pop up at the market. Seek out fat stalks for roasting, since skinnier ones are more likely to dry out and burn.
Broccoli – The little trees that kids either love or love to hate, broccoli is one of the most readily- available fresh vegetables, no matter the season. It's never a bad idea to have some on hand, since it goes so well in almost any dish.
Red onion – Any allium would be delicious in this mix, but only red onions have the unique ability to color shift depending on PH. If they're in a more alkaline solution, they'll turn purple, but in a more acidic environment, they'll become a brighter red or even pink.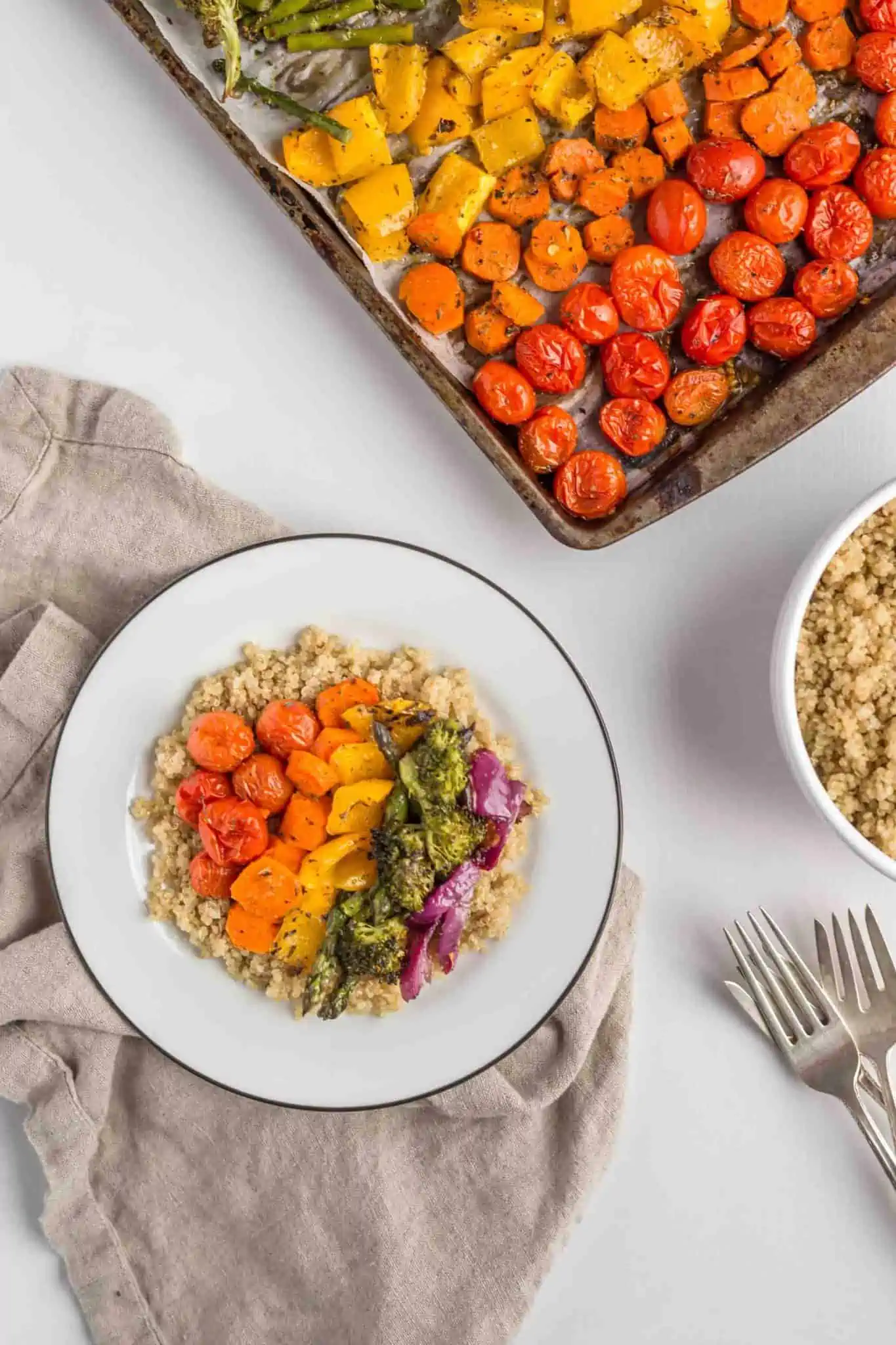 Benefits of Eating Colorful Foods
The very compounds that give fruits and vegetables their vibrant hues are the same ones that prove beneficial nutrients when we eat them. The bolder and dark the color, the more concentrated those vitamins and minerals. Eating a wide variety of colors will ensure you're getting a diverse array of phytochemicals for a well-balanced diet.
Red – This is the lycopene you'll find in the highest concentration in things like tomatoes and watermelons. It helps lower the risk of heart disease and certain cancers, as well as reduce sun- related skin damage.
Orange & Yellow – Beta carotene is what give carrots their golden glow and make them so great for eye health. They're often accompanied by Vitamin C, which is everyone's favorite immune booster.
Green – Chlorophyll is necessary for more than just pants! People need it too as a powerful antioxidant. Increase red blood cells, help with weight loss, heal damaged skin, neutralize toxins, cut inflammation, and prevent cancer are some of its claims to fame.
Blue & Purple – Anthocyanins have been shown to boost brain function and reduce the risk of some neurological disorders, such as Alzheimer's and dementia. On top of that, they're have antidiabetic, anticancer, anti-inflammatory, antimicrobial, and obesity-fighting dynamos that really pack a punch.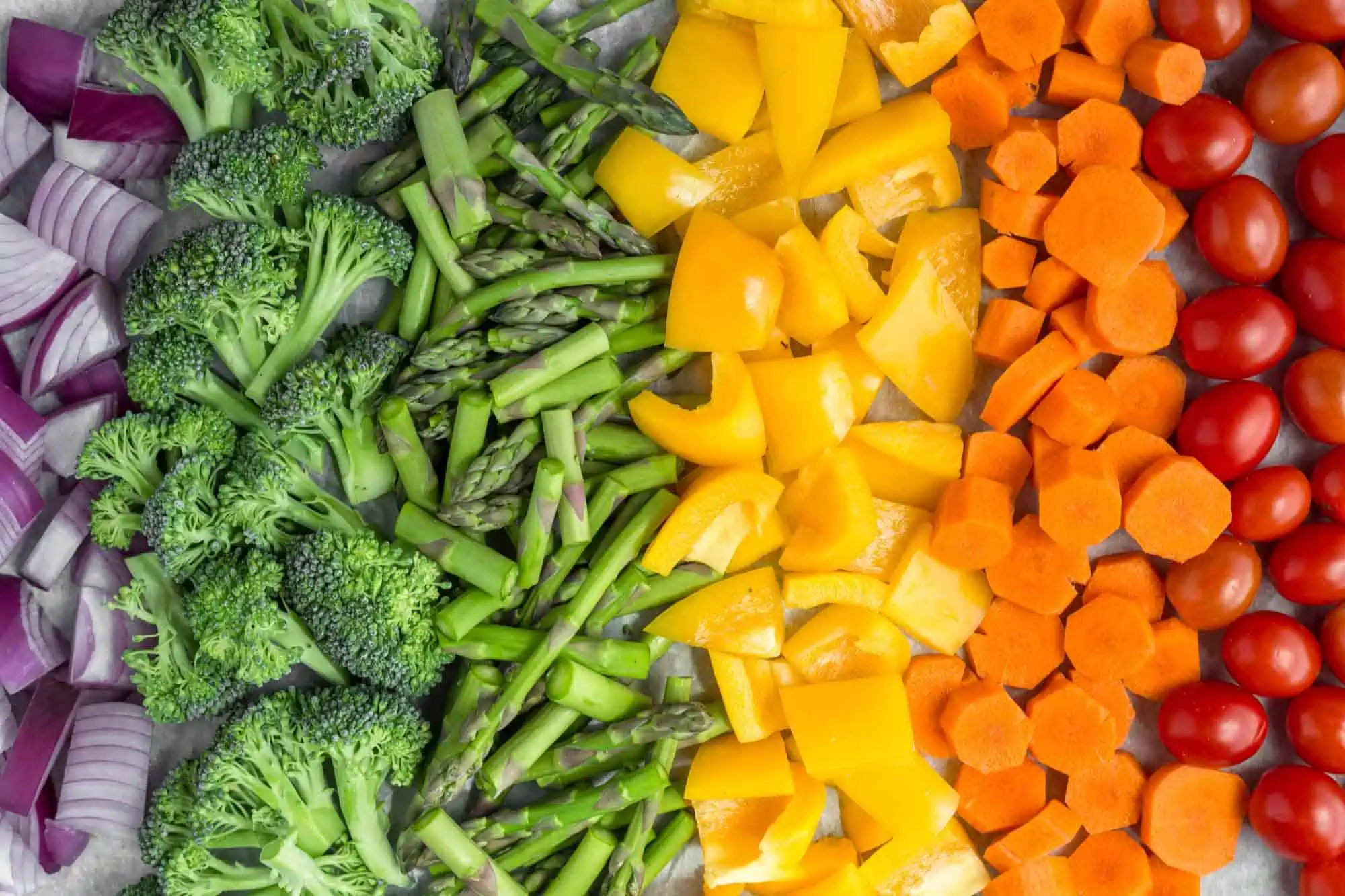 Seasonal Swaps
Four seasons mean there are four different opportunities to completely shake up your menu, incorporating all the best produce out there at the peak of perfection. Here are just a few suggestions for changing your rainbow throughout the year. Don't be afraid to mix and match your favorite to make a bold new color scheme, too.
Spring – Radishes, leeks, artichokes, snap peas, mushrooms
Summer – Hot peppers, corn, okra, zucchini, eggplant
Fall – Red bell pepper, butternut squash, gold potatoes, Brussels sprouts, purple cauliflower
Winter – Red-skinned potatoes, rutabaga, yams, kale, red cabbage
How To Serve Your Rainbow Sheet Pan Roasted Veggies
While delicious served alongside any main dish, you can turn this into a meal in and of itself with a few quick twists. Make a grain bowl with quinoa, rice, or barley, and add in beans like chickpeas, navy beans, or black beans for protein. If you're in a rush, toss it with pasta and pack it to go, to enjoy warm, at room temperature, or chilled. If you're trying to eat more leafy greens, turn it into salad with a base of arugula or spinach instead.
Frequently Asked Questions
Can I make these roasted vegetables oil-free?
Yes! You'll want to use a silicone mat to make sure nothing sticks to the pan. Lightly mist the vegetables with water to make sure the seasonings stick and spritz them again every 10 – 15 minutes while baking.
Can I make these roasted veggies in an air fryer?
You bet, we love air fryer roasted vegetables! Air fryers are pretty small though, so you will have to cook this in two or three batches. Air fry at 370 degrees for 20 – 24 minutes or until crispy (but not burned). You can prepare them in batches and specifically select the cooking time for each vegetable if you'd like to be really precise.
Can I double this sheet pan recipe for a crowd?
No problem, the more the merrier! Use two sheet pans to keep everything spread out in one even layer, and rotate the sheets halfway through roasting.
How long will my roasted vegetable leftovers keep?
Stored in an airtight container in the fridge, this dish should keep nicely for up to one week.
Equipment You'll Need
More Roasted Vegetable Recipes You'll Love
1 cup cherry tomatoes
2 carrots, peeled and sliced into ¼-inch thick rounds
1 yellow bell pepper, chopped into bite-sized pieces
1 bunch asparagus, cut into bite-sized pieces
1 cup broccoli florets
½ red onion, cut into bite-size chunks
2½ tablespoons olive oil
½ teaspoon garlic powder
¼ teaspoon black pepper
½ teaspoon oregano
½ teaspoon basil
½ teaspoon thyme
¼ teaspoon salt
¼ teaspoon red pepper flakes, optional
Preheat oven to 400 degrees F.

Line baking sheet with a silicone mat (or parchment paper or a drizzle of oil). Assemble prepared veggies in rainbow color order on the baking sheet: tomatoes, carrots, yellow bell pepper, asparagus, broccoli, red onion.

Drizzle with olive oil and evenly sprinkle with garlic powder, black pepper, oregano, basil, thyme, salt, and red pepper flakes (if using). Then, using your hands, mix each color grouping of veggies, one at a time, until evenly coated. It's okay if the colors mix a bit, but they should stay mostly in the rainbow color order.

Bake in the oven at 400 for around 30 minutes, or until baked to your liking. Remove from oven and serve, using a spatula to scoop and plate the rainbow of veggies.
Calories: 143kcal | Carbohydrates: 14g | Protein: 4g | Fat: 9g | Saturated Fat: 1g | Polyunsaturated Fat: 1g | Monounsaturated Fat: 6g | Sodium: 184mg | Potassium: 574mg | Fiber: 5g | Sugar: 5g | Vitamin A: 6384IU | Vitamin C: 93mg | Calcium: 65mg | Iron: 3mg
More Vegan Rainbow Recipes:
Vegan Rainbow Sheet Pan Roasted Vegetables Recipe by Michelle Cehn. Gorgeous rainbow veggie photos by J.J. Steele. Article written with support from Hannah Kaminsky. Please note that this article may contain affiliate links which supports our work at World of Vegan.