Haven't experienced the magic of spreading vegan butter onto crusty herbed bread? We're here to change that! Level up your bread making game with this super tasty seeded spelt bread recipe! Super easy to bake and loaded with nutrients, say "goodbye" to store bought bread for good.
Baking bread is about more than getting food on the table. Kneading the dough into soft, elastic strands can be a relaxing, meditative experience, while the aroma of toasted grains and yeast is downright transportive. Everyone should be so fortunate to have the experience of making it at home. It's such a humble, simple staple, but for many, white flour is off the table or simply out of reach. For a highly nutritious, gut-friendly loaf, seeded herbed spelt bread may just be your new best friend.
We absolutely adore this recipe from the Cook. Heal. Go Vegan! cookbook by Bailey Ruskus.
Made with 100% whole grain spelt flour and slowly fermented to alkalize the dough, it has character and substance like boring white bread can only dream of. Each slice sparkles with earthy, aromatic herbs, punctuated by toothsome seeds, making every bite a little bit different. Soft yet sturdy, it could be the foundation for your next fully stacked sandwich, or simply enjoyed solo. It's hard to beat freshly baked bread, still warm from the oven.
Why This Spelt Flour Bread Recipe Is the Best Thing Since Sliced Bread
Great for Beginners
Never baked bread before? Somewhat uneasy about working with yeast? Don't worry! This is a very forgiving, low-impact dough that makes a good introduction into the art of making bread from scratch.
Super-Nutritious Superfood
Add spelt into your diet for an easy way to boost your fiber intake. It's also a great source of iron, manganese, magnesium, phosphorus, potassium, zinc, selenium, niacin, thiamin, vitamin B6, and folic acid.
Simple Ingredients
At its most basic, bread only needs flour, water, and yeast to rise. All the other flavorings and seasonings are likely pantry staples, and also quite flexible if you need to make substitutions.
Ideas for Serving This Spelt Bread Recipe
Such a bold, savory flavor profile predisposes this bread to playing nicely with other spicy, salty, sour, and bitter taste, but it can also provide a crave-worthy contrast to sweet toppings as well. Here are just a few ideas to get you started.
Garlic bread: Mix up vegan butter with minced garlic, parsley, salt, and pepper until smooth. Smear the mixture generously over as many sliced as you'd like to eat, toast, and enjoy!
Avocado toast: Whether you like your avocado thicky sliced or mashed, top your toasted bread with as much of this buttery green fruit as your heart desires. Season with salt, pepper, and a touch of olive oil for a fool-proof breakfast treat.
Sandwiches: The average deli has nothing on this grab-and-go lunch. Load it up with your favorite meatless cold cuts, hummus and veggies, or turn it into a gooey dairy-free grilled cheese.
Croutons: Jazz up your next leafy salad with crisp, flavorful croutons. Cube the bread and toss with olive oil. Bake at 375 degrees for 15 – 20 minutes, stirring occasionally, until golden brown. Let cool and enjoy right away or keep in an airtight container for up to a week.
Seasoned breadcrumbs: Waste not, want not! If your loaf is starting to get stale, toss the ends into your food process and grind coarsely. Let it dry out further and store in an airtight container and save them for your next recipe.
Key Ingredients:
Spelt flour: Spelt flour is made from the entire grain; bran, endosperm, and germ. This gives it a nutty depth of flavor and makes it a bit heavier than refined or bleached flours. You wouldn't want to bake a delicate cake with it, but it's fantastic for a hearty loaf of bread.
Active dry yeast: This is the most common type of yeast sold in grocery stores, available in bulk bags or individual packets containing 2 ¼ teaspoons each. It needs to be mixed with warm water to re-activate and thrives with just a little bit of added sugar. Sugar is the food yeast eats, creating carbon dioxide which are the bubbles that leaven the bread.
Coconut sugar: Made from the sap of the coconut palm tree, not the fruit itself, this natural sweetener is less processed than conventional sugar cane, which gives it a richer molasses-like flavor. It has a lower glycemic index and retains trace vitamins and minerals.
Herbs: Fresh thyme, basil, and rosemary give this load a distinctive fragrance, like a garden in full bloom. If using dried herbs, reduce the volume by ⅓; for every tablespoon of fresh herbs, use only 1 teaspoon dried.
Seeds: Poppy seeds and sesame seeds freckle this dough, adding a subtle toasted flavor and toothsome texture. You could incorporate different small seeds, like hemp, flax, or chia if you'd prefer.
Water: Temperature is critical here! Yeast is happiest in room temperature or slightly warm water. Yeast dies at 140°F and cannot re-activate below 35°F. Cold temperatures won't kill it but will slow it down. Therefore, you can store fully prepped and risen yeasted doughs overnight to bake in the morning.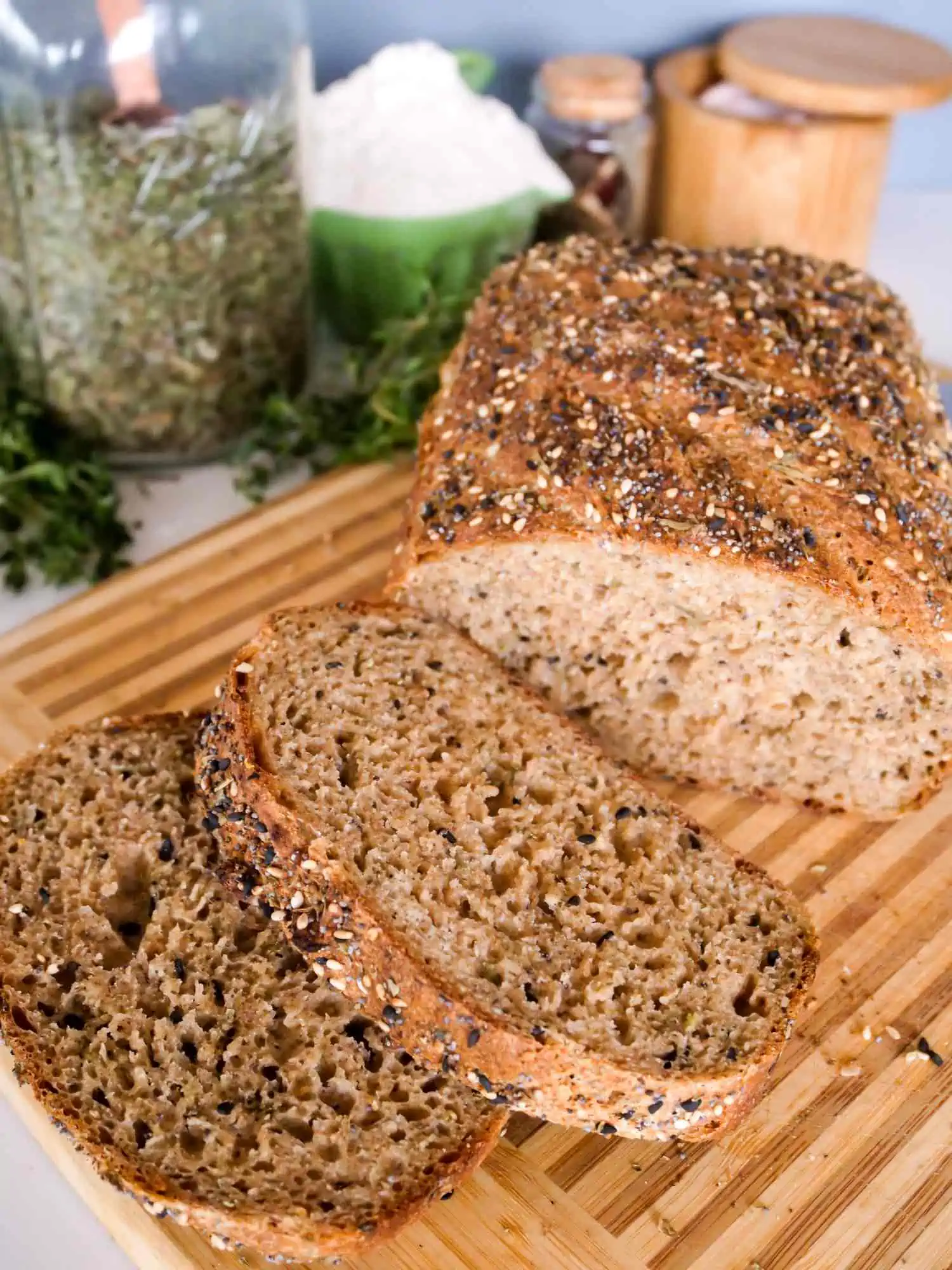 What Is Spelt Flour?
For over 5,000 years, spelt berries have been enjoyed cooked whole, much like barley. Archeological evidence traces spelt back to Transcaucasia, the region bordering Eastern Europe and Western Asia, though it is best documented throughout history in Central Europe. It became the principal wheat species and Germany and Switzerland by the end of the Iron Era, in 15 BCE.
Because spelt is a form of wheat, it does contain gluten and is not suitable for those with celiac disease. It is, however, more easily digested and thought to be better tolerated by those with mild sensitivities. When in doubt, ask your doctor before digging in.
Tips for Baking Your Best Bread Ever
Read the recipe all the way through before getting started. Most bread recipes take more time from start to finish, but most of that is inactive, while the dough rises. Make sure you plan accordingly if you want to get it on the table for a particular meal.
Gather and measure your ingredients so they're ready to go. It can be a pain to dig through the pantry when you're already elbows-deep in flour.
Treat your dough gently. There's no need for aggressive kneading here! While it's rising, keep it covered in a warm, draft-free place so that it's not disturbed. Think of it like a sleeping baby if that helps.
Don't walk away from the oven. Some run hot, some run cold, so you should keep an eye on its progress as the loaf bakes. You may need to pull it earlier if it's browning to fast or rotate it if it's baking unevenly.
Let it cool for at least an hour before slicing. I know, it's tempting to cut off a wedge immediately, but try to resist! It will still be slightly gummy when it's still hot, and will also dry out much faster.
How to Store and Re-Heat Your Bread
Never run out of vegan bread when you bake in advance. Even if you don't go through very much at a time, there's no reason why you can't enjoy a fresh slice on demand whenever cravings strike.
After the spelt bread has completely cooled, cut it into slices. Wrap the whole loaf tightly in plastic wrap, and then again in aluminum foil. Label with masking tape and a sharpie (don't forget to add the date) and freeze for up to six months. When you want to re-heat, just pop a slice or two straight into the toaster.
More Vegan Bread Recipes To Try:
3½ cups spelt flour, divided, 560 grams
2½ teaspoon active dry yeast, 8 grams
1½ teaspoon table or Himalayan pink salt, 8 grams
1 tablespoon dried or finely chopped fresh thyme, 3 grams
1 tablespoon dried or finely chopped fresh basil, 3 grams
1 tablespoon dried or finely chopped fresh rosemary, 3 grams
1 tablespoon poppy seeds, divided, 8 grams
2 tablespoons sesame seeds, divided, 18 grams
2 tablespoons coconut sugar, 20 grams
1¾ cups room temperature filtered water, 420 ml
1 teaspoon of flaky sea salt
1 teaspoon of granulated garlic
In a large bowl, combine 3 cups (480 g) of the spelt flour, yeast, Himalayan pink salt, thyme, basil,rosemary, ½ tablespoon (4 g) of the poppy seeds, 1 tablespoon (9 g) of the sesame seeds and the sugar.

Mix the ingredients with a fork until everything is well combined. Slowly add the water and mix the dough with a fork until the water has been absorbed. Don't overmix this dough or attempt to form it into a ball. It will be wet and messy, and that's exactly what you want. Cover the bowl loosely with a lid;make sure it's not completely airtight. Let the dough sit on the counter to ferment and rise for at least 6 hours and no more than 24 hours. The dough will double in size. The more you let it ferment, the stronger sourdough taste you'll get.

Preheat your oven to 450°F (232°C). Line a 5 x 9–inch (13 x 23–cm) loaf pan with parchment paper. In a small bowl, mix together the remaining ½ tablespoon (4 g) of poppy seeds, 1 tablespoon (9 g) of sesame seeds, flaky sea salt and granulated garlic. Set this mixture aside.

Grab your bowl with the dough and remove the lid. Sprinkle 2 to 3 tablespoons (20 to 30 g) of the remaining flour over the top of the dough. Start to release it from the sides of the bowl with your hands, but keep it in the bowl. Knead the dough in the bowl five or six times, dusting it with a bit of the remaining flour as needed. The dough will still be a little flimsy and tacky to the touch.

Release the dough into the lined loaf pan and cover the top of the dough with your seed mixture. Make a few shallow diagonal slices on the top. Let the dough rest for 10 minutes, and then bake it for 35 minutes. It will puff up and be nice and golden brown on top when it's done. Remove the bread from the oven and use the parchment paper to immediately remove it from the loaf pan. Let the bread cool on a rack for about 30 minutes before serving it. Yum!

Keep the bread in an airtight bag on the counter for 4 days, and then move it to the fridge. If you want to make this bread in big batches to freeze, slice it first and put it into an airtight container before freezing it.
To make this into a round loaf, place a 5-quart (5-L) Dutch oven in your oven when you preheat it. Line the Dutch oven with parchment paper and place the dough inside. Top the dough with the seed mixture, make a few slices on the top, cover and bake the bread for 30 minutes. Uncover the Dutch oven and bake the bread for 15 more minutes. Remove the bread to a rack to cool.
Calories: 1973kcal | Carbohydrates: 348g | Protein: 66g | Fat: 27g | Saturated Fat: 2g | Polyunsaturated Fat: 6g | Monounsaturated Fat: 4g | Sodium: 5864mg | Potassium: 425mg | Fiber: 65g | Sugar: 24g | Vitamin A: 426IU | Vitamin C: 13mg | Calcium: 453mg | Iron: 29mg
If you try this spelt flour recipe, let us know what you think by leaving a comment and rating below! Be sure to follow along on Pinterest, Instagram and Facebook for even more vegan recipe inspiration.
This delicious seeded spelt bread recipe was excerpted with permission from Cook. Heal. Go Vegan! by Bailey Ruskus. Many thanks to our recipe testers Ruth Havertz and Jessica Sabbagh for trying this spelt flour bread recipe and giving it a thumbs-up! Article written with support from Hannah Kaminsky and edited by Amanda Meth. Please note that this article may contain affiliate links which supports our work at World of Vegan.