America will always have a sweet spot for pies, and Sweet Potato Pie ranks near the top of that list. Particularly around Thanksgiving and Christmas, no holiday celebration is complete without one on the table. This perfected recipe shows how to make the best vegan sweet potato pie that's dairy-free, plant-based, and totally delicious.
While pumpkin pie, apple pie, and pecan pies will all have their place, it's hard to beat the creamy, silky, and gently spiced sweet potato filling cradled in a flaky crust. If you love pumpkin pies, you'll love this one even more.
Luckily, it's also the easiest pie you'll ever make, because everyone will want a bigger slice for themselves!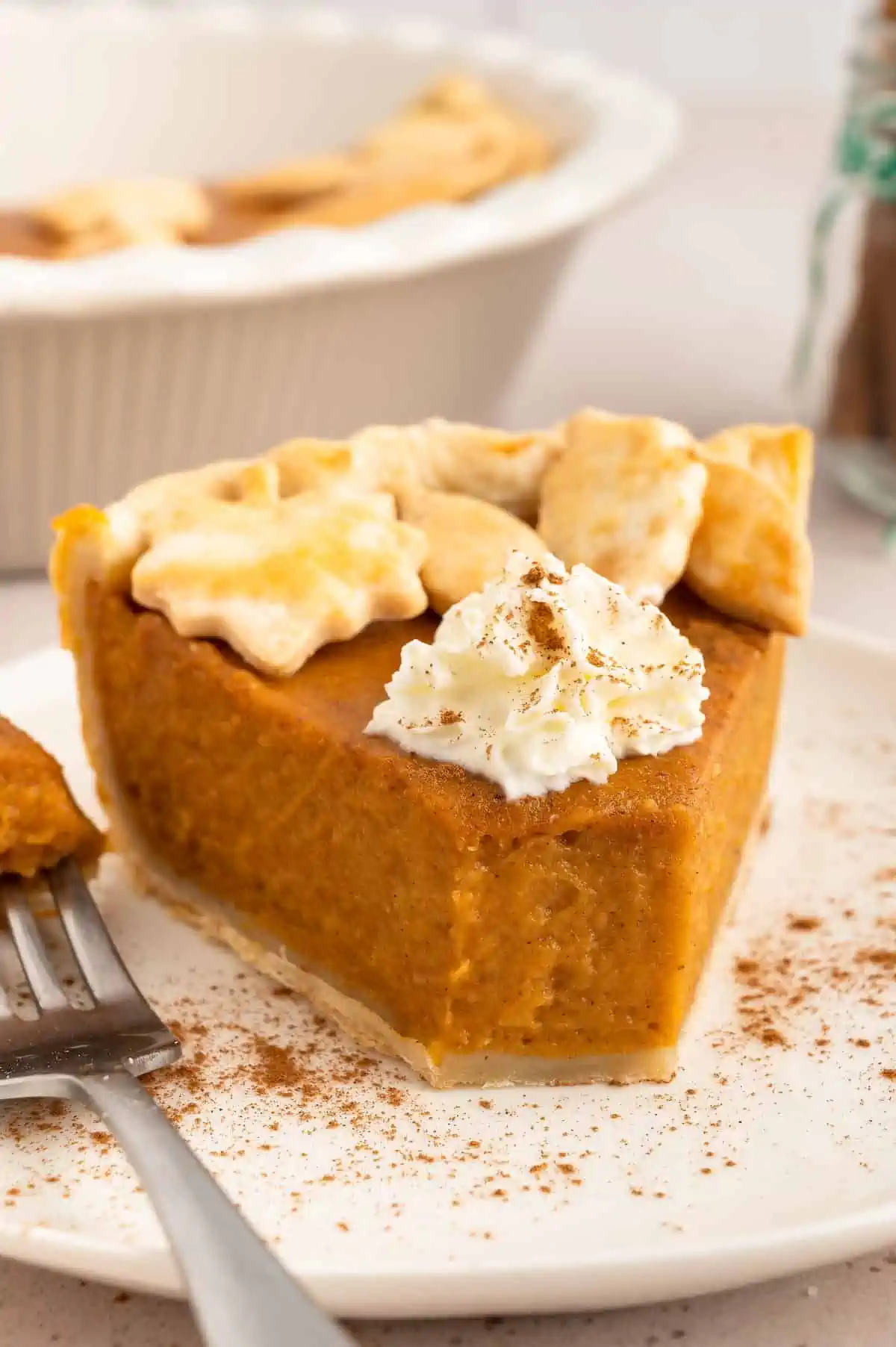 What Makes This The Best Sweet Potato Pie Recipe
No one needs an excuse to eat pie. Pie should really be its own food group as a nutritious and delicious treat! Here are just a few more reasons this will be your go-to recipe for the holidays and beyond:
Secret superfoods: Even the pickiest eaters won't know they're getting a helping of vital nutrients and minerals in each slice. These spuds are a particularly good source of Vitamin A in the form of beta-carotene, Vitamin B6, Vitamin C, potassium, and fiber. If you manage to save leftovers, that sounds like a great excuse to have pie for breakfast the next day, too!
Allergen-friendly: Designed as a pie for the people, everyone can partake. While it can be especially challenging to find an eggless sweet potato pie, this recipe is completely vegan, which takes all animal products (including sweetened condensed milk, butter, and heavy cream) off the table. It's also nut-free by default. Simply use a gluten-free crust if accommodating diners with Celiac disease, and use a different non-dairy milk if soy is a concern.
Great for beginner bakers: If pastry still stresses you out, take it easy! Simply start with a prepared vegan pie crust so you can focus on the filling. It's truly what's on the inside that counts most!
Budget-friendly. It's tough making the holidays festive while trying to stretch a dollar. This dessert tastes gourmet, on par with the finest bakeries, and no one needs to know it's an affordable little luxury.
Essential Ingredients
Forget the fancy egg-replacers and esoteric specialty ingredients. This homey pie is made with everyday pantry staples that everyone should have on hand.
Sweet potato puree – It's easy to make your own sweet potato puree, but you can also take a shortcut and use canned. Found right alongside pumpkin puree in the baking aisle, make sure you're getting 100% sweet potato puree with no sugar added. It might be a seasonal offering in some stores, reappearing for fall and winter annually.
Coconut cream – Thicker and richer than coconut milk or coconut beverages, this is a naturally plant-based alternative to dairy cream. You'll want to make sure it's well mixed before using, either by shaking the can vigorously or microwaving in a heat safe dish for a few seconds, then stirring until smooth.
Soymilk – Any non-dairy milk will do, but soy is my preference for its thick, rich, and creamy texture.
Light brown sugar and granulated sugar – Rounding out the filling with a touch of warm, molasses-infused sweetness, this combination of granulated sweeteners creates a perfectly balanced dessert without becoming downright candied.
Cornstarch – Just like in cooked custards or puddings, a touch of cornstarch thickens your puree into a luscious, sliceable consistency. In a pinch, you could substitute potato starch or tapioca starch instead.
Pumpkin pie spice – Nothing says autumn quite like the combination of cinnamon, ginger, nutmeg, allspice, and cloves. This spice blend is a staple in my pantry to create those instant cozy vibes.
Vegan pie crust – Although conventional short crust pastry is heavily butter-based, you might be surprised to find several mainstream brands that offer "accidentally" vegan options. Keebler, Marie Calendar's, Wholly Wholesome, Mi Del, and Jus-Rol are just a few examples. Always check ingredient labels to be sure.
How To Make A Sweet Potato Pie
If your oven is primarily used as storage space and pastry makes you nervous, don't sweat it! This is the easiest pie that anyone can master and instantly look like a pro.
Step 1: Prepare the sweet potato puree first by boiling a few whole sweet potatoes for 40 to 50 minutes, until fork tender and the peels fall away easily. Remove the skins and mash the sweet potato until you have a smooth puree. For the best results, let cool before using.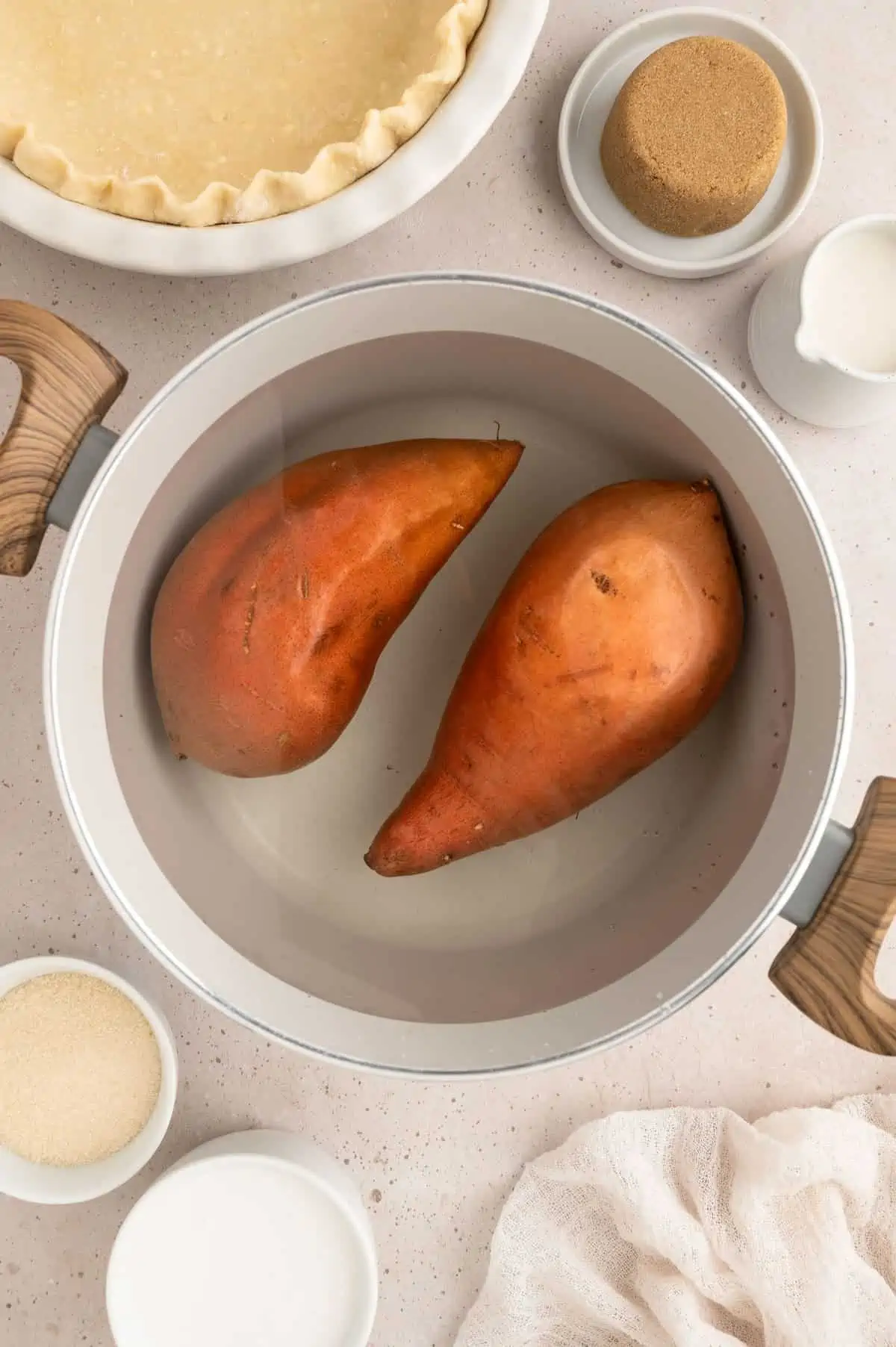 Step 2: Combine the sweet potato puree, coconut cream, soymilk, both types of sugar, cornstarch, pumpkin pie spice, vanilla extract, and salt in a large bowl. Mix until smooth, either whisking by hand or using an electric hand mixer. Tap the bowl on the table a few times to remove any air bubbles.
If you really want this batter extra smooth, try using an immersion blender to remove any remaining lumps.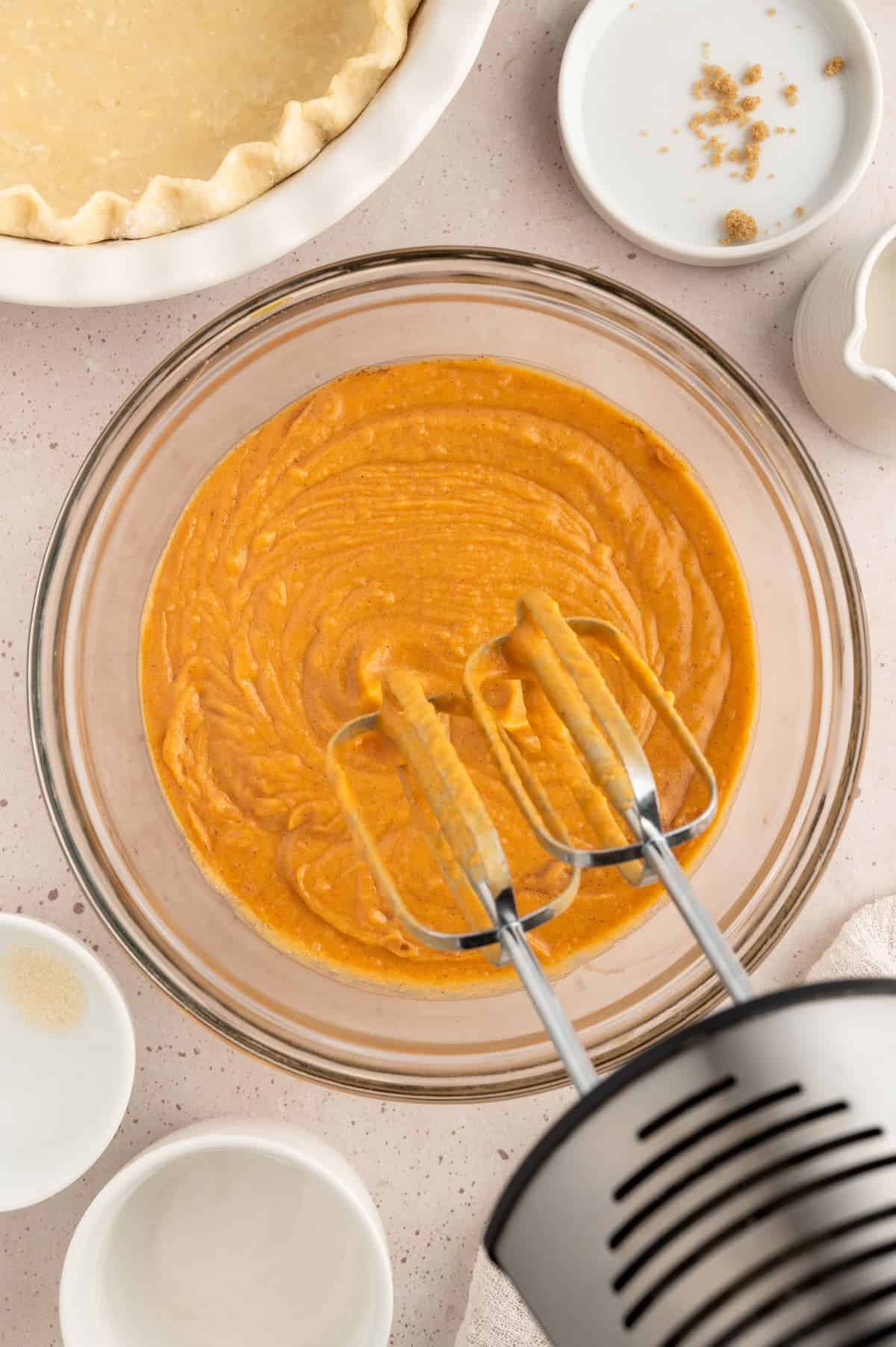 Step 3: Pour the filling into a prepared vegan crust and use a wide spatula to smooth the surface. Place the pie on a baking sheet for easier maneuvering and bake at 350 degrees for 75 minutes. Check about halfway through and tent with foil if the edges of the crust are browning too quickly.
Optional: Here are a couple ways to make your vegan sweet potato pie a show stopper! To help the crust get a pretty golden sheen, you can make a vegan "egg wash" using 2 tablespoons soy milk + 1 teaspoon agave nectar and brush that on the crust before baking. Before baking you can also add pie crust leaves using these leaf cutters for a fun decoration!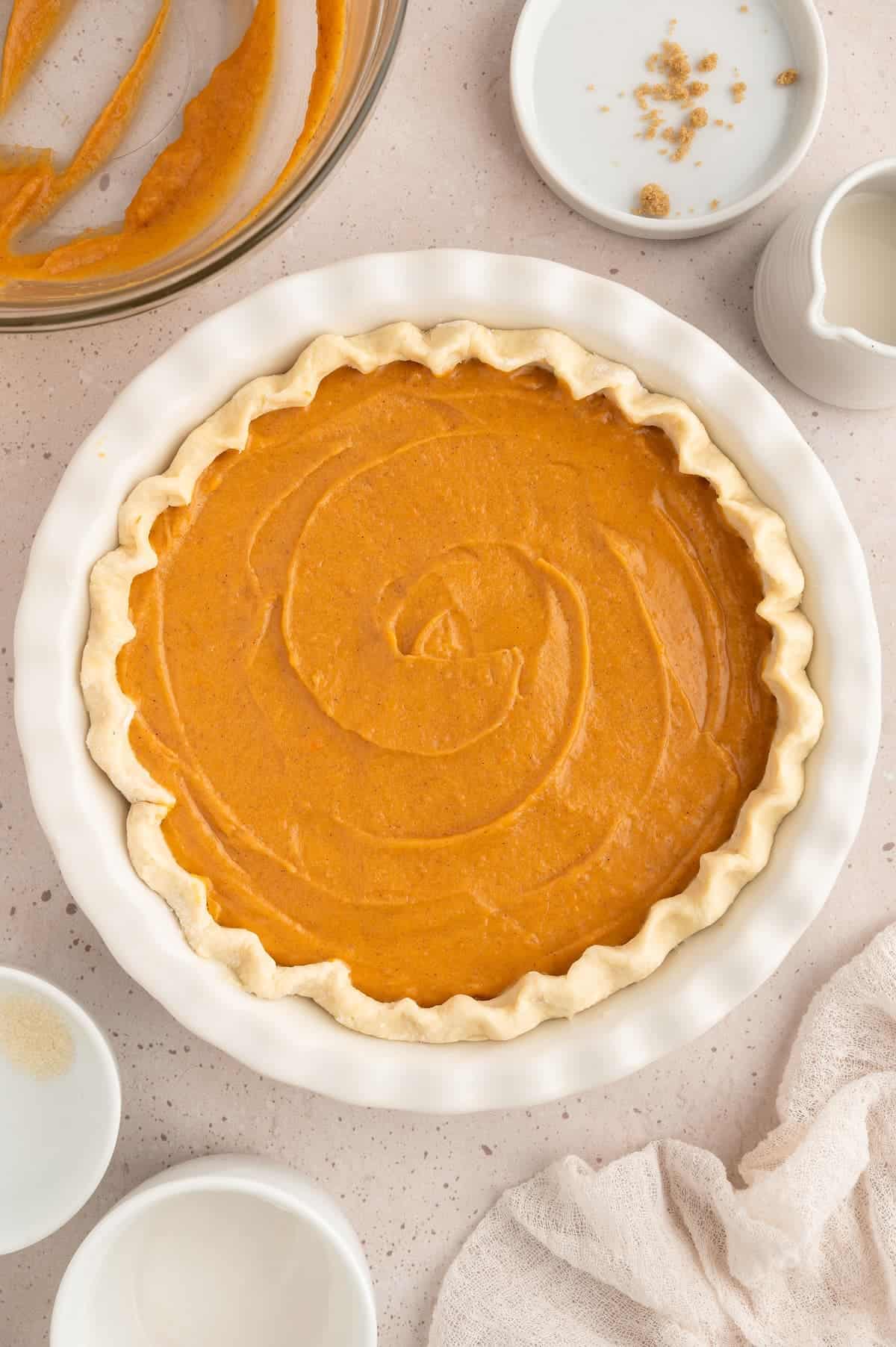 Step 4: Turn off the oven and open the oven door partially to allow the pie to cool for one hour. Once cool, place in the fridge to set for at least 4 hours, or overnight. Enjoy!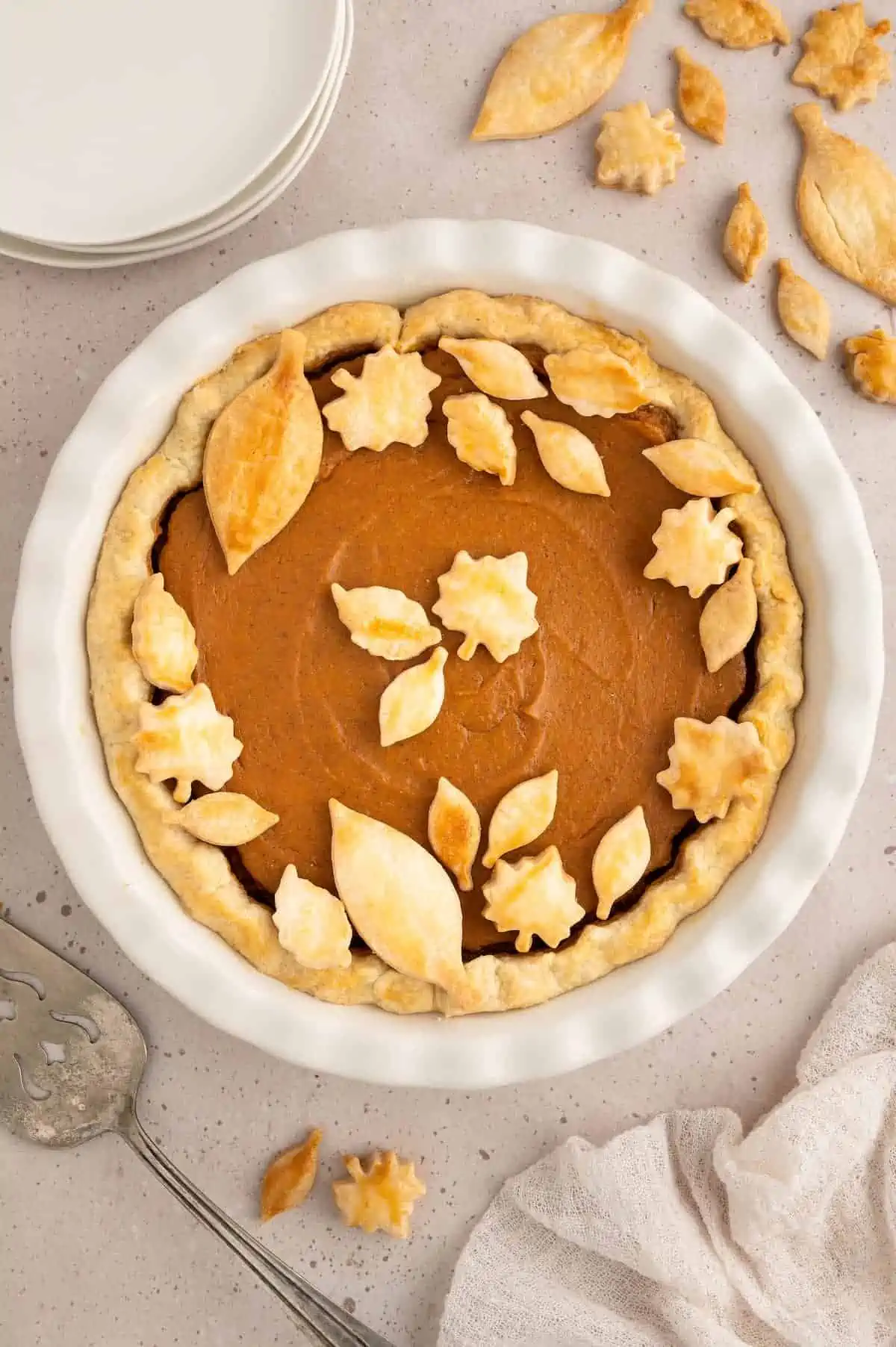 Ideas, Tips, and Tricks
It's hard to beat the classics, but sometimes it's nice to have a delicious change of pace. Start a new tradition by making this sweet potato pie your own signature dessert.
Top with vegan marshmallows. Sprinkle mini vegan marshmallows on top during the final 10 minutes of baking. That will make sure they're toasted and gooey all the way through. This version is best served warm, straight out of the oven.
Swap out the sweet potatoes. For a colorful variation, try purple sweet potatoes, or feature an entirely different root vegetable like carrots, parsnips, or a blend of your favorites!
Spice things up. Trade the pumpkin pie spice for a chai spice blend, or spike it with a pinch of cayenne, ground black pepper, or crushed red pepper flakes to really wake up your taste buds.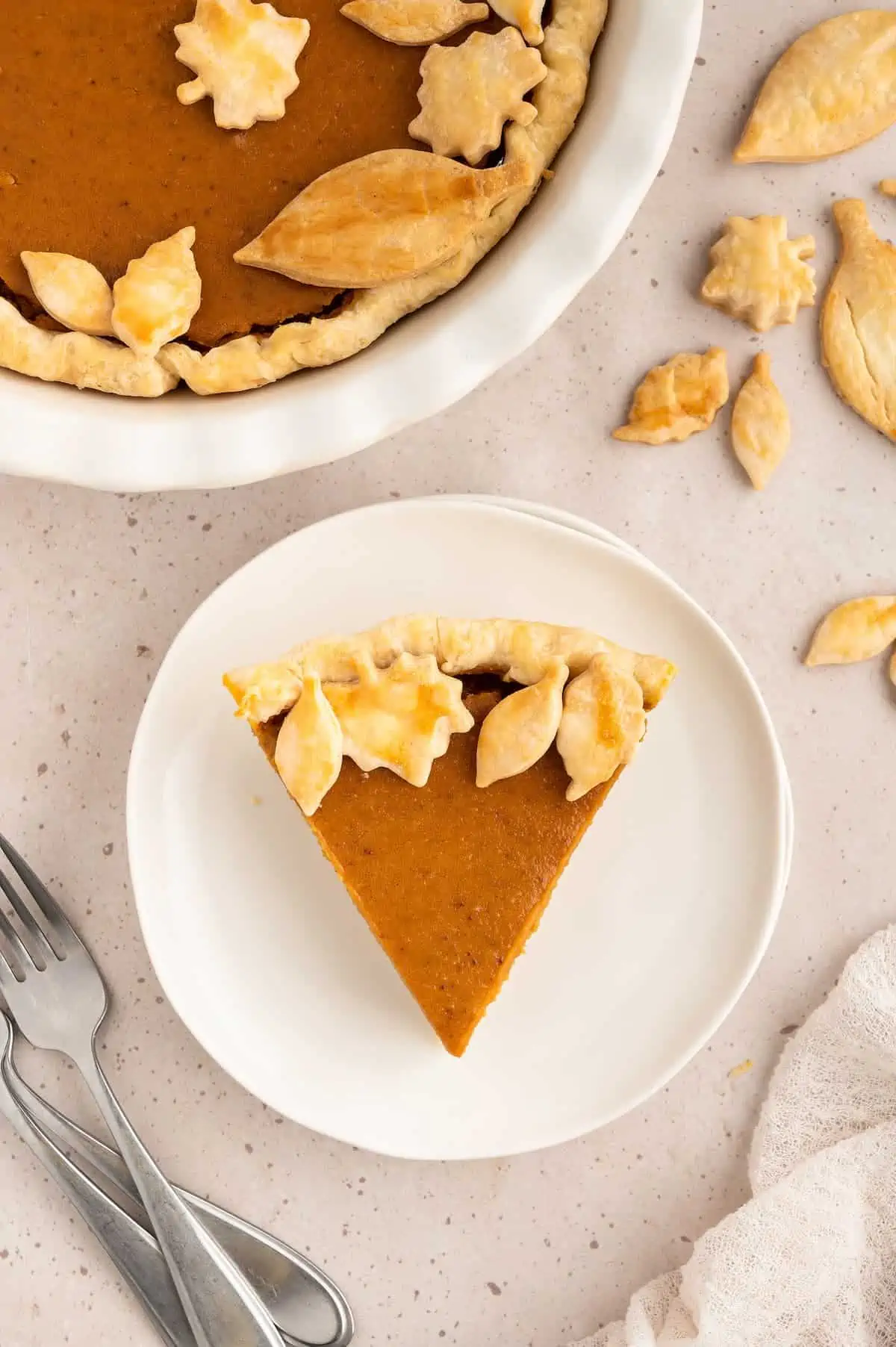 Frequently Asked Questions
What's the difference between sweet potatoes and yams? Can I use them interchangeably?
While sweet potatoes and yams can technically be used interchangeably in terms of structure and texture, they aren't the same thing and will give you very different results. Sweet potatoes are richer and sweeter, with a deep orange flesh, while yams are more bland, starchy, and pale tan or white inside.
How long will sweet potato pie keep? Can I make it in advance?
Make sure your pie is completely cool before wrapping it in plastic and storing in the fridge for 4 to 5 days. The crust will become softer over time, but you can "freshen" it up with 10 minutes in the oven at 350 degrees when ready to serve. While it's always best fresh, no one will know if you make it a day or two ahead of your big feast.
Can you freeze sweet potato pie?
Yes! Your best bet is to cut individual slices and wrap them separately. Store them in the freezer for up to 6 months. When you're ready to eat, let them thaw in the fridge overnight, or on the counter for 2 – 3 hours. Reheat in a 350-degree oven for 10 minutes to enjoy warm.
Can I make a big batch of sweet potato pies for a crowd?
If your family is known for taking more than their fair share of the pie, you can easily double the recipe and make two pies for the same amount of effort. Your best bet is to bake them separately, though, to maintain the oven temperature and ensure consistent results.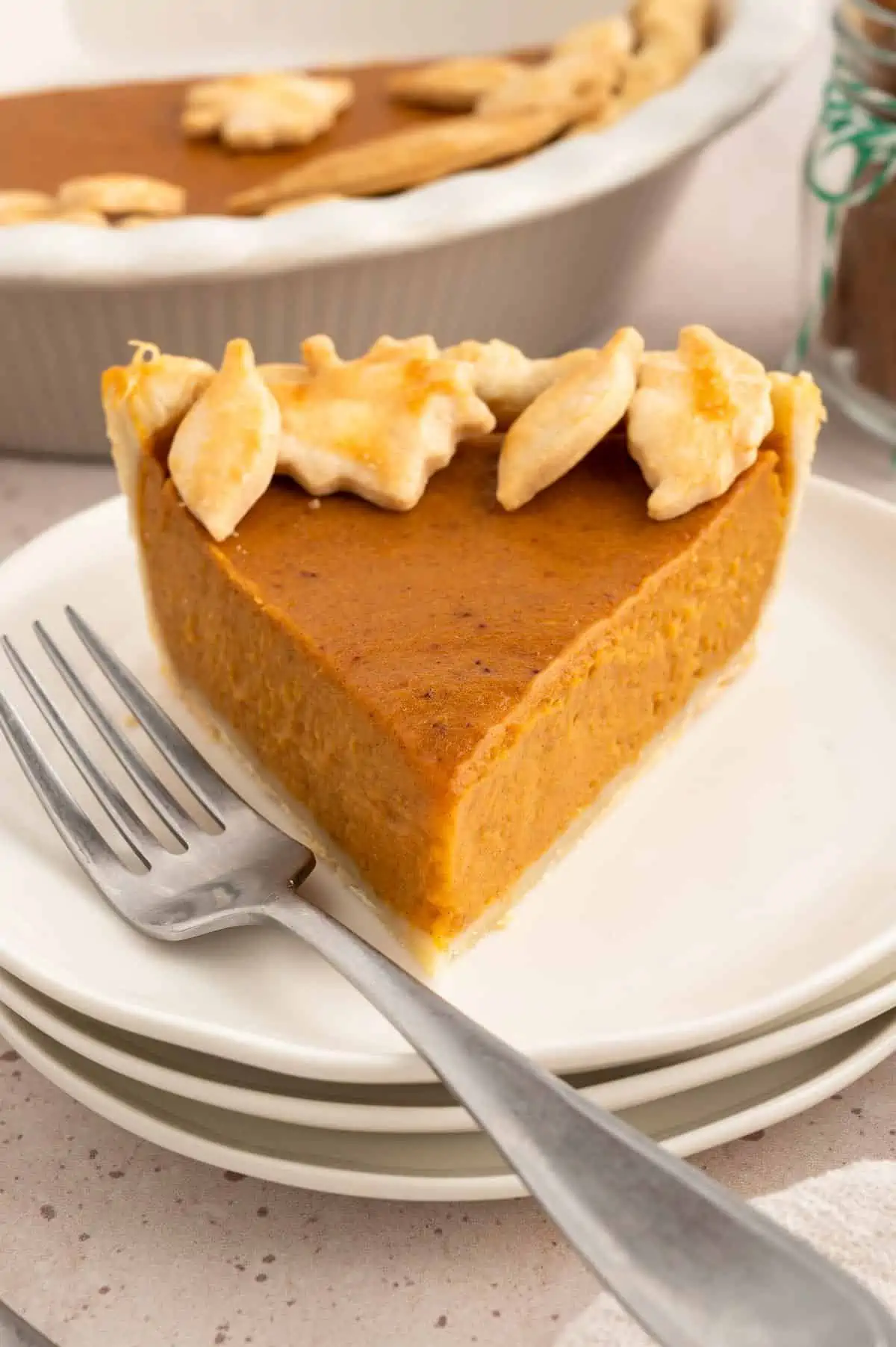 More Incredible Vegan Pies To Try
1 electric hand mixer (if you don't have an electric hand mixer, you can mix it together by hand and the recipe will still turn out great)

1 Potato Masher (or fork)

1 Large Pot (for boiling the sweet potatoes)
2 cups sweet potato puree, (475 grams) the orange kind—boiled, skinned, and mashed
⅔ cup canned coconut cream, (145 grams) shake well before opening and stir well before measuring. If you can't mix it then pour into a microwave safe bowl and heat it for a few seconds to melt the solid coconut cream so you can mix it with the liquid.
⅓ cup unsweetened soymilk
½ cup light brown sugar, (110 grams) packed
⅓ cup granulated sugar, (70 grams)
¼ cup cornstarch, (40 grams)
2 teaspoons pumpkin pie spice
1 teaspoon vanilla extract
½ teaspoon salt
1 prepared vegan pie crust, choose your favorite dairy-free store-bought crust or make your own from scratch
vegan whipped cream or dairy-free ice cream, (optional)
To make the two cups of sweet potato puree, place a few whole sweet potatoes in large pot, cover with water, and bring to a boil. Boil 40-50 minutes until soft and the skin falls easily off. Remove skin and mash the sweet potato in a bowl with a potato masher until you have a smooth puree.

Preheat oven to 350 degrees F.

In a mixing bowl, add the sweet potato puree, coconut cream, soymilk, light brown sugar, granulated sugar, cornstarch, pumpkin pie spice, vanilla extract, and salt. Using an electric hand mixer (or a whisk), mix until mostly smooth. Tap the bowl on the table to remove any air bubbles.

Pour the sweet potato pie filling into a prepared crust (no need to par-bake, it works great in a raw crust too and saves time!) and smooth the surface. Place the pie on a baking sheet and put it in the preheated oven to bake for 75 minutes. Check at 40-minutes and if the edges are getting dark, tent with foil.

At 75 minutes, turn off the oven and open the oven door partially (a few inches or all the way) to allow the pie to cool for one hour. Once cool, place in the fridge to set for at least 4 hours (or overnight).

Serve with whipped cream, if desired. Store leftover pie in the refrigerator.
You can enjoy this pie chilled or room temperature! For a chilled pie, remove from the fridge 15 minutes before serving. For a room temperature pie, remove from the fridge at least 1 hour before serving. 
Store your sweet potato pie in the fridge for up to 4-5 days. It's a fantastic dessert to make for Thanksgiving because you can prepare it several days beforehand and it will taste just as good. 
Want to make your vegan sweet potato pie a show stopper? To help the crust get a pretty golden sheen, you can make a vegan "egg wash" using 2 tablespoons soy milk + 1 teaspoon agave nectar and brush that on the crust before baking. If you'd also like to recreate the beautiful crust leaves you can make pie crust leaves using these leaf cutters.
Calories: 265kcal | Carbohydrates: 39g | Protein: 3g | Fat: 11g | Saturated Fat: 7g | Polyunsaturated Fat: 1g | Monounsaturated Fat: 3g | Sodium: 231mg | Potassium: 207mg | Fiber: 2g | Sugar: 21g | Vitamin A: 4213IU | Vitamin C: 1mg | Calcium: 39mg | Iron: 1mg
This recipe for vegan sweet potato pie was developed by Michelle Cehn and photographed by Amanda McGillicuddy for World of Vegan, all rights reserved. Article written with support by Hannah Kaminsky and edited by Rachel Lessenden.