There's nothing quite as cozy as curling up with an oversized blanket, a new (or old) book, and a mug of vegan hot cocoa. So today at World of Vegan we're sharing our go-to hot cocoa recipe that you can whip up in just a few minutes with just a few ingredients: unsweetened soymilk, cocoa powder, chocolate chips, and sugar.
You can stop there for a simple vegan hot chocolate—or, you can kick it up a notch by adding a splash of vanilla extract or peppermint extract (my fave). Top your toasty drink with some vegan marshmallows or a dollop of coconut whipped cream with a sprinkle of some cocoa powder or mini vegan chocolate chips on top and you've got absolute perfection.
Find the recipe below! And if you'll be sipping cocoa all season long, don't miss our homemade vegan hot chocolate mix to make the process even easier.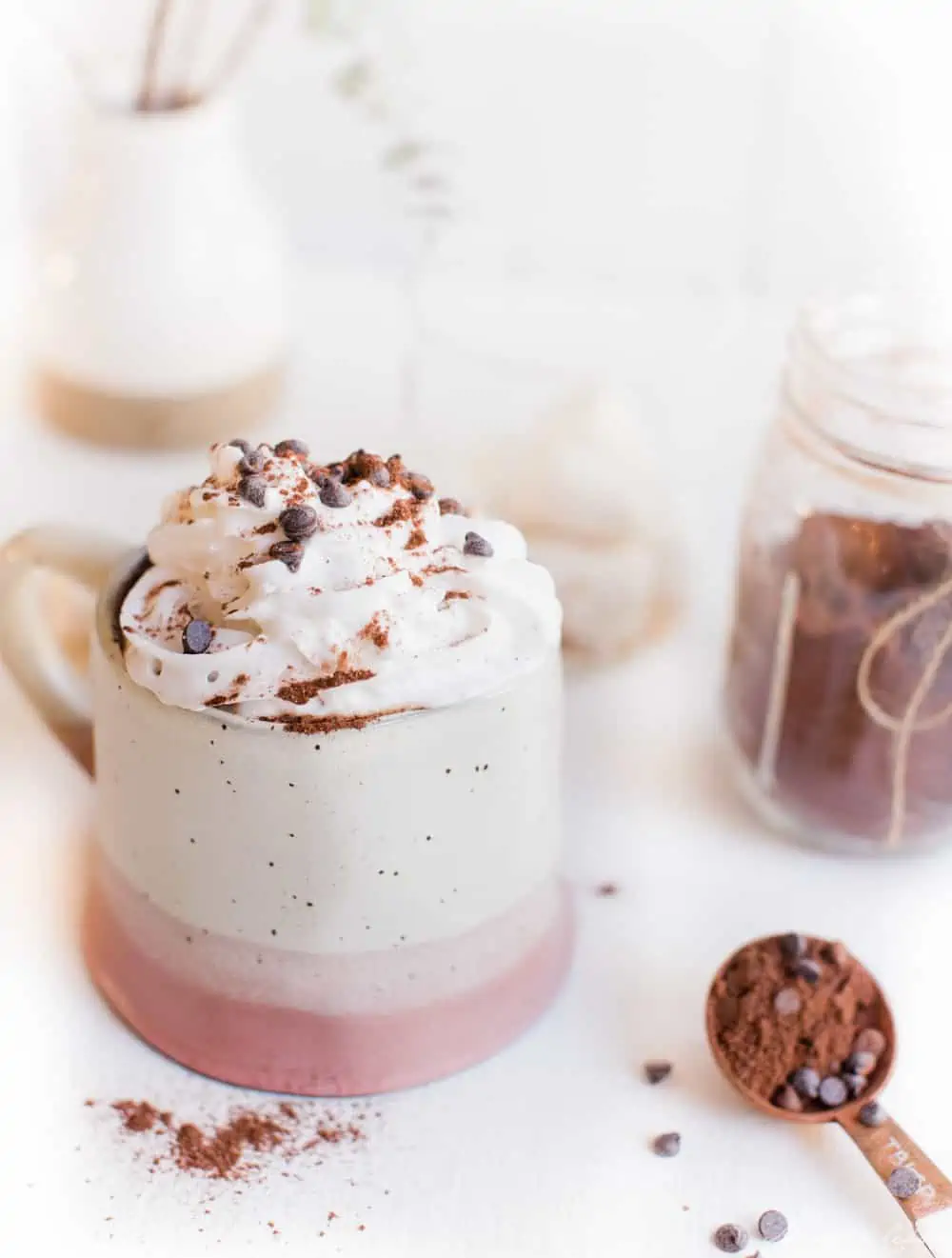 Why You'll Love This Dairy-Free Hot Chocolate
You can't go wrong with a tasty hot cocoa, and this dairy-free version is no exception. It's just as rich and chocolatey, you won't even know it's dairy-free! If that isn't enough temptation, here are more reasons to love this dairy free drink:
Allergen-friendly. Whether you're lactose intolerant, vegan, or have dairy allergies, this recipe provides a creamy and satisfying hot chocolate option that accommodates various dietary preferences.
Rich and creamy. Despite being dairy-free, this hot chocolate achieves a luxurious and smooth consistency, delivering a taste and texture akin to traditional hot chocolate without compromising on creaminess.
Easy to customize. Experiment with different plant-based milks and flavor enhancements like vanilla, peppermint, or spices to tailor this hot chocolate to your liking and create a signature version of your own!
Quick and easy. This recipe is straightforward and simple to make! You can enjoy a cozy cup of hot chocolate in just a few minutes.
Star Ingredients
Vegan Chocolate
I like to use miniature vegan chocolate chips by the brand Enjoy Life—but any semi-sweet vegan chocolate will work! The mini chips are helpful because they melt faster, but if you can't find mini chips, just roughly chop your chocolate into small pieces.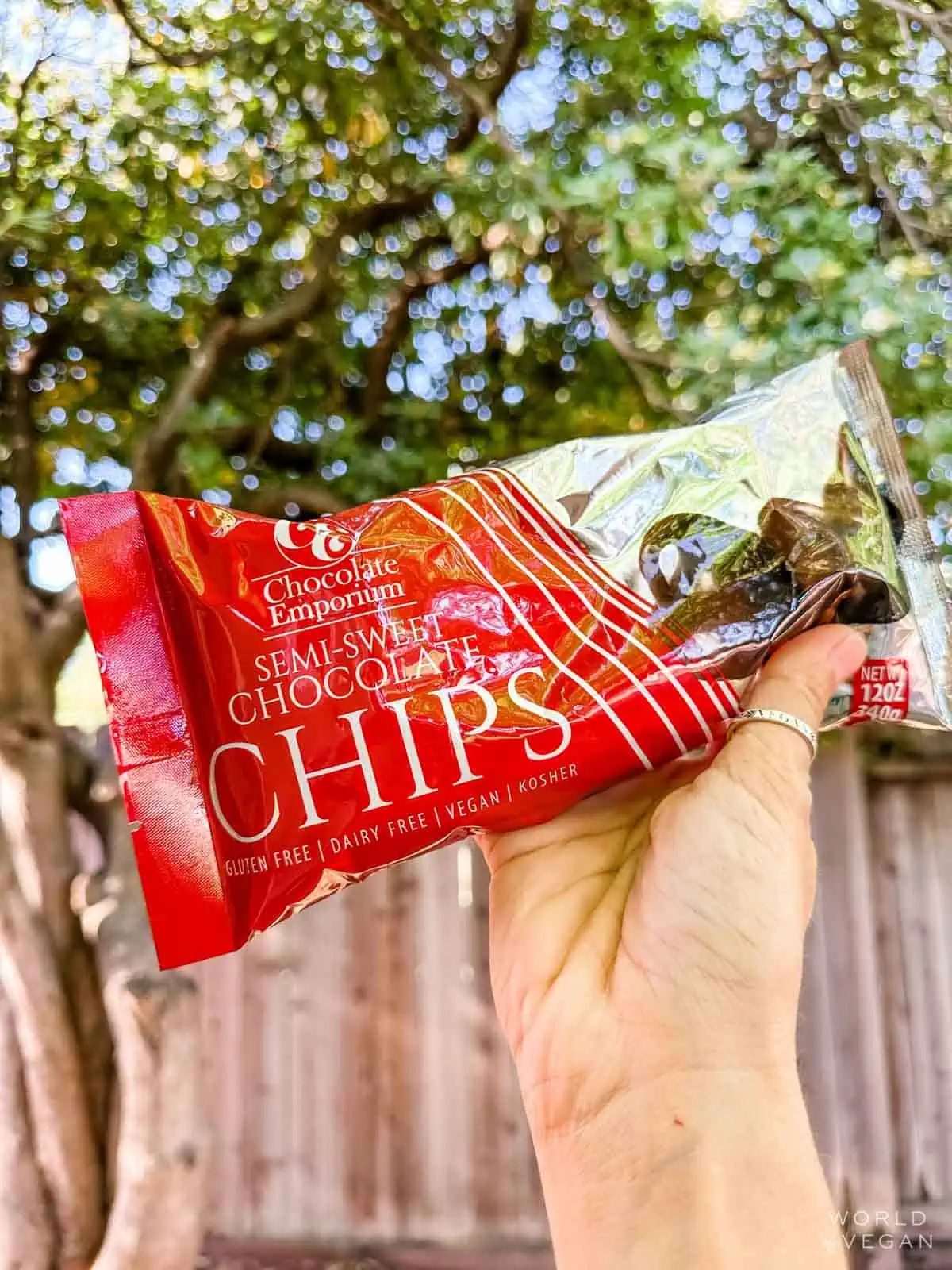 Sugar
I use generic granulated sugar, but you're welcome to use your favorite sweetener here. Coconut sugar, agave, maple syrup, and beyond will all work. If you're unsure about the vegan status of sugar, check out our "Is sugar vegan?" article.
Vegan Marshmallows
While certainly not a necessity, dropping some vegan marshmallows into your hot cocoa brings on all the fireside vibes. Dandies is a great vegan brand of marshmallows, but more brands are sprouting up and you can also find "accidentally vegan" marshmallows at Trader Joe's. Just make sure your marshmallows are gelatin-free, because gelatin is made from animal skin and bones!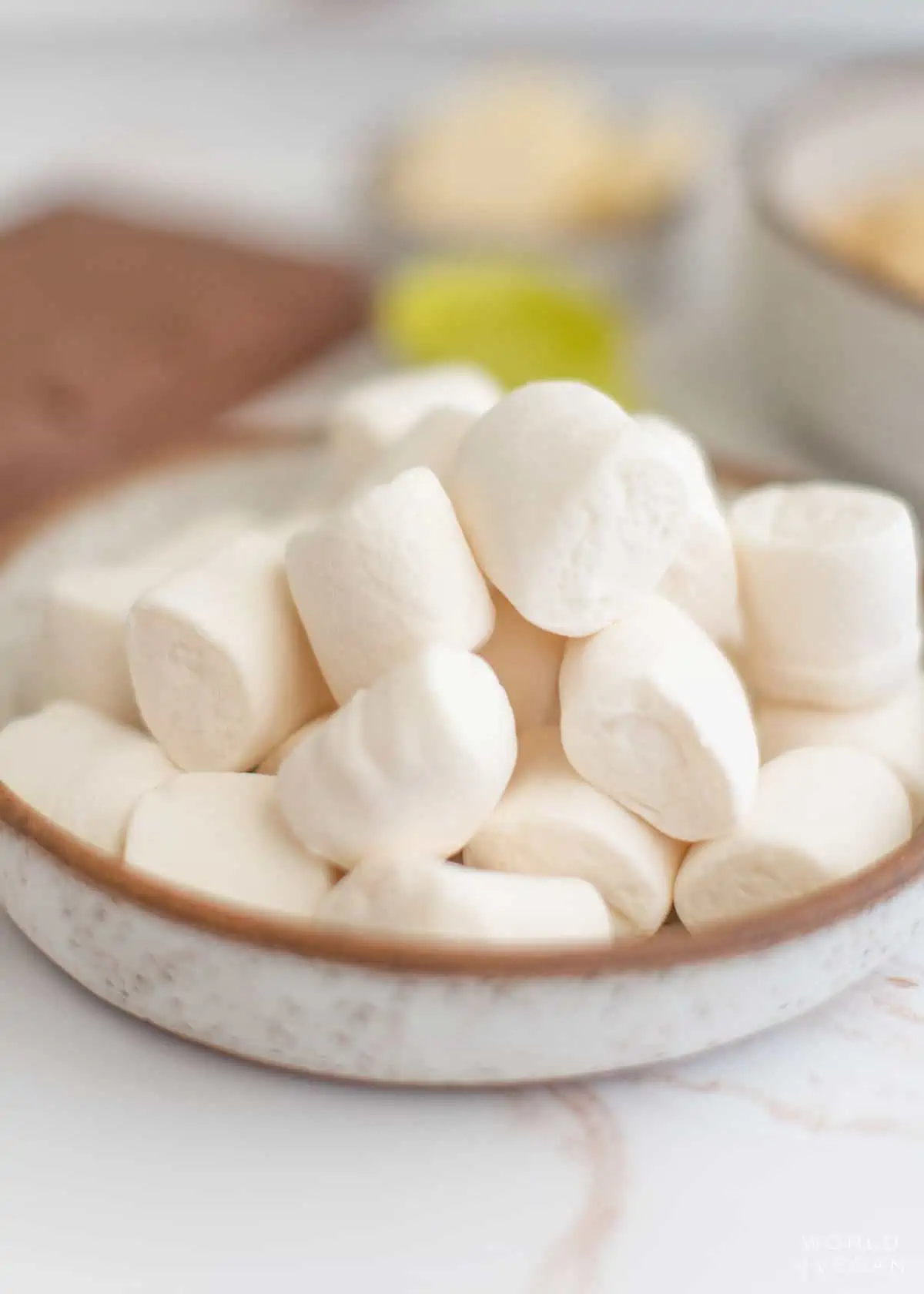 Vegan Whipped Cream
This is optional, but definitely gives the hot chocolate that extra-somethin'-special. You can find vegan whipped cream in a can (I used one I found at Trader Joe's), from a tub (So Delicious has a "Cool Whip" style vegan whip like this), or homemade (check out our coconut whipped cream recipe)
How To Make Dairy-Free Hot Chocolate
In three simple steps, you can whip up a cozy cup of this dairy-free hot chocolate!
Step One: In a small saucepan over medium heat, whisk together plant-based milk, cocoa powder, mini vegan chocolate chips, and sugar until the mixture is fully dissolved.
Step Two: For added flavor, include a small splash of vanilla extract or peppermint extract and whisk thoroughly.
Step Three: Pour the hot chocolate into a mug and garnish with vegan whipped cream and a sprinkle of chocolate chips or cocoa powder if desired. Enjoy it while it's hot!
Adding a dash of an extract can really kick this seasonal beverage up a notch, making it feel extra-special. You can add in a splash of vanilla extract, of course, but it's even more fun to add in a little splash of peppermint extract if you can get your hands on some! This vegan peppermint hot chocolate reminds me of the ever-popular peppermint mocha—minus this coffee. Absolutely delicious.
Batch Prep Hot Cocoa Mix
If, like me, you turn to hot cocoa often during throughout the chilly season, you can make a pre-mixed batch of this vegan hot cocoa powder. That way all you need to do it to toss a few tablespoons on the stove with some soy milk and you've got yourself a delicious better-than-Starbucks beverage.
Get the recipe for our perfected dairy free hot chocolate mix and get ready for an extra cozy holiday season! 
DIY Hot Cocoa Bar
Want to get even more creative? Set up a DIY Vegan Hot Cocoa Bar in your home! Create your pre-mixed jar of cocoa mix and place it alongside your favorite mugs, a jar of vegan marshmallows, and perhaps an extract or two.
Easy Holiday Gift
Have a friend who could use some comfort and loves chocolate? Our hot chocolate mix is perfect for gifting!
Simply fill a 16-ounce mason jar with the dairy-free hot chocolate mix and top it with some vegan marshmallows. Hand-write the recipe on a tag:
3.5 tablespoons of mix + 1 cup of unsweetened soymilk = one hot cocoa
Tie a festive bow around the jar, and you're done! You can even cut out holiday-themed paper or wrapping paper in the shape of a circle and adhere it over the mason jar lid for an extra-cute effect. The perfect homemade vegan gift or stocking stuffer for the holidays!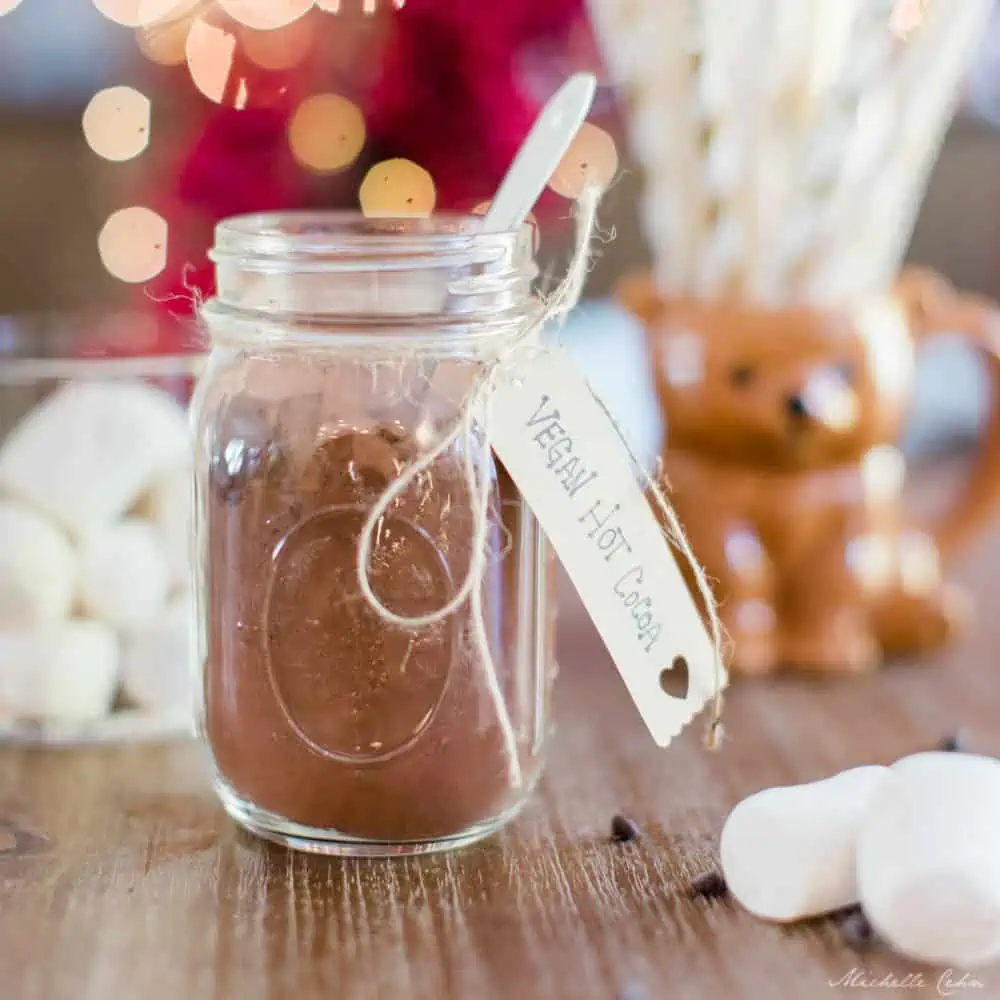 More Dairy Free Drink Recipes
1 cup unsweetened soymilk, or your favorite plant-based milk
1½ tablespoons cocoa powder
1 tablespoon mini vegan chocolate chips, or chopped chocolate, plus additional for topping
1 tablespoon sugar
1 splash of vanilla extract or peppermint extract, optional
Vegan marshmallows, optional
Vegan whipped cream, optional
In a small saucepan over medium heat, whisk together plant-based milk, cocoa powder, mini vegan chocolate chips, and sugar until completely dissolved. If using our pre-mixed vegan hot chocolate mix, simply add 3.5 tablespoons into the milk.

If desired, add a small splash of vanilla extract or peppermint extract (absolutely delicious!) and whisk well.

Pour into a mug and top with vegan whipped cream and a sprinkle of chocolate chips or cocoa powder (if desired), and enjoy hot!
This is a perfect base vegan hot cocoa recipe that can be made into a vegan peppermint hot chocolate by adding a splash of peppermint extract!
Calories: 388kcal | Carbohydrates: 53g | Protein: 10g | Fat: 19g | Saturated Fat: 9g | Polyunsaturated Fat: 2g | Monounsaturated Fat: 1g | Trans Fat: 0.1g | Sodium: 281mg | Potassium: 293mg | Fiber: 4g | Sugar: 42g | Vitamin A: 505IU | Calcium: 368mg | Iron: 4mg