Few things are quite as comforting as a big bowlful of vegan cream of mushroom soup. Rich, velvety broth enriched with blended cashew cream takes dairy out of the equation for the very best version you've ever dipped a spoon into! Plant-based soup heaven, here we come.
This tasty vegan cream of mushroom soup is everything you've been dreaming of on a cold, dreary day. Sure to lift your spirits and nourish the soul, it's the pure essence of comfort food. Written by Joshua Onysko, founder of Alpine Provisions and passionate vegan chef, it seamlessly blends flavor and nutrition into an upgraded take on the classic soup. Forget about the congealed versions you might find in a can; fresh, tender bites of mushrooms truly sing with the full range of umami notes that nature intended.
Why This Vegan Cream of Mushroom Soup Is So Awesome
Dairy-free – Despite the name, the creamy texture comes entirely from cashews, not cows. Thickened with flour, it's every bit as rich and luscious as the original inspiration.
Great for a crowd – If you're having company over, you can easily double or even triple this recipe. Just make sure you have a large stock pot to accommodate or prepare it in separate batches.
Keeps well – If, on the other hand, you're just cooking for one or two, you can enjoy the fruits of your labor for days to come! This soup keeps beautifully in the fridge in an airtight container for up to a week. For longer storage, you can also freeze it in one-cup portions to enjoy for months to come. Thaw gently over low heat in a small saucepan to revive your soup whenever a craving strikes.
Easy as can be – Even a novice cook can look like a professional chef with these bold, savory flavors. If you can stir and simmer, you can make this recipe, no sweat!
This recipe also happens to be gluten-free, soy-free, sugar-free, and absolutely delicious!
How to Serve Your Tasty Vegan Cream of Mushroom Soup
Wondering what to do with cream of mushroom soup? Here are a few of our ways to enjoy it!
Enjoy hot with a hunk of crusty bread on the side, and don't forget to dip!
Top your bowl with a sprinkle of shredded vegan cheese for extra ooey-gooey richness.
Add your favorite pasta shapes, cooked al dente, and treat it like a mushroom cream sauce.
Pour it over roasted or mashed potatoes like gravy.
Make a vegan green bean casserole for a Thanksgiving-worthy side. Don't forget the crunchy fried onions on top!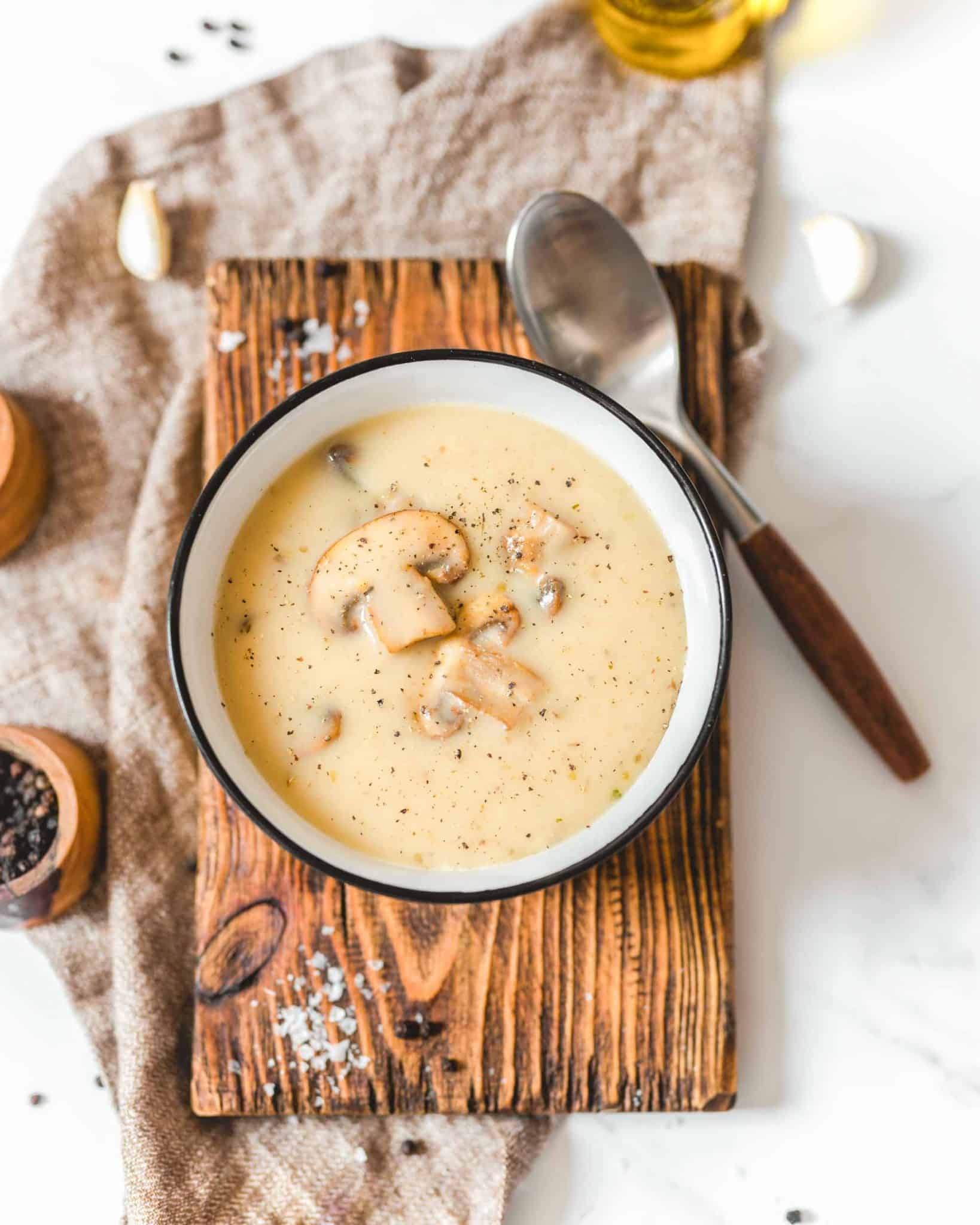 Health Benefits of Mushrooms
Mushrooms are everyday superfoods, packed with fiber, vitamins, and minerals. Nutritional benefits vary depending on the type of mushroom, but overall, they are a good source of the following nutrients.
Antioxidants – Antioxidants help protect the body from damaging free radicals that can cause conditions like heart disease and cancer. They also help boost your immune system. Mushrooms are rich in the antioxidant called selenium and in fact, they are the best source of the mineral in the produce aisle.
Beta glucan – Beta glucan is a form of soluble dietary fiber that's been strongly linked to improving cholesterol and boosting heart health. It can also help your body regulate blood sugar, reducing the risk of type 2 diabetes. Oyster and shiitake mushrooms are believed to have the most effective beta glucans.
B vitamins – Mushrooms are rich in the B vitamins, particularly riboflavin, niacin, and pantothenic acid. Riboflavin is good for red blood cells. Niacin is good for the digestive system and for maintaining healthy skin. Pantothenic acid is good for the nervous system and helps the body make the hormones it needs.
Copper – Copper helps your body make new red blood cells, which are used to deliver oxygen all over the body. The mineral is also important to maintaining healthy bones and nerves. Even after being cooked, a 1-cup serving of mushrooms can provide about one-third of the daily recommended amount of copper.
Potassium – Potassium is extremely important when it comes to heart, muscle, and nerve function. There's about as much potassium in 2/3 cup of cooked Portobello mushroom as there is in a medium-sized banana.
How to Make Cashew Cream (Vegan Condensed Cream)
Creaminess is essential to a heavenly cream of mushroom soup. Obviously! But this scrumptious soup doesn't call for a drop of dairy—it's made creamy using cashew cream.
If you're new to cashew cream, it's easily made by blending raw cashews with water using a high-powered blender (like a Vitamix). You can make all kinds of cashew creams that can be very useful in vegan cooking. You can make cashew cream thick enough to dollop on top of your favorite dessert or thin enough to drizzle over your food like a dressing. It can be sweet or savory. It all depends on the ration of cashews-to-water and the added mix-ins.
This soup recipe calls for the simplest cashew cream made from 1 cup of raw cashews + 1 cup of water, blended in a high-powered blender until smooth.
What If I Don't Have a High-Powered Blender?
Don't fret, you have several other options for achieving the cashew cream you need for this dish.
Soak your cashews in water overnight to make them super soft and easy-to-blend into a cream. Drain and blend as directed in any standard blender.
No time to soak your cashews? Not to worry! Boil your cashews for a few minutes (or soak them in boiling water for an hour or two) and that should soften them up enough for easy blending in any blender.
If you don't have a blender, use a food processor instead! The resulting cashew cream may not be quite as silky smooth as the other options, but it will still be delicious, especially if you can appreciate a more textured soup.
Where Can I Buy Vegan Cream of Mushroom Soup?
These days you can find almost anything vegan. But we have to admit, canned dairy-free cream of mushroom soup is nearly impossible to find, as no mainstream brands offer it (yet). Brands, if you're reading, please bring this to life!
Equipment You'll Need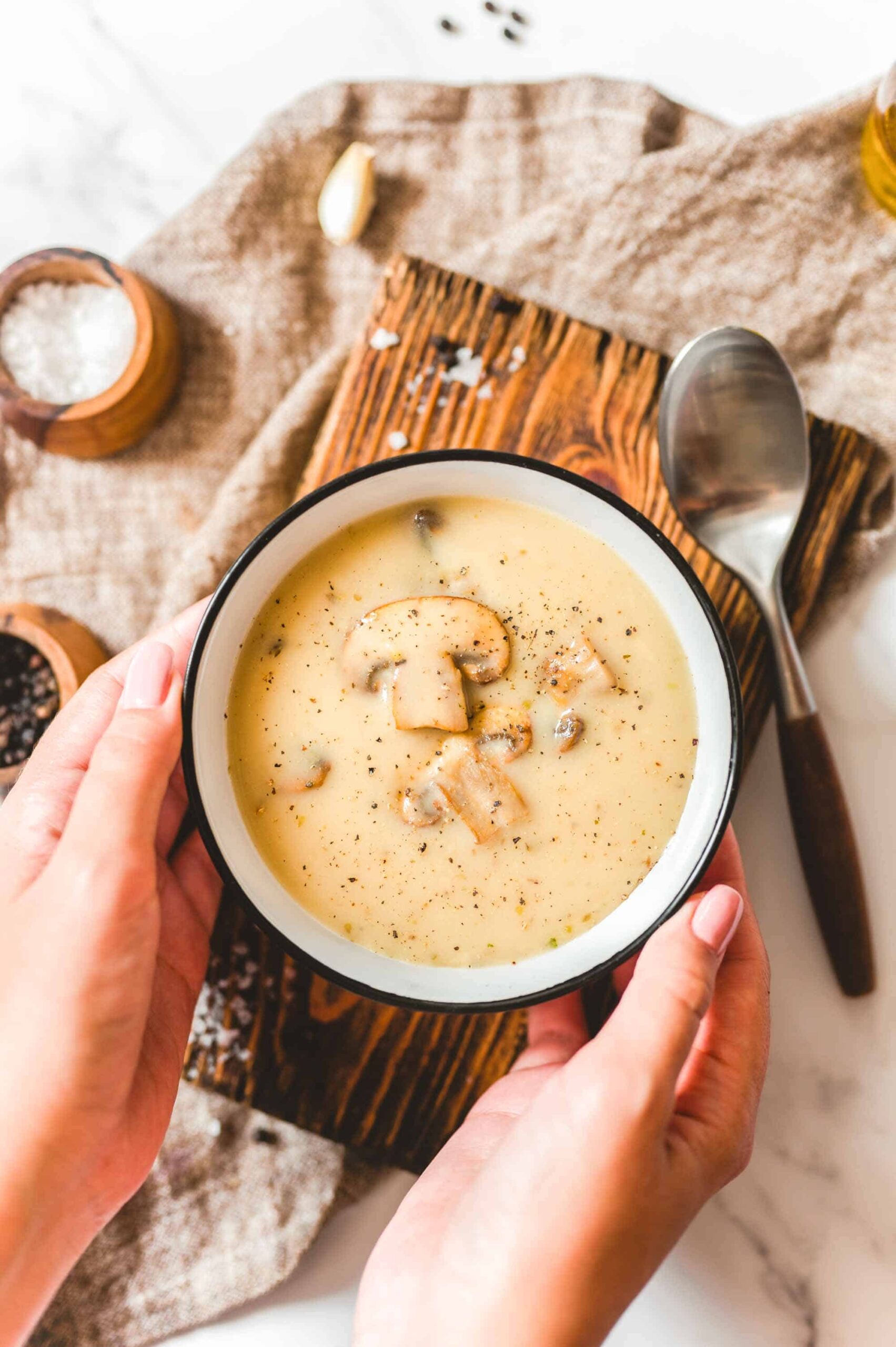 5 tablespoons of olive oil, divided
24 ounces of fresh cremini mushrooms, or get exotic culinary mushrooms, sliced
3 tablespoons of vegan butter
1 medium yellow onion, diced
4 garlic cloves, minced
½ cup of dry white wine
3 tablespoons of all-purpose flour
3 cups of vegetable broth
1 cup of raw cashews
1 cup of water
3 teaspoons of Herbs de Provence
Salt and pepper to taste
Coat the bottom of a soup stock pot (or Instant Pot) with 4 tablespoons of olive oil and turn to medium heat (or use the sauté function if using an Instant Pot).  

Once the oil is hot, add the mushrooms and keep them moving while you sauté them until soft. Transfer the sautéed mushrooms to a plate and set aside.  

Coat the bottom of the stock pot (or Instant Pot) with the remaining tablespoon of olive oil and vegan butter. 

Add the diced onions and sweat over medium heat for about 5 minutes, until they become soft and translucent.

Add the garlic and continue cooking and stirring for about 1 minute, until very fragrant.  

Stir in the white wine, raise the heat, and bring it to a boil. Lower the heat and allow the wine to simmer until most of the liquid has cooked off, about 5 minutes.  

Begin adding the flour, a bit at a time. Stir the flour in between each addition to form a  paste that coats the onions and garlic. Cook everything for about a minute, stirring constantly.

Begin whisking in the vegetable broth, a bit at a time, until all of the broth has been added and the flour is blended in.

Blend 1 cup of raw cashews with 1 cup of water to make a thick cashew cream.

Stir in the cashew cream, Herbs de Provence, and sautéed mushrooms. Add salt and pepper to taste.

Raise the heat and bring the liquid to a boil. Lower the heat and allow the soup to simmer for about 15 minutes, until the liquid thickens up a bit.

Remove the pot from the heat, serve, and enjoy!
If you try this vegan vegan cream of mushroom soup recipe, let us know what you think by leaving a comment and star rating below! Be sure to follow along on Pinterest, Instagram and Facebook for even more vegan recipe inspiration.
Frequently Asked Questions
Can I make it gluten-free?
You bet! Just use an equal amount of chickpea flour instead of all-purpose flour to make the roux.
Can I make it a nut-free cream of mushroom soup?
No problem! Use raw sunflower seeds instead of cashews.
Can I reduce the fat?
Though cashews are full natural heart-healthy omega fatty acids, you can absolutely reduce or eliminate the added fat. Sauté the mushrooms and onions in extra vegetable broth or water instead of olive oil or vegan butter. The soup will still be plenty rich thanks to the plant-based cream mixture.
Can I make it alcohol-free?
Certainly, no problem at all. Just use more vegetable stock or water instead of white wine.
Can I use different mushrooms?
A unique blend of different wild mushrooms would be even more flavorful and highly recommended! Try shiitake, oyster mushrooms, enoki, maitake, and porcini, just to name a few.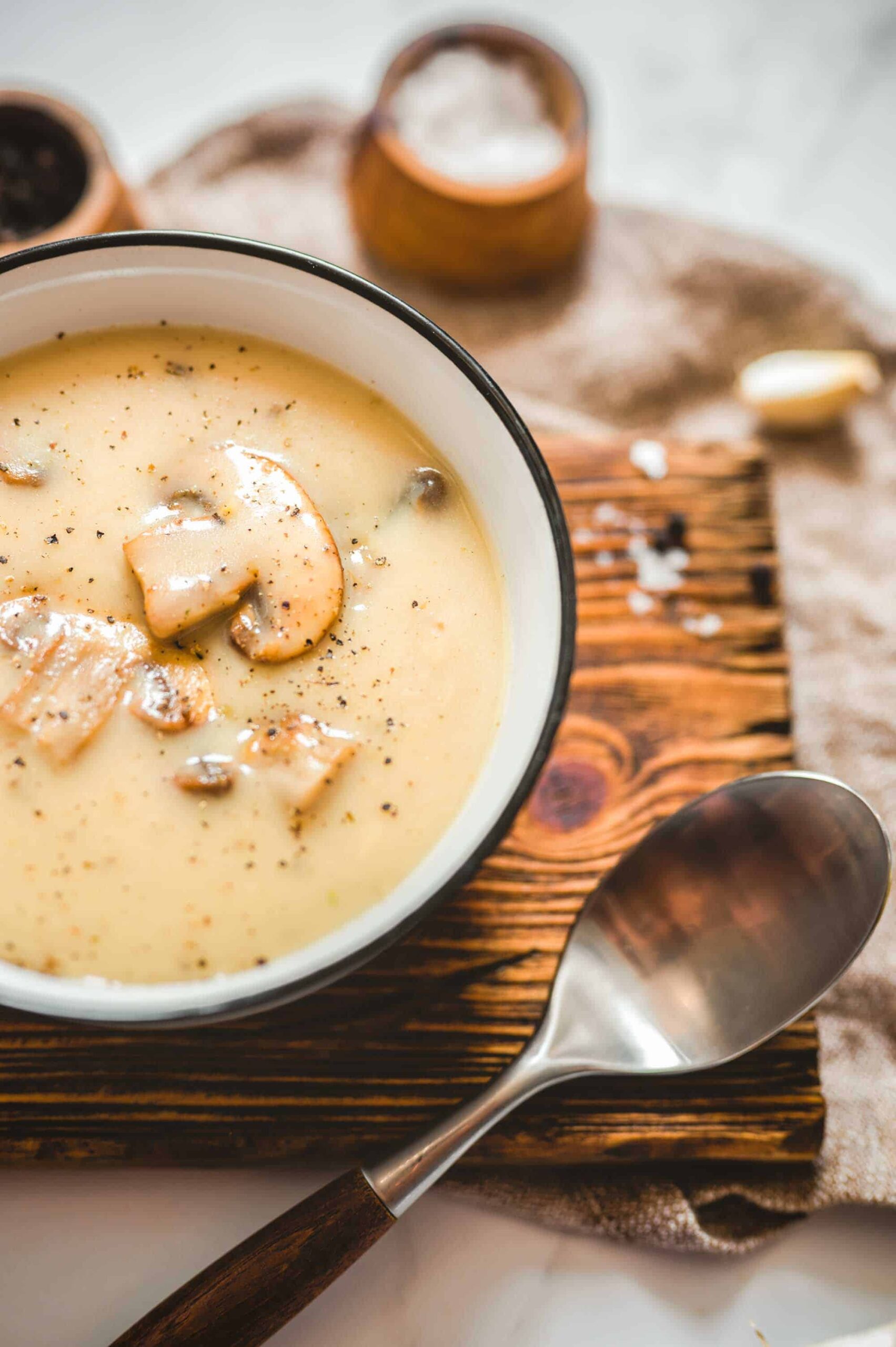 The History of Cream of Mushroom Soup
Cream of mushroom soup is said to have been invented by a chemist named John T. Dorrance with the Campbell Soup Company in 1897. It was the first condensed soup to be produced on a large scale in 1934 and remains one of the most popular canned soups in America today. Unfortunately, these options aren't vegan, who needs a can when you can start from fresh ingredients?
About the Recipe Author
Joshua Onysko is an accomplished plant-based chef, self-taught perfumer, skincare expert, public speaker, and product designer. Founder of the organic beauty brand, Alpine Provisions, he's been a pioneer in the plastic-free movement by creating aluminum-based bottles that use mostly recycled materials. Having been vegan for over two decades for the sake of animal welfare, he recognized that one of the biggest contributors to marine animal death is plastic pollution. Committed to creating products aligned with his ethics, this emphasis on quality and care can be seen in every aspect of his work, including his deeply nourishing and flavorful recipes.
More Vegan Soup Recipes to Savor
This vegan cream of mushroom soup recipe was developed by Joshua Onysko and photographed by Zhoro Apostolov. Many thanks our recipe testers Nicol Nawrath and Maria Highet for testing out this delicious recipe! Please note that this post may include affiliate links when available which supports our work at World of Vegan.