With the abundance and variety of vegan cheese options available today, there are now more dairy-free cheese choices than ever. So yes, you can have your cheese and eat it too!
Whether you are looking for something to serve on a fruit and cheese platter, need an ingredient for your classic lasagna, or want a tasty sprinkle for Taco Tuesday, this vegan cheese guide has options for everything. You need these plant-powered cheeses in your life!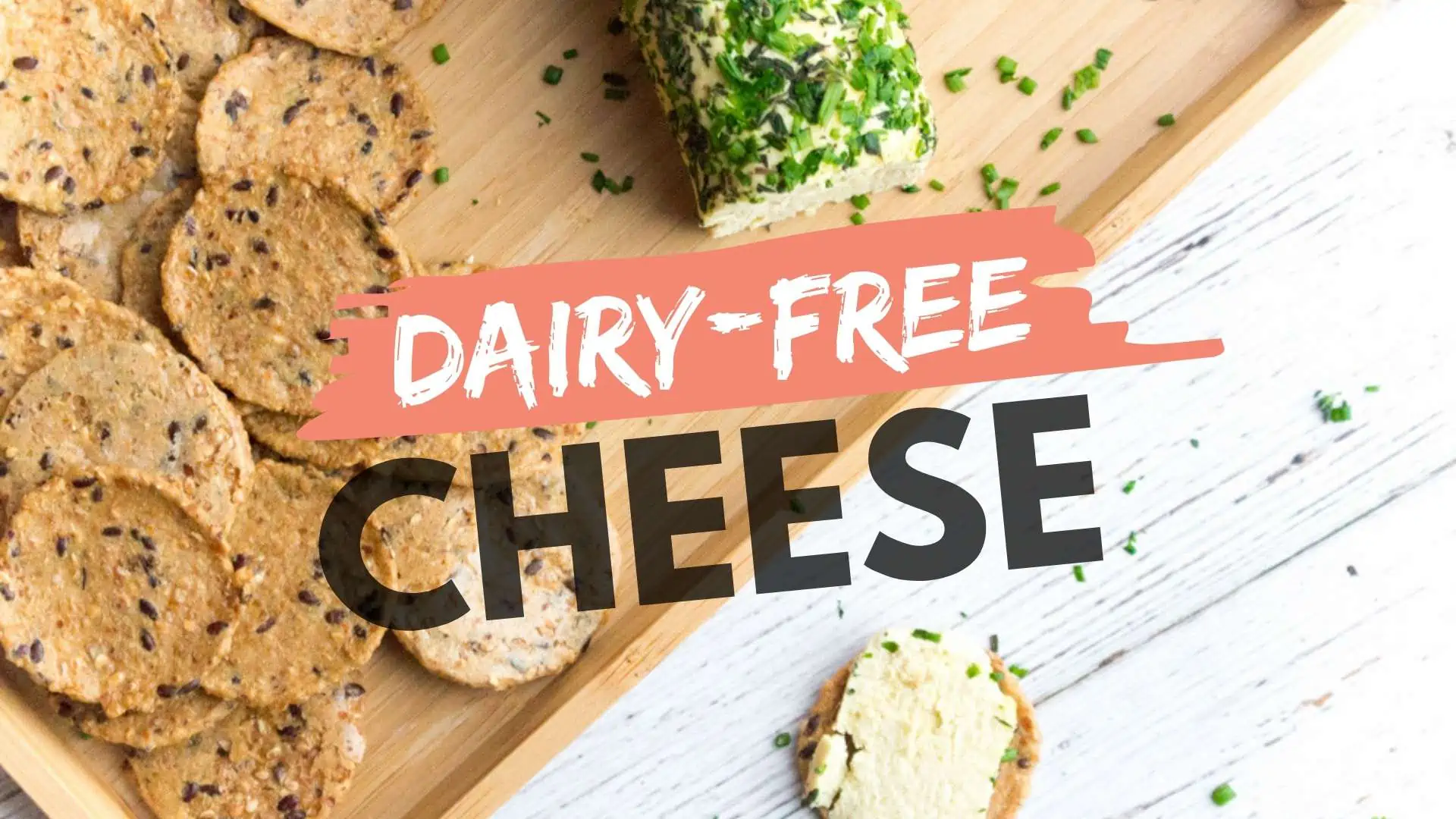 Why Eat Vegan Cheese?
We have a confession to make—we love cheese. Unfortunately, traditional dairy-based cheeses cause a lot of unnecessary suffering for dairy cows and goats, and they can cause a lot of health complications in humans, too. That's why we decided to ditch dairy-based cheeses for the often misunderstood but oh-so-yummy world of vegan cheeses.
If you're anything like we were, you're probably confused about just what vegan cheese is, where you can find it, how you can make it yourself, and if it's as nasty as some people make it out to be (spoiler: nope). So we put together this guide for people like you who are considering adopting a vegan diet and lifestyle, even part-time.
What Is Vegan Cheese?
Simply put, vegan cheese is any cheese that isn't sourced from a lactating animal's milk, such as from a mother cow or momma goat.
Unlike lactose-free milk, which is still sourced from a cow but with lactose (a kind of sugar) removed, vegan cheese can be made from nuts, seeds, vegetables, or other plant-based sources. However, vegan cheese will never be derived from an animal or their milk.
How Does Vegan Cheese Taste?
While vegan cheese has sort of a bad rap as being bland and bad at melting, we can assure you that for the most part, it's anything but.
Vegans and vegetarians around the world have veganized pretty much every cheese you can imagine, from savory cheddars to sharp parmesans, salty fetas to decadent bries and camemberts.
If you're more of a DIY foodie or just someone who loves experimenting in the kitchen, then you'll be excited to learn that you can whip up all kinds of vegan cheeses from scratch in your own kitchen. We recommend trying this vegan cheese recipe and picking up a copy of a vegan cheesemaking cookbook (there are actually several of these!). You can also check out our vegan cheese board on Pinterest for inspiration.
Best Vegan Cheese Brands
If you're looking for a pre-made vegan cheese that:
Melts beautifully
Spreads nicely on your cracker
Accents a cheese plate
That's good for sprinkling
That's good for preparing Italian dishes
Just looks and acts like the dairy-based cheeses you're used to
…then friend, have we got some delicious dairy-free cheeses to tell you about!
Today you can find vegan mozzarella, dairy-free cheddar, vegan parmesan, plant-based cream cheese, gourmet vegan cheeses, vegan blue cheese, dairy-free cheese shreds, plant-based cheese slices, vegan cheese blocks, dairy-free cottage cheese, vegan feta, vegan nacho cheese sauce, vegan mac 'n' cheese, and beyond. Look out for the following vegan cheese brands in stores!
These are the most popular and most widely available, but there are many, many, many more coming to life both regionally and internationally!
This brand has truly mastered the art of crafting scrumptious vegan cheese that will satisfy your taste buds. From velvety plant-based cream cheeses to mouthwatering artisanal wheels, Miyoko's offers an array of delicious options. Embrace the creamy goodness of their cashew-based creations, perfect for everything from melting atop your favorite pasta to elevating your charcuterie board to a whole new level of deliciousness!
Say "hello" to Vevan, where innovation meets flavor in the vegan cheese world. Offering a range of plant-powered cheeses that taste so incredible, you'll be wondering how they do it! With their potato starch and coconut oil-based products, Vevan delivers the creamy texture and tangy notes you crave. Whether you're topping off a vegan burger with their vegan cheese slices or sprinklin their vegan cheese shreds over pizza, Vevan's diverse selection will have you coming back for more.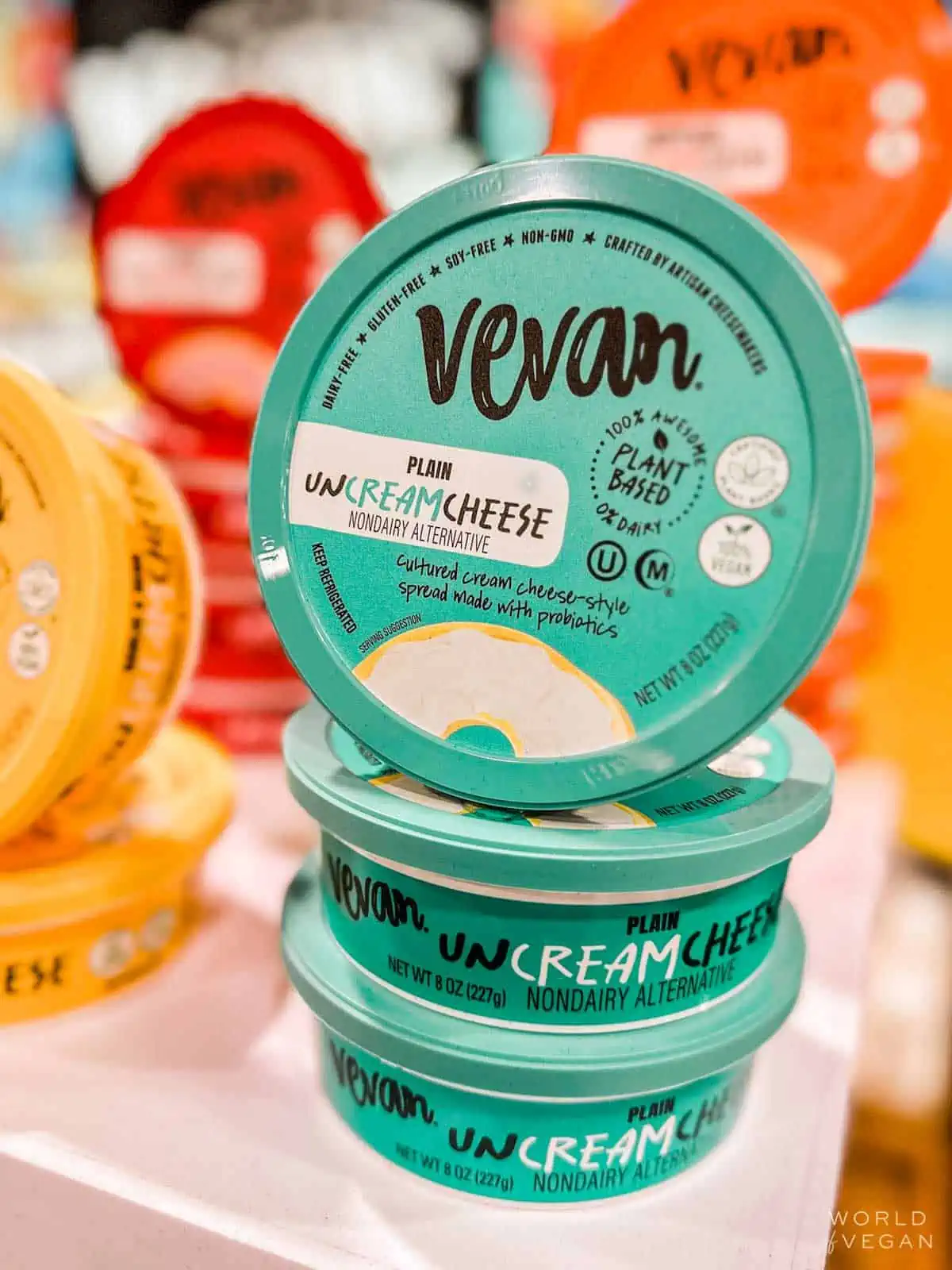 If you're looking for a dairy-free cheese experience that'll leave you saying "Wow!," then Violife is your go-to brand. This company has mastered the art of crafting sliceable and shreddable vegan cheeses that rival their dairy counterparts. Made from coconut oil and other plant-based goodness, Violife offers a variety of flavors, from classic cheddar to zesty pepperjack. Prepare to be wowed by their meltability and versatility in all your favorite cheesy dishes!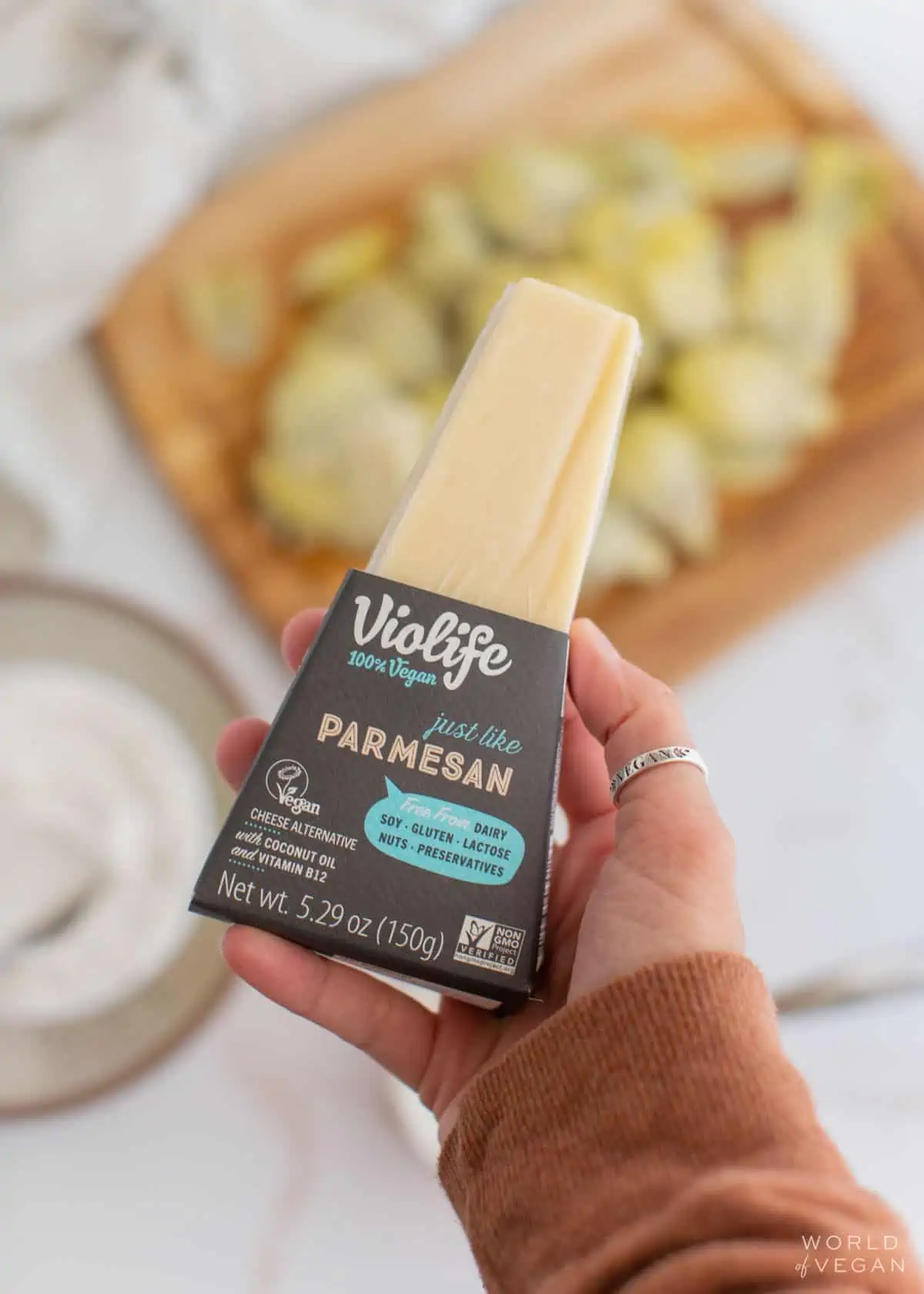 With Field Roast, it's not just about the meat alternatives; their vegan cheese offerings are equally exceptional! Dive into a world of flavor with their Chao slices, shreds, and blocks, made from fermented tofu and seasoned to perfection. Their slices are perfect for grilling up a mouthwatering plant-based sandwich or adding a creamy layer to your veggie-packed wraps. Field Roast brings the creativity and taste you crave, so you can delight in cruelty-free cheesy goodness.
Indulge in the plant-based decadence of So Delicious! Crafted from premium coconut milk, their vegan cream cheese style spreads are a heavenly dairy-free experience for all your cheesy cravings! Spread onto crackers, bagels, or use in dips and desserts!
Forager is all about keeping it simple, delicious, and kind to your taste buds and the planet. Their artisanal cashew-based cheeses are bursting with flavor and crafted with natural ingredients. Whether you're spreading their creamy delights on a cracker or mixing them into a gourmet pasta sauce, Forager's vegan cheese options will elevate any dish with ease.
Known for their melty shreds, slices, and blocks, this brand has got you covered for all your cheesy cravings. Their innovative blend of tapioca starch and plant-based proteins creates a stretchy and satisfying vegan cheese experience. So, go ahead, load up your pizzas, quesadillas, and casseroles with Daiya's deliciousness and watch your dishes transform into vegan masterpieces!
Good Planet takes being planet-friendly seriously, crafting their vegan cheese alternatives with sustainable coconut oil. Their slices and shreds are rich, smooth, and perfect for those who crave the classic cheesy flavors. Whether you're making a gooey grilled cheese sandwich or adding a luscious topping to your favorite plant-based chili, Good Planet will have you hooked from the very first bite.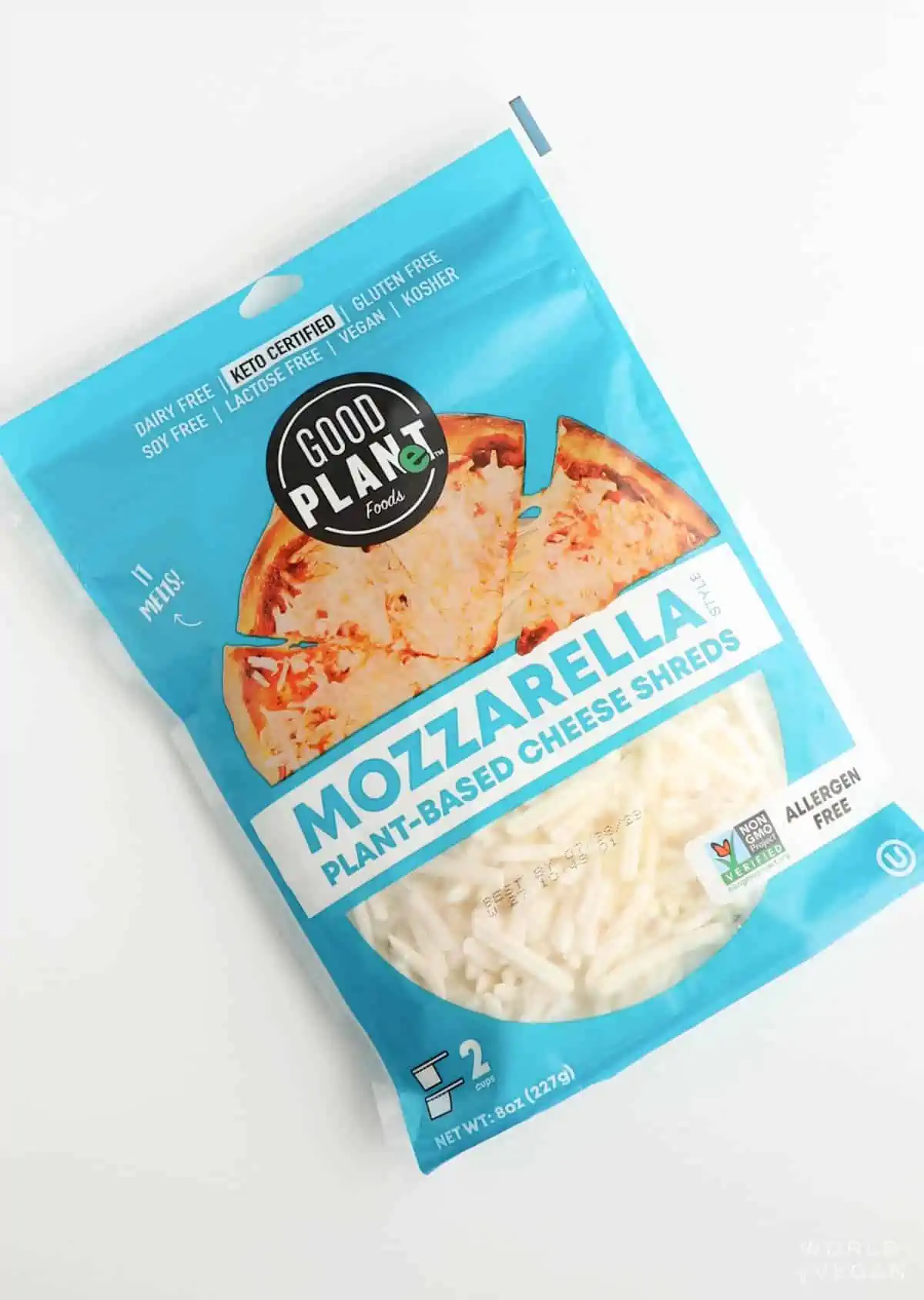 With Follow Your Heart, you can embark on a journey of exploration through a wide range of vegan cheese alternatives. From their versatile shreds that melt like a dream to their crumbly feta-style options, there's something for every cheese lover. With unique and delightful flavors, you'll find yourself using Follow Your Heart's cheeses in all your culinary creations, from savory dishes to delectable desserts.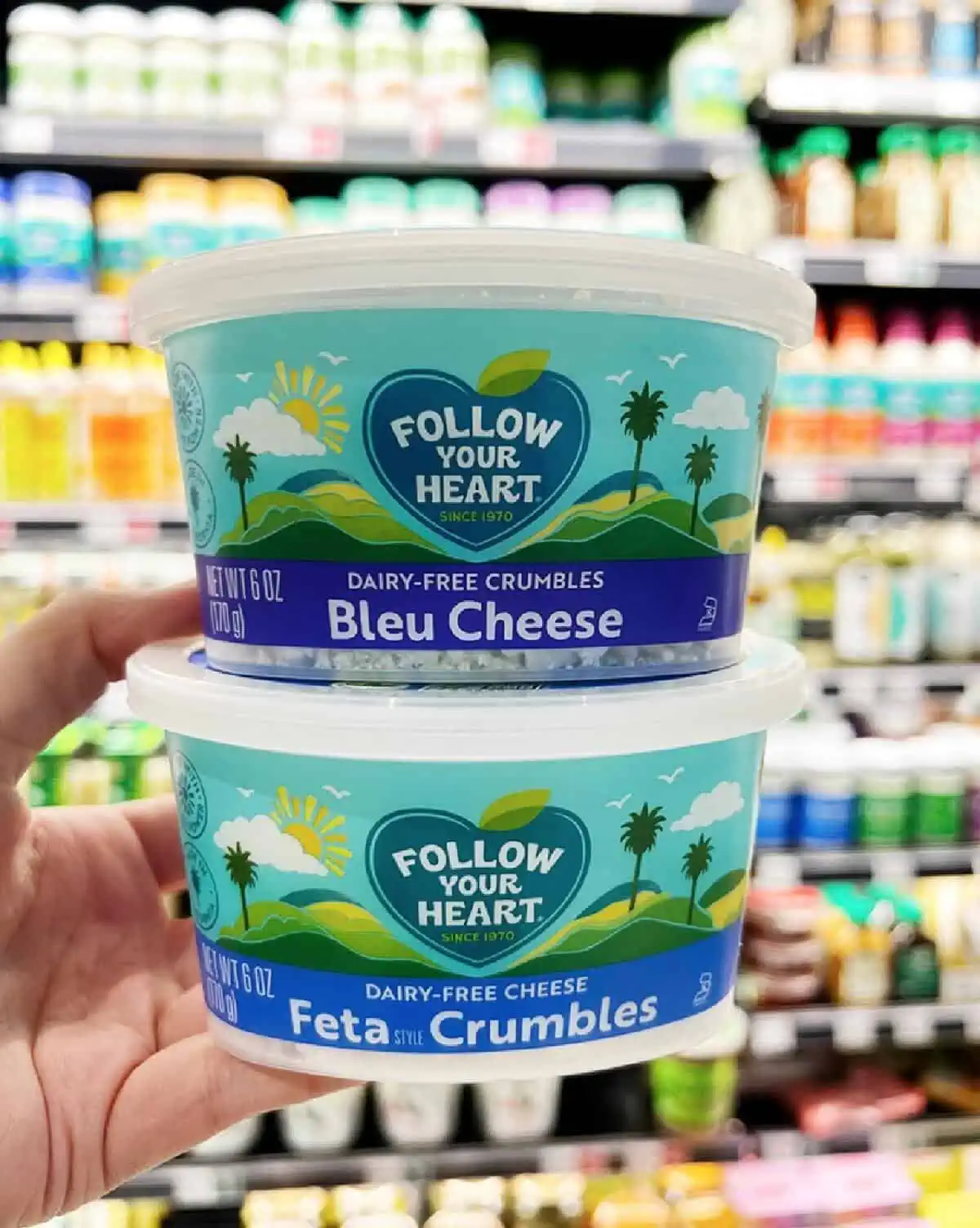 Parmela is here to prove that plant-based cheese can be just as gourmet and luxurious as traditional dairy. Their aged nut cheeses are perfect for elevating your dishes, adding depth, and indulgence to your culinary repertoire. From tangy cheddar to sophisticated truffle flavors, Parmela's cheeses are crafted to impress even the most discerning palates.
Ready to experience the creamiest of vegan cheeses? Look no further than The Uncreamery! Specializing in nut-based delights, this brand offers a variety of creamy spreads and luscious sauces. Slather them on toast, stir them into pasta, or drizzle them over roasted vegetables. The Uncreamery's creations are pure creamy bliss that'll make your taste buds dance with joy.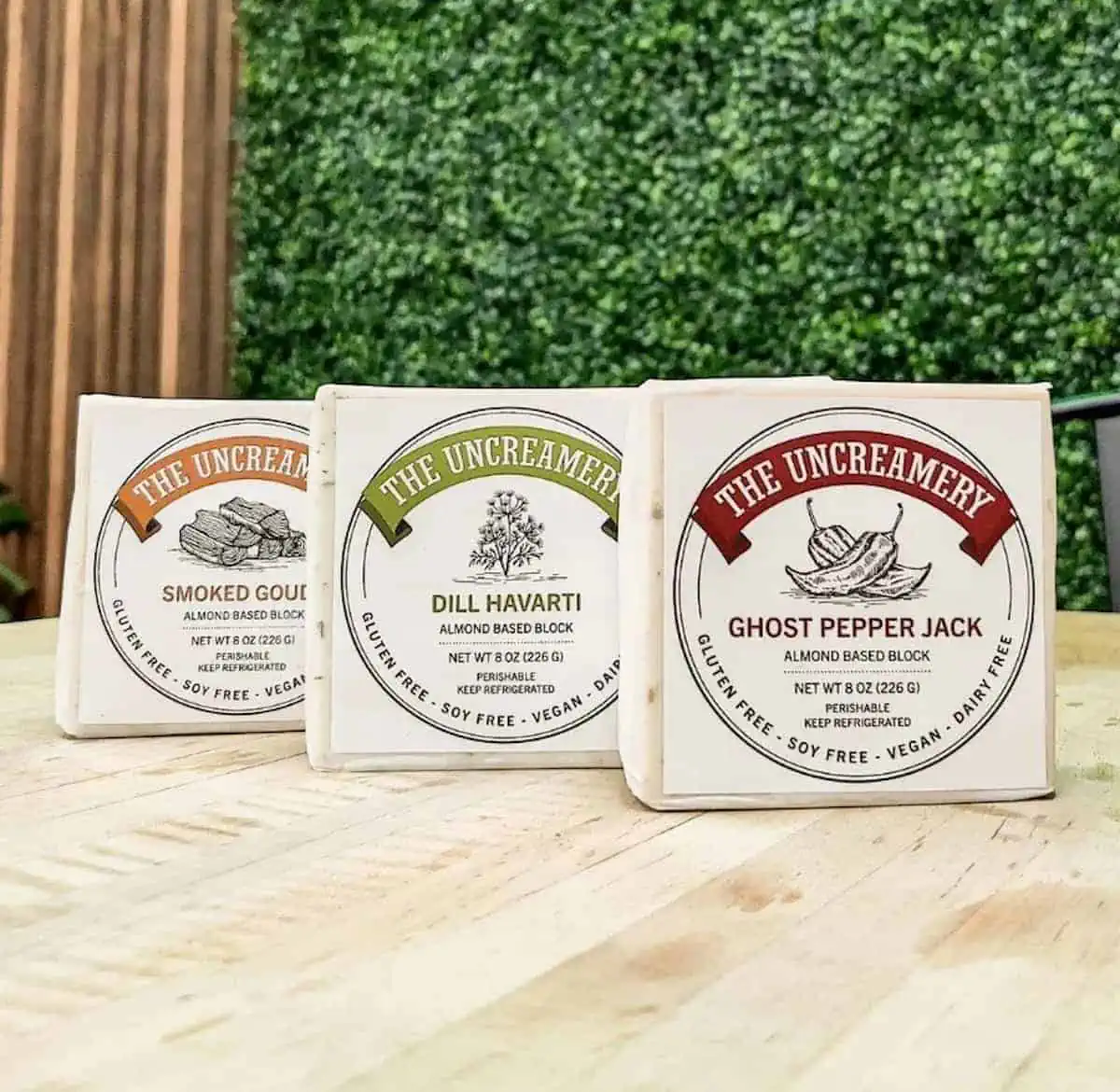 If you're looking for more vegan cheese goodness, then you'll love our "Battle of the Vegan Cheddar Cheeses." We do a live taste-test comparison of four of the most popular vegan cheddar cheese brands out there. Surprisingly, we reached a unanimous decision on the best, but you'll have to watch the video to find out who won!
Best Vegan Cheeses For Every Occasion
Miyoko's Mozz – This is the gold standard of vegan meltable cheese, in our book. It's the perfect cheese to shred or slice atop pizza, in our vegan meatball subs, and anywhere else you want melty mozzarella goodness. The only downside is the price—it is a bit pricier than the other options because it's an artisan and more gourmet product. But it's so worth the price if you can afford it!
Field Roast CHAO Slices – These sandwich slices are delicious cold on sandwiches, but they are also great melted in grilled cheese sandwiches and on top of other dishes that need a melted cheesy finish!
So Delicious Shreds – These vegan cheese shreds are becoming widely accessible and also quite popular! They're delicious on pizza and casserole bakes.
Follow Your Heart's Vegan Gourmet – We organized a vegan cheddar cheese shreds taste test with a longtime vegan, a new vegan, and an omnivore. The Follow Your Heart cheese was the unanimous winner (when served in a quesadilla)!
Parmela Creamery – Parmela Creamery's vegan cheese shreds are newer to the market but they're quickly growing their distribution and becoming a favorite of many! The won second place in our vegan cheddar cheese face-off competition.
Daiya – Daiya is one of the most widespread vegan cheese company in the United States. You can now find their cheeses in many mainstream grocery stores and on the menu in countless pizza shops and restaurants. Daiya's shredded varieties include Mozzarella, Pepperjack, Cheddar and original. They stretch and melt as well as the dairy alternative. Mozzarella is my go-to for topping pasta and lasagnas. Their sandwich slices are perfect for grilled cheeses and melted paninis.
Best Vegan Cheese for Sprinkling
Best Vegan Cheese Slices for Sandwiches
For even more suggestions on savory cheese selections for sandwiches (and more!), you'll love this Vegan Cheese Slices guide!
Field Roast CHAO Slices – These are widely considered the best sliced vegan cheese on the market. You'd never guess that they're coconut-based! They're delicious in a panini, but I also devour them as a cold slice straight from the package or stacked on a sandwich.
Follow Your Heart Slices and Blocks – Follow Your Heart has a whole array of vegan cheese options for you. With six sliced and eight block options to choose from, they have your sandwich needs covered. Take your pick from Pepper Jack, Smoked Gouda, Provolone, Garden Herb, Mozzarella, American, and Cheddar!
Violife Vegan Cheese Slices – Violife has basic Cheddar and Provolone slices, as well as fancier Smoked Provolone and Mature Cheddar slices. They're all quite delicious and can be found in grocery stores nationwide.
Best for a Cheese Board
Miyoko's Artisan Cheese – Hands down, this is the best cheese I have ever had—dairy or not. With about a dozen varieties, your cheese plate will wow guests with varieties like Herbs de Provence, Double Cream Chive, and French Style Winter Truffle.
Vtopian Artisan Cheese – The artisan cheeses from this Portland store take cheese to a whole new level. Delight your taste buds with inspired offerings like Port Cheddar, Caramelized Onion, and Peppercorn Brie.
Vromage – The cheeses from this Los Angeles shop also ship online so you can enjoy gourmet selections like Brie and Manchego even if you aren't a local Angelino.
Best for Spreading
Treeline Treenut Cheese – The creamy and flavorful vegan cheeses from Treeline are made with cashews. Their creations are inventive and robust with flavor and include Herb Garlic, Chipotle-Serrano Pepper, Scallion, and Sea Salt & Pepper. Their smooth consistency spreads easily on a baguette or crackers.
Violife Cream Cheese – Coconut-based Violife cream cheese spreads on smoothly and is a great addition to any bagel, slice of bread, veggie, or even slice of fruit! It's soy-free and is also free from cashews, almonds, and many other common allergens. You can choose from Plain, Garlic & Herb, and Cheddar! Pro tip: the Garlic & Herb goes great in mashed potatoes!
Kite Hill Cream Cheese Style Spreads – The almond milk cream cheeses from Kite Hill are my top choices for smearing on a bagel. They are decadent, flavorful, and have a perfect consistency. Their vegan cream cheese comes in three flavors: Plain, Chive (my fave!), Everything, and Garden Veggie.
Best for Italian Dishes
Kite Hill Ricotta – I crumble this vegan ricotta cheese liberally in lasagnas and often sprinkle it in salads. It's a cheese staple in my house.
Miyoko's Mozzarella – I mentioned the Smoked VeganMozz above, but I had to also give a shout out to Miyoko's traditional VeganMozz. I have used it to make marinated mozzarella balls, skewered with cherry tomatoes and basil for an elegant appetizer. It also slices beautifully for a traditional Caprese salad without the dairy and makes a delicious Caprese sandwich, fresh or grilled on a panini press. And of course, it works perfectly on homemade vegan pizza!
How To Make Vegan Cheese
Whatever your skill level and however well your kitchen is equipped, there's a vegan cheese recipe out there for you.
However, we minimally recommend that anyone interested in a healthy plant-strong diet has the following in their kitchen.
A food processor and/or a high-powered blender for grinding nuts and seeds and blending the creamiest cheeses and cheesy sauces.
A strainer and cheesecloth for draining your vegan cheese.
Nutritional yeast, which is a deactivated yeast with a nutty and cheesy flavor.
Miso paste, which can make your cheese taste more "cheesy."
Salt and lemon, for saltiness and tartness, respectively.
Needless to say, choosing dairy-free is easier today than it ever has been before. No longer does it require sacrifice. Enjoy the adventure, friends!
The Best Vegan Cheese Recipes
Vegan cheese is not only readily available but it has also never been more delicious. It wasn't even that long ago that meltable vegan cheese was an outlier! Store-bought vegan cheese has come a very, very long way over the past few decades.
Remember when vegan cheese wouldn't even stay melted for more than 20 seconds? Well, we do! Thankfully there are plenty of brands available today with totally meltable options. In this guide we'll feature recipes for homemade vegan cheese. Some call for nuts or seeds while others rely on tofu but all of them are easy, accessible, and delicious. Whether you're looking for something to spread on a sandwich or a unique vegan fromage to serve at a fancy dinner, we've got you covered.
A super easy vegan cheese recipe for the holidays, our almond-based log comes together in just over a half hour! Great with crackers, bread, veggies, and more.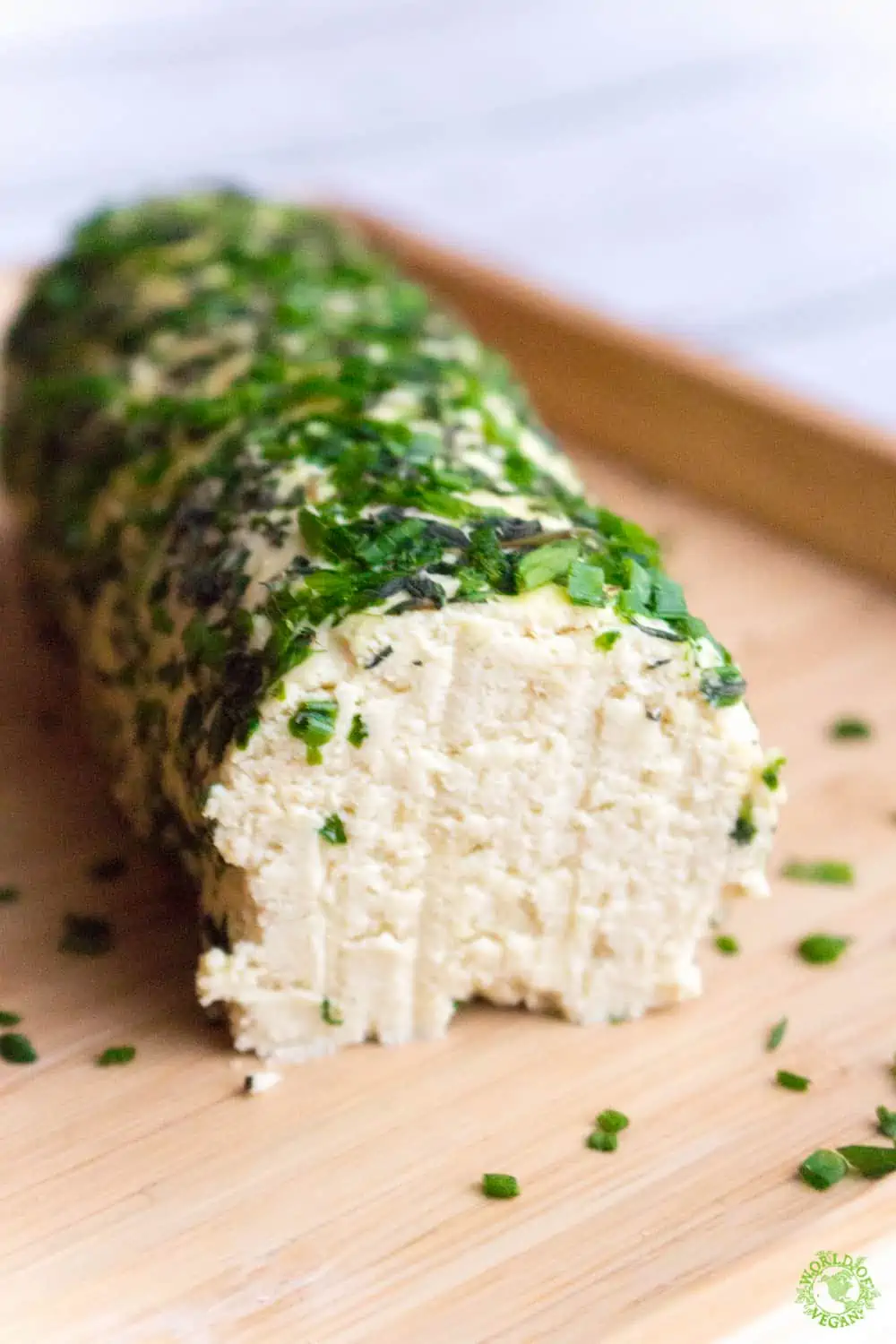 Want a vegan cheese recipe that'll spice up your life? Then you need this delicious chipotle vegan parmesan! Great on salads, pastas, popcorn and even for crusting around tofu! Also makes an incredible homemade gift.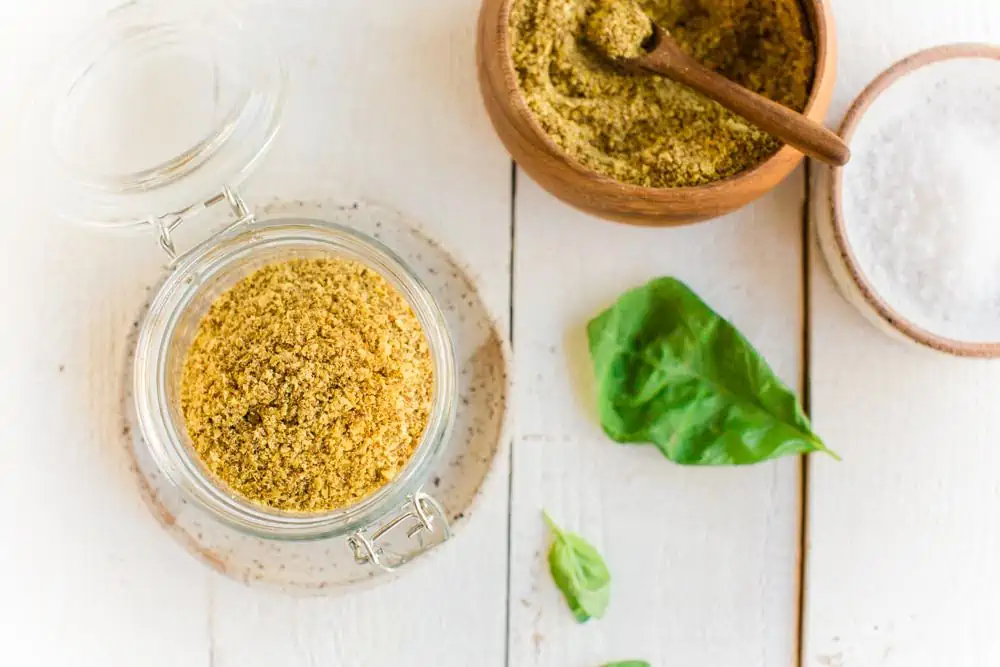 This unique and delicious plant-based cheese recipe from From My Bowl is made from only five simple ingredients! Oil-free, gluten-free, and soy-free, this vegan cheese is perfect for spreading on a sandwich or eating on a cracker. Even lasts up to a week in the fridge!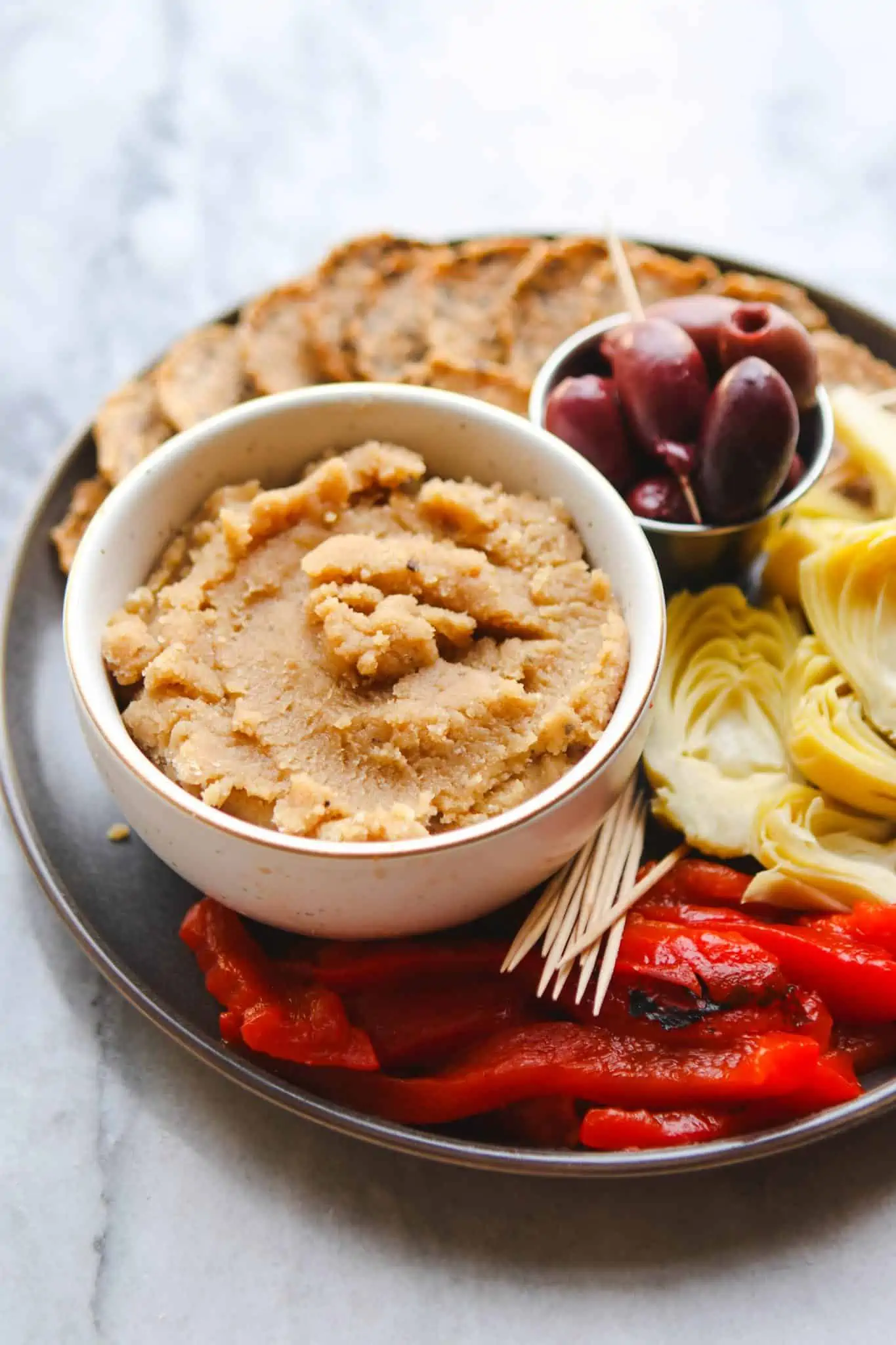 One of our favorite vegan cheese recipes is this creamy plant-based ricotta from Rachel Steenland. Made from a blend of tofu, spices, and nutritional yeast, you just may find yourself adding this vegan ricotta onto everything you make. Pasta? Check! Salad? Check! Green bean casserole? Check!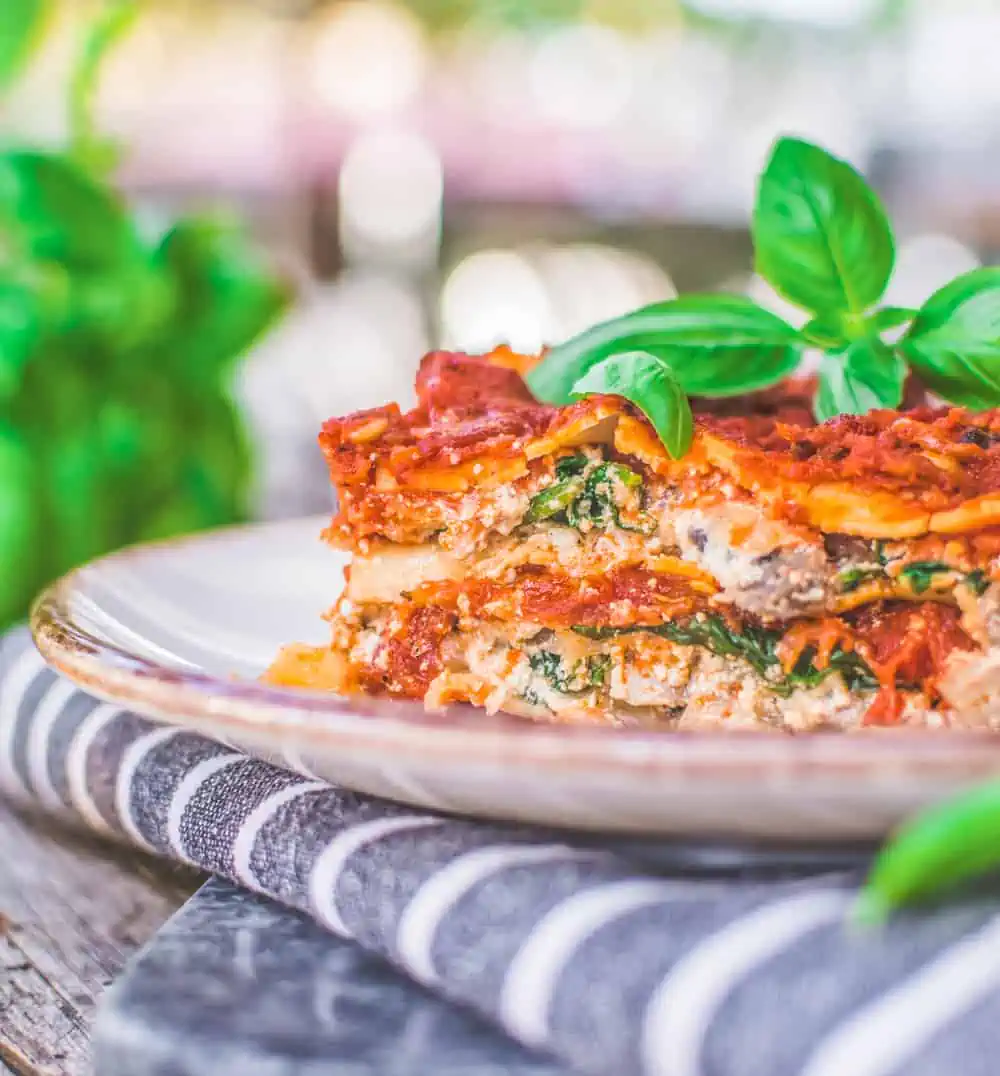 It's not always easy to find plant-based cheese recipes that both stretches and melts. Thankfully this vegan mozzarella by Steph Sunshine is here to save the day! The magic ingredients to this vegan cheese are tapioca flour and agar agar flakes, along with cashews, coconut oil, water, salt, and lemon juice. Perfect for frying into vegan mozzarella sticks, melting onto pizza, or just enjoying on its own!
Ever dreamed of a day where you'd be able to enjoy a savory, comforting bite of some vegan feta cheese? Well, that day is here! This amazingly easy vegan cheese recipe requires just a handful of everyday ingredients and a few hours to set.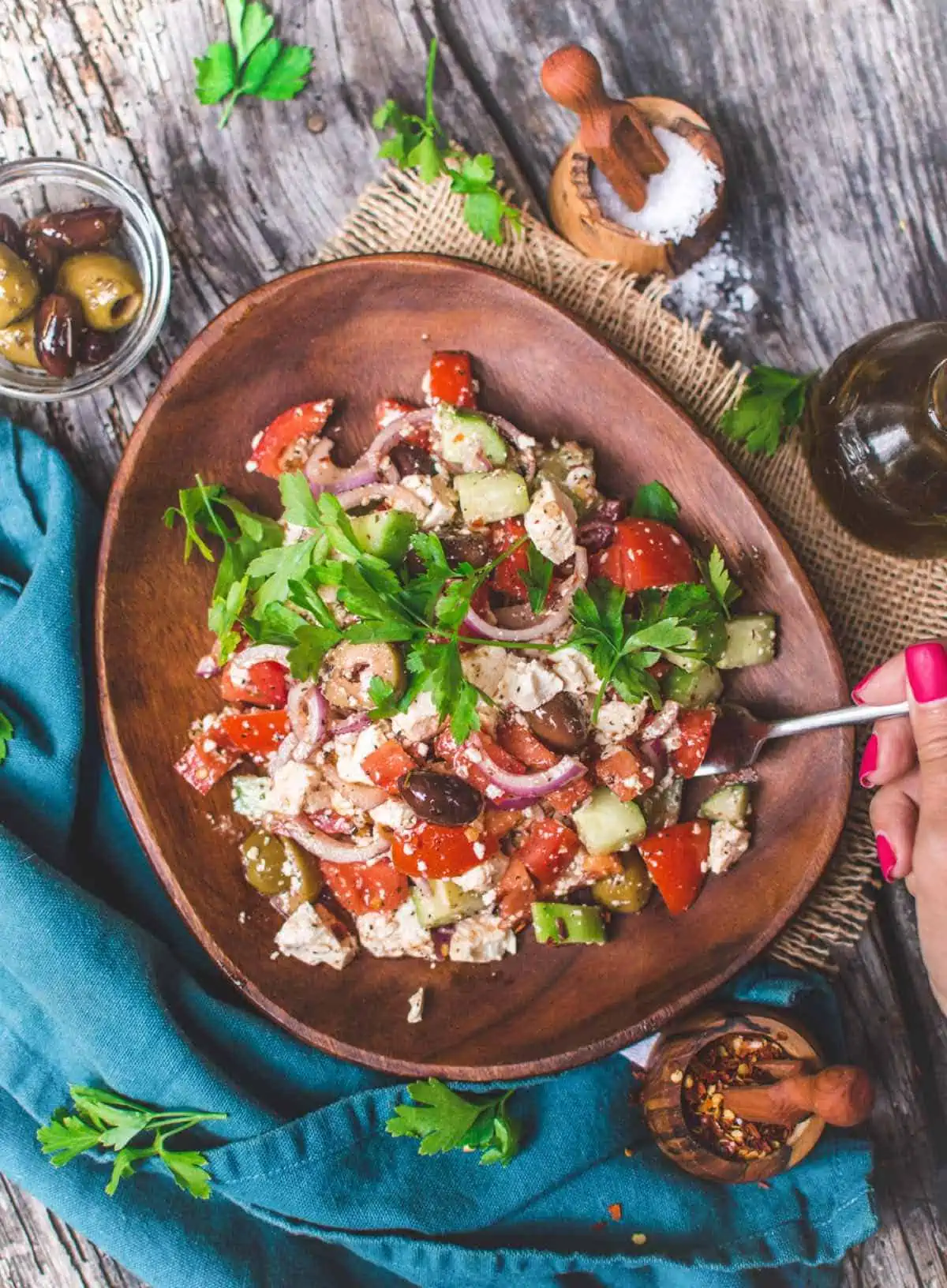 This recipe not only features a super easy vegan cheese dip but also delicious pretzel bites to eat with it! All you need is to combine the ingredients in a sauce pan and heat them up. Absolutely perfect for a vegan cheese party!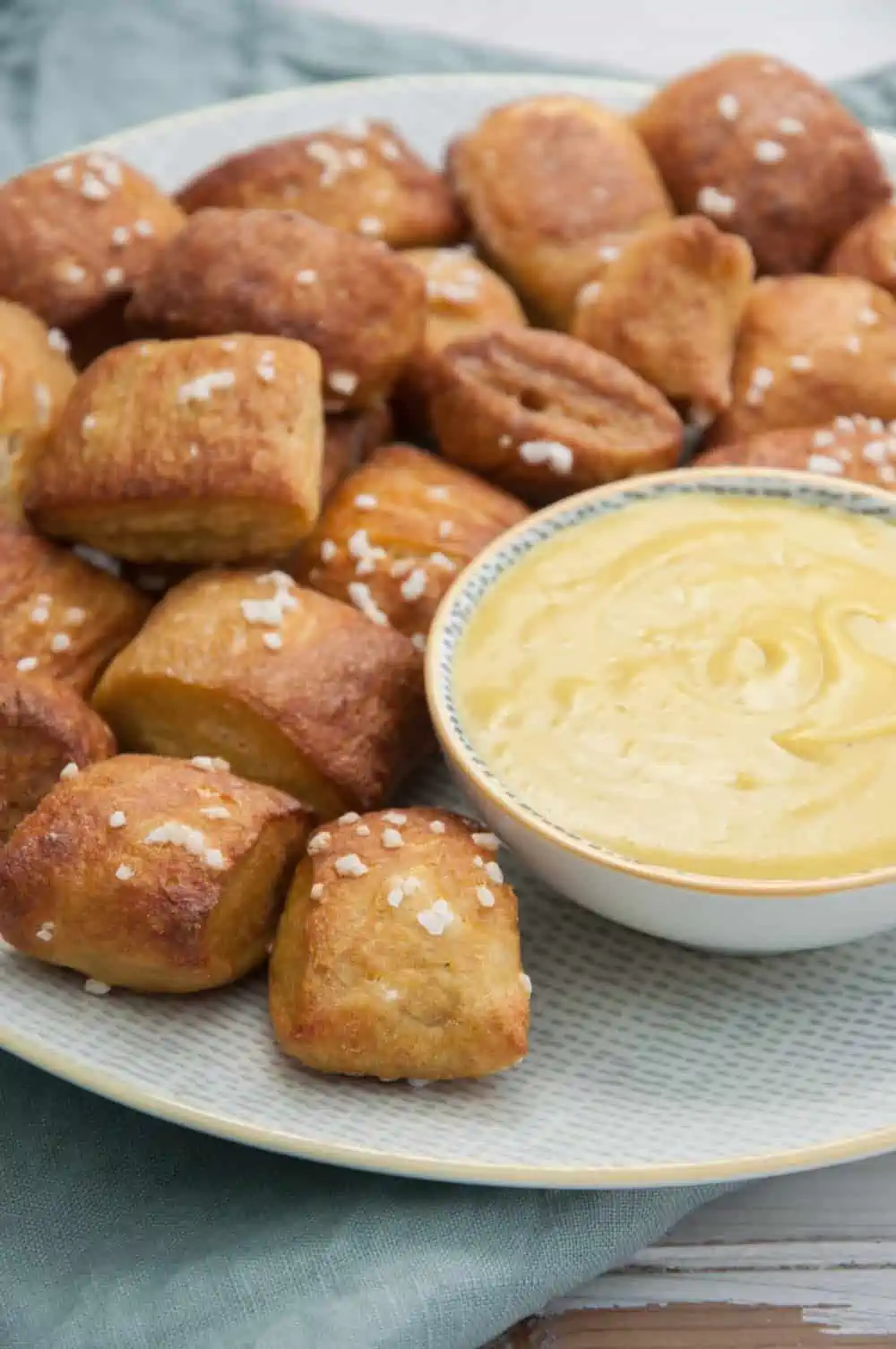 Sometimes all you need is a big old bowl of the best vegan queso ever, a bag of chips, and a good movie. Cashews, tofu, buffalo sauce, and more make up the base of this awesomely simple dairy-free queso. Feeling extra adventurous? Go ahead and make some vegan quesadillas to devour with it!
If you like your vegan cheese a little funky, then this dairy-free cheese recipe for blue cheese by Hannah Kaminsky will rock your world. Nut-free and made from fermented Chinese tofu, white beans, and more, this vegan blue cheese packs quite a pungent punch. Crumble on salads, eat with crackers, or even make your own vegan charcuterie board.
This velvety and creamy vegan mascarpone cheese from Health My Lifestyle is the perfect dairy-free alternative to the classic Italian cheese! With just 4 simple ingredients and 10 minutes, you can indulge in the richness of mascarpone without any dairy! Spread it over freshly baked vegan pastries, layer it between sponge cakes, or use it in a vegan tiramisu!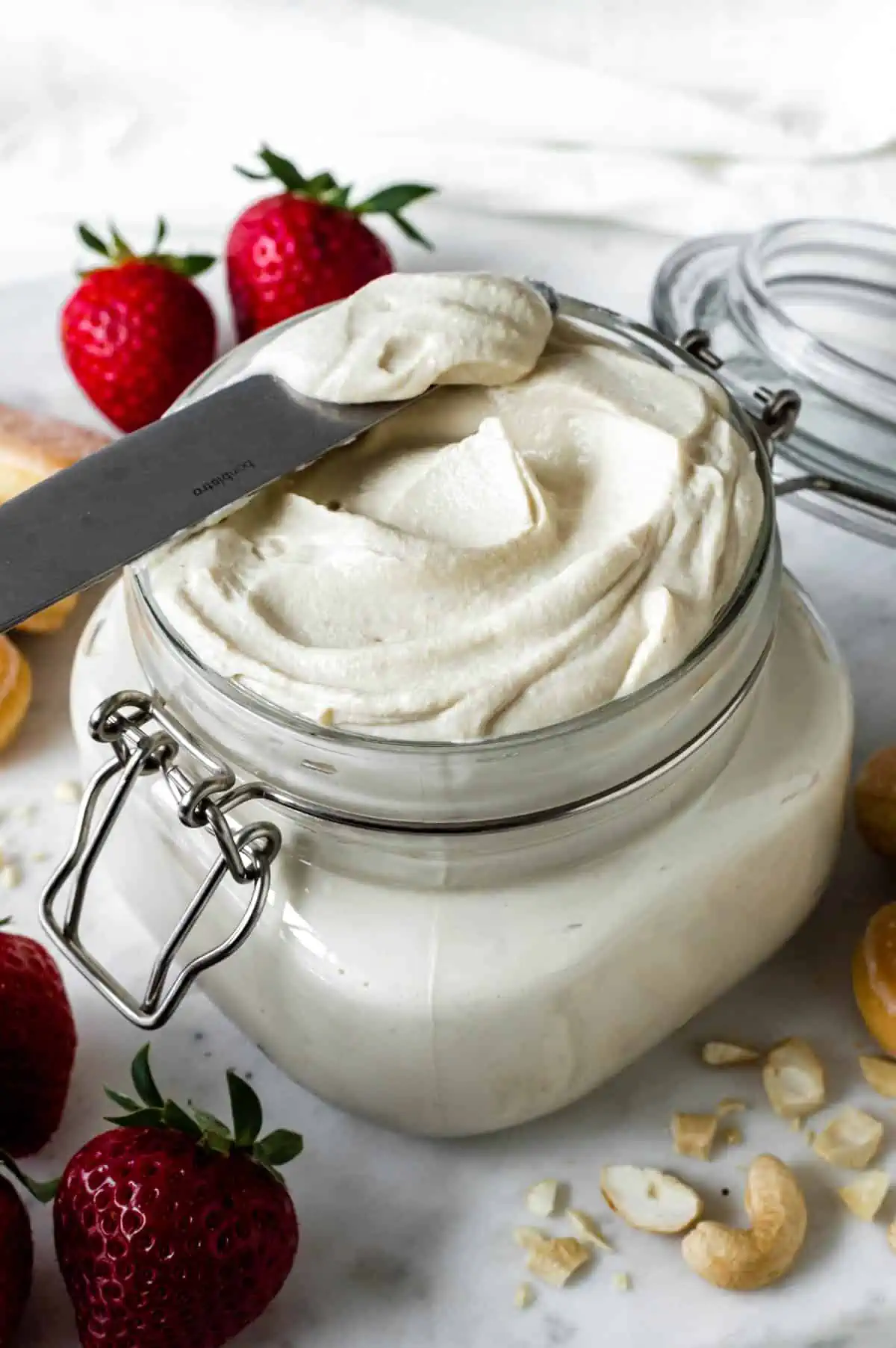 This vegan cashew cheese from Olives for Dinner uses a unique combination of coconut vinegar and coconut cream to recreate a delicious cheese that's perfect for dipping or spreading! Richness and acidity can be tweaked to your liking, making this vegan cheese recipe versatile and customizable.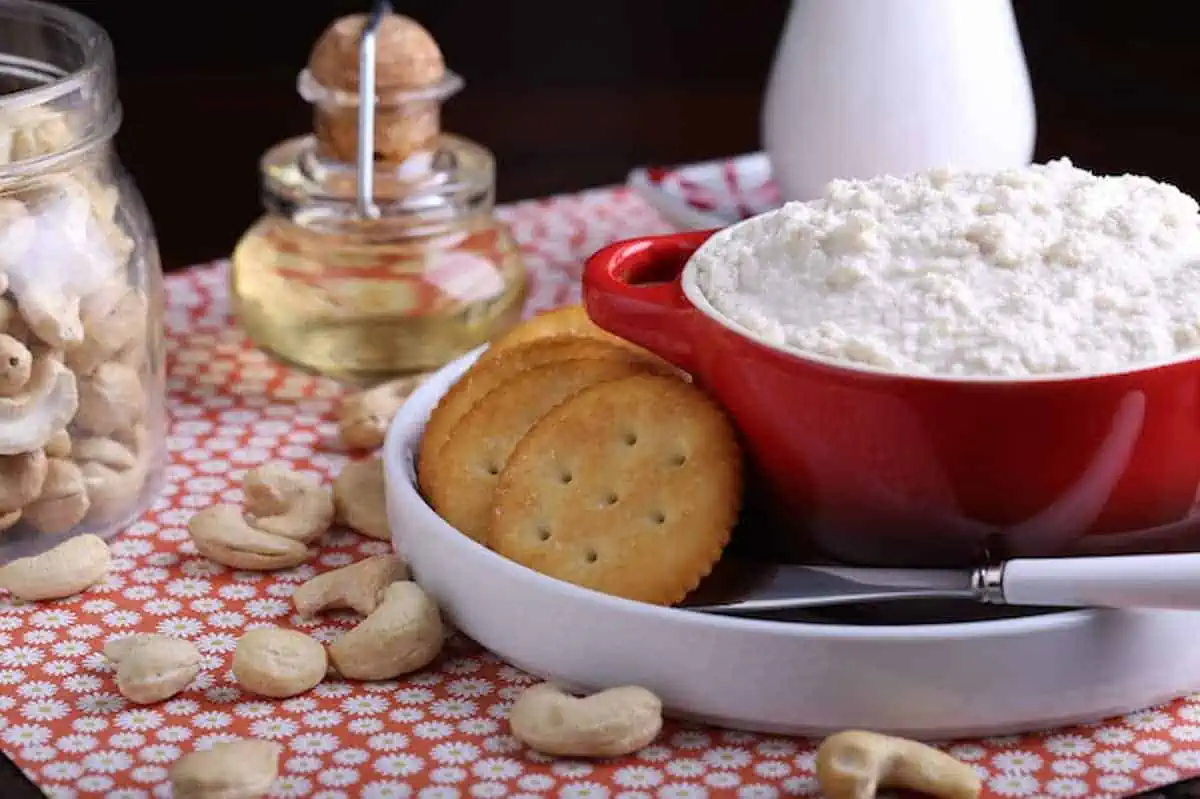 Prepare to be amazed when you try our baked vegan mac and cheese. Witness the magic as the cheese sauce thickens to perfection on the stove, creating a flavorful, gooey delight that rivals its dairy-based counterpart. Trust me; this vegan mac and cheese is so unbelievably delicious that you absolutely must try it!
There's nothing quite like the unbeatable combination of sweet and savory. This amazing holiday recipe for vegan cheese from Very Vegan Val is absolutely perfect for a spread, party, or special occasion. Even better is that it'll only take less than an hour from start to finish! Cheers to that!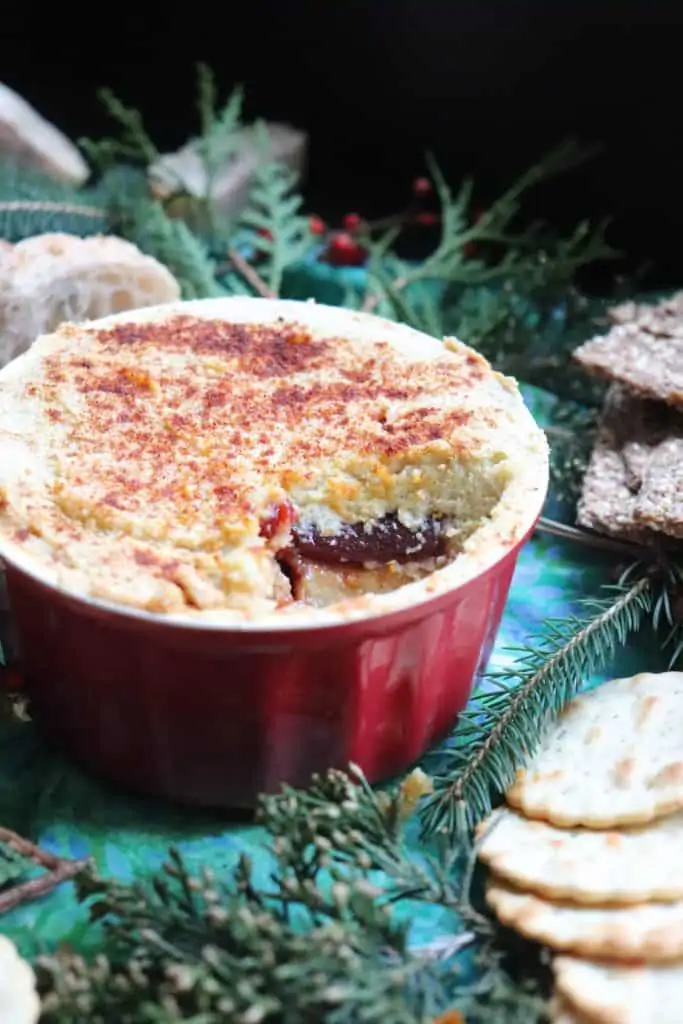 Vegan Cheese Cookbooks
If you don't quite feel ready to make your own vegan cheese or simply don't have the time or interest to cook (we feel ya), then you'll want to check out some of the most popular vegan cheese brands out there.
Affordable Cheese Alternatives
When I made the switch to a vegan lifestyle a decade ago, there weren't a zillion vegan cheese options like there are today. In fact, there weren't any in my college town of Cleveland, Ohio. So I went without.
Painful? Surprisingly, not really! I thought it was going to be a huge challenge, a sacrifice I was making for the animals. But truth be told, I quickly acclimated to equally delicious (and far healthier) alternatives.
Here are the easy vegan cheese substitutes that I still use and love:
Avocado with salt: Cheese is essentially just fat and salt, so salted avocado (or guacamole) did the trick in my burritos, sandwiches, and beyond.
Nutritional yeast, olive oil, salt, and garlic powder: Perfect as a replacement for parmesan on pasta.
Hummus: It's surprisingly easy to make and a great budget-friendly alternative to cheese.
Frequently Asked Questions
Which cheeses are vegan-friendly?
While "dairy-free" and "lactose-free" cheeses can be vegan, beware! They aren't always.
Some lactose-free cheeses are made from dairy milk, with the lactose sugars simply removed. Others are made from plant-based ingredients like soy, but have some dairy derivatives added in (such as "casein" which is the protein found in mammalian milk).
So you may come across a cheese labeled "Dairy-Free Soy Cheese" and pick it up with great enthusiasm assuming it's vegan. But—it may not be! So be sure to always check the ingredient list until you become familiar with which options are good-to-go.
With that disclaimer out of the way, there are tons of vegan cheeses out there, and even many fully-vegan cheese brands (such as those listed above). It truly gets easier, more delicious, and more accessible every day!
What is vegan cheese made of?
It depends on the cheese. Whatever food allergies or restrictions you may have, there's probably a vegan cheese out there for you, though.
Many store-bought vegan cheeses are made from soy, nuts, or tapioca flour. Nut-based vegan cheeses are arguably the most popular bases for homemade vegan cheeses, with almond- and cashew-based cheeses being quite common.
However, you're increasingly more likely to find zucchini-, sunflower seed-, and coconut-based vegan cheeses as well.
Soaked nuts and seeds such as cashews, almonds, and sunflower seeds blend beautifully to create all sorts of creamy foods. If you blend them with lots of water, you'll get nut milk. If you blend them with some liquid and flavorful ingredients and spices, you can make dressings and cheesy sauces. And with even less liquid and some fun techniques that you'll find in vegan cheese recipes all across the web, you can get delicious vegan cheese.
Nuts and seeds naturally contain healthy fats. When blended with salt and flavorings, these wholesome ingredients can beautifully emulate the fattiness and creaminess of dairy cheese.
Why are many vegan cheeses made of soy?
Soy is an amazing base for vegan cheeses and often leads to a final product that tastes the most like dairy cheese.
It surprises many to learn that soybeans are the same as edamame, the green beans you may have had at a Japanese restaurant. These magical little beans have been a healthful and protein-rich staple in many cultures since ancient times.
Today we turn to soybeans to make soy milk, tofu (see how tofu is made), vegan meats, cheeses, and beyond.
And don't worry, for those who have been confused by rumors in the media, there's no reason to be afraid of soy. Unless you're allergic, of course!
Is vegan cheese healthier than dairy-based cheeses?
Yes and no.
While vegan cheeses don't contain any artery-clogging cholesterol (cholesterol is only found in animal products) and usually have very little saturated fat (often none at all), they can still be high-calorie and high in salt or preservatives, especially if you purchase store-bought vegan cheeses.
If you're eating a primarily whole foods plant-based diet, a little fat and salt in your cheese is nothing to worry about. It's important to have balance and healthy fats, friends!
But don't go crazy. Let's leave the world where we dump piles of cheese on every meal behind us, shall we?
Where can I buy vegan cheeses?
We've noticed more and more chain grocery stores stocking vegan-friendly cheeses in recent years.
If you can't find a vegan cheese you like at your local supermarket, we recommend putting in a request to your grocery store! You can also check out Sprouts, Whole Foods, or your local Natural Foods store as they'll likely have many options.
And… guess what? You can now order gourmet vegan cheese online directly from Miyoko's, from specialty online shops, and even Amazon has some vegan cheese items that they can ship to your doorstep!
My Story: How I Transitioned from Dairy-Based to Vegan Cheeses
I wasn't born a vegan. Oh, no. I was very much brought up in a traditional American household (see my vegan story here) with lots and lots of meat, milk, and cheese. Meat, I could do without, to be honest, which made it easy for me to go vegetarian when I was just 8 years old. But milk? And cheese? They were my jam.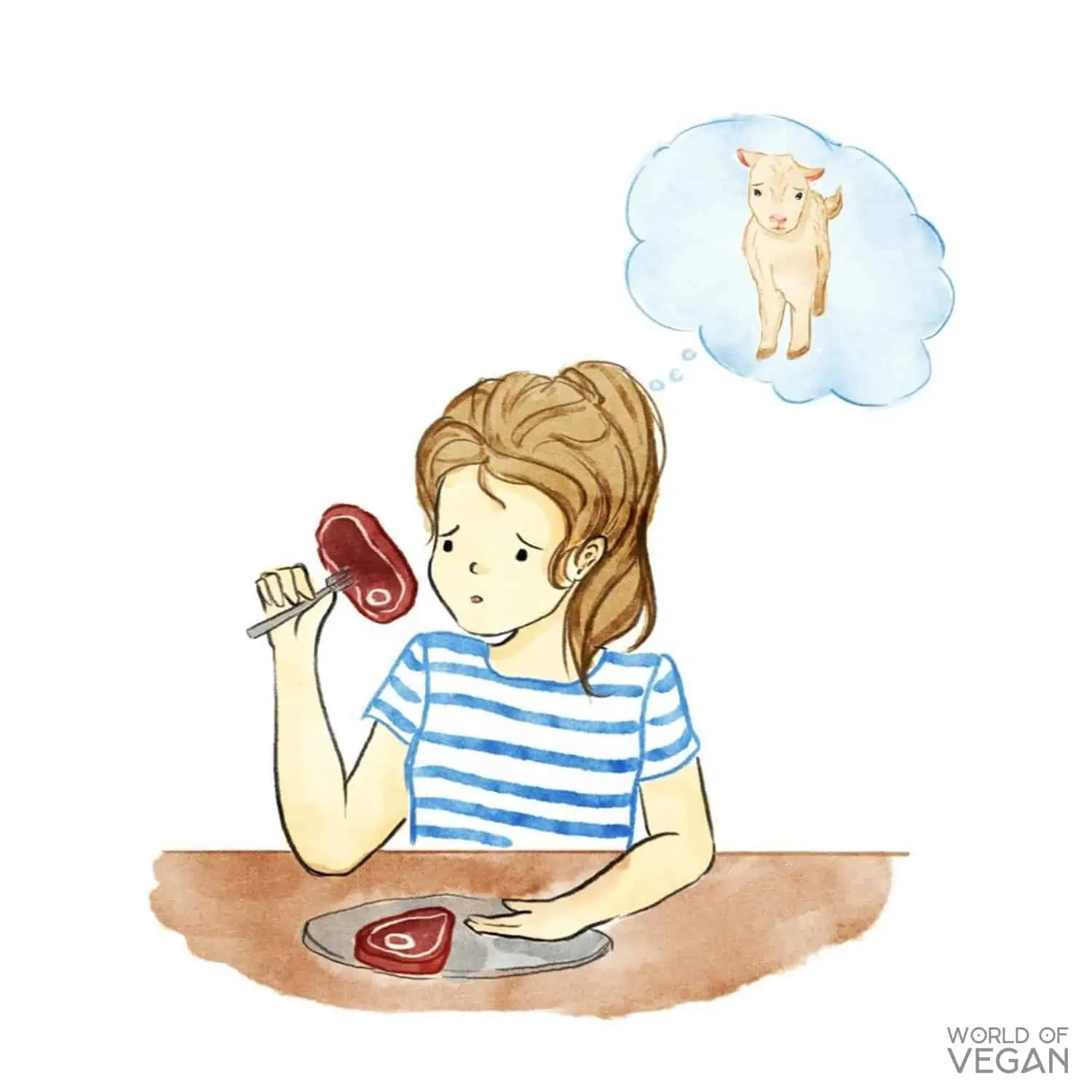 So when I picked up a copy of Animal Liberation at a used bookstore in college and learned that the dairy industry was even more horrifying as the meat industry, I was feeling overwhelmed, to say the least. I knew I wanted to stop eating dairy and fairly quickly transitioned to soy and almond milk. But cheese?
Need More Help Breaking Free From Dairy Cheese?
Want a little extra help breaking the dairy addiction? We've got you! Check out our e-course, The 12-Day Dairy Detox. We'll hold your hand and show you the way. You'll be embracing dairy-free-dom in no time!
Vegan Cheese Podcast Episode
Want to learn more? Here's our podcast episode all about vegan cheese!
Additional Dairy-Free Cheese Resources
More Mouthwatering Vegan Food Guides
We hope you found this guide for vegan cheese recipes and brands to be helpful, inspiring, and mouthwatering! Be sure to check out our links to additional vegan cheese resources down below and feel free to shout out your favorite brands or recipes in the comments below!