Welcome to the World of Vegan guide to Farm Animal Sanctuaries! Below you'll find a list of farm sanctuaries in the United States, information about animal sanctuaries and why animal rescue and sanctuary work is so important, and some beautiful examples of animal sanctuaries in existence today.
The sanctuaries highlighted in this guide rescue, rehabilitate, and provide care and a safe haven for farmed animals such as cows, pigs, chickens, turkeys, ducks, geese, goats, sheep, and beyond. Many of the animals you'll meet at a sanctuary will have stories that will deeply reinforce your commitment to eating plant-based.
Sanctuaries rescue animals that have literally fallen off slaughterhouse transport trucks, have been discarded in dead piles, and have been abandoned in locked cages. It's heart breaking to learn about the suffering involved in animal agriculture, but also incredibly heart-healing to visit a sanctuary.
Whether you're looking to visit with the rescued animals, attend a sanctuary tour, or become a volunteer, you'll find many options below. Check out this Vegan Nonprofits Guide for even more ideas on how to help the animals, environment, and also your health.
Why You Need to Plan a Visit to a Sanctuary
We believe that every human being should visit a farm animal sanctuary. You've probably heard this Paul McCartney quote before:
"If slaughterhouses had glass walls, everyone would be vegetarian."

– Paul McCartney
It's so true. If we pull back the curtain and really look at our food system, it's obvious that it's broken.
Similarly, if everyone would visit a farm sanctuary and look into the eyes of a cow, or a pig, or a chicken, they will see a someone looking back, rather than a something. Connecting more deeply with ourselves, with one another, and with animals will make the world a kinder placer.
If you haven't already, let this be your nudge to make the trip!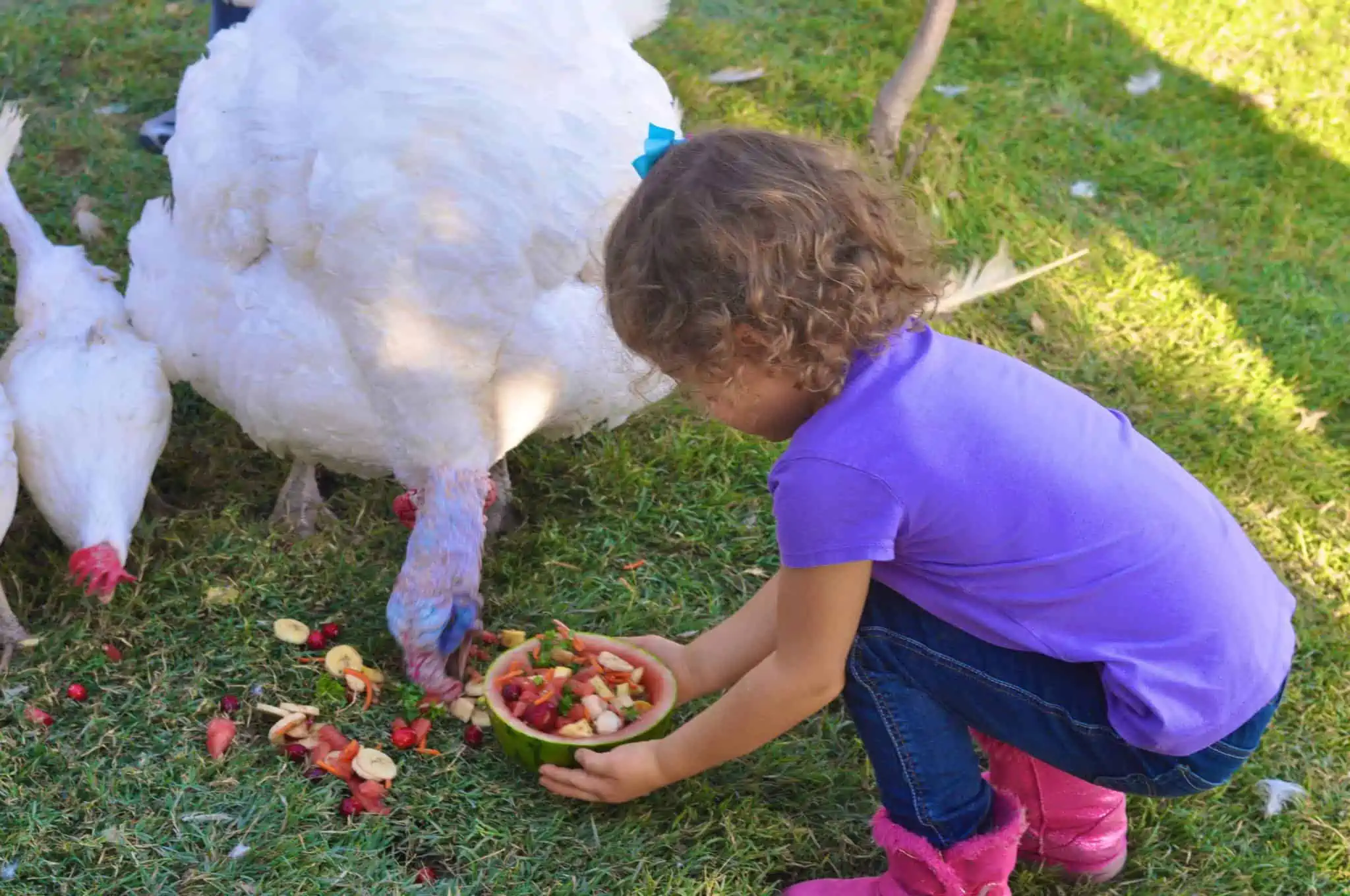 What Is A Farm Animal Sanctuary?
If you've never heard an animal sanctuary before, it's a location where rescued animals are brought to live and to be protected for the rest of their lives. Whether a sanctuary is offering protection to a former lab animal, a farm animal rescue who's escaped a sad fate, or a species that's under threat, all of them share a common mission of offering a safe space for animals who could otherwise be killed or abused.
Unlike other animal sanctuaries, farm animal sanctuaries focus on animals rescued from the meat, dairy, egg, down, and wool industries.
A farm animal sanctuary is an animal sanctuary specifically dedicated to rescuing farmed animals.
Many Farm Animal Sanctuaries Also:
Offer tours to the public (as well as schools and community groups)
Provide educational resources
Advocate for animals online
Participate in community events and outreach
Have adorable Instagram accounts
Host vegan events & fundraisers (especially around Thanksgiving)
Run volunteer programs
Serve as a unique event venue for vegan weddings
Have vegan gift shops with sanctuary merch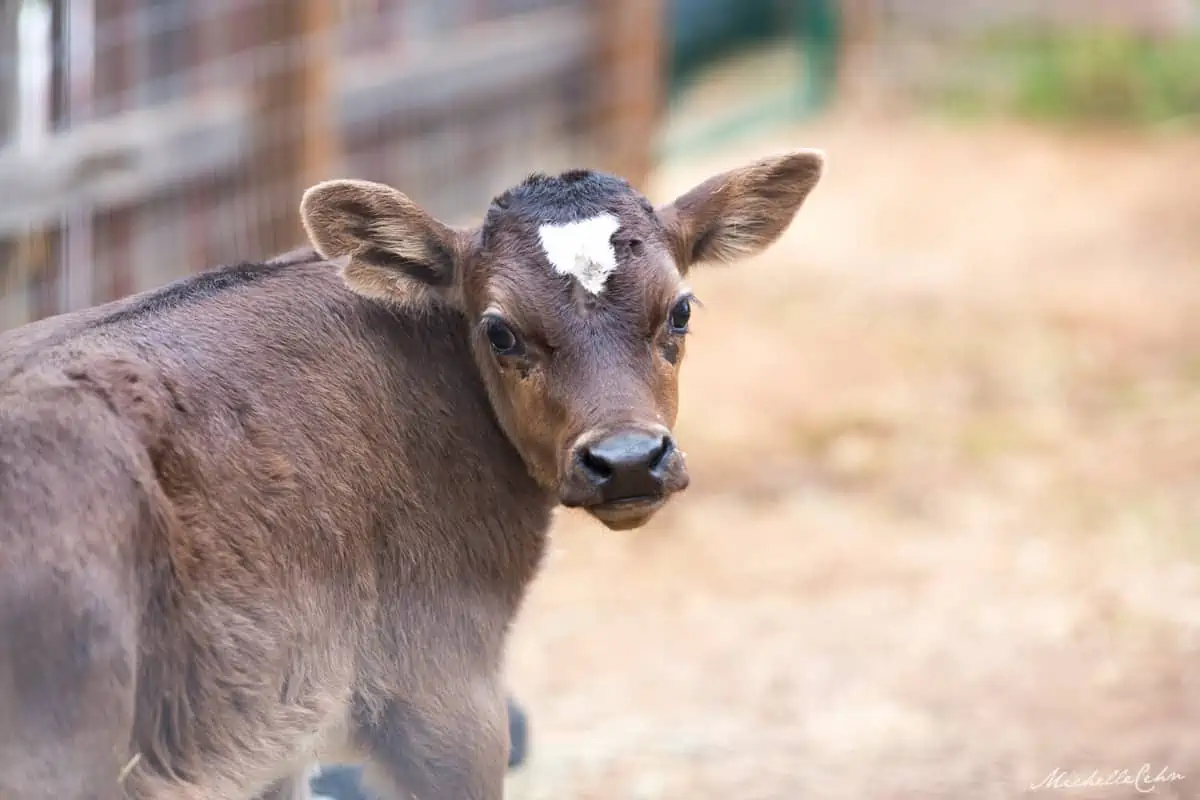 Sad Realities for Farmed Animals & Factory Farming Facts
Farm animals are among the most vulnerable animals in the world since they're raised specifically for human consumption and use. Here are a few sobering statistics from Animal Matters on the sad realities of factory farming in the US:
About two out of every three farm animals in the world are reared on a factory farm. In the US, this number is approximately 99%.
Each day, about 160 million farm animals are transported to a slaughterhouse.
Approximately 25 million farm animals are slaughtered each day in the United States.
Farming and ranching are responsible for 68% of all species endangerment in the United States.
About 9%—more than 850 million—of the animals reared for food in the United States each year never make it to slaughter because they have already died from a stress-induced disease or injury.
More than nine billion farm animals were slaughtered in the United States last year.
Most animals reared for meat on factory farms are slaughtered while less than one year old.
"We hold a lot of heaviness in our hearts as vegans, since we've been exposed to the realities of factory farming and the state of our planet. Visiting an animal sanctuary and coming face-to-face with a rescued cow is one of the best ways I've found to heal my heart." – Michelle, founder of World of Vegan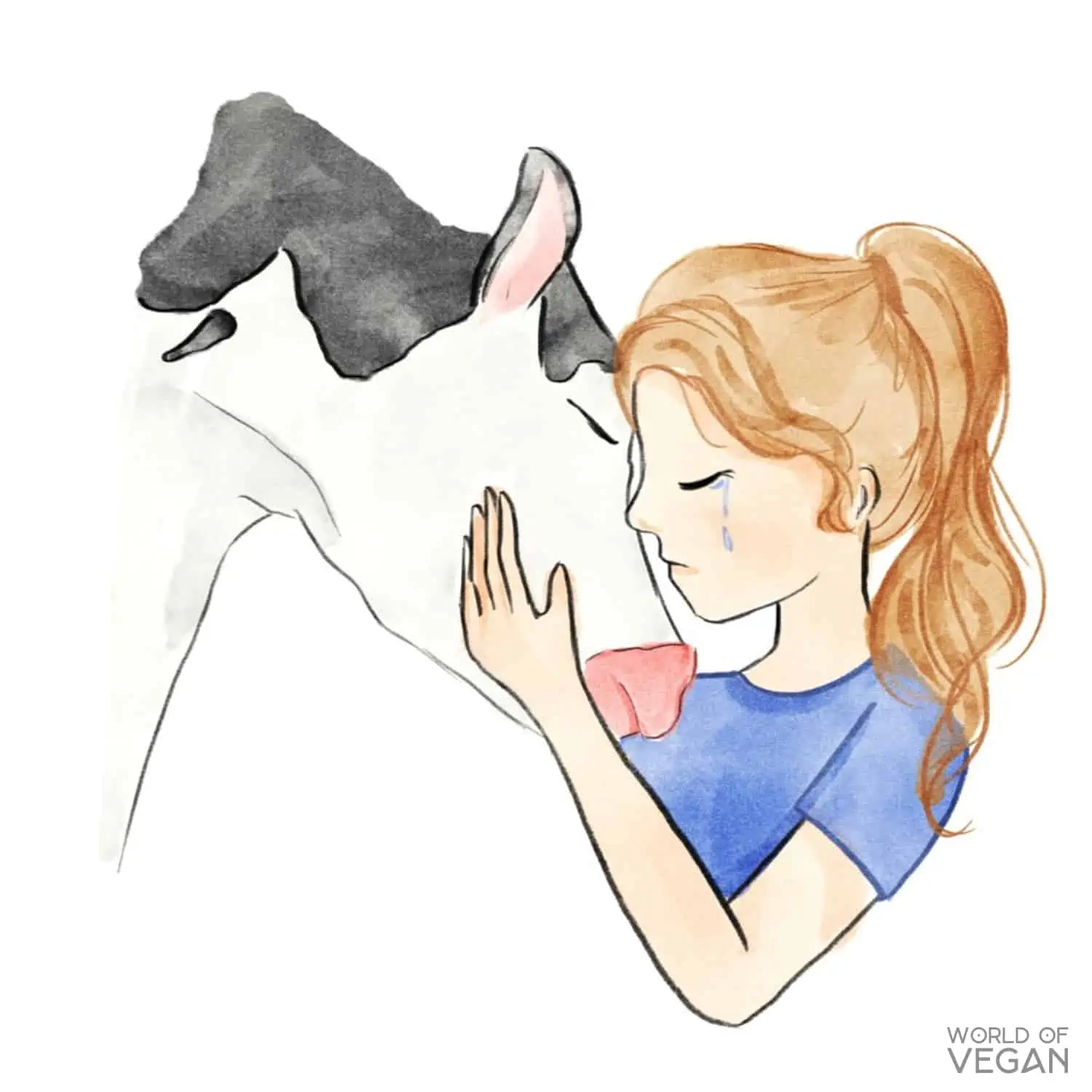 Full List of Farm Animal Sanctuaries in the United States (By State)
Because so many animals in the US are at risk of being slaughtered on factory farms, farm sanctuaries serve an important purpose in providing a safe space for animals who were lucky enough to escape slaughter. Thankfully, there are many animal sanctuaries around the US that are doing amazing work to rehabilitate and protect farm animals.
Below you'll find a fairly comprehensive list of farm animal sanctuaries located in the United States. But in case we're missing some, do a quick Google search for "animal sanctuaries near me" or "farm animal sanctuary" + your city to see what comes up.
Arizona
California
Northern California Animal Sanctuaries
Central Coast Animal Sanctuaries
Southern California Animal Sanctuaries
Colorado
Florida
Georgia
Hawaii
Illinois
Indiana
Iowa
Kansas
Kentucky
Maine
Maryland
Massachusetts
Michigan
Minnesota
Missouri
North Carolina
New Hampshire
New Jersey
New Mexico
New York
Ohio
Oregon
Pennsylvania
South Carolina
Tennessee
Texas
Utah
Vermont
Virginia
Washington
Wisconsin
Did we miss your favorite sanctuary—either in the US or abroad? Show them some love in the comments below!
Farm Animal Sanctuary Spotlights
Located in both California and New York, Farm Sanctuary was the original farm animal sanctuary founded in 1986. It was co-founded by Gene Baur to "combat the abuses of factory farming, advocate for institutional reforms, and encourage a new awareness and understanding of farm animals and the benefits of cruelty-free, plant-based living." Home to nearly 1,000 rescued animals, Farm Sanctuary provides a safe place for cows, goats, geese, and more. You can even "adopt" an animal to support Farm Sanctuary's rescue efforts!
Founded in 1989, Animal Place is one of the oldest and largest sanctuaries for farmed animals in the US. Located in Grass Valley, CA on 600-acres, this sanctuary provides refuge to hundreds of neglected farm animals including cows, chickens, goats, pigs, and more. In addition to offering permanent sanctuary, Animal Place's new Rescue and Adoption Center in Petaluma focuses on placing vulnerable farmed animals into permanent homes. Animal Place also strives to foster meaningful change for farmed animals through advocacy and education. In the area? Plan a tour! Otherwise, you can check out heart-warming photos of their animals online!
Harvest Home, located in Stockton, CA, was established in 2004 to offer respite to farm animals in need. Their mission is to provide life-long care for their rescued animals and to educate the public about humane animal care and practices. Harvest Home is home to 11 unique animal species, including quail, pigeons, guinea fowl, turkeys, ducks, geese, and rabbits. As rabbits are among the most abused animals due to their high risk of exploitation across many industries, they have become a centerpiece of Harvest Home's rescue efforts. Interested in helping Harvest Home continue their amazing work to rehabilitate animals and educate humans? You can volunteer and even donate produce to make a sanctuary animal's day!
In northern Ohio is Lasa Sanctuary, home to more than 130 animals all grateful to be rescued and living out their best lives on lush pastures, safe from harm. From cows and pigs to chickens and turkeys, Lasa is home to a variety of animals getting to enjoy the comforts of a caring community in the Midwestern region. There are a few different ways to support Lasa and you can even sign up to volunteer if you're in the area.
With locations in Southern California, Missouri, and Tennessee, the Gentle Barn not only provides a safe haven for animals but also has several programs dedicated to human education and restoration. Their Peace Enhancement Program is specifically for those who have come from probation camps, homeless shelters, and more. This 10-month program helps guests to practice leadership skills and gain empathy, self-awareness, and much more. You can find animals such as emus, llamas, donkeys, and even get special cow hugs from therapy cows at The Gentle Barn!
Notable Farm Animal Rescue Sanctuaries in the USA (By Region)
If you're wondering "where can I find an animal sanctuary near me?" we hope to help you out with this quick overview of different farm sanctuary facilities around the US:
Additional Types of Animal Sanctuaries in the US
While farm animal rescue sanctuaries serve a crucial purpose to rehabilitate and protect farm animals, there are also animal sanctuaries for wildlife and former lab animals in the US. Here we'll highlight a few different ones doing great work.
Right outside of Shreveport, Louisiana, is 200 acres of lush forested land that provides respite for more than 300 chimps. Many of them are retired from biomedical research and now get to spend their days socializing, exploring, and living out their lives on their own terms. You can check out some of their amazing chimps and also plan a visit on their website.
With two locations in Colorado and one in Texas, The Wild Animal Sanctuary offers more than 10,000 acres of land to a huge variety of wild animals—from tigers to lions to wolves. Because the wild animal trade is unfortunately still a large source of illicit profits around the world, many wild animals are stuck living in substandard conditions. The Wild Animal Sanctuary offers plenty of room for these amazing animals to live.
In Southeastern Wyoming, Kindness Ranch Sanctuary gives former lab animals a second chance at living a more gentle life. Animals able to rehabilitated are adopted out to loving homes and those who need extra care get to live out their lives at the ranch. The sanctuary is also the only one in the US to take in non-primate lab animals.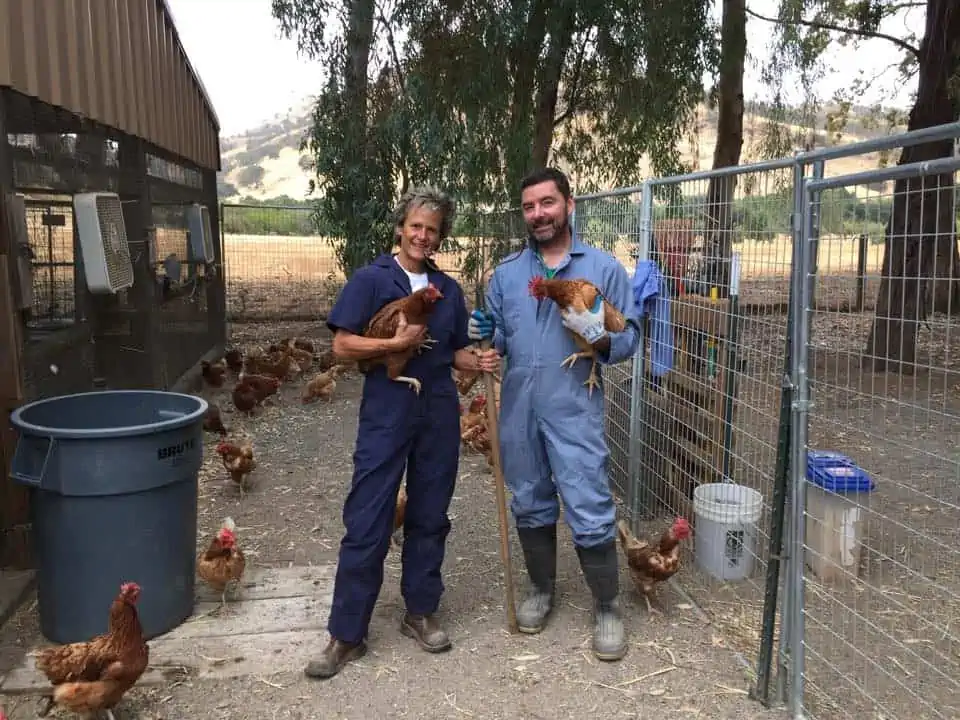 International Farm Sanctuaries
There are dozens (maybe hundreds?) of farm sanctuaries all around the world. Here are just a few:
Frequently Asked Questions About Animal Sanctuaries
Are all animals treated well at animal sanctuaries?
Luckily most sanctuaries are dedicated to the work of rehabilitating and protecting the most vulnerable of animals and are not a guise for anything cruel. However, it is always a good idea to do your research to ensure that any facility you choose to support is truly doing honest and kind work.
Where can I find a farm animal sanctuary near me?
With so many animal sanctuaries around the US and beyond, it shouldn't be hard to find an animal sanctuary nearby! A simple Internet search should draw up some good results.
How can I support different animal sanctuaries?
Donating money or volunteering your time are both great ways to support the tireless work of animal sanctuaries. Many sanctuaries have programs in which you can sponsor an animal as well! For instance, you can sponsor a turkey at Farm Sanctuary around Thanksgiving and they will send you a photo of the turkey with his or her story.
When can I visit a farm animal sanctuary?
Call or visit the website of the particular sanctuary you're interested in visiting to plan your visit! Each site will have their own unique hours and visitation guidelines. Many farm sanctuaries offer seasonal tours depending on the weather and their staffing setup.
Why Is Farm Animal Sanctuary Work Important?
Farm Sanctuary founder Gene Baur sat down with us to share why farm animal rescue and sanctuary work is so important. This heroic work goes beyond caring for mistreated animals—it provides a sanctuary of healing for people as well.
"I think it provides hope to a situation that can sometimes seem so hopeless, animals being so mistreated on factory farms and in other institutions.

Sanctuaries allow these animals to be themselves, they allow people to connect with these animals, and to recognize that they have feelings. And that when we treat them with respect, they respond.

It's empowering for people as well as animals. Living among animals is very enriching, and gives us hope.

Get to know a cow, or a pig, or a turkey, and see that they're not that different from cats or dogs."

– Gene Baur
At World of Vegan, we're so grateful that there are so many farm animal sanctuaries around the world providing a safe space for some of the most vulnerable animals. All animals deserve a loving and harm-free life no matter what!
This Guide to Farm Sanctuaries was written by Amanda Meth and edited by Michelle Cehn. Please check your local animal sanctuary for hours and visitation guidelines.