As the weather outside grows colder, light, leafy salads might start to lose their appeal. This hearty option is just the opposite, packed with rich flavors and peak seasonal produce that will keep you coming back for more. Roast up some delicious delicata squash and cozy up to this beautiful Thanksgiving salad.
Serve it up for everyday autumn meals, family gatherings, or even a festive holiday feast. Lavished with a Tangy Apple Cinnamon Vinaigrette, it's never been so easy to eat your vegetables and enjoy every bite!
Why You'll Love This Recipe
Superfoods Galore – It's safe to assume that a kale salad would be healthy, but this one really doubles down on nutrient-dense delights. Pomegranates are also antioxidant super stars, delicata are rich in vitamins and minerals, and pecans pack in those heart-healthy omega fatty acids, just for starters.
Lightning Fast – No one wants to spend all day in the kitchen. You can toss together this quick fix meal in minutes, getting a meal on the table in less time than it would take to order delivery.
Naturally Gluten-Free – No wheat to see here! This is a recipe that everyone can enjoy without fear.
Seasonal Flavors – Autumn only comes once a year, so now's your chance to make the most of it. What grows together, goes together, which is why these seasonal ingredients create perfect harmony on the plate.
Versatile Side or Entrée – Stick with the basics to pair it with any meal, or bulk it up with whole grains to turn it into the meal by itself! It's especially delicious with cooked farro, wheatberries, or quinoa.
Incredibly Satisfying – Since there's a good balance of protein, fiber, and healthy fats, each serving is super filling and won't leave you suddenly hungry again in another hour. This one's got real staying power.
Perfect for Holidays – Serve this gorgeous platter of salad up on your vegan Thanksgiving dinner table or at Christmas (it's red and green after all!), Hanukkah (with some vegan latkes), New Years, and beyond!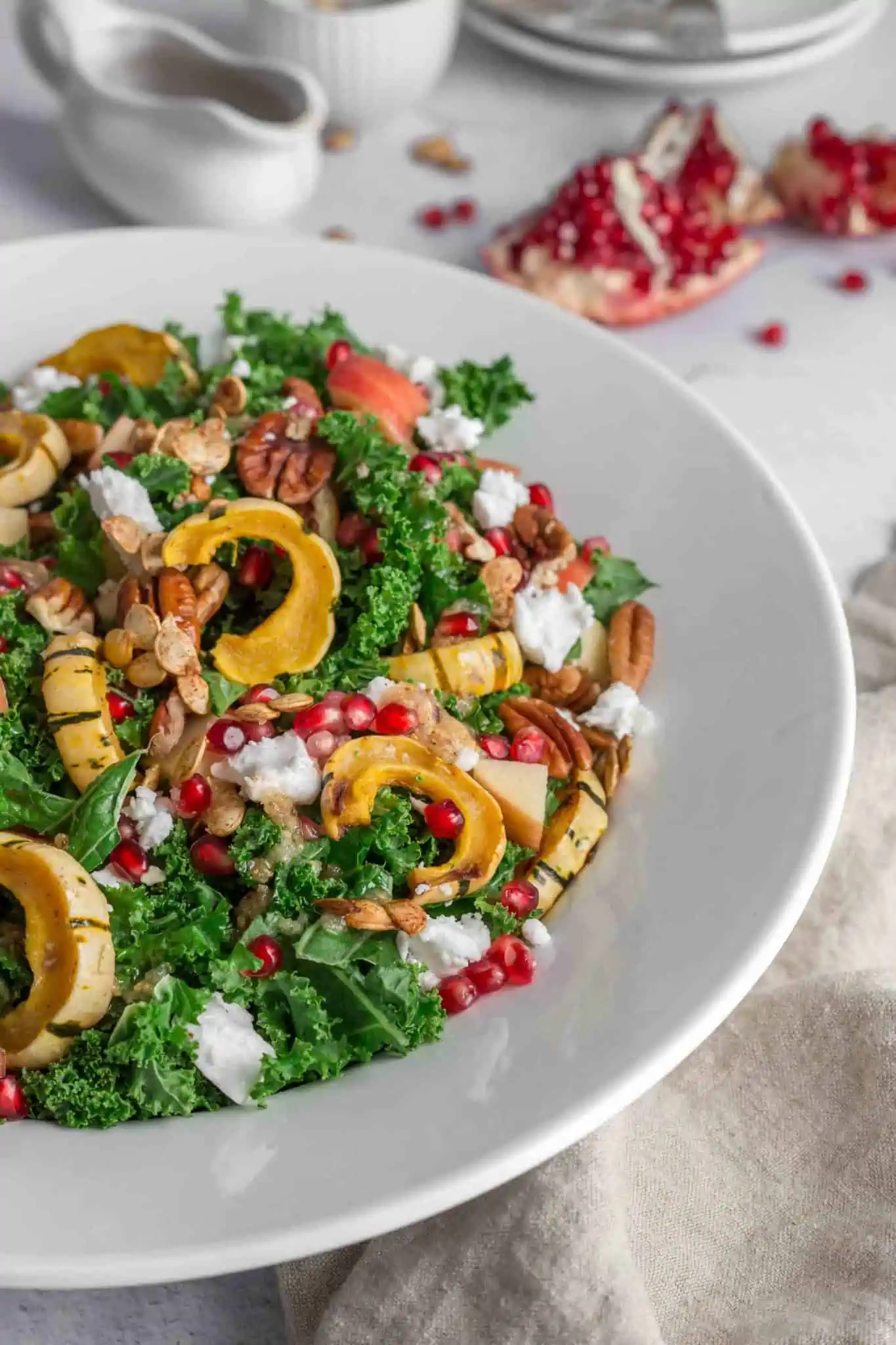 Star Ingredients
Kale – Tender curly kale is the base for this dish but there's no raw, stringy, fibrous funny business here. These leaves are massaged until tender for the best eating experience.
Delicata Squash – Protected by thin, fully edible striped skin, the soft orange flesh within tastes like a cross between fresh corn and pumpkin pie. No need to peel before baking, but don't forget to save the seeds inside for roasting later!
Apple – Crispy, juicy diced apples add refreshing crunch into the mix. Any variety will do, whether it's honeycrisp, gala, fuji or granny smith. Decide whether you're in the mood for something sweet or tart and chose accordingly.
Pomegranate Seeds – Also known as arils, these shiny red jewels pop in your mouth like crunchy plant-based caviar.
Pecans – This crunchy nut adds incredibly buttery flavor without a drop of dairy. Their inherent, subtle sweetness makes them a perfect pairing with the aforementioned fruits.
Vegan Feta Cheese – Richly savory and downright luxurious, feta is what makes this salad so special.
What is Vegan Feta?
Traditionally made from sheep's or goat's milk, feta is a soft Greek cheese that's been lightly brined and aged, which makes it salty and somewhat tangy. It's one of the oldest known types of cheese on earth, dating back to 10,000 BCE. Vegan feta is a much newer innovation of course, having just hit mainstream markets in the past 10 – 20 years.
These dairy-free curds are typically made of coconut oil, potato starch, and/or soy. In fact, the most basic homemade approaches are essentially marinated cubes of tofu! Vegan feta is readily available in stores like Whole Foods and Trader Joe's, but if you'd like to make your own, here's my favorite formula:
½ pound of extra-firm tofu, diced
2 tablespoons of white or chickpea miso paste
2 tablespoons of lemon juice
2 tablespoons of rice vinegar
¼ cup of water
½ teaspoon of onion powder
½ teaspoon of salt
Optional seasonings: ½ teaspoon of dried thyme, ½ teaspoon of dried oregano, ¼ teaspoon of red pepper flakes
Place the tofu in a glass jar. Whisk the marinade separately and pour it on top. Seal tightly, give it a good shake, and let it sit for at least 24 hours before enjoying.
Vegan Feta Brands
Don't want to make your own? The following brands make vegan feta options that you may be able to find in stores. In this recipe we used the vegan feta from Violife which is delicious!
Check out our vegan cheese guide for more cheesy options.
Why and How to Massage Kale
Everyone loves a good massage, including your greens! You may even find the process relaxing yourself. By applying gentle pressure, you're breaking down cell walls to make It more tender, easily digestible, and easier to eat.
If you haven't been a fan of raw kale in the past, try giving it some massage therapy and you may just change your tune. The process is very easy and only takes a few minutes:
First, you'll want to remove the thick, fibrous stems. You can either use your hands to pull the leaves off the center stems, or a knife to cut them away cleanly. Discard or compost the stems.
Roughly chop the leaves into bize-sized pieces and place them in a large bowl. You should have enough space to work without worrying about kale flying out.
Drizzle with about 1 tablespoon of the prepared vinaigrette and use your hands firmly knead the greens, pinching, squeezing, and rubbing the flavors right in, until the leaves begin to soften. This should take about 1 – 2 minutes.
Congratulations, you're now a certified kale masseuse! Your first client here should be much more relaxed and ready for dinner.
How to Open A Pomegranate (Without Splattering Everywhere)
Pomegranates can be a little messy to seed. To avoid the mess (those juicy bursts of pomegranate seeds are not fun in an all-white kitchen, trust me), I recommend filling a large bowl with water & breaking the pomegranate open with your hands under the water. Then, still holding the pomegranate under the water, break the seeds away from the white, fibrous bits. The pomegranate seeds will sink to the bottom and just need be scooped out, patted dry and are ready for use.
Select stores will also sell pomegranate seeds ready-to-eat in small containers found in the produce section of your grocery store.
Frequently Asked Questions
I don't like kale; what other greens can I use?
Any sturdy, dark leafy green would be excellent here, such as collard greens, swiss chard, or mustard greens. You could also use more tender greens like spinach or arugula, but those don't need to be massaged and should simply be tossed in at the very end.
How long will leftovers stay fresh?
Although the greens will become increasingly tender over time, the salad should keep well for up to 3 days sealed in an airtight container and stored in the fridge.
Can I make this recipe nut-free?
Absolutely! Either omit the pecans or replace them with an equal amount of additional roasted squash seeds. Double check to make sure that your vegan feta isn't nut-based, too.
How can I add more protein?
To make a complete and balanced one-bowl meal, you can increase the protein content by using homemade tofu-based feta, rather than store-bought which is usually made of oil rather than beans. Otherwise, toss in a handful of chickpeas or edamame for good measure.
Equipment You'll Need
• Measuring Cups
• Measuring Spoons
• Sharp Knife
• Colander
• Spatula
1 delicata squash, (recipe linked in instructions)
For The Tangy Apple Cinnamon Vinaigrette:
2 tablespoons apple cider or apple juice
2 tablespoons apple cider vinegar
1 tablespoon maple syrup
½ teaspoon Dijon mustard
¼ teaspoon ground cinnamon
¼ cup olive or avocado oil
salt & pepper to taste
6 cups kale, or favorite greens, mix and match—about 1 bunch curly kale
1 apple, diced, choose favorite – Honeycrisp, Gala, Fuji or Granny Smith
⅓ cup pecans
1¼ cup pomegranate seeds
⅓ cup vegan feta cheese, Violife
Optional: ¼ cup of roasted squash seeds, follow WOV recipe
Optional: ½-1 cup of cooked grains such as farro, wheatberries, or quinoa
Prepare delicata squash recipe (prepare roasted squash seeds if using)

While the squash is cooking, prepare the vinaigrette by whisking all ingredients together, set aside.

Wash, dry and de-stem kale (greens). Roughly chop kale into bite size pieces. Add to a large bowl. Add 1 tablespoon of prepared vinaigrette to chopped kale and gently massage with your hands until leaves begin to soften, about 1-2 minutes.

Chop apple into desired size & shape.

Seed pomegranate.

Add the roasted squash, diced apple, pecans, pomegranate and vegan feta to the greens. Drizzle 1 tbsp of vinaigrette and toss well to combine.

Serve with the remaining vinaigrette on the side for individual use. Optional garnish with roasted squash seeds.

For a heartier meal, add cooked grains to the salad such as quinoa, farro or wheatberry.
Vegan Cheese: The feta is optional but adds a nice balance to the salad flavors. You can substitute with other store- bought vegan cheese options that are neutral in flavor like many of the cheese wheels from Miyoko's or Treeline. If you are feeling adventurous you could also make your own cheese from scratch. A blue cheese or gouda would work well in this salad. Crumble or roughly chop as you would the feta. Vinaigrette: Vinaigrettes are made to be adjustable. If you want it sweeter, add more maple syrup. Less acidic, add more oil or reduce vinegar. Play with it and have fun. Store any leftover vinaigrette in an air-tight container for 1-2 weeks in the refrigerator. Pecans: Pecans pair great with fall fruits and vegetables, but if they aren't your favorite you could substitute with walnuts, hazelnuts, pistachios or almonds. If you want you can also toast your nuts by roasting them for a few minutes in the oven until they just start to brown. Watch closely though as they can burn fast. This salad works great for Thanksgiving or any time you want a tasty salad. If you are making for Thanksgiving (or any other busy cooking holiday or get-together) you can make this in advance to make your life easier. Prepare the recipe as described, with two minor adjustments. Chop up the apple at the last minute prior to serving, so that the apple does not brown in advance of serving. Once you add the apple, then add the vinaigrette and toss to combine.
Calories: 733kcal | Carbohydrates: 76g | Protein: 12g | Fat: 48g | Saturated Fat: 6g | Polyunsaturated Fat: 9g | Monounsaturated Fat: 26g | Sodium: 322mg | Potassium: 1951mg | Fiber: 20g | Sugar: 38g | Vitamin A: 23236IU | Vitamin C: 231mg | Calcium: 631mg | Iron: 6mg
More Kale Recipes to Try
More Vegan Salad Recipes:
This delicata squash Thanksgiving salad recipe was created by JJ Steele. Delicata salad photos also by JJ of Chomping at the Pic. Article written with support from Hannah Kaminsky and Amanda Meth. Please note that this article may contain affiliate links which supports our work at World of Vegan.