I really enjoy eating seasonally and locally whenever possible. When the weather changes, we often naturally crave what's in season. Right now delicious and highly nutritious root vegetables are plentiful in stores and markets. Now that the days are shorter and colder, I most definitely crave comforting, warm vegetables.
There are endless ways to prepare veggies, and if you're looking to up your nutrition and eat the rainbow, these roasted root vegetables are a great way to enjoy eating your veggies!
The method is very simple. Chop all of the vegetables and herbs and add them to a large baking pan. Toss them to coat with fresh herbs and bake. Simple as that! I really love those "set it and forget it" recipes. These delicious roasted root vegetables can be used in so many ways. Add them to grain bowls, eat them as a side for your lunch or dinner, make a breakfast hash, add them to a salad, and much, much more. You can even get creative and use them as a pizza topping! I love adding fun ingredients like these to pizza.
Feel free to substitute some of these veggies for others. You could also use turnips, parsnips, celeriac root, squash, and more, all of which are also very healthy. Shop local if you can! Nothing beats the flavor of fresh, local, seasonal produce.
Roasted Root Vegetables
2018-11-07 15:58:46
Ingredients
2 cups of yellow potatoes, diced into medium chunks
1 1/2 cups of sweet potatoes, diced into medium chunks
1 1/2 cups of beets, diced into medium chunks
1 cup of carrots, sliced into disks
1/2 cup of red onion, sliced
2 medium garlic cloves, roughly chopped
1 tbsp of fresh rosemary, finely chopped
1 tbsp of fresh thyme, finely chopped
1 tbsp of coconut oil, melted
1 tsp of salt
1/2 tsp of pepper
Instructions
Preheat your oven to 400 degrees F. Line a baking tray with parchment paper.
Chop all of the veggies and place them on the baking pan. You're welcome to peel them first, but I usually leave the skin on mine because I like the adder fiber and nutrients.
Add the fresh herbs, coconut oil, salt, and pepper. Toss to coat the veggies.
Place the pan on the bottom rack and bake for 20 minutes. Flip the veggies and bake for another 15 minutes.
Remove them from the oven and serve immediately, or cool them down and store in the fridge for meal prep. Enjoy!
World of Vegan https://www.worldofvegan.com/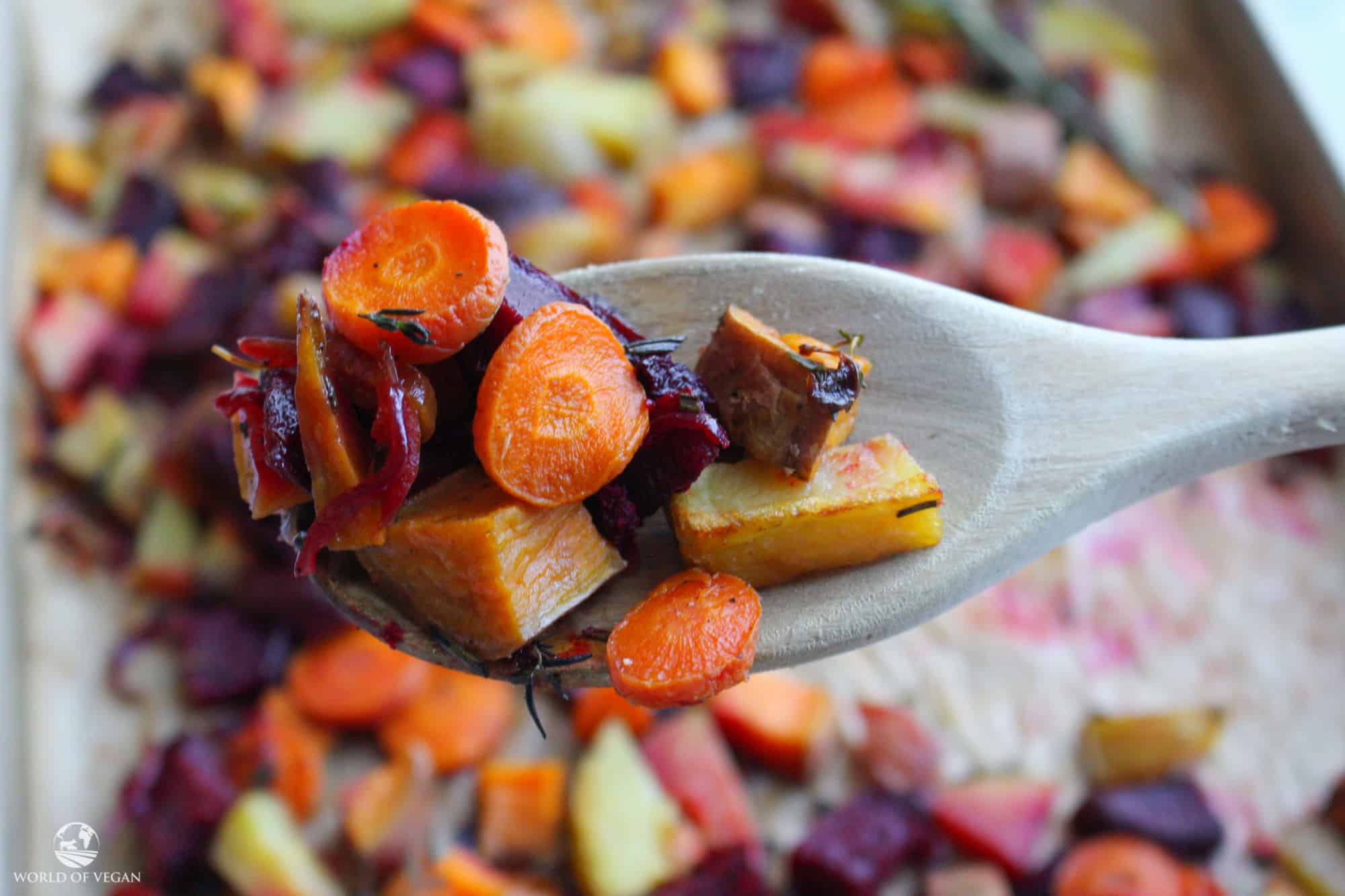 Root vegetables are chock full of micronutrients and phytochemicals. The dark pigment in beets are powerful antioxidants that can promote heart health, weight loss, anti-aging, and more. Sweet potatoes and carrots are packed with carotenoids that are fantastic for eye and skin health. Even organic yellow potatoes have a ton of nutrition, boasting more potassium than bananas!
And never underestimate the power of fresh herbs. Thyme is one of the most underrated herbs out there. It's actually highly medicinal, has antiseptic properties, and has high levels of vitamin a, iron, calcium, and more.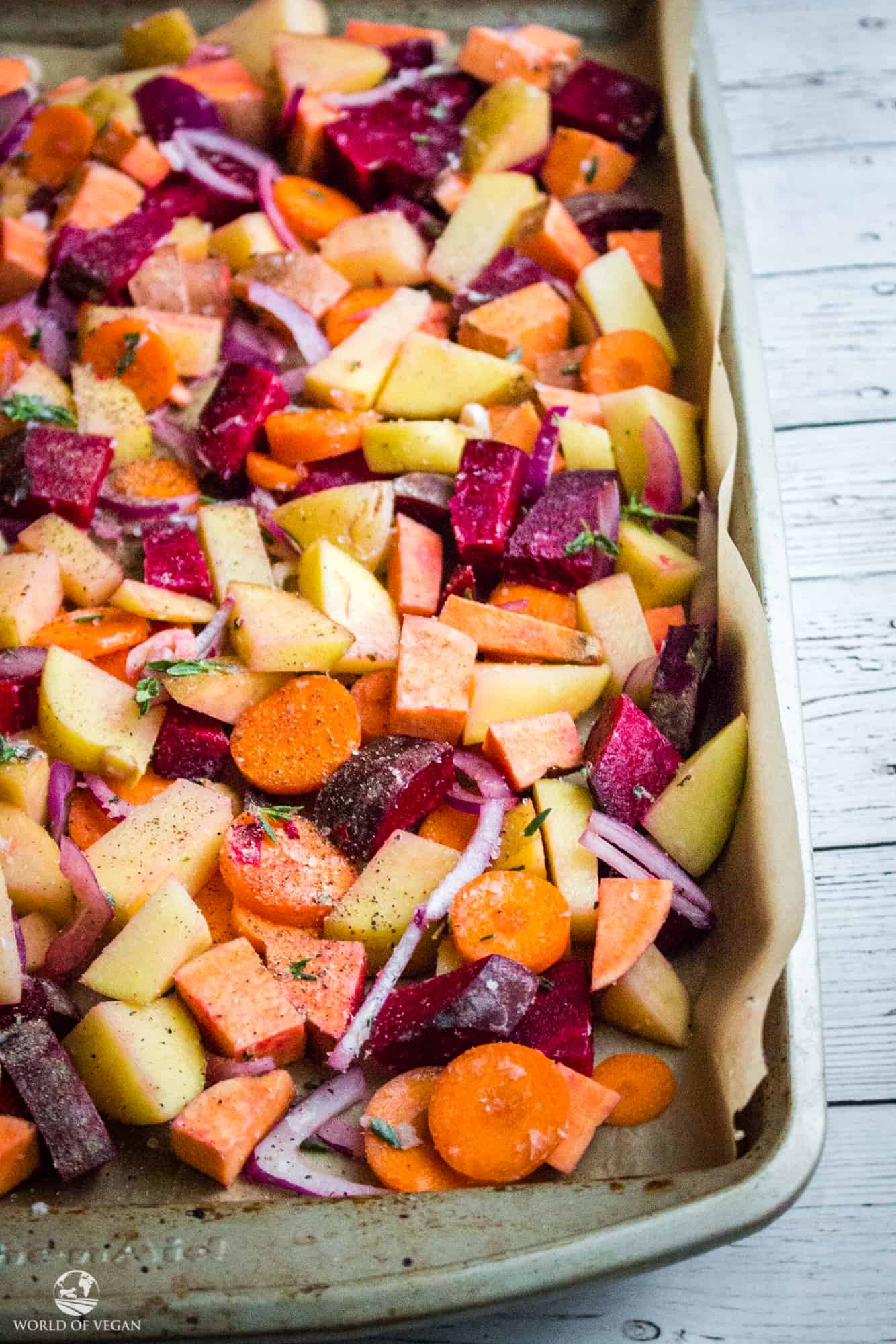 Hungry for more fall recipes? You can find them right here!
Photos by Kathy Chrzaszcz for World of Vegan. Recipe and photographs copyright of World of Vegan™, all rights reserved.