I really enjoy eating seasonally and locally whenever possible. When the weather changes, we often naturally crave what's in season. Right now delicious and highly nutritious root vegetables are plentiful in stores and markets. Now that the fall days are shorter and colder, I most definitely crave comforting, warm vegetables.
The method is very simple. Chop all of the vegetables and herbs and add them to a large baking pan. Toss them to coat with fresh herbs and bake. Simple as that! I really love those "set it and forget it" recipes. These delicious roasted fall vegetables can be used in many ways. Add them to grain bowls, eat them as a side for your lunch or dinner, make a breakfast hash, add them to a salad, your Thanksgiving table, and much, much more. You can even get creative and use them as a pizza topping! I love adding fun ingredients like these to pizza.
Feel free to substitute some of these veggies for others. You could also use turnips, parsnips, celeriac root, squash, and more, all of which are also very healthy. Shop local if you can! Nothing beats the flavor of fresh, local, seasonal produce.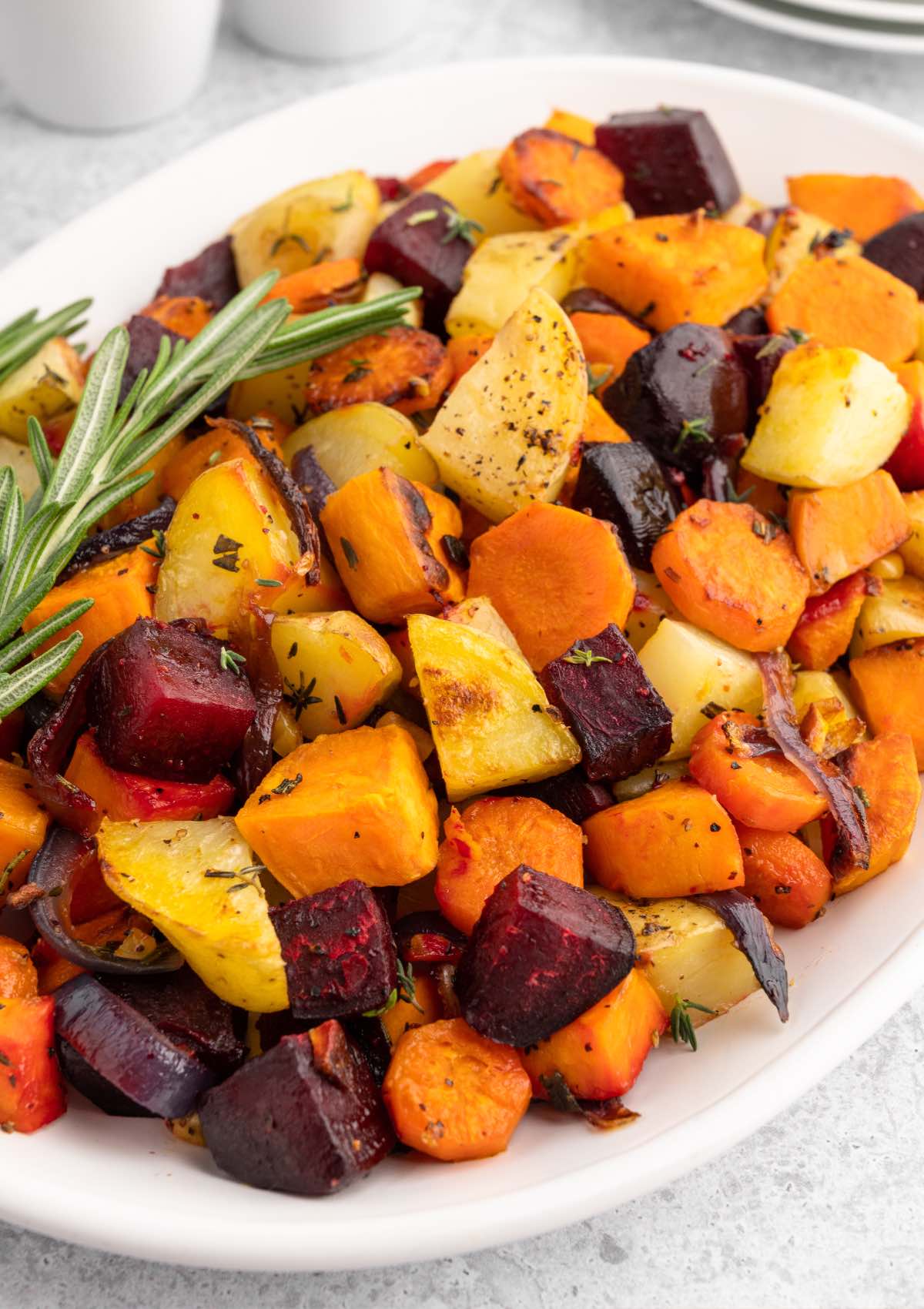 Roasted Root Vegetables: A Nutritional Marvel
Root vegetables are chock full of micronutrients and phytochemicals. The dark pigment in beets are powerful antioxidants that can promote heart health, sustained energy, fresh skin, and more. Sweet potatoes and carrots are packed with carotenoids that are fantastic for eye and skin health. Even organic yellow potatoes have a ton of nutrition, boasting more potassium than bananas!
And never underestimate the power of fresh herbs. Thyme is one of the most underrated herbs out there. It's actually highly medicinal, has antiseptic properties, and has high levels of vitamin A, iron, calcium, and more.
Key Ingredients
This recipe is simple, using ingredients readily available at any grocery store. Here's what you'll need:
Yellow Potatoes: With their thin, golden skin and creamy texture, yellow potatoes bring a buttery richness to the dish. When roasted, they develop a crispy exterior that complements the soft interior, creating a perfect balance of textures.
Sweet Potatoes: Characterized by their vibrant orange flesh, sweet potatoes offer a natural sweetness that intensifies during roasting. Their tender consistency and caramelized edges contribute a delightful contrast to the overall medley of flavors.
Beets: With their deep, jewel-toned hue, beets add both visual appeal and a subtle earthiness to the dish. When roasted, their natural sugars caramelize, creating a sweet and tender result that complements the savory notes of other vegetables.
Carrots: Sliced into disks, carrots bring a natural sweetness and a satisfying crunch to the dish. Roasting enhances its inherent sweetness while maintaining a slightly firm texture, contributing to the overall diversity of flavors and textures.
Red Onions: When sliced and roasted, red onions provide a mild sweetness and a beautiful burst of color. Their layers separate and caramelize, adding a touch of savory complexity to the dish.
Garlic: Roughly chopped and roasted, garlic infuses the dish with a robust, savory flavor. As it roasts, garlic becomes mellow and aromatic, enhancing the overall richness of the vegetable ensemble.
Fresh Rosemary: When finely chopped, rosemary imparts a fragrant and earthy aroma to the vegetables. Its piney and citrusy notes elevate the dish, adding a refreshing herbal dimension to the overall flavor profile.
Fresh Thyme: When fresh thyme is finely chopped, it contributes a subtle, herby essence to the vegetables. With its slightly peppery and lemony undertones, thyme complements the other flavors while bringing a hint of freshness to each bite.
Coconut Oil: Melted coconut oil imparts a delicate tropical flavor to the vegetables. Its light sweetness enhances the natural sugars in the fall vegetables, adding a unique and delightful twist to the dish.
How To Make This Recipe
This roasted fall vegetable medley is so easy and simple! After you've chopped your vegetables, you've done most of the work! All you have to do after that is wait and smell the amazing aroma as your root vegetables roast and caramelize to perfection!
Prep Your Vegetables
Begin by preheating your oven to 400 degrees F and lining a baking tray with parchment paper for easy cleanup.
Next, chop all the vegetables to your desired size and arrange them evenly on the prepared baking pan. You can choose to peel the vegetables, but I often keep the skin on for an extra boost of fiber and nutrients.
Season Your Vegetables
Sprinkle the fresh herbs, coconut oil, salt, and pepper over the vegetables, giving everything a good toss to ensure an even coating.
Roast Your Vegetables
Position the pan on the bottom rack of the oven and let the vegetables bake for 20 minutes. After this initial bake, flip the veggies to ensure uniform cooking and continue baking for an additional 15 minutes.
Serve Your Dish!
Once perfectly roasted, remove the pan from the oven. Serve the vegetables immediately for a delicious side dish, or allow them to cool before storing them in the fridge for convenient meal prep. Enjoy the delightful flavors of your roasted root vegetables!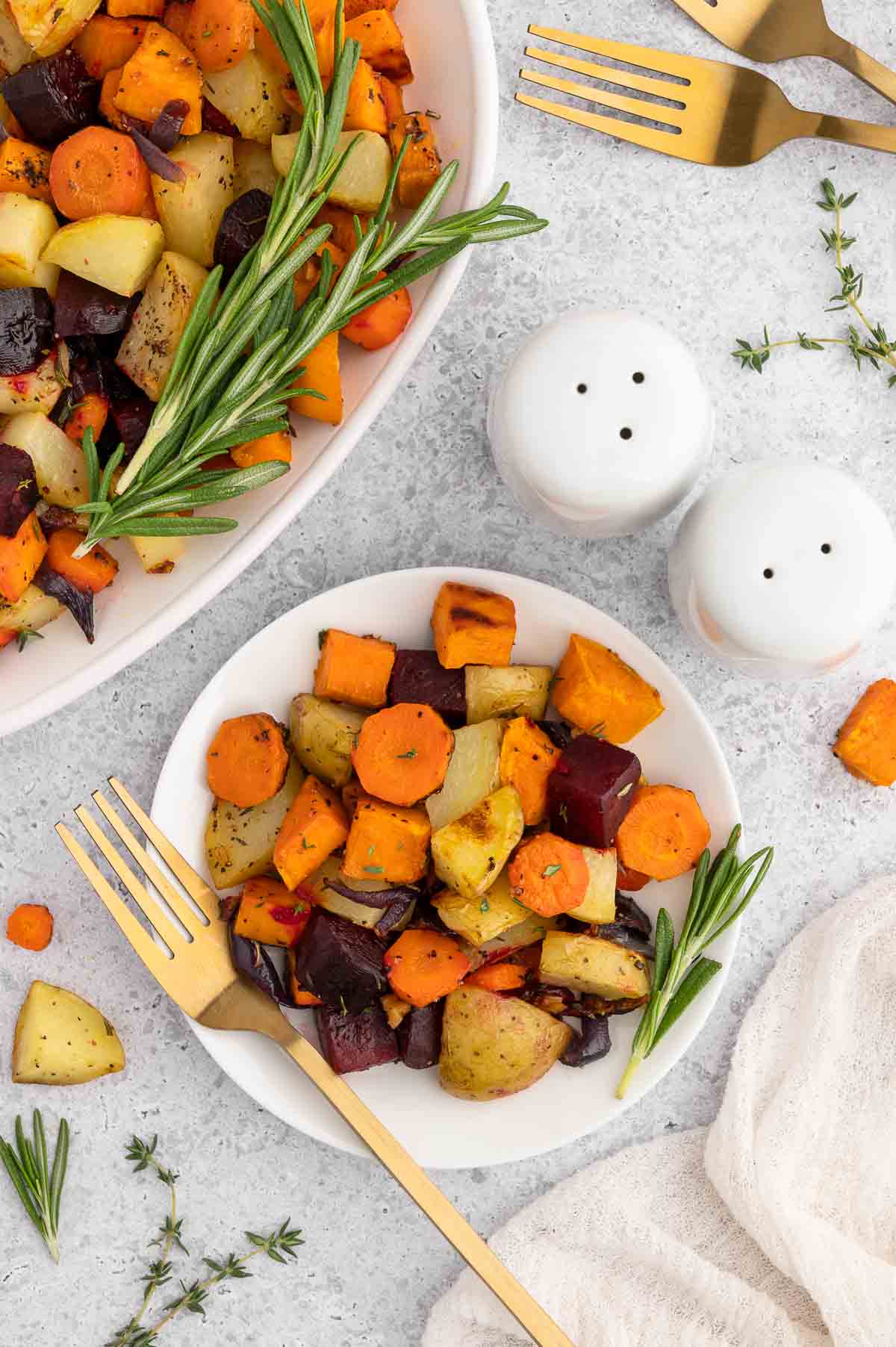 Serving Suggestions
These roasted fall vegetables make for a perfect side dish to any holiday dinner table. Serve them alongside your favorite centerpiece like this Mushroom Wellington, Shepherd's Pie, or this Stuffed Acorn Squash. Don't forget the mashed potatoes and gravy, plus a big slice of pumpkin pie! Check out our Vegan Thanksgiving Guide for more holiday inspiration!
Need more veggies in your weekly rotation? Pair it with a creamy Tomato Soup, Pasta with Vegan Meatballs, or Mushroom Ravioli.
Storage and Reheating
Allow the roasted fall vegetables to cool to room temperature before transferring them to an airtight container. Refrigerate promptly, and they can be stored for up to 3-4 days.
For extended storage time, you can freeze your veggies. Place them in a freezer-safe bag or container, removing as much air as possible to prevent freezer burn. They can be stored in the freezer for up to 2-3 months. Keep in mind that freezing can change the texture of the vegetables.
When ready to enjoy again, reheat the roasted fall vegetables in an oven or toaster oven for the best results. This will help them regain their crispiness and enhance their flavor.
More Fantastic Fall Recipes
Fall is a great season for enjoying fresh vegetables! Here are some other great vegetable recipes:
2 cups yellow potatoes, diced into medium chunks
1½ cups sweet potatoes, diced into medium chunks
1½ cups beets, diced into medium chunks
1 cup carrots, sliced into disks
½ cup red onion, sliced
2 cloves garlic, roughly chopped
1 tablespoon fresh rosemary, finely chopped
1 tablespoon fresh thyme, finely chopped
1 tablespoon coconut oil, melted
1 teaspoon salt
½ teaspoon pepper
Preheat your oven to 400 degrees F. Line a baking tray with parchment paper.

Chop all of the veggies and place them on the baking pan. You're welcome to peel them first, but I usually leave the skin on mine because I like the adder fiber and nutrients.

Add the fresh herbs, coconut oil, salt, and pepper. Toss to coat the veggies.

Place the pan on the bottom rack and bake for 20 minutes. Flip the veggies and bake for another 15 minutes.

Remove them from the oven and serve immediately, or cool them down and store in the fridge for meal prep. Enjoy!
Calories: 141kcal | Carbohydrates: 28g | Protein: 3g | Fat: 3g | Saturated Fat: 2g | Polyunsaturated Fat: 0.1g | Monounsaturated Fat: 0.2g | Sodium: 453mg | Potassium: 658mg | Fiber: 5g | Sugar: 6g | Vitamin A: 8360IU | Vitamin C: 23mg | Calcium: 44mg | Iron: 1mg
Photos by Amanda McGillicuddy, copyright of World of Vegan™, all rights reserved.