I don't know about you, but when the chocolate craving hits, I become blind to any fruits, veggies, or healthy foods. It's like my brain promptly powers down and gives my taste buds permission to totally take over. If you're wise (like I know you are), you'll make this vegan superfood chocolate bark asap to store in the fridge for future use.
With this recipe, you can feel good about adding extra antioxidants, vitamins, and minerals to your day. Each piece of chocolate bark brings your body much needed healthy fiber and protein, plus, it's the most decadent and delicious vegan dessert.
So simple that you have no excuse for putting off its preparation. Gather your ingredients, melt your chocolate, add in the superfoods (as well as the snacks), and harden in the refrigerator. Break into chunks and cheer for vegan chocolate!
Equipment You'll Need
Superfood Superstars
Chocolate – If using dark chocolate, you'll boost the benefits even more! Lower in sugar than other types, 70% cocoa (or higher) also has a higher level of magnesium, antioxidants, fiber, and iron.
Chia Seeds – Full of heart-healthy omega-3s, insoluble fiber, protein, and many minerals like calcium, magnesium, iron, and selenium.
Goji Berries – Tiny, but powerful! These berries are packed with vitamins A & C, iron, fiber, and antioxidants. Goji berries also benefit eye health and give protection against degenerative eye conditions.
Pecans – High in healthy monounsaturated, plant-based fat and protein. Adds a wonderful flavor and texture to the smooth chocolate surface.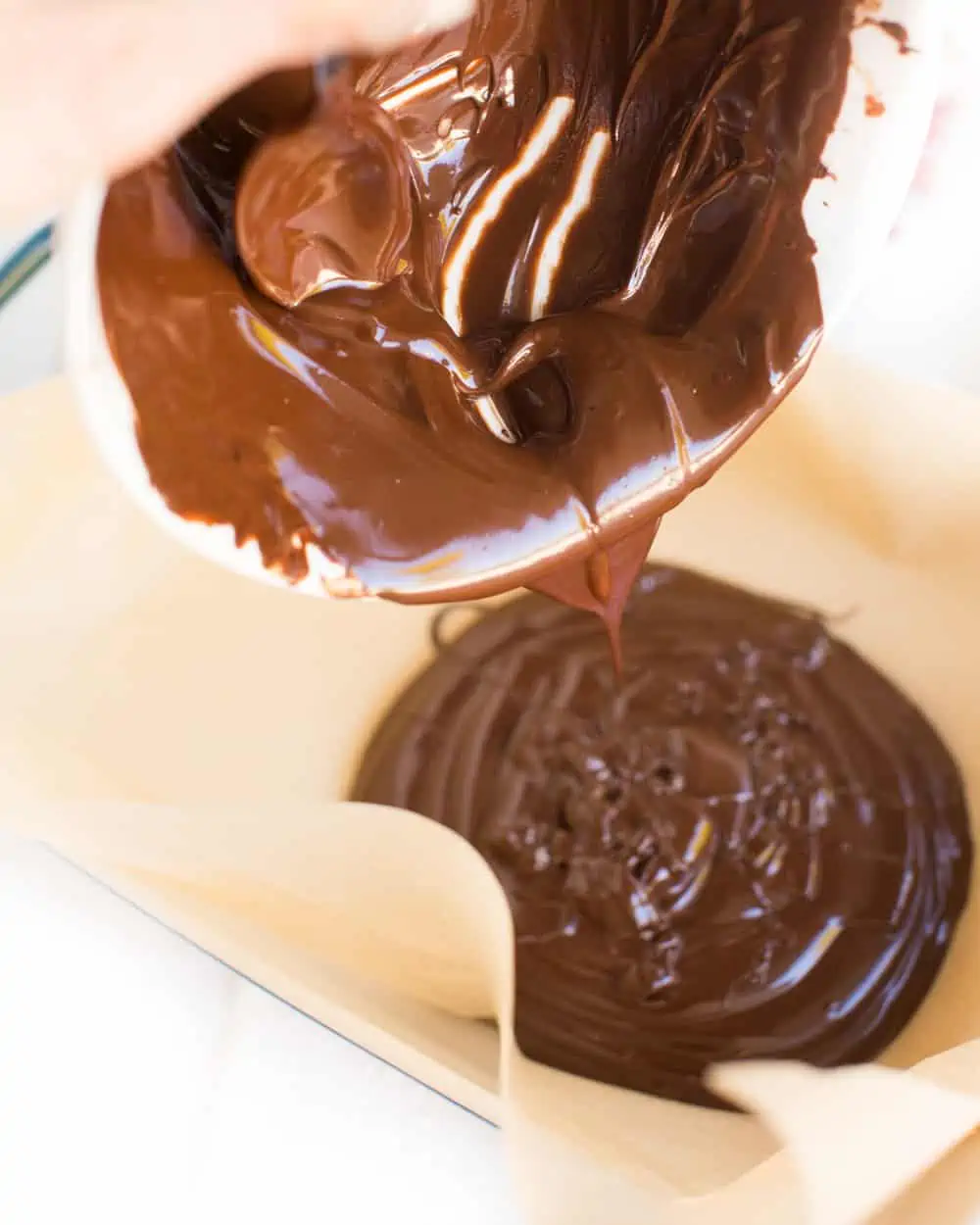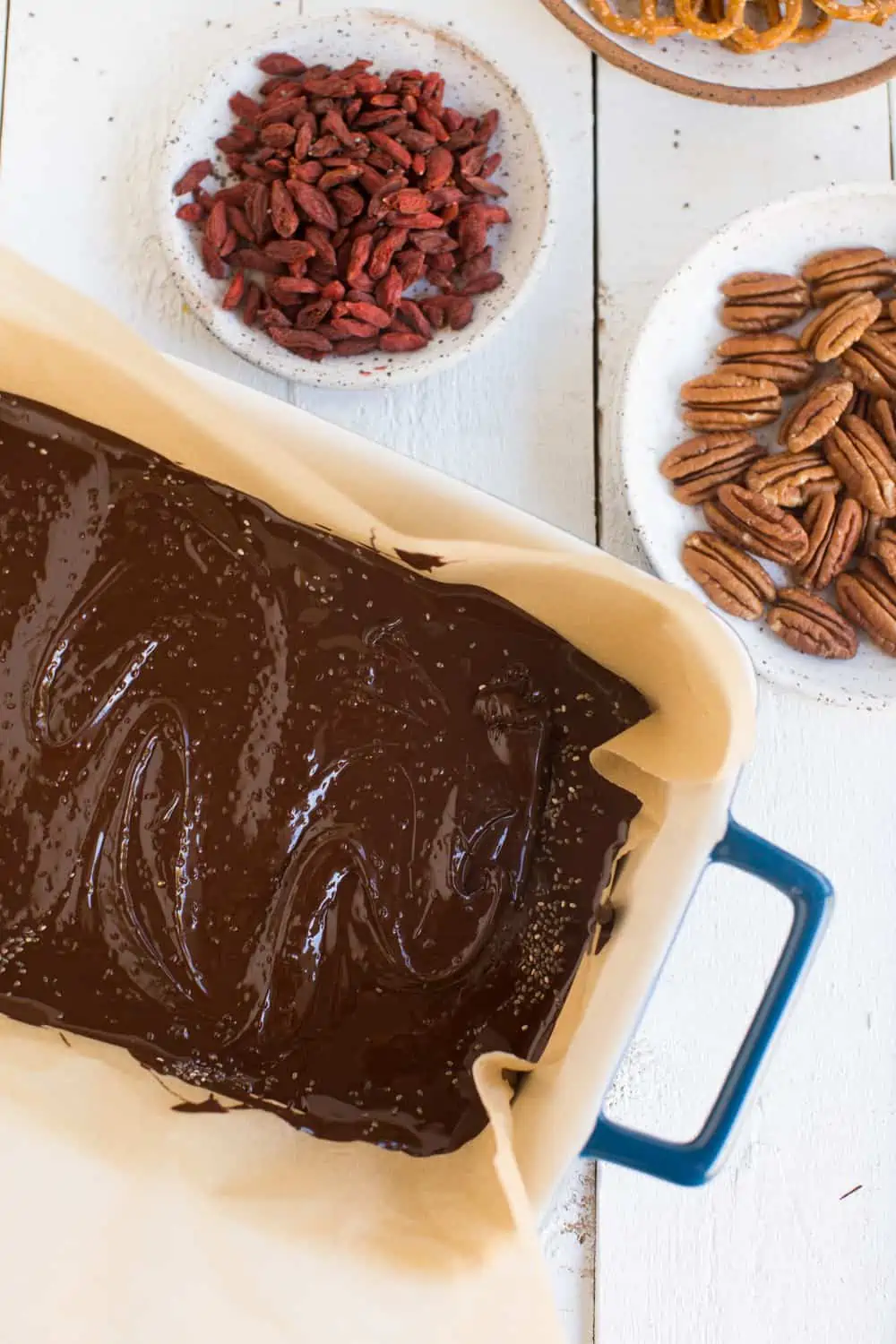 How to Serve It Up
This superfood chocolate bark is a sensational snack on its own, but sometimes you just want a little something extra. Here are some appetizing additions and scrumptious swaps you can make:
Sweet & Savory – Pair your sweet chocolate bark with a savory snack such as our Savory Roasted Chickpeas, Popcorn Tofu, or Cheezy Kale Chips. Contrasting flavors go great together.
Change Up Your Chips & Chunks – While we love using pretzels for this recipe, feel free to experiment with other crackly food forms like potato chips or dried cereal. Even a handful of popcorn!
Shuffle Around Your Nuts & Seeds – If chia seeds or pecans are not your picks, you can easily substitute flaxseeds, hemp seeds, almonds, cashews, walnuts, sunflower seeds, etc. They would taste terrific either toasted or raw. You can easily mix and match for the most mouthwatering munch.
Branch Out With Other Berries – There are many variations of fantastic fruits if you aren't able to get goji berries or just want to try something new. How about freeze-dried strawberries? Dried blueberries? Don't forget chopped dates, raisins, figs, apricots or even prunes—those'll get your digestion going!
Special Shapes – An alternative to breaking up the bark is to pour the chocolate into sturdy silicone molds. Then, you can decorate the tops any way you like. Use hearts for Valentine's Day, trees for Christmas, bunnies for spring, or even a spell out the name of a family member or friend in chocolate letters.
1 12-ounce bag vegan chocolate chips or chunks
2 tablespoon chia seeds
3 tablespoons dried goji berries + 1 tablespoon for topping
¼ cup pretzels, roughly chopped + ½ cup of whole pretzels for topping
¼ cup raw pecans, roughly chopped + ¼ cup of whole raw pecans for topping
In a small bowl, melt the chocolate. You can do this using a double boiler or in a microwave. To melt with a microwave, microwave for 20 second increments mixing well in between each. When only a few chunks remain, stir until just fully melted. Be careful not to microwave too long or the chocolate may seize and become unusable.

Once melted, add in the chia seeds, 3 tablespoons of goji berries, ¼ cup of broken pretzel pieces, and ¼ cup of roughly chopped pecans. Mix well until everything is evenly incorporated.

Pour chocolate into a baking dish (approximately 12 inches x 8.5 inches) lined with parchment paper or a silicone liner. Using a spatula, smooth out the chocolate to create a thin even layer about ¼ inch thick. The chocolate should be chunky and won't lay flat—that's okay, as long as there's enough chocolate to hold everything together!

Top with remaining goji berries, pretzels, and whole raw pecans. Use your finger to gently push all the toppings into the soft chocolate until partially embedded so everything will stick when the chocolate hardens.

Set in the fridge to harden for 1 hour. Once hard, remove from the fridge, break into pieces by hand, and serve!
Have extra pecans, goji berries, and pretzels? Mix them together for a snackable trail mix! Pecans are so versatile and make it easy to add a protein boost to smoothie bowls, oatmeal, salads, and beyond. Go nuts!
Calories: 46kcal | Carbohydrates: 4g | Protein: 1g | Fat: 3g | Saturated Fat: 0.3g | Polyunsaturated Fat: 1g | Monounsaturated Fat: 1g | Trans Fat: 0.004g | Sodium: 31mg | Potassium: 30mg | Fiber: 1g | Sugar: 0.2g | Vitamin A: 3IU | Vitamin C: 0.1mg | Calcium: 22mg | Iron: 0.4mg
Simple Storing
If this bark doesn't get eaten in one sitting, good for you! You must have incredible sweet snacking restraint. Any remaining superfood chocolate bark can be stored in a covered container in the fridge for up to two weeks.
You can even put any leftover bark in the freezer for up to six months, but make sure to wrap it firmly in plastic wrap (or a similar protective covering) before placing into a freezer safe container or pouch.
Refrigerating the wrapped chocolate for at least a few hours before freezing can help to prevent 'fat bloom', a white-ish film that forms over the chocolate caused by the slight separation of the fat ingredients from the rest of the bar. It's not at all harmful to eat and does not affect the taste, so don't be worried if it has this appearance when you take it out of the freezer.
More Delicious Desserts to Try
Vegan Superfood Chocolate Bark with Pecans recipe by Michelle Cehn for World of Vegan. Copyright of World of Vegan™, all rights reserved. Article written by Gina House and edited by Amanda Meth. Please note that this article may contain affiliate links that support our work at World of Vegan.