I recently learned that you can cook sweet potatoes in the microwave just by piercing them with a fork and popping them in for 8-15 minutes. As someone who often finds it hard to pull away from my computer to cook a healthy, wholesome meal, this has been revolutionary for me. Whether I'm looking for a quick snack or a full-on meal (like these stuffed sweet potatoes), microwaved sweet potatoes often have my back.
Plus, did you know sweet potatoes are one of the most healthful foods on the planet? Dr. Michael Greger, the author of the New York Times bestselling book How Not to Die (one of my favorite books ever), recommends them often. So, if you can find ways to incorporate sweet potatoes into your diet—do it! This recipe should help you get started.
Fall Stuffed Sweet Potatoes
2018-10-11 15:51:03
Serves 2
These stuffed sweet potatoes are the perfect healthy meal for a crisp fall day.
Ingredients
2 orange-fleshed sweet potatoes or yams
2 tablespoons of pomegranate seeds or dried cranberries
1/2 cup of candied walnuts
1/4 cup kale, blanched and finely chopped
Salt and pepper to taste
For the Sauce
2 tablespoons of tahini
2 teaspoons of lemon juice
2 tablespoons of water
Instructions
To cook the sweet potatoes, pierce each several times with a fork. Place one sweet potato at a time in a bowl with 1/2 inch of water and cook for 8-15 minutes in the microwave, until soft all the way through. Repeat for second sweet potato. Cooking time will depend on the size of your sweet potato and strength of your microwave.
While sweet potatoes are cooking, prepare the sauce by simply whisking together the tahini, lemon juice, and water.
Prepare the candied walnuts (see our recipe for those at worldofvegan.com/candied-walnuts)
Once cooked, place each sweet potato on a dish, slice each in half lengthwise, and using a fork, mash the flesh. Mix in a dash of salt and pepper until well combined.
Sprinkle with your pomegranate seeds or dried cranberries, candied walnuts, blanched kale, and tahini dressing. Serve and enjoy hot!
World of Vegan https://www.worldofvegan.com/
These candied walnuts
are a must in this dish—they bring a nice pop of sweet, crunchy, and extra protein. Plus, walnuts are incredibly healthful. They're called "brain food" for a reason! You can find the candied walnuts recipe
here
.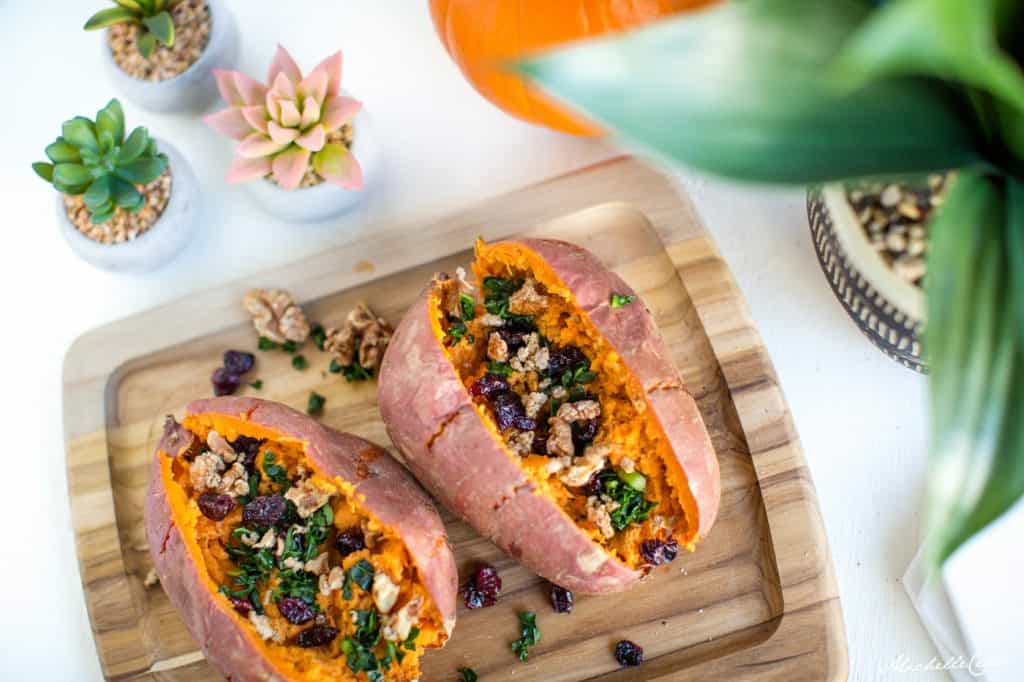 These would also make a perfect entrée or appetizer for Thanksgiving! You can slice them fully in half or even in quarters for a beautiful treat to add to your vegan Thanksgiving dinner table.
Hungry for more? Check out our other vegan recipes and videos. All vegan food photos were taken by yours truly, Michelle Cehn.