Don't wait until Taco Tuesday to break out these brilliant, bite-sized meatless treats! No tortillas need apply for these crispy cups made from wonton wrappers that hold all the savory, spicy goodness within. Turn any meal into a fiesta, whether it's a party, potluck, or weeknight dinner for the family. Vegan taco cups are the versatile snack or starter that will steal the show.
Whether you prefer crunchy shells or soft tortillas, you'll get the best of both worlds here. Crispy edges give way to a warm, gooey interior for a wholly satisfying experience. Believe it or not, they're even as much fun to make as they are to eat!
Why You'll Love This Recipe
Tacos are incredibly popular in the US, and the numbers don't lie. Americans eat somewhere around 4.5 billion tacos every year! With this recipe at your disposal, those stats might rise even higher. Here's why you'll be hooked: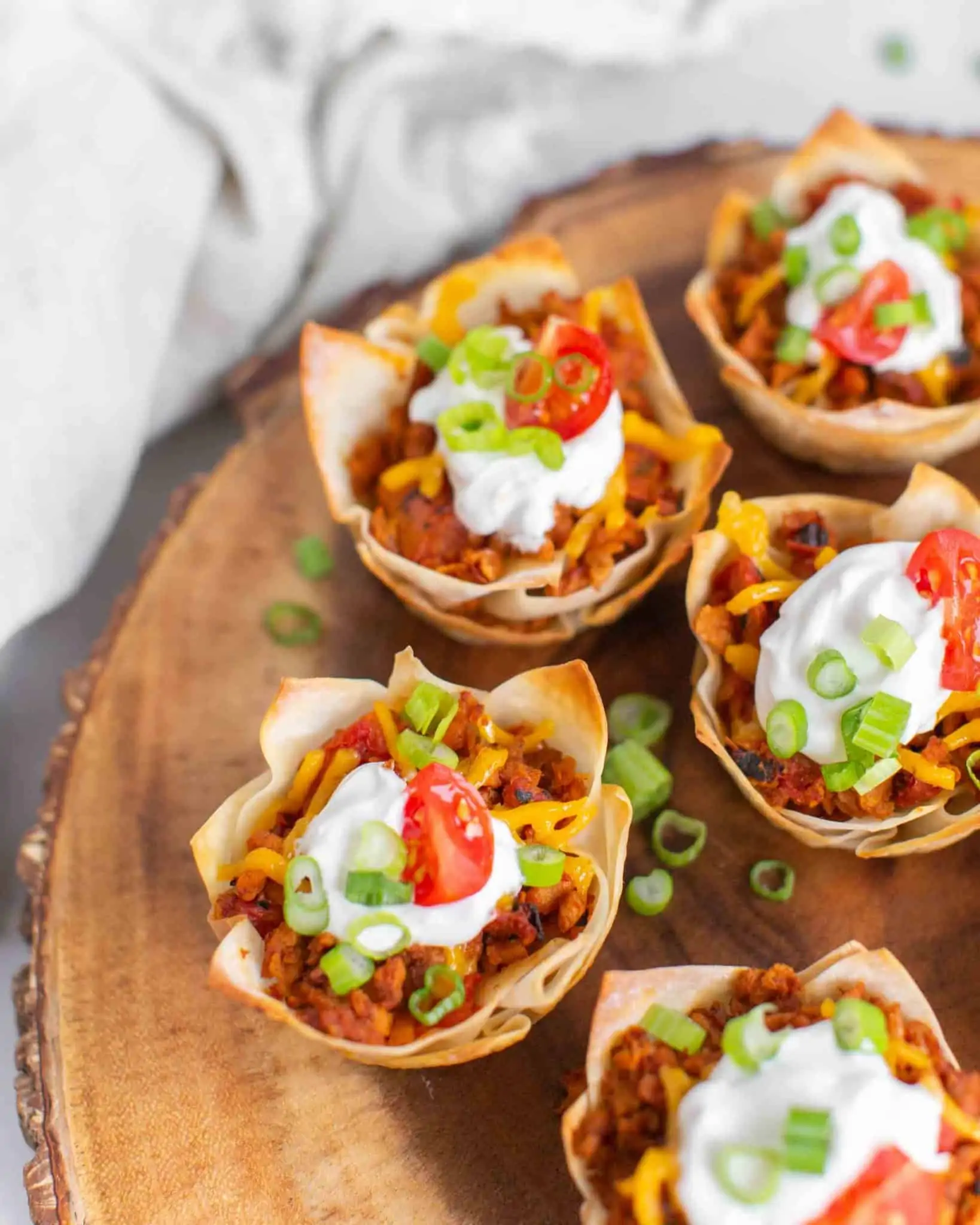 Star Ingredients in these Wonton Taco Cups
Like standard tacos, the sky is the limit when it comes to garnishes and accompaniments. Anything goes, and there's tons of opportunity for variation even in the base ingredients. You could make these every day of the year and never eat the same thing twice!
Vegan beefy crumbles
Fresh or frozen, made of peas, soy, mushrooms, or otherwise, myriad plant-based options are readily available in every market for all taste preferences! You can even find some that are pre-seasoned with Mexican spices, if you'd like another easy shortcut. I used a shelf-stable vegan taco crumble from Plant Boss.
Fire-roasted tomatoes
For a sweeter, bolder, and richer tomato flavor, go for canned fire-roasted diced tomatoes instead of fresh or plain varieties. A light charred brings out the natural sugars in the fruit in perfect contrast to the smoky, umami flavor imparted by the fire.
Wonton wrappers
Many wonton wrappers are naturally vegan. Eggless wonton wrappers are readily available at all Asian grocery stores and even many mainstream supermarkets. Look for them in the produce section near the tofu, although they may be hidden in the freezer aisle by the frozen vegetables, too.
Vegan cheese
Melty, mild plant-based cheese is ideal to go with a spicy filling, so a Monterey Jack, Cheddar-style, or blend would be your best bet. If you can find Mexican-style shreds, that will be perfect! Daiya, So Delicious, Miyoko's, and Parmela are just a few of the options that exist today. Check out our Battle for the Best Vegan Cheddar Cheese video to see which brand won!
Vegan sour cream
Thick and lusciously creamy, dairy-free sour cream is a staple I always have on hand. Just add a dollop to pasta sauces, soups, and even salad dressings for next-level healthy indulgence.
Green onions
Also known as scallions, they're related to chives, leeks, and white onions but have a milder flavor, so they're generally better for eating raw.
Cherry tomatoes
For a final pop of fresh flavor, nothing beats a tiny ripe tomato! Regular diced fresh tomatoes could work too, but they won't be quite as pretty.
How to Spice Up This Easy Vegan Appetizer
Consider this recipe more like a guide, providing the basic inspiration and foundation to build upon. Use your imagination to create all new flavor combinations, tailored to your preferences. Here are a few more ideas to get you started:
What to Serve with Your Vegan Taco Cups?
Although they're perfect as is, you can turn transform this appetizer into an entrée with a few easy sides to round out the plate.
Party-Perfect Vegan Appetizers
These taco cups will be your next party's BFF. They're great at almost any event, especially:
…shoot, these would even be divine serves up at as appetizers at a vegan wedding!
How to Make These Vegan Wonton Cups
Assembling your edible vessels is the most complicated part of this procedure, which is to say, it's very simple! Don't be daunted; you'll be a pro after the first round.
Keep you wonton wrappers covered with a moist (not damp or wet) kitchen towel. You don't want them to dry out while they're not in use, which will make them brittle and break when you try to press them into shape.
Lightly oil the cupcake tins to make sure they don't stick.
Stack two wonton wrappers on top of each other, overlapping so that the corners alternate on top, forming a cute little crown.
Let the weight of the filling press the wrappers down into the cups. If you use your fingers, you risk poking holes in the bottom or tearing them in the process.
Bake until golden brown and remove from the pan as soon as they're done to keep them nice and crispy. The longer they sit, the more they'll steam and soften.
Equipment You'll Need:
1 package vegan beefy crumbles, such as Plant Boss, Gardein, Beyond Meat, Boca, or Lightlife
1 tablespoon vegetable oil
1 tablespoon minced garlic, or jarred garlic
16.5-ounce can diced fire roasted tomatoes, drained well (squeeze water out)
24 wonton wrappers
½ cup vegan shredded cheese
½ cup vegan sour cream
2 green onions, sliced, for garnish
3 cherry tomatoes, quartered, for garnish
Preheat oven to 400 degrees F.

In a sauté pan, cook vegan meatless crumbles according to package instructions.

Once cooked, add garlic and drained fire roasted tomatoes and saute until there is no liquid left in the pan.

Lightly coat a 12-cup cupcake pan with vegetable oil. Place two wonton wrappers into the bottom of each pocket, shifting the top wonton layer slightly so the corners come up the sides of the cupcake tin and creates pretty taco cups. Spoon the cooked vegan meat mixture into each cup and top with a sprinkle of vegan cheese. Bake for 15 minutes or until wonton wrappers start to turn golden brown and vegan cheese becomes melty.

Remove from oven and add a dollop of vegan sour cream to each wonton cup. Top with green onions and a fresh tomato slice on each and enjoy!
Calories: 98kcal | Carbohydrates: 13g | Protein: 2g | Fat: 4g | Saturated Fat: 1g | Polyunsaturated Fat: 2g | Monounsaturated Fat: 0.3g | Sodium: 181mg | Potassium: 30mg | Fiber: 1g | Sugar: 1g | Vitamin A: 43IU | Vitamin C: 2mg | Calcium: 14mg | Iron: 1mg
If you try this recipe for vegan taco cups, let us know what you think by leaving a comment and rating below! Be sure to follow along on Pinterest, Instagram and Facebook for even more vegan recipe inspiration.
More Vegan Mexican Recipes for Your Next Taco Night:
Vegan taco cups photos by Michelle Cehn. Article written with support from Hannah Kaminsky and edited by Amanda Meth. Please note that this recipe for vegan taco cups may contain affiliate links which supports our work at World of Vegan.