This delicious vegan focaccia bread recipe was generously sponsored by our friends at Bono, makers of the delicious extra-virgin olive oil we used to make this bread. We used olives and fresh rosemary, but you can add in any focaccia toppings you'd like! Black pepper, cherry tomatoes, pesto, sun dried tomatoes, basil — the sky is the limit. Enjoy!
I've loved focaccia bread ever since I was a little girl. My mom used to take me to a local bakery that had shelves stocked full of all different varieties of fresh-baked bread. I'd always head straight for the pillowy rosemary-infused focaccia sprinkled with chunky sea salt.
Fast-forward a few decades to today, and now I make my own focaccia bread from scratch at home! It's a surprisingly easy endeavor. Focaccia can be made with just six base ingredients (plus any fun add-ins you desire). It takes a while as you have to let your dough rise (or "prove") for a few hours, but the method is simple. And my-oh-my will it be worth the wait when you smell the aroma of freshly baked focaccia wafting through your home! 
In this recipe, I'm going to share my favorite way to make focaccia. I love making focaccia with olives and fresh rosemary (my personal favorite combo!) but you can absolutely mix it up however you'd like by adding tomatoes, caramelized onions, garlic, red pepper flakes, or any number of other ingredients. I'm including more ideas for you below.
Delicious Vegan Focaccia Toppings
If you love focaccia as much as I do, you'll have lots of fun playing around with different varieties! You can even split the dough in two (or three or four) and make several different varieties in a single baking sesh.
Here are some of my favorite focaccia toppings:
Olives
Rosemary
Cherry Tomatoes
Garlic
Mushrooms
Green Onions
Raw Onions (thinly sliced)
Caramelized Onions
Greens (spinach focaccia and basil focaccia are both really delicious)
Peppers (I'm all for a spicy jalapeno focaccia!)
Vegan Cheese (how about some vegan feta focaccia?)
Black Pepper (like the popular Panera black pepper focaccia)
Holiday-Themed Focaccia Bread Decorating Ideas
You can also have fun decorating! See if you can create some holiday themed designs with your focaccia bread to make:
Halloween focaccia (can you create a ghost or bats with your black olives?)
Easter focaccia (who's ready for the bunny focaccia challenge?)
Valentine's Day focaccia (shape your bread into a heart or create a heart design with your favorite focaccia toppings)
See How This Vegan Focaccia Bread is Made!
Use High-Quality Olive Oil
Focaccia gets much of its delicious flavor from olive oil, so it's important to use a really high-quality extra virgin olive oil in this recipe.
Extra virgin olive oil is made from pure cold-pressed olives. Other types of olive oil are lower-grade, refined, and can even be a blend of other processed oils. If you did an olive oil taste test you'd notice that olive oils that aren't labeled "extra-virgin" are often lacking or completely void of flavor.
I used this organic Sicilian extra virgin olive oil from Bono. Bono is a longstanding company that has been around since 1934 and runs the biggest oil mill in all of Sicily. Their olive oil is aromatic and rich in both color and flavor. If you've never had a high-quality Italian olive oil before, I highly recommend giving this a try!
Shaping Your Focaccia Bread
This recipe makes a dough that can be shaped in a number of different ways.
Want one big uniform rectangular focaccia loaf? You can spread the dough into a large baking dish. I used one like this 7″ x 11″ Pyrex dish) which creates a thick focaccia (pictured above).
Alternately, you can shape the dough however you'd like on a large baking pan. You can make one giant loaf or split the dough into two, three, or four separate parts. Shape it to be round, oval, or oblong to look extra-rustic—the choice is yours!
I whipped up another batch of vegan focaccia today. I separated the dough into two parts and spread them into oblong ovals on an oiled baking pan. They came out looking rustic and beautiful (this is the bread featured in the cover photo of this article)!
Vegan Bread-making, Here We Come!
Breadmaking is one of my favorite types of baking. If you give it a chance, I imagine it will quickly become one of yours too. The steps are simple, and it's really fun seeing what some flour, yeast, and water can do when you help them work their magic.
Making bread can be a test of patience, for sure, and takes some forethought and planning. But as soon as you fill your home with the smell of baked bread, you'll be hooked.
Might I recommend whipping up a batch the next time you want to make some happy memories with friends? After all, scent is the strongest sense tied to memory!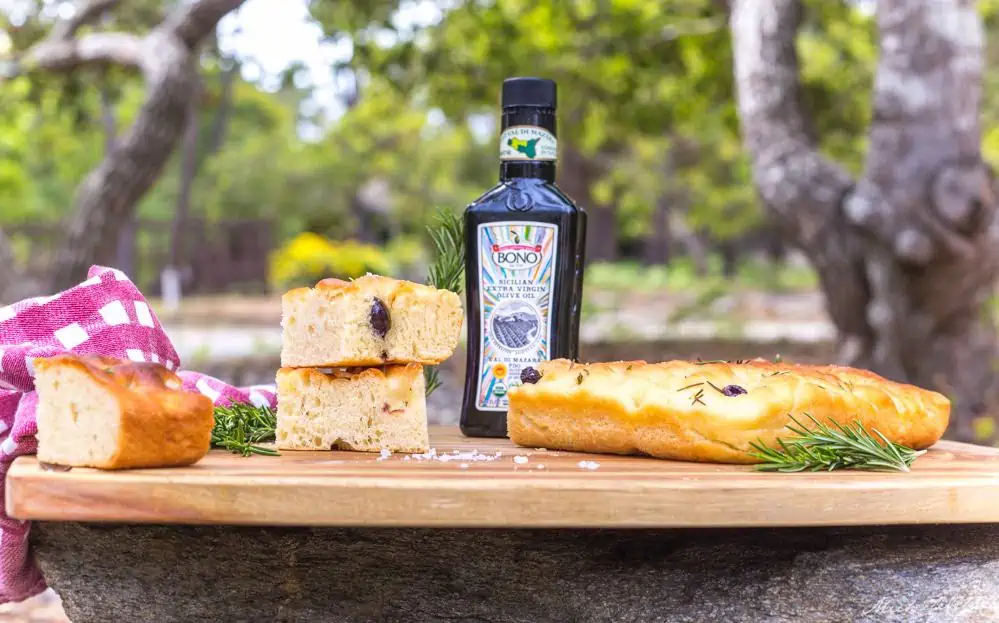 More Vegan Baking Recipes
I've been binge-watching The Great British Bake Off on Netflix with my hubby. Have you seen it? It's addicting. And now I have quite the vegan baking bug.
I've baked more goodies over the past 6 months than I ever have in my life. I now love the process of testing and perfecting recipes. And when they get really good, then I get to share them with you!
Other Deliciously Baked Recipes
If you're new to vegan baking, be sure to check out our plant-based egg substitutes guide! Studying this guide will make it easy for you to veganize all your favorite recipes.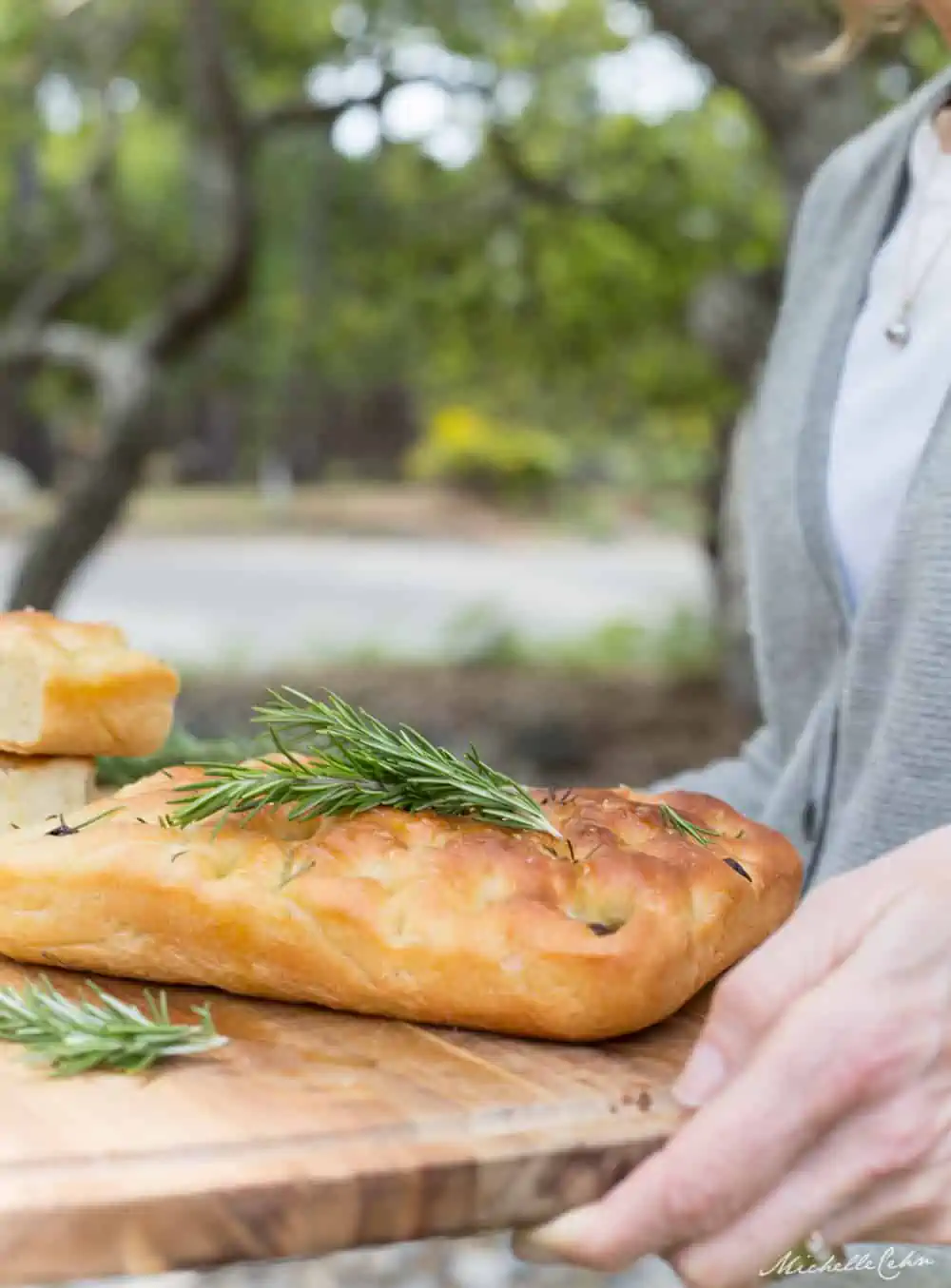 1½ cups warm water
1 teaspoon sugar
1 0.25 ounce packet active dry yeast
4 cups unbleached, white, all-purpose flour
2 teaspoons salt
½ cup extra virgin olive oil
2 tablespoons fresh rosemary, stem removed
1 handful olives
⅓ cup extra-virgin olive oil
⅓ cup water
sprinkle of course ground salt, to taste
additional olive oil for drizzling, optional
Add warm water, sugar, and active dry yeast to a small bowl, stir, and allow to sit for 10 – 15 minutes.

In a large mixing bowl, add the flour, salt, and wet yeast mixture, and mix together until a dough forms.

Flip the dough out onto a lightly floured surface (such as a clean countertop), and knead for 5 – 10 minutes.

Clean out the mixing bowl and coat the bowl lightly with oil. Place the ball of dough into the bowl, flipping to coat with oil. Cover the bowl with a damp cloth and allow to rise in a warm area (such as near the stove) for 1.5 hours, or until the dough doubles in size.

Place the risen dough back onto your lightly floured surface once more and very gently tumble it around to "knock the air out" before shaping the dough and placing it onto an oiled baking pan or baking dish.

You have a few options for shaping your dough. You can spread the entire mass into a 7″ x 11″ baking dish (this will produce a thicker and very uniform rectangular focaccia). For a more rustic hand-formed focaccia, you can spread the dough onto a large baking sheet in one big mass or break it into two, three, or four mini-loaves.

Once shaped on your oiled baking dish or pan, lightly coat the dough with oil, cover with a damp cloth or oiled plastic wrap, and leave to rise for another 30 minutes.

Preheat oven to 425 degrees.

Remove the cloth or plastic wrap from the dough and add your toppings. Press the olives, fresh rosemary sprigs, and anything else you'd like to add deep into the dough. Using your finger, stab the rest of the dough to create the classic focaccia indents that will catch the oil. Push your fingers from the top of the dough straight down all the way through to the bottom. Continue across the entire surface until the full loaf is covered with finger indents spaced about an inch (or less) apart.

In a jar or container with a lid, add the ⅓ cup of olive oil and ⅓ cup of water and shake vigorously until combined. Pour this mixture on top of your dough (it will hang out in the finger indents you just made).

Bake for 20 minutes until very lightly browned on top. Remove, sprinkle with chunky salt, and enjoy!
Calories: 289kcal | Carbohydrates: 32g | Protein: 4g | Fat: 16g | Saturated Fat: 2g | Polyunsaturated Fat: 2g | Monounsaturated Fat: 11g | Sodium: 417mg | Potassium: 49mg | Fiber: 1g | Sugar: 0.5g | Vitamin A: 16IU | Vitamin C: 0.1mg | Calcium: 10mg | Iron: 2mg
Vegan focaccia bread recipe photos by Michelle Cehn. Many thanks to Bono olive oil for generously supporting our work here at World of Vegan! This article may contain affiliate links which support our work at World of Vegan—thank you!