Looking for a delicious vegetarian gravy recipe? Your search for a glorious vegan gravy is now over! Not only is this recipe easy and effortless, but it only requires a few ingredients (which may already be in your kitchen). Whether you love rivers on your roasted root vegetables or just a trickle on your vegan turkey for Thanksgiving, this gravy is seriously SO good.
In just a few minutes, you'll have a savory, sumptuous, full saucepan that will definitely demand seconds (and maybe even thirds)! Knowing that you can enjoy this gravy guilt-free is a relief and a comfort when it comes to the kitchen table. Don't hold back when divvying out this delicious dressing.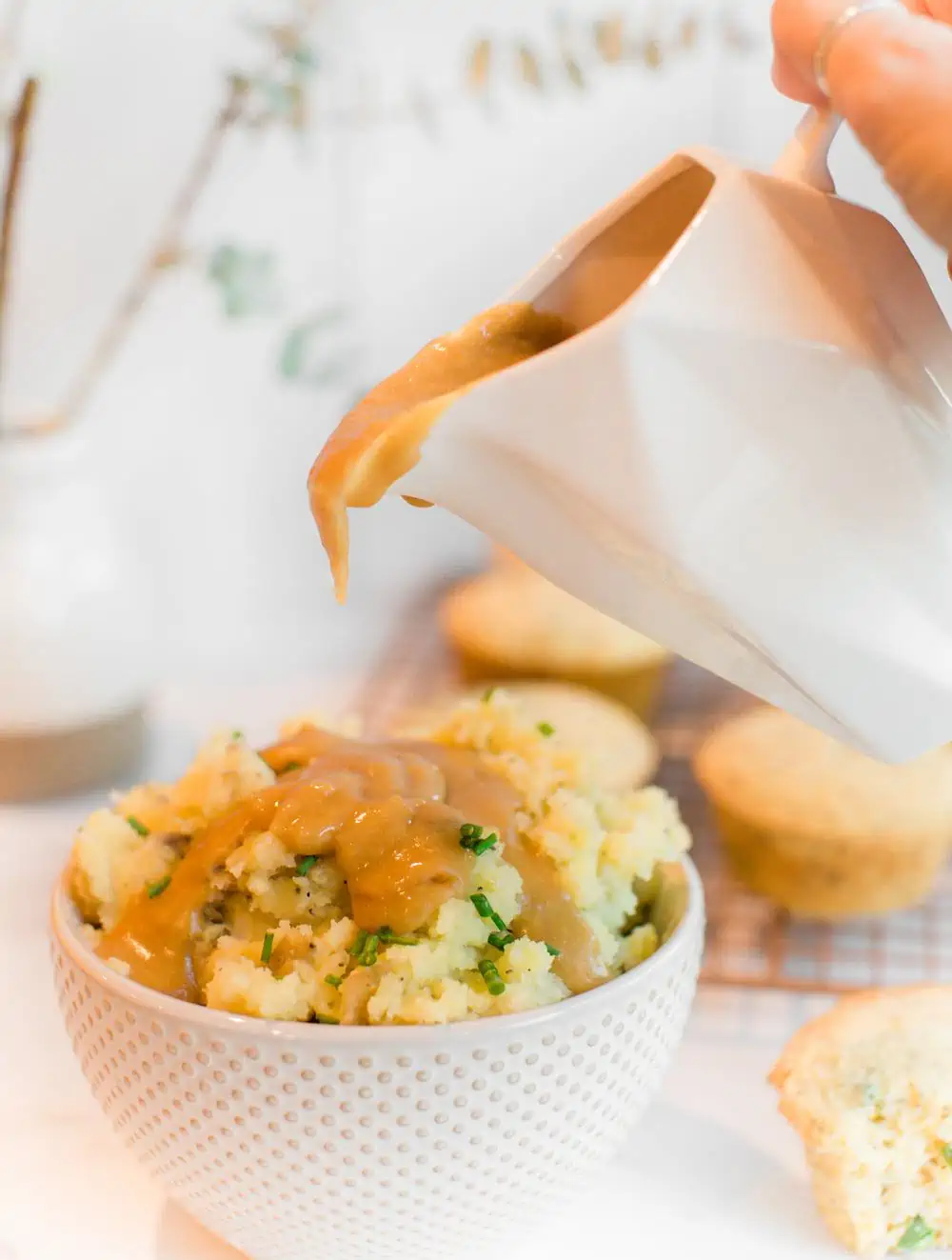 Tasty Tips for Making the Best Vegan Gravy
You can also personalize this recipe any way you like. Here are some ideas for adding some extra sass to your sauce:
Too Smooth? Adding diced onion or garlic to your gravy will give it just the right texture.
Too Salty? Substitute with coconut aminos for half the sodium and a slightly sweeter flavor. You can always use reduced sodium soy sauce and vegetable broth as well.
Prefer a Bit of a Kick? Add ¼ tsp of cayenne pepper or hot sauce to your gravy for a spicy sensation.
Gluten-free? Use brown rice flour instead of all purpose for fool-proof creaminess.
Too Thick? Add more broth until you get your desired consistency. Start with an extra tablespoon and go from there.
Too Thin? Add a teaspoon of flour at a time until your mixture thoroughly thickens up.
How to Serve Up Your Vegan Gravy
Drizzle on Vegan Turkey – This gravy is perfect served atop your vegan turkey roast on Thanksgiving (whether you choose Tofurky, Field Roast, Gardein, or another favorite).
Pour Over Potatoes – Whether they're mashed, roasted, stuffed, or steamed, this gravy makes any potatoes pop with flavor!
Dipping Sauce for Fries – A delightful indulgence that almost mimics poutine. Add a little bit of vegan cheese and it's just about perfect.
Bring on the Biscuits and Gravy – A comforting combination that can be made in moments. Bake or buy your biscuits or bread, add your gorgeous gravy, and heat until warm. Bonus points for stepping it up a notch with some veggie sausage patties!
Vote for Vegan Pot Pie – These pleasant little vegan pot pies are not only super easy to make, but are just the right size for soaking up any extra gravy.
Hungry for Hot Sandwiches – When you've got a fridge full of leftovers, this is the best plan: Grab some bread, slather some vegan gravy on each side and stuff whatever you like in the middle. Heat, serve and satisfy your belly.
How to Store Your Leftover Gravy
Keep any leftover vegan gravy in a covered container in the refrigerator for up to a week or in the freezer for 3 months. When ready to use, either microwave in a covered container for a minute or two, or place in a saucepan and heat over medium low until desired temperature.
You can even scoop out a spoonful at a time and add to your dish before heating. The mixture will most likely be a bit thick before heating, but will thin out as it warms. If it's still not thin enough for you, add some extra vegetable broth (or water) a little at a time until desired consistency.
More Super Savory Sides to Try:
½ cup flour
¼ cup nutritional yeast
1 tablespoon garlic powder
3 tablespoons soy sauce
2 cups vegetable broth
salt and pepper to taste
In a saucepan on high heat, whisk the flour and nutritional yeast together.

Whisk in the soy sauce and garlic powder and continue until smooth.

Slowly pour in the broth. Whisk constantly until smooth.

Reduce the heat and simmer for 3-5 minutes.

Season with salt and pepper to taste.
This gravy will thicken even more as it cools. To create a thinner gravy, add more vegetable broth a little at a time, whisking over heat until combined. If your gravy isn't perfectly smooth at the end, use an immersion blender to puree and smooth the gravy. Serving a big crowd? Double the recipe! Leftovers can be stored in an airtight container in the fridge.
Calories: 70kcal | Carbohydrates: 13g | Protein: 4g | Fat: 0.2g | Saturated Fat: 0.03g | Polyunsaturated Fat: 0.1g | Monounsaturated Fat: 0.01g | Sodium: 980mg | Potassium: 99mg | Fiber: 1g | Sugar: 1g | Vitamin A: 200IU | Vitamin C: 0.02mg | Calcium: 5mg | Iron: 1mg
We want to thank our amazing recipe testers J.J. Steele and Ramona Pedricks for helping us perfect this vegan Thanksgiving recipe!
Quick and Easy Vegan Gravy recipe by Stephanie Dreyer, article by Gina House, copyediting by Amanda Meth, and photos by Michelle Cehn. Copyright of World of Vegan™, all rights reserved. Please note that this article may contain affiliate links that support our work at World of Vegan.