This vegan dragonfruit cocktail recipe was kindly sponsored by the sustainable vodka brand Koskenkorva.
Maybe you've seen the infamous "pink drink" popularized by Starbucks, but this rosy refresher has the edge on the competition. Gorgeous pink pitaya creates this show-stopping dragonfruit cocktail, spiked with a splash of vodka for a more sophisticated sipper. Even if you don't know the first thing about mixology, you can become your own bartender without needing any recipe. That's right; the basic recipe is so simple that you can skip fussy measurements altogether! Go by taste to make the most harmonious blend, tailor-made to your personal preferences.
This gorgeous drink would be an absolute treat for guests, especially since you can double or triple the amounts to make it in big batches. Serve it to ring in the new year or celebrate Valentine's Day with that special someone. You can also make a non-alcoholic version by simply adding muddled dragonfruit to your favorite fizzy drink, such as plain seltzer or sparkling water. Kids will love getting to raise a glass with you, too!
Why You'll Love This Pretty Pink Cocktail
Can you say, "instant gratification"? Just add a tablespoon of muddled pink dragonfruit (fresh or frozen and thawed) to a vodka soda with a squeeze of lime and ice and decorate with your favorite garnishes.
Va-va-voom! We eat with our eyes first, and the gorgeous hot pink in this drink will attract everyone at the party. You just can't resist it!
Zero cleanup afterward. You can muddle the fruit and mix it up right in the glass you drink it from!
Light and refreshing. Skip the sugary syrups and drink deep for a brighter, more refreshing treat. This one will always hit the spot, especially if you don't want anything too sweet.
Low in calories. Stick to your diet plan without sacrificing great taste. Compared with other types of alcohol, vodka contains relatively few calories and no carbs.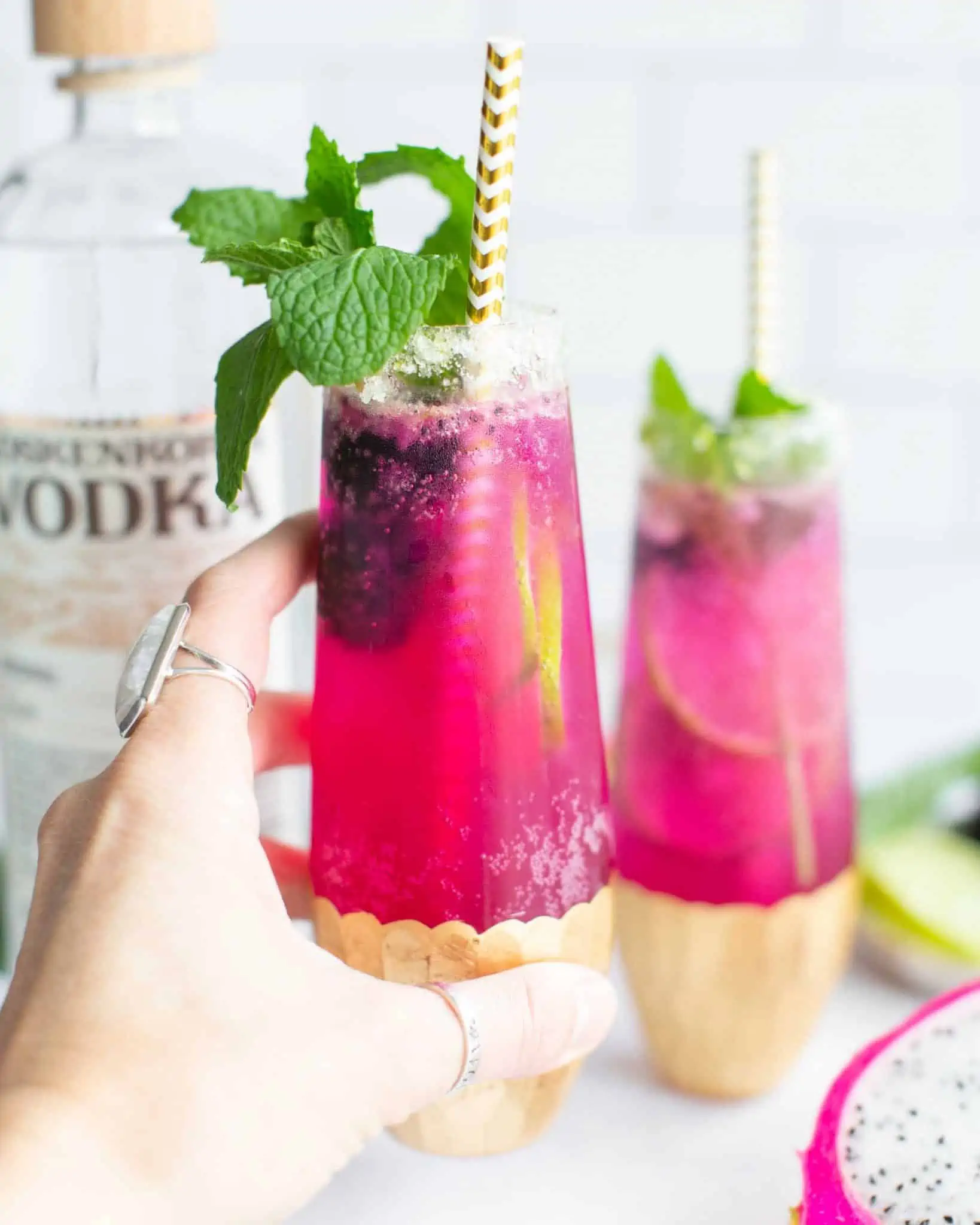 Key Ingredients in a Dragonfruit Cocktail
Dragonfruit (aka Pitaya):
Either fresh or frozen works beautifully here, but frozen has the advantage of much less prep work and better long-term storage. You can find it frozen in cubes or packets of puree at most health food stores with the other frozen fruits. It's also becoming more widely available at mainstream grocery stores! You'll just muddle a chunk of hot pink pitaya into your drink for an instant rosy hue.
Vodka:
I used Koskenkorva vodka — I love this brand because they have a sustainability-focused distillery. They're dedicated to regenerative farming, reusing as much as possible, recycling, and fighting climate change, which is quite unique in the alcohol business!
Lime Juice:
Brighten up your beverage with some zesty citrus! Lemon or even orange juice would also be welcome additions for a change of pace. Fresh is always best, but in a pinch, you can use bottled or freeze-dried instant lime juice for an even easier fix.
Seltzer, Soda, or Sparkling Water:
Anything you prefer to give your drink a fizzy finish! Just keep in mind the muddled dragonfruit doesn't impart any noticeable flavor or sweetness, so a flavorful soda or seltzer will really carry this drink into the "fun-to-drink" sweet cocktail zone. Any bubbly drink that's clear in color will work with this recipe!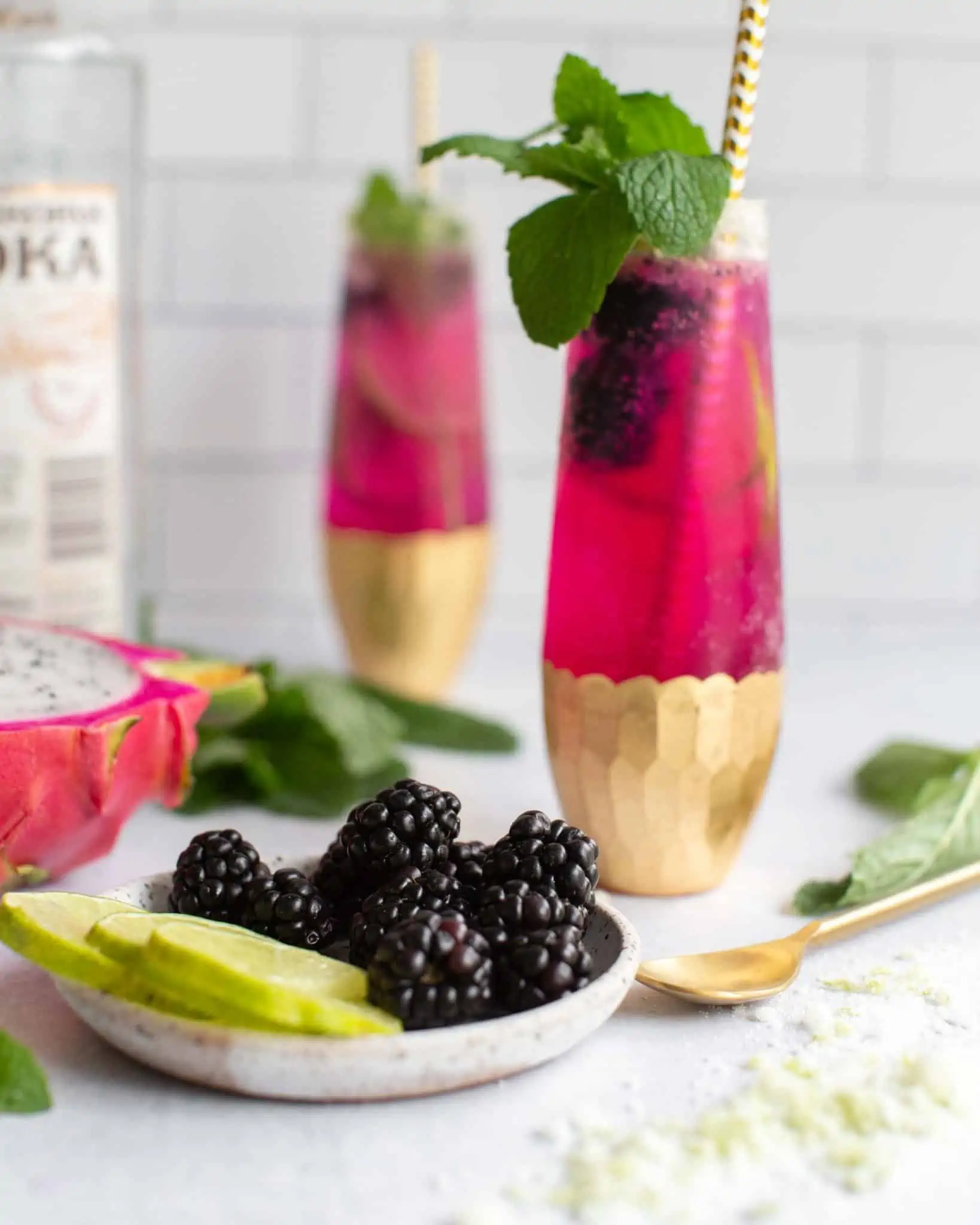 Optional Vegan Cocktail Garnishes:
You can play around with fun garnishes like a mix of sugar and lime zest on the rim of the glass, lime slices, fresh blackberries, a sprig of mint, or anything else you love or have on hand. You can alway double-up on the pitaya powder with cubes of the fresh fruit as well. Think of it like a tropical sangria if you want to make it super fruity.
If you make a bigger batch for a crowd, you can serve it in a giant punch bowl for everyone to ladle out as much as they want themselves. Leave out small dishes of these optional additions for everyone to mix and match as they chose. This approach also means you can get out on the dance floor to enjoy your own party, rather than being stuck in the kitchen playing bartender all night.
Make It A Mocktail
Keepin' it booze-free? No worries! This drink will be equally satisfying made virgin. Just leave out the vodka and you're golden! This drink will have Shirley Temple soda vibes, but for the modern era. You can even just muddle some dragonfruit into your favorite sparkling water for some fun pink pizzaz. Without alcohol, this drink is kid-friendly too!
What to Serve with Your Dragonfruit Cocktail
Just like the art of wine pairing, choosing the right dishes to serve with your drinks can really elevate the whole experience. Depending on whether you want something sweet or savory, there are plenty of complimentary options to consider.
What is Dragonfruit?
Also known as pitaya, dragonfruit is a tropical fruit of several different cactus species, indigenous to the Americas. It has a striking appearance, most commonly with bright pink or yellow skin and white flesh that has dark black seeds, although pink flesh is most popular, given its vibrant hue. The flavor is lightly sweet and very subtle; more refreshing than anything else, which makes it perfect to enjoy thoroughly chilled on a hot day.
Dragonfruit is an excellent healthy snack for the wide variety of nutritional benefits it has to offer. In addition to being wonderfully hydrating, it's also high in fiber which adds to satiety and aids in weight loss or maintenance. Each serving also has many vitamins and minerals, including:
Carotenoids (may reduce cancer risk)
Lycopene (may improve heart health and reduce cancer risk)
Magnesium (important for cell function)
Iron (important for healthy blood and energy)
Vitamin C (helps your body absorb the iron and boosts immune system health)
How to Cut Fresh Dragonfruit
If you've never broken down a fresh dragonfruit before, they can look rather daunting at a glance. Luckily, they're a snap to break down once you know the trick for easy, clean cuts.
Place the fruit on a cutting board and lay the dragon fruit on its side.
Use a sharp knife to cut the fruit in half lengthwise, starting from the top of the fruit down to the stem.
Use a large spoon to scoop out the flesh like you would for an avocado. Alternatively, use your fingers to peel away the skin.
Cut the flesh into slices or cubes, as desired. Don't worry about all the little seeds; they're completely edible and add a nice crunch!
Store leftovers in an airtight container in the fridge for up to three days. Keep in the freezer if you'd like to keep extra dragonfruit on hand at all times.
Equipment You'll Need
Highball glasses (or any cocktail glass will work)
Cocktail muddler (or mortar and pestle)
Jigger or shot glass (or just eyeball your splash of vodka)
1 tablespoon muddled pink dragonfruit, fresh or frozen and thawed
Ice, to taste
1 shot vodka, or more to taste (I used Koskenkorva)
Fill glass with your favorite clear sparkling soda
1 squeeze lime juice
Lime slices, for garnish (optional)
Fresh blackberries, for garnish (optional)
Sprig of mint, for garnish (optional)
In a small bowl, mortar and pestle, or directly in your cocktail glass, muddle approximately 1 tablespoon of frozen or fresh pink dragonfruit. If you muddled in a separate bowl, add the mashed dragonfruit to your cocktail glass.

Add ice, vodka, soda, a squeeze of fresh lime, and mix with a drink stirrer.

Garnish with fresh blackberries, lime slices, and a sprig of mint.
There are two main varieties of dragonfruit—one has pink flesh and the other has white flesh—but both have the same pink exterior. You will need the kind with the pink flesh inside to make this cocktail. In the photos, you'll see I made a sugar rim, which you're also welcome to do! I simply dipped the rim of the glass in water and then dipped it into some granulated sugar.
Calories: 111kcal | Carbohydrates: 1g | Fat: 0.2g | Sodium: 9mg | Potassium: 2mg | Fiber: 0.1g | Sugar: 1g | Vitamin A: 1IU | Vitamin C: 0.3mg | Calcium: 0.1mg | Iron: 0.2mg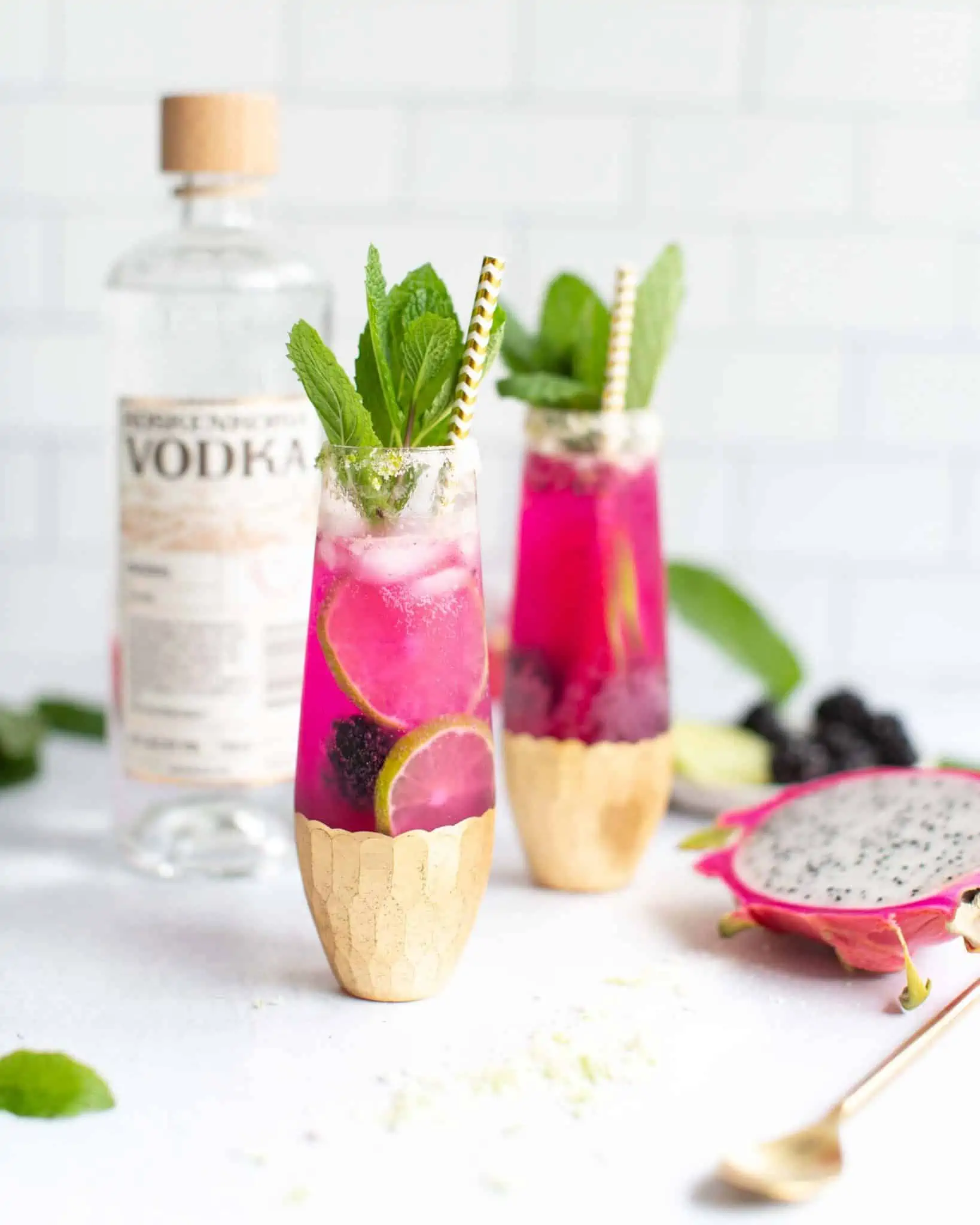 More Vegan Drinks You'll Want to Fill Your Glass With
Be sure to check out our vegan alcohol guide and vegan vodka guide to see the boozy options available that won't compromise your ethics!
More Refreshing Fruit Recipes You'll Love
This gorgeous pink vegan drink recipe was developed and photographed by Michelle Cehn for World of Vegan, all rights reserved. Please note that this post was sponsored by Marussia Beverages / Koskenkorva Vodka. Please drink responsibly! This article may include affiliate links when available which supports our work at World of Vegan.