It's time to move beyond the turkey and ham, to kinder, healthier, and even more delicious plant-based roasts! Whether you're trying to warm up during the colder months of winter, looking to enjoy a delightful plant-based Sunday dinner, or are preparing a holiday dinner for Thanksgiving, Christmas, or Easter, these vegetarian roast recipes will be the star of your table.
If you've gotten into a dinner rut or are looking to make your weekly Sunday dinners more exciting, our answer is to cook more vegan roasts! You'll love how great your kitchen smells as the various herbs and spices waft through the air, instilling feelings of comfort and coziness.
There's also nothing quite like enjoying a perfectly tender bite of Sunday roast as a new week is about to begin. So grab your favorite bakeware, break out those aromatics, and let's get to work!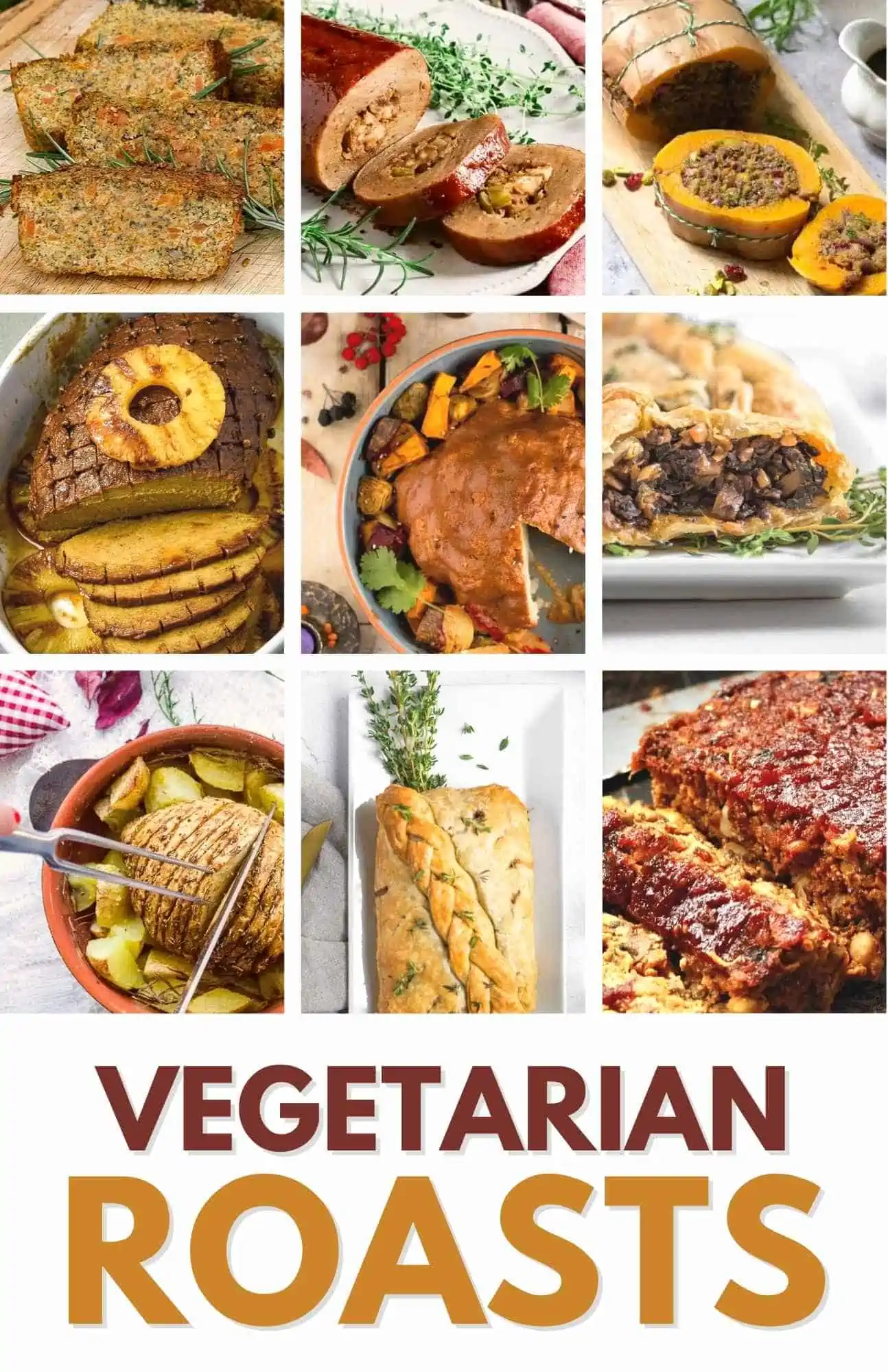 Make Your Own Vegetarian Holiday Roast
Below you'll find a round-up of the very best vegan roast recipes from around the web. All of the following recipes are:
vegan
vegetarian
plant-based
dairy-free
cholesterol-free
meat-free
We also included options that are soy-free, gluten-free, and nut-free for allergen-friendly roasts.
Plant-Based Roast Base Ingredients
So…if they're not made with meat, what are vegan roasts made of? Meatless roasts are made from wholesome ingredients like:
Plus a flavorful array of spices and herbs! Take a peek at the recipes to see how whole foods can magically transform into your new favorite vegan dinner.
Best Vegan & Vegetarian Roast Recipes
A beautiful and delicious recipe by Audrey Dunham, this vegan mushroom Wellington is savory, flaky, and completely worth the effort. It's actually surprisingly easy! It's made with vegan puff pastry (which you can easily fond from brands like Pepperidge Farm) and decorated with a gorgeous braid. This is any mushroom lover's dream roast.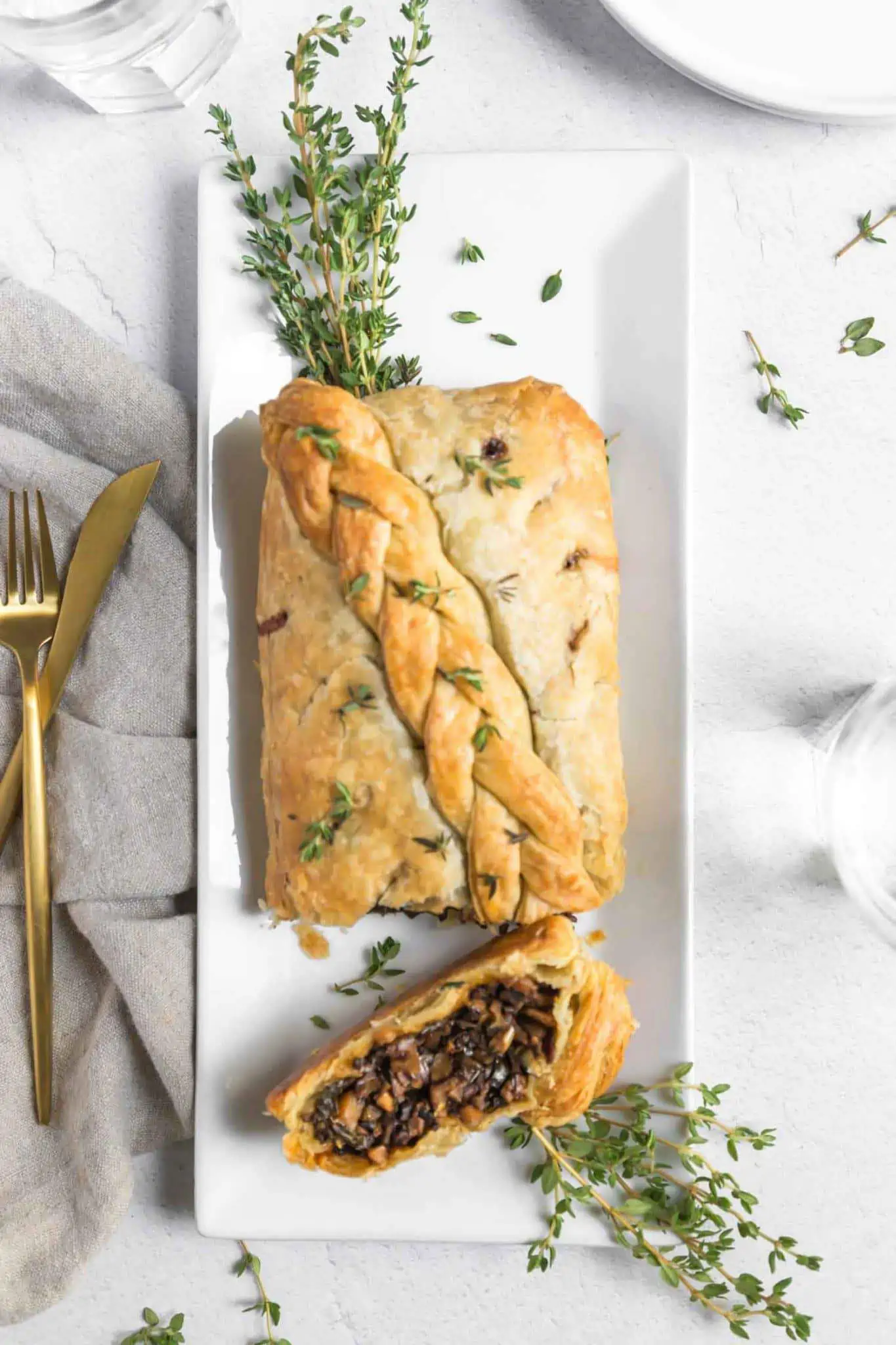 A delicious vegan turkey for Thanksgiving, this recipe will have you feeling like it's the holidays all the time! Made using simple ingredients such as tofu and vital wheat gluten, this recipe is actually quite easy to put together. But it is recommended that you prepare the seitan a day in advance if possible for optimal texture and flavor.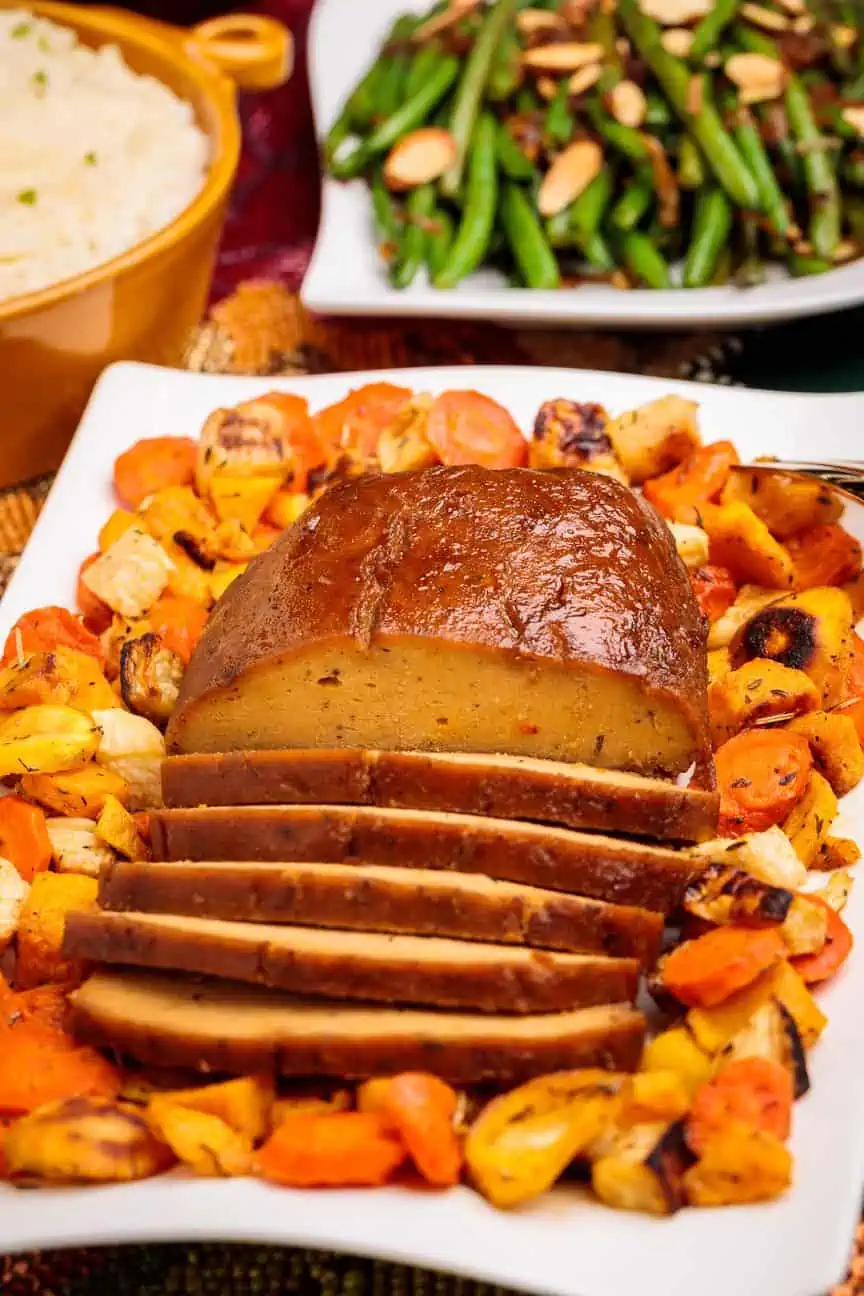 If you're dining with meatloaf lovers, this is a must! It's a health-ified version of a classic meatloaf made with lentils, walnuts, and mushrooms. Crazy? It may sound nuts (and it is, literally, made with nuts!) but this popular recipe has stood the test of time. Dozens of iterations of this veggie meatloaf have spread across the internet, but this is our all-time fave by Desiree Neilsen.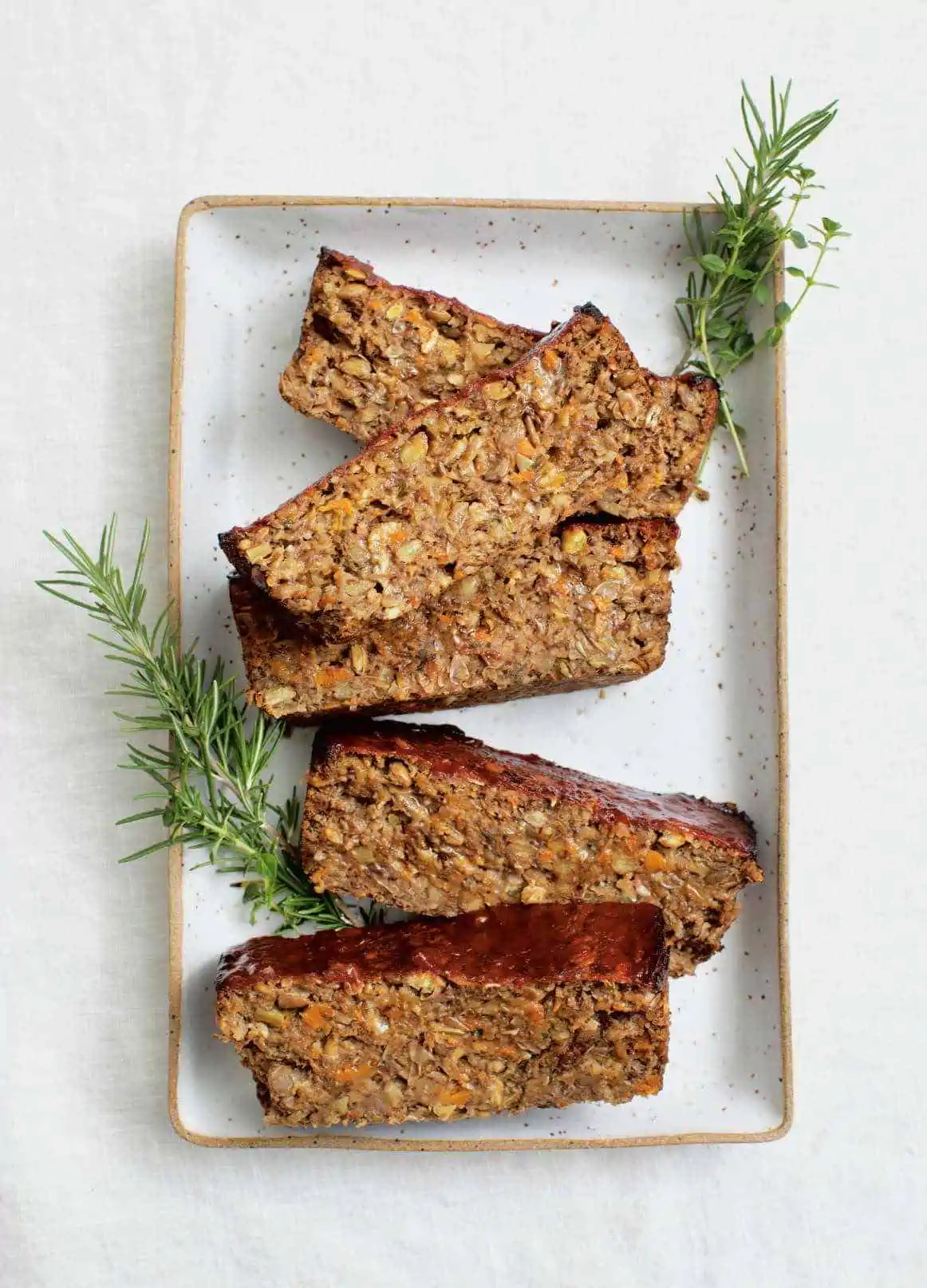 This amazing meatless roast by Vegan Huggs is both beautiful and delicious and will make a beautiful centerpiece to any meal! Using a seitan base and stuffed with a delicious sourdough bread stuffing, this recipe is actually relatively easy to put together. You just need to wait patiently for a few hours as it finishes up in the oven.
Great for those who are gluten-free or just love seeds and veggies! This loaf by Kind Earth is one of the easiest vegetarian roasts you could ever make, Once the carrots are boiled and the seeds are ground, it only takes a few minutes to combine everything together. Stick it in the oven for about 45 minutes, and you're golden!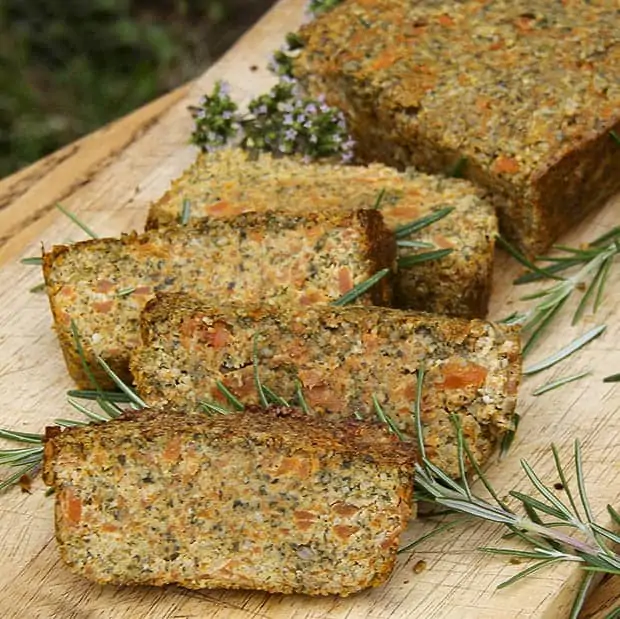 This super flavorful vegan ham recipe by Shane & Simple is a must-try for you if you like your vegan roasts with a tinge of sweetness. With only 15 minutes of prep time and 75 minutes cook time in the Instant Pot, you'll love how quickly this amazing dish comes to life!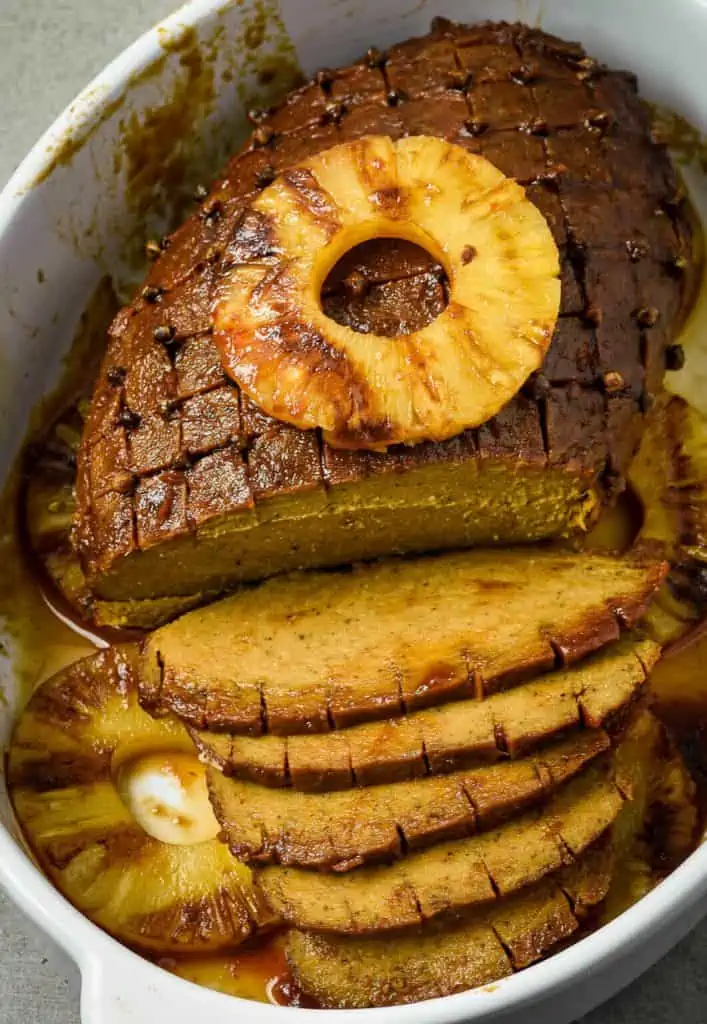 Gluten-free, vegan, and full of fall flavor! This butternut squash roast by The Veg Space is a perfect vegetarian roast recipe for anyone who's sensitive to gluten or just prefers more veggies in their life. Stuffed with a lentil filling, this squash roast has everything you need for a completely filling and tasty meal.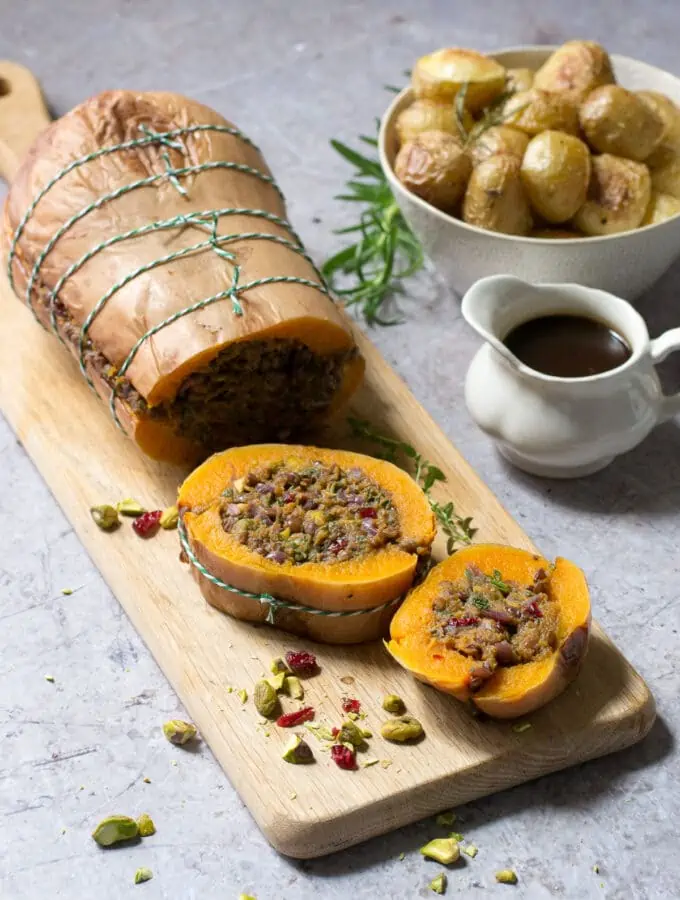 Made with a combination of cashews, breadcrumbs, herbs, and spices, this yummy nut loaf from Vegan Punks is perfect for those who love the combination of crunchy nuts with salty breadcrumbs. Drizzle on some gravy and you'll be all set for a Sunday roast dinner.
Made from the mighty celeriac vegetable, this oil-free and gluten-free dish from Seven Roses is one of the most simple vegetable roasts you could ever make. Add as many fixings as you'd like to round out this nutritious and budget-friendly meal!
Nut-free, gluten-free, soy-free and totally meatless, this vegan lentil loaf from Strength & Sunshine is made with the power of lentils and cauliflower. Covered in a red ketchup sauce, this nostalgia-inducing recipe only takes about 45 minutes to make and is filled with veggies and loaded with protein.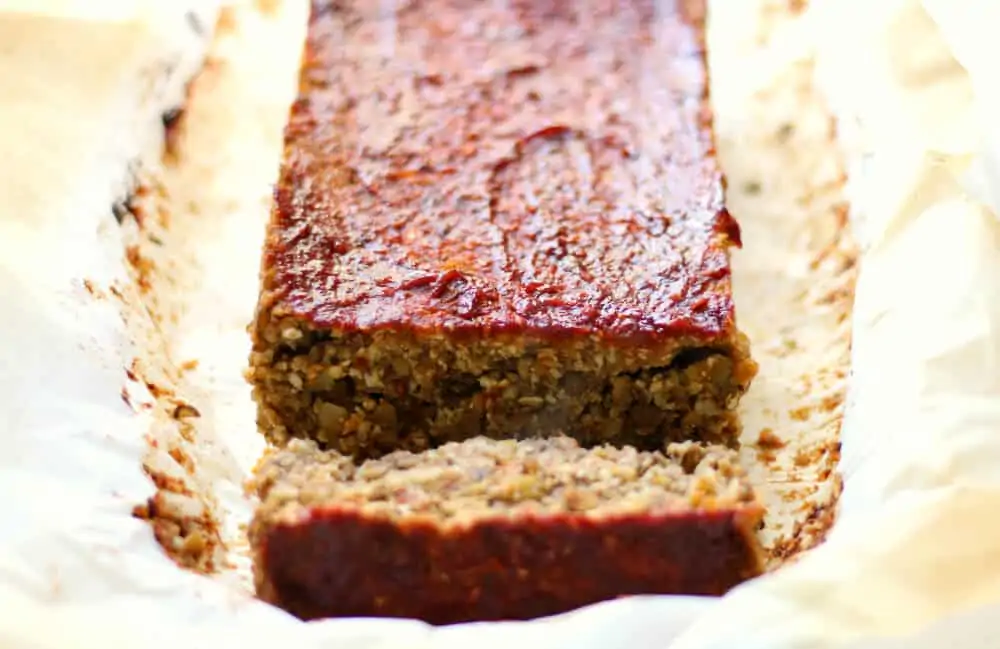 Mushroom lovers, rejoice! This tasty vegetarian loaf recipe from Sunnyside Hanne calls for mushrooms, carrots, chickpeas, and more before being finished off with a deliciously tangy Asian glaze. Great alongside potatoes and broccoli or some rice and smashed cucumbers!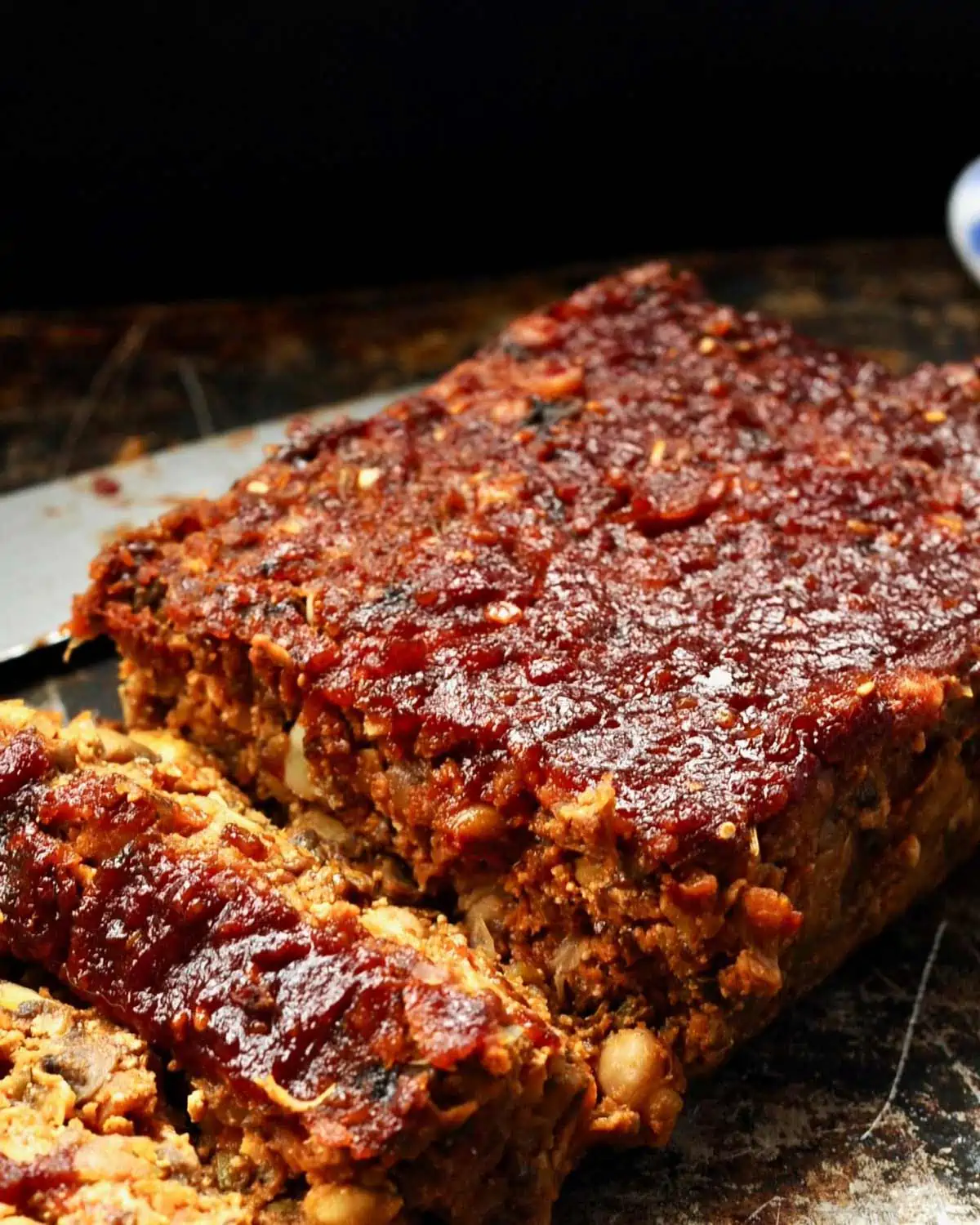 What's round and comes out of the ground but also tastes great on a plate? This delicious whole roasted cauliflower from Nutriplanet! It's perfect for anyone who wants to keep their Sunday roast super simple. Gluten-free, soy-free, and totally tasty!
This delicious vegan loaf recipe from My Plantiful Cooking makes a hearty holiday dinner or tasty meat-free treat throughout the week. With ingredients such as vital wheat gluten, kidney beans, and liquid smoke, this vegan roast beef comes together in just over an hour. It will keep 3-4 days in the fridge or up to 3 months in the freezer.
From Plant Based RD comes a ridiculously easy gluten-free roast recipe. You'll never believe it uses tofu as the main ingredient! All you need to do is make sure it's pressed and marinate it overnight before popping it in the oven the next day!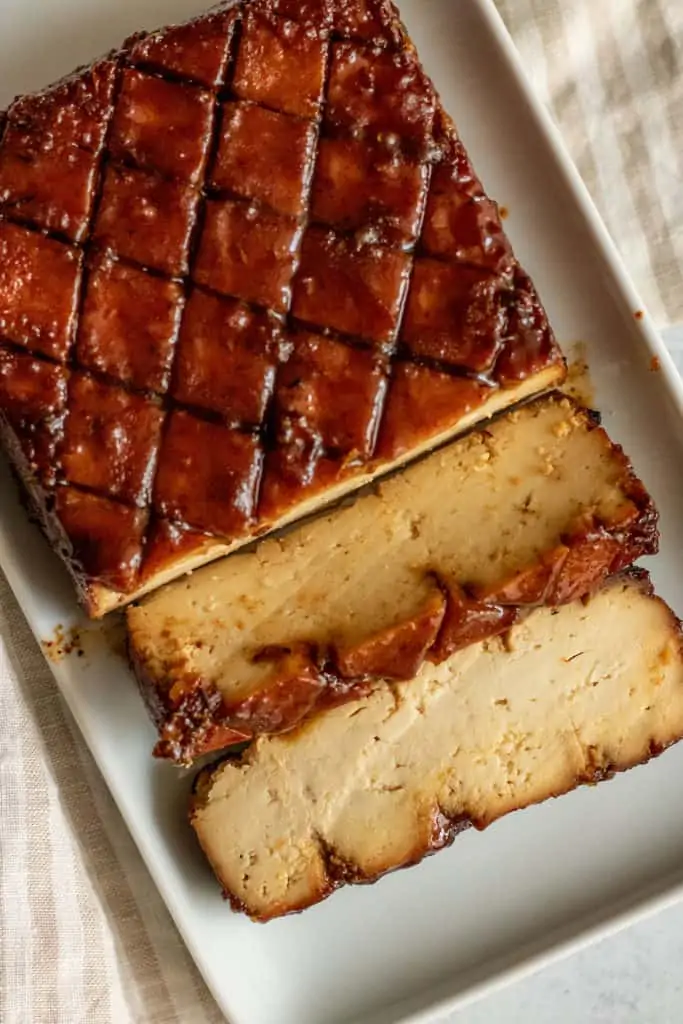 Spicy, savory, and oh-so-satisfying. This tantalizing tempeh chili roast from Vegan Richa is one for the books. Made with South Indian spices such as cardamon, turmeric, and black pepper, this tempeh roast is naturally gluten-free and brimming with flavor.
Savory, comforting, and full of plant-based protein. This tempeh pot roast by From My Bowl is the answer to your easy meal dreams. With only about 15 minutes of prep time, most of the work is done in the slow cooker with this vegan roast recipe!
What to Do With Your Leftover Vegetarian Roast?
If you've got leftovers, you've got tot try this epic air fryer sandwich make with veggie roast leftovers. We designed this recipe as a creative way to use Thanksgiving turkey leftovers. But you can apply it to all types of vegetarian roasts! It's simply divine.
Don't Want to Cook Your Own Vegetarian Roast? Try These Store-Bought Options!
Whether you're short on thyme or time, there are many options for delicious vegetarian roast dinners available both online and at the supermarket. From Field Roast to Tofurky, here are some of the most popular meatless roasts out there:
Check out our vegan turkey guide for even more options. If you're having a large gathering, why not have a taste test with as many vegan roasts as you can? That way you'll get a beautiful array of different textures, colors, and flavors! And once your vegetarian roast dinner is done, serve it alongside some delicious mashed potatoes, roasted asparagus, or other desired vegan sides.
This vegan and vegetarian roast recipes round-up was written by Amanda Meth. Photos and recipes featured are either from WorldofVegan.com or from the various vegan food blogs credited and linked.