Lucky for us, there are at least fifteen plant-based bagels up for grabs and ready for gobbling up. Even though only traditional cream cheese is on the table, let's not give up hope. Einstein Bagels has several satisfactory spreads and sauces to supplement your mini meal and even a dessert or two to devour.
If you've got your heart set on having breakfast around-and-about, you don't have to miss out. Aside from the missing dairy-free alternatives (bring-your-own vegan cream cheese!), it's a pretty good choice for the hole family. Bring on the bagels!
Before the bagel selection boggles your brain, here's an idea of what to expect on the menu. If you're feeling overwhelmed with choices and disappointed that there's no vegan cream cheese, it'll be easier to scroll through this guide and get a good sense of what there is to offer first. Here's what we suggest:
Buy a Bagel – Choose a vegan-friendly bagel to fill your belly.
Select a Spread – Decide on a spread, either fruity, nutty, or savory.
Think About a Topping – Add on extras, such as greens, veggies, or capers.
Settle On a Side – Round it off with a bag of chips, fruit cup, or cinnamon twists.
What Can Vegans Eat at Einstein Bros Bagels?
Although their online and in-person menu is rated with these symbols, we've heard that they're often very unreliable. If you are going to place an order, double check this article and their nutrition and allergen guide to make sure it's vegan or dairy-free. Frustrating, but sadly necessary.
DF- dairy free
GF – gluten free
VG – vegan
V -vegetarian
Vegan-Friendly Bagel Sandwich & Meal Options
If you're looking for something a bit more substantial in terms of sustenance, try one of these suggestions. You'll get a healthy dose of plant-based fiber, fat, and protein.
Avocado Toast
Avocado Veg-Out Sandwich (order without Garden Veggie Schmear)
Vegetarian Chili
Best Vegan Bagel Options
We're kind of blown away by how many bagels are on this list. It's nice to know that there are a number of flavors to choose from when you're feeling famished and far from full. Time to pick your favorite!
Classic Bagels
Cinnamon Raisin
Cranberry
Everything
Garlic
Onion
Plain
Poppy Seed
Pumpernickel
Sesame
Signature Bagels
Blueberry
Chocolate Chip
French Toast
Pretzel
Note: The chocolate Chip and French Toast do not contain dairy—delightful!
Gourmet Bagels
ThinTastic Bagels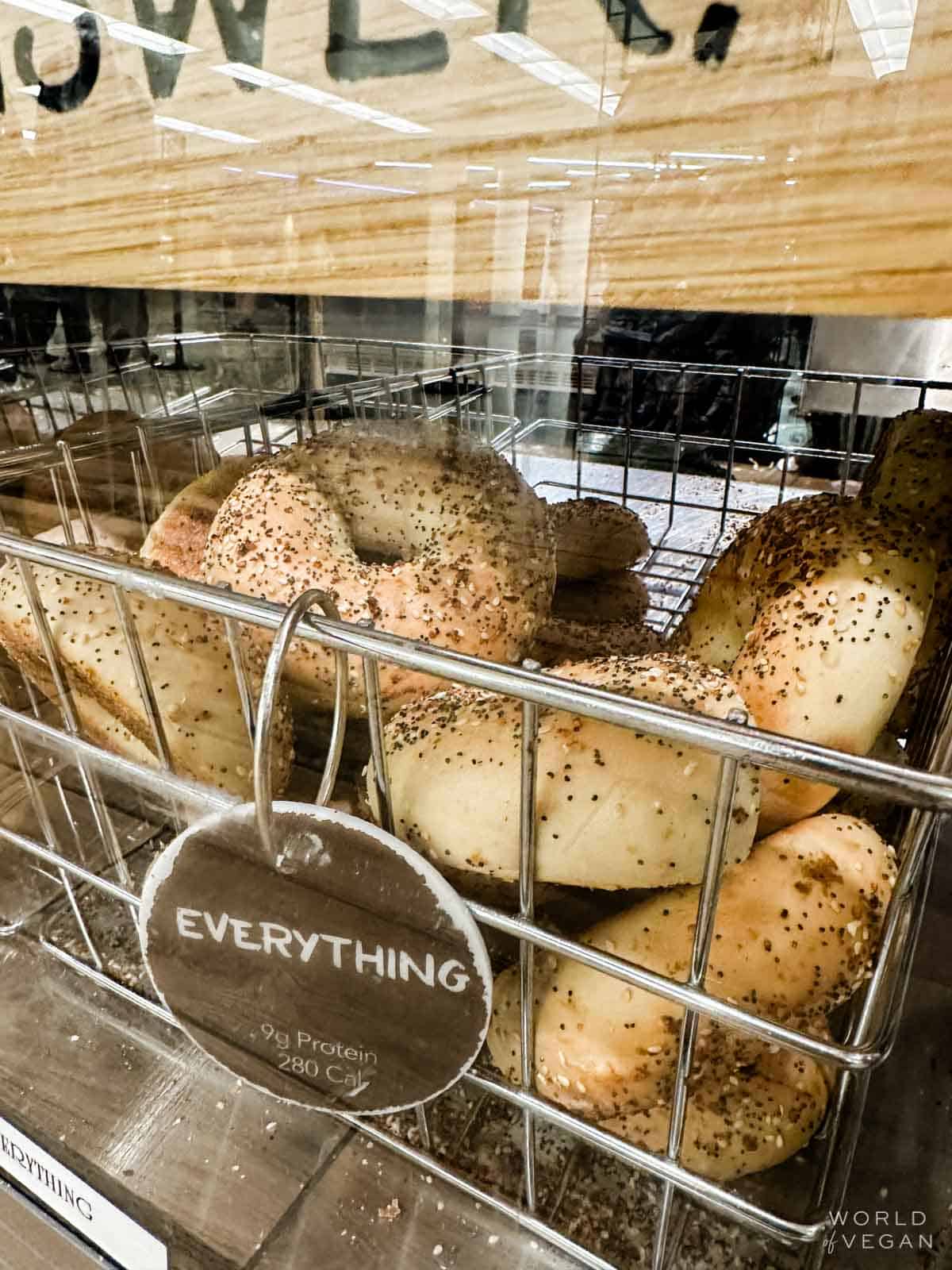 Vegan Spreads and Sauces
We're still waiting for Einstein Bagels to bring back its vegan cream cheese but, in the meantime, here's a list of scrumptious sauces and spreads to slather onto your bread. It's nice selection of sweet, spicy, and savory.
Chipotle Salsa
Hummus
Peanut Butter
Peanut Butter and Jam
Salsa Verde
Spicy Brown Deli Mustard
Strawberry Jam
Vegan Toppings
Viva las Veggies! It wouldn't be uncommon to add all of these veggies to a serving of bagels or bread. Come on, don't be shy. Go for more greens!
Arugula
Avocado
Capers
Cucumber
Lettuce
Pickles
Red Onion
Spinach
Tomato
Are Einstein Bagels Specialty Breads Vegan?
While the tortillas and ciabatta rolls are not always available at all locations, the potato roll is a menu mainstay and is vegan-friendly. You could fill one up with hummus, avocado, veggies, peanut butter, strawberry jam, or a mixture of all of them (if you're really wild and wacky).
Vegan Snacks and Desserts
Hooray for us! Einstein Bagels offers three tasty dessert options for those of us with a sweet (or salty) tooth. You can choose from healthy or not-so-healthy. It's totally up to you.
Cinnamon Twists
Cinnamon Twist Poppers
Fresh Fruit Cup
Kettle Chips (Sea Salt)
Beverages
Coffee
Cold Brew Coffee
Hot Tea
Iced Tea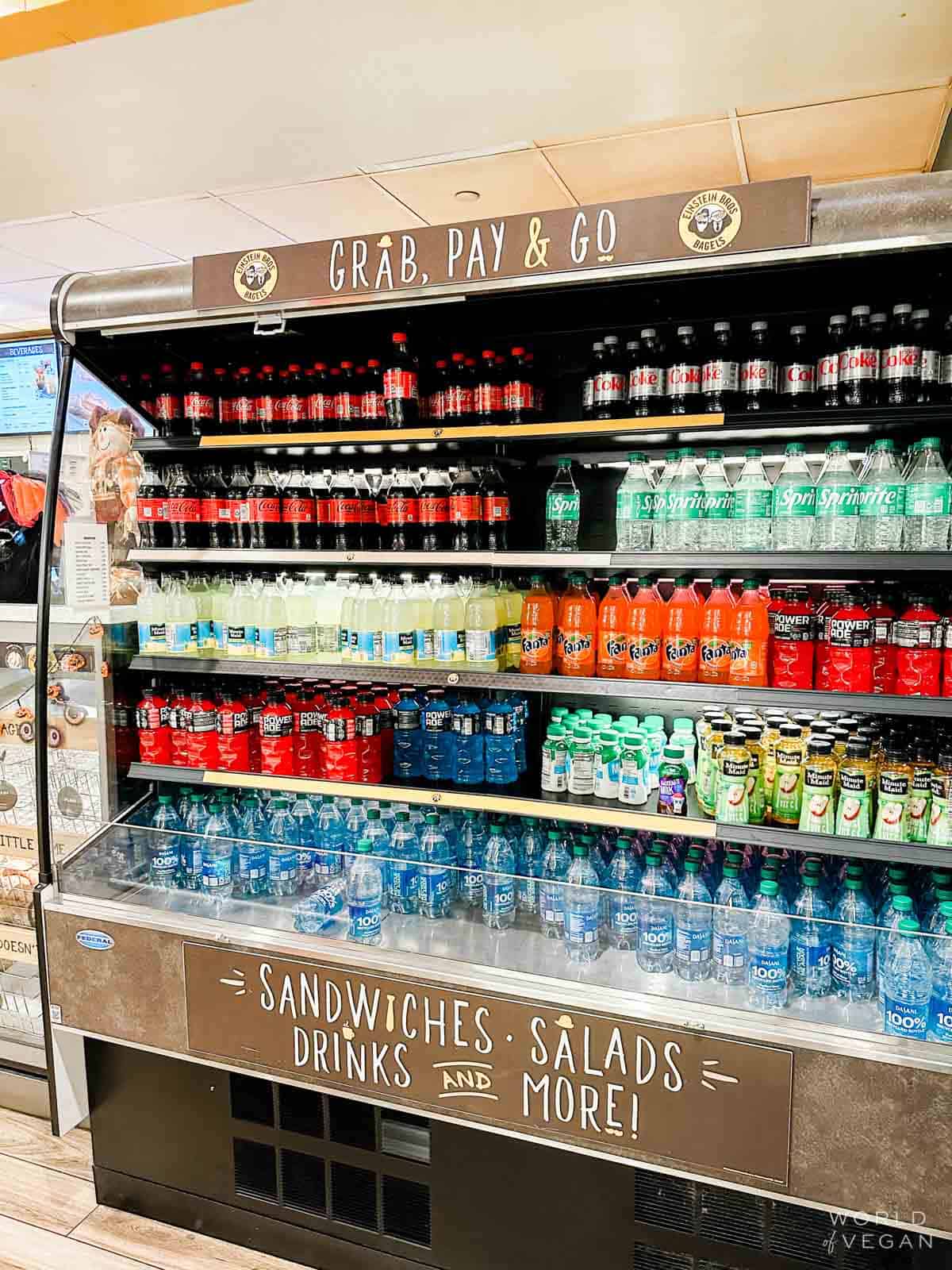 NOT Vegan At Einstein Bagels
All of these items below might sound vegan-friendly, but they all contain dairy. Dash it all!
Cinnamon Sugar Bagel
Garden Veggie Schmear ("veggie" as in there are hints of veggies in the dairy-based cheese)
Roasted Tomato Spread (also contains eggs)
Sauteed Mushrooms
Twice Baked Hash Browns
All Sweets and Party Bagels
Blended Shakes and Smoothies
These items contain honey, which is also not vegan.
Ancient Grain Bagel
Power Protein Gourmet Bagel
Are Bagels Vegan?
Happily, we can state that most (but not all) bagels are inherently or accidentally vegan. Like many breads, they are created with a basis of flour, yeast, salt, and, sometimes, sweetener. Added ingredients like dairy (milk or cheese) or eggs are usually used to add a particular flavor or lighter texture.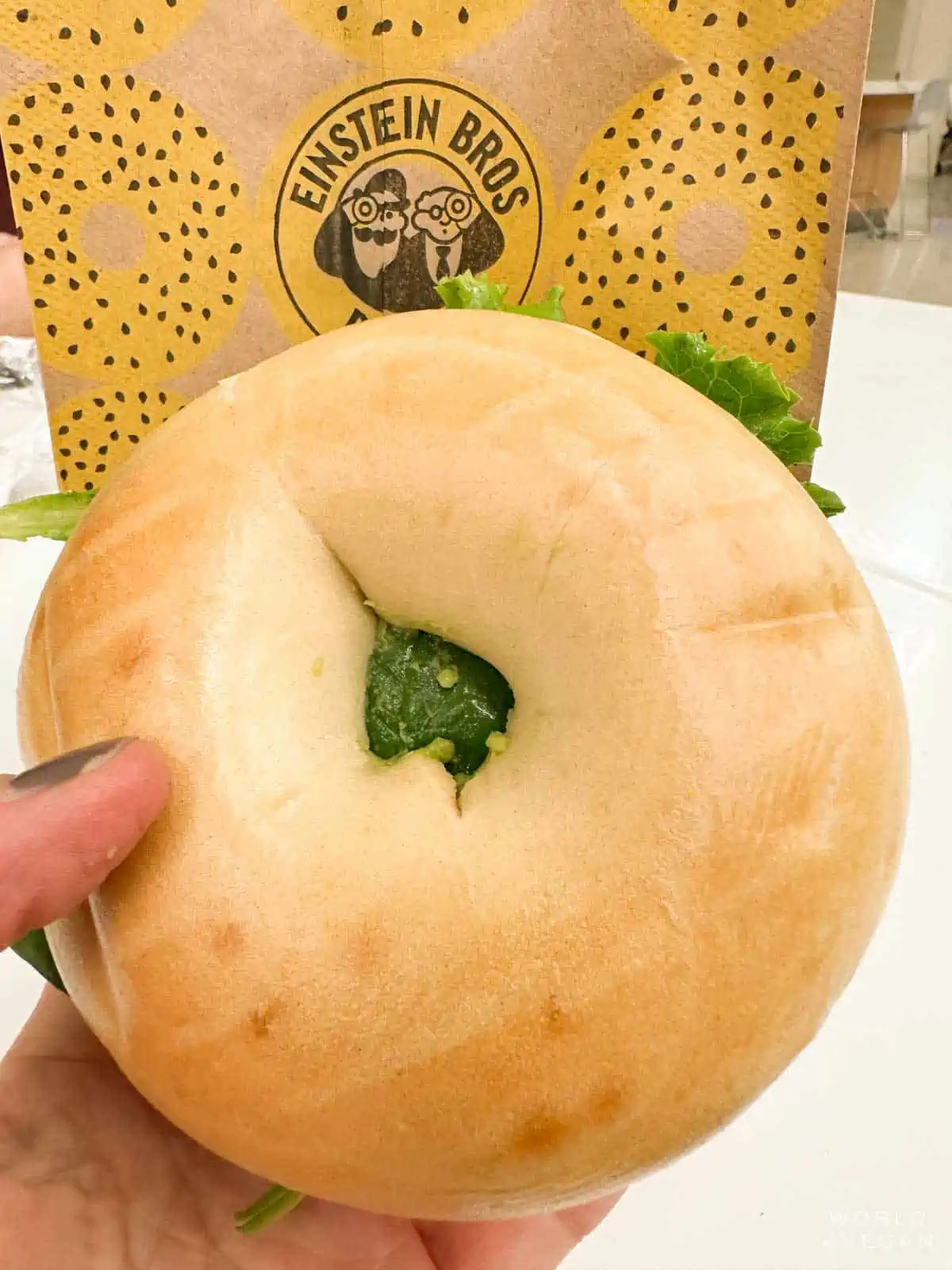 FAQs About Vegan Options
Does Einstein Bagels have vegan cream cheese?
Sorry to disappoint, but no. Although we've heard that from a few people that vegan cream cheese was offered at their local Einstein Bros Bagels, it seems to be rare. You can either bring your own or choose between hummus, peanut butter, or strawberry jam as toppings. You could even add avocado, if you wish.
Are bagels vegan at Einstein Bagels?
Yes! Most of the bagels are vegan-friendly at this bagel restaurant. Some bagels contain dairy, more specifically cheese, so just be careful which flavor you choose. The best, plant-based choices are listed above.
Are the smoothies at Einstein Bagels vegan?
We wish they were! They all contain milk, so they are not vegan or dairy-free. If we contact them and request plant-based milk options, then maybe they will someday.
Does Einstein Bagels have a dairy-free milk option?
Although some customers have said that they were able to get almond milk for their coffee, it's not mentioned anywhere on their website. It may be at certain locations only. It doesn't hurt to ask, though!
Helpful Hints When Ordering Vegan at Einstein Bros Bagels
Browse the Einstein Bros Bagels menu before ordering.
If ordering Einstein Bagels online or through a delivery service, make sure you clearly specify any substitutions you would like. If you're worried that your request may not be honored (or seen by the server at Einstein Bros Bagels), it might be a better idea to go there directly to order.
Check out their Nutritional and Allergen Information PDF to make sure that you are purchasing a vegan-friendly item. The menu items offered at Einstein Bros Bagels don't seem to change very often, but you may want to double check before you visit.
Be careful when new and exciting seasonal products are offered at Einstein Bros Bagels. Double-check the allergens and ingredients to make sure the item is vegan before purchasing.
Historic Vegan Moments in Einstein Bros Bagels History
Fascinating Facts About Einstein Bagels
Their bagel bakers arrive before sunrise to start making the first batch of bagels.
Einstein Bagels is part of the Panera Bread family of businesses.
You can buy a bag of 6 packaged Einstein Bagels from Amazon Fresh or Walmart.
Einstein Bagels is not named after the famous scientist who came up with the theory of relativity, but after two fictional founding brothers, Melvin and Elmo.
Creating a Kinder and More Accessible Einstein Bros Bagels Vegan Experience
Even though Einstein Bagels took their vegan cream cheese off of their menu a couple of years ago, we're hoping that the demand for more plant-based alternatives will win out. Since there are so few mainstream breakfast chains that offer plant-based alternatives, they could totally take the lead and add at least one cruelty-free menu item, such as dairy-free cream cheese, JUST eggs, or veggie meats. In the meantime, we can always write to, call, or contact the managers of any location to make our requests.
What are your favorite items on the Einstein Bros Bagels vegan menu? Let us know on Facebook, Twitter, and Instagram!
Have you found any other Einstein Bagels options to be veganizable? Did you find something amazing that we missed? Let us know by tagging #worldofvegan and sharing your favorite vegan-at-einstein-bagels creations with all of us!
How To Order Vegan Breakfast at Other Fast Food Chains:
This article is not sponsored and we are in no way affiliated with Einstein Bros Bagels. At the time of this article, the menu items mentioned above are vegan.
Since restaurants constantly update their menus and add or take away items, please keep this in mind when ordering your food. There may be new items that are vegan at Einstein Bagels and not listed or items listed here as vegan, which are no longer vegan. Take care to double-check.