This delicious vegan orange creamsicle cocktail recipe was kindly sponsored by our friends at Koskenkorva—makers of eco-conscious vodka that goes perfectly in this popsicle-inspired drink.
Ahhh, summer. Imagine the sun shining brightly in the sky, the beach balls bouncing across the sand, and a delicious, cold beverage in your hand. While we can't guarantee that the sun will be out or that the beach balls will be bouncing by the time you make this drink, we can guarantee that you're in for a bright and beautiful treat with this delicious vegan creamsicle cocktail.
Summer superstars orange and mango join forces with vodka from sustainable distillery, Koskenkorva Vodka, who boast a reutilization rate of 99.9% by using their very own bioenergy power plant! Cheers to that!
If you'd prefer an alcohol-free version, just omit the vodka or pour in your favorite substitute!
Why You Should Make a Vegan Creamsicle Cocktail
What's so great about orange creamsicle? Is it the way that the fruity flavors of mango and orange blend with creamy coconut and sweet vanilla to make a nostalgia-inducing and very tasty beverage? Maybe how you can transport yourself to sunnier days with a mere sip? Or, perhaps, it's that you can enjoy a totally vegan beverage from the comfort of your own sofa? Why, yes! We love this cocktail recipe for all of these reasons and more.
Here are just some highlights of why this delicious drink is so awesome!
Bring the Bar Home – While it is possible to get a basic vegan cocktail at your local bar, as nearly all hard liquor is vegan, it's a bit harder to come by a creamy cocktail made with dairy-free milk!
Master Mixology – If you've got a special someone you'd like to impress or if you just enjoy learning a new skill, this vegan orange creamsicle cocktail is a great way to boost your kitchen confidence!
Perfect for Parties – Whether it's a birthday or New Year's celebration, this recipe is perfect for a party! If you or one of your guests doesn't drink then they also don't have to feel left out with a lackluster mocktail since this is so full of flavor without the vodka!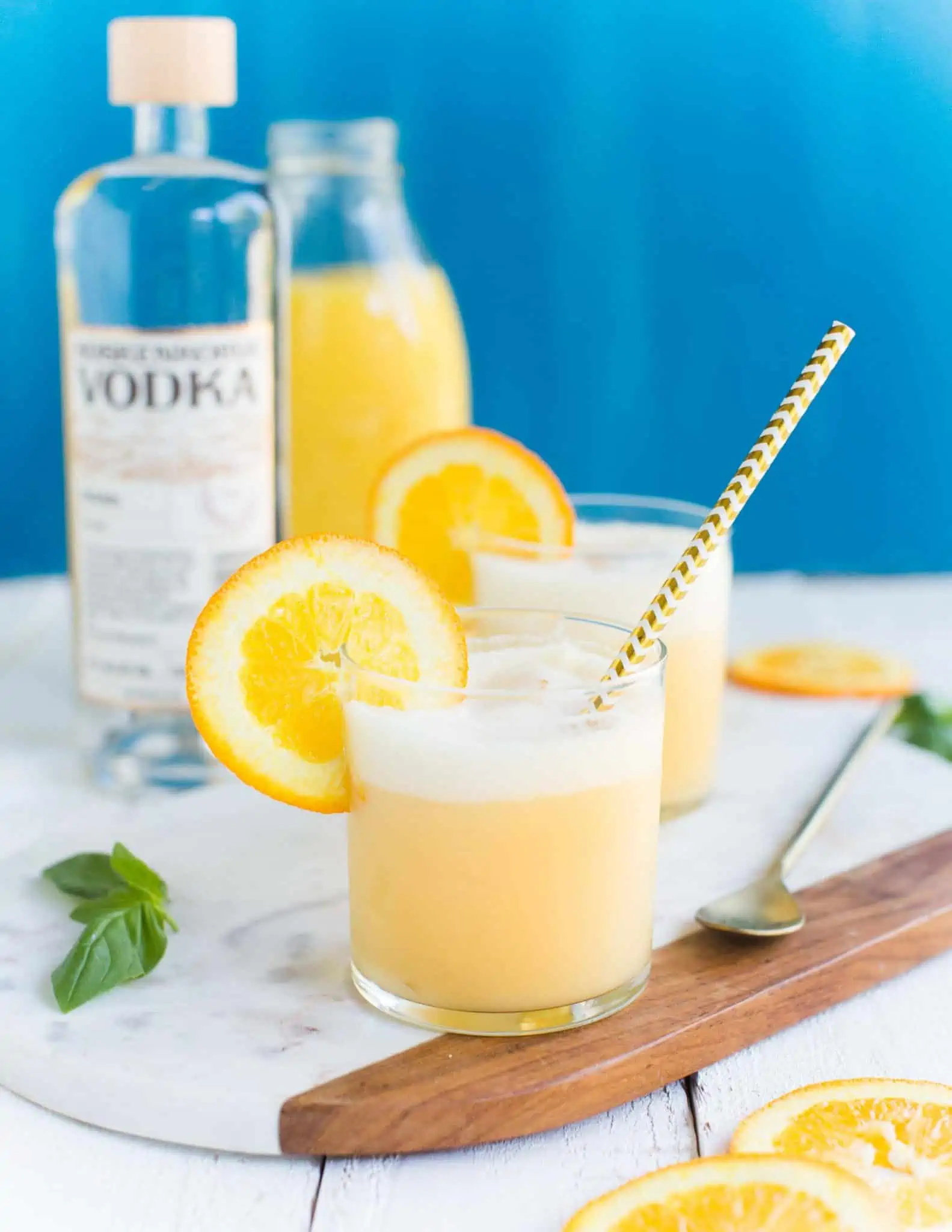 Star Ingredients
This vegan orange creamsicle cocktail is made with just a few simple ingredients that combine to make a beverage that is tasty, sweet, and refreshing. Fruity orange juice and mango meet creamy coconut milk, sweet maple syrup, vivacious vanilla, and Finnish vodka to make a drink that's modest yet memorable. Add some ice and you've got a sensational summer beverage!
How to Serve Up Your Vegan Orange Creamsicle Cocktail
What goes with a creamsicle cocktail, you wonder? Well, a number of things! Whether it's a hearty meal or a simple snack, we've got a list of satisfying dishes to pair with your drink below:
Crafting Your Creamsicle Cocktail
Making this drink is as easy as 1-2-3! All you need is a blender and some cocktail glasses and voilå! For a smooth blend, just make sure your mango chunks aren't frozen together. Grab your glasses and pour! If you happen to have some oranges laying around, go ahead and stick a slice on your glass for a cute garnish.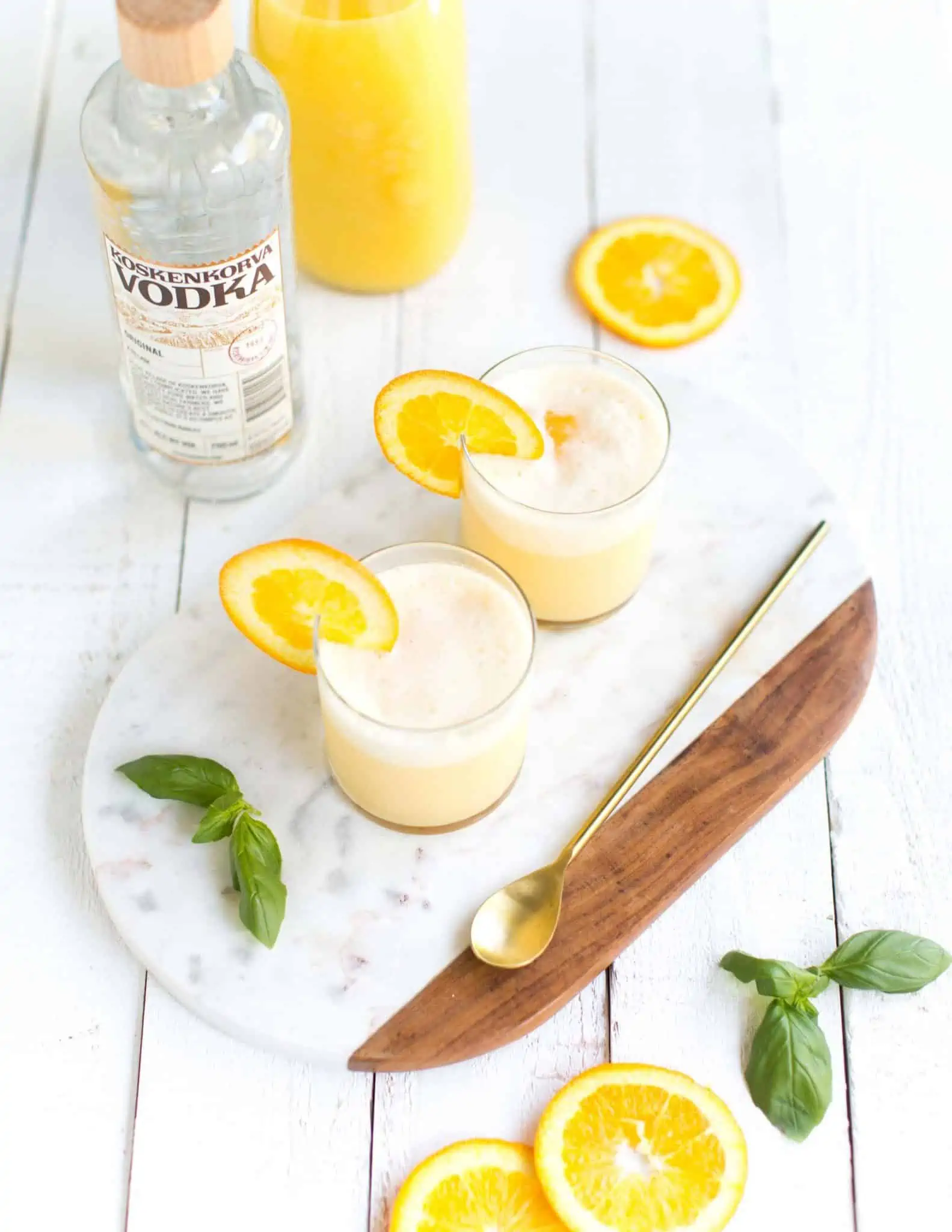 Equipment You'll Need
One of the best things about this cocktail recipe is that it requires no fancy tumblers or mixologist gadgets—just a simple blender will do! Here's a list of everything you'll need:
½ cup orange juice
½ cup full-fat coconut milk from a can*, see Notes
1 tablespoon maple syrup
½ cup frozen mango, or ice
¼ teaspoon vanilla extract
2 ounces Koskenkorva Vodka (or more for an extra-boozy drink, optional), (56ml)
Ice
Fresh orange slices, for garnish (optional)
In a blender, add the orange juice, coconut milk, maple syrup, frozen mango, vanilla extract, and vodka (if using). Blend just until smooth and no mango chunks remain.

Fill two cocktail glasses with ice and pour the blended creamsicle drink into each. Garnish with a fresh orange slice.

Garnish with an orange slice if available and enjoy responsibly!
Shake the can of coconut milk to mix before opening. If there are solid chunks preventing it from mixing evenly, briefly heat the entire contents of the can in a saucepan while mixing consistently just until melted, which will happen well before the coconut milk gets warm or hot. Remove from heat immediately.
Calories: 258kcal | Carbohydrates: 21g | Protein: 2g | Fat: 12g | Saturated Fat: 11g | Polyunsaturated Fat: 0.2g | Monounsaturated Fat: 1g | Sodium: 10mg | Potassium: 341mg | Fiber: 1g | Sugar: 17g | Vitamin A: 570IU | Vitamin C: 47mg | Calcium: 32mg | Iron: 2mg
If you try this Vegan Orange Creamsicle Cocktail, let us know what you think by leaving a comment and rating below! Be sure to follow along on Pinterest, Instagram and Facebook for even more vegan recipe inspiration.
Simple Storage
As with most cocktails, this vegan orange creamsicle cocktail is best enjoyed fresh! The full-fat coconut milk will separate if frozen or left out for too long and given how easy this drink is to make, you'd be doing yourself a huge disservice if you let it sit out for too long!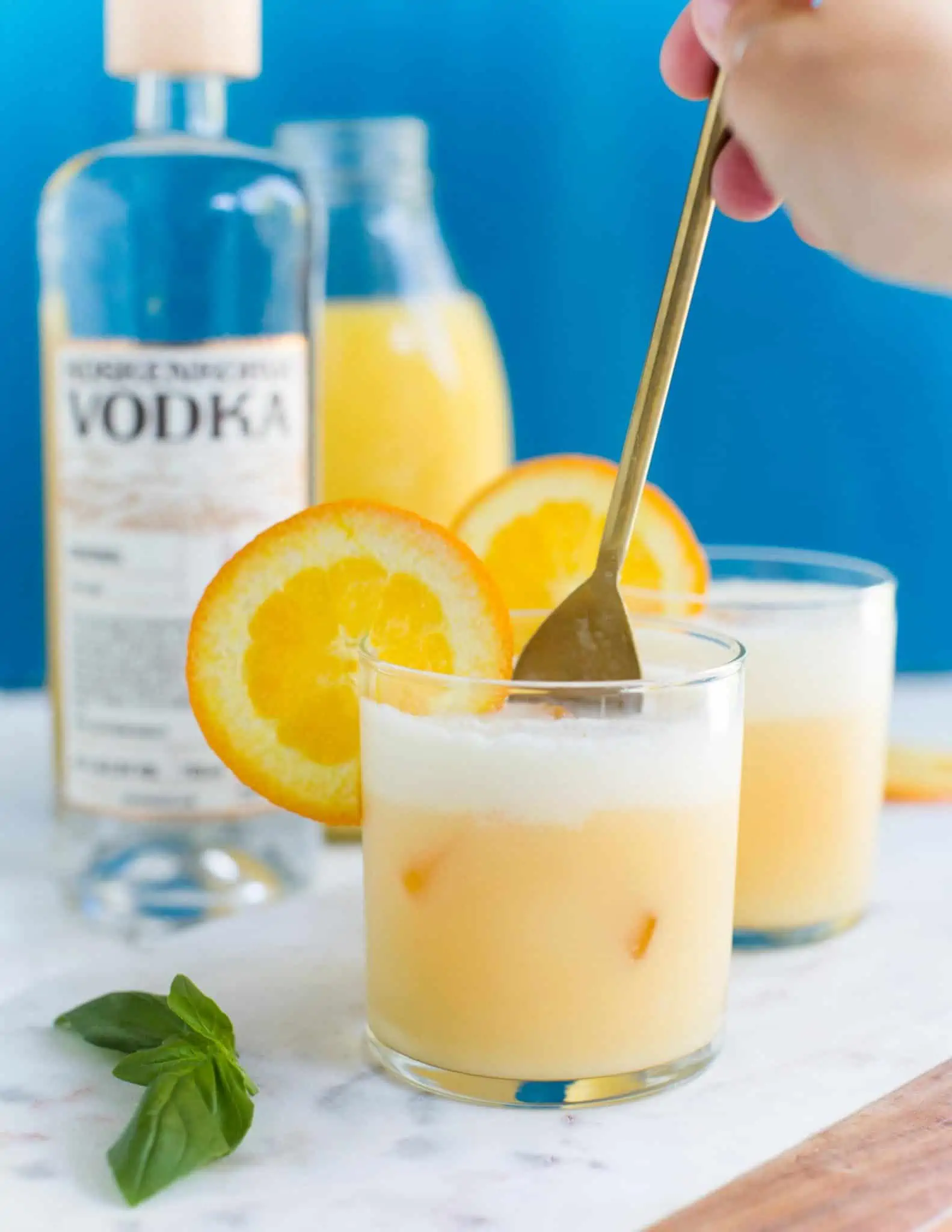 More Vegan Beverages to Try:
Vegan Creamsicle Cocktail recipe and photography by Michelle Cehn. Article written by Amanda Meth. Many thanks to Koskenkorva Vodka and Marussia Beverages for supporting this summery vegan drink recipe! Please note that this article may contain affiliate links which help to support our work at World of Vegan.