This vegan cocktail recipe inspired by Dalgona coffee was kindly sponsored by our friends at Mozart Chocolate—makers of vegan chocolate liqueur.
Dalgona coffee may have started out as a Tik Tok trend, but this frothy latte has real staying power. Bringing the café experience home with ease, it's made by whipping together instant coffee, sugar, and hot water until it's fluffy and rich like whipped cream. It's then spooned over ice cold milk—and voila! You've got the famous Tik Tok coffee in hand. You don't need to be a barista to make this latte art!
Even better than a plain glass of milk, however, is luscious vanilla soymilk spiked with a shot of Mozart Dark Chocolate liqueur. Take your coffee game to the next level with this drunken dalgona, giving it a distinctly decadent edge over the original. Imagine combining all the best parts of an iced mocha, milkshake, and a chocolate martini all in one glass, and you might get an idea of the treat you have in store.
Why This Vegan Cocktail Is So Awesome
If you're not already running into the kitchen, here are more reasons why you should start stocking up on instant coffee powder right now:
Dairy-free – Any sort of non-dairy milk works brilliantly in this recipe! Whether you prefer soy, almond, oat, hemp, or something else, there's no wrong choice here. That means you can make it nut-free or soy-free as needed.
Super-fast – Whip up a serious treat in less time than it takes to hit the drive through at your closest café. We're talking about five minutes from start to finish.
Thrifty and affordable – Instant coffee is probably the cheapest way to get your daily caffeine fix, whereas just a basic latte can take a real toll on your budget if you grab one on the go. You can afford to splurge on better quality ingredients and still come out ahead.
Dessert in a glass – If you can't bake, you can still treat yourself to some homemade indulgence. Self-care is important to overall wellbeing, so consider this your well-deserved, boozy mood-booster.
Essential Ingredients
There's a good chance you already have everything you'll need on hand in your pantry right now! If not, you've got plenty of options for quick swaps and substitutions, too.
Chocolate Syrup or Melted Chocolate Chips – Believe it or not, classic Hershey's Chocolate Syrup is accidentally vegan! If you'd rather something organic, look for AH!LASKA Chocolate Syrup at your local co-op or health food store. As for chocolate chips, Enjoy Life Foods offers both dark and rice milk chips and chunks that are dark, smooth, and creamy enough to satisfy the more ravenous chocoholic.
Vanilla Soymilk – For the best texture and flavor, the best non-dairy milk for the job is a sweetened, vanilla-infused soymilk. However, it's completely open to your personal preference! If you like your coffee less sweet, go ahead and select an unsweetened option. If you have a serious sweet tooth, on the other hand, grab something already with chocolate to double-down on the rich mocha flavor.
Mozart Dark Chocolate Liqueur – The real star of the show, this exquisitely crafted dark chocolate liqueur is what turns the average caffeine fix into an unforgettable, slightly mischievous indulgence. For a non-alcoholic option, you can simply omit it or replace it with an equal measure of coffee or chocolate non-dairy milk.
Instant Coffee – Either powder or granules will work, but unfortunately, you cannot substitute plain ground coffee. It won't dissolve or become frothy, and no one want to drink a sad, grainy cup of spent coffee grounds. You can, however, use decaf instant coffee if you want to treat yourself in the evening and still get a full night's sleep.
Sugar – Plain white granulated sugar is typically called for here, but if you'd like to cut down on your sugar intake, you could use liquid stevia or monk fruit instead. A little bit goes a long way, so you'll only need a single drop of either one to reach the same level of sweetness. That is to say, use sparingly!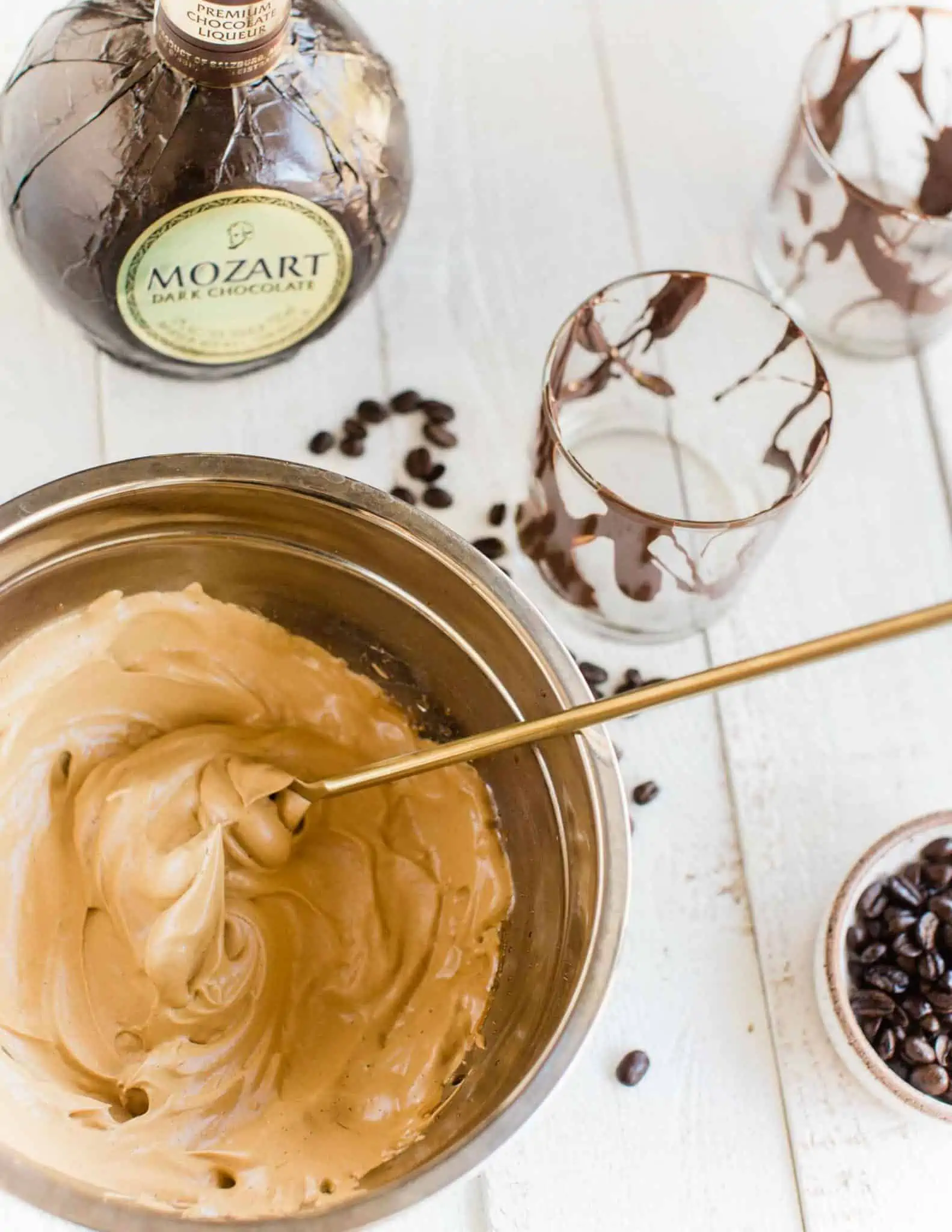 How to Make Whipped Coffee
All you'll need to make whipped coffee is a medium bowl, warm water, instant coffee, sugar, and a hand mixer. Pour all the ingredients into your bowl and whip with your hand mixer for several minutes, stopping as needed to let your mixer rest. Continue whipping until the coffee mixture thickens and becomes fluffy. You'll know it's done when you can form peaks that easily hold their shape.
How to Serve Your Dalgona Coffee Drink
To the uninitiated, it may not be readily apparent how best to enjoy this delicate layered drink. For the full experience, skip the straw; not only are single-use plastic straws among the top 10 contributors to plastic marine debris across the globe, but it's not as tasty when you sip the two components separately. Don't just dive right in either, unless you want a dark brown foam mustache as a parting gift.
Think of it more like a liquid dessert and attack first with a spoon. Stir some of the foam into the milk before enjoying, little by little. Even when mixed in with the iced chocolate milk, the coffee cream maintains its frothy, fluffy texture. The experience is a lot like enjoying hot cocoa as the marshmallows slowly melt on top, without the heat!
Fun Facts About Dalgona Coffee (aka "Tik Tok Coffee")
Named after a South Korean coffee candy similar to American honeycomb, it's said that the bubbly surface appears very similar to the frothy texture of dalgona coffee foam against the side of a glass.
Though it became a social media superstar during the initial Coronavirus lockdown in early 2020, some variation of the concept has been around for hundred of years. In Greece, they make a blended iced coffee frappe, while in India and Pakistan, there's a popular "beaten coffee" that's served hot.
According to Google Trends, "dalgona coffee" had become the most searched type of coffee worldwide, overtaking previous highest peaks for all other kinds of coffee. Searches worldwide surged by 1,800% in March and grew a further 1,700% in April 2020.
Equipment You'll Need
For The Base Ingredients:
1 drizzle vegan chocolate syrup, or melted vegan chocolate chips
Ice, to taste
12 ounces vanilla soymilk, the sweetened kind
4 ounces Mozart Dark Chocolate Liqueur, optional
For The Dalgona Fluff:
2 tablespoons warm water
2 tablespoons instant coffee
2 tablespoons sugar
Drizzle vegan chocolate syrup or melted chocolate along the inside of two 12 ounce glasses. Add ice, soymilk, and Mozart Dark Chocolate Liqueur, and stir to combine. Repeat to prepare a second glass. Next you'll prepare the Dalgona coffee whip.

In a medium bowl, add the warm water, instant coffee, and sugar. Using a hand mixer, whip the liquid for 4-5 minutes until it transforms into a thick fluffy whip that holds its shape. Spoon half of the sweet coffee whip onto each drink, using the spoon to form a delicate peak.

That's it! Mix the dalgona fluff into your drink to get the full 'Drunken Dalgona' experience. Gooood morning to you! ☀️
Can you make this alcohol-free? Absolutely! You can easily make this drink virgin by leaving out the vegan chocolate liqueur—it will still be an absolutely delicious classic Dalgona drink.
Calories: 336kcal | Carbohydrates: 48g | Protein: 6g | Fat: 4g | Sodium: 93mg | Potassium: 418mg | Fiber: 1g | Sugar: 43g | Vitamin A: 668IU | Vitamin C: 12mg | Calcium: 246mg | Iron: 1mg
Storage Tips
The whipped coffee fluff keeps for a surprisingly long time. If you want to prepare the topping in advance, you can store it in an airtight container in the fridge for 2 – 3 days. Make sure you beat it to full stiff peaks first for best results. It may begin to lose volume over time, but you can quickly re-whip it back to its original glory. Beyond that, though, the liquid may start to separate and it's best if you just start again from scratch.
Vegan Chocolate Liqueur
It's an exciting time in the world of vegan cocktails, because there are now lots of creamy, chocolatey, extra-decadent vegan alcohol options. In this recipe we turn to a vegan chocolate liqueur that pairs beautifully with coffee and plant-based milks—Mozart Dark Chocolate Liqueur. This award-winning liqueur is made without a drop of dairy products (or any animal products for that matter) and can be sipped on it's own, but it's absolutely divine in this Dalgona drink.
Note: Mozart Chocolate Liqueur has several similar products, but only the dark chocolate is vegan.
More Decadent Vegan Drinks to Try
If you're a huge coffee lover, you must check out our Vegan Coffee Creamer guide!
This vegan chocolate Dalgona cocktail recipe was developed and photographed by Michelle Cehn for World of Vegan, all rights reserved. Please note that this post was sponsored by Mozart Dark Chocolate / Marussia Beverages. Please drink responsibly! This article may include affiliate links when available which supports our work at World of Vegan.