Are you in search of the perfect vegan green bean casserole, whether it's for a Thanksgiving feast or just a cozy casserole night? Look no further because this recipe is a surefire winner! It hails from "The Friendly Vegan Cookbook," having been meticulously tested and refined in kitchens by numerous enthusiasts.
About This Easy Vegan Green Bean Casserole
Featuring two pounds of vibrant green beans (fresh or frozen), vegetable broth, cashews transformed into a creamy base, mushrooms, onions, garlic, and a delightful crispy onion topping, this dish is pure decadence on a plate. What's more, it's an ideal choice for dinner parties, offering the convenience of advance preparation and refrigeration, ready to be baked when you're ready to savor it. It's also a winner for vegan meal prep, with the added bonus of improving in flavor over time.
Crafting this vegan casserole is a breeze. You'll start by steaming the green beans to perfection. Then, blend vegetable broth, cashews, and spices to create a velvety cashew cream. On the stovetop, craft a roux and introduce the cashew cream, marveling as it thickens into a luscious, creamy sauce. Combine this luxurious sauce with your tender green beans in a casserole dish, pop it in the oven, and get ready to indulge!
Ingredient Notes and Substitutions
Green Beans: The humble green bean takes the spotlight in this delightful casserole. Fresh and vibrant, these green gems add both color and texture to the dish. Following a quick steaming to preserve their crunch and vibrant hue, they become the star of the show. Rich in fiber and essential nutrients, green beans provide a wholesome foundation for this recipe.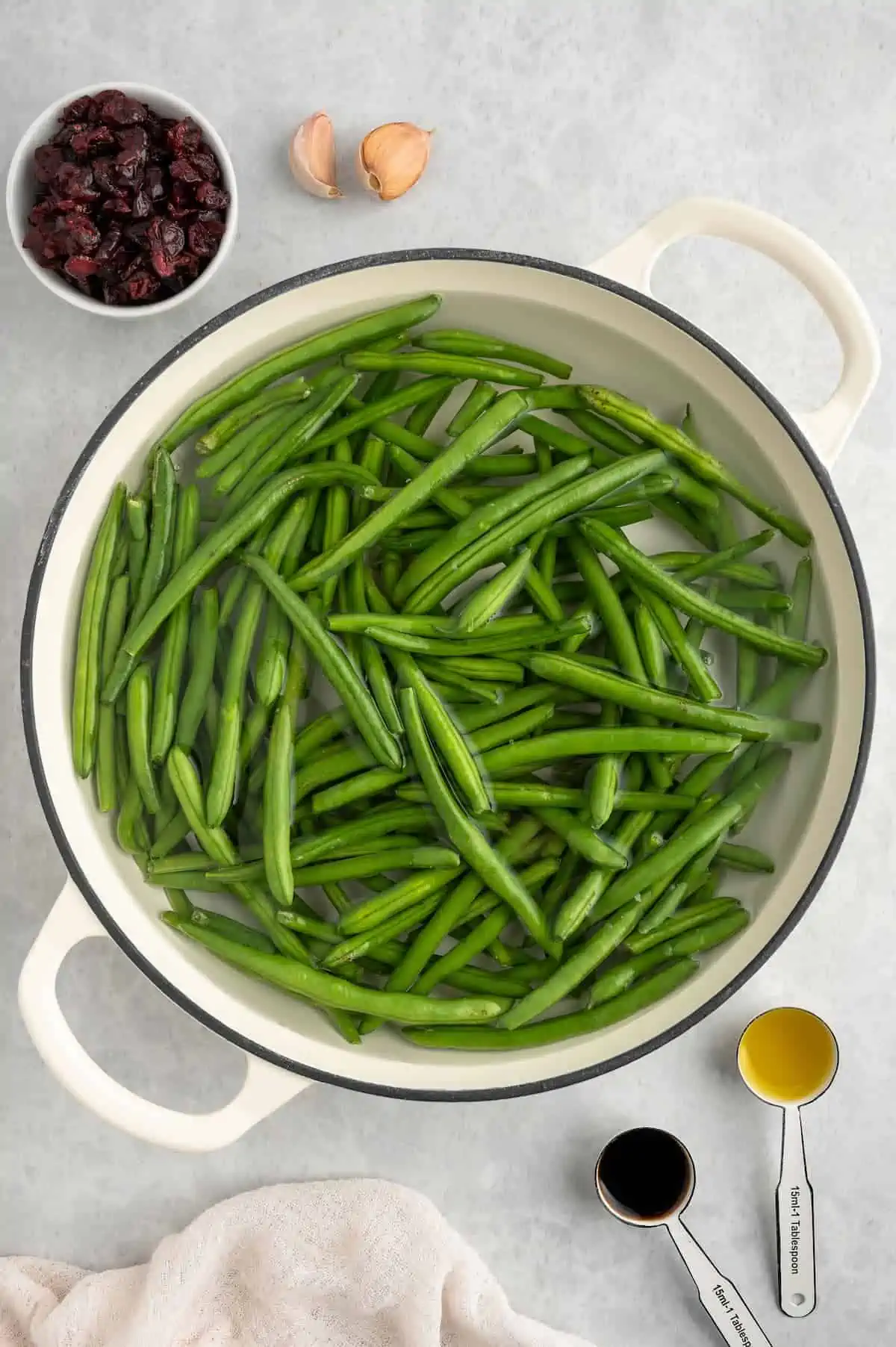 Vegetable Broth: Vegetable broth serves as the flavorful liquid base for your Vegan Green Bean Casserole. Whether you opt for store-bought or homemade, it infuses the casserole with a savory essence that ties all the elements together. The vegetable broth also plays a crucial role in creating the luscious cashew cream that bathes the green beans and mushrooms, making each bite a savory delight.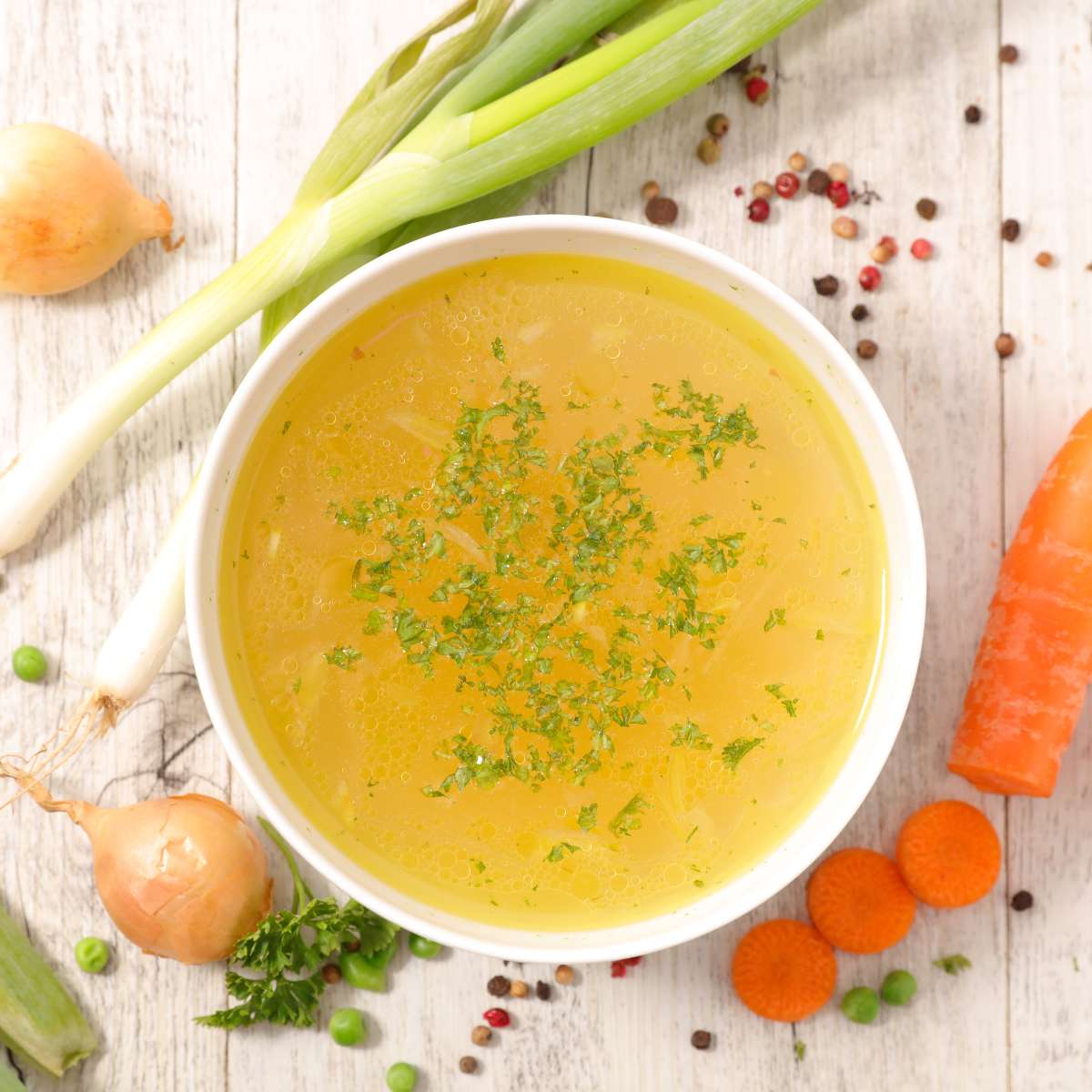 Raw Cashews: cashews are the secret behind the creamy richness of this dish. Blended into a smooth, velvety cashew cream, they offer a dairy-free alternative to traditional cream. Cashews not only bring a luxurious texture but also contribute a hint of nutty flavor to the casserole. Their transformation into cashew cream is a culinary alchemy that elevates the dish.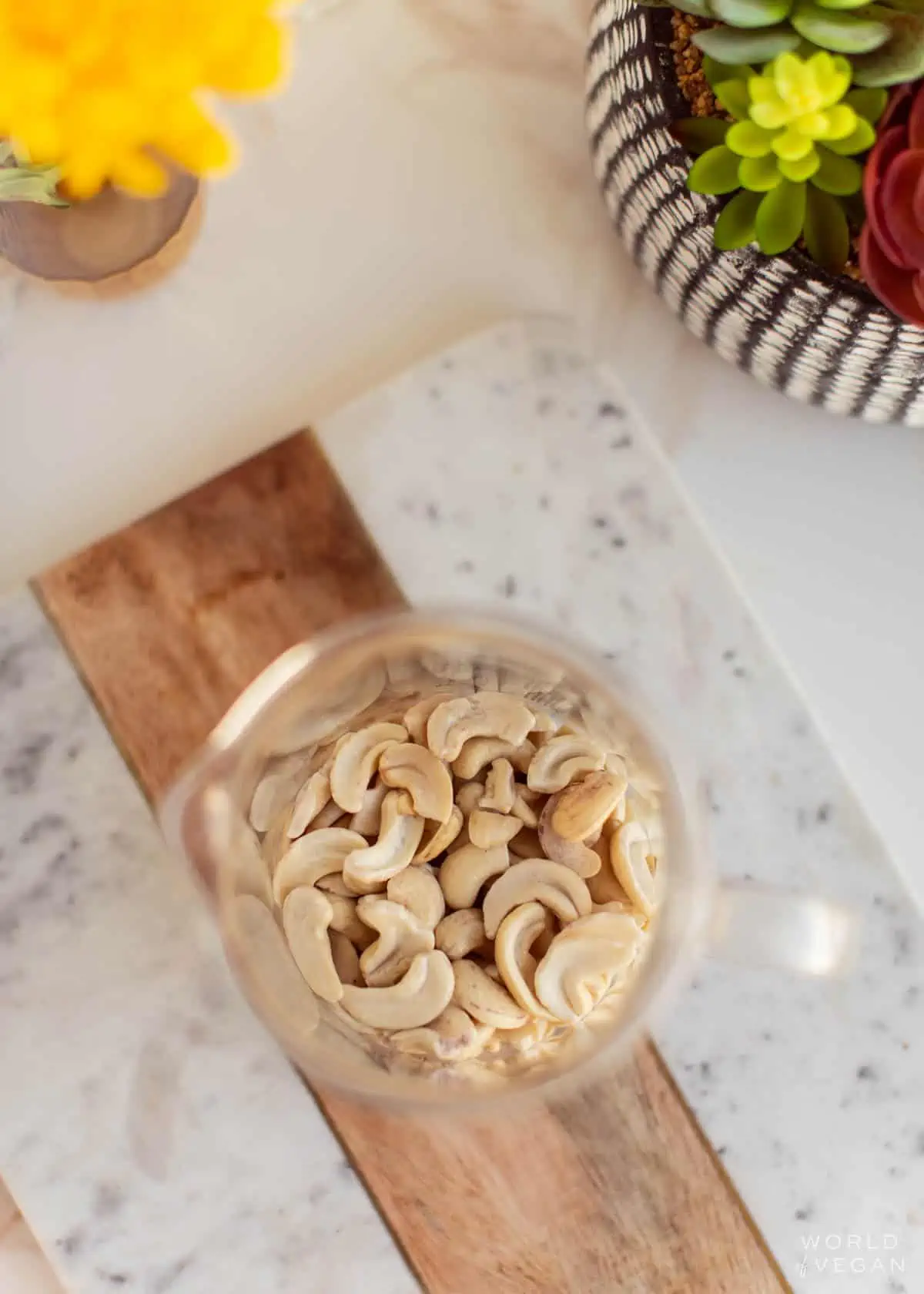 Mushrooms: Mushrooms add depth and umami to your Vegan Green Bean Casserole. Sautéed alongside onions and garlic, they infuse the dish with a savory richness that's irresistible. Mushrooms provide an earthy contrast to the bright green beans and create a harmonious balance of flavors.
Vegan Butter: Plant-based butter plays a pivotal role in the creation of a roux—the thickening agent for the casserole's sauce. As it melts in the pot, it forms the foundation of the roux, helping it to develop its characteristic thickness. Any vegan butter brand will work in this recipe!
Fried Onions: Last but certainly not least, the crispy fried onions crown your Vegan Green Bean Casserole with a delightful crunch and an additional layer of flavor. Whether you use store-bought or homemade crispy fried onions, they provide that iconic finishing touch that makes each serving a savory sensation. These golden, crispy morsels transform the casserole from ordinary to extraordinary, adding an irresistible element of texture and taste.
These key ingredients come together in a culinary symphony to help create the perfect green bean casserole that's not only delicious but also a wholesome and satisfying addition to your table.
Top Tips
You can prepare the components like the green beans and mushroom sauce a day in advance for a smoother cooking process, especially when planning for holiday meals and gatherings. When ready, combine into a casserole dish, top with crispy onions, and bake!
When thickening, keep a close eye on the consistency. The thickening action occurs suddenly, so be ready to switch off the heat once it reaches the right thickness, or you may over-thicken and burn the sauce.
Don't skip out on cooling down the green beans. After steaming, make sure to dunk them in an ice-cold bath to prevent them from overcooking and losing that beautiful bright green color.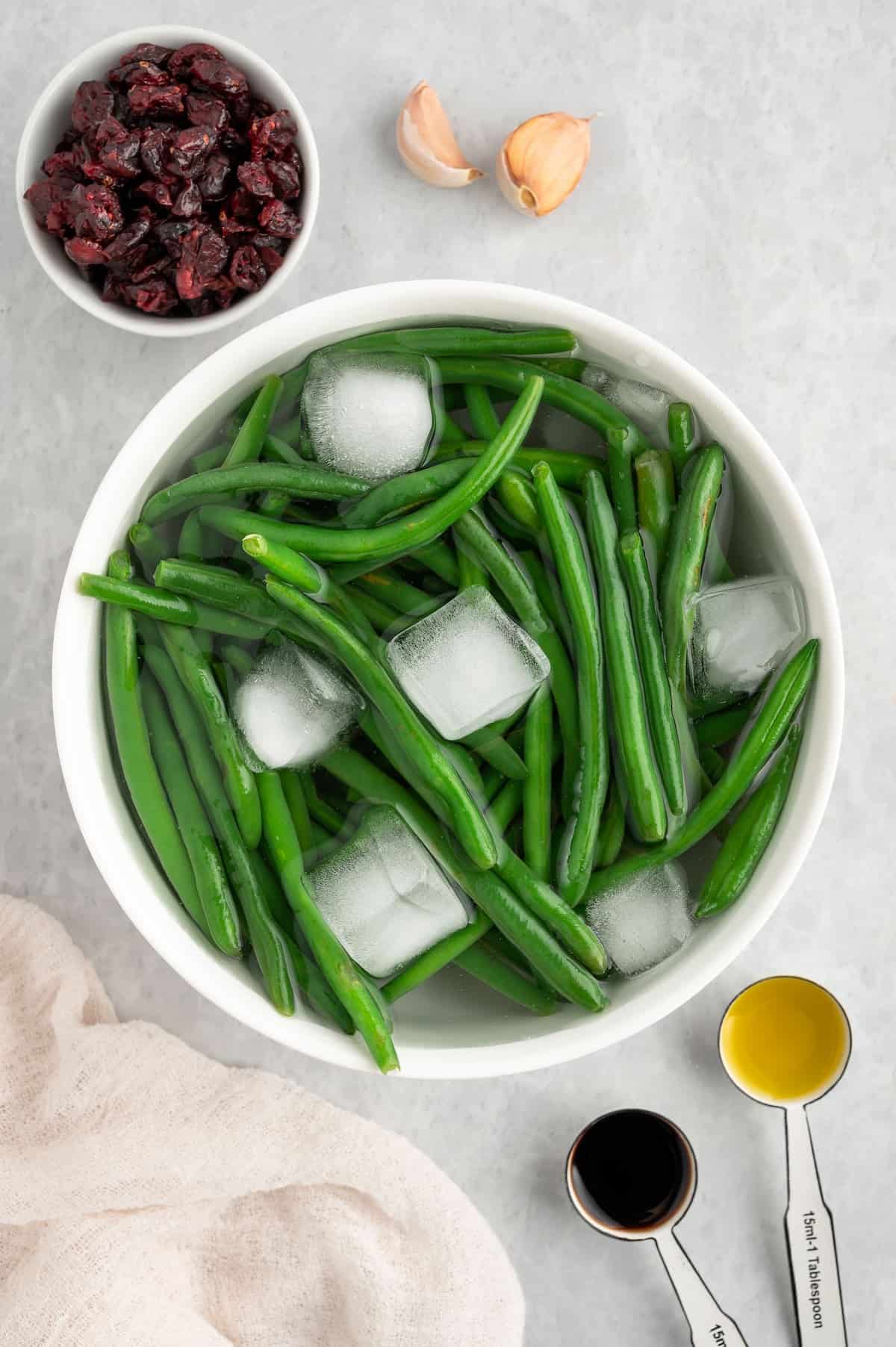 Prefer Softer Green Beans?
I've been hosting vegan Thanksgiving and Friendsgiving gatherings for many years now, and every time we have at least two green bean casseroles made by different people. It's been fun to see how different they can be, and also how people have vastly different preferences when it comes to their green beans. Some like them super-soft, some like them bright green, firm, and crispy, and others like them somewhere in between.
This recipe makes a casserole with green beans that are still a bit crispy. If you want softer green beans in your casserole, simply steam them for longer! I'd love to hear your favorite way to enjoy green bean casseroles in the comments below.
More Vegan Thanksgiving Recipes
2 pounds fresh green beans
3 cups vegetable broth, or equivalent amount of vegetable bouillon and water, divided
½ cup raw cashews
¼ teaspoon salt
½ teaspoon ground black pepper
½ cup vegan butter
1 small onion, diced
2 cups button mushrooms, sliced or diced
4 medium cloves garlic, roughly chopped
½ cup all-purpose flour
2 cups crispy fried onions, we use store-bought
To prepare the green beans, wash them, trim the stem ends, cut them in half, place them in a steamer basket, and steam for 7 minutes. Remove the green beans from the steamer, rinse them with ice­-cold water to preserve the green color, and set aside.

In a high­-powered blender, combine 1 cup of the vegetable broth and the cashews and blend on high until smooth. Blend in the remaining 2 cups of vegetable broth, salt, and pepper and set aside.

Preheat the oven to 375 degrees F.

In a large pot over medium­ high heat, melt the vegan butter. Add the onion, mushrooms, and garlic and sauté for 5 minutes, stirring occasionally. Add the flour and whisk to create a roux. Continue to whisk the thickened roux constantly for 3 minutes. Add the broth and cashew mixture and whisk continuously for 2 to 3 minutes, until thickened (thickening will happen fast and suddenly, so be sure to turn off the heat just as the mixture gets thick enough).

Spoon the green beans and the creamy mixture into a 9 × 13 ­inch baking dish and mix until well combined. Top with an even layer of fried onions and bake for 20-30 minutes.
Calories: 306kcal | Carbohydrates: 26g | Protein: 5g | Fat: 21g | Saturated Fat: 6g | Polyunsaturated Fat: 4g | Monounsaturated Fat: 7g | Trans Fat: 2g | Sodium: 638mg | Potassium: 400mg | Fiber: 4g | Sugar: 6g | Vitamin A: 971IU | Vitamin C: 15mg | Calcium: 53mg | Iron: 2mg
This vegan green bean casserole recipe is from The Friendly Vegan Cookbook by Michelle Cehn and Toni Okamoto. Photos by Zhoro Apostolov. This easy vegan Thanksgiving recipe was published with permission from BenBella Books, 2020, all rights reserved.