My mom has been making these candied walnuts (or "sugared walnuts") for years. Whenever she has a dinner party she tosses them on salad (they're perfect on a fresh salad with sliced pear, figs, dried cranberries, and a tangy vinaigrette). And every single time mom serves this salad at least one person comments about how amazing the walnuts are.
So…
Last Thanksgiving I gave candied walnuts a try. I failed, miserably. I put them in the toaster and it was one big mess of burned sugar and wasted walnuts (which I had to throw away—and they're not cheap!) So I vowed to bring my mom over to teach me how to make her famous candied walnuts. As it turns out, it's ridiculously easy.
It's a delicate art, as sugar can burn so quickly, but it's just two ingredients tossed in a pan, and voila! You've got sweet, crunchy, protein-packed gold that will spice up any fall dish. Enjoy!
½ cup raw walnuts
⅛ cup sugar
In a cast iron pan over medium heat, add walnuts and sugar. Stir consistently until sugar begins to clump together.

As soon as the sugar begins to melt and form a liquid, turn off heat and immediately transfer sugar crusted walnuts to a dish and allow to cool. Sugar burns very easily so keep a close watch. Walnuts should be caked with sugar, but there will also be little clumps of sugar separate from the walnuts—that's ok!
There is a very fine line between perfectly sugar-coated and burned—if in doubt, take it off the flame sooner rather than later!
Calories: 479kcal | Carbohydrates: 33g | Protein: 9g | Fat: 38g | Saturated Fat: 4g | Polyunsaturated Fat: 28g | Monounsaturated Fat: 5g | Sodium: 1mg | Potassium: 258mg | Fiber: 4g | Sugar: 26g | Vitamin A: 12IU | Vitamin C: 1mg | Calcium: 58mg | Iron: 2mg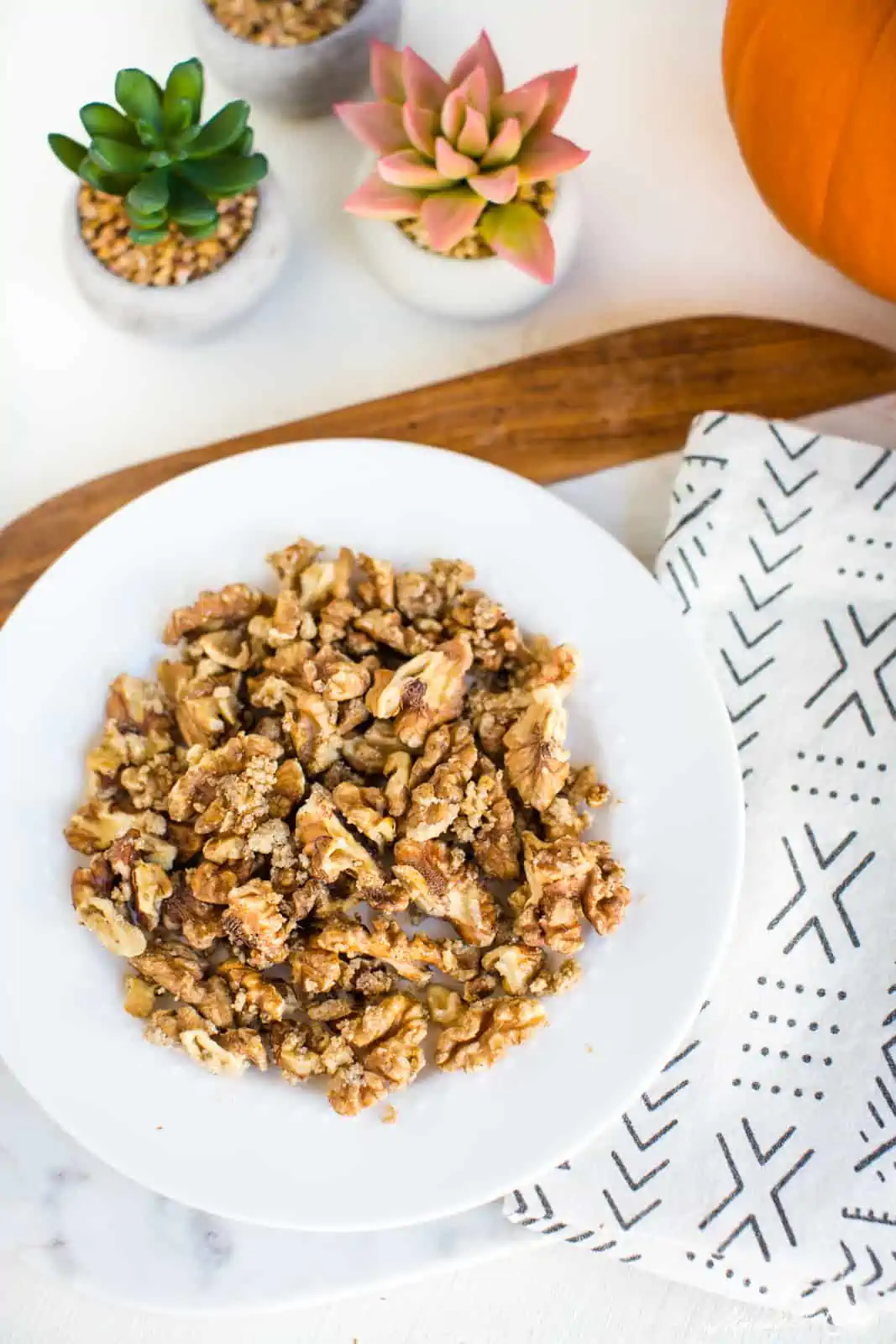 I love putting these candied walnuts on top of sweet potato dishes like our delicious fall-themed Stuffed Sweet Potato (pictured below).
More Wonderful Walnut Recipes:
Candied Walnuts photos taken by Michelle Cehn. Recipe and photographs copyright of World of Vegan™, all rights reserved. Article edited by Amanda Meth. Please note that this article may contain affiliate links which means shopping through them helps lights on at World of Vegan!