Art supplies are fun and accessible for all ages. You, your inner child, or any children in your life will soon be spending hours of quality time immersed in beautiful, cruelty-free creations.
But did you know that many art supplies are not vegan? It strange to think that any animal products could be added to drawing tools, paper, or any other hands-on, imaginative materials. Sadly, there are a number of ingredients to watch out for when on the look out for new items.
Luckily, World of Vegan has done the work of finding the best options and vegan art brands! And even within the cruelty-free category, the options for art supplies and original artwork are infinite. There's such a special magic that lights up your spirit when entering an art supply shop or local craft store.
Ready to make a compassionate start when it comes to art? Let's dive right in!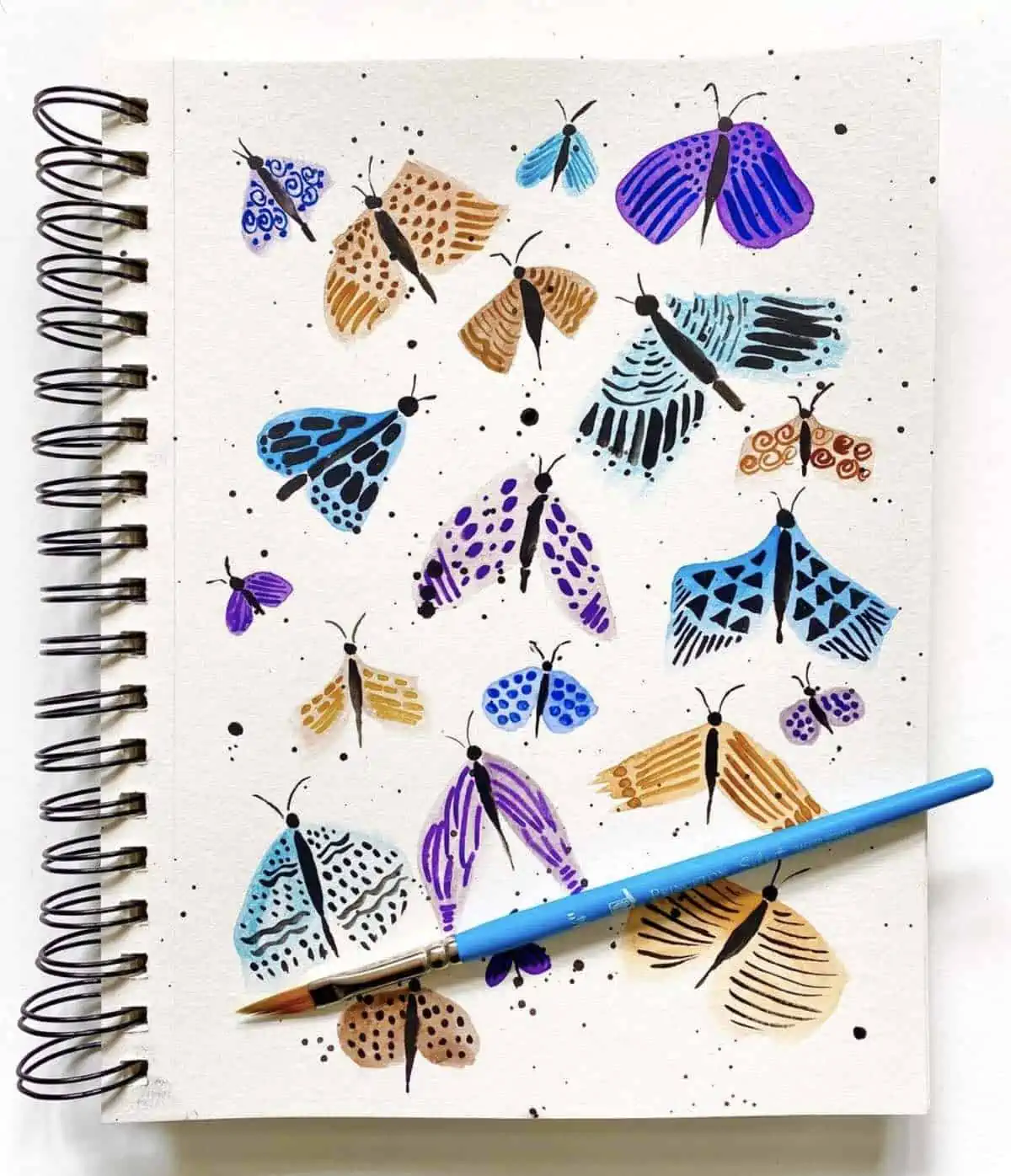 Animal Ingredients to Look Out For in Art Supplies
When you think of art supplies, animal ingredients aren't usually the top of the list. These are often "hidden", not clearly listed, or not stated at all on the package. Because these creative and tactile tools are not to be ingested, the elements inside of them are sometimes taken for granted. Here are the main ingredients to avoid when shopping for vegan art supplies:
Albumen – A protein that is extracted from the blood of animals. It used to be used in making medical glue in the past.
Animal Hair – Hair from camels, goats, hogs, horses, or squirrels are often utilized for paintbrushes.
Beeswax – Added to pencils and crayons for a firm texture and to increase smoothness.
Carmine – Cochenille lice are crushed to obtain a red pigment for paints.
Casein – A milk derivative that is often used as a binder in "milk" paint.
Eggs – Included in tempura paints as a binding for color (pigment).
Gelatin – A protein created by boiling animals skins, hooves, joints, and other body parts. Often used in sizing for art papers and canvases.
Glycerin – Occasionally included in watercolors for ease in rewetting the paint. Make sure that it is vegetable-based and not made using animal fat.
Honey – Sometimes added in paints as a preservative and to promote a smooth texture.
Ivory Black or Bone Black – This ingredient to make black paint is made from the charred bones of cows.
Ox Gall – Often used as an emulsifier, this ingredient is obtained from the liver of cows.
Sepia – A color made from the inkbag of a cuttle fish.
Shellac – This is a resin extracted from insects to create a glossy finish.
How to Find Vegan Art Supplies
Finding vegan art supplies is easier than it used to be thanks to the internet and online shopping, but unless an item is specifically labeled "vegan", there may be hidden animal products included or animal testing involved.
One of the best ways to find out options for a specific craft or art tool is to google the word "vegan" with the name of the tool after it. Hopefully, you will have at least three options to check out. Another way to to do a search on Amazon for the same key words and investigate the results. Specifically look in the dotted description to the right of the product to see if they include "cruelty-free", "no animal testing", or "vegan-friendly" in their list.
If you're interested in a specific brand, visit their website and, again, type in a search for "vegan". If you don't see anything pop up, take a little time to send an email or have a quick online chat (if that's an option) asking if they can tell you which of their products are vegan-friendly.
In order to make things easier for you, here is a list of the most popular and trusted brands for vegan art supplies that we could find. When you find an awesome and helpful art supply tool that's not on the list, make sure to comment on this article so it can be shared with fellow artists like you!
Vegan Paint
Thick tubes of vibrant paint are at the top of the list for fun and versatile vegan art supplies. With paint, the ingredients to stay away from are honey, pigments using animal or insects parts (including carmine, bone char, etc.) and ox gall. Here are some popular and reliable brands.
Vegan Watercolor Paint
NOTE: Kuretake Gansai Tambi watercolor paints were always thought to be vegan-friendly, but Jackson's received a long-awaited answer from the company stating that their glycerin was sourced from animal products, not vegetable-based. Let's hope that, in the future, this company will update their ingredients with plant-based sources so that vegan artists can use them again.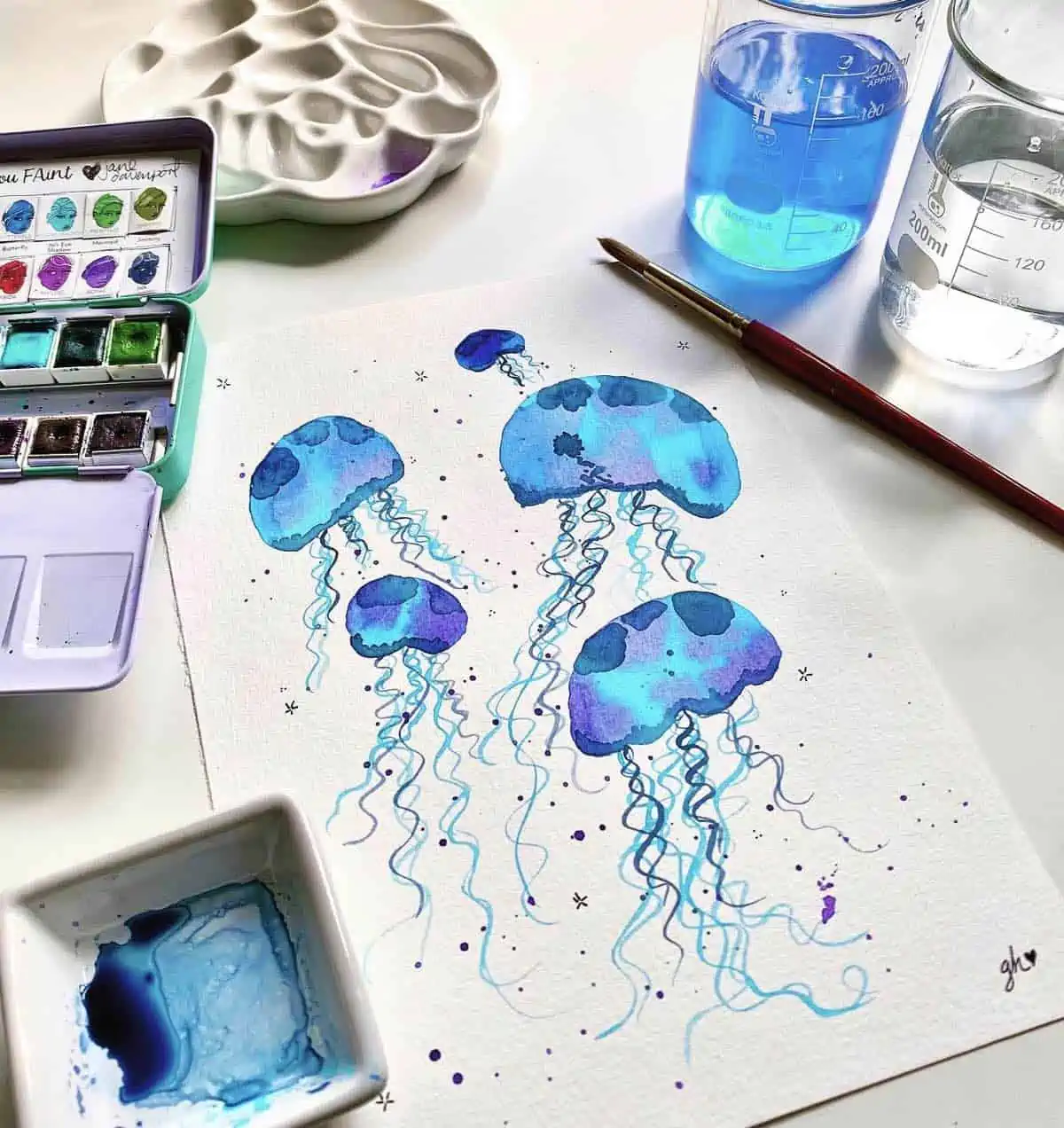 Oil Paint
Vegan Acrylic Paint
Vegan Kids Paint & Finger Paint
How to Make Homemade Vegan-Friendly Finger Paint
If you're in a pinch and would love to create your own edible finger paints at home (and also have fun experimenting with the kids!), here is a simple and easy recipe to follow:
2 cups of water or berry juice (such as pomegranate, beet, blueberry, or cherry)
½ cup of corn starch
3 tablespoons of cane sugar
½ teaspoon of salt
Combine all ingredients in a small saucepan. Warm until mixture thickens. Cool and pour into containers. Add a few drops vegan-friendly food coloring or a dash of fruit powder to create a spectrum of spectacular colors.
NOTE: Use glass jars from cleaned out Oui yogurt for containers or small mason jars you have around the house.
Vegan Paint Brushes
You really don't need brushes made out of animal hair to create gorgeous masterpieces! Perhaps a century ago or more, there weren't any other options. Why use the hair from a badger, camel, goat, hog, horse, mongoose, ox, raccoon, rabbit, squirrel, sable, or wolf (that must be hard to get!) when you don't need to?
Luckily, there are hundreds of top-notch synthetic brushes that are affordable, hard working, and give great results. For reference, the more expensive the brush, the higher the chances that it uses real animal hair. These brush brands have stood the test of time: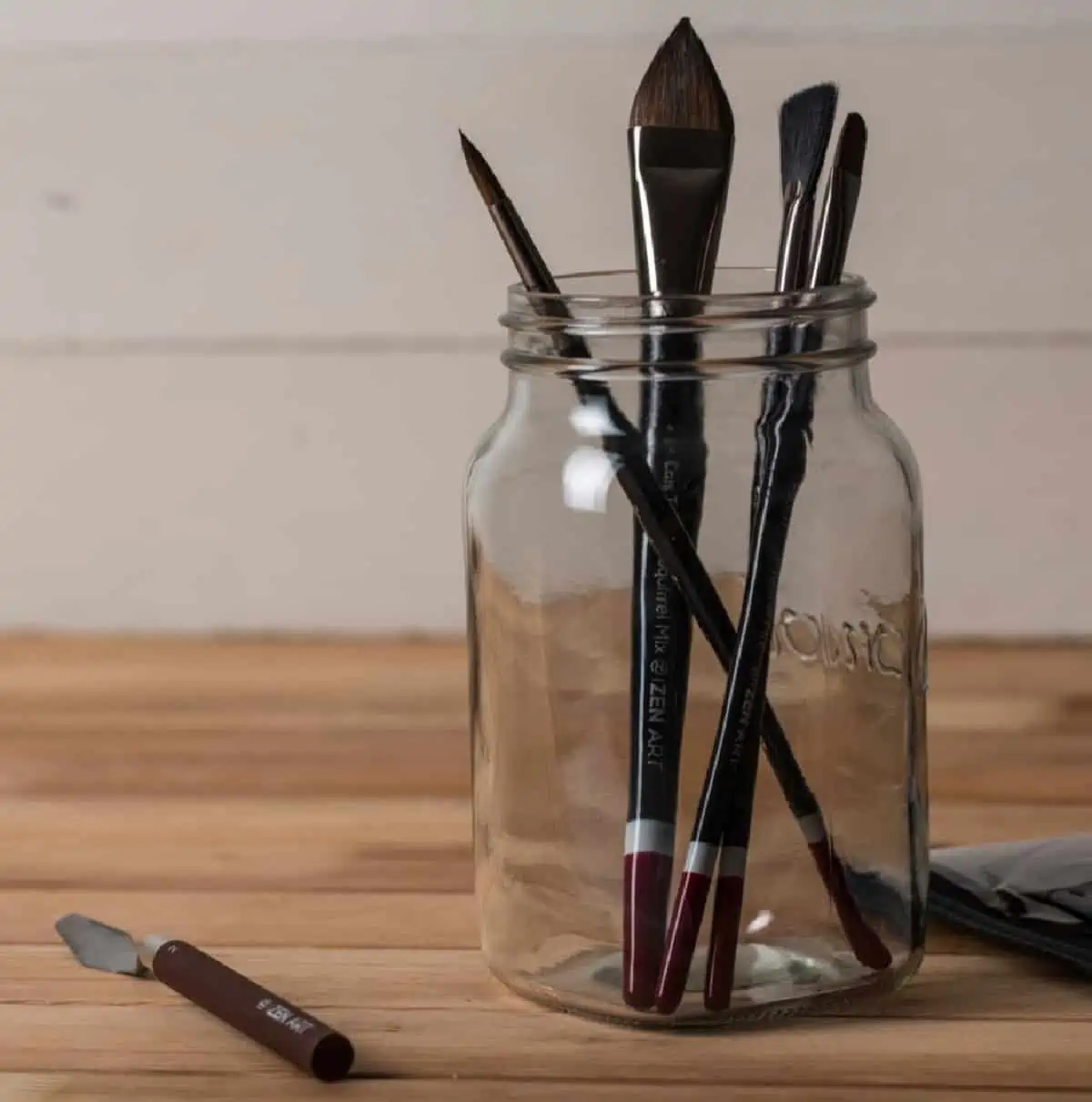 Adhesives (Vegan Glue & Tape)
Thousands of years ago (before synthetics were invented), there were only animal-based glues. These glues were made using the collagen from the hides and bones of horses, rabbits, and even fish. Most glue products also contained gelatin, as well.
Hide glue is primarily found in some (but not all) glues for bookbinding, antique restoration, musical instruments, woodworking, and art canvas sizing, among others.
Nowadays, unless you are the glue you are using lists hide glue, you should be safe. Almost all commercial tapes, glues, and adhesives that you can buy in your local store are animal-free. Whew!
How about animal testing? Sadly, both 3M and Scotch tape brands both test on animals. If you're able to choose another brand, the animals will thank you.
Vegan Glue
Note: The old formula of Sugru (moldable glue) was vegan-friendly, but their current formulation has a single raw ingredient that is treated with a fatty acid derived from animals. They're currently hard on work to create a newer, vegan-friendly formulation.
Tape and Adhesives
Note: A long time ago, when Elmer's Glue was owned by Borden, it contained casein, a milk derivative. Today's version does not contain any animal products.
Is Duct Tape Vegan?
Yes, it is! Duct tape is made using three layers: the outer layer is a polythene plastic, followed by a middle layer of fabric, and the sticky last layer is a rubber-based glue. You can safely use this handy duct tape for many fun and crafty creations.
Paper & Canvas
Did you know that some paper and canvases are made with glue and sizing made with animal products? That's pretty awful and totally unnecessary nowadays. These foundational mediums can easily be constructed using plant-based ingredients. Cotton and linen, as well as cruelty-free glue, are simple and easy substitutes.
Watercolor Paper
Although single sheets of watercolor paper are more apt to be vegan, watercolor pads are usually made using gelatin or even wool. Even the sizing (a protective or glazing substance that is applied to, or added into the paper during the production process) can include glue made from animals instead of cruelty-free pva (polyvinyl alcohol).
These brands have been known for their animal-free watercolor paper and pads.
Vegan Printer Paper
Luckily, pretty much all printer and copy paper is vegan-friendly. If you have the option and the means, try to choose a brand that offers 100% recycled post-consumer paper, which does not contain any animal products or by products and saves hundreds of trees.
Here our list of recommended brands for the most eco-friendly choice.
Canvas
Other Papers
Rhodia (notebooks and pads of paper)
Pencils
Why aren't pencils vegan? That's a great question!
Pencils are usually made with a combination of wood and a graphite core . The graphite core is a mixture of graphite, clay, and water, all of which are vegan-friendly. When it comes to the wood that surrounds the core, that's where we hit a snag. The glue that is used to hold the wood around the core is sometimes made using casein glue, which comes from milk.
The pencil brands below are thankfully completely free of any animal products or animal testing. Faber-Castell and Derwent have the best and largest selection of vegan pencils.
Vegan School Pencils
Pencils that are perfect for everyday writing, sketching, and schoolwork.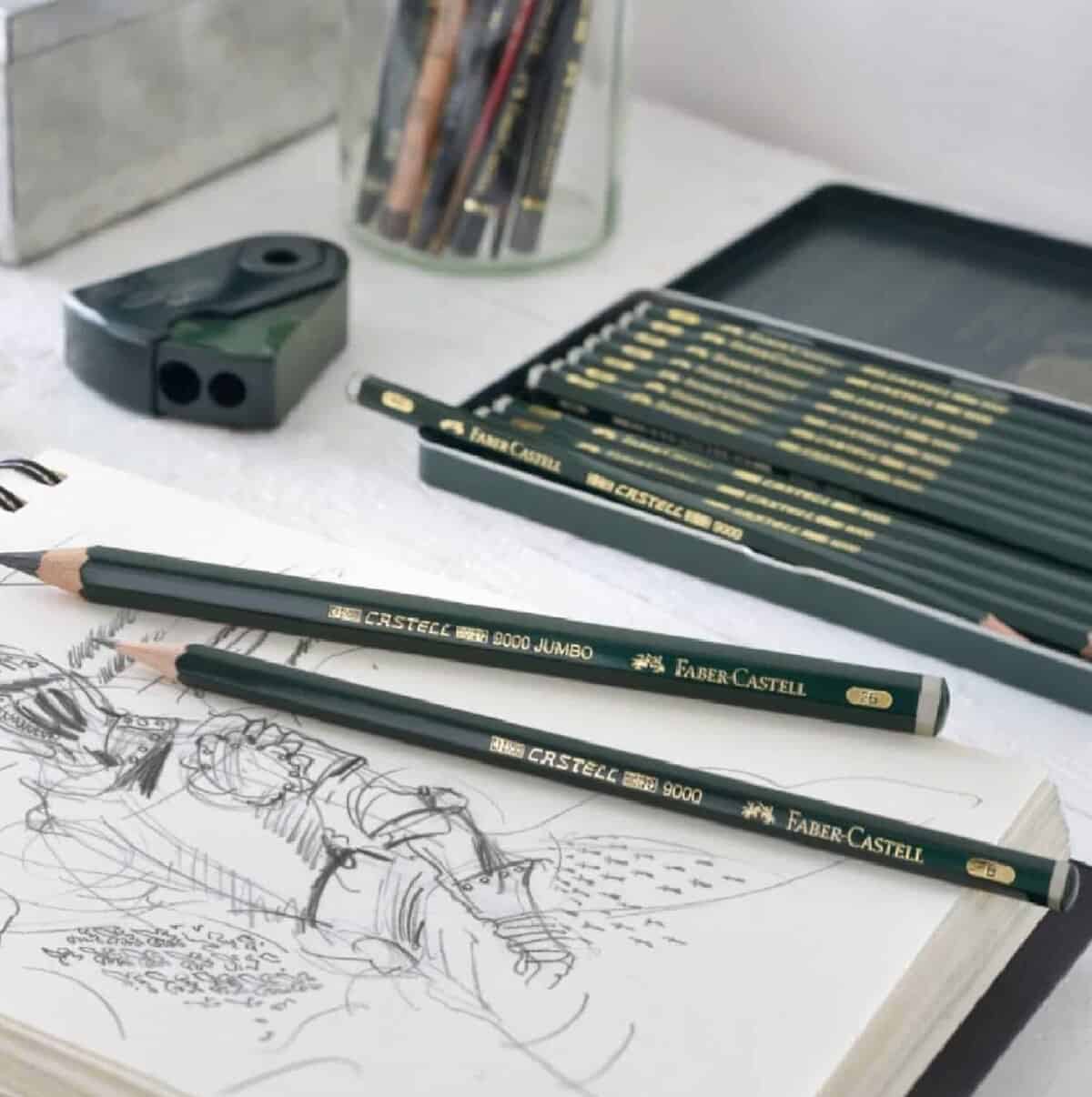 Colored Pencils
These cool and super colorful pencils are created without beeswax, animal or insect-based pigments, and casein glue.
Caran D'Ache Luminance and Supracolor (Note: These specific colors of Luminance are not vegan-friendly because they contain oxidized animal bones: Brown Ochre, Brown Ochre 10%, Brown Ochre 50%, Dark English Green, Light Blue, Malachite Green, Olive Brown, Olive Brown 10%, Olive Brown 50%, Turquoise Blue, and Violet Brown.)
Colozoo 3 in 1 Colored Pencils
Derwent (Coloursoft, metallic, pastel, and graphitone pencils are all vegan-friendly. Their vegan art tools are here.)
Faber-Castell(A fully cruelty-free company. All pencils, pens, erasers, and Polychromos colored pencils are vegan.)
Lebze – (Their colored pencils are irritant-free, non-toxic, washable, and odorless.)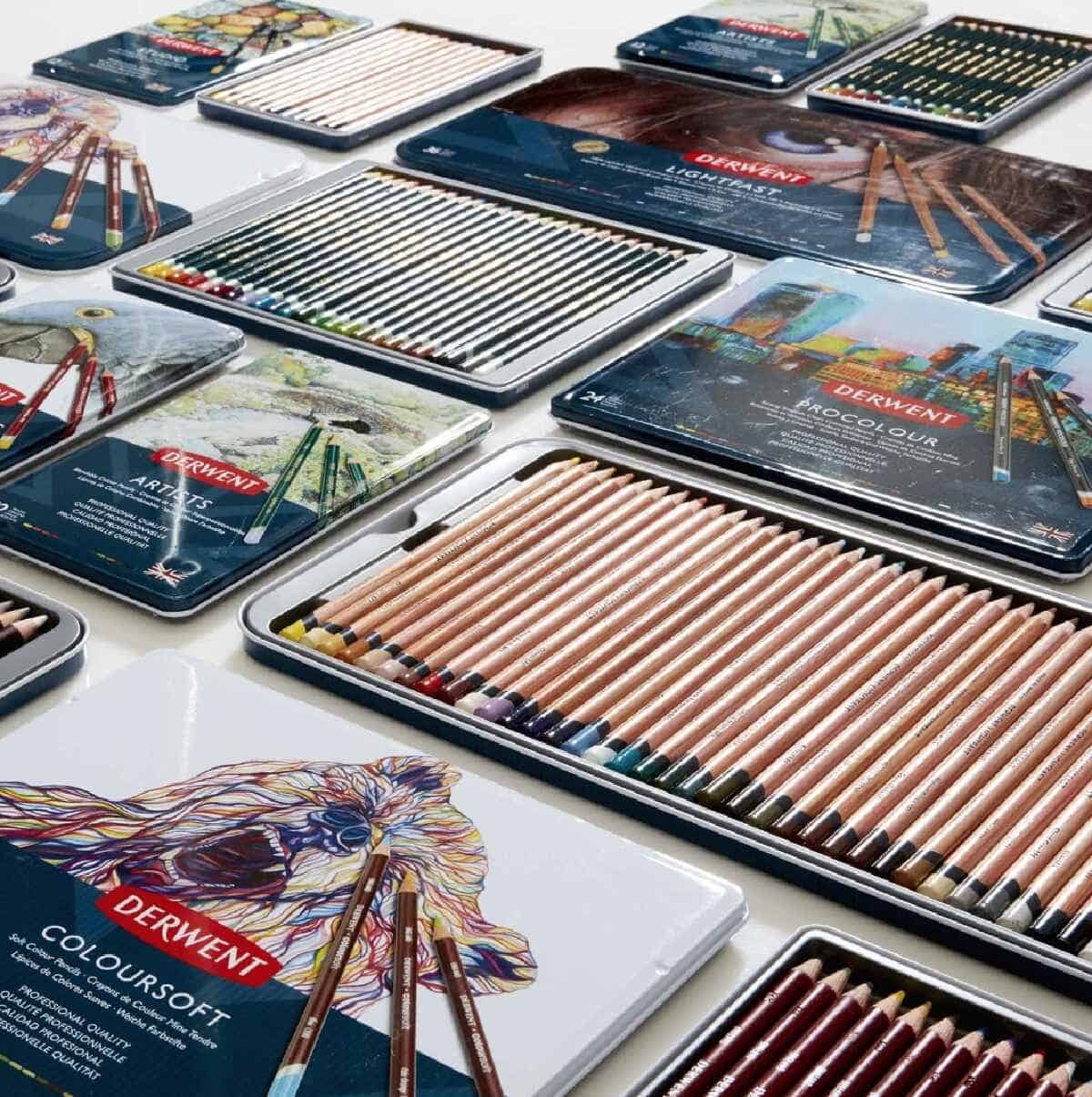 Charcoal Pencils
These pencils are made from pieces of wood (or vine) that is heated to very high temperatures in a sealed container without oxygen. Once this process is complete, you are left with a dense stick which creates a black line for drawing or other art techniques.
Markers
Popular marker brand staples like Crayola markers are not vegan, so vegan kids and artists need to look a little further to find the very best vegan markers.
With ingredients like beeswax, bone char, dairy, gelatin, honey, and insect shells included in many art supplies, it's important to find plant-based alternatives.
The most popular markers that are cruelty-free and vegan-friendly include:
Vegan Pens
Ballpoint pens are generally safe when it comes to additives and ingredients, but not always. The ink can occasionally contain oil from animals, insect parts, or the ink from cuttlefish. Ugh! There's also the animal testing factor to consider.
The number one, long standing, tried-and-true, reliable brand is Pilot. Not only has this brand been consistently recommended by PETA, but they have a fantastic track record for vegan ingredients and never any animal testing. Both the Pilot G2 and Pilot FriXion lines work incredibly well and are the best vegan-friendly ballpoint pen option you can buy at the moment.
Vegan pen brands:
Better yet, buy a bamboo, metal (or even glass!) reusable fountain pen and choose a bottle of animal-free ink to go with it! A favorite, reliable, and affordable brand is Lamy and a beginner-friendly option is Pilot's Kakuno clear fountain pen.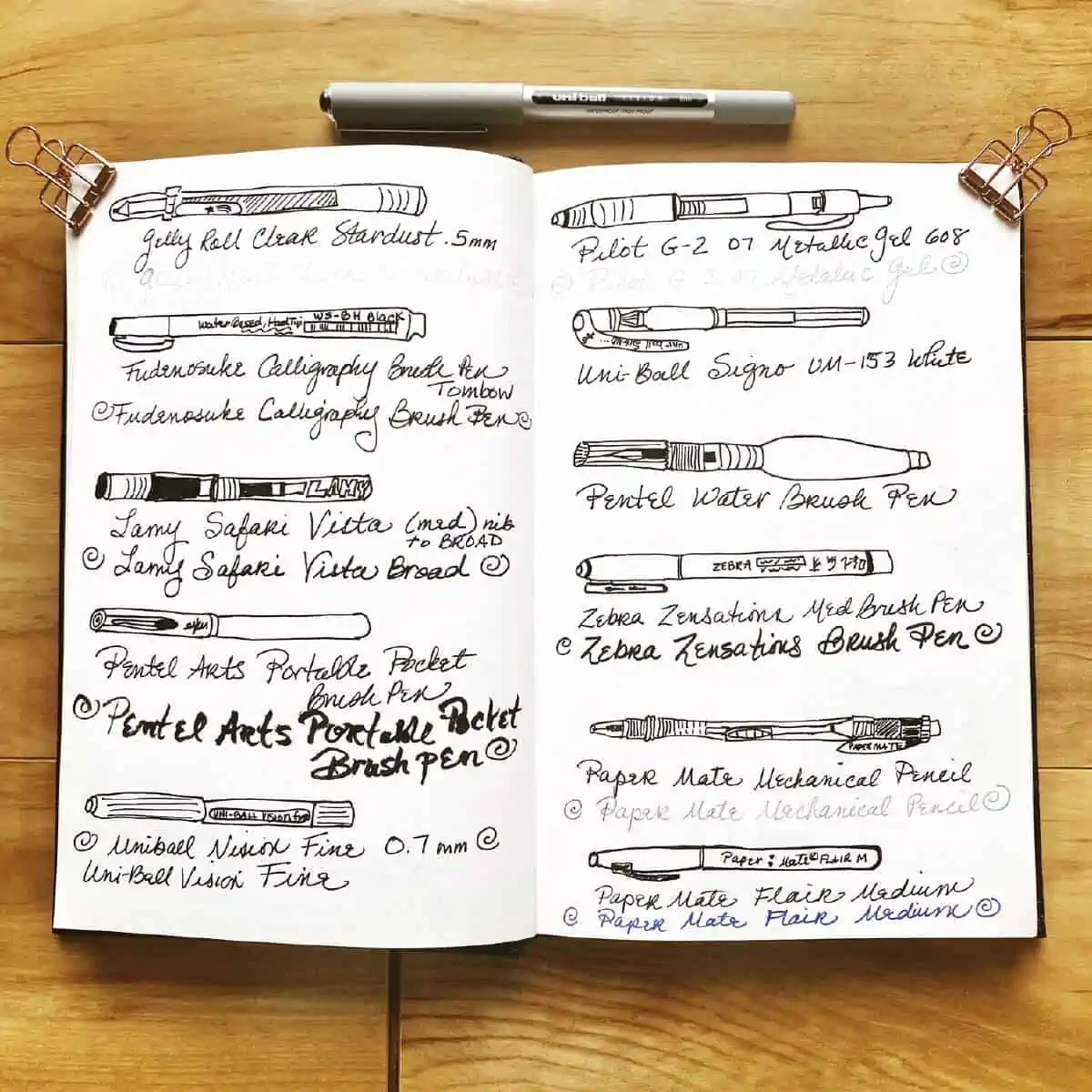 Vegan Ink & Dyes
When using ink and dyes in fountain pens or painting, keep a careful eye on the ingredients. If the ink is labeled India ink, it most likely includes shellac, which makes things shiny. Stay away from any dyes that contain carmine (from insects), sepia, oxgall, or bone char.
Specific colors to avoid (unless specifically labeled vegan): Ivory (or Lamp) Black, Payne's Gray, Sepia, Raw Sienna and Raw Umber.
Vegan-friendly ink and dye brands include:
Chalk
Did you know that chalk's main ingredient is calcium carbonate? Calcium carbonate is created from natural, geographical rock, like limestone. This type of chalk is perfect for vegan art supplies. But, sometimes, it can be produced from eggshells or pearls, instead of from limestone.
Here are some recommended vegan chalk brands to try that are great for kids to use for sidewalk art and beyond.
Crayons
It's disappointing to discover that many commercial crayons are not vegan. They contain ingredients such as beeswax, stearic acid, and color pigments made from insects. Because World of Vegan knows that you want crayon options that are free of cruelty, here are the best vegan-friendly crayon brands on the market today.
To learn more about vegan crayons, check out our in-depth Vegan Crayons Guide!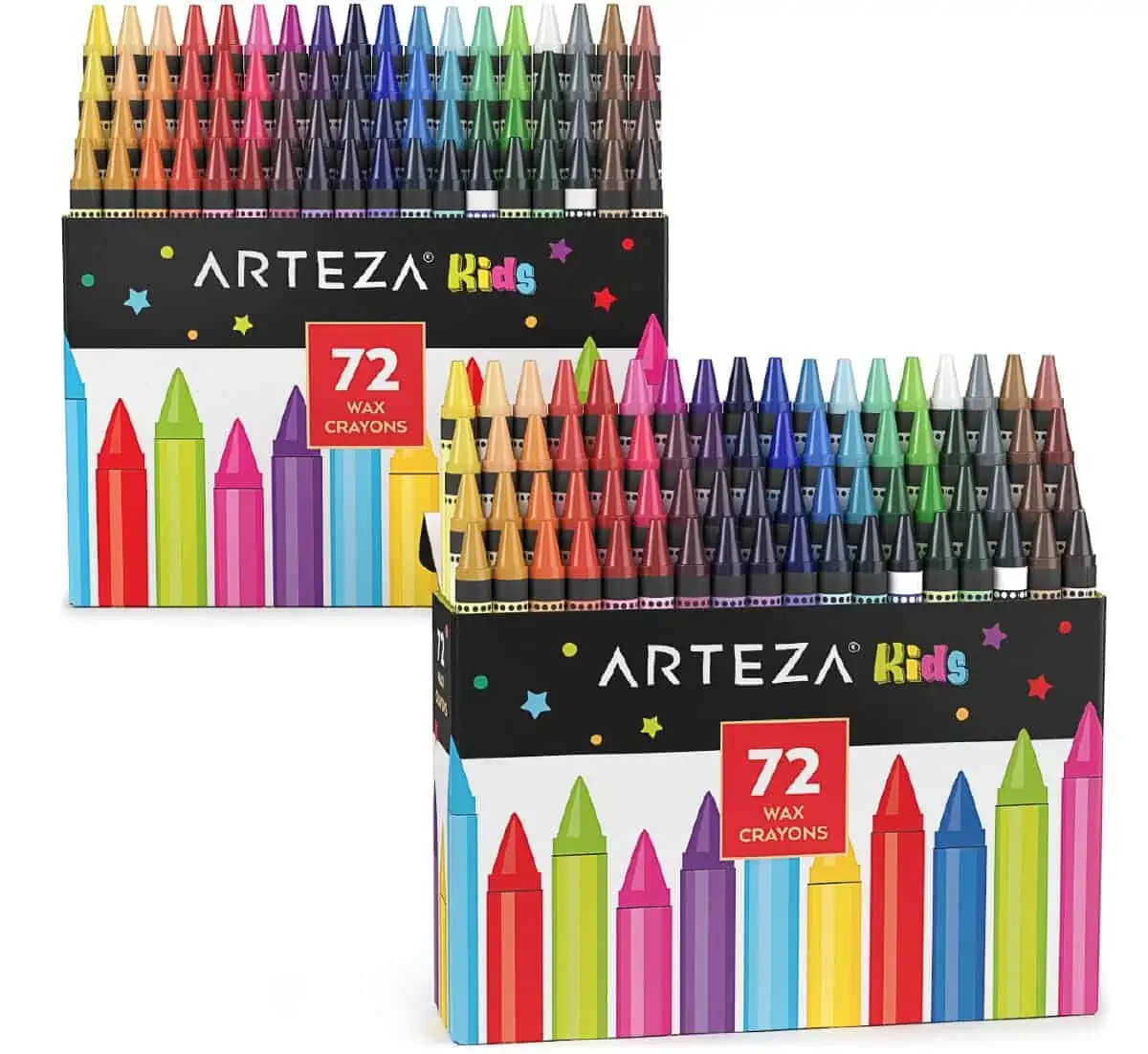 Vegan Pastels
There are two types of pastels—oil and soft. Oil pastels are created using animal fat and, most often, beeswax. Traditionally, soft pastels have been made using kaolin clay, gum arabic, distilled water, and pigment with no animal products included. You can even be mix up a your own pastels by combining oats, distilled water, powdered clay, and vegan-friendly poster paint (such as Chroma).
Online brands that sell alluring, animal-free pastels:
Clay
Most polymer clay is not vegan. Because of the word "polymer", you may just take it for granted that it's man-made and manufactured using petroleum (or similar) products. But, this is not the case. Almost all of the commercial clays that both children and adults use contain small amount of animal-derived ingredients (specifically beeswax, carmine, and gelatin among others).
If you can, AVOID buying these brands: Baker-Ross Light Clay, Cernit, Fimo, Kato Polyclay, Sculpey, as well as the most popular kids' brand, Model Magic. According to Crayola, Model Magic adds animal by-products to their exclusive formula.
But, don't lose hope! Here are several clay options that are vegetable-based:
These two brands of air-drying clay are also vegan-friendly:
Is Play-Doh Vegan?
Good news—it is! According to the company's website and customer service, Play-Doh is vegan. They clearly state that there are no animal by-products or animal testing on their product. Woo-hoo!
Historically, children's play dough has been vegan-friendly because the only ingredients are water, salt, flour, and perhaps oil.
Vegan Felt Options (Watch Out for Wool)
This is another art supply item that you barely ever think about while shopping. You see the brightly colored sheets and just grab what you need. But, occasionally, this material is made with a large percentage of wool.
A good guide is that the more expensive the felt, the higher the chances that it uses authentic wool. Inexpensive felt sheets use a combination of synthetic fibers like acrylic, nylon, or polyester. Here are a few brands we love:
Craft Feathers
It may be surprising to hear, but craft feathers are not fake. They're actually real feathers from animals and are usually by-products of the meat industry. If that's not upsetting enough, some of the feather ends are treating with glue containing animal-based ingredients. Please completely bypass the feathers at the craft store and choose these cruelty-free options instead:
Vegan Art Supplies Q&A
Does Crayola test on animals?
No, they do not test on animals, but many of their art supplies contain animal by-products. Here is a quote that they shared on Twitter: "We're happy to share that Crayola does not test its products on animals. While a variety of Crayola products contain animal by-products, our product formulas are proprietary, and we don't have additional information to share."
Can you buy vegan gouache?
Yes, you can! Although gouache (a water-based opaque paint) is sometimes made with honey, gelatin, or oxgall (bile obtained from cows), there are vegan-friendly options such as Arteza and Holbein, and Caran D'Ache. Others brands only offer some of their paint colors without animal products including Daler-Rowney Designer's Gouache (vegan except for Neutral Grey 2, Paynes Grey, Lamp Black, Cool Grey 1-3, and Warm Grey 1-3) and Schminke Akademie (NOT their other paint lines).
Is Super Glue vegan?
Yup. Most, if not all, super glue is made from petroleum polymers and do not contain animal products. Just be sure that the company you choose does not test on animals, which most do not. Krazy Glue, Loctite, and J-B Weld are all vegan-friendly.
Art Lovers, if you have suggestions for vegan art supplies that we've missed, please comment below. We'd love to give them a try!
More Vegan Art Resources to Inspire
This vegan art supply guide is not sponsored by any of the brands or companies mentioned. Art supply photography supplied by art supply companies' Instagram pages.