Apple strudel must be one of the coziest fall recipes ever. Warm, sweet, cinnamon-y, and the perfect side for an almond milk latte, don't you think? Sounds pretty dreamy! In this recipe we're sharing a bite-sized version of the traditional apple dessert, miniature vegan apple strudels. The cutest and easiest dessert you'll ever make. Ready?
Classic German Strudels — A Treat From The North
This classic dessert is a German tradition! From early August through the end of October, fresh apples start filling up the market stands, and freshly baked strudel starts filling up the air. It's such a lovely welcome to the season when the warm summer days turn into chillier and darker evenings.
It's common to go for an afternoon coffee and enjoy a piece of freshly baked warm apple strudels with some cream on top (also called "sahne" in German). This version is entirely plant-based and much simpler than the original version. The juicy caramelized apples soak the yummy dough and make you love fall (as if we don't love it already)!

Use Fresh Apples — Go Apple Picking!
You can always get your sweet crispy apples from the market or closest grocery store, but what if you found an alternative way? When apples are in abundance, it's a great idea to enjoy a charming apple picking day at your closest apple farm. This is a great way to connect with the harvest season, celebrate fall, and make special memories.
Another fantastic idea is to get in touch with your neighbors and coordinate which trees everyone plants in their garden or backyard. This way, you will be able to share those yummy fruits once they are in season! You could plant apples and pears and have the greatest harvest to share with your friends at the end of October. Your next-door neighbor might choose nectarines and cherries and have a super plentiful feast to share during the summer! Isn't this a great idea? Community agriculture at it's finest. Try it!
Mini Vegan Apple Strudels: Perfect Party Finger Food!
This mini vegan apple strudels recipe is the perfect example of how sometimes in the kitchen, less is more. In my view, the best desserts are the simpler ones to make. No fancy ingredients, no crazy decorations. Those basic and seasonal sweet treats we enjoyed so much when were little were usually the easiest ones to make.
This recipe calls for only a few ingredients and minimum steps to follow, yet you can wow your guests if you serve these at a dinner party or after a family dinner. They look like you've spent hours in the kitchen when the truth is you've been hustling for less than an hour! Psst…no one needs to know 😉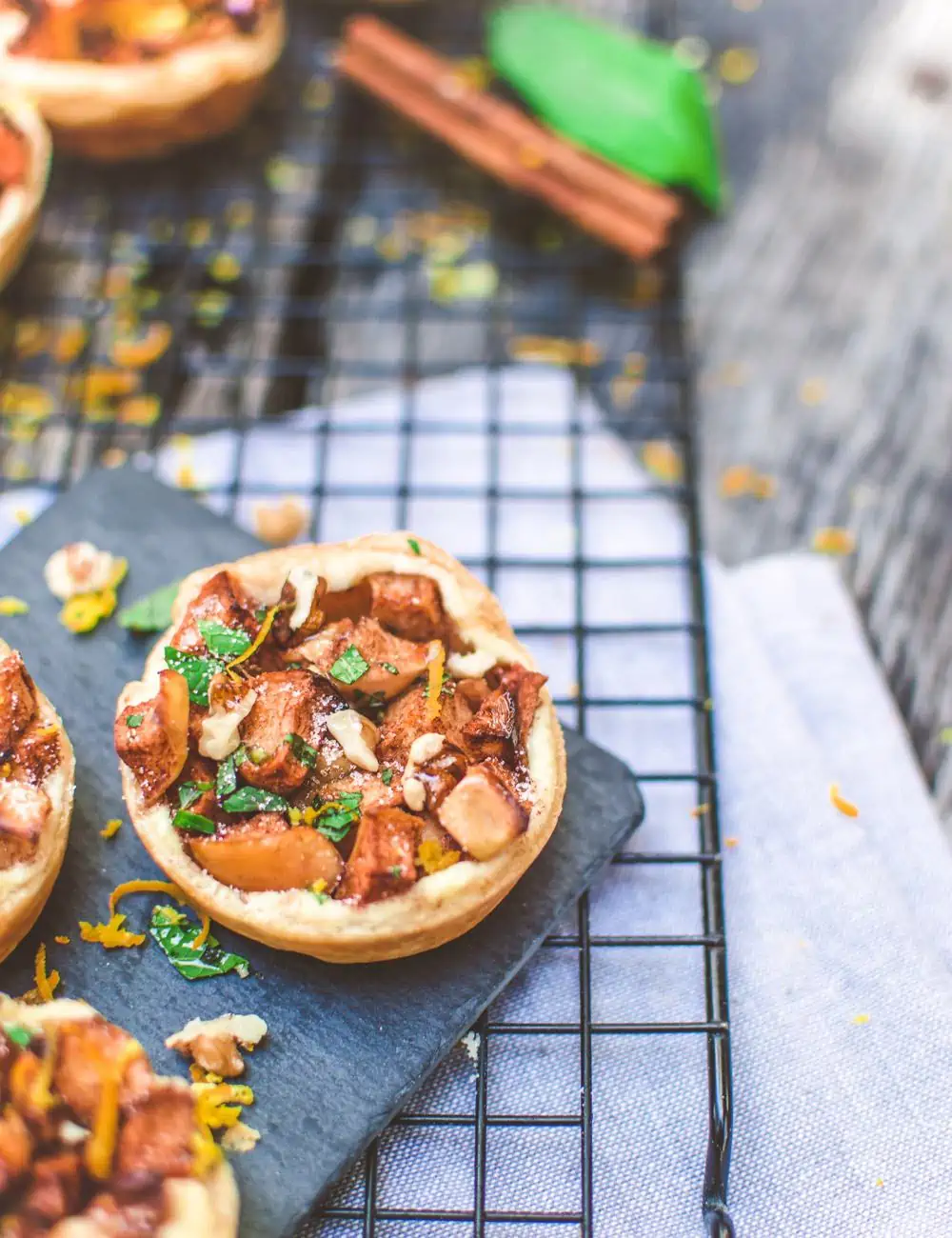 1 pack puff pastry sheet
2 pink lady apples
1 teaspoon cinnamon
1 tablespoon coconut oil
1 tablespoon sugar
crushed walnuts, optional topping
Preheat oven to 350° F

Cut circles out of the puff pastry sheet and place them in muffin tins, so they become like little cups.

Cut the apples into small cubes and cook them in a pan with the cinnamon, sugar, coconut oil and a bit of water for about 5 minutes, stirring regularly.

Transfer them into the puff pastry cups and bake in the oven for about 15-20 minutes.

Take them out and sprinkle with walnuts (if using).
Calories: 256kcal | Carbohydrates: 24g | Protein: 3g | Fat: 17g | Saturated Fat: 5g | Polyunsaturated Fat: 2g | Monounsaturated Fat: 9g | Trans Fat: 0.004g | Sodium: 105mg | Potassium: 57mg | Fiber: 1g | Sugar: 5g | Vitamin A: 17IU | Vitamin C: 1mg | Calcium: 6mg | Iron: 1mg
Really Into Vegan Baking? Check these out!
Mini Vegan Apple Strudel photos and recipe by Zhoro Apostolov for World of Vegan. Recipe and photographs copyright of World of Vegan™, all rights reserved. Please note that this article contains affiliate links, which means shopping through them helps lights on at World of Vegan!