This vegan carrot juice cocktail recipe was kindly sponsored by our friends at Koskenkorva—makers of sustainable vegan vodka.
Brighten up your cocktail routine with a fresh new take on the classic Moscow mule! Pure pressed carrot juice gives these MosCarrot Mules their gorgeous orange glow, guaranteed to out-shine any pre-made cocktail mixes on the market. The natural, earthy sweetness of the carrots provides a low-sugar foundation to round out the spicy bite of ginger beer. Sophisticated and complex, yet bubbly and fun, who says you can't have it all in one glass?
Fun Facts About the Moscow Mule
Despite the name, the iconic drink began life at a Hollywood, California bar, not in Russia. It was named for the origin of the vodka for a more exotic appeal.
It was created as a way of selling two ingredients that weren't immediately popular by themselves: vodka and ginger beer.
Though often served in a copper mug, that too was a happy accident. It was simply the only vessel that the original bar had available at the time!
The drink was almost a casualty of the cold war when Russian conspiracies seized the American imagination. Luckily, everyone came to realize that it was just a great drink. Let's raise a glass to that!
Health Benefits of Carrot Juice
This is one cocktail you can feel good about imbibing! Carrot juice is loaded with vitamins and nutrients, such as:
Beta carotene, which your body converts to Vitamin A. This helps strengthen the surface of the eye which promotes healthy vision.
Antioxidants, known to fight free radicals to aid in preventing cancer and reduce the risk of infections.
Vitamin C, to strengthen the immune system.
Calcium, folate, and magnesium for heart health, lower blood pressure, and overall well being.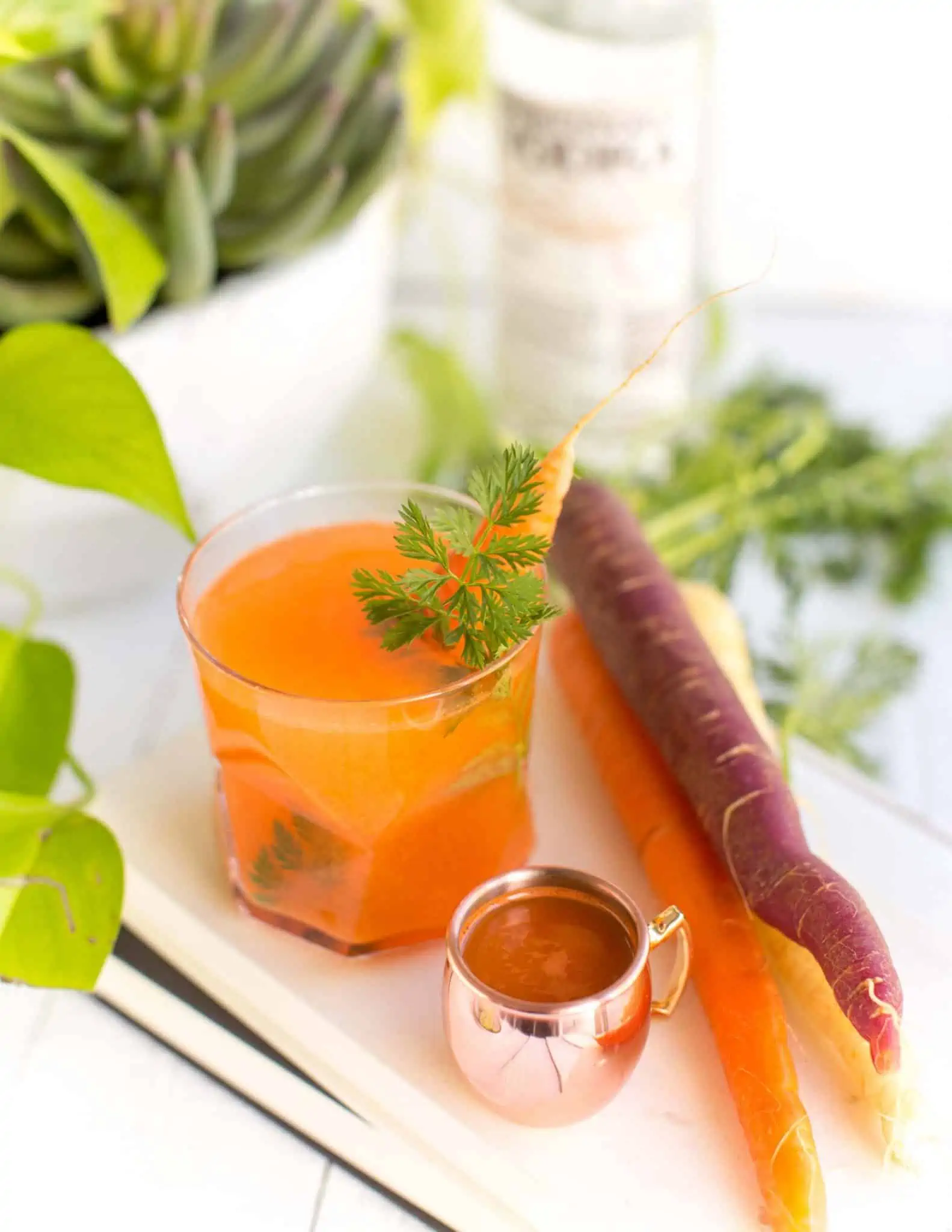 Substitutions and Variations
If you can't find or don't enjoy the strong flavor or ginger beer, use standard ginger ale instead, which is readily available at any grocery store and far milder in taste.
For those who aren't fond of ginger at all, try substituting orange soda or lemon-lime soda for a bold citrus kick.
Need to watch your calories? Use a diet ginger beer which has no added sugar, such as Zevia which is sweetened entirely with stevia extract.
Create a virgin mocktail option by simply omitting the vodka.
No need to run out and buy a juicer if you don't already have one; start with bottled, 100% carrot juice for a quick kickstart.
Shaken or Stirred?
This drink is meant to be stirred for the best incorporation of ingredients, but there's real technique to stir the right way.
To begin, place a long-handled spoon an inch or two into the ice, but not all the way to the bottom of the glass. Take a loose grip between the first and second knuckles of the middle and ring fingers. With a bit of practice, you can stir a drink quickly just simply by moving the two fingers back and forth, as the spiral handle allows the spoon to spin easily in your hand without ever requiring a firm grip.
Make sure that the back of the spoon is in contact with the inside of the mixing glass. Move the spoon around the inner surface of the glass and rotate the ice into a smooth vortex. Never clink the ice or cause the spoon to lose contact with the side of the glass. Disturb the ice as little as possible as you rotate it to prevent ice chips or excessive melting, which could cause your drink to over dilute.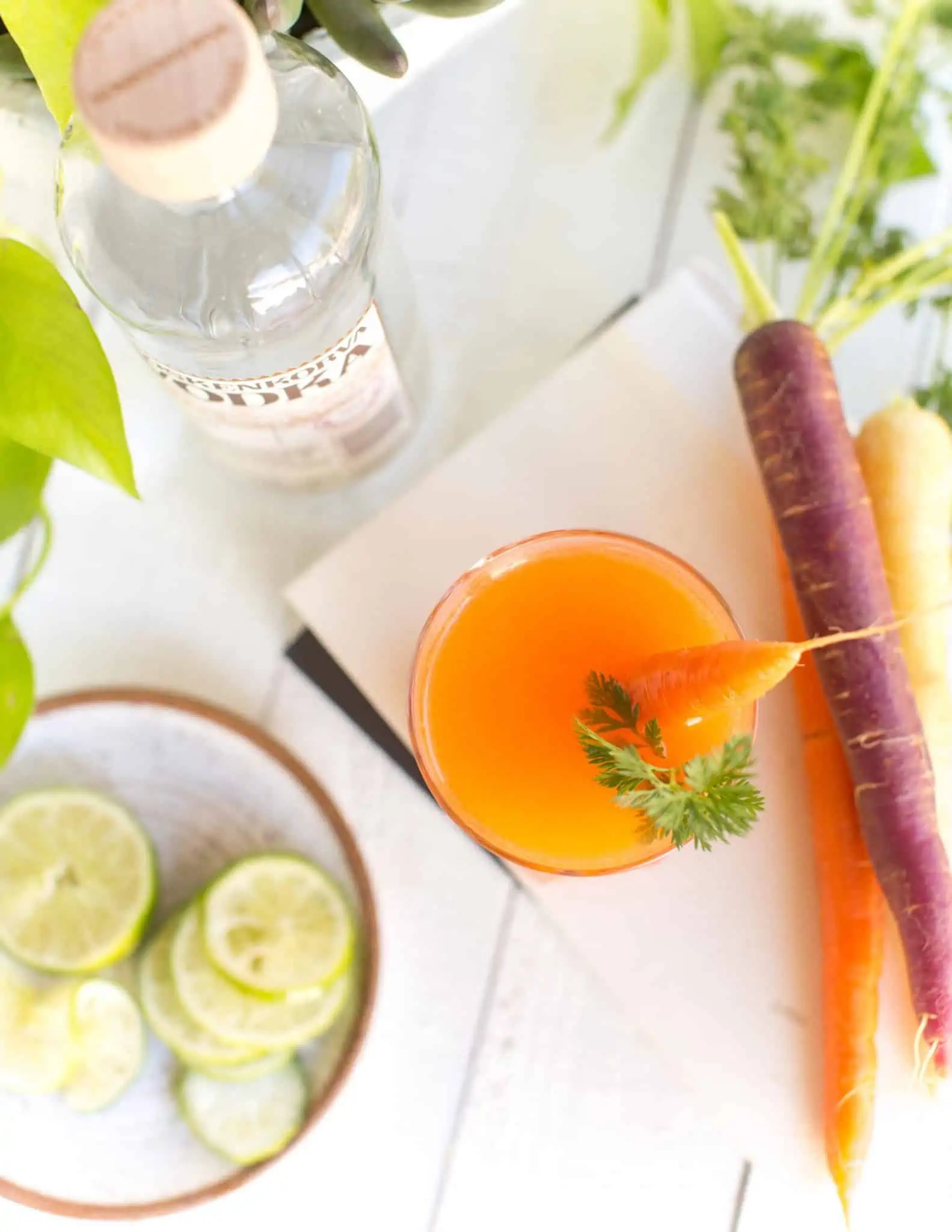 When's the Best Time to Serve a MosCarrot Mule?
Carrots seem to transcend typical seasonal harvests, available in abundance all year round, but they're particularly well-suited to springtime celebrations, such as Mother's Day, Easter, Passover, and more.
Replace the average mimosa with an eye-opening shot of carrot sweetness for your next big bunch bash.
Wind down after a hard day of work with a drink that will both soothe and revive, rather than taking a swig of some heavy, hoppy beer.
How to Make MosCarrot Mules for a Crowd
If you're throwing a party and don't want to spend the whole night behind the bar, you can easily turn this into a large-format batched cocktail. Multiply the ingredients by however many servings you want, and mix together the lime juice, carrot juice, and vodka up to one day in advance. Store the mixture in an airtight container in the fridge until the party starts. Pour into individual glasses and top off with ice and ginger beer last to maintain that bubbly effervescence.
Alternatively, allow your guests to take a more DIY approach by letting them mix up their ideal balance of lime juice, carrot juice, ginger beer, and vodka to taste. This approach also helps if some friends would rather skip the alcohol altogether without making a fuss.
Equipment You'll Need
6 ounces ginger beer
1 tablespoon lime juice
2 ounces Vodka
1 ounces fresh carrot juice
1 half-carrot as a drink stirrer, washed carrot stems make beautiful garnishes as well
Advance Prep: If making your carrot juice from scratch: In a juicer, juice 2 medium carrots. Set carrot juice aside.

Fill your cocktail glass with ice. Add ginger beer, lime juice, vodka, and carrot juice. Stir gently to mix.

Place a slice of carrot in the drink for garnish, or as a natural stirrer.
Use any remaining carrot juice for a healthy juice shot or to make additional drinks MosCarrot Mules! Or simply add the extras to your drink for an additional vitamin boost. 
Calories: 204kcal | Carbohydrates: 19g | Protein: 0.3g | Fat: 0.1g | Saturated Fat: 0.01g | Polyunsaturated Fat: 0.02g | Sodium: 31mg | Potassium: 103mg | Fiber: 0.3g | Sugar: 17g | Vitamin A: 5429IU | Vitamin C: 7mg | Calcium: 14mg | Iron: 0.5mg
Vegan Vodka—We Love Koskenkorva!
You don't need to be a mixologist or have an extensive collection of bottles to raise your spirits. I much prefer to have a very selective collection of vegan alcohol that was consciously and sustainably crafted.
For this drink, our vodka of choice is Koskenkorva Vodka, this clean liquor is the best base for countless cocktails. Distilled from pure barley, it's smooth, crisp, and infinitely versatile.
Commitment to Quality – Only 100% unfiltered and unprocessed pure spring water from Rajamäki is used to make such an exceptionally clear, clean, and smooth spirit. It's lab-tested to ensure consistency, and chemicals are never used for treatment.
Sustainable Practices – Dedicated to fight climate change by doing their part to reduce, reuse, and recycle, their efforts have won them a Green Company award. They're working to incorporate more regenerative farming practices in the future, too.
Supports Local Business – All of the barley used to create the mash for distillation comes from 1500 small family farms in Southern Ostrobothnia, Finland. They work with the farmers to determine the perfect balance of nutrients to ensure the greatest yields, resulting in the highest profits, for everyone to get their fair share.
No Animal Products – Believe it or not, some alcohol is filtered with isinglass, gelatin, or casein, which come from fish bladders, bones or hooves, and milk protein, respectively. Koskenkorva Vodka uses a rigorous distillation system to remove any potential impurities instead, creating a completely vegan, and much more refreshing, drink.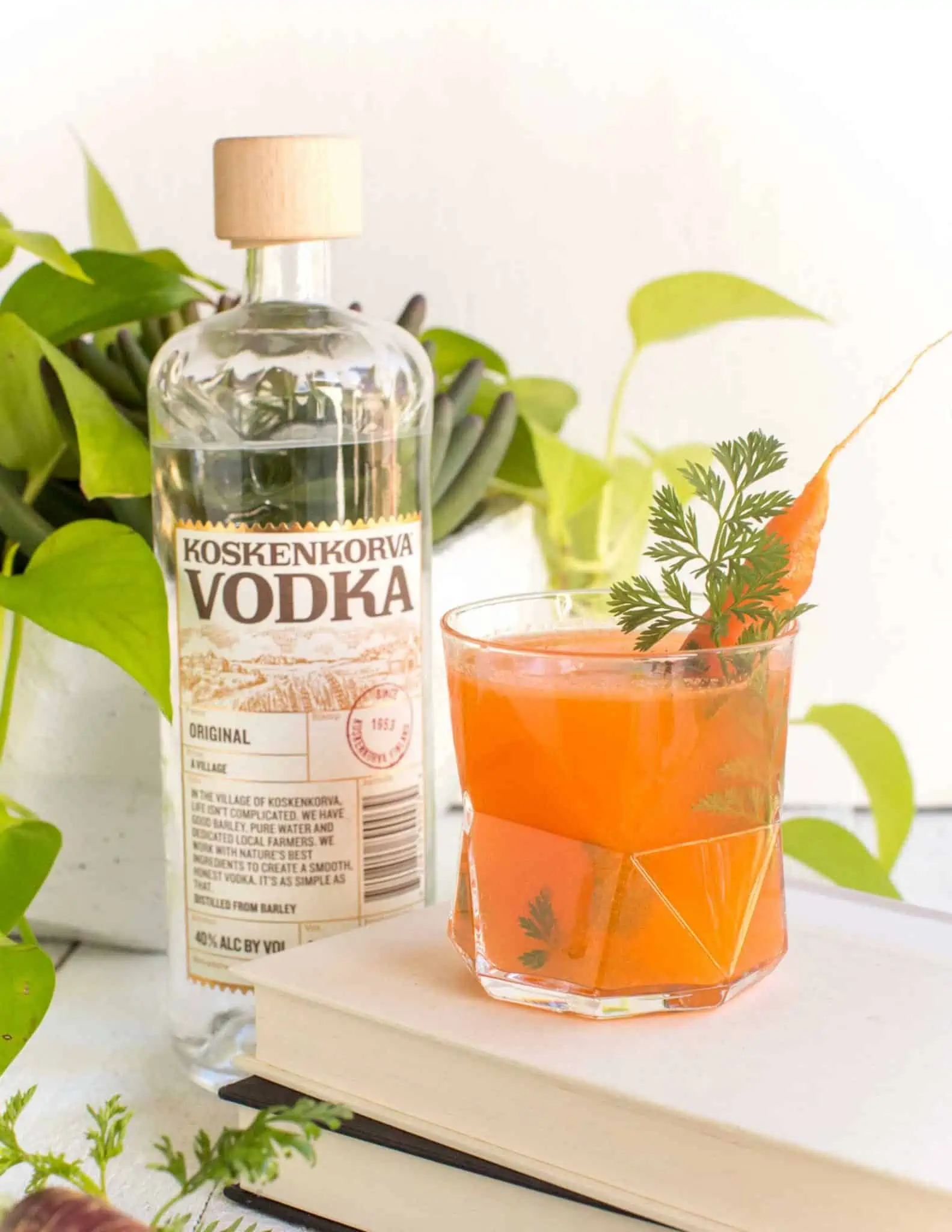 More Refreshing Drinks to Try
This orange carrot juice cocktail recipe was developed and photographed by Michelle Cehn. Please note that this post was sponsored by Koskenkorva Vodka / Marussia Beverages.