When the chocolate cravings strike they must be met! This 4-ingredient no-bake chocolate pie recipe is the perfect solution to those imminent cocoa cravings creeping up at around 5 o'clock. The simplest ingredients and not much time spent in the kitchen make this pie from the Plant-Based On A Budget cookbook a true keeper!
Are you up for the no-bake pie challenge? It's the easiest and most delicious chocolate pie you'll ever make. No tricky techniques or steps and it involves a blender, a microwave, and a fridge. Doesn't get easier than that! You have to try it!
For the pie:
1 12-ounce bag vegan semisweet chocolate chips
1 14-ounce block silken tofu , drained (also called "soft" tofu)
2 teaspoons vanilla extract
1 vegan graham cracker pie crust
For the coconut whipped cream:
1 13.5-ounce can full-fat coconut milk
1 teaspoon vanilla extract
3 teaspoons powdered sugar
For the Pie:
In a small, microwave-safe bowl, microwave the chocolate chips for 45 seconds. Mix with a fork until smooth. (If the chocolate is still lumpy, microwave for 20-second intervals, mixing in between, until the chocolate is completely smooth. Alternatively, melt using a double boiler.

In a blender or food processor, blend the melted chocolate, tofu, and vanilla until creamy.

Pour the tofu-chocolate mixture into the piecrust and place in the freezer for 30 minutes or until the filling solidifies. The pie can be stored in the refrigerator for up to 5 days.
For the Coconut Milk:
Place the can of coconut milk in the refrigerator and let it sit overnight or for at least 6 hours.

After the coconut milk is completely chilled, the milk and water should have separated. Remove the lid and pour out the water. (You can save it for a smoothie.)

In the bowl of an electric mixer, whisk the solidified coconut milk, vanilla, and powdered sugar on high for 5 minutes or until the mixture is fluffy. (If you don't have an electric mixer, a hand whisk will also work.) Serve Immediately.
Toni's Tips:
If you don't have a graham-cracker pie crust handy, you can crumble your favorite cookies or graham crackers and pack them tightly into the bottom of an 8-inch pie dish. Then pour the tofu-chocolate mixture on top of the crumbs and place the pie in the freezer.
Avoid using coconut milk with guar gum because it prevents the milk from solidifying. If you can't find one that is full-fat and doesn't have guar gum, coconut cream also works.
Testers' Tip: "To make your own pie crust, use a sleeve of vegan graham crackers, which has roughly ten, and pulse them in a blender or food processor until they crumble. Add ½ cup vegan butter to the blender or food processor and blend together. Using your fingers, press the graham cracker mixture into the baking sheet." —Lisa K. from New Orleans, LA
Calories: 894kcal | Carbohydrates: 120g | Protein: 9g | Fat: 43g | Saturated Fat: 9g | Polyunsaturated Fat: 3g | Monounsaturated Fat: 29g | Sodium: 802mg | Potassium: 214mg | Fiber: 3g | Sugar: 33g | Vitamin A: 2IU | Vitamin C: 0.01mg | Calcium: 52mg | Iron: 5mg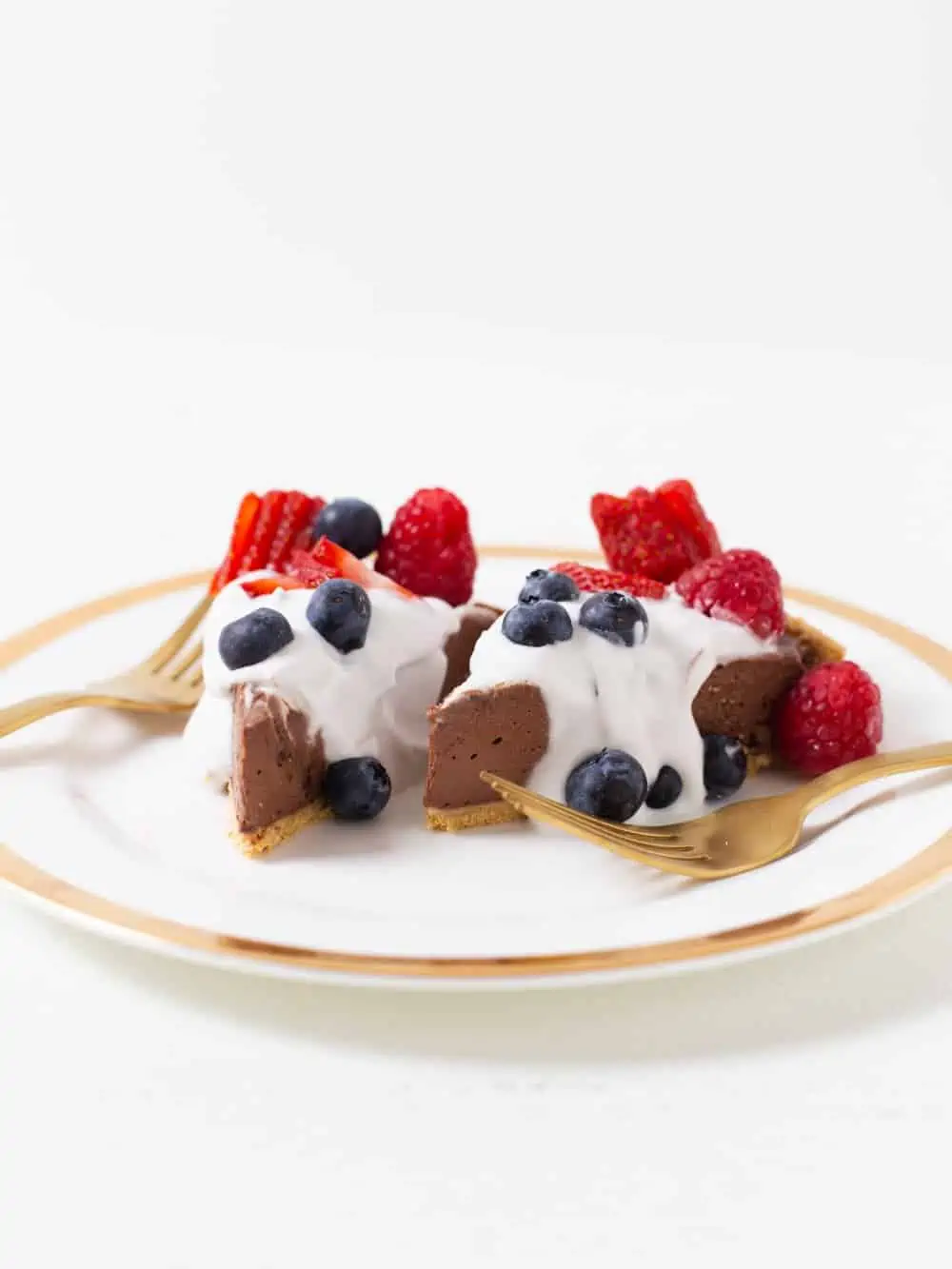 Graham Crackers Crust For The No-bake Chocolate Pie!
These amazing crackers have become a classic. They are part of every cheesecake or easy pie recipe out there and for a reason. It's part of US history dating all the way back to 1880s and initially inspired by Sylvester Graham. Graham inspired what became the first US vegetarian movement called Grahamites and this created the demand for Graham products like flour, crackers, and bread. Pretty amazing, isn't it?
Needless to say, these crackers are fully vegan and so delicious. They are sweet and flavored with cinnamon. So good! You can crumble them and press them tightly at the bottom of the pan if you don't find a graham cracker ready-made crust.
Can I Use Other Crackers To Make The Crust?
Absolutely! You can choose any vegan and easy to crumble cracker or cookie. If you notice that the crackers you use don't hold very well you could add a bit of vegan butter to bring it all together. Just make sure you press them tight enough and the crust will harden with the cold.
The Dreamiest Coconut Whipped Cream!
To top off this no-bake chocolate pie you can make this delicious coconut whipped cream. It compliments the intense chocolate flavor of the pie perfectly. All you need is sugar, vanilla, and chilled coconut cream. You could use a standing mixer but you could try and whip it manually also. Might not grow as much but it will taste amazing nonetheless.
Another great idea if you don't want to work extra for the topping cream, is to top it with very thick and fatty coconut yogurt and drizzle a bit of maple syrup on top. Are you hungry already?
About The Cookbook
The Plant-Based on a Budget cookbook is a must! It's one of those cookbooks that will end up on your kitchen counter and never make it to the shelves. The idea behind it is to help you save money while eating a healthy plant-based diet. Pretty amazing, right? You'll find so many staple recipes here like broccoli soup, 3 bean salad, and blueberry muffins.
Toni Okamoto is the budget eating guru. She has been sharing delicious tips and recipes on her blog for years and this is already her second cookbook. You can also find her alongside World of Vegan founder Michelle Cehn in the Plant-Powered People Podcast, so go have a listen!
If you want to get your own copy of this book find it here.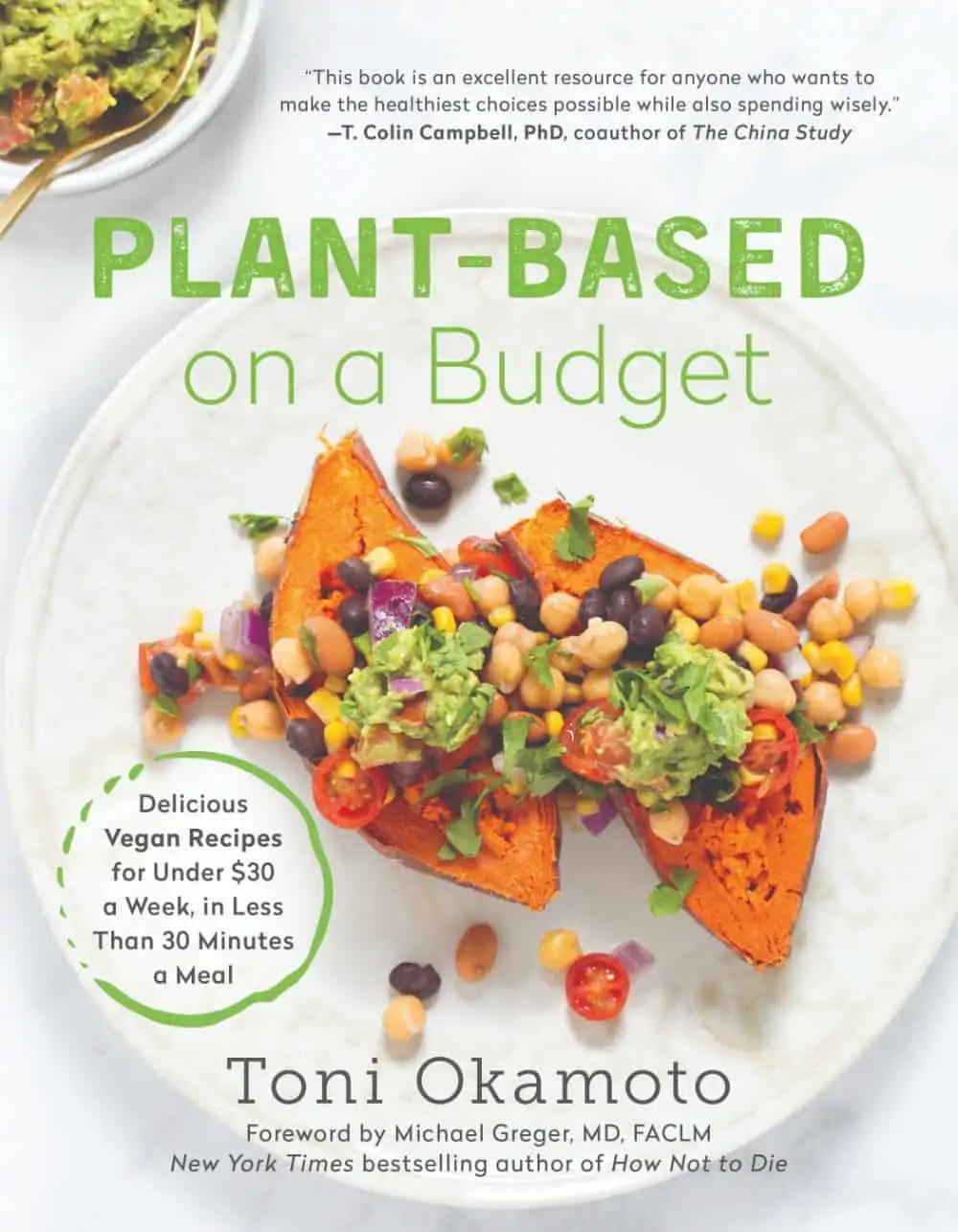 Craving For More Vegan Dessert Recipes?
This no-bake vegan chocolate pie recipe was excerpted from Plant-Based On a Budget by Toni Okamoto, BenBella Books, 2019. Photos by Jenny Love. Please note that this article contains affiliate links that support our work here at World of Vegan.