If you've ever dreaded sitting down to Thanksgiving dinner (or Sunday dinner) and watching your family carve into a giant carcass, you're not alone.
Demand for a meatless feast has been rising exponentially in the past few years, even among omnivorous eaters. There's never been a better time to ditch the bird and embrace a cruelty-free vegetarian roast centerpiece. There are plenty of easy options available on the market now, but why not create something truly worth celebrating by starting from scratch?
This holiday "turkey" roast from the cookbook Vegan Thanksgiving Dinner and Pies by Audrey Dunham will have purists crying fowl! Savory, sliceable, and simply divine, no one will ever miss the meat.
Why You'll Love This Recipe
Stress-free advanced prep: Don't worry about creating a grand dinner from scratch all at once. You can make this tasty vegetarian roast ahead of time, so you only need to heat and eat when your guests arrive.
Instant party-starter: No matter the season, there's always something to celebrate. Thanksgiving, Christmas, Hannukah, Easter, birthdays, and beyond—this is a great entrée for feeding a crowd.
High in protein: Between the chickpeas and vital wheat gluten, there's approximately 150 grams of protein in this whole roast! That comes out to over 25 grams per serving when you factor in the other power-packed ingredients.
Cholesterol-free: Unlike other animal-based roasts, all vegan proteins contain zero cholesterol, and in fact, this one is heart healthy!
Great for leftovers: If you're the kind of person that enjoys sandwiches made from Thanksgiving leftovers more than the big event, you're in luck. This roast slices like a dream and keeps beautifully in the fridge, so you'll have deli-quality slices for days to come.
Hands off: Though it does take some time to cook and advanced planning, most of that is completely hands off, so you don't have to put in hard labor to get this meal on the table.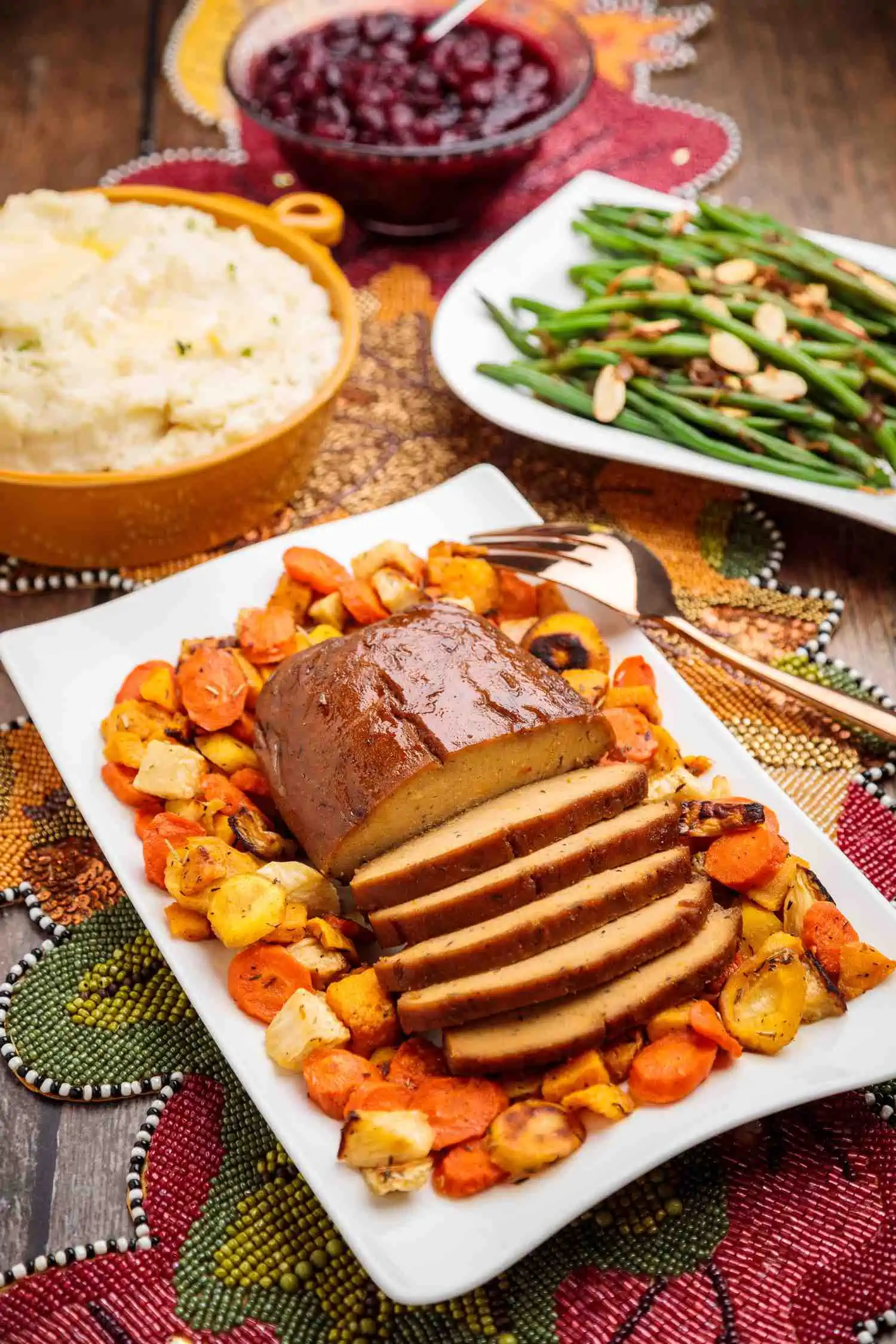 What to Serve With Your Seitan Turkey
Whether you're celebrating the holidays or just making a vegetarian Sunday roast, all your favorite classic vegan Thanksgiving dishes would be perfect to pair with this entrée. Some ideas include:
Key Vegan Turkey Roast Ingredients
Garbanzo beans (chickpeas): There's nothing this little legume can't do! Here, it adds substance and tenderness to the roast. Seitan made without beans tends to be super chewy and almost rubbery, so you don't want to skip it. You can, however, substitute white beans in a pinch.
Vegetable broth: Used for both blending into the roast and steaming the dough, chose a low-sodium option to prevent it from getting too salty. If you'd like an earthier depth of flavor, seek out mushroom broth instead.
Soy sauce: Made by fermenting soybeans and wheat, this classic Chinese condiment makes everything super savory and almost meaty. It's also quite high in sodium, so you might want a "lite" version here, which refers to the salt level and not flavor.
Tomato paste: Super concentrated tomato goodness adds another umami wallop without the whole thing tasting like red sauce. Just a little bit goes a long way!
Nutritional yeast: I like to consider nutritional yeast "vegan catnip." This stuff makes everything irresistible, particularly cheese sauces and buttery breads.
Vital wheat gluten: Vital wheat gluten is the most important ingredient to making seitan and cannot be substituted with any other ingredient. You can find it in the baking aisle of most health food stores or online, direct from the source. If you'd like a gluten-free vegan roast option, Audrey also offers a recipe for a Gluten-Free Holiday "Turkey" Roast on page 28 of Vegan Thanksgiving Dinner and Pies.
To Glaze or Not to Glaze?
Glazing a roast is a great way to add flavor, color, and lock in moisture, but it's technically an optional step. While it's highly recommended for the best eating experience, you might want to skip it if you're watching your sugar intake, plan on pairing it with other particularly sweet sides, or (let's be honest) just don't want to dirty another single dish.
Tips for Working With Seitan
Is this your first time worshipping at the altar of seitan? Don't worry, you won't have to sell your soul to make perfectly meaty, mouth-watering roasts. It's quite easy once you know a few simple tips and tricks.
Don't be so knead-y. Contrary to popular belief, you don't need to knead your dough like crazy. The more you manipulate it, the tougher and chewier it gets. You do want to create a solid structure, but not so much that it's like tire rubber.
Rest before shaping. The gluten will be particularly tight and springy right after kneading, so you may want to let the dough rest before shaping it into a loaf. If it resists and doesn't stay where you put it, just walk away for 10 minutes before trying again.
Watch your steamer. Every stove is different, so your liquid may evaporate before the loaf is done steaming. Make sure there's still broth at the bottom during the entire process. If you run out, just add an extra splash of water; no one will know.
Cool it. After steaming, you may want to wait before glazing and baking. You can prepare it up to this stage, wrap it tightly in plastic, and chill for 1-3 days. It will be easier to handle this way, but you may need to bake it for a bit longer to make sure it's hot all the way through before serving.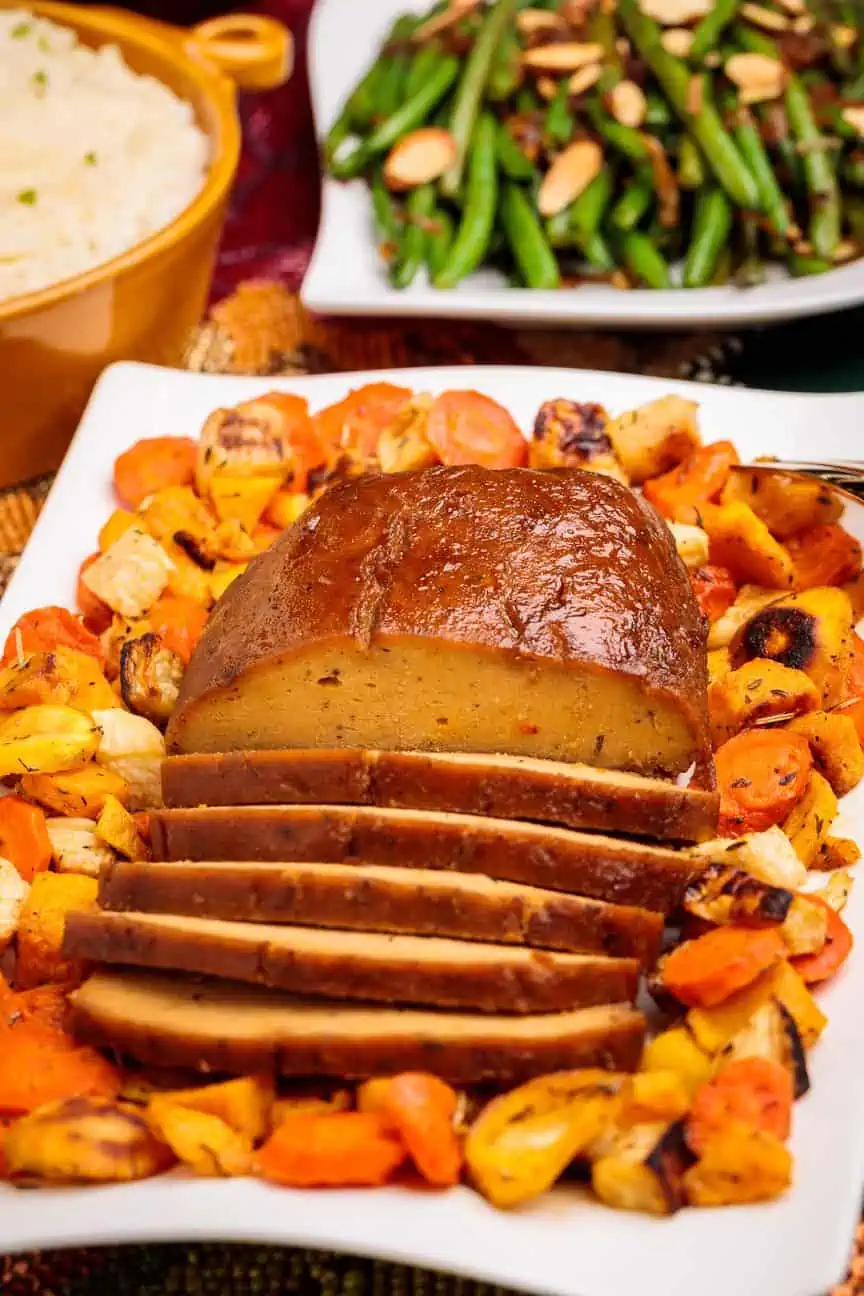 More Festive Holiday Roast Recipes to Try
Hungry for more vegetarian roasts recipes? Here are a few more that would make a show-stopping addition to your holiday or Sunday dinner table!
1 15-oz. can garbanzo beans (chickpeas), drained and rinsed
4½ cups low-sodium vegetable broth, or more as needed, divided
2 tablespoons neutral-flavored oil
1 tablespoon soy sauce or substitute
1 tablespoon tomato paste
2 tablespoons nutritional yeast flakes
2 teaspoons onion powder
1 teaspoon garlic powder
1 teaspoon salt
1 teaspoon dried sage
¾ teaspoon dried thyme
½ teaspoon curry powder
¼ teaspoon dried rosemary
1½ cup vital wheat gluten
Savory-Sweet Glaze:
2 tablespoons neutral-flavored oil
2 tablespoons maple syrup
2 teaspoons soy sauce or substitute
In the bowl of a food processor, combine the garbanzo beans, ¾ cup of the vegetable broth, the oil, soy sauce, tomato paste, nutritional yeast flakes, onion and garlic powders, salt, sage, thyme, curry powder, and rosemary. Blend until very smooth, scraping the sides and bottom as needed. 

Transfer this mixture to a large mixing bowl. Add the vital wheat gluten and combine at first with a spoon or spatula, and then with your hands as the mixture becomes thick. Make sure all vital wheat gluten is incorporated into the dough.

Transfer the dough to a flat surface lightly dusted with additional vital wheat gluten. Knead the dough about 10 times, then shape into a loaf.

Line a large pot with a steamer basket (preferably a flat-bottomed one) and add just enough vegetable broth to rise about ½ inch (1 cm) above the steamer basket, 3 ½–3 ¾ cups, depending on the size of your pot.

Place the loaf in the steamer basket and bring the broth to a boil over medium-high heat. Once boiling, cover the pot and reduce the heat to low to maintain a simmer. Steam the loaf for 1 hour, checking every 20 minutes to make sure the broth hasn't completely evaporated. Add additional hot broth to the pot if needed. Afterward, remove the lid and allow the roast to rest for 10 minutes.

Meanwhile, preheat your oven to 350°F (approx. 177°C) and line a baking sheet with parchment paper. When the roast has rested for 10 minutes, place it in the center of the prepared baking sheet.

In a ramekin or small bowl, stir together all ingredients for the glaze. Brush the entire surface of the roast (including the bottom) with the glaze several times until roughly half of the glaze mixture has been applied.

Place the roast in the oven and bake for 20 minutes. Remove from the oven and brush with all of the remaining glaze (skipping the bottom this time). Let rest for 10 minutes before slicing. Serve with gravy, if desired.
FOR BEST GLUTEN-FREE VERSION: 
See the recipe for Gluten Free Holiday "Turkey" Roast on page 28.  MAKE-AHEAD TIP: 
The roast can be formed and steamed (steps 1-5) 1 day in advance. Allow roast to cool for 15 minutes and then place in the fridge in an airtight container or wrapped with two layers of plastic wrap. When needed, allow the roast to rest at room temperature for 30 minutes before following steps 6-8.
Calories: 309kcal | Carbohydrates: 24g | Protein: 29g | Fat: 12g | Saturated Fat: 1g | Polyunsaturated Fat: 4g | Monounsaturated Fat: 6g | Trans Fat: 0.04g | Sodium: 908mg | Potassium: 258mg | Fiber: 5g | Sugar: 5g | Vitamin A: 59IU | Vitamin C: 1mg | Calcium: 85mg | Iron: 3mg
About the Author
Founder and creator of Peanut's Bake Shop, Audrey Dunham is an entrepreneur and vegan recipe creator, passionate about quick and easy yet super flavorful recipes. She loves baking and cooking, especially for the holidays with her husband and kids. Audrey is proud to say that the recipes included in her cookbooks are just as good (if not better!) than the traditional versions.
This vegan seitan turkey roast recipe was published with permission from Vegan Thanksgiving Dinner & Pies by Audrey Dunham. Article written by Michelle Cehn with support from Hannah Kaminsky and edited by Amanda Meth. Please note that this vegan roast recipe may contain affiliate links which supports our work at World of Vegan.