Going to a party and don't want to be the fifth person bringing hummus and chips? Not only is this dairy-free and vegan artichoke dip the perfect appetizer, but also the perfect ice breaker. Socially awkward? All you've gotta say is, "Hey nice to meet you—have you tried the dip? It's amazing." Lifelong friendships can be established over this dip.
For a holiday party, I veganized this artichoke dip from an old family recipe that I have followed for years. I had my doubts, as I was susceptible to the myth that the rich flavor of artichoke dip is attributed to the creaminess of animal-derived cheese.
However, as soon as I began mixing the ingredients, I was enchanted by the aroma of a guilty pleasure in the making. While the dip was baking, the familiar smell of parmesan cheese transforming into a perfectly savory golden brown took over my kitchen. I was thrilled to discover that the vegan dip was nearly impossible to distinguish from the non-vegan dip. It was not surprising that the dip had disappeared well before the end of the party!
This vegan artichoke dip will bring life to your party and a party to your tastebuds. It contains just four simple ingredients and requires very little effort to make! Now all you need is a good playlist to set the mood and you'll be a Party Pro.
Why You Should Make This Vegan Artichoke Dip
Aside from this dip being a go-to party recipe? It's perfect for potlucks, easy dinners, and spreading on sandwiches.
This recipe doesn't call for spinach, but if you really want to feel like Popeye, go ahead and add some yourself! Once your dip is all set, you can gather around the table with your pals and bond over how deliciously dairy-free this awesome vegan artichoke dip really is!
Easy to DIY – This dip involves only a few simple steps and four ingredients! If you're pressed for time or simply don't want to put a ton of effort into what you're making, this dip is for you.
Be the Life of the Party – Did you know that people who bring food to events are 50% more likely to be the life of the party? We actually just made up that statistic but you are certainly more likely to have a smoother time meeting new people at a social gathering if you bring this dip along. And this is so much more fun than hummus.
No Mystery Ingredients – Store-bought artichoke dip is rarely vegan. Plus, it often contains heaps of dairy and other non-vegan ingredients. This dip allows you to enjoy a completely vegan version so you don't have to miss out on anything at your next party!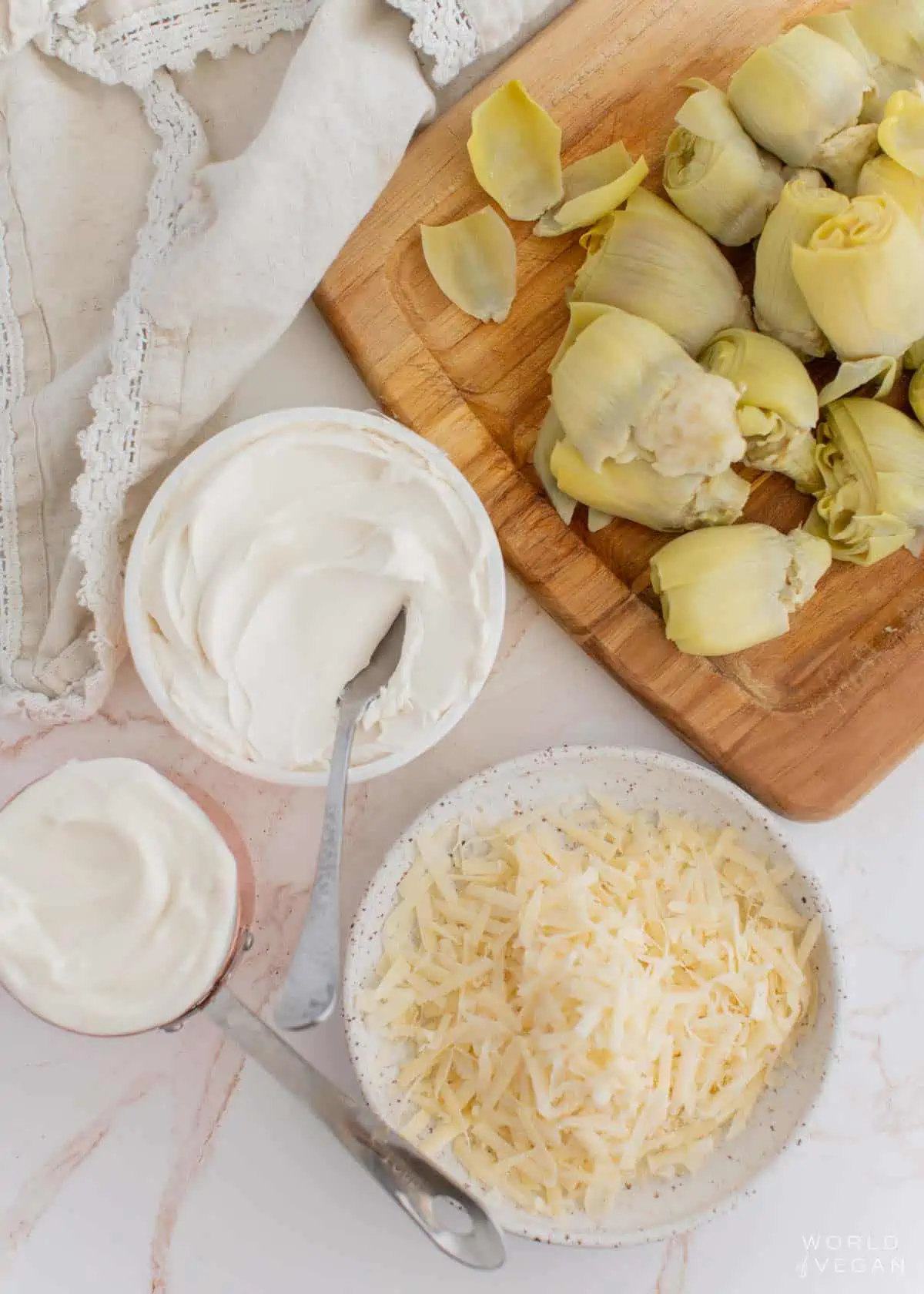 How to Serve Up Your Dairy-Free Artichoke Dip
The possibilities for having a truly delightful vegan artichoke dip experience are endless. You can eat it straight off a fork, sure. But you can also…
Spread It on Bread – One of the best ways to enjoy this delicious dip is to spread it on freshly baked bread. Whether you want to build a pita pocket with other ingredients or prefer to stick with spreading it on fresh focaccia, you'll never have a sad slice of bread again!
Add a Side of Fries – Sometimes the best way to enjoy a good dip is to have something crispy and fluffy to dive right inside of it. Herbed polenta fries, crispy potato wedges, or even hasselback potatoes will all deliver an amazing and appetizing experience.
Star of the Burger Bar – Need a foolproof way to ensure no one at your party will go hungry? Then a burger bar is the way to go! This vegan artichoke dip is incredible for enjoying atop vegan burger patties. You can't go wrong topping our pizza burgers with this dip—you'll feel as if you'd just been transported to Venice!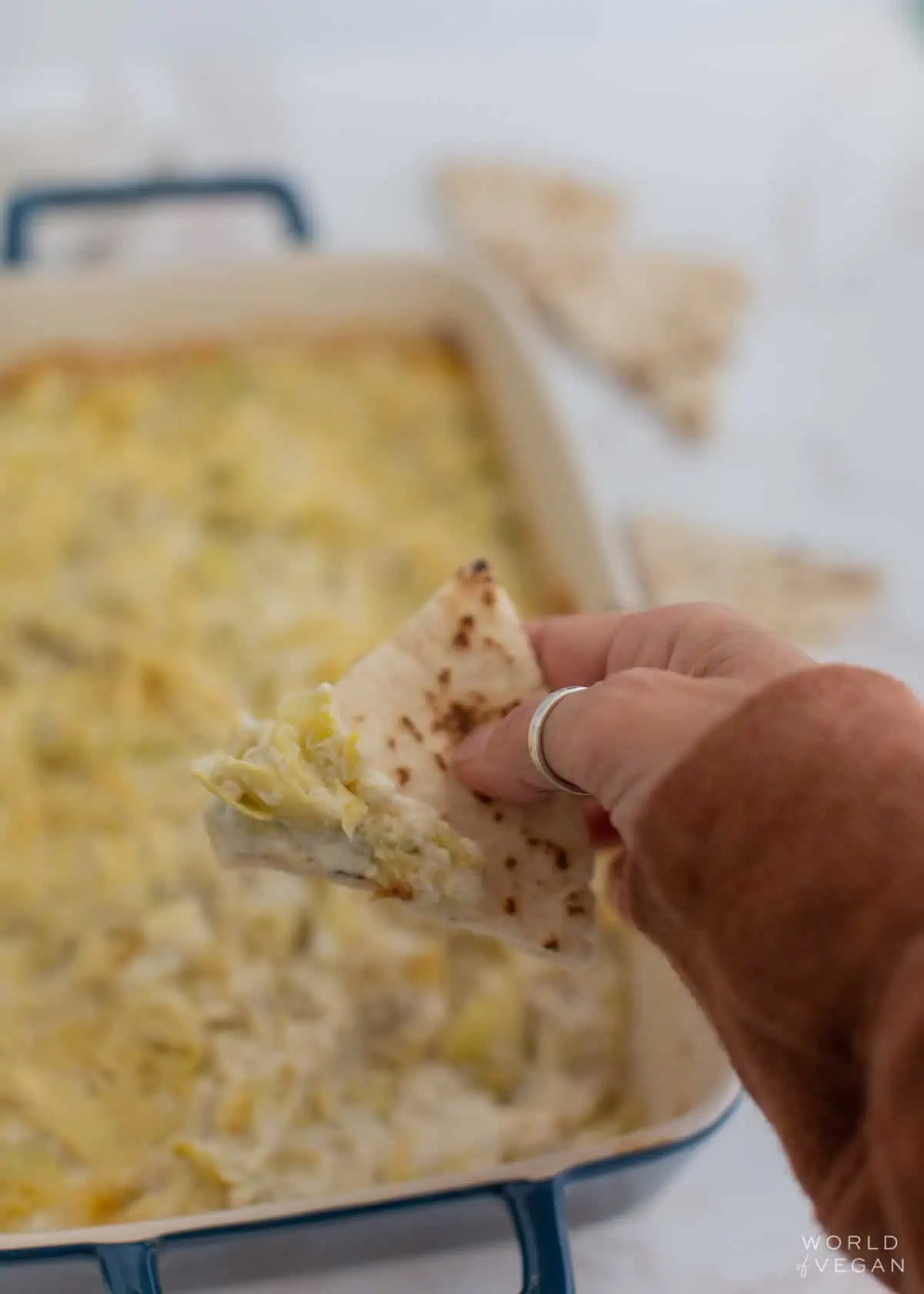 Star Ingredients
This vegan artichoke dip calls for just four simple ingredients: canned artichokes, vegan cream cheese, vegan mayonnaise, and vegan parmesan cheese. You're welcome to use your preferred brand of each but in case you need some ideas on how to spice things up, we've got you covered.
Awesome Artichokes
These boisterous buds are the stars of the show. You'll be using canned artichoke hearts — and whole, halved, and quartered artichoke hearts will all work. Drain them well, and squeeze them out a bit to remove the juices. Toss them on a cutting board, and using a sharp chef's knife, roughly chop them into bite-sized pieces perfect for this dip.
Since artichoke hearts are usually brined with salt when purchased in a can, there's not much reason to add any additional salt unless you truly desire so. There is also plenty of flavor in the cream cheese, parmesan, and mayo.
As mentioned earlier, you're welcome to add in some chopped spinach if you please, to transform this into a spinach artichoke dip!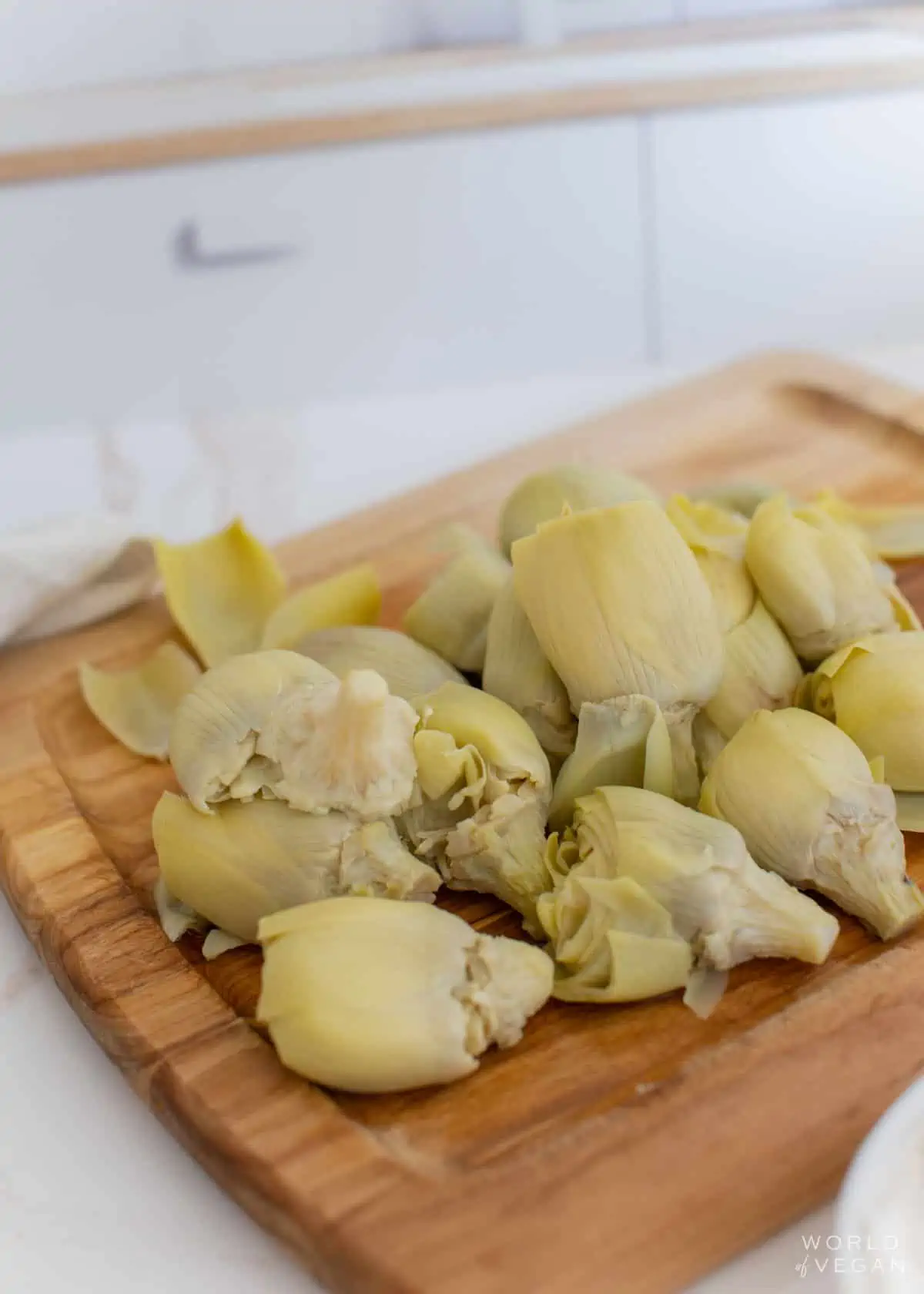 Dairy-Free Cream Cheese
With so many vegan cream cheeses on the market these days, it can be tough to know which one to choose! From the incredible selection of Miyoko's to the creamy coconut-based cheeses of Violife, there's no shortage of ways to mix up your dip! We used Tofutti and it turned out perfectly.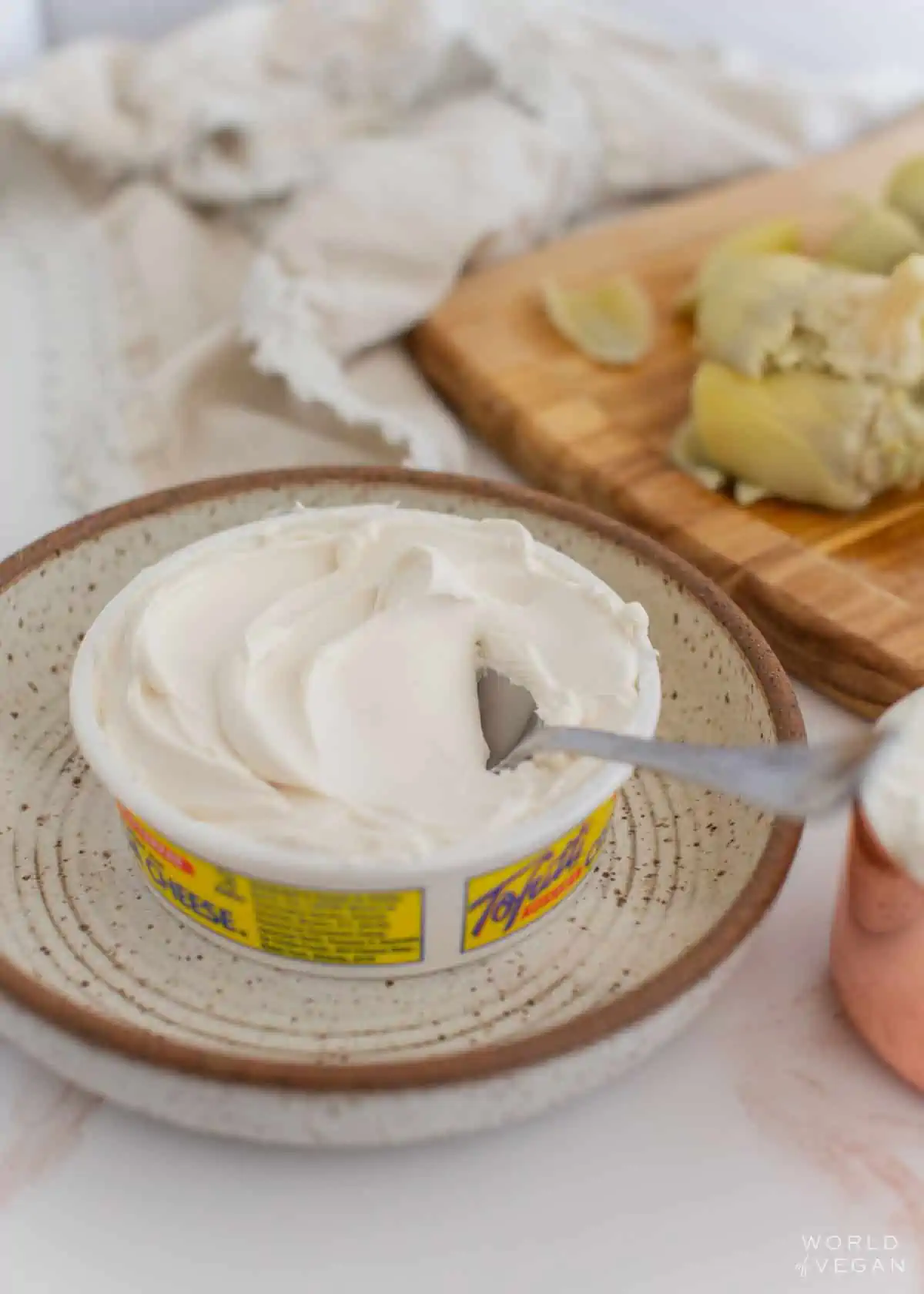 Plant-Based Parmesan
Any vegan parmesan should work great in this recipe. We use the Violife parmesan (pictured below) that we grated right into the dish. If you want to add a slightly more homemade touch to this vegan artichoke dip, you can make your own vegan chipotle parmesan recipe! Don't want to spice things up? Just leave the pepper out!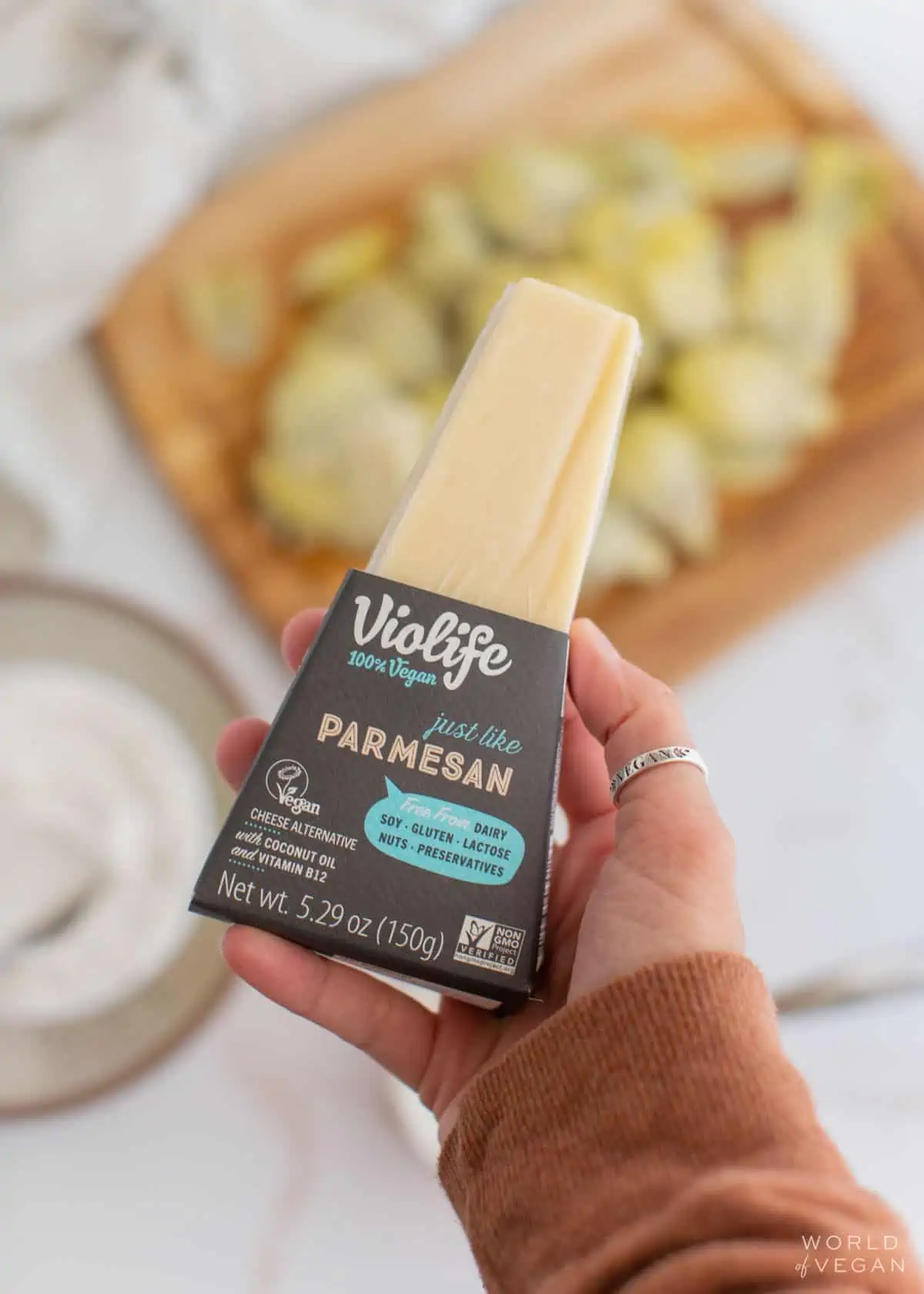 Mighty Mayonnaise
These days there are dozens of vegan mayo options in supermarkets. Choose your favorite! We used Follow Your Heart's classic Veganaise. Maybe you're someone who likes a plain vegan mayonnaise, smooth and versatile with a little bit of tang to add some edge. That's all fine and well but perhaps there's a part of you that wants to live large and spice things up with some chipotle vegan mayo instead. Just imagine all the oohs and aahs you'd get!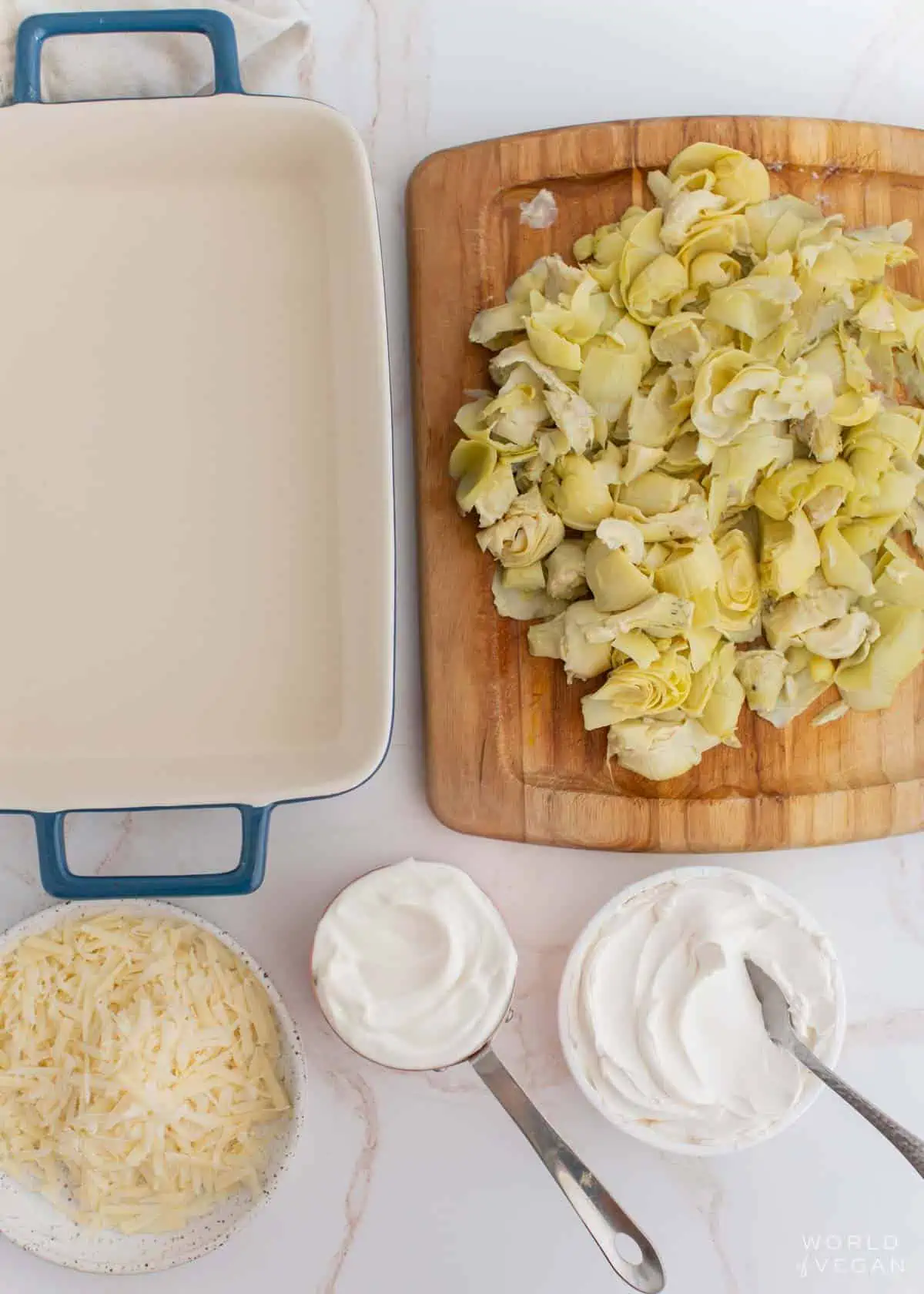 How Do I Store This Artichoke Dip?
Your vegan artichoke dip will last about 3-5 days in the fridge if stored in an airtight container. Freezing is not recommended so if you end up with more than you think you may go through, give some to a friend!
More Delicious Vegan Dips to Try:
2 cans artichoke hearts, drained well and roughly chopped
8 ounces vegan cream cheese
1 cup vegan mayonnaise
1 cup vegan parmesan cheese, shredded or grated (reserving a handful to sprinkle on top)
Preheat oven to 350°.

In a medium baking dish, add the artichokes, cream cheese, mayo, and parmesan and mix until thoroughly combined.

Top with an additional sprinkle of parmesan cheese.

Bake for 40 minutes until golden brown on the outer edges.

Serve with pita bread, crackers, or pita chips.
Have leftovers? Cover with tin foil or or store in an oven-safe container in the fridge for up to three days. Reheat by baking (uncovered) in a preheated oven at 400 degrees for about 20 minutes.
Calories: 321kcal | Carbohydrates: 11g | Protein: 3g | Fat: 29g | Saturated Fat: 6g | Sodium: 631mg | Fiber: 3g | Sugar: 1g | Calcium: 28mg | Iron: 1mg
Vegan artichoke dip recipe by Kara Schunk. Photos by Michelle Cehn. Article written with support from Kara Schunk and Amanda Meth. Please note that this article may contain affiliate links which supports our work at world of Vegan.