The holidays are coming up and if you're like me, you want easy, healthy, and incredibly delicious recipes to please your guests. This is one of my favorite vegan cheese recipes and I've wanted to share it for a long time. Here is a vegan cheese log that is beyond easy to make and ready in less than an hour! It's so flavorful and super creamy with a touch of herbs. This cheese is very versatile and you can serve it on a cheese platter, add it to a holiday hummus board, or use it in a multitude of dishes.
This has to be one of the easiest vegan gourmet cheese recipes out there. I personally love cultured cheeses and using probiotics to make aged cheese, but sometimes you just don't have the time for recipes like that. Sometimes you just want cheese right now!
If the thought of waiting a few days for your cheese to age isn't your thing, you'll love this recipe. For this vegan cheese log, all you have to do is simply blend all of the ingredients together in a blender until smooth, then transfer it to the oven to cook for 20 minutes. Once it's finished cooking, cool it slightly, roll it into a log shape, coat it with your favorite fresh herbs, and chill it until you're ready to serve. It literally doesn't get easier than this.
I have been making this recipe for years and I love to put it on pasta, salads, sandwiches, and avocado toast. For the holidays and for entertaining, you can make a fancy cheese board and serve it with ingredients like crackers, fresh veggies, bread, olives, dips, grapes, vegan meats, and more. I put it in my tofu scramble recently and was blown away by the flavor!
Use this vegan cheese log recipe anywhere you would normally use a soft cheese or goat cheese.
1 cup blanched almonds or almond slivers
¾ cup water
3 tablespoons lemon juice
2 tablespoons + 2 teaspoons nutritional yeast
¼ teaspoon salt, or to taste
2 tablespoon fresh herbs, finely chopped (I used thyme and chives but you could also use parsley, basil, rosemary, etc.)
Preheat the oven to 350 degrees F. Line a loaf pan with parchment paper and set aside.

Blend all of the ingredients except for the herbs together in a blender until the mixture is well combined, but it doesn't have to be perfectly smooth. If you don't have a high-powered blender, it will be easier for you to use slivered almonds instead of whole almonds. If you have a high-powered blender you can use either.

Transfer the mixture to the lined loaf pan and spread in an even layer. Place the pan on the center rack of your oven and bake for 20 minutes. It's important to stir the mixture well after 10 minutes. Ensure you mix all the way to the bottom to prevent the bottom layer from browning.

After 20 minutes, remove the pan from the oven and transfer the parchment to your counter. Stir it well and allow it to cool for 5 minutes.

Cut a medium sized piece of aluminum foil. Transfer all of the cheese to the foil and form a log shape with your hands. Once a general shape is formed, wrap the foil tightly around the cheese log to form the final shape. Set aside.

Finely chop the herbs. Unroll the cheese gently. Smooth the cheese with your hands to form the perfect shape if needed. Place the herbs on a cutting board and roll the cheese into the herbs to coat. Store the cheese in an airtight container until serving.
Calories: 224kcal | Carbohydrates: 10g | Protein: 10g | Fat: 18g | Saturated Fat: 1g | Polyunsaturated Fat: 4g | Monounsaturated Fat: 11g | Trans Fat: 0.01g | Sodium: 149mg | Potassium: 360mg | Fiber: 6g | Sugar: 2g | Vitamin A: 170IU | Vitamin C: 7mg | Calcium: 101mg | Iron: 2mg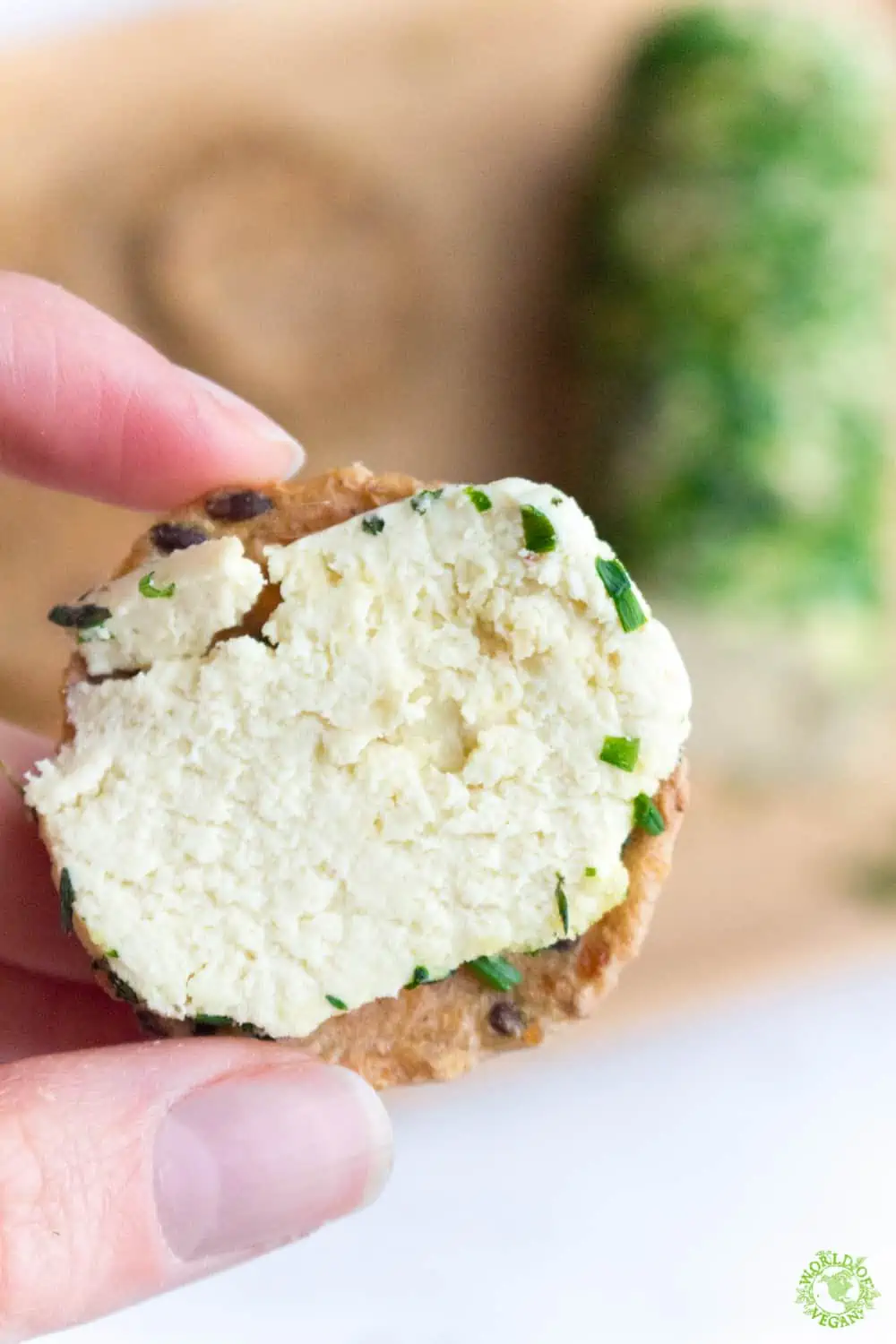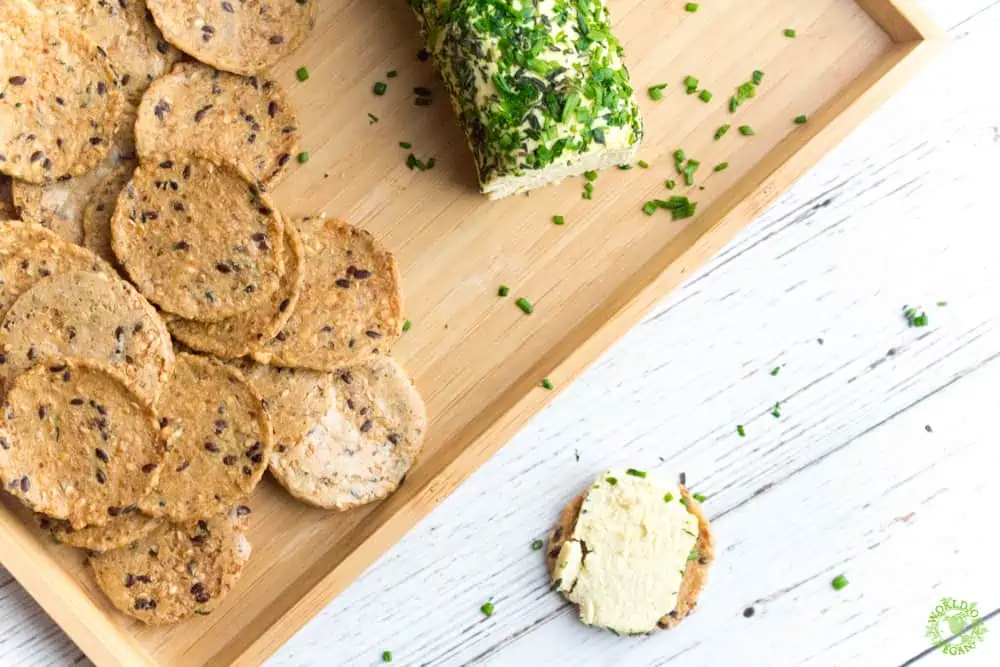 Vegan Cheese Cookbooks We Love
Hungry for more? Check out these two wonderful vegan cheese cookbooks by Miyoko Schinner (vegan cheese aficionado and founder of Miyoko's Kitchen) and Julia Piatt. Those who love to get crafty in the kitchen rave about these cookbooks!
And if you can't be bothered making your own cheese and want to explore what stores have to offer, check out our vegan cheese guide, gourmet cheese round-up, and the battle for the best vegan cheddar cheese. Needless to say, you don't have to give up cheese to go vegan!
More Vegan Cheese Recipes:
Vegan Cheese Log recipe and photos by Kathy Chrzaszcz for WorldofVegan.com. All content copyright of World of Vegan™, all rights reserved. Article edited by Amanda Meth. Please note that this article contains affiliate links which means shopping through them supports World of Vegan.