Oh, my, is that a yummy piece of homemade pie? To that, we reply, we cannot lie. This is the best vegan apple pie you'll ever try. And, on a high you cannot deny, you fly to buy the ingredients.
Close your eyes and picture sweet, glistening apple slices spiced with cinnamon, lemon, and a dash of nutmeg, all topped with a golden, flaky, and buttery crust. Imagine sitting down to a plate full of pie and leaning down to feel the comforting warmth and smell the enticing flavors. Are you drooling over this delicious dessert memory?
If you're ready to take the path that leads to pie perfection, arm yourself with a basketful of apples and let's get baking!
Why This Vegan Apple Pie Recipe Is So Awesome
Since you're reading this recipe, we're assuming that you already love apple pie. Why should you give our simple but scrumptious recipe a try? Here's why!
Super versatile (use your own apple varieties!)
Very tasty with a homemade texture you'll adore
Satisfying to make in your very own kitchen
Fresh and inexpensive to make
Soy-free, dairy-free, and nut-free
What Is The Best Apple to Use for Apple Pie?
The best rule of thumb is to use a variety of apples. Apple pie tastes best when many different tastes and textures are incorporated underneath the dough. Although you can use any apple you wish (and we encourage this!), here are few common favorites.
Braeburn – One of the best choices for apple pie due to its innate cinnamon and nutmeg flavors. Also has a lovely balance of tart and sweet goodness.
Granny Smith – A green-skinned favorite that gives a wonderful tart contrast to the sweeter apples and is available all year round.
Honey Crisp – The perfect combination of sweet (which intensifies when baked) with just a hint of tart, while holding its shape well when cooked.
Macintosh – Slightly sour with a nice soft, white texture. A classic.
Pink Lady – Super crisp and rosy-skinned with a delicate balance of sweet and tart.
Jonagold – A mixture of Jonathan and Golden Delicious, this apple is a fantastic choice because of it's sweet, bold flavor and firm, acidic profile.
Cortland – This apple doesn't turn brown as quickly as the others and has a super juicy and crisp texture.
Tips for Serving Up Your Dairy-Free Apple Pie
I think we can all agree that the best vegan apple pie tastes incredible without any frills or fancy ingredients. In our opinion, the simpler it is, the better it tastes. With that in mind, we have a few fun suggestions for serving up your satisfying slice of fruit pie. Let us know your favorite!
I'll Have Mine With Cheese, Please! – Have you ever heard of pairing chunks of cold cheddar cheese with warm apple pie? If you've never tried it, this is the time! It may sound weird and wacky but, believe us, it's out of this world! Some of our favorite vegan cheddar cheeses include Violife Epic Mature Cheddar, and Field Roast Chao Block.
Fruit-Filled Fantasy – If you like to add a little pizzazz to your apple pie, consider adding chopped fresh or dried fruit or nuts such as apricots, raisins, dates, figs, berries, peaches, walnuts, pecans, or almonds. ¼ cup of nuts and/or ½ cup of fruit is a good amount to begin with. Adds a terrific texture and fun fruit flavor.
Ultra Creamy & Oh-So-Dreamy – What could be better than a dollop of decadent vegan ice cream or wondrous whipped cream with your heavenly piece of pie? There's something magical about a solitary scoop of chilled ice cream melting on top of a lovely and warm, just-out-of-the-oven slice of pie. Mmmm…so good.
Great question! Don't throw away your extra dough. You can use it to make tiny little pies (just roll out a piece of dough, stick in a slice of apple inside, sprinkle on a little sugar, roll it up, and bake until golden brown) or use cookie cutters (a sharp knife works, too!) to create designs that you can add to the top of your pie. Ideas for shapes include: apples, leaves, half moons, hearts, etc. To attach, brush a little bit of water on the back of the dough shape and press it gently into the crust.
How to Store Your Leftover Apple Pie
The amazing thing about apple pie is that you can refrigerate or freeze it easily. Place your pie in a covered container or dish and refrigerate for up to a week. To freeze, wrap your pie slices up completely with either aluminum foil or plastic wrap (individually works best) and place the slices into a freezer-safe container or bag. The apple pie slices should last up to 3 months if sealed well.
To reheat from frozen, simply let the apple pie thaw overnight in the fridge and heat in the oven at 350 degrees for about 10 minutes or zap in the microwave for a minute or two (depending on the your oven or power of your microwave). If you don't have time or forget to take your pie out ahead of time, just let it sit out at room temperature for a few hours before heating.
Equipment You'll Need
Although this list seems long, there's no need to worry. Only a few of them are actually essential and the rest are just optional to make the pie prep more speedy. The aluminum foil does keep the crust from burning, so we would highly recommend that one, if you tend to burn baked items.
Measuring Cups
Measuring Spoons
Sharp Knife
Cutting Board
Fruit/Vegetable Peeler
Large Mixing Bowl
Pie Plate
Pastry Brush (optional)
Small Bowl for Mixing Topping (optional)
Aluminum foil (optional)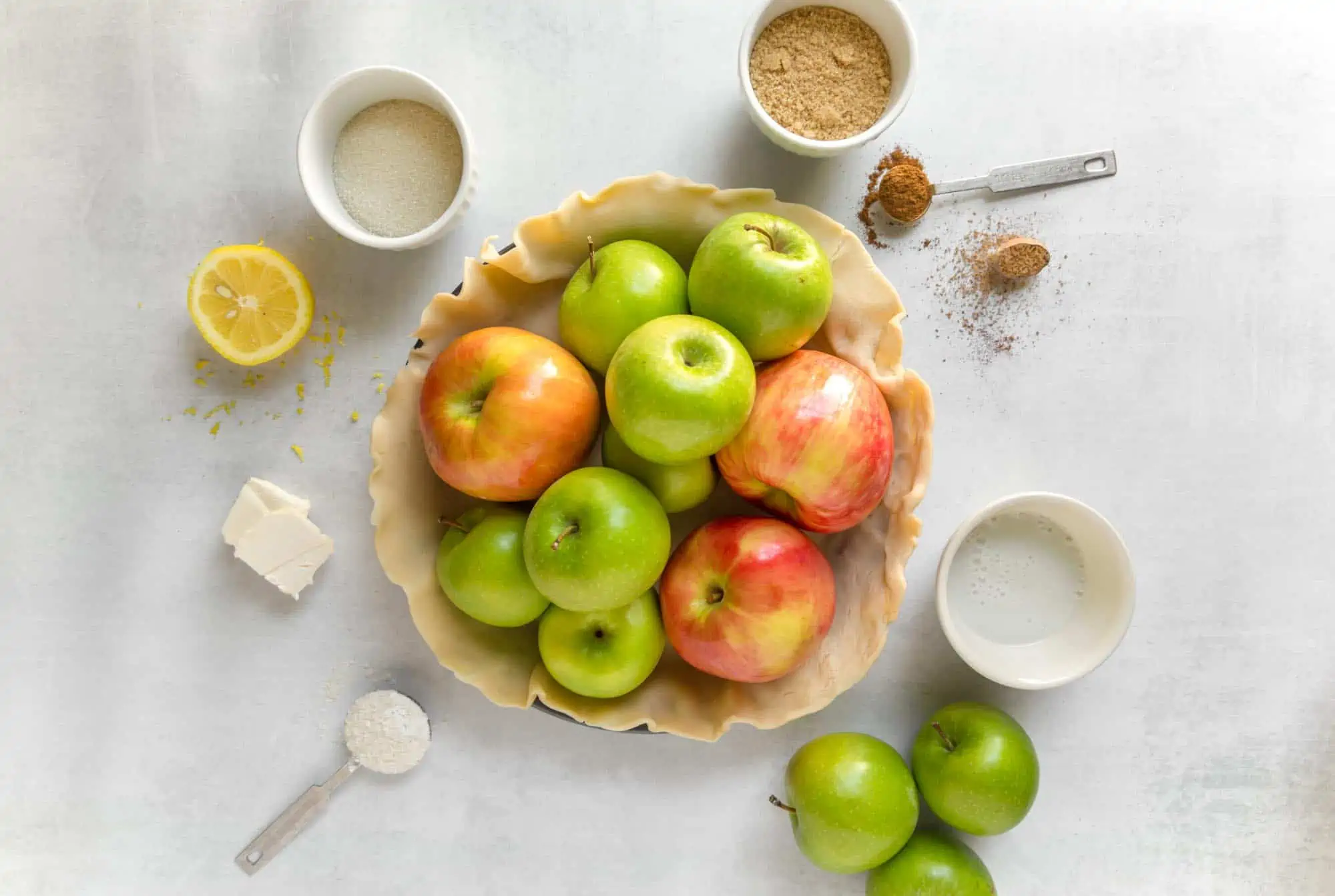 Pie Filling:
2 pieces packaged vegan-friendly pie crust dough, Wewalka or Wholly Wholesome are popular choices. You can also use your own homemade pie crust recipe.
6 medium-sized apples, choose as many varieties as you can and most of them should be tart
¼ cup brown sugar
¼ cup cane sugar
1 tablespoon all-purpose flour
1 teaspoon lemon juice
½ teaspoon ground cinnamon
¼ teaspoon ground nutmeg, optional
1 teaspoon grated lemon zest, optional
Cooking oil spray or 1 teaspoon vegetable oil, or oil of your choice
2 tablespoons thinly sliced vegan butter (optional)
2 tablespoons water or plant-based milk, optional
Topping (optional)
1 tablespoon cane sugar
1 dash cinnamon
Preheat oven to 425 degrees. Wash and peel the apples. Cut the apples into slices. Place in a large mixing bowl.

Add the sugar, juice, flour, and spices. Mix well.

Spray the bottom of your pie plate with a little bit of oil. Add in your uncooked pie crust sheet. Center the crust and press gently along the bottom, sides, and pie plate edge.

Add the apple pie mixture to the pie crust and arrange the apples evenly. Add thin slices of vegan butter to the surface of the apples, if desired.

Place the top crust onto your apple-filled pie plate. Press and crimp the edges all around to seal well to the bottom crust. (This helps to keep the filling from seeping out of the pie and onto the bottom of your stove.) For extra texture and security, use the tines of a fork to press around the entire circumference of the pie crust edge.

Using a sharp knife, make 4-8 very thin, short slices into the top center of the pie crust for ventilation. A simple star shape is the easiest, but feel free to make any lovely designs that you like.

Use a pastry brush to sweep a little bit of water (or plant milk) lightly over the top surface of the pie crust. Mix up the sugar and cinnamon to create a topping for the crust. Sprinkle the topping over the crust.

Place the pie into the oven and bake for 30 minutes. If the pie crust edges are getting too brown, cover loosely with some aluminum foil strips to prevent burning. Turn the pie and bake for another 10-15 minutes, depending on your oven. Keep a a close eye on the pie in the last 5 minutes or so.

Once the pie is golden brown and bubbly, take it out of the oven and let cool on a wire rack for at least 30 minutes before serving. Enjoy!
Gluten-Free Option - Besides using a gluten-free pie crust (either homemade or pre-packaged), you can also make your own crumb crust.  Choose almond flour, coconut flour, or even crushed up gluten-free cookie crumbs to create a bottom layer. Mix 1½ cups of fine crumbs with ¼ cup of cane sugar and 6 tablespoons of vegan butter. Press firmly into a pie plate and bake as usual with apple filling. Also, switch out the all-purpose flour (which thickens the apple pie mixtures) for half the amount of arrowroot or cornstarch instead.
Calories: 159kcal | Carbohydrates: 35g | Protein: 1g | Fat: 3g | Saturated Fat: 1g | Polyunsaturated Fat: 1g | Monounsaturated Fat: 1g | Sodium: 39mg | Potassium: 165mg | Fiber: 3g | Sugar: 29g | Vitamin A: 214IU | Vitamin C: 7mg | Calcium: 22mg | Iron: 0.3mg
If you try this apple pie vegan recipe, let us know what you think by leaving a comment and rating below! Be sure to follow along on Pinterest, Instagram and Facebook for even more vegan recipe inspiration.
Help! I can't find any pre-made vegan pie crust sheets! What do I do?
No worries! You can easily make this apple pie recipe using only a frozen, pre-packaged bottom crust. Add the apple pie mixture as stated above. For a topping, feel free to add granola before cooking for an apple pie crumble. Or simply top with aquafaba whip or coconut whipped cream or vegan ice cream (or anything else you like) once the pie is cooked and cooled. It will be delicious any way you serve it!
My Apple Pie Has a Soggy Bottom! What Can I Do?
Different vegan crust brands have different thicknesses, cooking times, and ovens themselves may vary. Wouldn't it be great if they all worked the same way? If your apple pie tends to have a damp, wet bottom, you may need to add a little more flour to your apple mixture to reduce the liquid that gets extracted while the apples cook. You could also try using a thin metal or stone pie plate instead of a glass or thicker bottomed style. Metal or stone tends to give the pie crust a crispier edge and cooks faster than the other types.
How to Avoid Pie Crust Edges From Burning
Oh, no––we hate when this happens! To help your pie crust edges from burning, make sure that your pie plate is on the middle or lower middle oven rack. If it's on the top rack, the chances of burning are higher because of the closeness to the heating element. Another option is to place strips of aluminum foil around the edges about halfway through the cooking time. There's even a handy pie crust shield you can buy that protects the crust. You can find them easily on Amazon and sometimes at your local grocery store.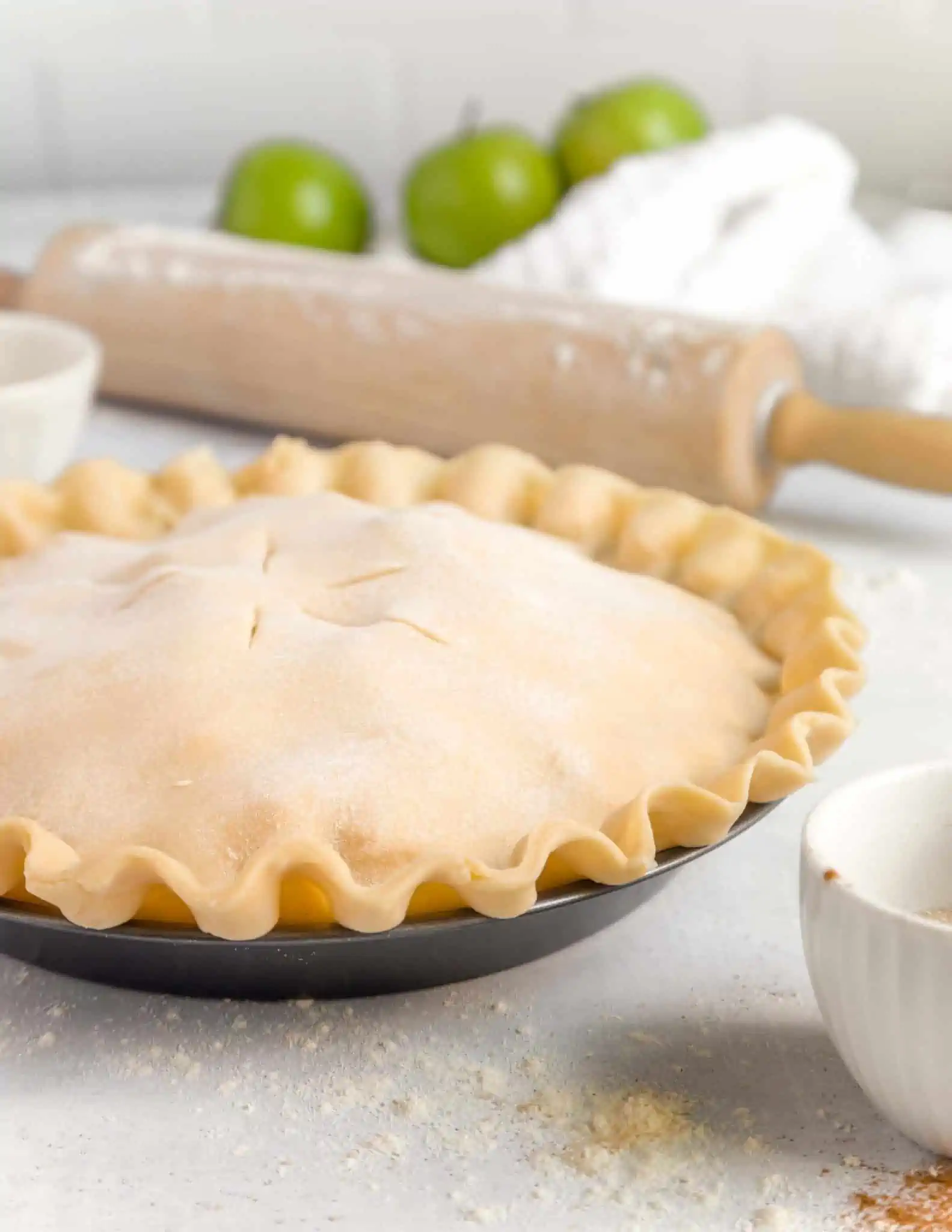 Frequently Asked Questions
Is Apple Pie Vegan?
You would think that most recipes with fruit in them would be vegan-friendly but, sadly, that is not so. Apple pie is not usually vegan because recipes often add milk, eggs and/or butter to the crust and an egg wash may be added to the top crust to give it a glossy shine. We've found that you can get the same result using plant milk instead of the beaten egg mixture.
Be very careful when you purchase pre-made crusts. The popular Pillsbury pie dough contains lard, which is an animal-based fat. Plus, it's pretty high in saturated fat. We recommend using a vegan-friendly version or making your own crust. You can easily adapt any pie crust recipe by swapping out the dairy butter for vegan butter, lard for vegetable shortening, and a flax-egg or egg substitute for eggs.
Is it possible to turn this plant-based apple pie into a vegan gluten-free apple pie recipe?
You're in luck! Besides using a gluten-free pie crust (either homemade or pre-packaged), you can also make your own vegan apple pie crumb crust. Choose almond flour, coconut flour, or even crushed up gluten-free cookie crumbs to create a bottom layer. Mix 1½ cups of fine crumbs with ¼ cup of cane sugar and 6 tablespoons of vegan butter. Press firmly into a pie plate and bake as usual with apple filling. Also, switch out the all-purpose flour (which thickens the apple pie mixture) for half the amount of arrowroot or cornstarch instead.
Super Easy DIY Vegan Apple Pie Ice Cream
You might be asking, is it possible to make this myself? Even without an ice cream maker? And we say, YES! This uber-duber, DIY version takes only minutes to mix and only about an hour or so to set. You'll be so glad you gave it a shot!
Grab a pint of your favorite, pre-packaged vanilla ice cream.
Take it out of the freezer and let it sit at room temperature until it is a little melty, but not entirely liquid.
While you're waiting, take a slice of apple pie (cold leftovers from the fridge work best) and chop it up into small chunks, including the yummy crust. (In our opinion, the best part!)
Pour your softened ice cream into a mixing bowl and add the chopped apple pie pieces. Mix gently and well.
Scoop back into the pint container (this might get messy, but don't worry too much), cover, and place back into the freezer (not on the door, it's the warmest part of the freezer) for at least one hour. If you let it re-freeze overnight, it will be even better, especially if you stir it up at least once in the process.
You can do this with any type of pie and it's so delicious. An excellent use for leftover half-slices or not-so-perfect pieces that you don't wish to serve to family and friends.
More Vegan Pie Recipes and Delicious Desserts To Try:
This non dairy apple pie recipe and article was written by Gina House. Vegan food photography by JJ Steele. Edited by Amanda Meth. Please note that this article may contain affiliate links which supports our work at World of Vegan.