This vegan chocolate martini cocktail recipe was kindly sponsored by our friends at Mozart Chocolate—makers of fully vegan dark chocolate liqueur.
Shaken, not stirred, but it just might rock your world. The typically dry martini gets a sweet upgrade that tastes like a rich chocolate dessert in a glass. Devilishly decadent whether you dress it up or down, it's the easiest mixed drink you'll ever pull off the bar. Really wow your guests with this indulgent treat, especially when you tell them it's dairy-free and 100% vegan! For chocolate cravings that coincide with cocktail hour, there's simply nothing better.
Imagine thick hot chocolate, chilled down to an icy, refreshing temperature with an intoxicating twist, and you'll get an idea of what to expect. Pull out your nicest glasses and get ready to raise a toast in minutes; though the flavors are complex, the recipe isn't!
Why You'll Want to Make This Chocolate Martini a Double
Chocolate. Need I say more? Okay, okay, how about VEGAN dark chocolate with a spiked with 17% ABV for an intoxicating twist? Now we're talking!
Only three ingredients. Even if your cabinet is sparsely stocked, you can pull of a show-stopping happy hour at the drop of a hat.
Zero prep, instant gratification. Just shake and pour; it doesn't get any easier than that
Double up for a crowd or cut the recipe in half for one. No matter how many servings you want, this simple formula can accommodate in a snap.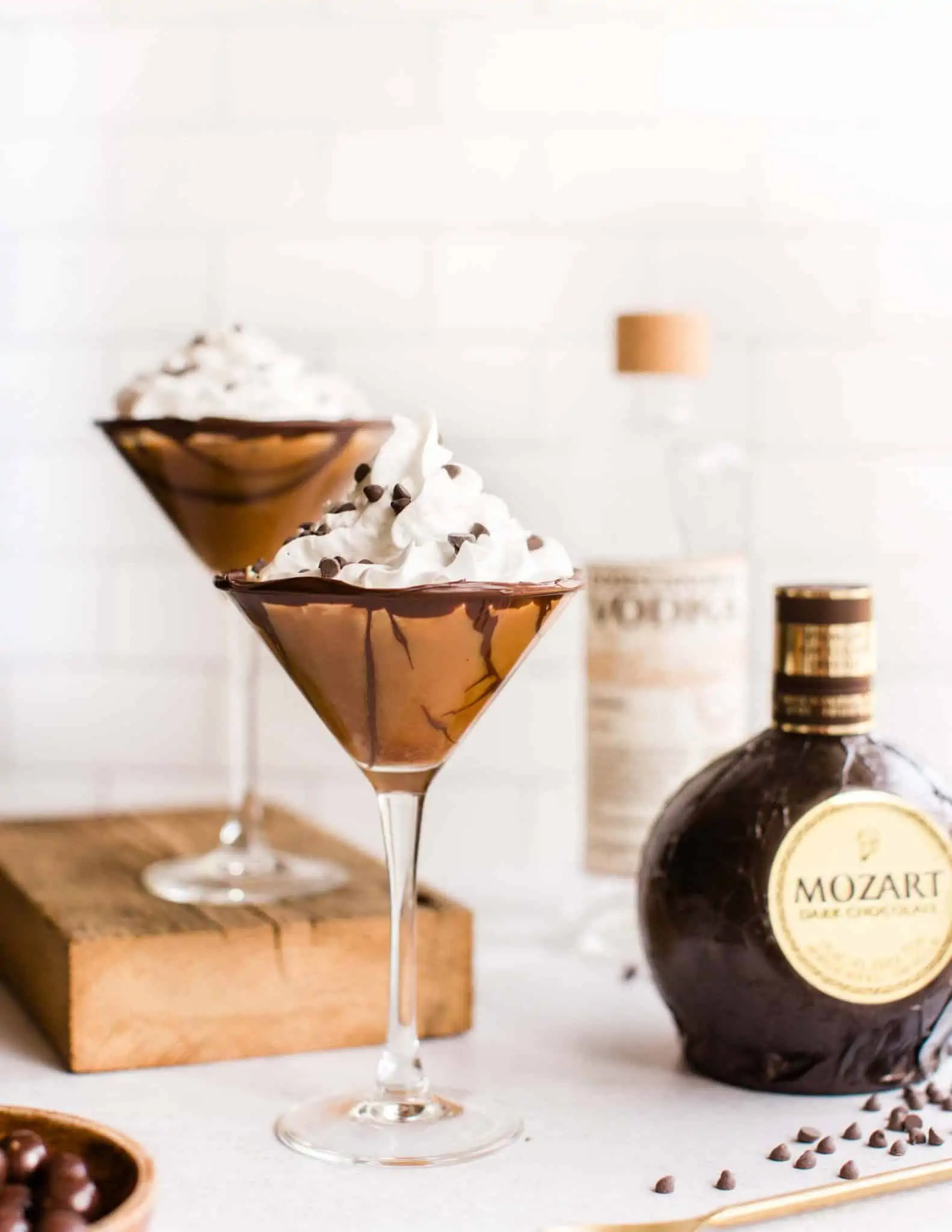 Key Ingredients and Optional Additions
It only takes three essential ingredients to mix up this luscious treat. To really take it over the top, there are plenty of optional garnished you could add for extra aesthetic appeal, too.
Dark Chocolate Liqueur
Vegan chocolate liqueur? Oh yes, friends! Mozart Dark Chocolate Liqueur is 100% vegan! Made without cream and proudly vegan, this handcrafted spirit has notes of bitter chocolate, vanilla, caramel, and the subtly smoky, herbal notes of whole cacao beans. It could be an incredible shot over ice all by itself, but really comes alive as a mixer in all sorts of spiked drinks.
Vodka
While you can use any vodka in this recipe, we chose Koskenkorva because they are a sustainable distillery. They use regenerative farming methods and have won many awards, including a Green Company award! It's also available all around the world. Fermented barley is the base for this sustainable vodka, dedicated to reusing, recycling, and fighting climate change.
Soymilk
Lightening the blend with a creamy finish, any non-dairy milk will do, but soy has the best body and most protein.
Melted Chocolate or Chocolate Syrup
To decorate the glasses, a drizzle of chocolate adds instant appeal and create a perfectly Instagram-able aesthetic. Either melt down semi-sweet chocolate chips in the microwave or use ready-made vegan chocolate syrup for an instant fix.
Dairy-Free Whipped Cream
Crowned with a fluffy cloud of plant-based whipped cream, this topper is the ultimate accoutrement for almost any dessert. Make your own by whipping coconut cream with a touch of sugar or grab a store-bought option in the form of aerosol cans of almond or coconut milk, or frozen whipped topping made from a coconut base. Always check labels to make sure it's fully vegan.
Chocolate Chips, Chocolate Sprinkles, or Cocoa Powder
Nothing beats a bit of textural contrast to make a simple sipper even more satisfying. Mini chocolate chips, finely chopped chocolate chunks, or whimsical chocolate sprinkles make this treat seem more substantial. A light dusting of cocoa powder is also a nice finishing touch, if only for looks.
Ideas for Shaking Up the Flavors in this Vegan Chocolate Martini
Chocolate is already one of the greatest taste sensations on earth, but if you want a tasty change of pace, the possibilities are endless when it comes to flavor variations.
Mint: Fresh and invigorating, nothing lightens up a rich chocolate treat like peppermint or spearmint! Add a few drops of your favorite extract for a quick infusion or garnish the rim of the glass with crushed candy canes for a seasonal treat.
Orange: Get zesty with a bold punch of citrus. Use a microplane to shave off a small amount of the peel from the fruit and mix it in the shaker with the rest of the ingredients.
Mocha: Talk about a drink with serious perks. Blend 1⁄2 – 1 teaspoon of instant coffee powder for an eye- opening taste any time of day.
How to Shake a Cocktail
If you're new to the world of mixology, don't worry. This isn't rocket science and you can easily master this basic technique. The point of shaking versus stirring is to help aerate, emulsify, and integrate ingredients, rather than just blending them. This creates a more velvety texture without dilution.
Add the ice last and seal the shaker firmly. The last thing you want is a big spill to clean up when you need a drink most.
Hold the shaker firmly with both hands (one hand on each piece) and shake vigorously in a horizontal motion over your shoulder.
Count to ten or until you can feel the shaker become colder and see a subtle frost on the outside.
Strain your cocktail into a chilled glass, keeping the ice inside. If you want to serve your drink on the rocks, add fresh ice to prevent premature melting.
A Brief History of the Martini
While the exact origin of the martini is unknown, and highly disputed to this day, one of the most popular theories is that it began in the town of Martinez, California, in the days of the gold rush.
Legend has it that in the mid-1800s, a newly rich miner wanted to celebrate his new fortune with champagne, but there was none to be found. Instead, the bartender whipped up a concoction of gin, vermouth, bitters, maraschino liqueur, and a slice of lemon. How this combination was supposed to stand in for light, effervescent sparkling wine, we may never know, but the world has been enamored ever since.
Martinis were especially popular in the Mad Men era of the 1950's and 60's, though this classic cocktail will never go out of style. Endless variations on the concept exist; now, pretty much anything poured into the shapely, triangular martini glass can assume the title, no matter what flavors or spirits are involved.
Cocktail Equipment You'll Need
Cocktail shaker
Jigger
Martini glasses
Melted vegan chocolate or chocolate syrup, to garnish the glass, optional
1 cup Ice
4 shots Mozart Dark Chocolate Liqueur, a fully vegan chocolate liqueur
2 shots vodka, I used Koskenkorva vodka
1 shot soymilk, feel free to add more or less to taste—start with a splash and adjust from there. Other plant milks may be substituted.
Vegan Whipped Cream, for topping, optional
Cocoa powder or mini vegan chocolate chips or vegan sprinkles, for topping, optional
Decorate two martini glasses by drizzling vegan chocolate syrup (or melted vegan chocolate chips) inside the martini glasses. Then coat the rim of the glasses by adding a ring of chocolate syrup to a shallow plate and dipping the glass rims in the chocolate. Place in the fridge to cool for a few minutes.

In a cocktail shaker, add ice, Mozart Dark Chocolate liqueur, vodka, and soymilk and shake until chilled.

Strain drink into prepared glasses and garnish with a generous swirl of vegan whipped cream.

Optionally, top whipped cream with a dusting of cocoa powder, a drizzle of chocolate syrup, or a sprinkle of chocolate chips or sprinkles.
Calories: 417kcal | Carbohydrates: 42g | Protein: 1g | Fat: 1g | Saturated Fat: 0.1g | Polyunsaturated Fat: 0.4g | Monounsaturated Fat: 0.1g | Sodium: 25mg | Potassium: 32mg | Fiber: 0.1g | Sugar: 42g | Vitamin A: 87IU | Vitamin C: 2mg | Calcium: 35mg | Iron: 0.1mg
More Vegan Cocktails
Decadent Chocolate Drink Recipes You'll Love
This vegan chocolate cocktail recipe was developed and photographed by Michelle Cehn for World of Vegan, all rights reserved. Please note that this post was sponsored by Mozart Dark Chocolate Liqueur / Marussia Beverages / Koskenkorva Vodka. Please drink responsibly! This article may include affiliate links when available which supports our work at World of Vegan.