It's a hard and true fact that vegan desserts just make life better. From decadent vegan cakes and cookies to creamy dairy-free ice creams and plant-based puddings, there's hardly a thing that can't be fixed with a bite of something sweet. With so many incredible vegan desserts and bakeries out in the world, deciding what to fill your belly with can be a bit overwhelming!
Well worry not, dear dessert lover, we've got a wonderful list of some of the best vegan desserts you could ever try. Keep them all to yourself or share with someone you love, the choice is yours. All of these desserts below are vegan, vegetarian, plant-based, dairy-free, and cholesterol-free. We've also included vegan recipes that are:
simple & easy desserts
made with simple ingredients
quick to make
gluten-free vegan desserts
no-bake dessert recipes
healthy desserts
If you've got a vegan skeptic in your life, we'd especially encourage you to share one of these recipes with them since the art of vegan baking and dessert making has come a very long way over the years! With such incredible options for egg replacers and more dairy-free milks than you could shake a leaf at, the state of vegan desserts has never been sweeter.
Best Vegan Dessert Recipes
There's hardly a better combination than chocolate and peanut butter and these cookies are here to prove it. Made with flour, peanut butter, chocolate chips, and applesauce in place of eggs, these cookies are ridiculously easy to make and so satisfying! This recipe is also perfect for getting little ones involved—they'll love helping to mix the cookie batter and place the cookies on the tray. Enjoy with a cool glass of dairy-free milk or vegan ice cream.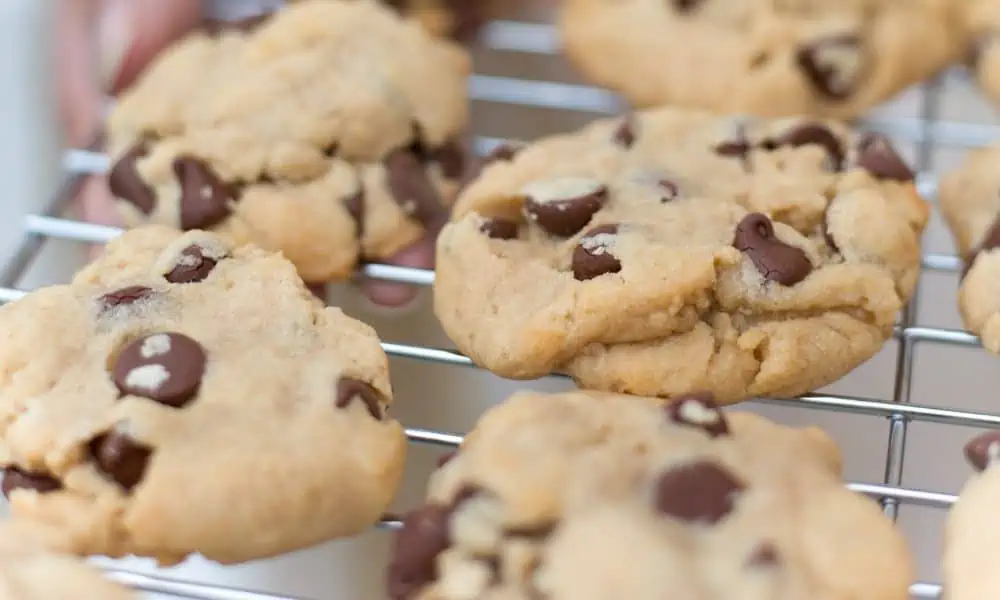 What's more satisfying than eating your very own homemade vegan ice cream? Not much, in our humble opinion! This recipe for vegan rocky road ice cream features all the classics but vegan—marshmallows, almonds, and chocolate chips mixed into a coconut ice cream base. This recipe does require having your own ice cream maker but we have a feeling you'll never want to go back to store-bought vegan ice cream after making this! Sometimes taking the rocky road truly is worth it!
This blueberry nice cream with mango is ideal for several reasons. First, it requires very little work to make. Second, you probably already have all of the ingredients stocked in your freezer. Third, it's extremely economical! You just need frozen mango, raspberries, and blueberries with the option to garnish with toppings such as Brazil nuts or almonds and fresh berries. This recipe is a great way to get in some antioxidants or cool down from a hot day or workout. Have chocolate syrup on hand? Drizzle some over your nice cream for extra decadence!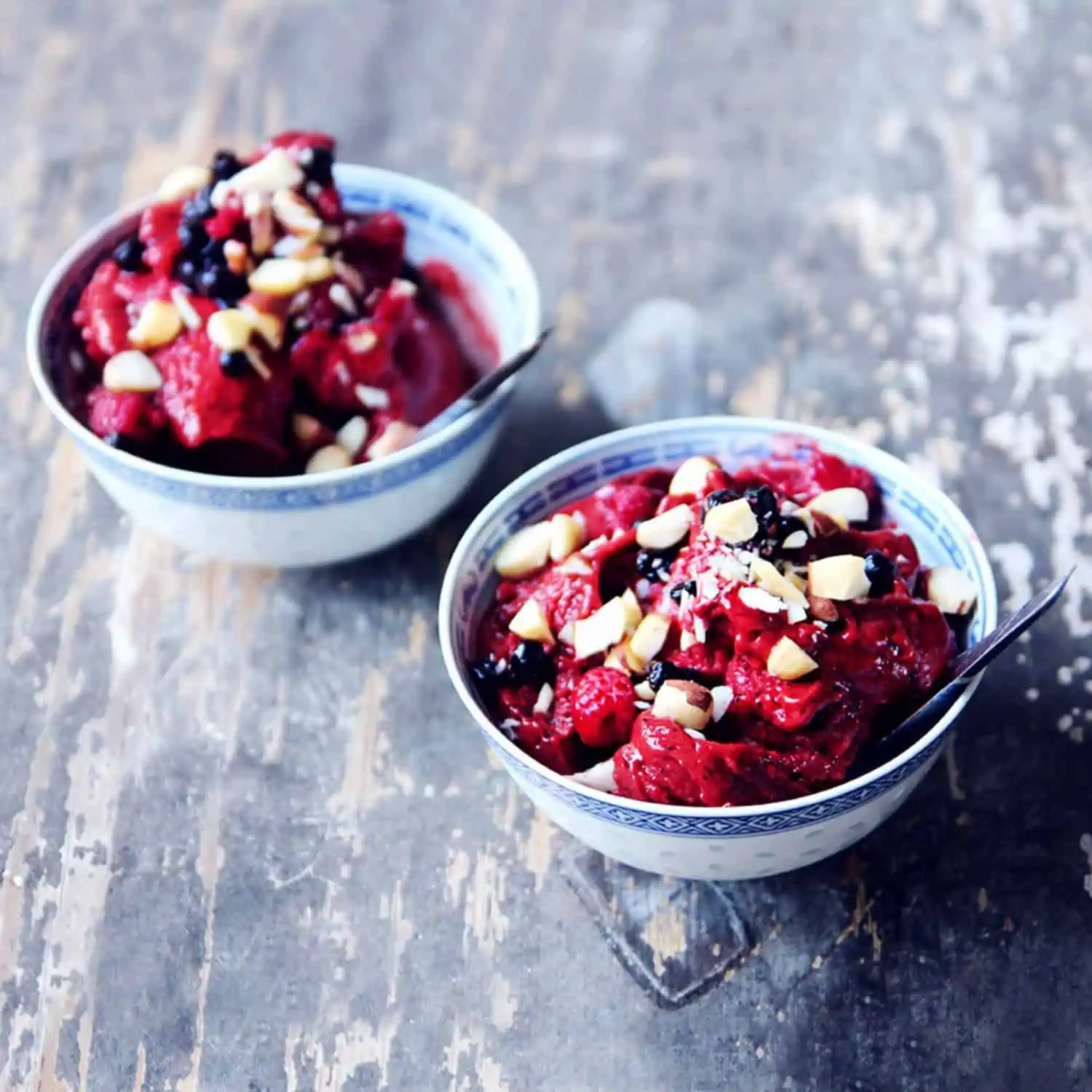 If you've never heard of Scotcharoos, then you're in for a real treat! This Midwestern dessert is traditionally made with chocolate, butterscotch, marshmallows, and Rice Krispies. Our version uses vegan marshmallows, corn syrup, a combination of vegan butterscotch chocolate and chocolate chips, and crispy rice cereal. This recipe will be an absolute hit with the kids and is also perfect for Halloween!
Looking for one of the best vegan desserts to really knock it out of the park? This recipe for vegan lemon olive oil cake is perfect for a romantic evening or to enjoy for a special occasion. Though, no excuse is needed to enjoy such a delicious yet simple dessert! This cake is especially perfect for those who aren't big fans of frosted cakes or prefer their sweets with stronger accents of lemon.
A guide with the best vegan desserts would not be complete without some delicious, gooey vegan brownies! If you're a baking novice, there's no need to worry. This recipe calls for standard vegan baking ingredients such as flour, sugar, canola oil, vanilla extract, ground flaxseeds, and of course chocolate chips and cocoa powder. All you need to do is make separate liquid and dry mixtures before combining them into a batter to be baked in the oven! Once the brownies are done, you might just find yourself needing to fend off pesky intruders who may try to take all your sweets for themselves!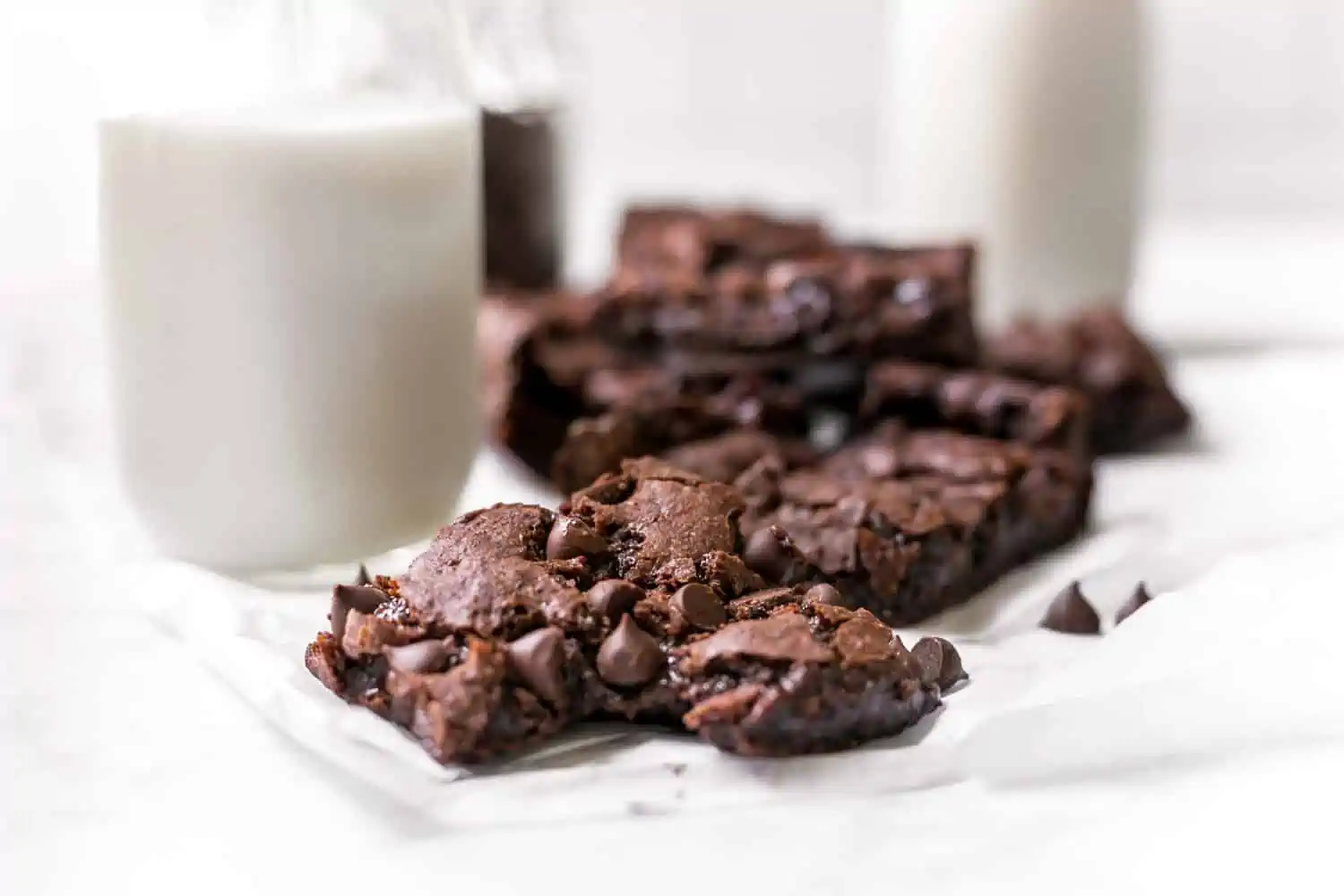 It shouldn't come as a surprise that bananas are one of the most heavily consumed fruits on the planet. Perfect on their own, amazing in smoothies, and a 10/10 snack food, bananas are popular for good reason. And while there's nothing wrong with enjoying your banana right from the peel, we think your life would be just a little better if you used your bananas to make this recipe. This vegan caramelized bananas recipe is light enough to enjoy after a heavy meal but fancy enough to whip up for a special occasion. You just need some sugar, vegan butter, and vanilla to get the bananas cooking just right and some silken tofu, maple syrup, and spices for the vegan cream sauce. Add some chopped fruit, nuts, and chocolate syrup for flair and voila!
Need a recipe to bring to your next Shabbat dinner or Purim party? Commonly enjoyed on Jewish holidays such as Hanukkah, these vegan jelly donuts are delicious any time of year and any time of day. Donuts for breakfast? Why not! Donuts after work? You bet. Filled with strawberry jam and fried to perfection, you you can easily swap for another filling such as raspberry preserves, if you so desire.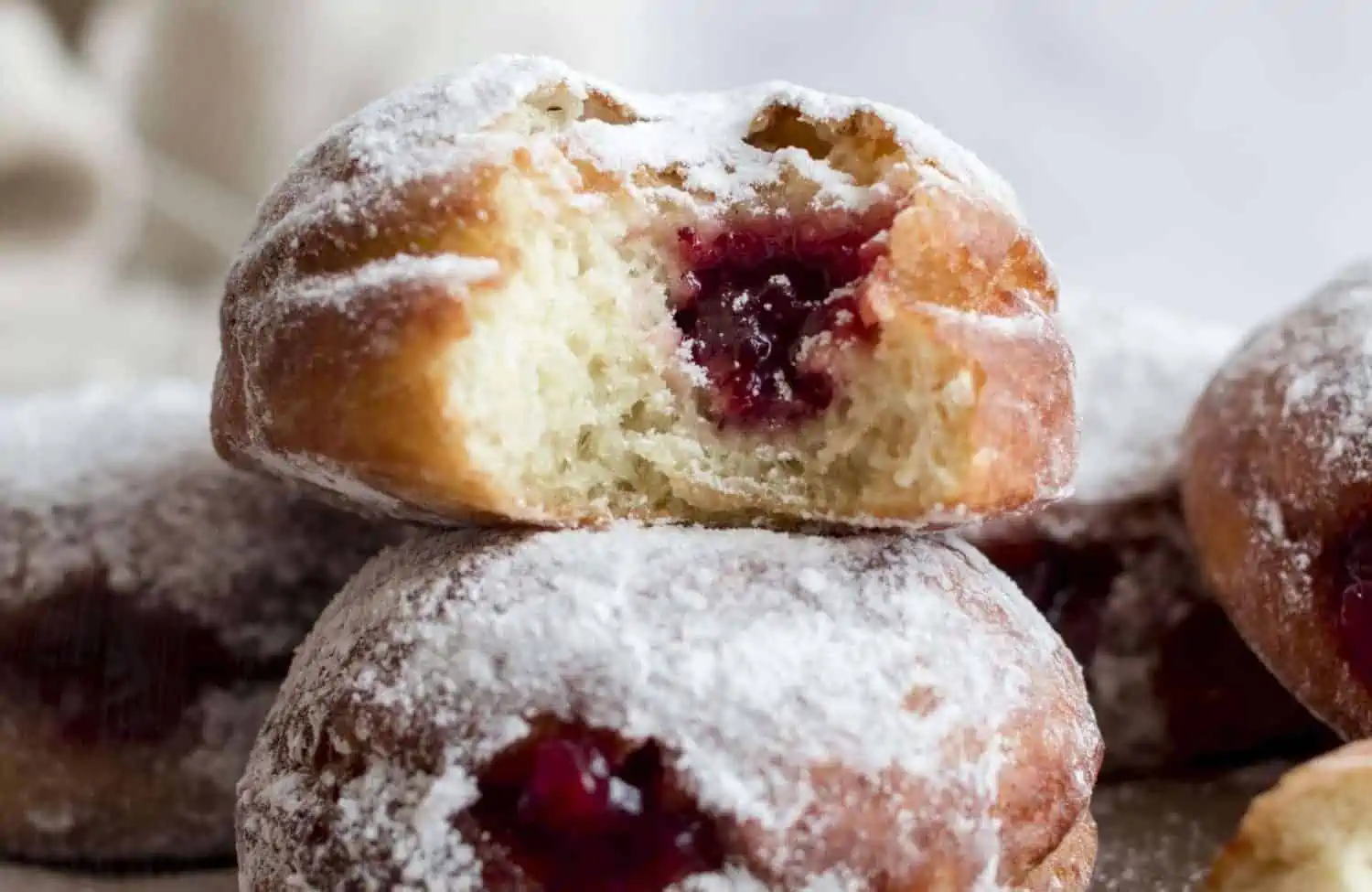 What could be better than a delicious slice of vegan chocolate pie, you ask? A no-bake vegan chocolate pie, of course! All you need to do is blend the filling, pour it into pie crust, and stick it in the freezer for at least 30 minutes. Made with silken tofu, vegan chocolate chips, and vanilla extract, this recipe also features an optional recipe for coconut whipped cream to truly top things off with a bang.
Sometimes there's no better way to show someone your love than to make them these vegan chocolate truffles. The best part? They look like they came straight out of a gourmet kitchen but are actually super simple to make! All you need is a bunch of chocolate chips, coca powder, coconut oil, coconut milk, and vanilla extract! Pro tip: top with some sea salt for an extra layer of flavor.
Both a dessert and a snack, this superfood chocolate bark is not only full of nutrients but tastes amazing too. Made with vegan chocolate chips, pecans, goji berries, chia seeds, and pretzels, you'll love how each bite is filled with something slightly different but still delicious. Best of all, you're free to swap ingredients in and out as you please! We just wouldn't substitute something like onions for the goji berries but if that's your jam, then who are we to judge?!
If you're intimidated by the idea of making vegan crêpes, fear not! It doesn't take a pastry chef from Paris to master the art of this amazing vegan crêpe recipe. All you need is some flour, sugar, vanilla extract, vegetable oil, and sugar to form the crêpes and then you get to add some delicious toppings such as vegan nutella, strawberries, and powdered sugar! And while this recipe is great for desserts, it's also perfect for brunch.
We're big pudding lovers here at World of Vegan and this recipe for vegan chocolate pudding has totally won us over. If you're wondering whether vegan pudding is difficult to make, the answer is a resounding no! All you need is some silken tofu, maple syrup, chocolate chips, vanilla extract, and dairy-free milk to make some seriously good vegan chocolate pudding. Put off by tofu? You won't even know it's there!
This vegan dessert recipe for stuffed dates with peanut butter and chocolate chips is probably the easiest dessert to make on our entire site. All you need to do is take some dates, and stuff them with peanut butter and chocolate chips! If you want more a more candy-like date, just pop them in the freezer. If you're allergic to peanut butter, just sub in another nut or seed butter of your choice!
Sometimes life just calls for fluffy vegan pumpkin muffins with chocolate chips. It could be fall or it could be spring, all we know is that these muffins will make your heart sing! Perfect for breakfast as well as dessert, this recipe is great for making in large batches to enjoy throughout the week. Really want to top it off? Spread some vegan butter on the inside as you take a bite!
What's gluten-free, vegan, and sweet all over? These frozen chocolate covered bananas, of course! Perfect for summer but great to eat year round, this dessert is a huge hit with kids and is awesome if you need to prepare dessert for a large group of people. You can use vegan sprinkles, nuts, strawberry syrup, or even crushed potato chips to coat the chocolate! Go bananas!
Whether they're enjoyed for breakfast or dessert, this recipe for vegan pop tarts is a total winner. Great for making in large batches throughout the week, these tasty treats come together in a couple of hours and are great for involving your loved ones.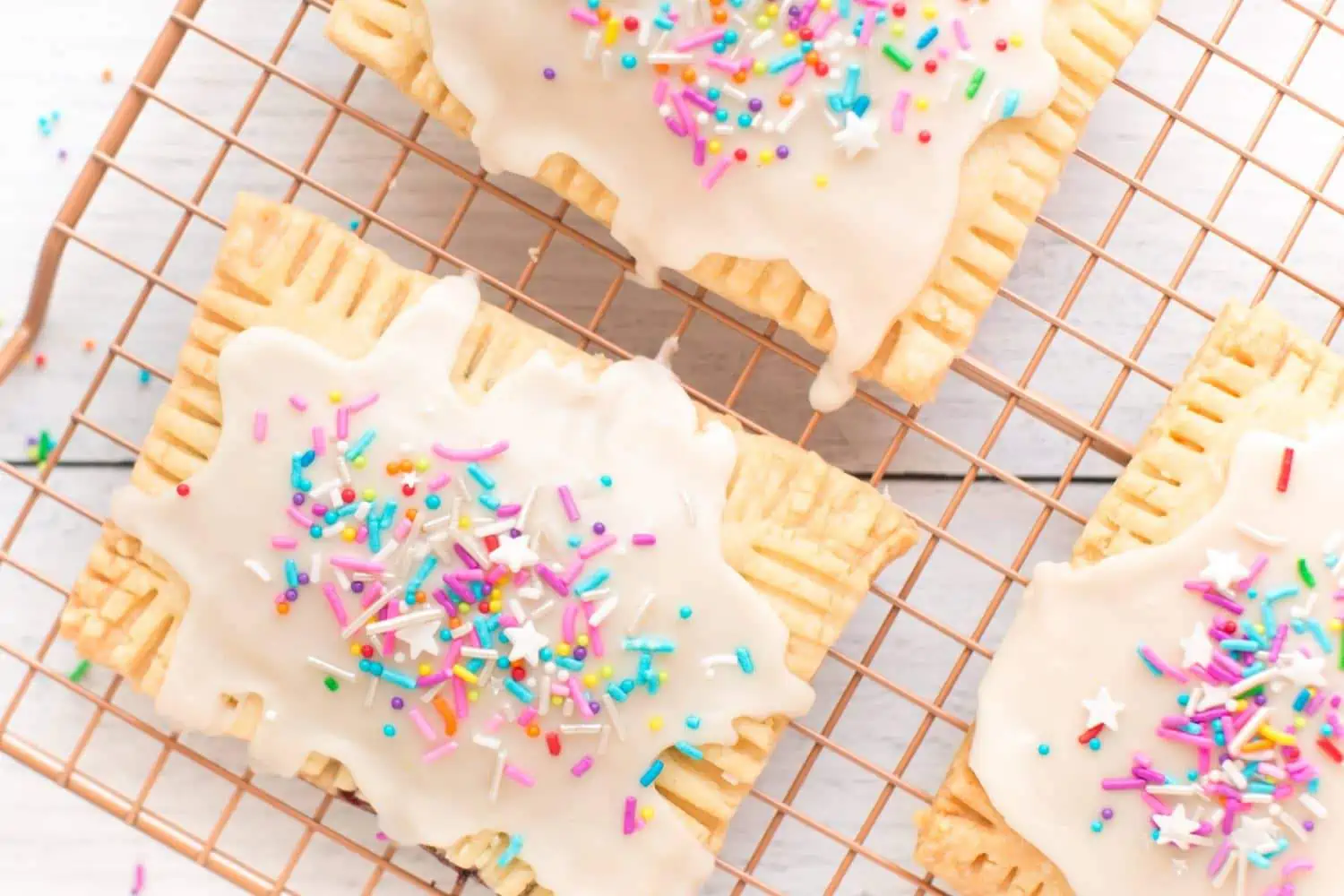 One of our brightest non-dairy dessert recipes, this vegan matcha ice cream is invigorating, beautiful, and absolutely delightful. The addition of chocolate chips adds a lovely texture and flavor to this creamy vegan treat!
These vegan oatmeal cookies are great for enjoying anytime! Made with rolled oats, flour, and more, these vegan cookies are sure to bring a smile to your face, especially when dunked in a glass of fresh almond milk.
What's cold and nice and easy to make at a very low price? Why, this amazing plant-based dessert recipe for banana nice cream! Made from just one very common ingredient, you can dress your banana ice cream up or down as you please with toppings such as chopped nuts, chocolate syrup, or even other pieces of fruit!
Great around the holidays or really any day, these vegan gingersnap cookies make an excellent treat for anyone who loves a little kick in their cookie. Pro tip: crumble a few pieces into some banana nice cream and thank us later.
Looking for a ridiculously easy way to make vegan pumpkin pie? Then you've got to try this incredible plant-based dessert recipe! Once you've poured the pumpkin pie mixture into the crust, just leave the rest of the work up to your oven and enjoy throughout the week.
A super simple raw vegan dessert, these date and walnut truffles not only pack in some serious flavor but are super nutritious, too! Made with just four ingredients, you can up the fancy factor by coating them in toppings such as cacao powder, coconut shreds, goji berries, and more!
Want a liquor that you can also enjoy for dessert? Then you've got to try this vegan chocolate martini made with Mozart Dark Chocolate Liqueur! Top it off with some vegan whipped cream and chocolate chips for extra pizazz!
Sometimes the best birthday present you can give someone is the gift of a homemade vegan birthday cake! This three-layer cake is super easy to put together and goes great with a scoop of non-dairy ice cream.
If you're someone who loves your treats salty and sweet, then you'll love this peanut butter popcorn! Made by simply combining popcorn with candy, chocolate chips, peanut butter, and pretzels, this can be a super fun dessert to enjoy while watching a film or television show.


Vegan Snickers Bar
Behold the mighty vegan Snickers bar! Sweet Medjool dates make up the base of a rich vegan caramel sauce while salted peanuts and vegan chocolate add the finishing touches to this awesome vegan treat. Be warned, though—you may find the entire neighborhood showing up to your front door once they find out you've been whipping these up in the kitchen!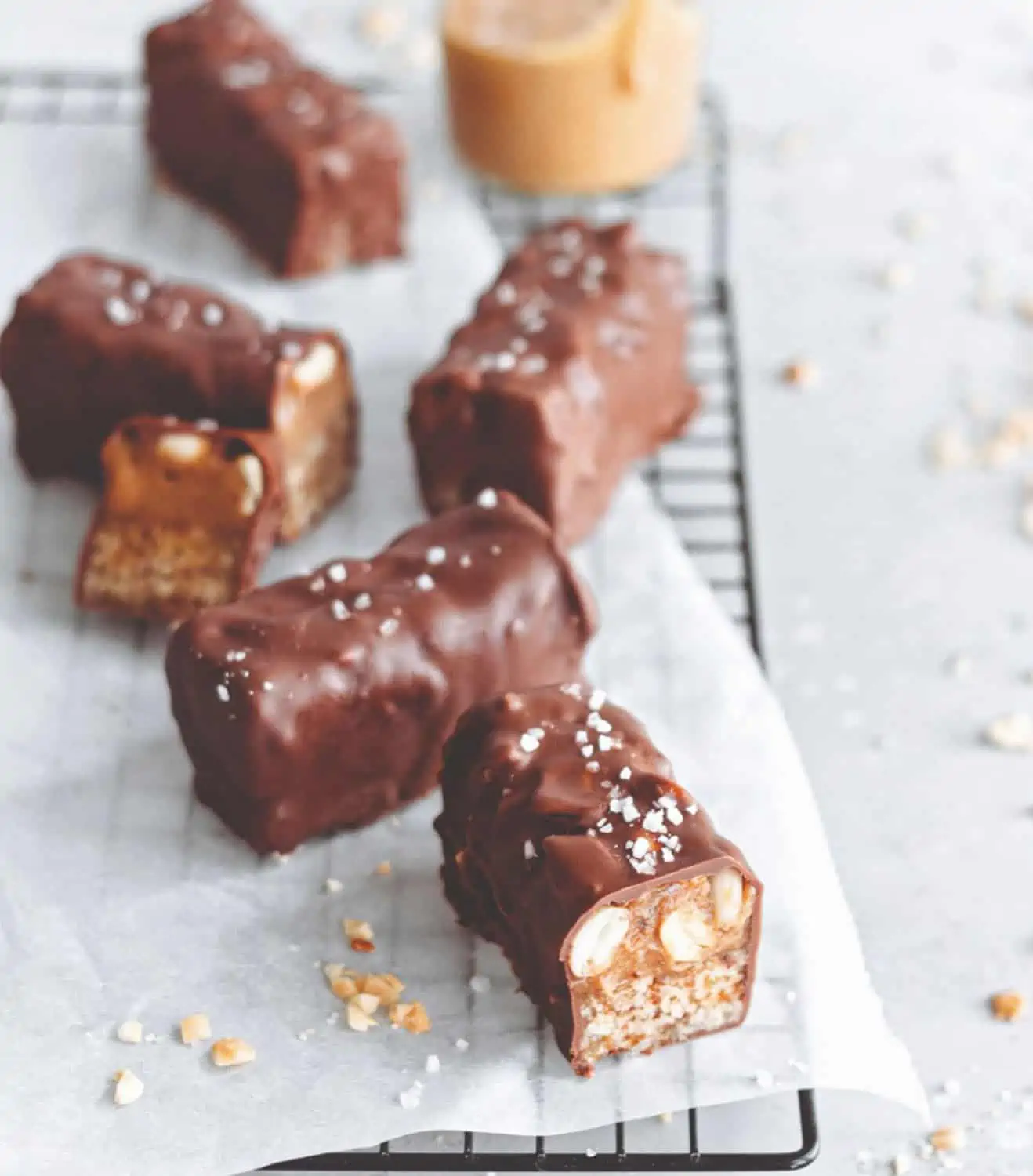 Perfect for summer but great year-round, these vegan creamsicles are a refreshing and satisfying dairy-free vegan dessert. Made from ingredients such as raw cashews, orange juice, and coconut milk, these vegan creamsicles will truly make your tastebuds pop.

Celebrating a birthday or just need to cool off for the summer? Then you must make this vegan ice cream cake! Featuring an Oreo cookie crust, it only takes about 30 minutes to come together and you'll have the best dairy-free dessert ever!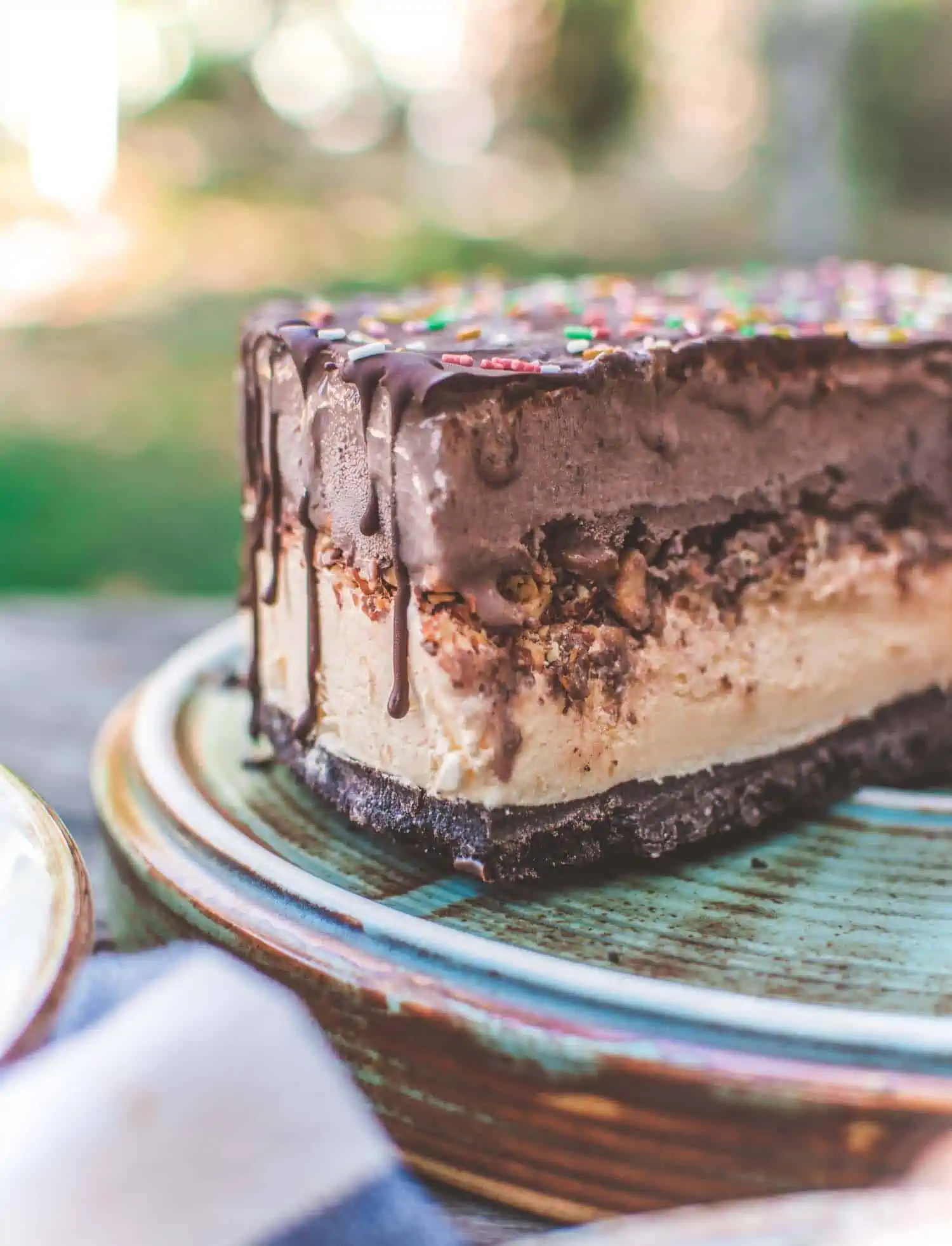 This amazing vegan cheesecake recipe by Lovely Jubley will more than satisfy your sweet tooth. Biscoff cookies are used as the base while coconut milk, sugar, vanilla bean paste, and soft vegan cheese make up the cheesecake portion of this decadent dessert.
Coffee lovers, rejoice! Simply Ceecee is here to bring you a zap of energy and serious flavor with her vegan caramel affogato recipe. Don't want to be too caffeinated before bed? Enjoy as an afternoon pick-me-up instead!
Perfect for breakfast as well as dessert, these vegan apricot crumble bars by Short Girl Tall Order will make your mouth water and your heart flutter. Made with apricot jam and a shortbread base, this recipe only takes about half an hour in the oven once it's assembled! Just be sure to let cool before diving in!
With so many amazing vegan desserts to try, you'll never run out of ideas on what to make for a birthday or how to best treat yourself after a long day. If you end up making one of these delicious vegan dessert recipes, let us know in the comments below!
Vegan Recipes to Serve Before Dessert:
Wondering what to serve up before dessert? We've got tons of ideas for you! Check out these vegan recipe round ups for some of our favorite plant-based meals to turn to.
This guide to the best vegan desserts for beginners, intermediates, and longtime vegan bakers was written by Amanda Meth and edited by Michelle Cehn. Please note that this article may contain affiliate links which supports our work at World of Vegan.