Welcome to a slice of vegan indulgence with our irresistible blueberry pie! Picture this: a golden, flaky crust embracing a symphony of plump, juicy blueberries that harmonize into every delicious bite.
What makes this treat truly special is its dairy- and egg-free magic, allowing everyone to enjoy it! The filling strikes the ideal balance—sweet, flavorful, and nutrition-packed with every mouthwatering blueberry. Say goodbye to the worry of messy slices; this pie holds together beautifully!
When should you make it? Anytime! With the convenience of frozen blueberries, this pie is a versatile treat that brings summer vibes to your table even in the colder months. Whether it's a special occasion or just a sweet craving, our vegan blueberry pie promises to be a joyous creation in every season. Get ready to redefine dessert indulgence!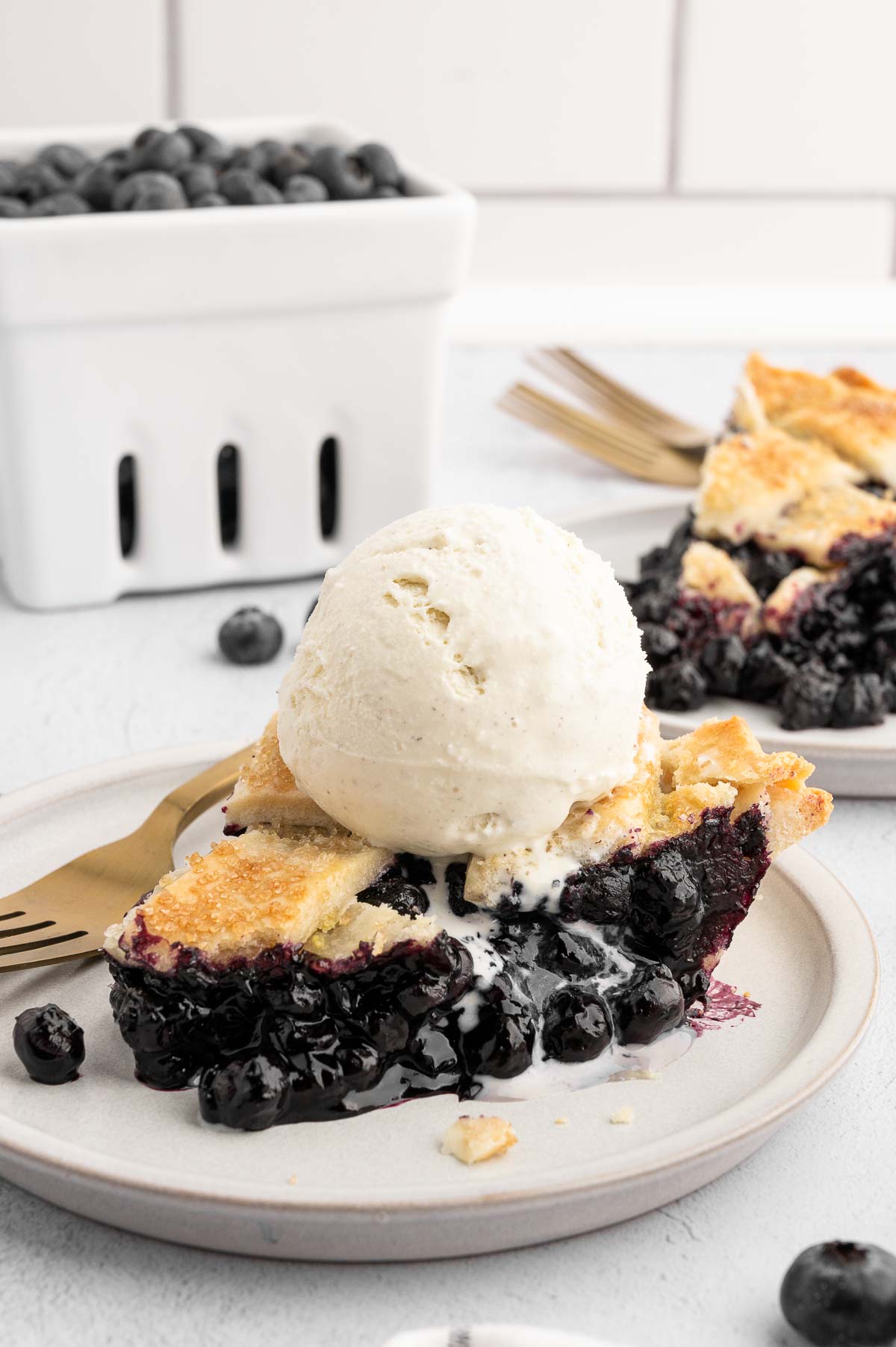 Key Ingredients And Substitutions
Frozen Blueberries: While you can use fresh, frozen blueberries offer more convenience and affordability year round. Plus, you don't need to thaw the blueberries first to make this pie!
Sugar: You just need simple granulated sugar for this pie. If you'd like, you can also use coconut sugar, or any granulated sugar you prefer.
Vanilla Extract: Elevate the flavor with pure vanilla extract for a subtle aromatic note.
Lemon: Both the juice and zest of a large lemon add brightness and a citrusy zing to complement the sweetness of the blueberries. Freshly squeezed lemon juice is best for optimal flavor.
Cornstarch: This acts as a thickening agent for the blueberry filling, ensuring a perfect consistency.
Vegan Pie Crust: Whether store-bought or homemade, a vegan pie crust serves as the flaky, golden vessel for this beautiful pie. In order to create the lattice look, it's best to make your own homemade pie crust. Don't worry, we'll walk you through the steps!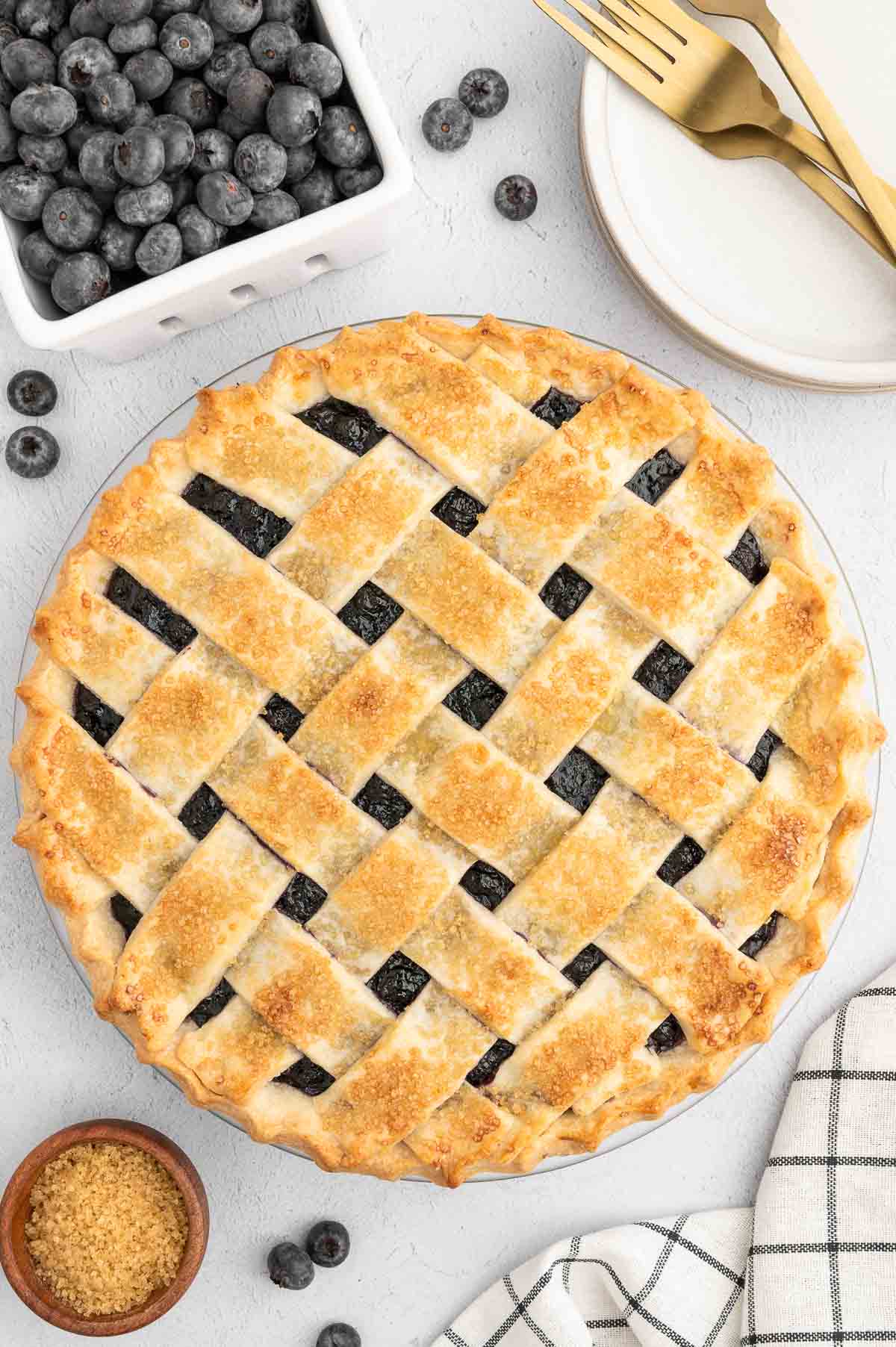 How To Make This Vegan Blueberry Pie
Here's the step-by-step process for making this blueberry pie made vegan!
Blueberry Filling
In a large saucepan, combine frozen blueberries, sugar, salt, and vanilla extract. Zest and juice a lemon into the mixture.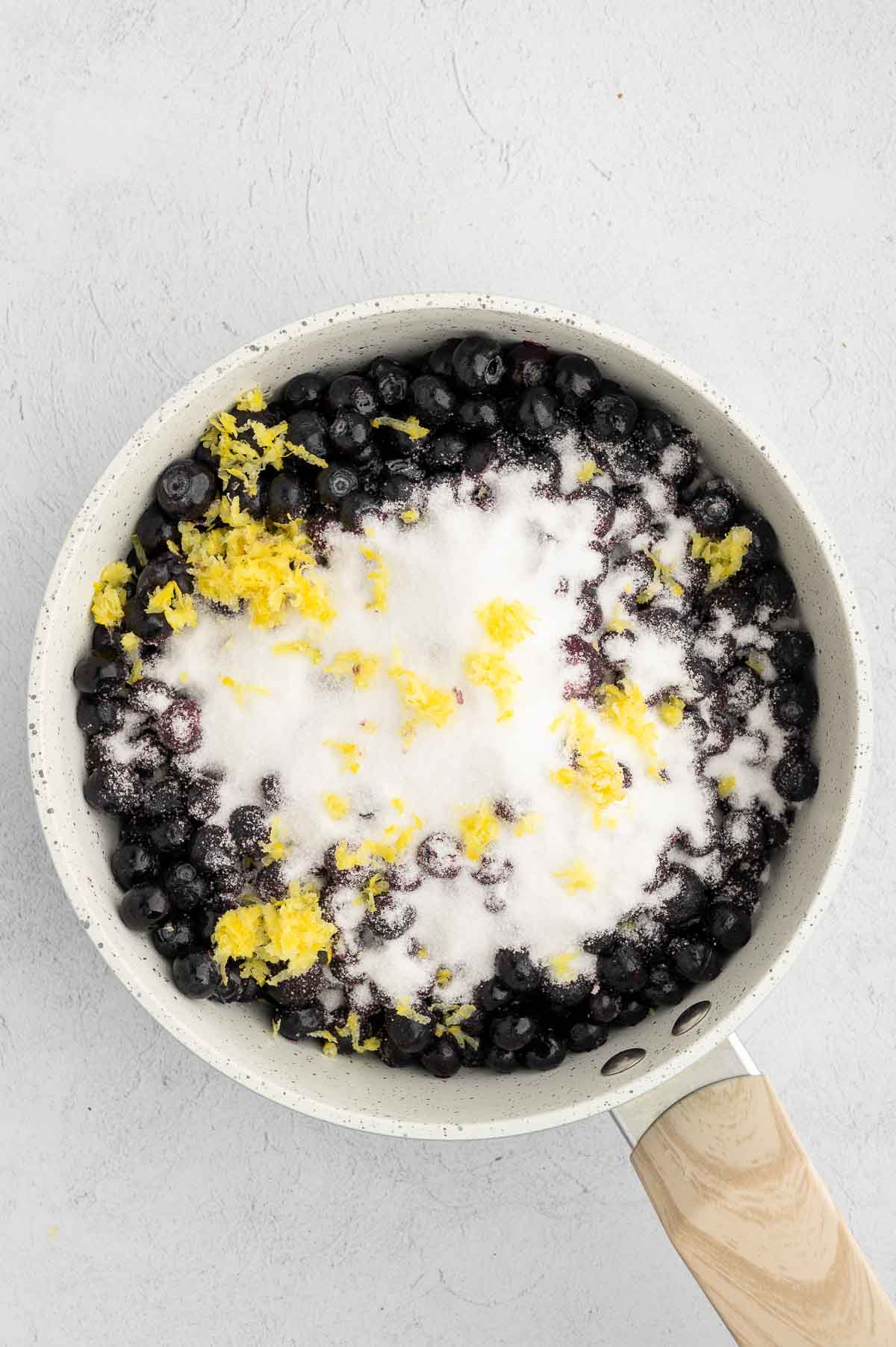 Heat over medium, stirring until blueberry juices begin to release. Once liquid accumulates, transfer it to a bowl, and whisk in cornstarch to form a pink slurry.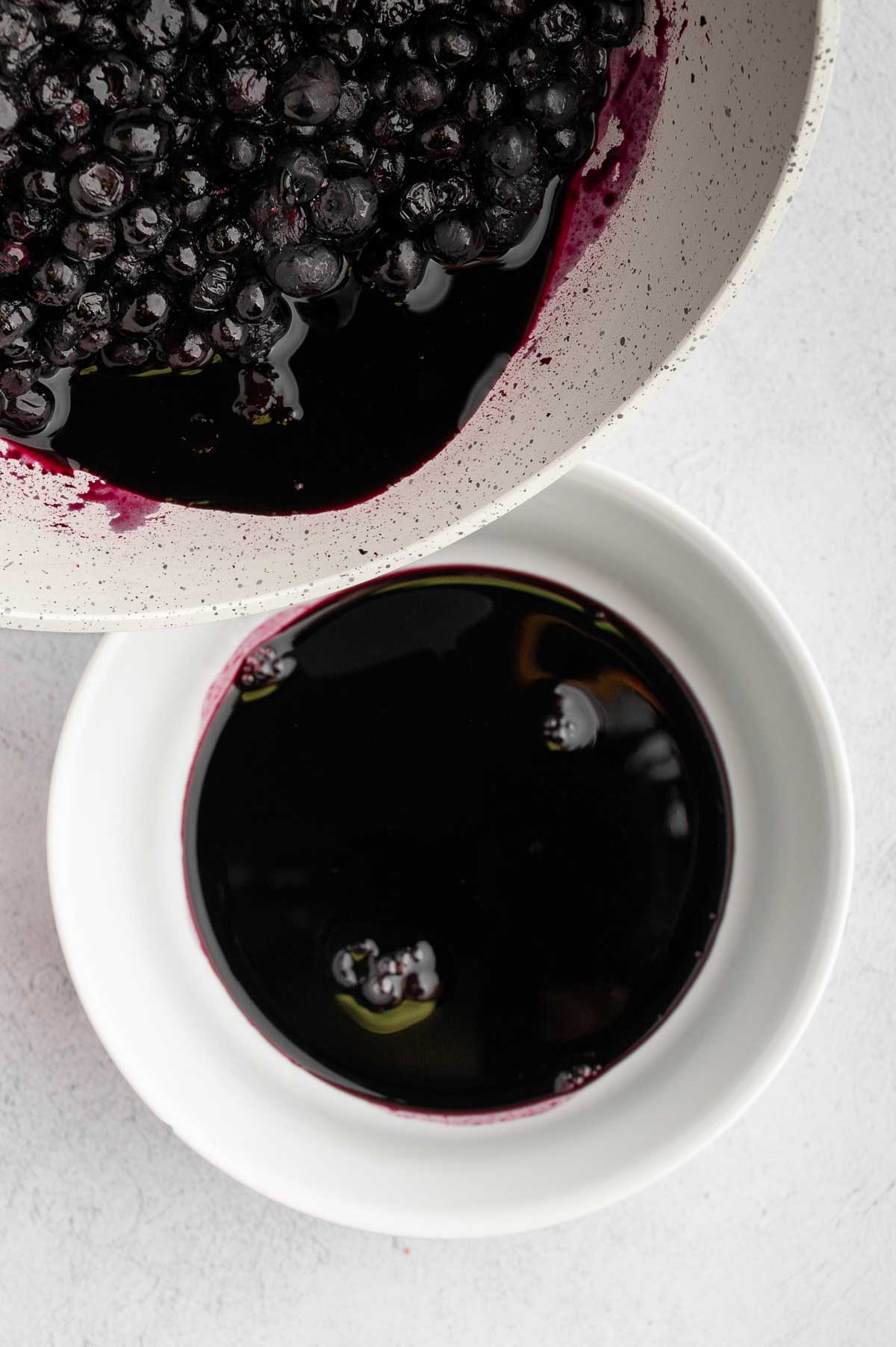 Pour it back into the saucepan with the blueberries. Simmer and stir until the liquid thickens (approximately 5 minutes). Remove from heat and let it cool. For quicker cooling, transfer the filling to a new bowl.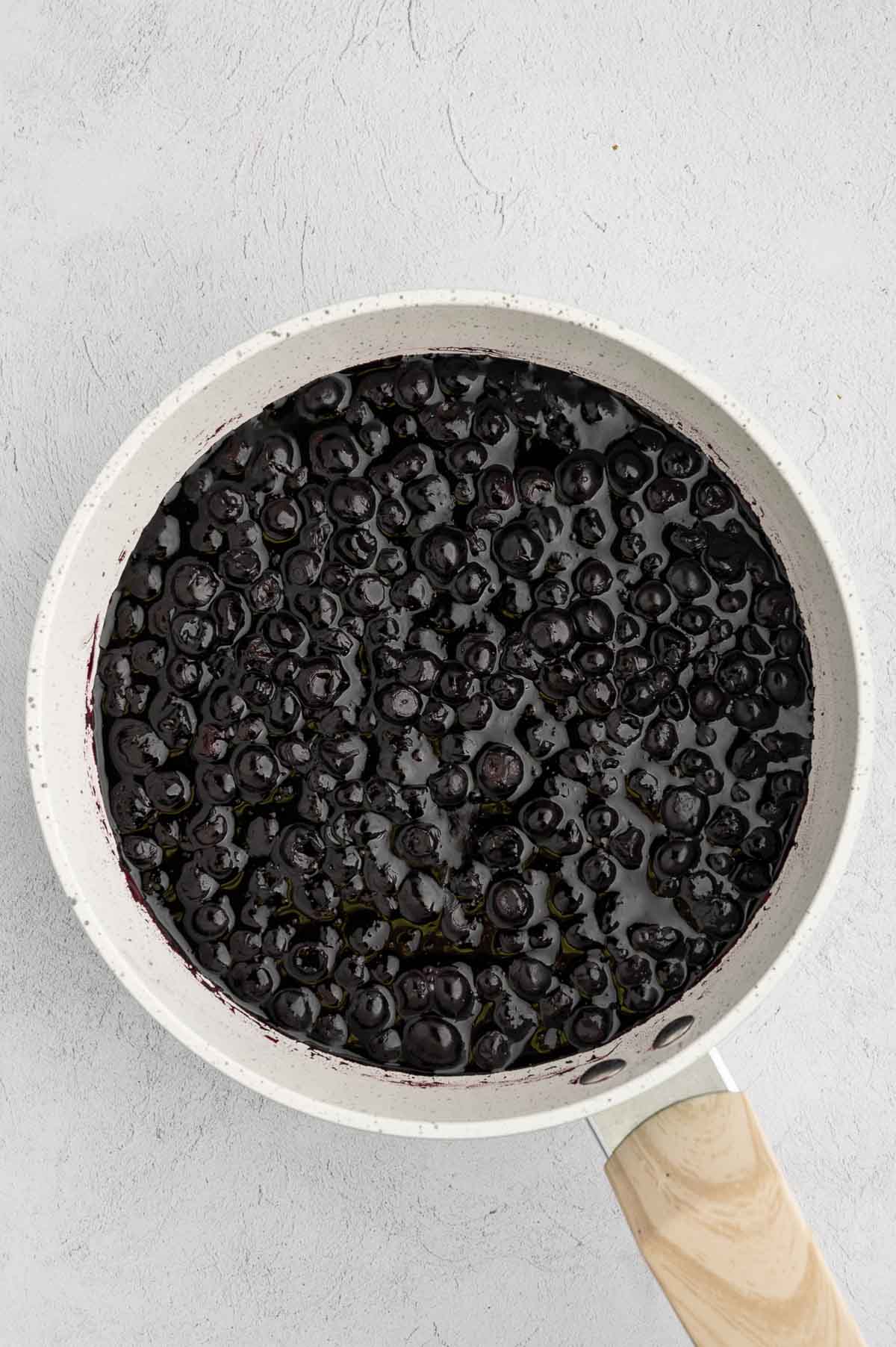 Prepare the Pie Crust
Ensure vegan butter is cold; you can freeze small cubes for a few minutes. Use ice-cold water by adding ice and allowing it to chill for 5-10 minutes.
Add the flour, salt, and sugar to your food processor and pulse to combine. Add the cubed cold butter and pulse several times until the mixture is crumbly with pea-sized chunks of butter.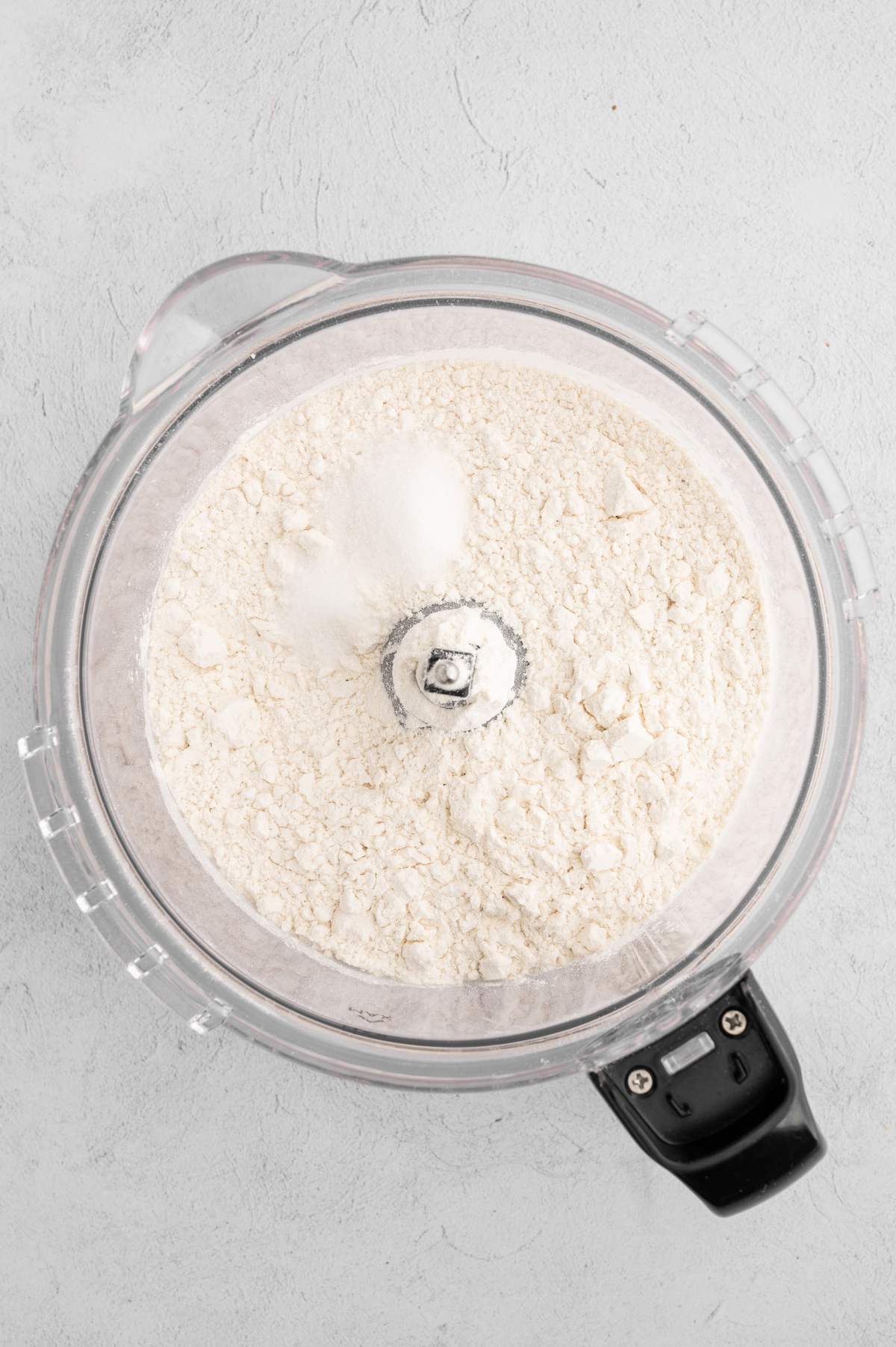 Next, add the cold water, a little at a time, and pulse until you can squeeze the mixture together to form a dough.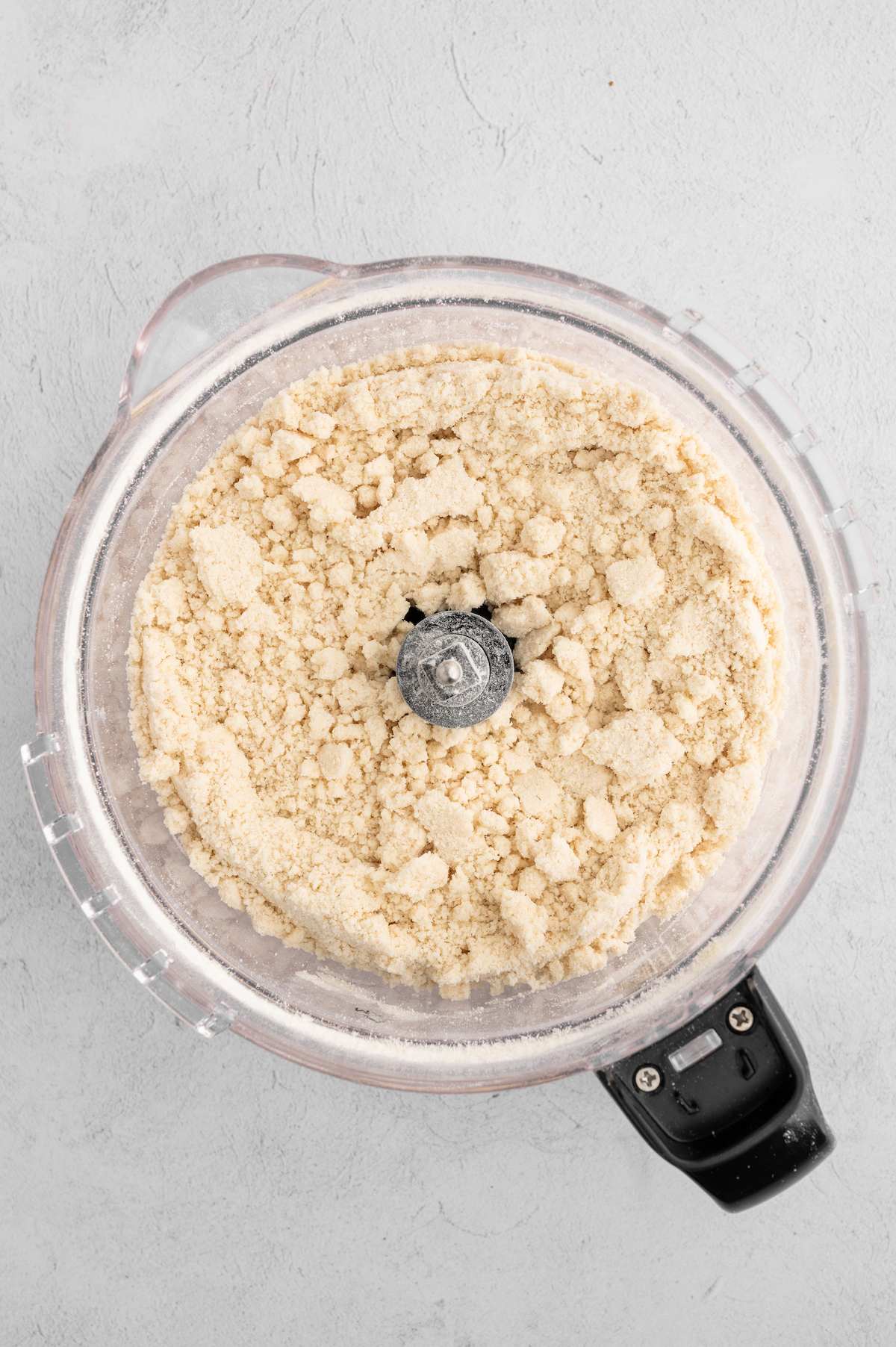 Turn the dough onto a floured surface, knead into a ball, and divide into two patties. Flatten into discs, wrap in plastic, and refrigerate for 10-20 minutes. This step is crucial to make sure the fats solidify again, which will make the crusty nice and flaky!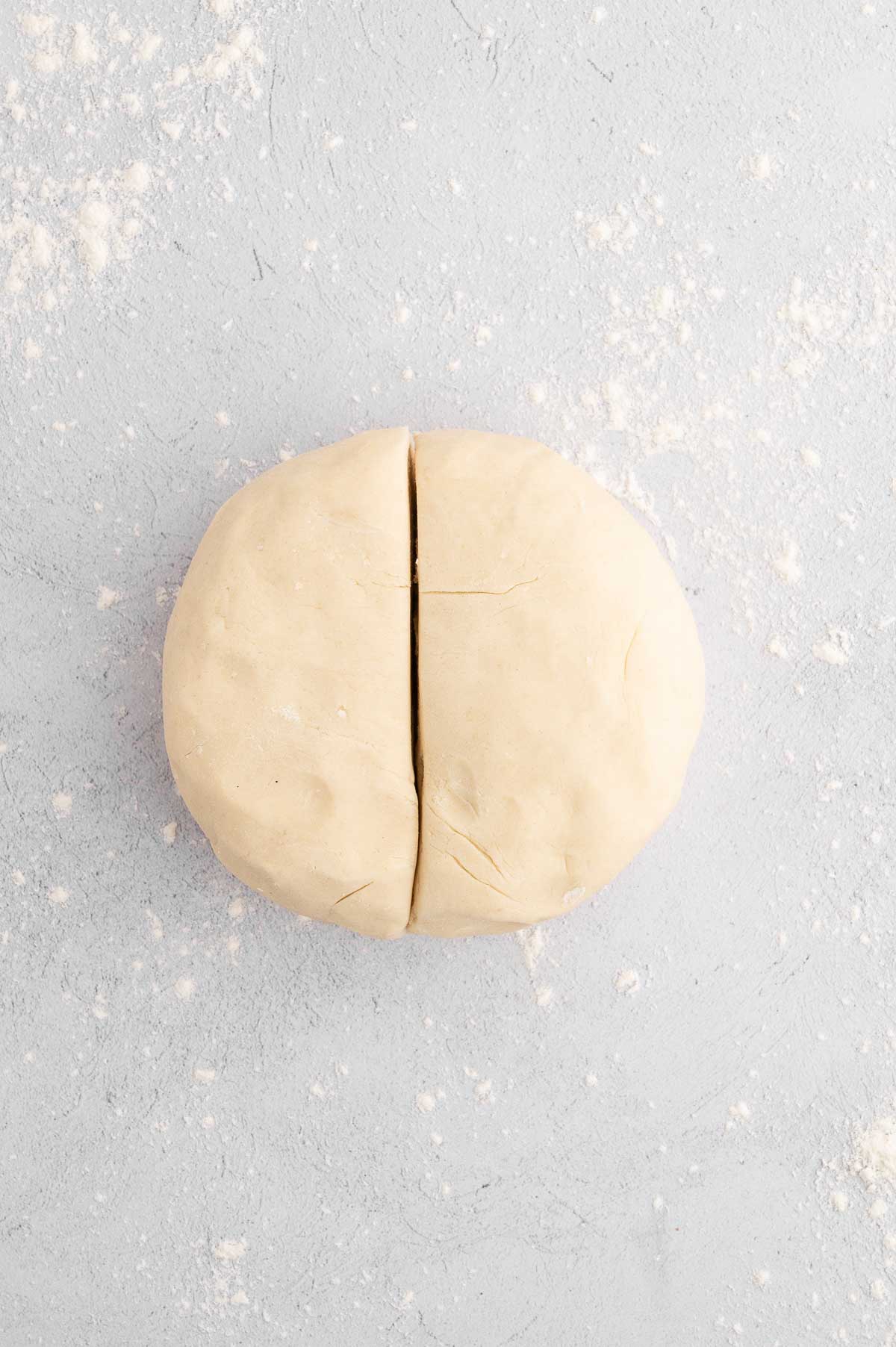 Assemble Your Pie
Roll out one dough patty on a floured surface, making it slightly larger than your pie dish (about 12 inches in diameter). Carefully place it in the pie dish, leaving an inch hanging over the edge. Place it in the refrigerator for another 10-20 minutes.
Once the pie filling has cooled to room temperature, preheat the oven to 400°F and fill the crust with the cooled blueberry filling.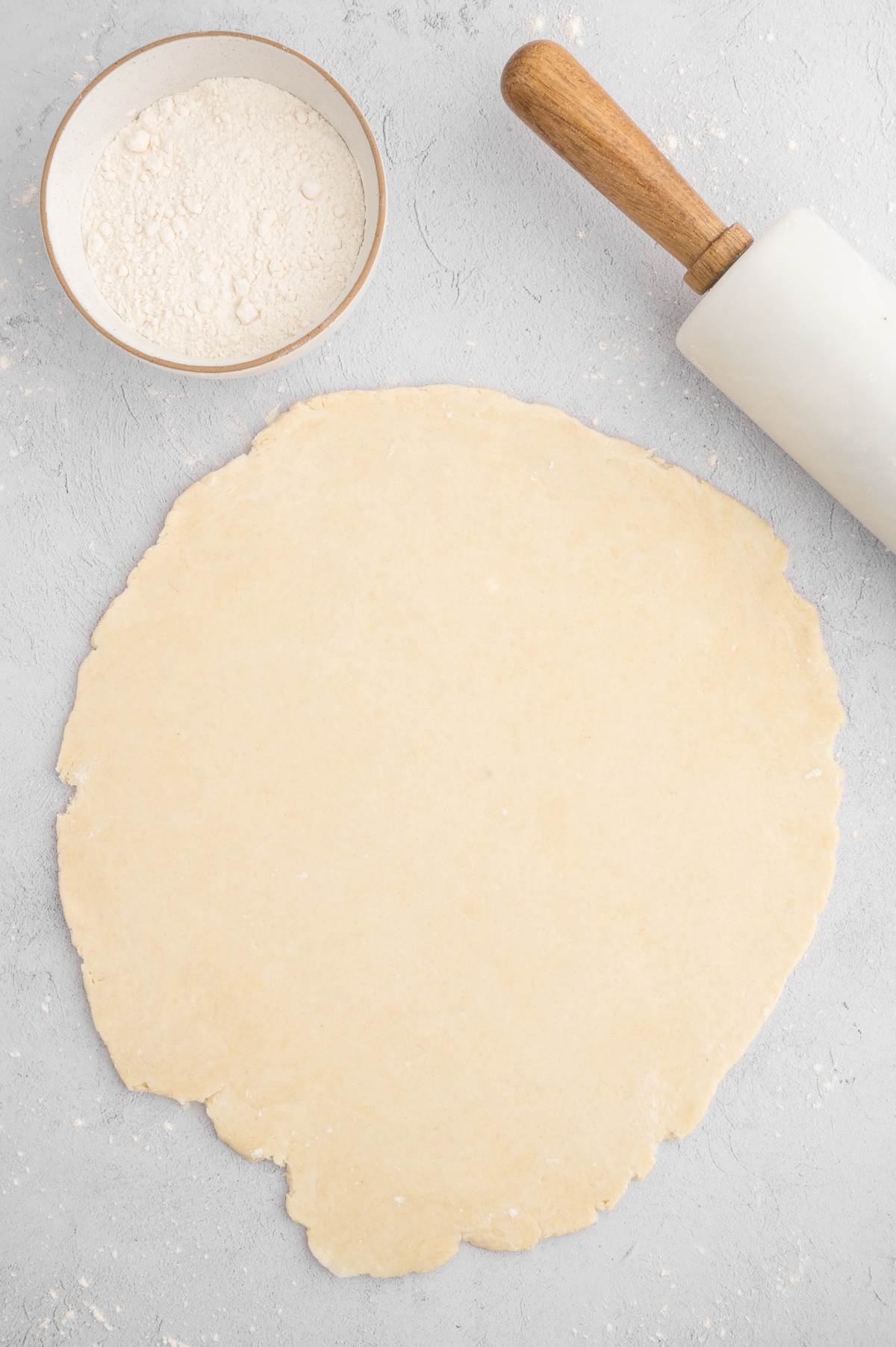 Roll out the second dough patty, cut into lattice strips using a pastry wheel or knife, and create a lattice weave over the pie.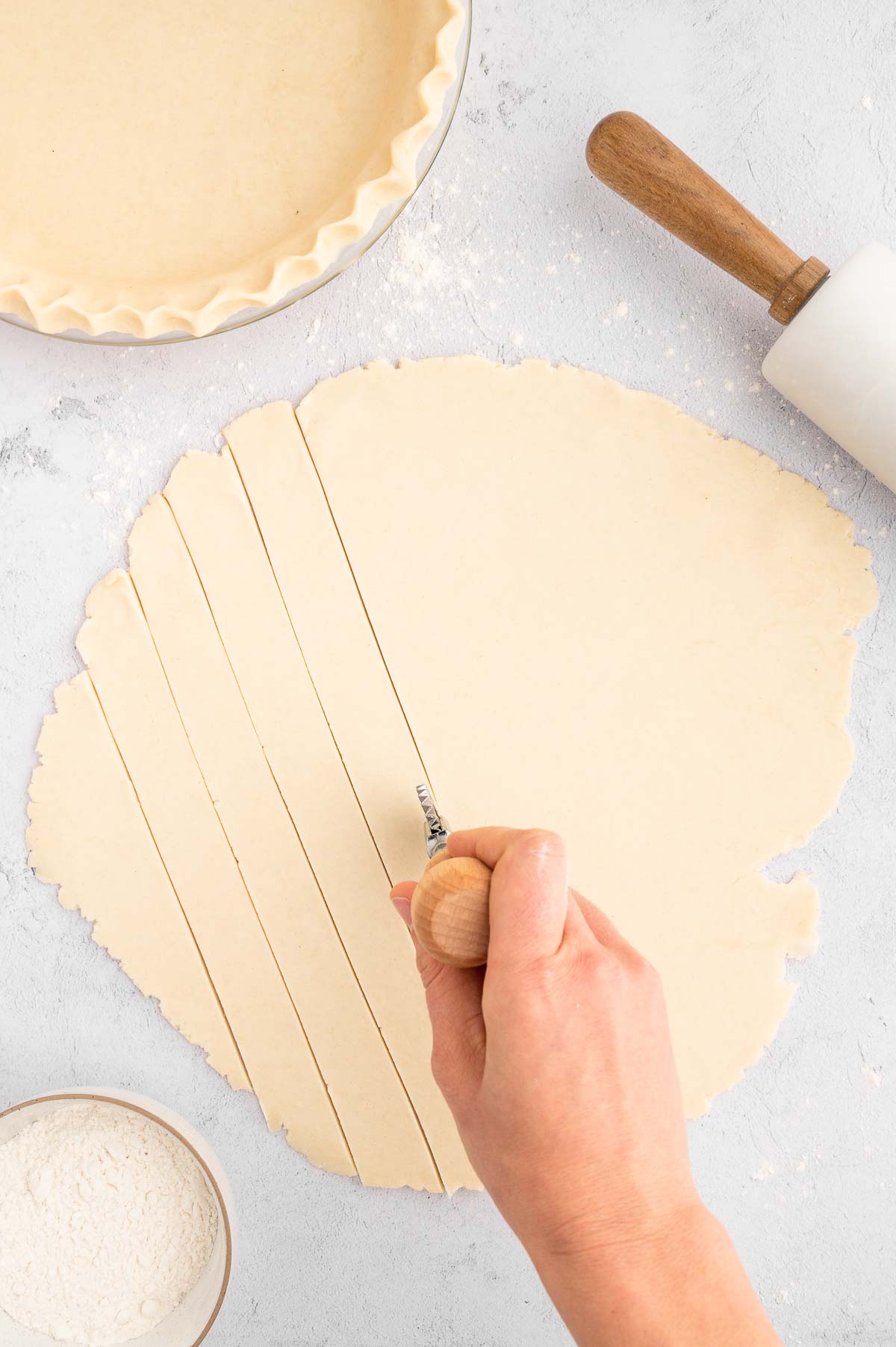 Crimp the edges for a classic design. Brush the crust with soymilk or agave nectar, sprinkle with coarse sugar (if desired), and bake for 40-45 minutes. Cover with foil after 30 minutes if browning too much. Cool on a wire rack before serving.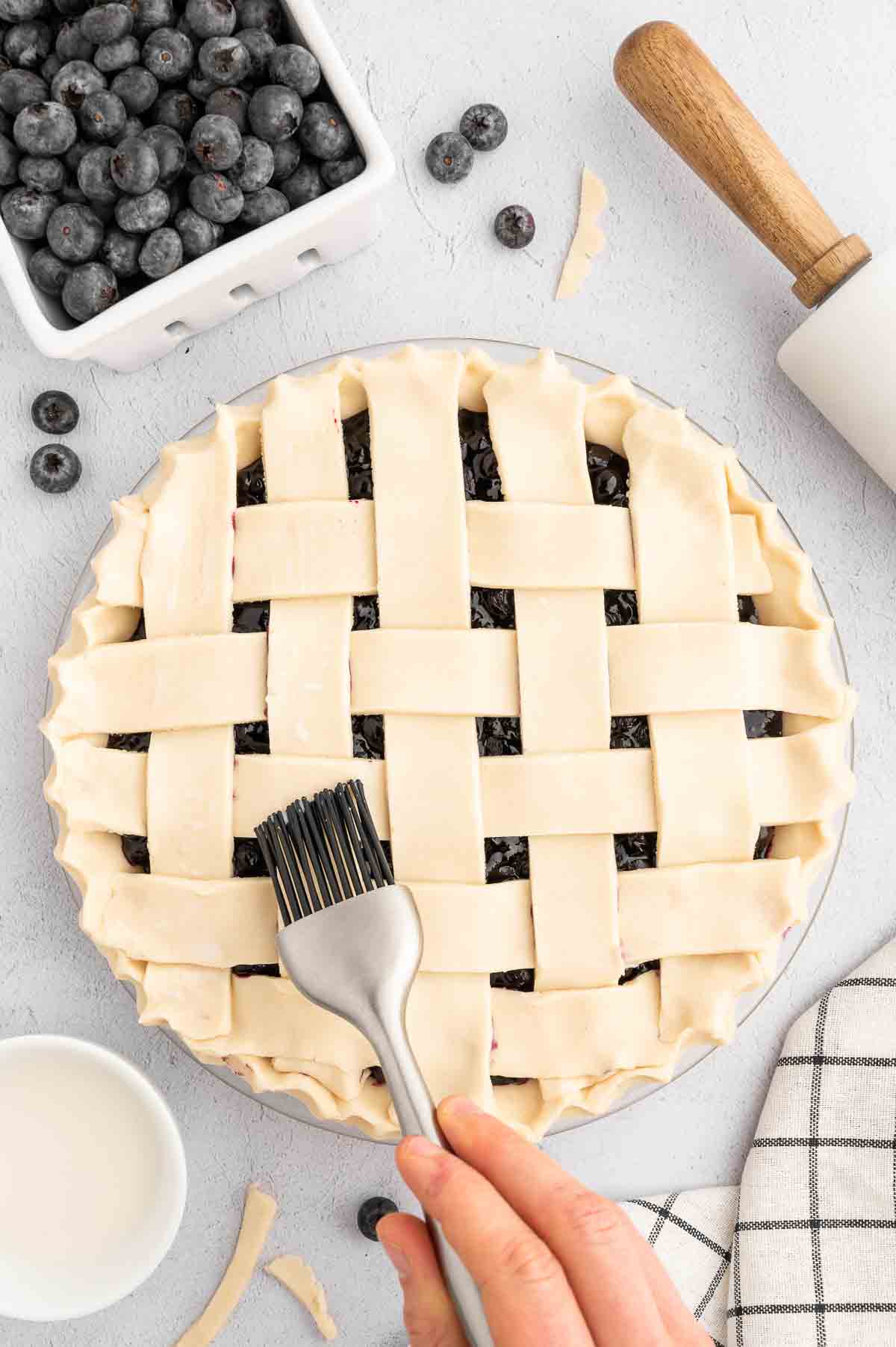 Expert Tips
Perfect Pie Crust: Ensure your vegan butter is well-chilled for a flaky crust. Cutting it into small cubes and briefly placing it in the freezer enhances the crust's texture.
Consistent Blueberry Filling: To achieve an even consistency in the blueberry filling, whisk the cornstarch into the separated blueberry juice before reintroducing it to the saucepan. This helps prevent clumps and ensures a smooth, thickened filling.
Efficient Crust Handling: When rolling out the pie crust, work on a well-floured surface and rotate the dough regularly. This prevents sticking and ensures an even thickness, contributing to a beautifully textured crust.
Lattice Weaving Technique: For an attractive lattice design, gently lift and fold alternating strips while placing the remaining strips in the opposite direction. This weaving technique creates an appealing pattern on top of your blueberry pie.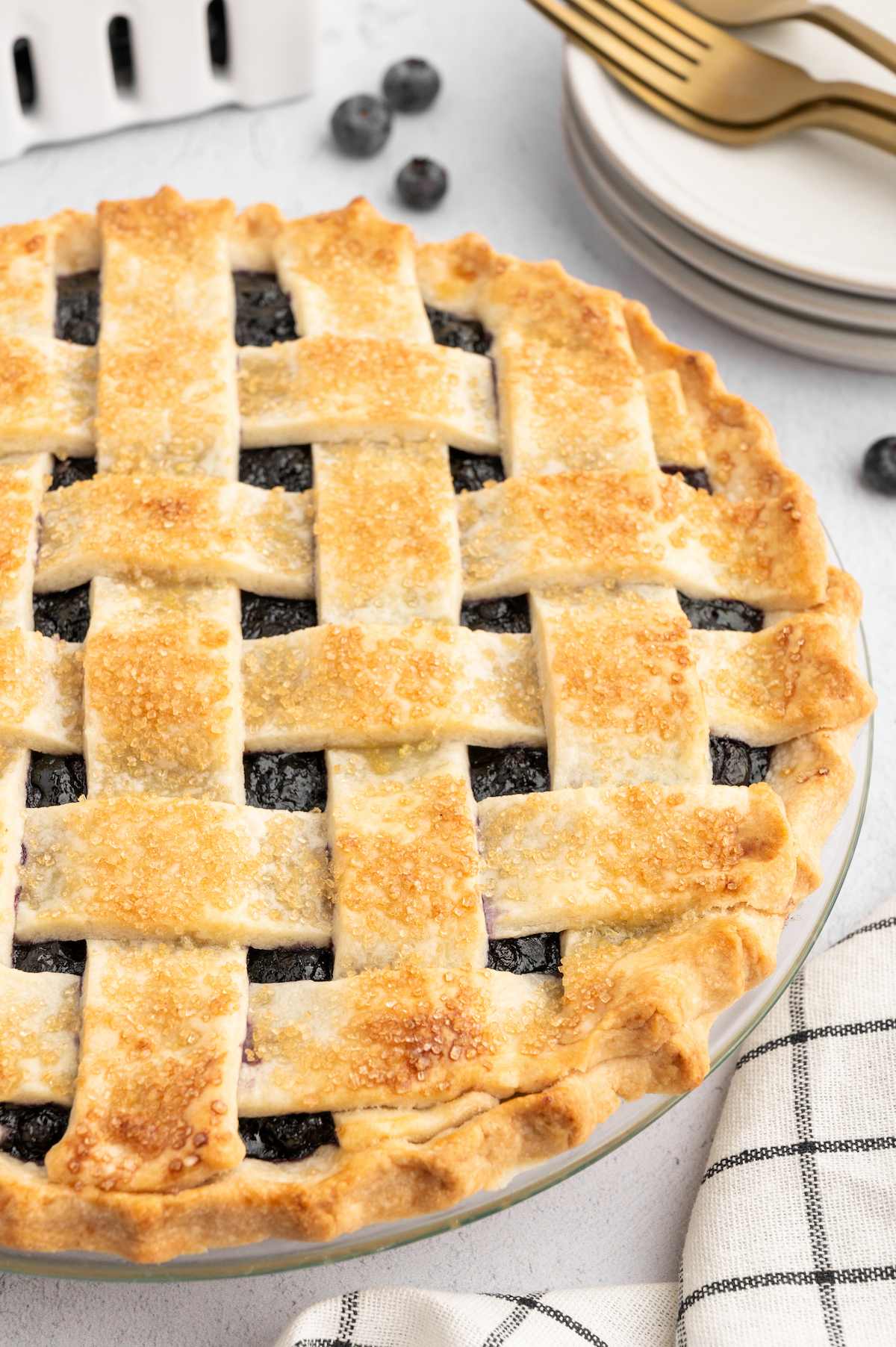 Serving Suggestions
A La Mode Delight: Elevate your blueberry pie by serving each slice with a scoop of your favorite vegan vanilla or coconut milk ice cream. The warm pie alongside the cold, creamy ice cream creates a delightful contrast in textures and temperatures.
Whipped Coconut Cream Topping: Add some creaminess to individual slices with dollops of whipped coconut cream. Its rich and airy texture complements the fruity sweetness of the blueberry filling.
Drizzle of Sweet Agave Syrup: For an extra touch of sweetness, lightly drizzle each serving with agave syrup. Its natural sweetness enhances the flavors without overpowering the delicate taste of the blueberries.
Fresh Mint Garnish: Introduce a burst of freshness by garnishing the pie slices with fresh mint leaves. Not only does it add a vibrant touch to the presentation, but the mint's aroma also enhances the overall dessert experience.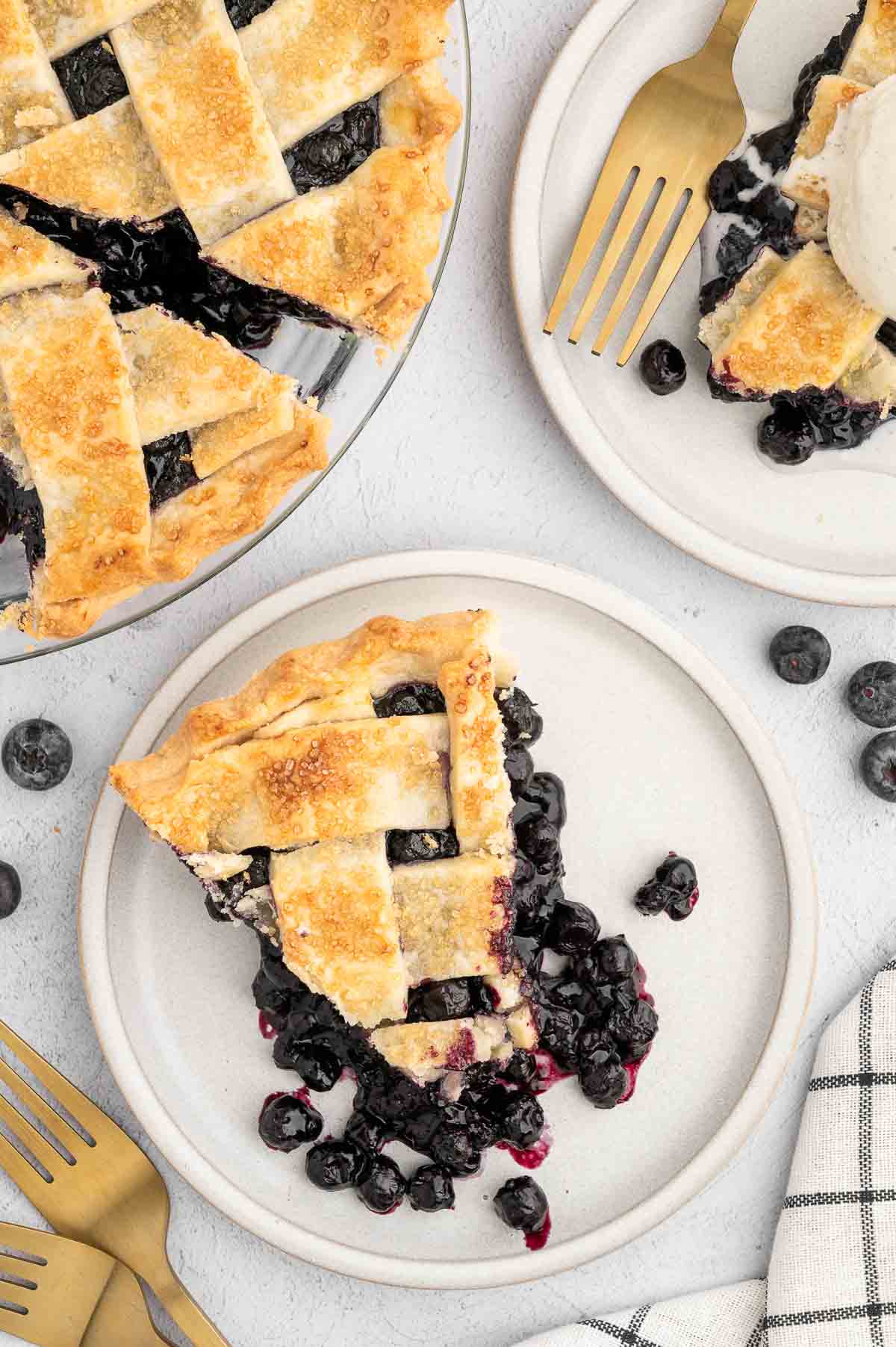 How To Store
After the blueberry pie has cooled completely, cover it loosely with plastic wrap or aluminum foil. Refrigerate for up to 3-4 days to maintain its freshness.
To prolong the pie's shelf life, consider freezing individual slices or the whole pie. Wrap it securely in plastic wrap and aluminum foil, or place it in an airtight container. Label with the date and store in the freezer for up to 2-3 months.
When ready to enjoy a frozen slice, thaw it in the refrigerator overnight. Reheat in the oven at a low temperature for the best texture.
To prevent the crust from becoming soggy, avoid storing the pie in direct contact with moisture. Placing a paper towel or parchment paper between the pie and the cover can help maintain its crispness.
Frequently Asked Questions
How do you keep blueberry pie from being runny?
Don't skip out on a thickening agent like cornstarch or tapioca starch in the filling. These ingredients absorb excess liquid and help create a stable, consistent filling. You'll also need to allow the filling to cool completely before slicing. This gives the filling time to set, making it easier to cut and serve without excessive juiciness.
Do you need to pre-bake the pie crust for blueberry pie?
Pre-baking, also known as blind baking, is not typically needed for blueberry pie. Blind baking is more common for pies with custard or cream-based fillings to prevent a soggy crust. For fruit pies, the moisture from the fruit evaporates during baking.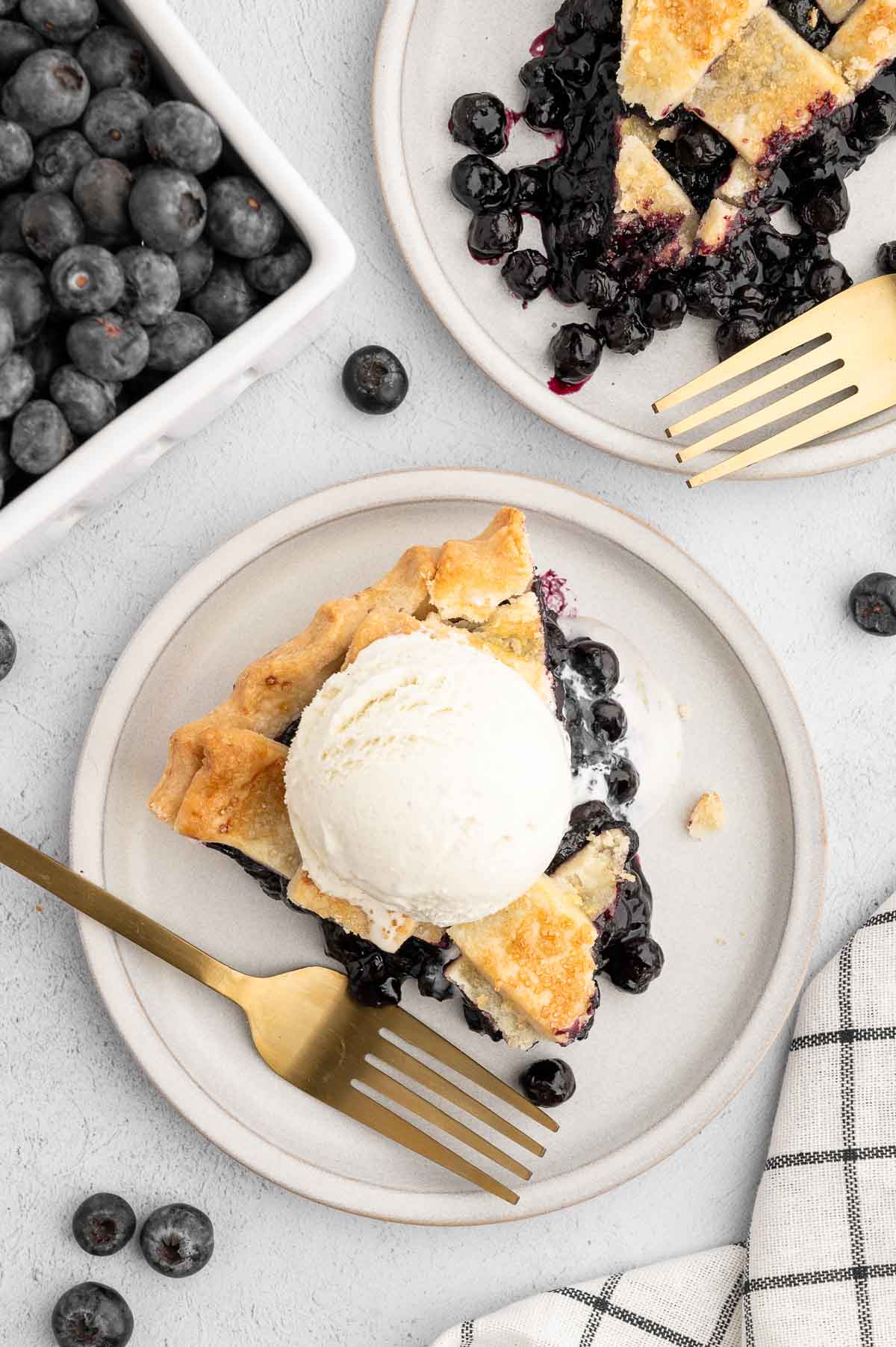 More Vegan Blueberry Recipes
Love blueberries? Try these other delicious blueberry recipes:
Indulge in moist and fluffy vegan blueberry muffins bursting with juicy blueberries, perfect for a quick and delightful breakfast or snack.
Transform your mornings with these light and fluffy vegan blueberry pancakes infused with the sweet goodness of blueberries, creating a delectable breakfast treat.
Dive into a warm and comforting vegan blueberry cobbler featuring plump blueberries nestled beneath a golden, vegan biscuit topping—a delightful dessert that captures the essence of summer.
Blueberry Pie Filling
6 cups frozen blueberries, (2 pounds)
⅔ cup sugar
¼ tsp salt
1 teaspoon vanilla extract
1 lemon, large, for the juice and zest
¼ cup cornstarch
Vegan Pie Crust (Top and Bottom)
3 cups all-purpose flour
1 teaspoon salt
2 teaspoons granulated sugar
1 cup vegan butter, cubed
½ cup ice cold water
soymilk or agave nectar, optional, for basting the pie crust
course sugar, optional, for sprinkling on the pie crust
In a large saucepan, add the frozen blueberries, sugar, salt, and vanilla extract. Using a zester, add the zest of the lemon, followed by the juice of the lemon. Turn heat to medium and stir regularly until the blueberry juices start to release.

Once there is some liquid blueberry juice at the bottom of the saucepan, tip the pot and carefully pour the juice into a small bowl, and stir in the cornstarch. Mix until a uniform pink slurry forms without any cornstarch. Pour this back into the saucepan and stir in with the blueberries. Continue to simmer and stir regularly until the liquid thickens, around 5 minutes. Then remove from heat and allow to cool fully. To speed up cooling, you can pour the blueberry filling into a new bowl.
Prepare the Crust Dough
Before you begin, make sure your vegan butter is cold. You can even cut it into small cubes and place it in the freezer for a few minutes. Also, ensure your water is ice-cold. Add ice to your water and allow it to cool down for 5-10 minutes before using.

In a food processor, combine the all-purpose flour, salt, and sugar and pulse to mix.

Add the cold vegan butter and pulse several times until the mixture resembles coarse crumbs. You should have small pea-sized pieces of fat throughout the dough.

Gradually add the ice-cold water to the mixture. Add more water, a little at a time, until the dough begins to come together. Be careful not to overwork the dough; it should be just moist enough to hold together.

Turn the dough out onto a clean, floured surface. Gently knead it a few times until it comes together into a ball. Divide into two even pieces and Flatten into disc shapes. Wrap the each dough patty in plastic wrap and refrigerate it for at least 10-20 minutes. Chilling the dough allows the fats to solidify again, making the crust flaky.

On a floured surface, roll out one dough patty into a circle slightly larger than your pie dish (about 12 inches in diameter). Roll out from the center, rotating the dough a quarter turn after every few rolls to prevent stretching the dough too much in one direction. Specks of butter in the pie dough are expected and help to make the flaky layers. Carefully lift the rolled-out dough and place it into your pie dish. Gently press it into the bottom and sides of the pan, and leave about 1 inch of dough hanging over the edge (which will be used for crimping later). Place in the refrigerator.
Assemble Your Pie
Once the blueberry filling has cooled to room temperature fully, preheat the oven to 400 degrees F and add the filling to the crust-lined pie dish.

Take the second dough patty from the fridge, place on a floured surface, and roll out one dough patty flat just like the first. Using a pastry wheel or knife, slice the dough into lattice strips (approximately 1 inch thick). Place all the strips going one direction over the pie. To create the lattice weave, gently lift and fold alternating strips back while you place the remaining strips laying the opposite direction, and then fold the strips back. Add one new strip at a time until the lattice is complete. Fold the dough hanging over the edge up and over the sides and use your fingers to pinch and crimp the edges to secure an create the classic crimped pie design. Alternately, if you don't have enough dough hanging over the edges, simple use a fork and press it into the edges of the dough to crimp and seal along the entire rim of the pie. Then use a knife or pastry wheel to cut off any dough hanging over the side of the pie dish.

Brush the pie crust dough lightly with soymilk or agave nectar, and sprinkle with course sugar (if desired), and bake for 40-45 minutes. Check after 30 minutes and if the crust is browning, place a piece of tinfoil over the top.

Remove to a wire cooling rack and allow to cool fully.
Pie Crust Design: This recipe describes how to create a classic lattice pie crust design; but feel free to get creative! You can top the pie with a full flat sheet of dough, crimp the edges, and slice slits in the dough in a star shape. You can use cookie cutters or leaf cutouts to add decorative elements made from leftover crust dough to the pie crust.  Don't have a food processor? You can make this crust by hand as well using a pastry cutter. You can find the full directions in our pie dough recipe article. 
Calories: 513kcal | Carbohydrates: 75g | Protein: 6g | Fat: 22g | Saturated Fat: 4g | Polyunsaturated Fat: 7g | Monounsaturated Fat: 10g | Trans Fat: 4g | Sodium: 540mg | Potassium: 160mg | Fiber: 4g | Sugar: 29g | Vitamin A: 64IU | Vitamin C: 18mg | Calcium: 19mg | Iron: 3mg
Vegan Blueberry Pie photos by Amanda McGillicuddy for World of Vegan, all rights reserved.