You can make soft serve style ice cream in minutes without an ice cream maker. All you need is a food processor or a high-powered blender with a tamper and some frozen bananas.
Sadly, many people have never tried this magic. That's a tragedy, really. So, here it is for all to try and enjoy!
This frozen banana nice cream is made with one single ingredient, tastes like soft serve ice cream, and is actually healthy. That's right, you can dig in for breakfast, lunch, dinner, or even as a late-night snack without the guilt. The recipe (or directions, rather) is below. Enjoy!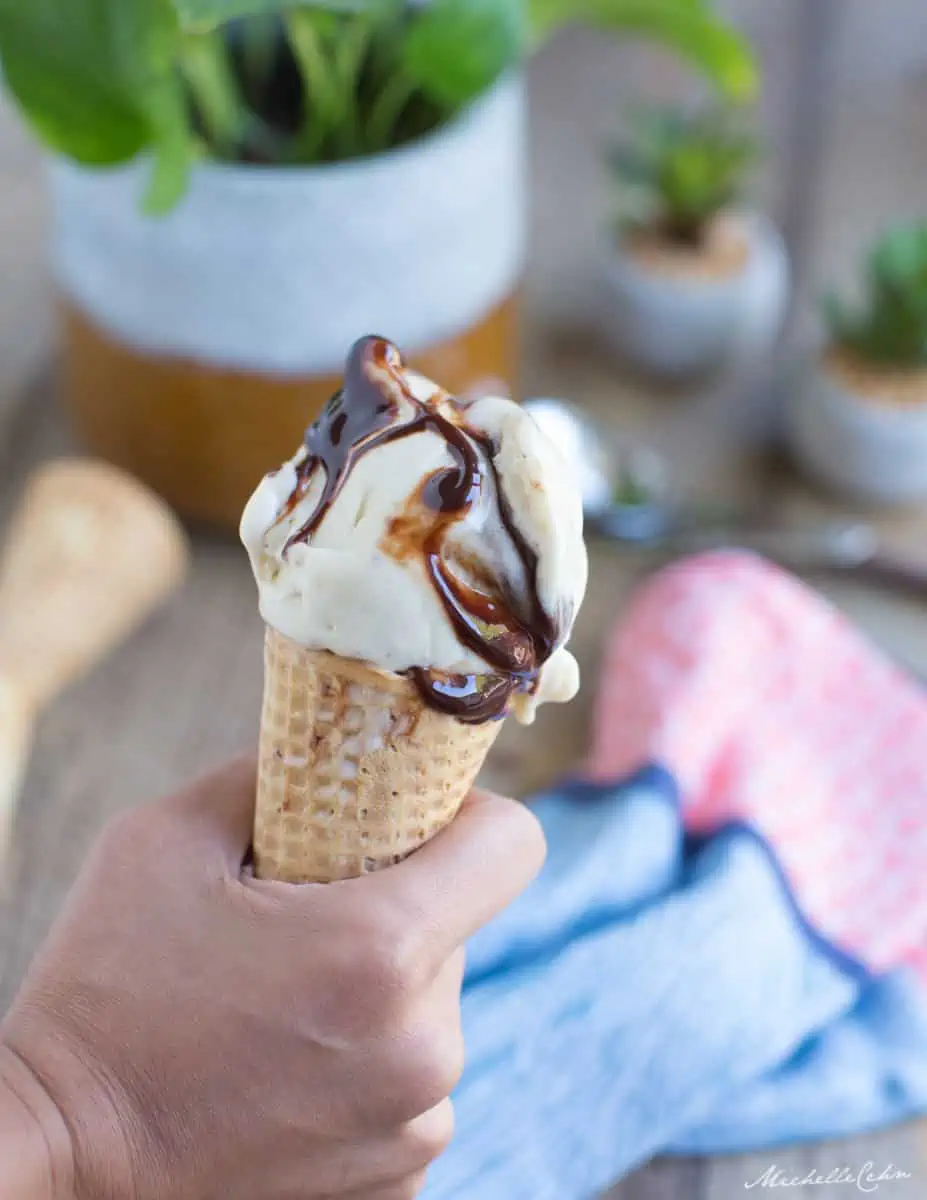 Delightful Banana Ice Cream Flavor Variations
The beauty of this recipe is that the bananas form a beautiful base that can be spun in many different directions by adding additional ingredients. Simply by adding some fruit, nut butter, cocoa powder, or extracts, you can make: 
Chocolate Banana Ice Cream
Peanut Butter Banana Ice Cream
Chocolate Peanut Butter Banana Ice Cream
Vanilla Ice Cream
Peppermint Ice Cream
Mango Banana Ice Cream
Strawberry Banana Ice Cream
…and so much more. This ice cream making technique is versatile and you really can't go wrong!
Tempting Toppings for Your Nice Cream
Ice cream is always better with toppings, so layer them on! Here are a few of our favorites:
Vegan sprinkles (there are several brands that carry really fun vegan sprinkles)
Chopped nuts (peanuts, pecans, walnuts, etc.)
Vegan chocolate sauce
Coconut flakes
Dried fruit (raisins, goji berries, mulberries, etc.)
Hot peanut butter drizzle
Crushed Oreos (yes, Oreos are vegan!)
You can serve this vegan ice cream in a bowl (I love using coconut bowls or even better—edible chocolate bowls), in a cup, in a cone, or serve it up smoothie-bowl style! 
How to Make Banana Ice Cream
Use super-ripe bananas
While any frozen bananas will work for this recipe, your banana ice cream will taste best if you use super-ripe spotty bananas. Bananas can be nearly all brown, and they will still work beautifully in this recipe. The longer bananas ripen, the sweeter they get.
Peel and slice up your ripe bananas and freeze them for at least 24 hours before making your nice cream. I keep frozen bananas in the freezer all the time, so banana soft serve is always just moments away! 
Blend in a food processor (or high-powered blender)
If you have a food processor, use that. A food processor is designed to blend up thicker foods without  much liquid, whereas most blenders demand a lot of liquid to get things moving. You can toss your frozen bananas into your food processor and blend them without any milk, which creates the thickest creamiest banana ice cream! If you'd like to add a splash of milk, or any add-ins (like cocoa powder), just add them into the food processor with the bananas. 
Note: Hold your food processor down with your hand while you're blending, because at the beginning the frozen banana chunks will fly wildly around. Soon enough, they will get chopped up and become a soft cream. Continue blending until the banana ice cream turns a lighter color, which you'll see happen quickly. 
If you have a high-powered blender with a tamper, such as a Vitamix, that will work too! Although you will still have an easier time blending if you add a splash of your favorite plant-based milk (soy milk, almond milk, oat milk, coconut milk, cashew milk, etc).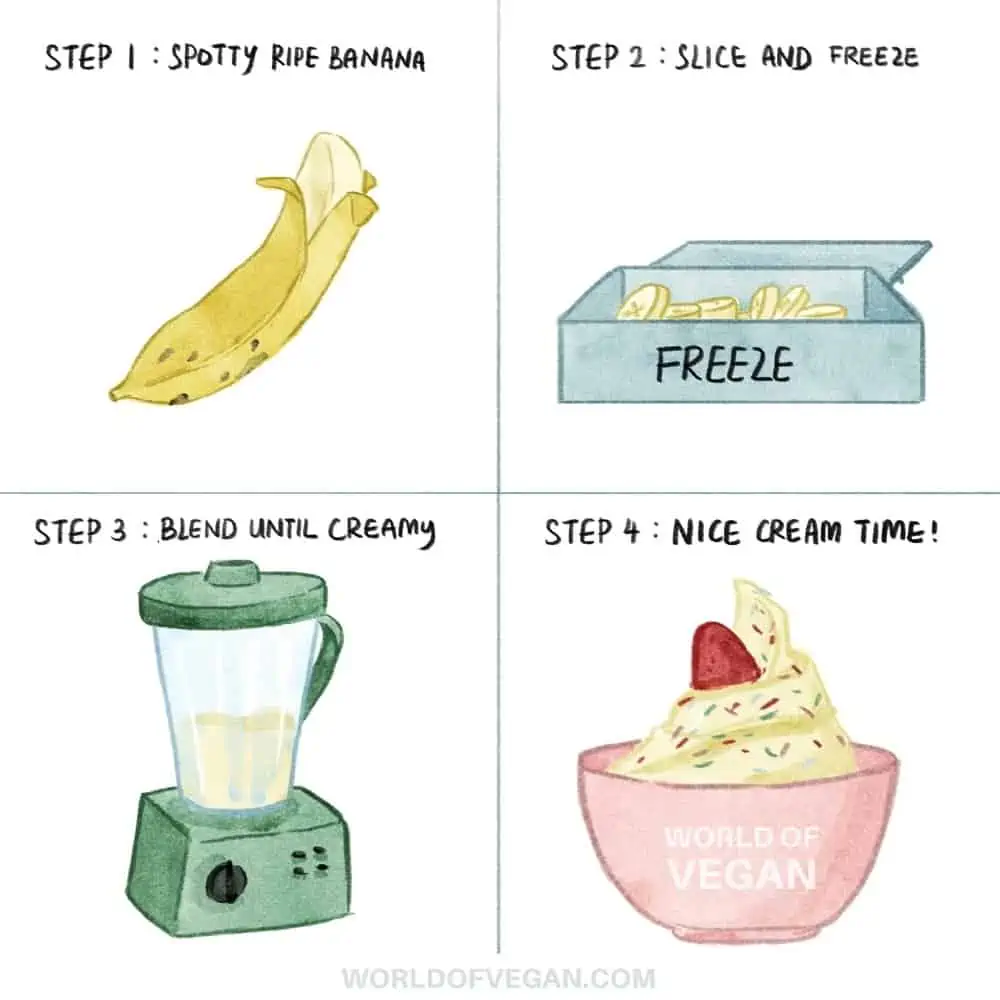 Serve Up Your Nice Cream!
Once it's ready, the dairy-free banana ice cream will be a soft serve consistency. It should be thick and velvety smooth without any chunks. Scoop it into a bowl or an ice cream cone, add your favorite toppings, and enjoy immediately! 
Banana ice cream does not store or save well, so lap up every last bit! It's healthy, so you don't have to worry about over-indulging. Go back for seconds or thirds guilt-free! The best healthy dessert ever.
Make This Banana Nice Cream Recipe Into a Milkshake
If you'd prefer to drink your ice cream, you can easily turn this into a sippable vegan milkshake by adding some plant-based milk. Soymilk, almond milk, cashew milk, coconut milk, flax milk—any type of milk will work, and you just need a bit! The more you add, the less thick your homemade dairy-free milkshake will be. Easy peasy!
More Vegan Banana Recipes
Have more ripe bananas you need to use up? Check out these scrumptious banana recipes:
2 ripe, spotty bananas, peeled, sliced and frozen
splash of plant-based milk, if needed
Optional add-ins
cocoa powder
peanut butter
fresh or frozen fruit
Advance Prep: Allow bananas to ripen and get spotty, and then peel, chop, and freeze them.

In a food processor or high-powered blender, add the frozen chopped bananas. You'll need at least two bananas for this to work. You may be fighting your appliance in the beginning, but keep going—it will be worthwhile! Pulse or blend until you have a thick, creamy ice cream. Scoop into a bowl or ice cream cone, garnish with your favorite toppings, and enjoy immediately.
Don't have a food processor or Vitamix blender? A regular blender will do the job, with some extra effort. You'll most likely need to add a few splashes of soymilk to get things moving. Add one tablespoon of soymilk at a time so you're not adding more than you need. The more milk you add, the thinner the ice cream will be.
Calories: 210kcal | Carbohydrates: 54g | Protein: 3g | Fat: 1g | Saturated Fat: 0.3g | Polyunsaturated Fat: 0.2g | Monounsaturated Fat: 0.1g | Sodium: 2mg | Potassium: 845mg | Fiber: 6g | Sugar: 29g | Vitamin A: 151IU | Vitamin C: 21mg | Calcium: 12mg | Iron: 1mg
If you're hungry for more delicious vegan dessert recipes, you can find lots here on World of Vegan as well as in our e-cookbook, Plant Based on A Budget Desserts. Cheers!
Banana ice cream recipe photos by Michelle Cehn, copyright of World of Vegan™, all rights reserved. Article edited by Amanda Meth.