I'm thrilled to share my latest creation—an ebook all about vegan desserts! The Plant Based on a Budget Desserts cookbook by yours truly and Toni Okamoto is packed with 10 deliciously dairy-free, egg-free, and animal-friendly recipes that will satisfy your sweet cravings with cupcakes, brownies, cobbler, and beyond.
Today we're sharing one of the most magical dessert recipes on the planet. It's in our ebook but it's by no means a unique recipe—rather it's one that every human being should know and love. Sadly, many people I know have never tried it! So, here I am. And here it is.
It's made with a single ingredient, tastes like ice cream, and is actually healthy. That's right, you can dig in for breakfast, lunch, dinner, or even as a late night snack without a drop of guilt. It's Banana Soft Serve. And the recipe (or directions, rather) is below. Enjoy!
Banana Soft Serve
2018-03-28 18:15:08
Serves 1
Have fun with this. Get creative with mix-ins like peanut butter, cocoa powder, or frozen fruit. If you have the goods, you can even make this into a full sundae with vegan chocolate sauce, peanuts, coconut whipped cream, sprinkles, and a cherry on top. Go wild!
Ingredients
2 ripe spotty bananas, peeled, sliced and frozen
Optional add-ins
Cocoa powder
Peanut butter
Fresh or frozen fruit
Instructions
Advance Prep: Allow bananas to ripen and get spotty, and then peel, chop, and freeze them.
In a food processor or high-powered blender, add the frozen chopped bananas. You'll need at least two bananas for this to work. You may be fighting your appliance in the beginning, but keep going—it will be worthwhile! Pulse or blend until you have a thick, creamy ice cream. Scoop into a bowl or ice cream cone, garnish with your favorite toppings, and enjoy immediately.
Notes
Don't have a food processor or Vitamix blender? A regular blender will do the job, with some extra effort. You'll most likely need to add a few splashes of soymilk to get things moving. Add one tablespoon of soymilk at a time so you're not adding more than you need. The more milk you add, the thinner the ice cream will be.
World of Vegan https://www.worldofvegan.com/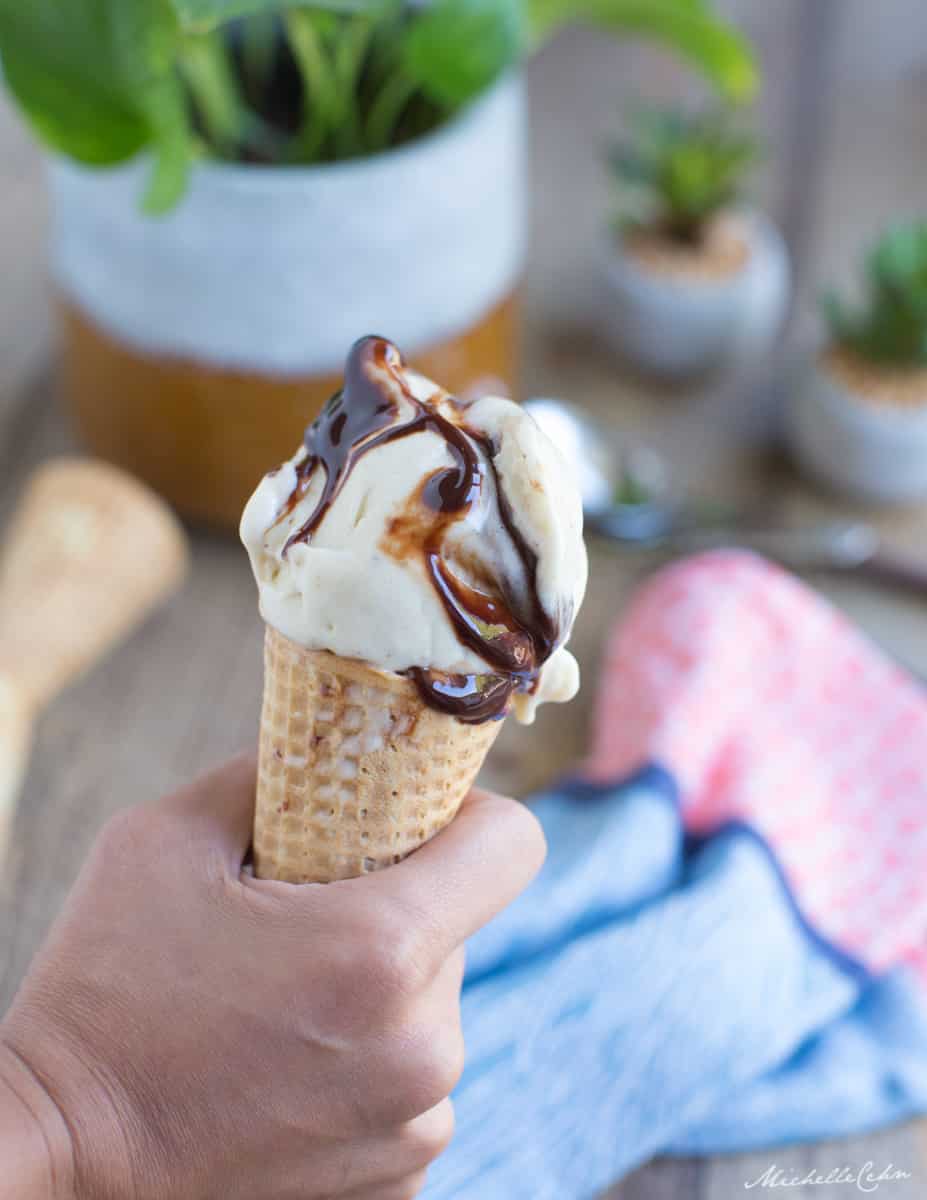 If you're hungry for more delicious vegan dessert recipes, you can find lots here on World of Vegan as well as in my new e-cookbook, Plant Based on A Budget Desserts. Cheers!