If you're dreaming about walking around the streets of Paris on a cold night savoring some delicious Nutella crepes, then you're in luck! They are surprisingly easy to make yourself at home. The batter is just four ingredients you likely already have in your pantry, and you can fill them with your pick of fresh berries, sliced fruit, and homemade vegan Nutella (magical chocolate hazelnut spread).
Have you tried crepes before? As simple as the recipe is, there are a few tricks to make them to perfection. Wanna learn the ropes? I promise this recipe is such a treat!
For the Crepes:
1 cup all-purpose flour
2 tablespoons granulated sugar
2 cups plant-based milk, such as coconut milk
1 teaspoon vanilla extract
Vegetable oil, as needed
For the Toppings:
1 batch vegan Nutella, recipe link below
2 bananas, sliced
6 fresh strawberries, sliced
Powdered sugar, to taste, optional
Maple syrup, to taste, optional
Heat up a large nonstick pan with a broad flat surface (or a crepe pan) over medium heat.

Prepare your batter by mixing together the flour, sugar, milk, and vanilla extract with a whisk. Mix until fully combined, but don't over-mix it!

Add a tiny bit of vegetable oil to your pan—just enough to prevent the crepes from sticking to it. Pour one ladle of the batter into the pan, and quickly but gently tilt your pan in a circular motion to help the batter spread wide so you have a very thin layer. This may take some practice. (Note: if the pan gets too hot, the batter will firm up before you're able to spread it out fully.)

Once you see bubbles start to form on the surface of the crepe, and the edges get slightly golden and start releasing from the pan, and the crepe is browned underneath, flip your crepe. To flip, use a rubber spatula to gently nudge the edges, and then with your fingers carefully lift and flip the crepe. Once the crepe has cooked on the first side it doesn't take long to cook on the other. Repeat for each crepe.

Once you're done cooking your crepes, use a knife or spatula to spread vegan Nutella evenly across half of the crepe. Fold the bare half over the Nutella half, creating a half-moon shape. Fold it once more (it should now look like a triangle).

Add your toppings! We love using sliced bananas and sliced strawberries. If you'd like, you can also add some drizzled vegan Nutella and/or maple syrup on top and sprinkle with powdered sugar. Enjoy!
Instead of serving the sliced fruit on top as garnish, you can tuck it into the crepe with the vegan Nutella. Delicious!
Calories: 145kcal | Carbohydrates: 30g | Protein: 3g | Fat: 1g | Saturated Fat: 0.1g | Polyunsaturated Fat: 1g | Monounsaturated Fat: 1g | Sodium: 109mg | Potassium: 183mg | Fiber: 2g | Sugar: 10g | Vitamin A: 27IU | Vitamin C: 10mg | Calcium: 107mg | Iron: 1mg
Get our homemade vegan Nutella recipe here!
The Perfect Vegan Crepes: Tips & Tricks
Finally, when you try this recipe, we want you to get the perfect crepes. For this to happen, there a few (not complicated) tips and tricks you should be aware of before embarking on your crepe journey.
Do not over mix your batter: This is a widespread mistake! It's always very tempting to keep on mixing but resist the temptation and combine until there are no lumps.
Let the batter sit for a smoother consistency: this is not necessary, but if you have the extra time, give it a try! 30 minutes to an hour at room temperature or in the fridge.
Don't flip too early! The basic rule is to wait until bubbles come to the surface and the edges are slightly brown.
Keep your heat in check: When we are in a hurry, we tend to heat up our pan as quickly as possible to get on with it, but when it comes to crepes don't go above medium. You don't want to burn them!
Use a crepe pan or maker if you can: If you think this recipe will become part of your weekly list, then it might be a good idea to get a crepe pan (which is basically a smaller and thinner frying pan) or a crepe maker which could make the process easier. If you don't want to purchase any crepe gadgets, then read number 6!
We all dream of having perfect Instagram worthy dishes after cooking them! If you want all your crepes to be of an even size, but you don't want to invest in any extra hardware, try measuring each batter portion you add to the pan. You can use a measuring up and add the exact same amount each time.
Bring On The Crepes Fillings!
Ok, these crepes are filled with creamy and insanely delicious homemade vegan Nutella, but let me tell you. There are so many amazing ways to fill your crepes! From sweet to savory, you'll be able to reinvent this recipe over and over again. For the savory ones, you might want to skip the sugar and vanilla when making the crepes batter. Let's look at some examples:
Sweet Crepe Fillings:
peanut butter with jam (or jelly?)
fresh fruits (topped with whipped vegan cream or powdered sugar)
apple sauce (sprinkled with cinnamon)
roasted apples with cinnamon (topped with some vanilla custard or just coconut cream)
bananas (and topped with vegan caramel sauce)
Savory Crepe Fillings:
Tofu scramble (a vegan version of traditional egg crepes)
Sautéed spinach and mushrooms (with a savory cashew cream, perhaps?)
Mexican style (refried beans, corn, avocado, and tomatoes)
Vegan ricotta (topped with some marinara sauce)
Roasted butternut squash (topped with a cashew cream sauce)
These are only a few ideas—but you can come up with so many other different combinations! Although we must say, crepes with vegan Nutella, strawberries, and banana are hard to beat. Vegan crepes for the win!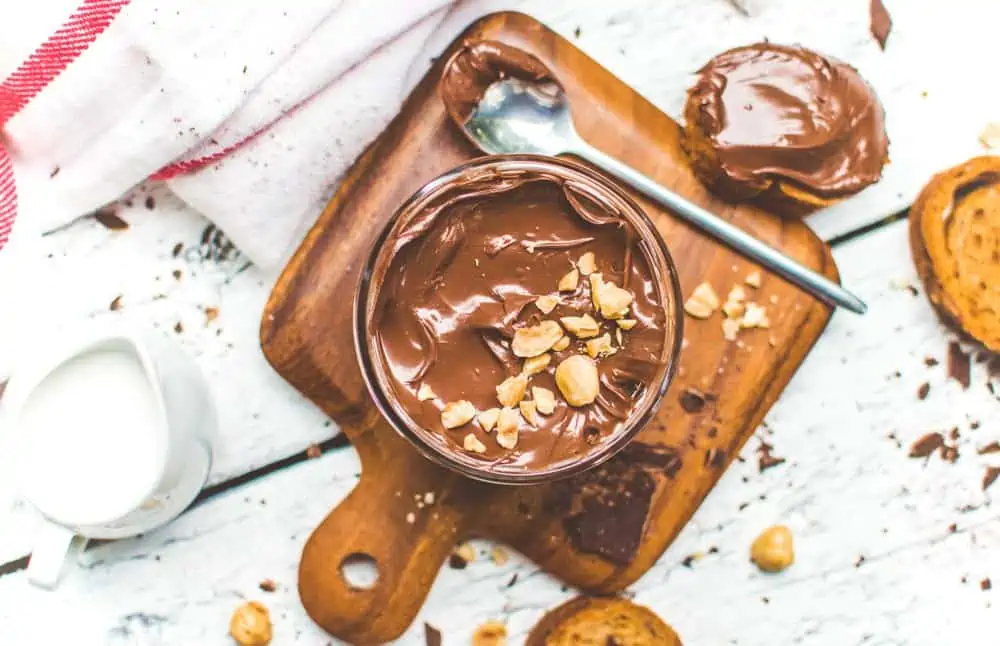 Sweet Childhood Memories
Crepes filled with Nutella is a treat I first came aware of while walking the streets of Paris. Not that I hadn't tasted crepes before, but never with Nutella.
When we were little making crepes was a weekly event, we looked forward to it pretty eagerly—the only difference is we filled them with dulce de leche instead of a chocolate spread. My Dad would stand there flipping and stacking while we couldn't contain the excitement! No wonder I'm so excited to have a vegan alternative to this childhood favorite!
Having the chance to make this plant-based version for my kids now is priceless! There's something about childhood food and smells that evokes happy memories so easily.
Want More Plant-Based Dessert Recipe Inspo?
Vegan nutella crepes photos and recipe by Zhoro Apostolov for World of Vegan. Many thanks to our recipe testers, Nicole Benson, Helen Di Renzo and Anandee Seshadri. Recipe and photographs copyright of World of Vegan™, all rights reserved. Many thanks to our recipe testers, Kristen Sinch and Nicole Benson. Please note that this article may contain affiliate links which support our work at World of Vegan!