If you love one-pot dishes and vegan pasta recipes (seriously who doesn't?), you'll LOVE this vegan one-pot pasta! It's a creamy, garlicky, fresh, and delicious bowl of comfort food goodness.
As with many of our recipes here at World of Vegan, this meal is quick and easy to make, and oh-so-tasty. I couldn't get enough of this dish, and I'm willing to bet you'll be wanting seconds just like I did.
This pasta has fairly simple ingredients, yet packs a bounty of flavor. It has the most luscious sauce, tender mushrooms, and it's topped with heavenly and aromatic fresh basil. Your kitchen will smell so good while this is on the stove, which makes it an extra delightful meal to share with friends or family.
Why We Love This Vegan One-Pot Pasta
One pot meals are just the best for people who like low maintenance cooking (me, me, me!). I love the idea of throwing all of your ingredients into one pot, then setting it and forgetting it. And since everything is made in a single pot, clean up afterward is an absolute breeze!
Let's face it, it's a busy world, and life and work can be demanding. We all do our best to make home-cooked meals. But sometimes it's just so much easier to grab takeout or heat up a freezer meal when you're tired and exhausted from the daily grind.
I totally feel this way sometimes. If you're in this position, but you still want to cook homemade meals from scratch, it's important to gather an arsenal of healthy, easy recipes to make cooking a breeze even on a busy weeknight. And that's what we're all about here at World of Vegan!
When you don't have much time or energy to cook, this vegan one-pot pasta is going to be a go-to for you. And it'll be extra satisfying because you'll be so proud of yourself for cooking such a delicious and enjoyable meal with simple and healthy ingredients. Now, what are you waiting for? Go, go, go!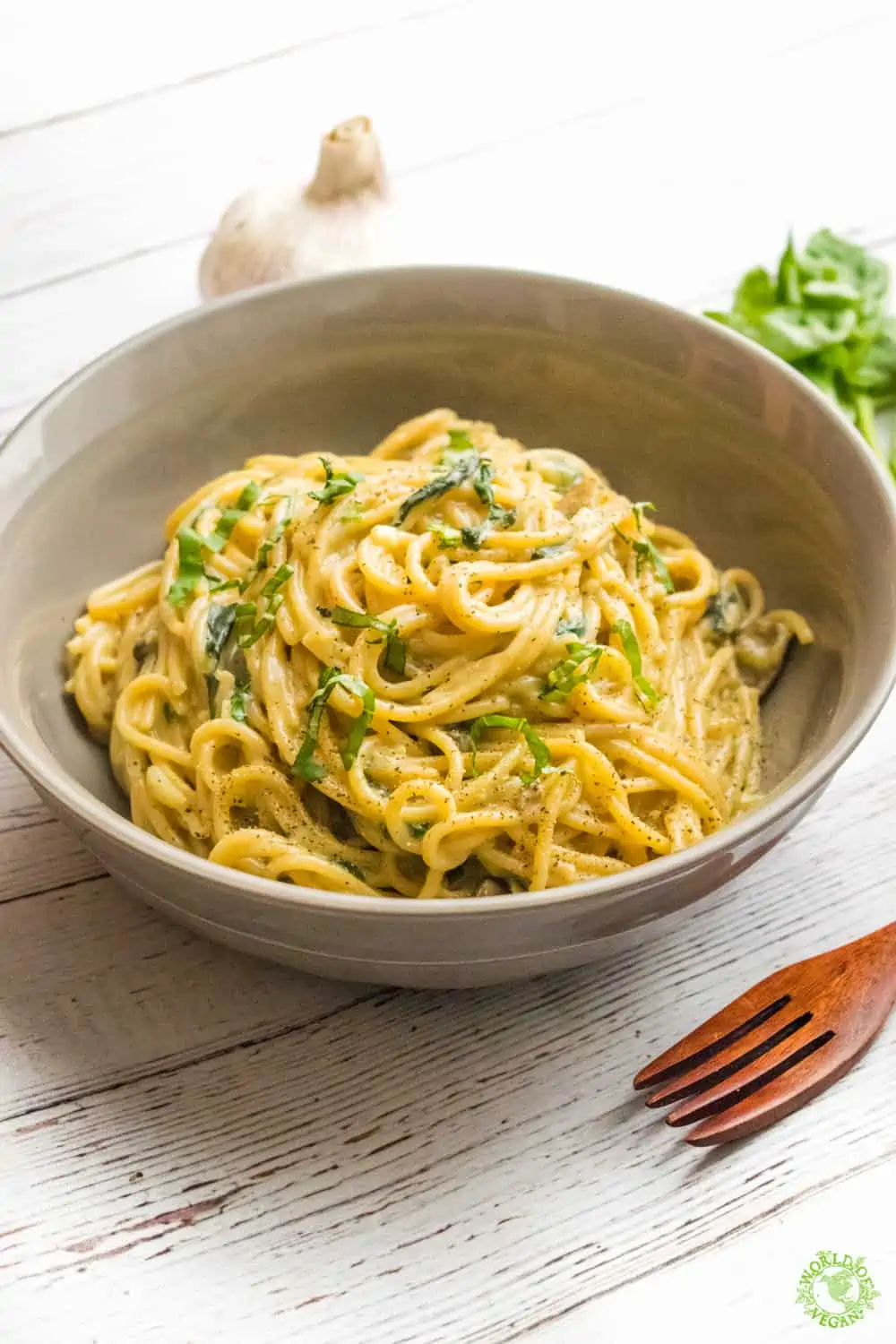 Use Whatever Veggies You Have on Hand
Mushrooms are the main vegetable in this dish as they provide a really nice texture that compliments the focus of the meal—the creamy sauce.
If you'd like to add more veggies, absolutely feel free! Some great options that would work nicely in this vegan one pot pasta dish include:
small pieces of asparagus
finely chopped broccoli
spinach
butternut squash
bell pepper
zucchini
Go for Fresh Basil (When Possible)
Fresh basil is one of my favorite flavors. In fact, one of my favorite things in life is my summer herb garden.
I grow a ton of basil every year and a lot of it goes into pasta dishes! The smell and taste of fresh herbs compared to dried herbs is like night and day. Dried herbs definitely have their place in cooking, but a pasta dish like this works so beautifully with fresh basil.
Always add your fresh herbs near or at the very end of the cooking process so that you retain all of the flavors. If you add fresh herbs too soon, you can lose a lot of the flavor because of the heat. In this recipe, all you have to do is add the fresh basil at the very end and stir it into the hot pasta just so that it can wilt.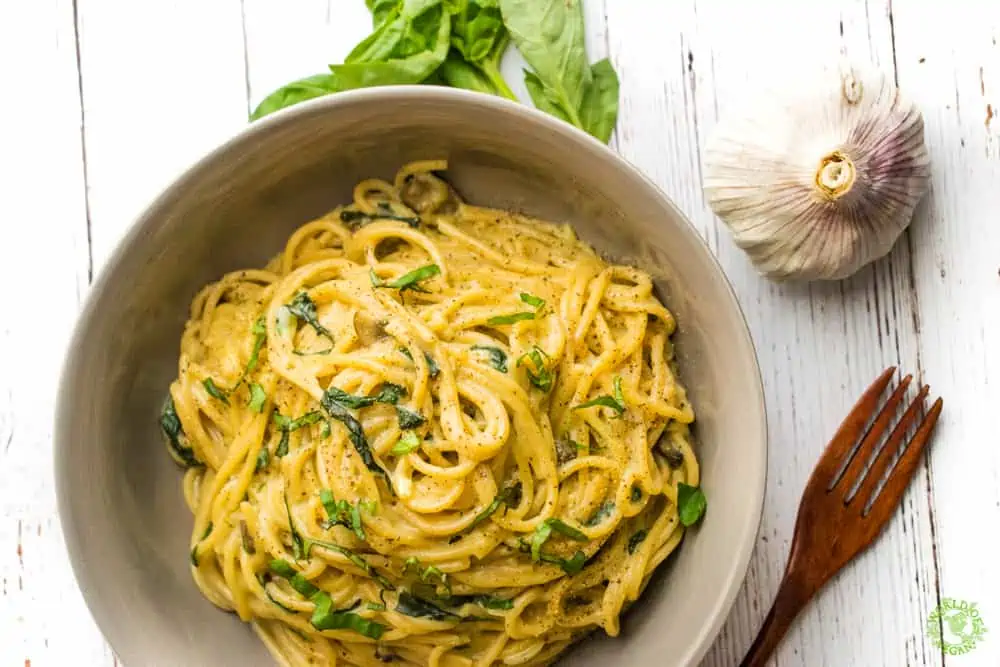 Play With Flavors
If you want to play around with the flavors just a little bit, go for it! You can try adding a few spoonfuls of freshly squeezed lemon juice and just a little bit of fresh lemon zest. It will transform the dish into a completely different flavor. Lemon in pasta adds a really nice freshness and it pairs beautifully with the basil, as well as asparagus or broccoli if you decide to use one of those veggies.
Get Cheesy With It!
If you want to make the dish extra fancy, you can add a little bit of vegan cheese. Pasta and cheese are obviously a match made in heaven.
You could add a soft goat-style cheese or a nice melty cheese like parmesan or mozzarella. I added a soft vegan goat-style cheese to mine which was coated with herbs de Provence. Simply. To. Die. For.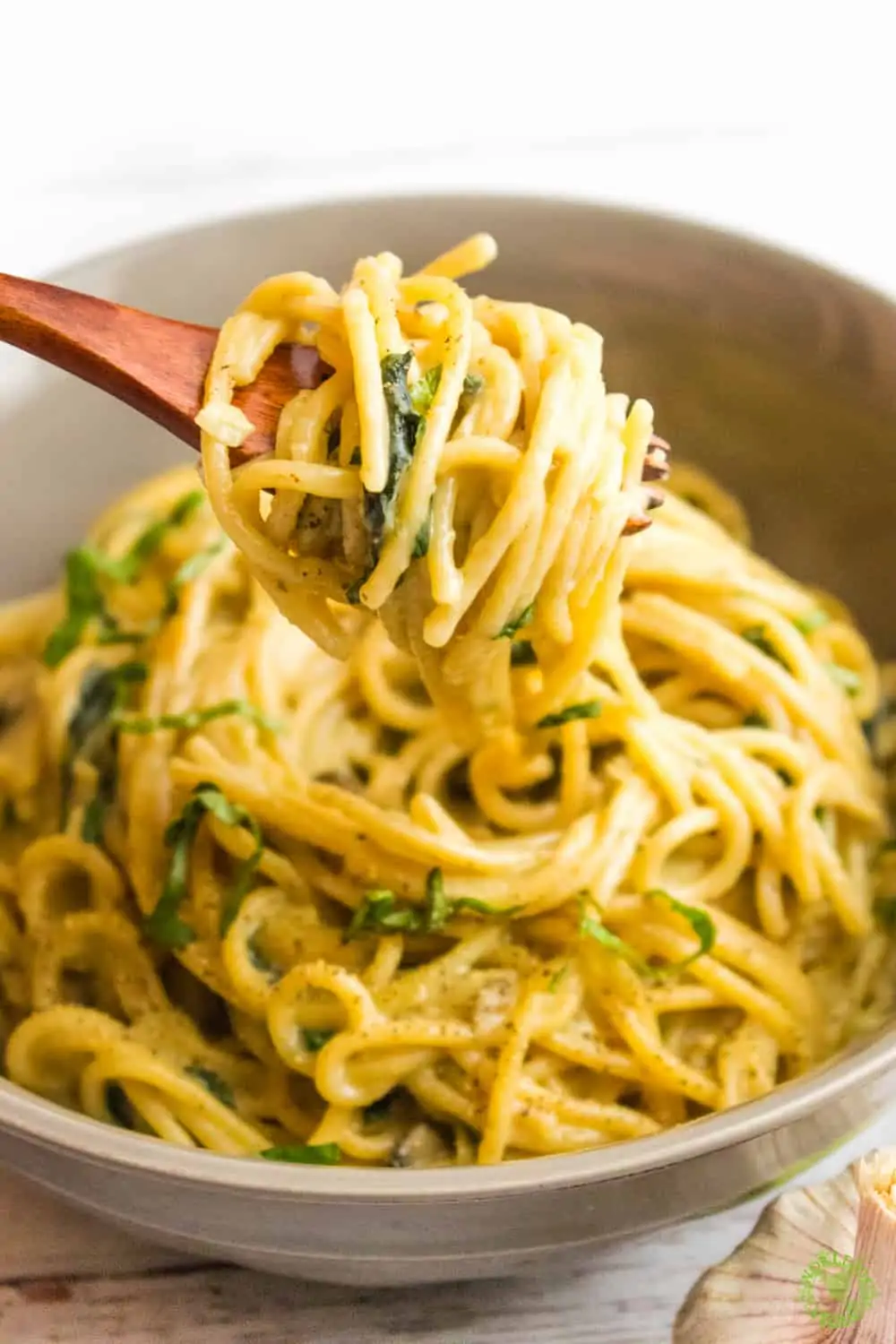 Vegan One-Pot Pasta Meal Prep
This vegan one-pot pasta is especially great for meal prep as it stores well in the fridge and can really easily be reheated. I personally love to incorporate a little bit of self-care into every day of the week (we all deserve that!). I like the idea of making a really special meal and preparing it for work. When it's your lunch break, you'll be so excited to heat up that delicious fancy pasta that's been waiting for you all morning, and your co-workers will be drooling. It's the little things in life after all!
Make It a Date Night!
Whether you're cooking dinner for a special someone or just treating yourself to a solo night in (holler, self-love!), this is a great choice. It looks especially fancy with some finely sliced fresh basil and a few cracks of fresh ground pepper sprinkled on top.
Pair it with your favorite wine and maybe a side salad or some garlic bread and you're set.
Want to Make It Gluten-Free?
Go ahead and make this meal gluten-free if you'd like. You can use traditional semolina noodles, whole wheat noodles, or gluten-free noodles—it's totally up to you.
I personally like to use brown rice noodles when I cook gluten-free pasta because I love the taste, texture, and nutrition. You could also use corn pasta, white rice pasta, and other options too.
If you want to include more gluten-free meals in your diet, experiment with a recipe like this and find your favorite option! I used spaghetti noodles but you can use any long pasta. This dish is pretty close to alfredo, and it would be really delicious with fettuccine noodles or linguine noodles.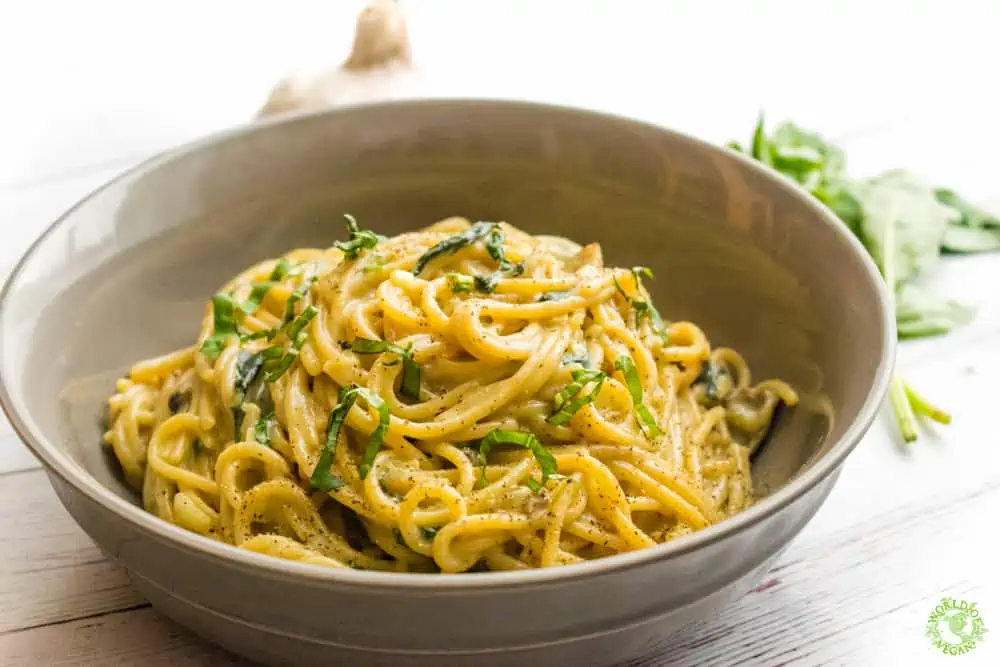 2 teaspoons olive oil
¼ cup roughly chopped yellow onion
4 medium cloves garlic, minced
1½ cups mushrooms, diced into small chunks
2 cups low-sodium vegetable broth
1½ cups non-dairy milk, unsweetened
½ pound dried pasta, 230 grams (spaghetti, fettuccine, etc.)
1 tablespoon water
2 teaspoons corn starch
1½ teaspoons salt
½ teaspoon pepper
1 tablespoon vegan butter
¾ cup finely chopped fresh basil, plus more for garnish
Heat a large pot with the olive oil. Add the onion and garlic and sauté for 2 minutes.

Add the mushrooms and sauté for another 5 minutes.

Add the vegetable broth and milk then bring the mixture to a boil.

Add the pasta and cook according to package directions, or until the pasta is cooked and tender. This will take somewhere around 10-12 minutes but can vary depending on the type of pasta you use. Stir the pasta frequently.

While the pasta is cooking, add the water and cornstarch to a small bowl and stir to dissolve the cornstarch.

Add the cornstarch slurry, as well as the salt, pepper, and vegan butter to the pot. Cook for 2 minutes or until the sauce thickens nicely.

Turn the heat off and add the basil. Stir to combine. Plate the pasta and garnish with additional pepper and fresh basil if desired.
Calories: 645kcal | Carbohydrates: 102g | Protein: 24g | Fat: 15g | Saturated Fat: 2g | Polyunsaturated Fat: 5g | Monounsaturated Fat: 7g | Trans Fat: 1g | Sodium: 1892mg | Potassium: 820mg | Fiber: 7g | Sugar: 11g | Vitamin A: 1174IU | Vitamin C: 19mg | Calcium: 309mg | Iron: 3mg
More Delicious Plant-Based Pasta Meals:
Vegan One-Pot Pasta photos by Kathy Chrzaszcz for World of Vegan. Recipe and photographs copyright of World of Vegan™, all rights reserved. Article edited by Amanda Meth. Please note that this article contains affiliate links which means shopping through them helps lights on at World of Vegan!