Orange you glad we love smoothies? Quick to make, easy to drink, and filled with so much fruity goodness. What could be better? This luscious orange juice smoothie is our new favorite recipe and is guaranteed to please with its lovely sweet-tart juiciness and gorgeous golden color.
This ap-pealing smoothie is citrusly perfect for any hour of the day. You'll soon make this recipe your "main squeeze". It's the zest!
Why This Recipe is Awesome
If you've always started your day with a gorgeous glass of orange juice, you're already in the habit of enjoying this optimistic fruit. There's even more to love when it's in smoothie form!
Only 2 Simple Steps: Give the orange a quick zest and slice, then blend all of the fruit and plant-milk together. You can skip the zest if you wish, but it truly adds the best citrus punch and color to the smoothie.
Elevates Your Energy: The nutritional benefits of citrus fruits are excellent for the immune system. Oranges, in particular, are high in vitamin C, potassium, folic acid, fiber, and even calcium.
Satisfying Snack Round the Clock: No matter what the time or place, you can enjoy this creamy orange juice smoothie. Especially if you prep this recipe ahead of time. Store in an insulated container in the fridge for best results!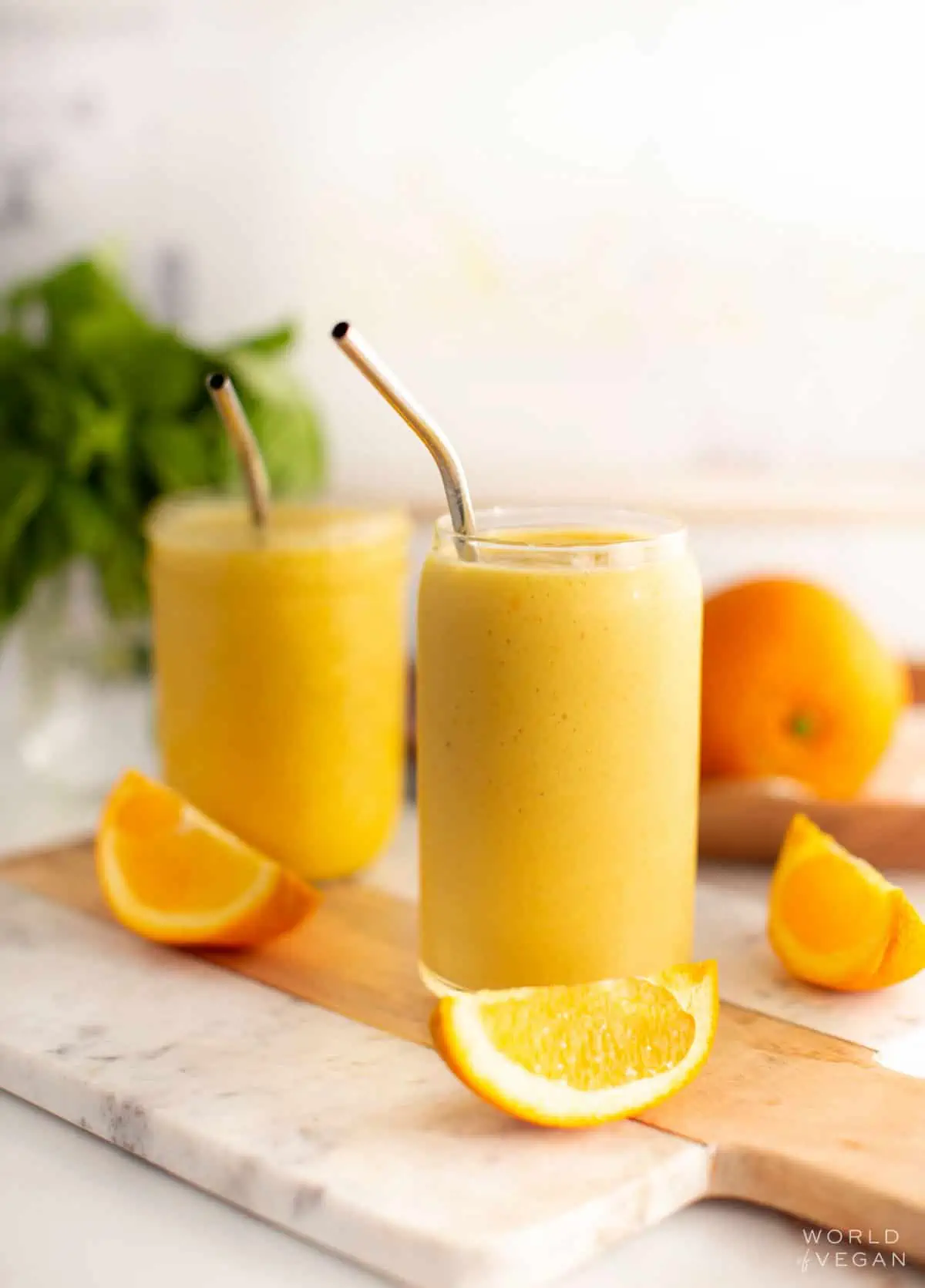 Key Ingredients
The right ingredients make all the difference in a successful smoothie. Mixing two types of liquid (both juice and dairy-free milk, as well as combining fresh and frozen fruit, makes for a wonderfully smooth and luscious consistency. Take our word for it, this copycat recipe is so close to an orange julius smoothie that you may fool your friends!
Oranges: If you'd like an extra creamy and thick smoothie, peel and freeze the oranges the day before. That way, they'll be all ready when you need them. Make sure to zest the oranges first before slicing or chopping. Be careful to peel off any extra white pith to avoid a bitter taste in your finished smoothie.
Bananas: Speckled bananas with brown spots are ideal for this recipe. If you wait for them to ripen like this, you'll be rewarded with a sweeter flavor and creamier texture. Freeze overnight or for a few days before using in smoothies for best results.
Mangos: Mangos add both a pop of orange color, a light candy-like aroma, and a velvety consistency to this smoothie with banana and orange. This sweet stone fruit increases the fiber and vitamin C, too. Marvelous!
Plant-Based Milk: Although any dairy-free milk will do, choose the right one for your dietary needs. If you'd like an extra boost of protein, use soy milk. Or, if you're sensitive to nuts, use an appetizing alternative like hemp, flax, or oat. Either way, your smoothie will be spectacular!
How To Make an Orange Smoothie
In just minutes, you can make this outstanding orange smoothie recipe that will not only bring a smile to your face, but a boost to your immune system. All you need to do is zest, slice, blend, and enjoy. It's like sunshine in a glass!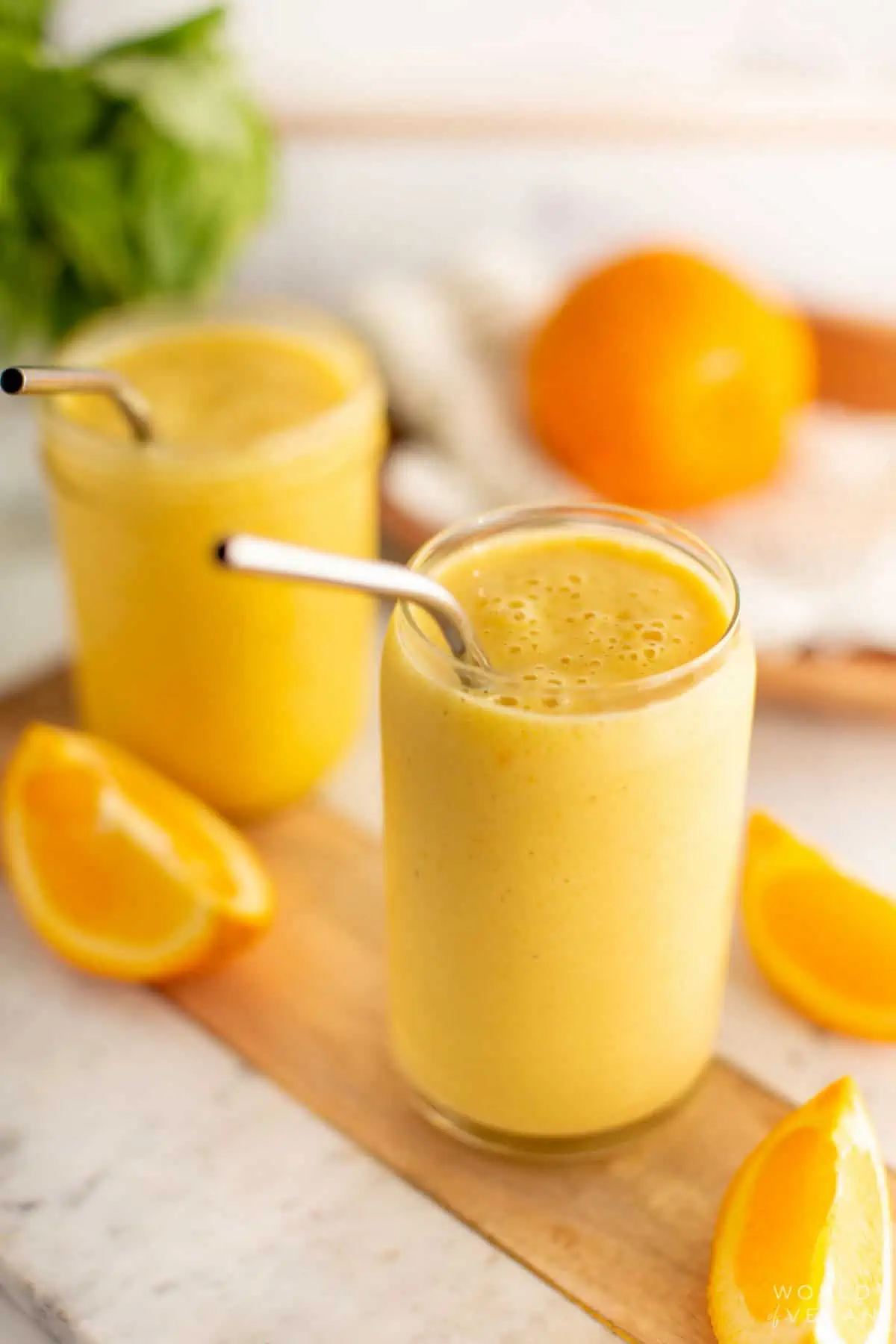 Orange Juice Smoothie Suggestions
When you want a little bit more of a breakfast boost or a slightly more substantial afternoon snack, consider a smoothie bowl! It will pack more calories and satisfaction into each spoonful. Here are our favorite orange mango smoothie variations:
Orange Dreamsicle: Reduce the dairy-free milk or orange juice by ½ cup to create a thicker consistency. Pour your smoothie into a bowl and garnish with mandarin oranges, vanilla cookie crumbles, a drizzle of white vegan chocolate, and top with optional candied orange slices.
Sweets for the Sweet: You can make this mango orange smoothie sweeter by using sweetened, instead of unsweetened dairy-free milk. Or, feel free to add a tablespoon or more of a sweetener of your choice or a couple of soaked, pitted dates.
Chocolate Orange Obsession: Anyone who used to love Terry's Chocolate Orange will know what we're talking about. Until this company makes a vegan version (please, Terry!), create your own variation by drizzling (accidentally vegan) Hershey's syrup into your finished smoothie and top with thick shavings of their newest oat-milk chocolate bars.
How To Store
This orange smoothie is very easy to store if you happen to have any leftovers. Store any remaining smoothie in an insulated container and store it in the fridge until later or pour it into ice cube trays to freeze for another time. When you're ready, blend up the cubes with a little bit of water, juice, or plant-milk for a super quick, last-minute smoothie.
FAQs
Is orange juice good in smoothies?
It sure is. If you swap orange juice for the water in smoothies, you not only add sweetness but also extra vitamins and minerals as well. Choosing a pulp heavy (or freshly squeezed orange juice) gives additional fiber to your smoothie, too.
What fruit goes with orange juice?
You're in luck! So many fruits blend well with orange juice. The most flavorful combinations are strawberry, mango, banana, grapefruit, pineapple, cranberry, and cherry. Try them all and tell us your favorite!
Is plant-based milk or orange juice better for smoothies?
It depends on what you're looking for in a smoothie. Use a plant-based milk if you'd like the smoothie to be extra creamy and a little less sweet. Choose orange juice (or even peach juice) if you'd rather have a sweeter smoothie with an extra antioxidant boost.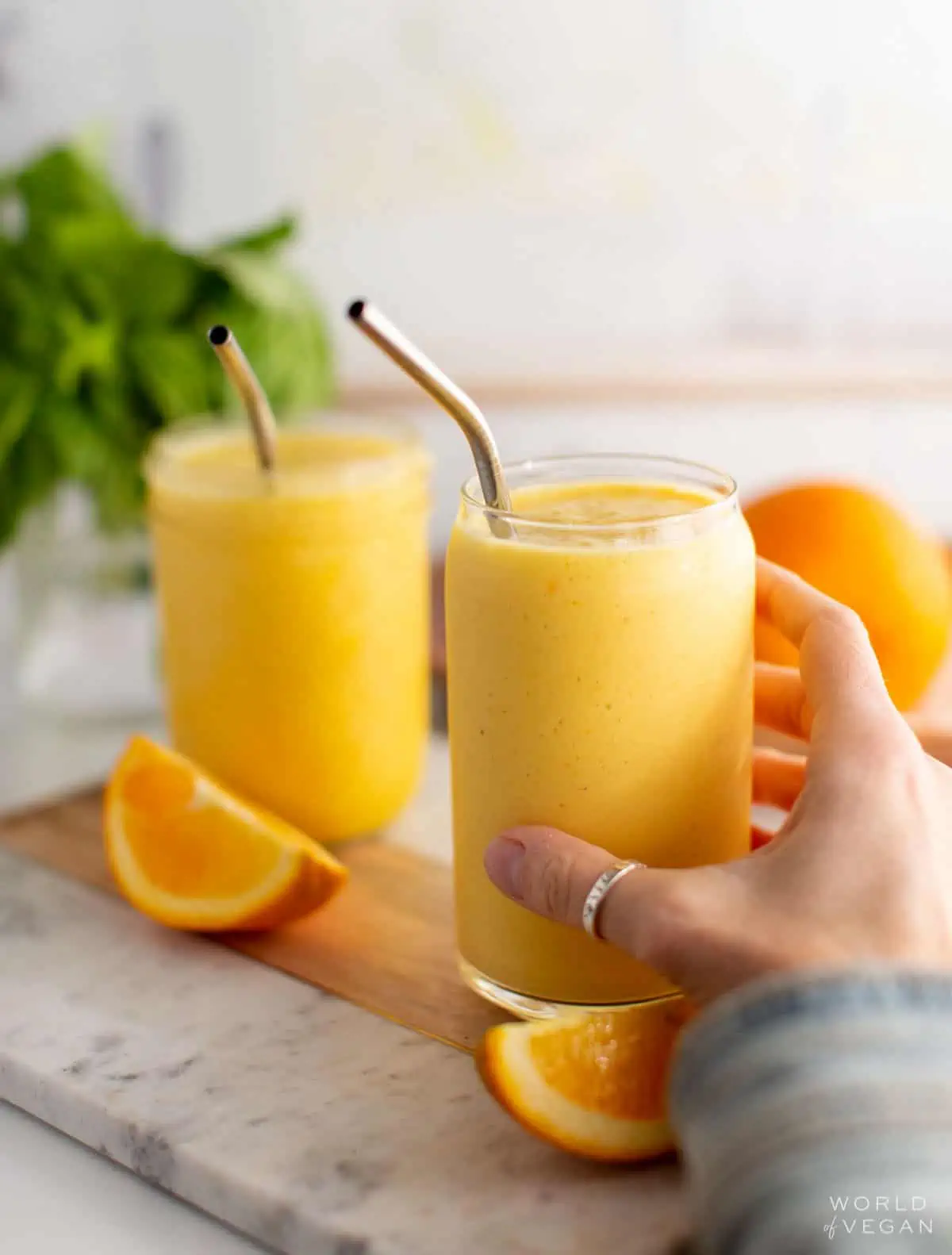 More Delicious Smoothie Recipes to Try
Dreaming of the tropics? This Mango Pineapple Smoothie will give your taste buds a tasty trip to sunshine-y beaches and tangy sweetness. If citrus fruits are your favorites, our Lemon Smoothie is guaranteed to brighten your day with its bright yellow color and perfect lemony pucker. Happiness in a glass!
For berry beverage lovers, check out both our Blackberry and Red Raspberry smoothies! Their vivid shade and vibrant flavor are a winning combination and are especially satisfying with their high fiber content. Berry-tastic!
Die-hard dragonfruit fans will be delighted by our bright pink and delicious Dragonfruit Smoothie, while others may adore this sweet beet treat, a Heart Beet Smoothie Bowl. Keep an eye out for more sensational smoothie recipes in the future!
Servings 4 8 oz. servings
½ tablespoon orange zest, zest of one medium orange
1 medium orange
12 ounces orange juice
1 cup vanilla plant-based milk , or plain plant-based milk with ¼ teaspoon of vanilla extract
1 medium frozen banana
1 ½ cups frozen mango
To a blender, add the orange zest (reserving some for garnish, if desired), peeled orange, orange juice, plant-based milk, frozen banana, and frozen mango. Blend for one minute or until creamy.

Pour the finished smoothie into four 8-ounce or two 16-ounce glasses. Garnish with orange zest, if desired.
Not Sweet Enough? – Use sweetened, instead of unsweetened dairy-free milk. Or, feel free to add a tablespoon or more of a sweetener of your choice or a couple of soaked, pitted dates to the smoothie.
Calories: 150kcal | Carbohydrates: 35g | Protein: 3g | Fat: 1g | Saturated Fat: 0.1g | Polyunsaturated Fat: 0.1g | Monounsaturated Fat: 0.1g | Sodium: 30mg | Potassium: 470mg | Fiber: 3g | Sugar: 27g | Vitamin A: 1058IU | Vitamin C: 86mg | Calcium: 118mg | Iron: 1mg
Photos by Michelle Cehn for World of Vegan, all rights reserved.