Print out these vegan potato recipes and keep them in your kitchen so you can cook them all! 
Soft, fluffy, and able to transform into an endless array of delicious dishes, these satisfying spuds are simply the best. Potatoes simply make everything a little better, whether you're enjoying a side of crispy fries alongside your favorite plant-based burger or serving some creamy mashed potatoes for the holidays.
Wondering what to make with the bag of potatoes you have sitting in your kitchen? Worry not! We've gathered some of our favorite vegan potato recipes so you never run out of ideas or options on what to make.
Best Vegan Potato Recipes
These Vegan Potato Recipes Are:
100% vegan
Plant-based
Dairy-free
Cholesterol-free
And many are also gluten-free, soy free, and sugar-free. We even included some oil-free and low-sodium options! Potatoes are so versatile there is really something for everyone.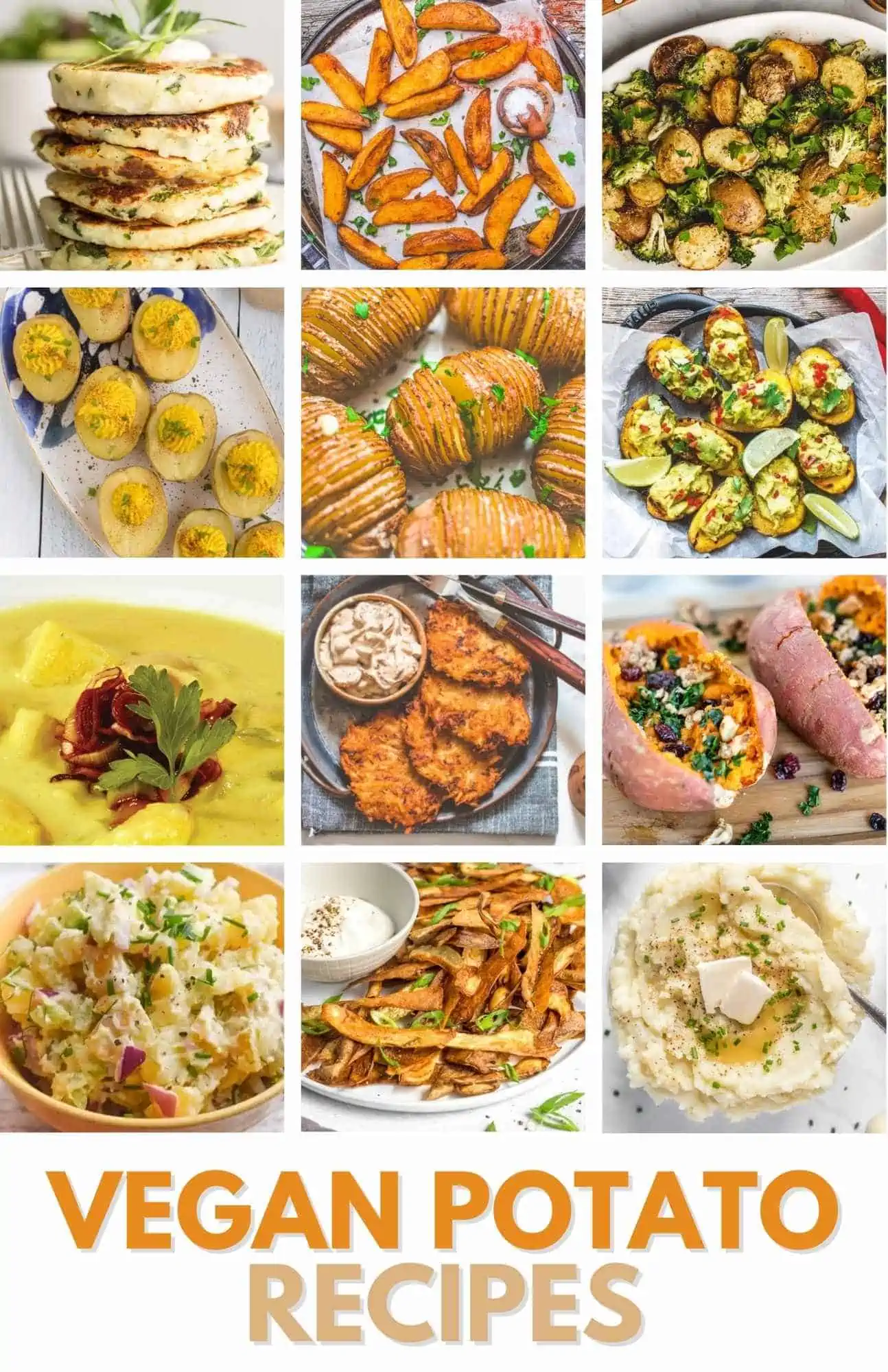 Whether or not it's the holidays, there's honestly never a bad time to whip up a delicious serving of vegan mashed potatoes. This recipe features roasted garlic to give it an extra level of flavor and comes together in just about an hour. Serve it with some delicious slabs of marinated tofu, cranberry sauce, or just enjoy it on its own!
Do warm, fluffy potatoes filled with mountains of gorgeous guacamole going into your mouth excite you? This recipe by Nadine Horn & Yörg Mayer will get you ready for Super Bowl game day—or really any day—because these grilled potato skins with guacamole are amazing all the time. Throwing a party? Serve alongside the vegan deviled potatoes for the ultimate plant-based appetizer experience!
Whether you're looking to sneak some more greens into your life or know that kale and potatoes go together like two peas in a pod, these delicious garlic and kale potato cakes by Mary Mattern will satisfy and delight your taste buds to the highest degree. These cakes are also super fun to make and could be a great idea for a date night or project with friends or children (you could also cut them into cute shapes if you're trying to entice a little one)!
This awesome recipe by Stephanie Dreyer is not only one of the cutest ways to make potatoes but is also a super fun way to enjoy them. While traditional deviled potatoes may call for ingredients such as egg, this recipe calls for cannellini beans, vegan mayo, and Dijon mustard to make the filling instead. Yum!
There's something so nice about potato salad. Maybe it's the way the softness of potatoes meets the crunch of celery, dill pickle, and onion. Maybe it's how yummy this easy vegan potato salad is to eat with just about any burger, sandwich, or wrap. Either way, we're sure glad to have this recipe in our roundup!
We love a one-pot recipe here at World of Vegan. This sweet potato soup comes together in well under an hour and can be made in large batches for meals throughout the week! Feel free to spice it up as you'd like and serve with your favorite side.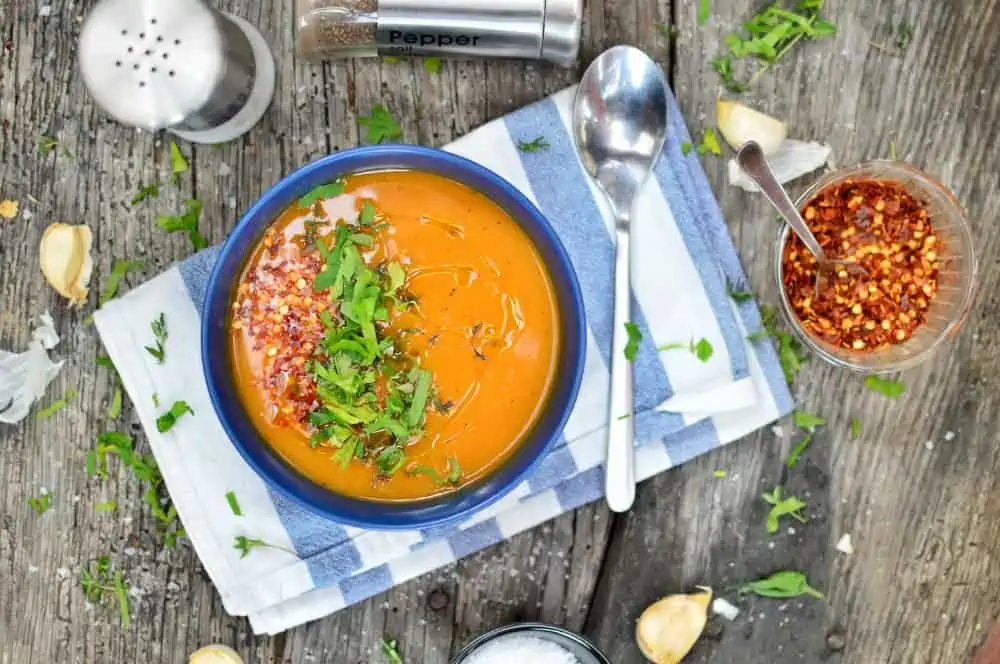 Potatoes are certainly great on their own, but they really shine when they're cooked into a soup with aromatics such as leeks and celery. This recipe from The Stanford Inn By the Sea is an absolute must-try! Serve alongside some salad or grilled veggies and you'll be in potato paradise!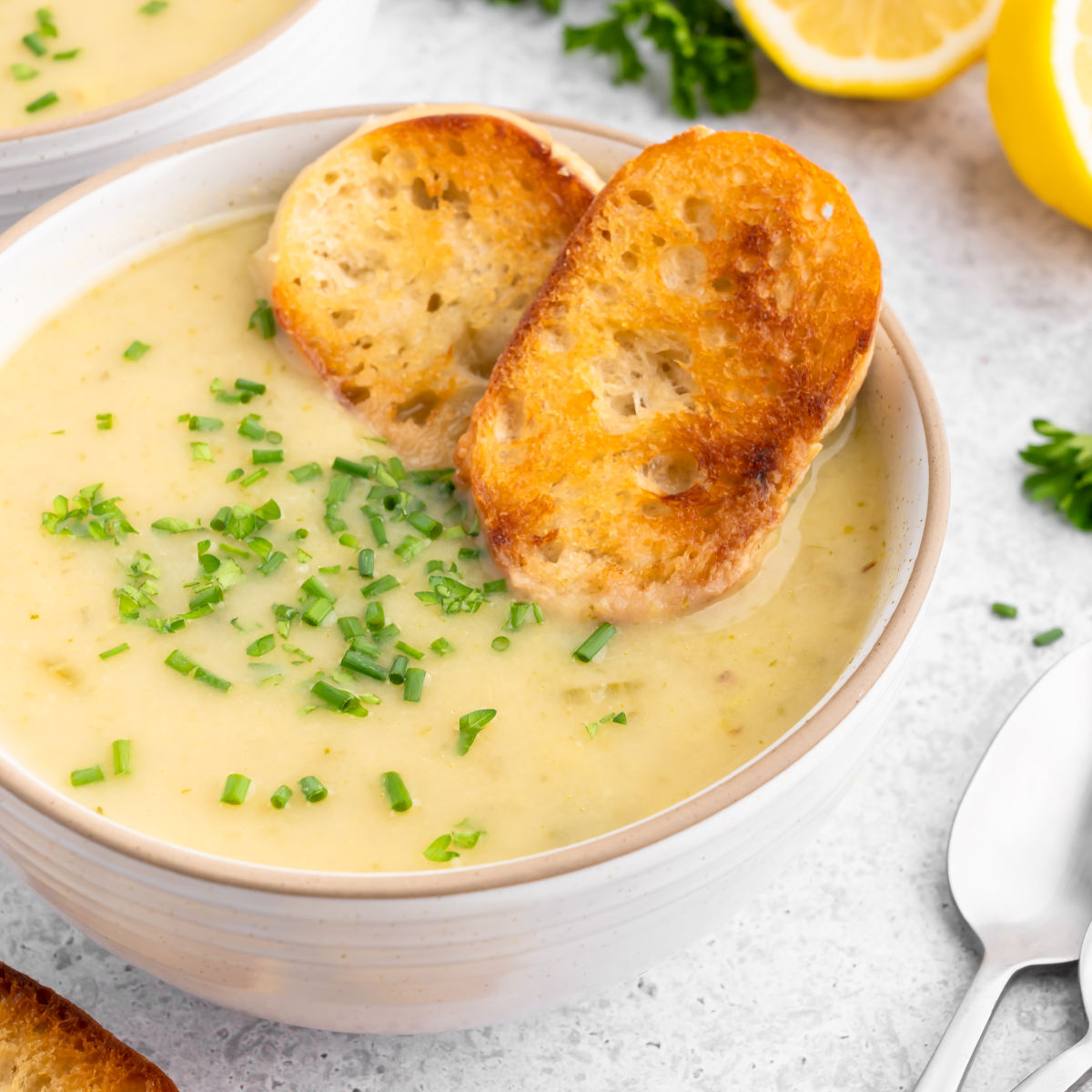 The Hasselback potato got its origins from a restaurant in Djurgården, Stockholm in 1953 and is one of the prettiest ways to prepare a potato today. Requiring only a few seasonings and a little oil, this Hasselback potato recipe can be dressed up or down with toppings such as vegan bacon bits, dairy-free sour cream, and more! Who said potatoes had to be boring?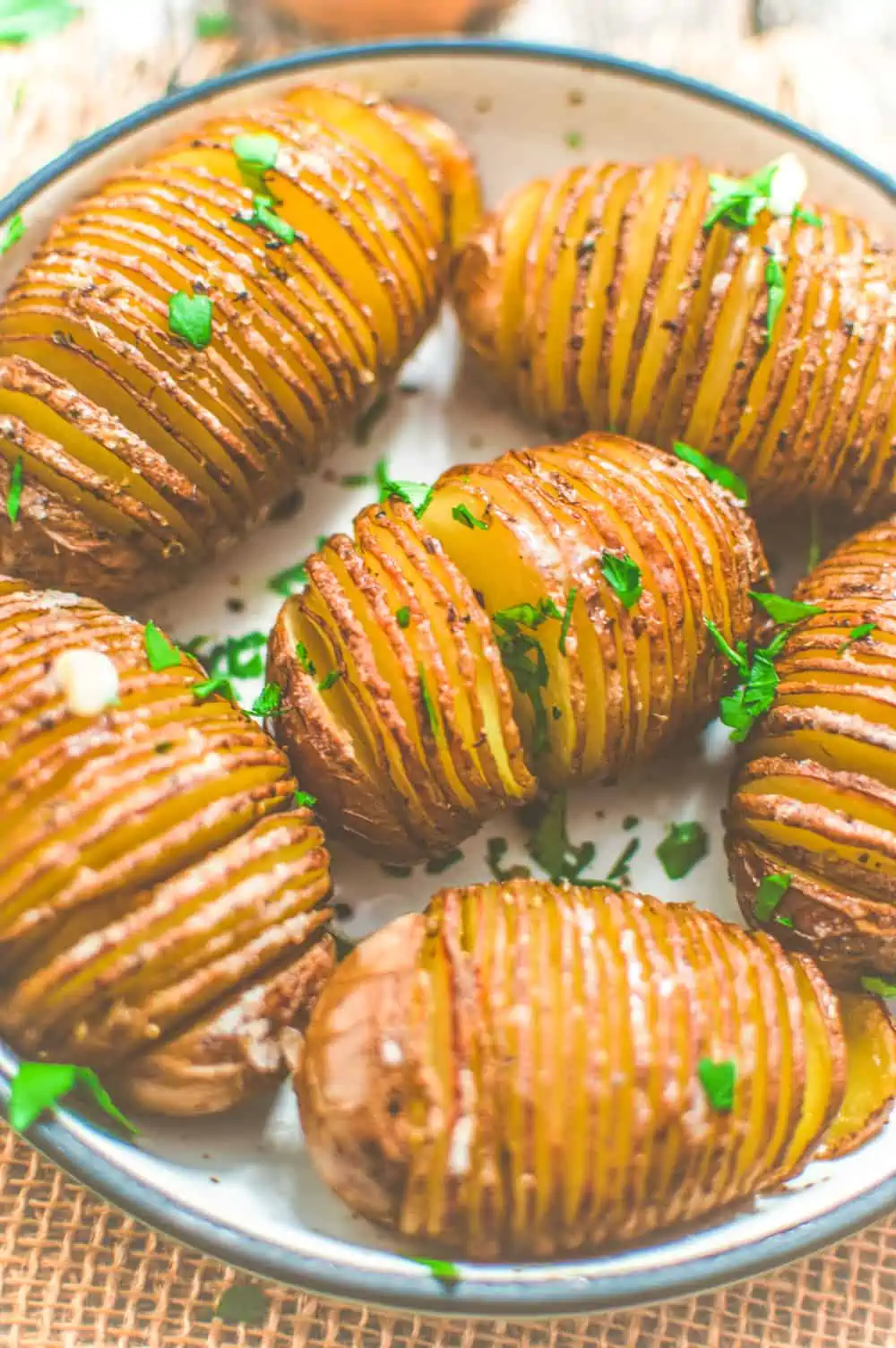 We are big fans of vegan potato latkes here at World of Vegan and this recipe by Stephanie Dryer is absolutely superb. Traditionally eaten during Jewish holidays such as Hanukkah and Passover, latkes can be enjoyed pretty much any time (unless you're fasting for Yom Kippur). This recipe also features a caramelized onion dip which will bring your latkes to the next level.
If you hate food waste but love potato skins, this recipe is for you! This recipe is great for making whenever you're cooking up something that calls for peeled potatoes, such as the garlic and kale potato cakes. You'll love how simple and delicious this recipe is!
If you're the kind of person who wishes every meal could be made in the oven, then this recipe is for you! Thankfully, this recipe involves just a few ingredients, minimal prep, and easy clean-up. Potatoes, broccoli, nutritional yeast, and spices join forces for a dish that is nutritious, appetizing, and great for serving with a variety of other foods.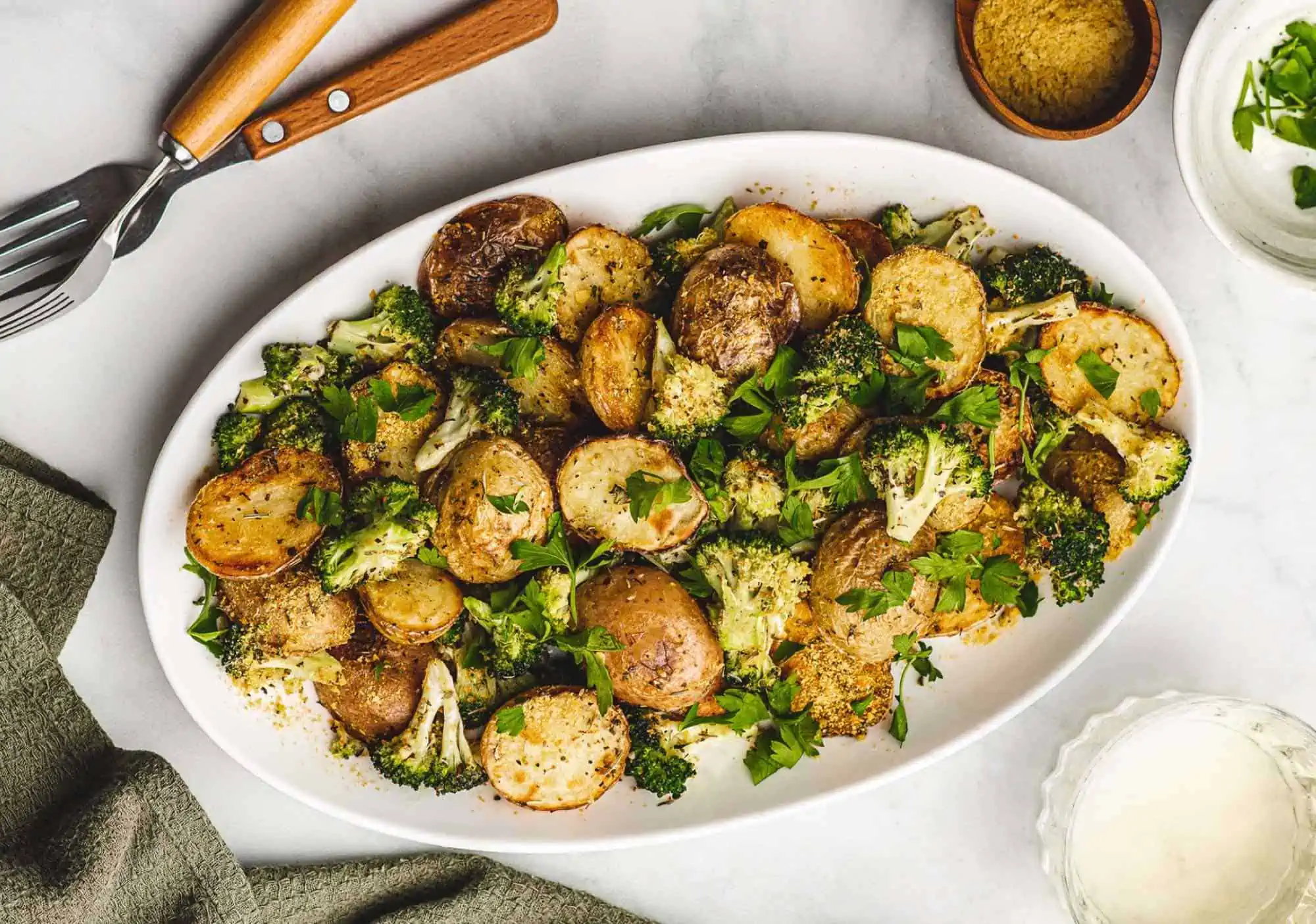 Sometimes there are certain things that you specifically need a sweet potato for. This recipe for sweet potato toast is definitely one of those things! Change your breakfast game for the better (and have your kitchen smelling stupendous) with this delicious and nutritious breakfast treat with this awesome recipe by Michelle Cehn and Toni Okamoto.
Stuffed sweet potatoes? Why, yes! An absolutely perfect fall dish, these stuffed sweet potatoes are filled with candied walnuts, dried cranberries, and kale. Although complete meal by itself, you could easily serve it alongside a vegan roast or plant-based protein dish.
Packed with veggies, this vibrant pea soup bursts with flavor but doesn't have that "green" taste. A beloved choice for everyone, from kids to parents and grandparents, it's bound to be your new favorite way to enjoy your greens.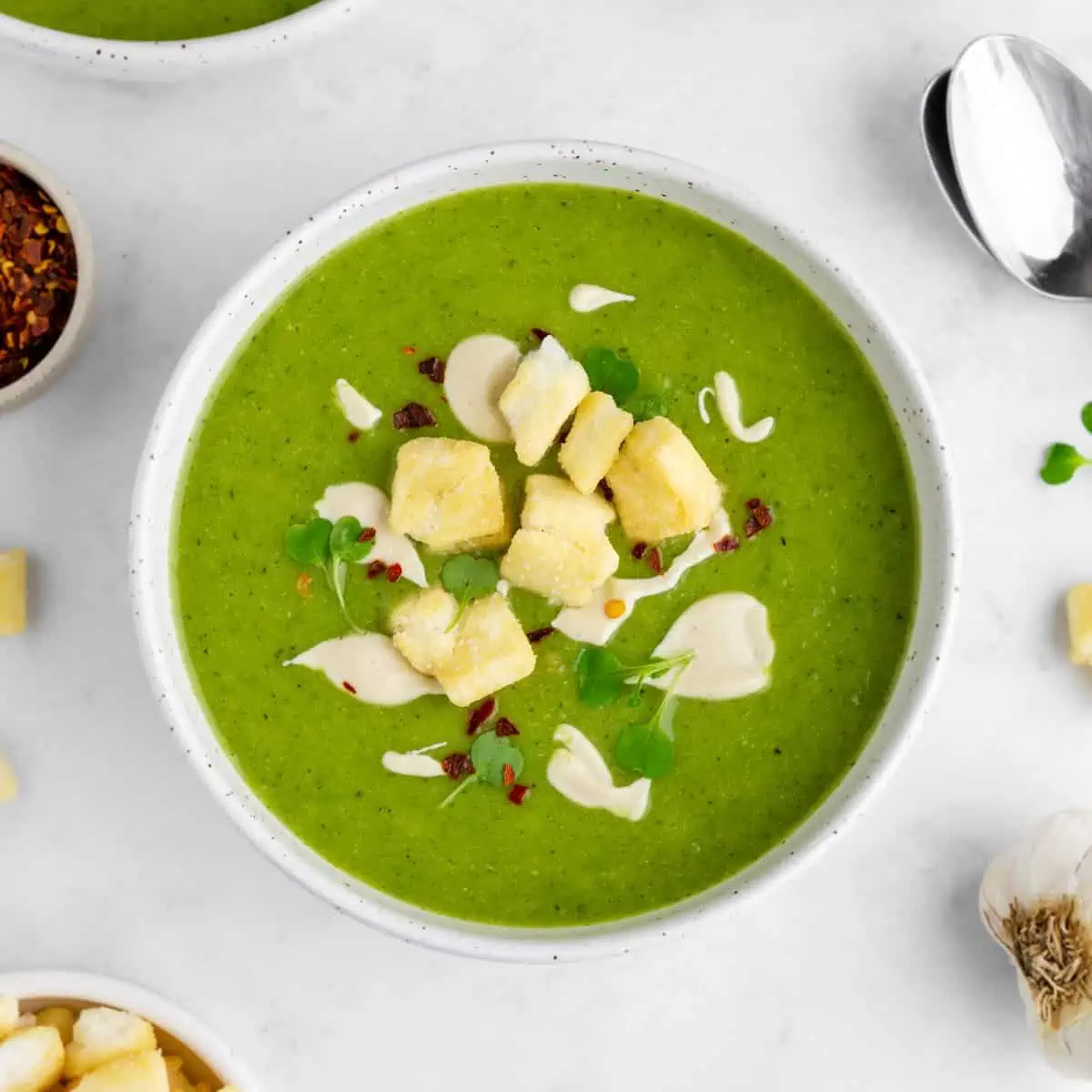 With so many different ways to make potatoes, sometimes a simple air-fried potato wedge is just what you need. These wedges are a little thicker than traditional fries so you can still get a nice bite of potato. If you don't have an air fryer, you could bake these instead!
Sweet potato fries can often be the perfect balance to a more savory meal, such as a big juicy veggie burger or falafel wrap. These are made in the air fryer with just a touch of canola oil, salt, and red pepper flakes. Super easy, fast, and tasty!
Ready to master the art of crafting flawlessly roasted sweet potatoes? These crispy sweet potato slices and cubes serve as a versatile addition to elevate any meal. Whether you're layering them on a sandwich with grilled tofu and avocado, incorporating them into a hearty rice and chickpea bowl, or blending them into a velvety autumn soup, their vibrant flavor enhances every dish.
Indulging in a soothing bowl of potato soup is always a good choice. This simple recipe offers a luxurious, heartwarming experience, and the best part is, it's entirely free of dairy!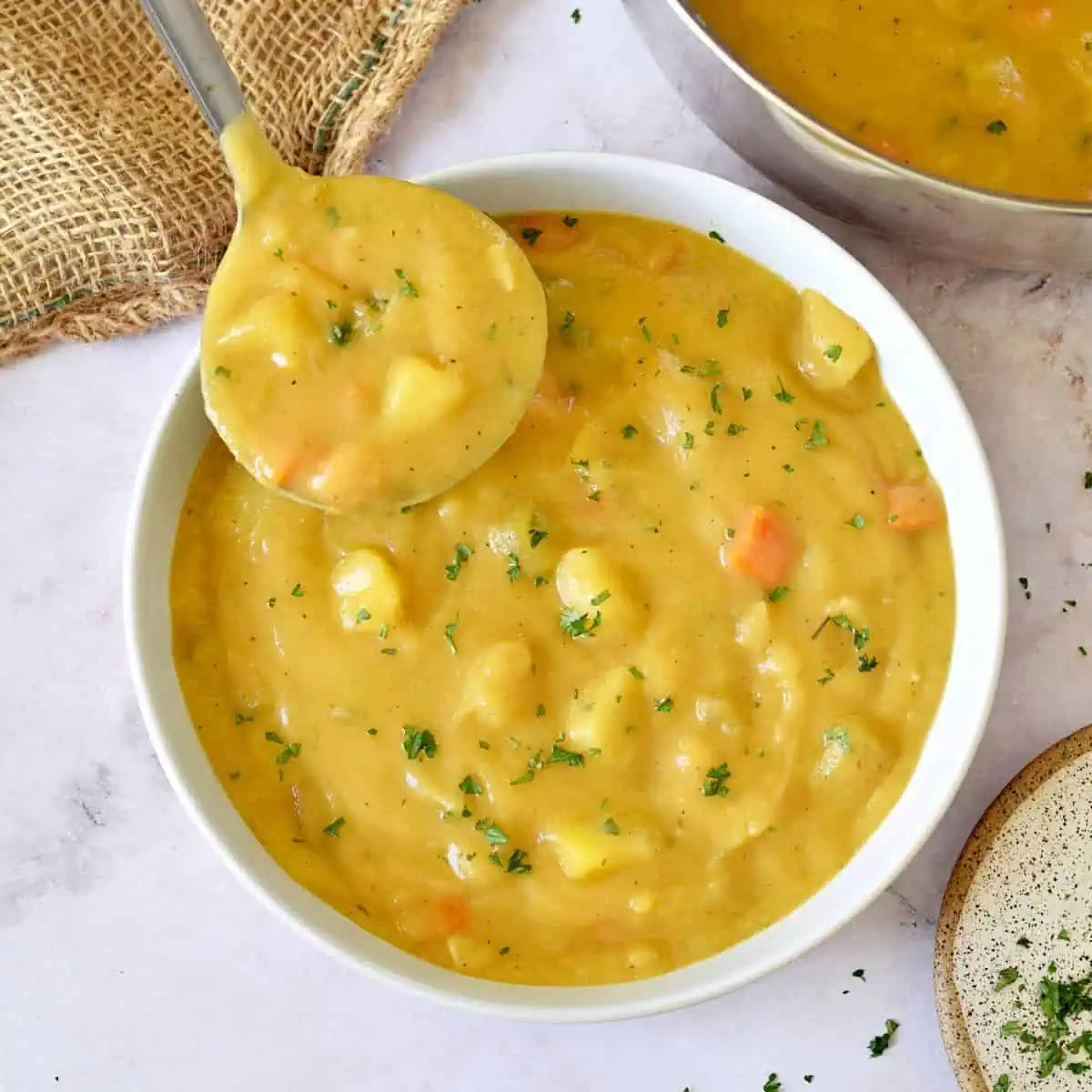 If you're craving crispy breakfast home fries, this quick and budget-friendly air fryer recipe has you covered. Skip the diner and whip up these delicious home fries with just potatoes, an onion, and an air fryer – you'll be smitten from the first bite!
Indulge in the sheer deliciousness and heartwarming satisfaction of this split pea and sweet potato stew. Brimming with hearty potato chunks, vibrant carrots, and sweet corn, this savory recipe derives its thick, comforting texture from split peas, making it the ideal choice for a cozy evening meal, especially when paired with a fresh loaf of homemade crusty bread.
Impress your guests with a breakfast casserole featuring convenient, oil-free frozen hash browns, a staple in my kitchen. Feel free to swap in your favorite veggies like broccoli, zucchini, peppers, or asparagus for the versatile vegetable filling.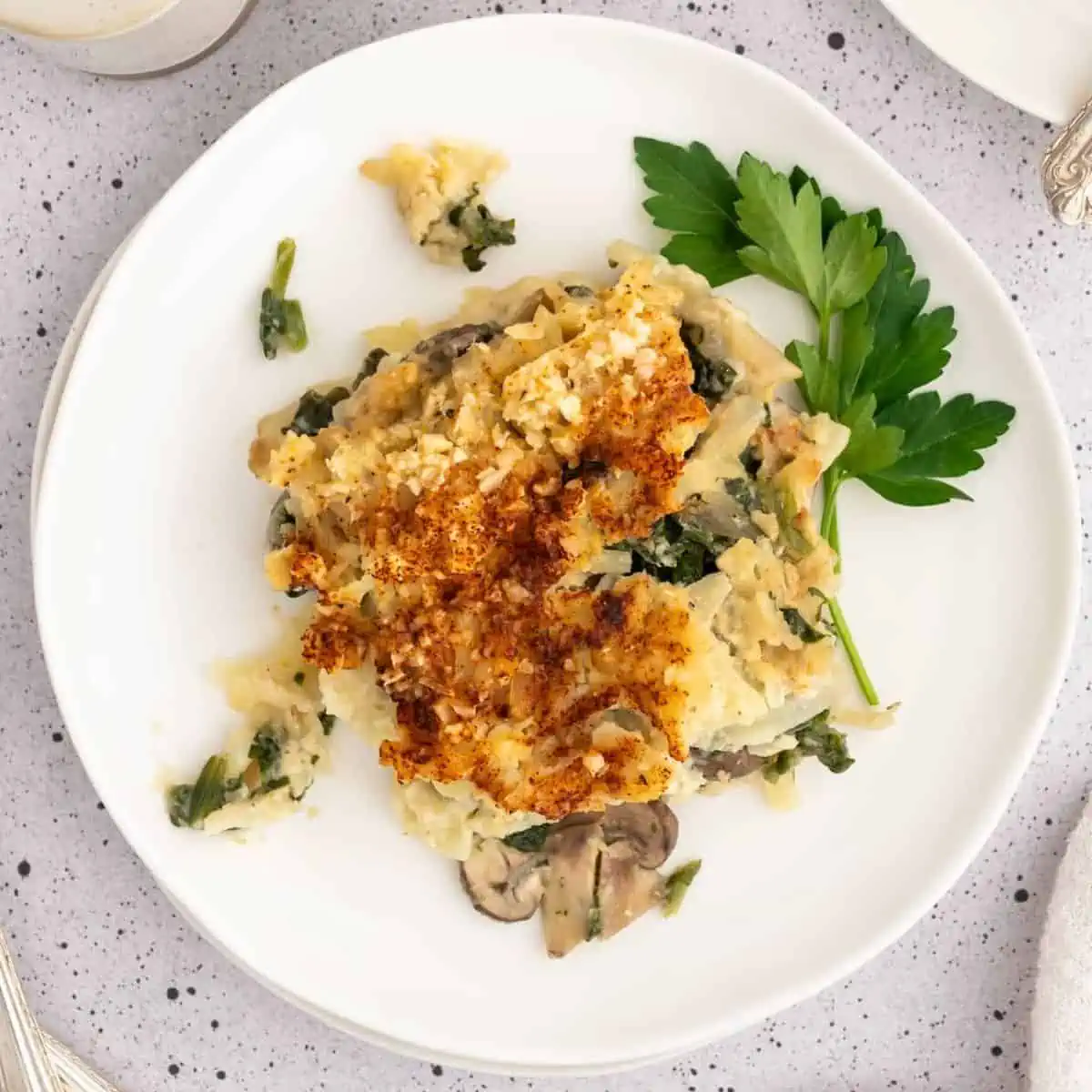 Prepare to savor the ultimate vegan stew—a comforting, nutrition-packed delight perfect for cooler days or anytime you crave a warm, delicious meal. Rich in flavor, featuring hearty beans and slow-simmered, vibrant vegetables, it's an unbeatable bowl of warmth and satisfaction.
We hope you found this guide to vegan potato recipes to be inspiring, mouthwatering, and helpful! Potatoes are truly one of the best foods on the planet and what can be made with them is astounding.
Have a favorite potato recipe from this roundup? Let us know in the comments below!
More Vegan Recipes