Whether you're preparing for a vegan Easter brunch or just looking for a delicious, comforting, unique, flavorful appetizer to serve up to friends, we've got you covered with these deviled potatoes — deviled eggs vegan style! They're sure to be a huge hit.
Just be forewarned, your guests are likely to chase you down for the recipe! You might even want to print out some copies of this vegan deviled eggs recipe in advance so your friends and family can take it home with them. Spare the chickens and spread the love! 
Do These Deviled Potatoes Actually Taste Like Deviled Eggs?
From the photos, you can see that these sweet little deviled potatoes look just like deviled eggs. But how do they taste? And how does this brilliant recipe sorcery actually work?
The potatoes get their creaminess from the vegan mayo, the tanginess from Dijon mustard, and the consistency from the beans and potato. The Dutch potato makes a perfect "shell." For Easter, you could use the red or purple varieties as part of the mix for a colorful plant-based alternative to deviled eggs.
Key Ingredients And Substitutions
The vegan deviled eggs don't require too many ingredients and are quite simple to make. Here are the main ingredients you don't want to leave out plus some quick substitutions:
How To Serve These Vegan Deviled Eggs
Spring is the season of birth and renewal. Deviled eggs abound this time of year, the universal symbol for Easter. For those of us who prefer to see Mama Chicken nest her eggs, rather than serve them on a platter, this vegan deviled egg recipe has you covered using baby potatoes.
To customize your vegan deviled eggs, try these various garnish ideas:
Want to make these vegan "deviled eggs" even more adorable? Grab some black olives and cut out some tiny eyes and a little beak shape to place on the deviled potatoes to make little chick characters. Adorable! You can even make these lemon chickpeep cupcakes to match. 
I hope you enjoy these as much as I enjoyed making and serving them. Happy Spring!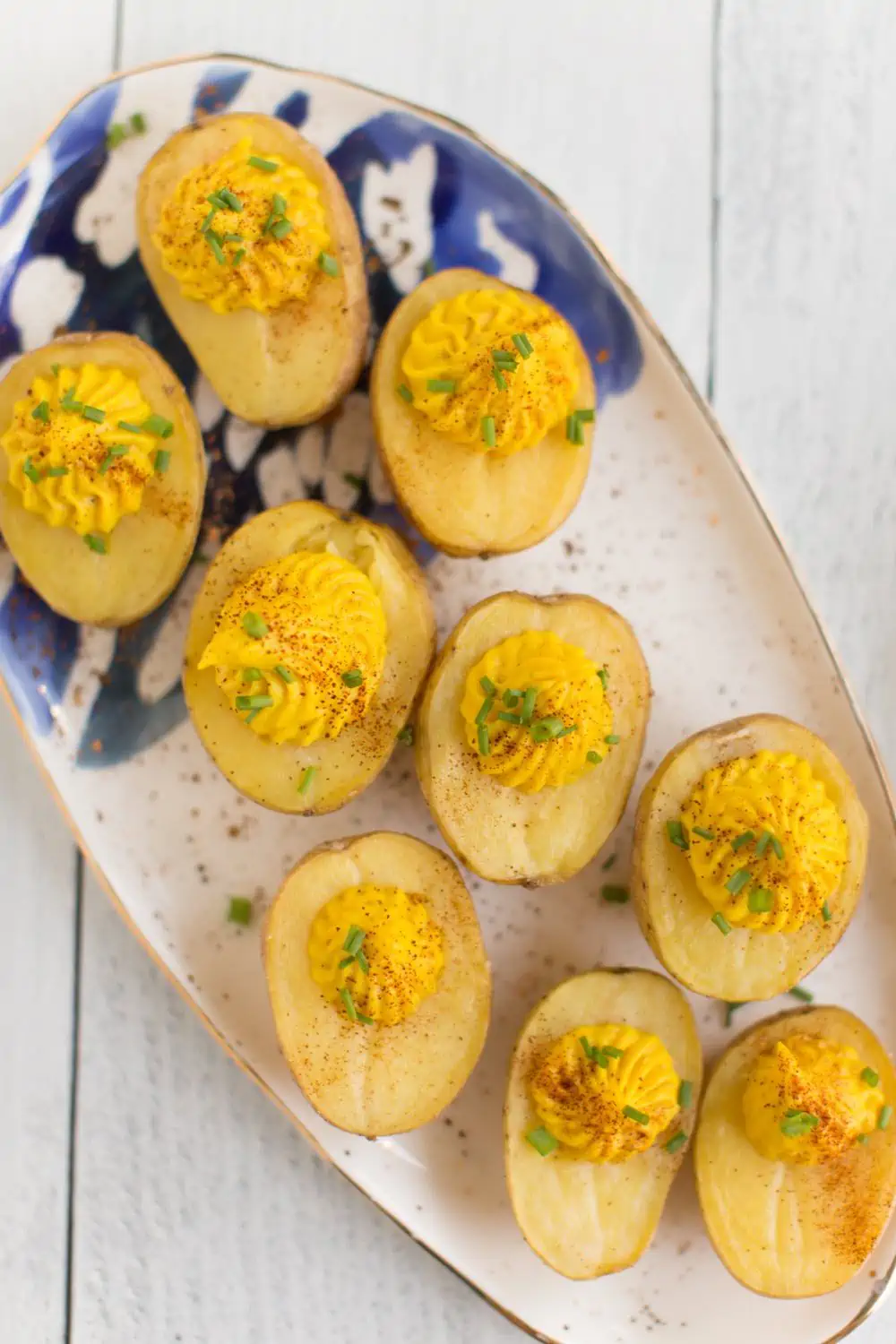 Vegan Easter Recipes & Resources
Easter is a time of celebration and joy, but for vegans, it can be difficult to find ways to celebrate without compromising values. Fortunately, there are plenty of resources available to help vegans celebrate Easter in a way that is both meaningful and respectful. Here are the best guides to get started with:
More Amazing Appetizers to Try
15 egg-sized potatoes, washed
1 tablespoon olive oil
½ teaspoon salt
½ can cannellini white beans, drained and rinsed
2 tablespoons lemon juice
3 teaspoons Dijon mustard
1 teaspoon turmeric powder
6 tablespoons vegan mayo
¼ teaspoon salt
¼ teaspoon pepper
paprika and chopped chives, for garnish
Preheat oven to 350 degrees.

Halve the potatoes and toss with olive oil and ¼ teaspoon of salt until fully coated. Lay slice-side-up on a lined baking sheet and roast for 1 hour, or until soft.

Cool for 5 minutes. Using a small melon baller, scoop out a small half-sphere out of the potato, being careful not to scoop through to the skin.

Blend the scooped potato and the remaining ingredients in a food processor until smooth.

Using a piping bag with a tip, pipe yellow mixture into each potato hole to fill.

Garnish with paprika and a generous sprinkle of chives.
Serving: 6g | Calories: 32kcal | Carbohydrates: 2g | Protein: 1g | Fat: 2g | Saturated Fat: 0.3g | Polyunsaturated Fat: 0.1g | Monounsaturated Fat: 0.4g | Sodium: 80mg | Potassium: 39mg | Fiber: 0.4g | Sugar: 0.1g | Vitamin A: 1IU | Vitamin C: 1mg | Calcium: 6mg | Iron: 0.3mg
"I recently had the pleasure of serving these beauties at one of my favorite cookware stores, Willams Sonoma. I did an in-store demo, showing the patrons how easy it is to make this delicious and beautiful appetizer. I loved watching people's surprised faces as they bit into them and learned that they were eggless! Many couldn't believe there wasn't a trace of egg inside. They were a big hit in the store, and I was thrilled to introduce several people to some of my favorite vegan products, such as Follow Your Heart's Vegenaise."
This recipe for deviled eggs made vegan was created by Stephanie Dreyer for World of Vegan, and also featured in The Friendly Vegan Cookbook! Content and photographs copyright of World of Vegan™, all rights reserved.